Paleo and Vegan Blueberry Muffins – One bowl and 10 ingredients is all you need to make these soft & moist muffins, lightly sweetened with coconut sugar and a hint of cinnamon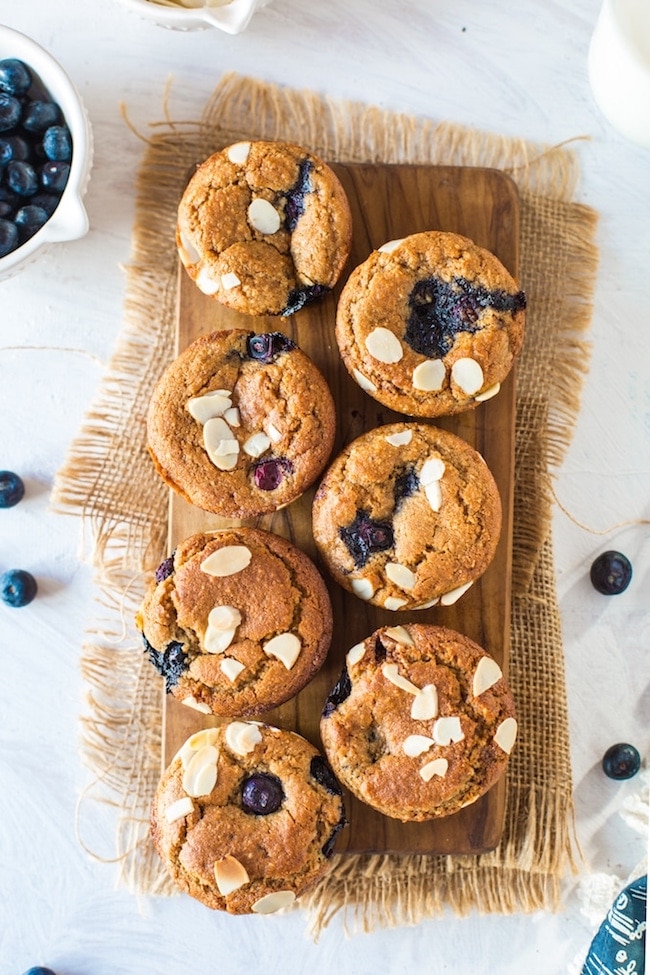 You know what I love eating? Muffins.
You know what I hate making? Muffins.
The same can also be said for cupcakes and anything else that requires me to meticulously clean out all the nooks and crannies of a muffin tin. It's not even that difficult but something about that task is just the woooorst…I hope you read that John Ralphio style because that's definitely how I said it in my head.
But these muffins….I got a lot of time for these paleo vegan blueberry muffins. I can't even tell you how many times I've made variations of these guys in that past month trying to get them just right. What I can tell you though is that it's been very much worth it.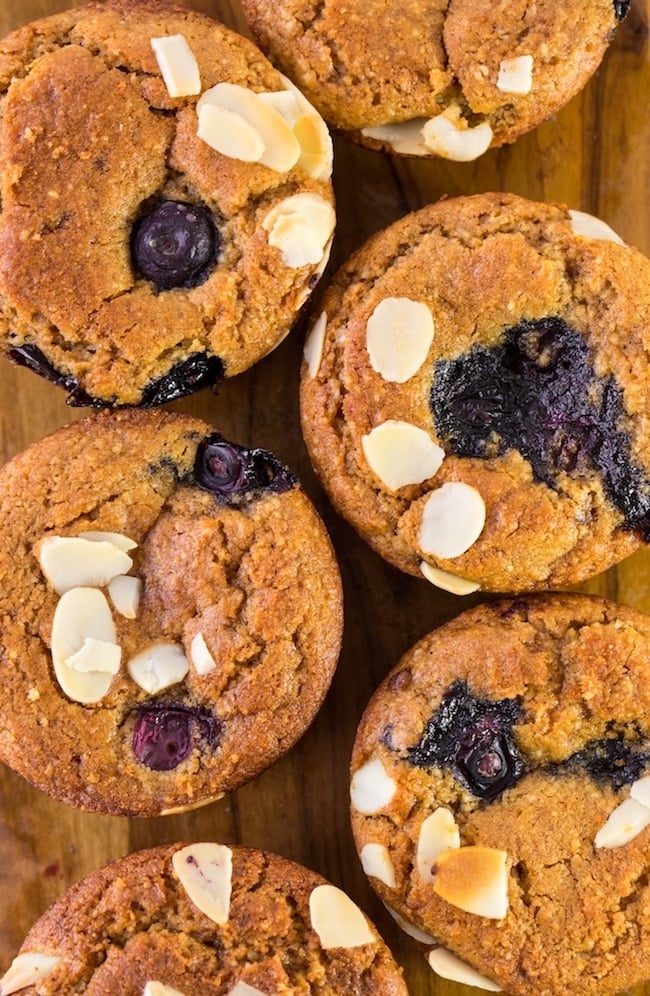 How to Make: Paleo + Vegan Blueberry Muffins
What's in these babies? Nothing too special or fancy, just 10 ingredients & 1 bowl is all you need to make them:
Made up with an almond flour + tapioca flour blend. The almond flour adds protein & taste while the tapioca is important for the soft, chewy texture
Sweetened & spiced with coconut sugar, cinnamon and vanilla extract
Baking powder to make the muffins rise
Coconut oil + almond milk for moisture and fat
Mixing it all together is just a matter of whisking together the dry ingredients and then adding in the wet. The key step in this recipe is to let the batter chill in the fridge for at least 30 minutes before baking which results in a better rise/domed muffin top after baking.
Why Chill the Batter
As I mentioned above I've been testing these muffins for about a month now. I ended up one day with leftover batter that I didn't feel like baking yet so I just covered it and put it in the fridge. When I came back the next day to test a new batch I ended up adding the leftover fridge batter to my muffin tin to bake with the rest. After I pulled my tin out of the oven the fridge muffin ended up as the only muffin with a nice, slightly domed top while the others sunk in the middle too much for my liking. I'm thinking it's because the coconut oil has time to solidify in the fridge while helps it hold shape during the bake time – the same if often true when it comes to coconut oil in cookies.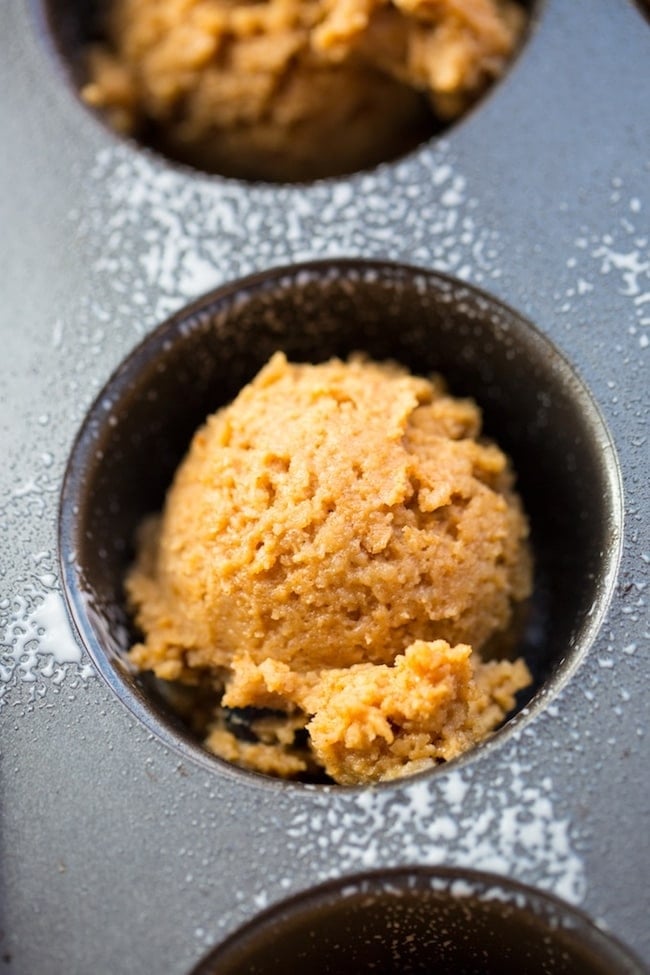 So once you're batter has hardened up in the fridge and you're ready to go – scoop out the batter into your prepared tins and top with a few extra blueberries and almond flakes for good measure. The almond flakes are totally optional so don't worry if you don't have any on hand. If you do have them that have at it! They add a nice little crunch to your muffin that I personally can't get enough of.
Also – it adds an extra flair and looks pretty on top those muffins. Who doesn't like that?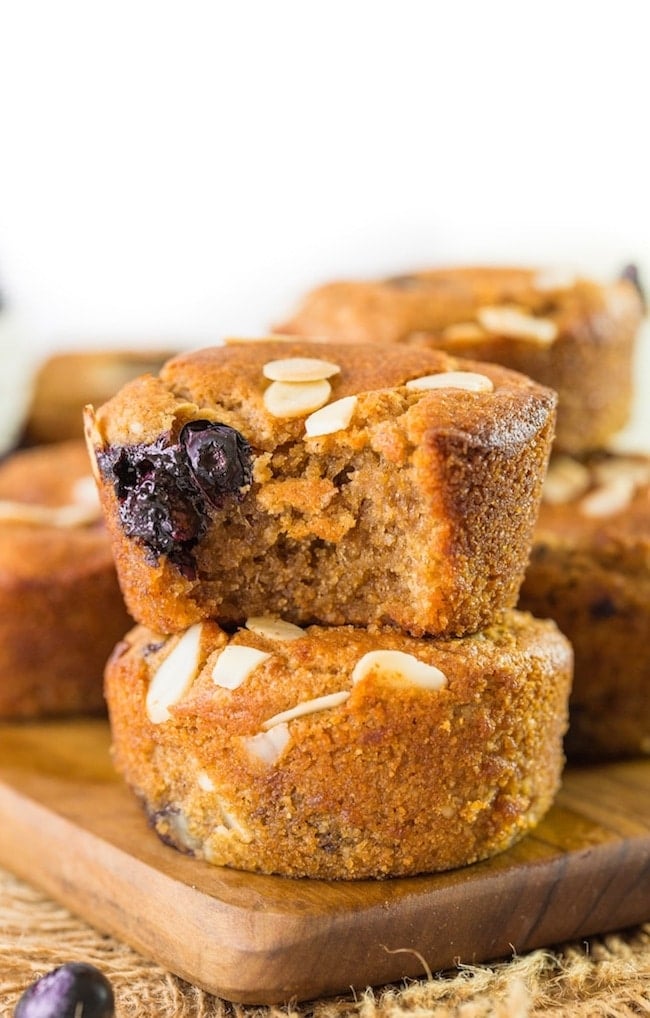 If you like these vegan blueberry muffins then you might also enjoy Blueberry Scones | Oatmeal Blueberry Cookies | Blueberry Coconut Oat Squares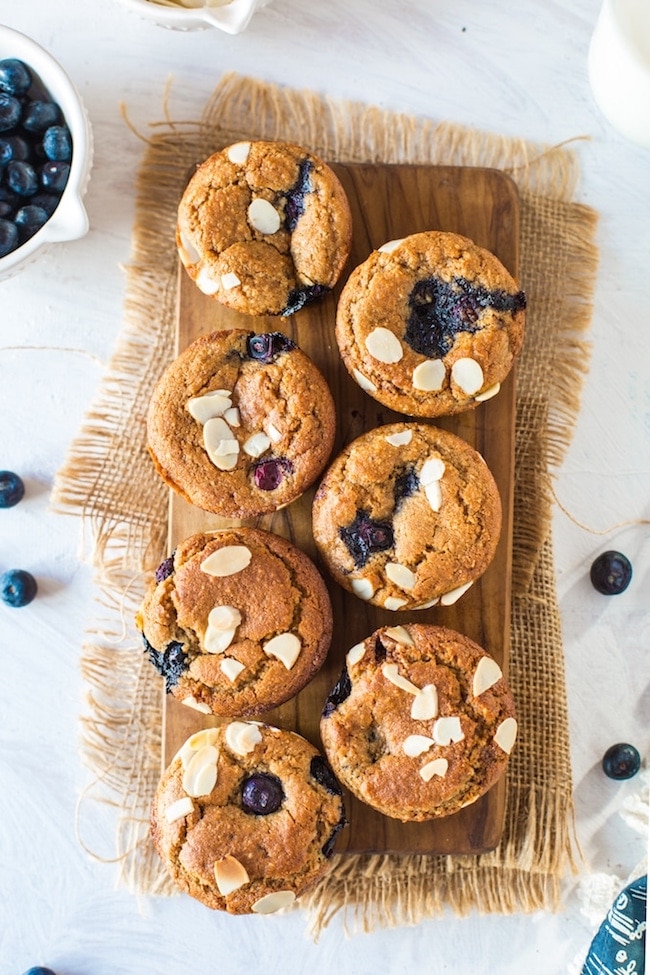 Recipe
Paleo Vegan Blueberry Muffins
Yield:
8 muffins
Prep Time:
40 minutes
Cook Time:
20 minutes
Total Time:
1 hour
Paleo and Vegan Blueberry Muffins -One bowl and 10 ingredients is all you need to make these soft & moist, lightly sweetened with coconut sugar with a hint of cinnamon
Ingredients
1 3/4 cup (168 g) almond flour
1/2 cup (56 g) tapioca flour
1/2 cup (95 g) coconut sugar
1 teaspoon cinnamon
2 teaspoons baking powder
1 teaspoon vanilla extract
1/2 cup (120 ml) almond milk (or another dairy free milk of your choice)
1/4 cup (56 g) melted and cooled coconut oil
1/2 cup (40 g) fresh blueberries
flaked almonds for topping, optional
Instructions
In a large mixing bowl whisk together the almond flour, tapioca flour, coconut sugar, cinnamon and baking powder.
Stir in the vanilla, almond milk and coconut oil and mix until no lumps remain. Gently fold in half the blueberries.
Cover and place in the fridge to chill for at least 30 minutes.
Preheat oven to 375°F/190°C. Lightly grease or line a 12 cup muffin tin - you'll only need to line/grease about 8 cups.
Use a large spoon or an ice cream scoop to scoop out the now solid batter into the prepped muffin tin. Fill the tins about 2/3 of the way full and top with a few almond flakes and the remaining blueberries.
Place in the middle of the oven and bake for 20-22 minutes or until cooked through. Let cool in the tin for at least 10 minutes in the pan before enjoying.
Notes
Prep Time includes chill time.
If you use frozen blueberries you may need to add an additional 2-3 minutes on your cook time.
I haven't yet tried this using other types of flours so I can't advise on using alternatives here.
Nutrition Information
Yield:

8
Serving Size:
muffin
Calories:

265
Saturated Fat:

6g
Sodium:

40mg
Carbohydrates:

22g
Fiber:

3g
Sugar:

8g
Protein:

5g
This website provides approximate nutrition information for convenience and as a courtesy only. Nutrition data is gathered primarily from the USDA Food Composition Database, whenever available, or otherwise other online calculators.
Shop this Post
As an Amazon Associate and member of other affiliate programs, I earn from qualifying purchases.