Bread.
Who doesn't love it? Fresh out of the oven, crusty, artisan bread slathered with butter, or drizzled with olive oil? Gimme all the bread. I mean it!
It's the perfect accompaniment to pretty much any main dish while also being just as satisfying on its own.
It's also the destroyer of diets with its carb filled goodness and an actual source of pain for the millions of people who are afflicted with Coeliac Disease or gluten intolerances. Historically, gluten free breads have been…well…sad. Dry, crumbly, tasteless, not to mention expensive. Thankfully, as time goes on and the demand for gluten free products increases we're getting better at making do sans gluten without compromising taste and texture.
This past week I've made more loaves of bread than I should admit. My bread baking frenzy won't end here by any means – I relish the idea of trying out whatever variation I can come up with. What a perfect excuse to always have a fresh loaf of bread on hand?
In the mean time, we're quite pleased with this basic, crusty French bread recipe. It's simple, contains easy to find ingredients, and can be completed in less than two h
ours. This is dairy free, gluten free, and uses rice flour which is widely recognized as being a 'safe' starch.
A few things to know about this gluten free French bread making before you begin
Since there is no gluten to over work, don't be afraid of mixing this bad boy up. If you have a stand mixer, that's perfect. If you don'thave a stand mixer, give yourself a good arm workout and put some elbow grease into it. I tried this out with an electric handheld mixer, and while it did eventually work, I wouldn't use it again because my dough kept getting stuck.
Your fully mixed dough will look very wet. The first time I made a gluten free dough, I was concerned I had messed up somewhere along the lines because my dough was sticky, wet, and needed to be spooned into my bread pans.
I find this to be true with baking in general, but especially when working with yeast please make sure to use room temperature ingredients so that the yeast has the opportunity to rise properly.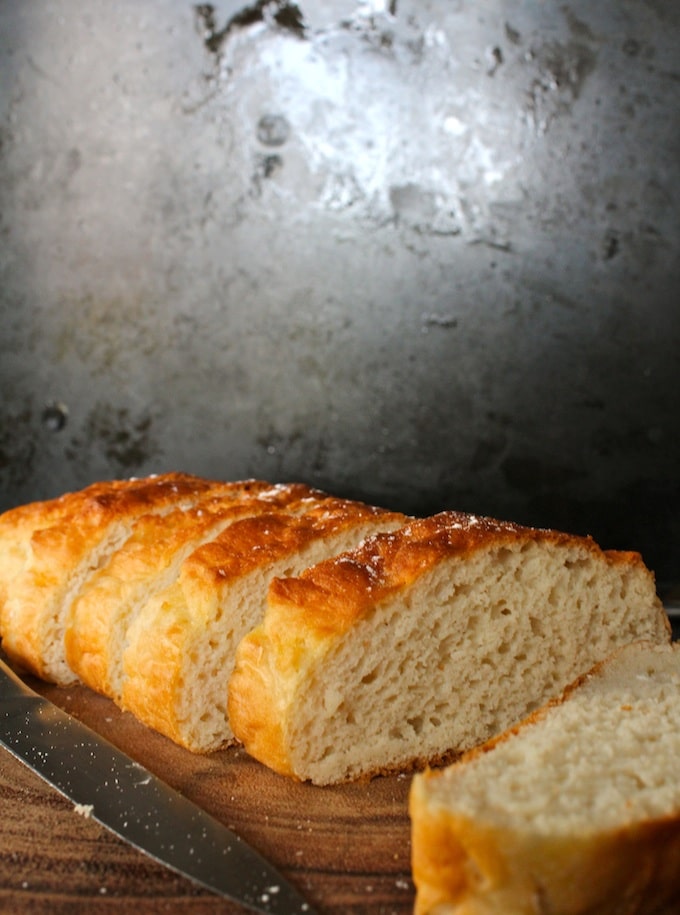 Yield: 16 slices (2 loaves)
Easy Gluten Free French Bread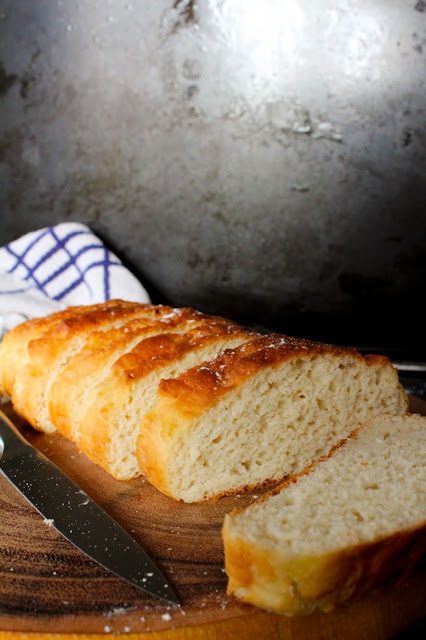 Easy Gluten Free French bread recipe - comes together in under an hour

Prep Time 15 minutes

Cook Time 40 minutes

Total Time 55 minutes
Ingredients
2 cups rice flour, | 320grams
1 cup tapioca flour, | 122grams
1 tablespoon xanthan gum*
1 teaspoon salt
1 1/2 cups |353 ml lukewarm water, between 105-110 degrees F, 40-43C
2 tablespoons quick rise yeast
2 tablespoons honey, coconut sugar, maple syrup or regular sugar
2 tablespoons olive oil
3 egg whites beaten
1 teaspoon apple cider vinegar (you can substitute for another vinegar if you don't have ACV
Instructions
In your stand mixer or large bowl, stir together your flours, xanthan gum, and salt.
In a medium sized bowl mix your hot water and sugar together, stirring occasionally until your sugar dissolves. If your water isn't warm enough, your yeast won't proof and your bread won't rise. Once the sugar dissolves, gently stir in your yeast. Let the yeast foam up for a few minutes.
While the yeast is foaming up, beat together your three egg whites slightly.
Pour the yeast mixture to the flour mixture and beat on high. Once the two mixtures are fully incorporated, add the egg whites, the oil, and the vinegar and continue mixing for about 3 minutes.
Grease or line two loaf tins or one french bread pan and spoon your batter into each tin. Cover and stash in a warm place for at least 30 minutes. I like to stow my dough in the microwave for rising process because it keeps my dough free from drafts and disturbances. Our kitchen tends to keep cold, so that's usually my best option.
After your dough has risen a bit (about 30 minutes) preheat your oven to 400F/ 200C. Bake for 40 minutes, turning the dough about half way through for an even bake.
Remove from the pan and cool on a wire rack, unless you re like us and cut right in the second it's out of the pan. Viola! You have delicious, gluten free, homemade bread.
Nutrition Information:
Yield:
16
Serving Size:
slice

Amount Per Serving:

Calories: 128 Sodium: 173mg Carbohydrates: 25g Fiber: 1g Sugar: 2g Protein: 2g

Nutrition Facts are estimated based on ingredients and are not always accurate.

*If you want a bit more fibre/protein you can substitute 1 cup brown rice flour for the white rice flour. If you're following a Low Fodmap diet, I recommend sticking to white rice flour since brown has more fibre. While that's great for most people, it can be extra work on the digestive system of those who already have GI problems.
Recipe adapted from Food.com