Crispy, crunchy exterior with a soft and butter interior – these herby gluten free cheese scones are simple, satisfying and delicious! Gluten Free + Vegetarian + Low FODMAP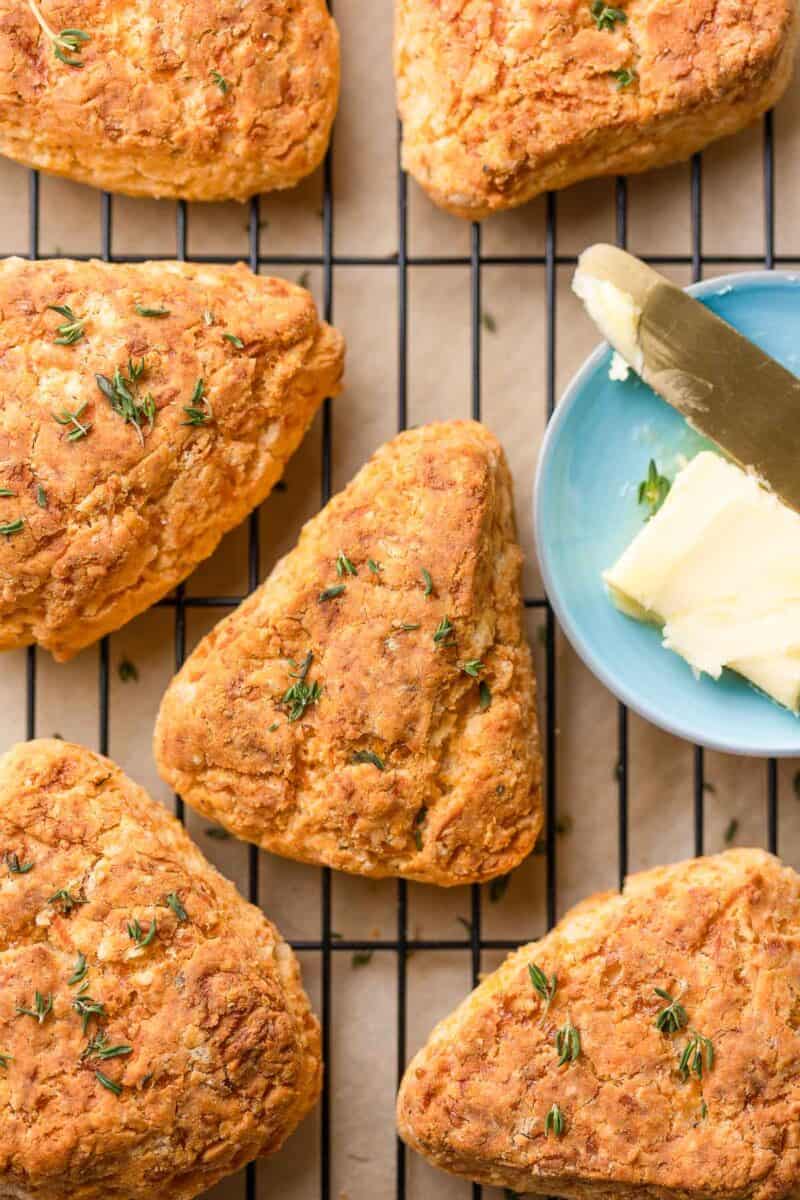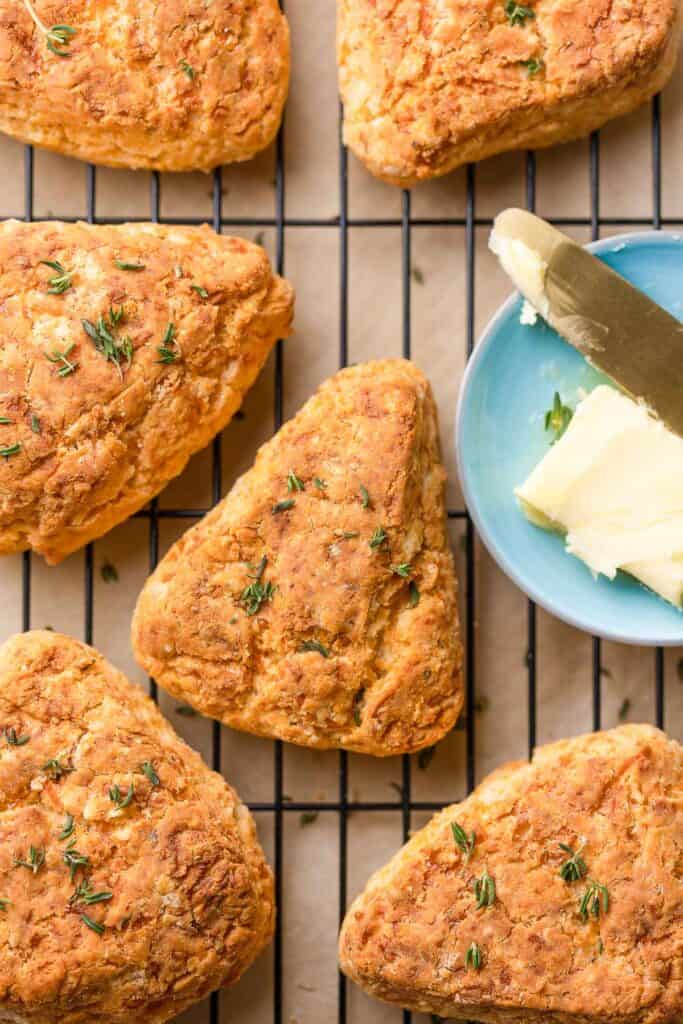 These gluten free cheese scones are what you get when you cross the rich and crumbly appeal of a classic American-style scone with the light and buttery draw of a cheesy dinner roll.
They're crispy on the outside, soft and tender on the inside, cheesy throughout and mouthwatering to the last bite!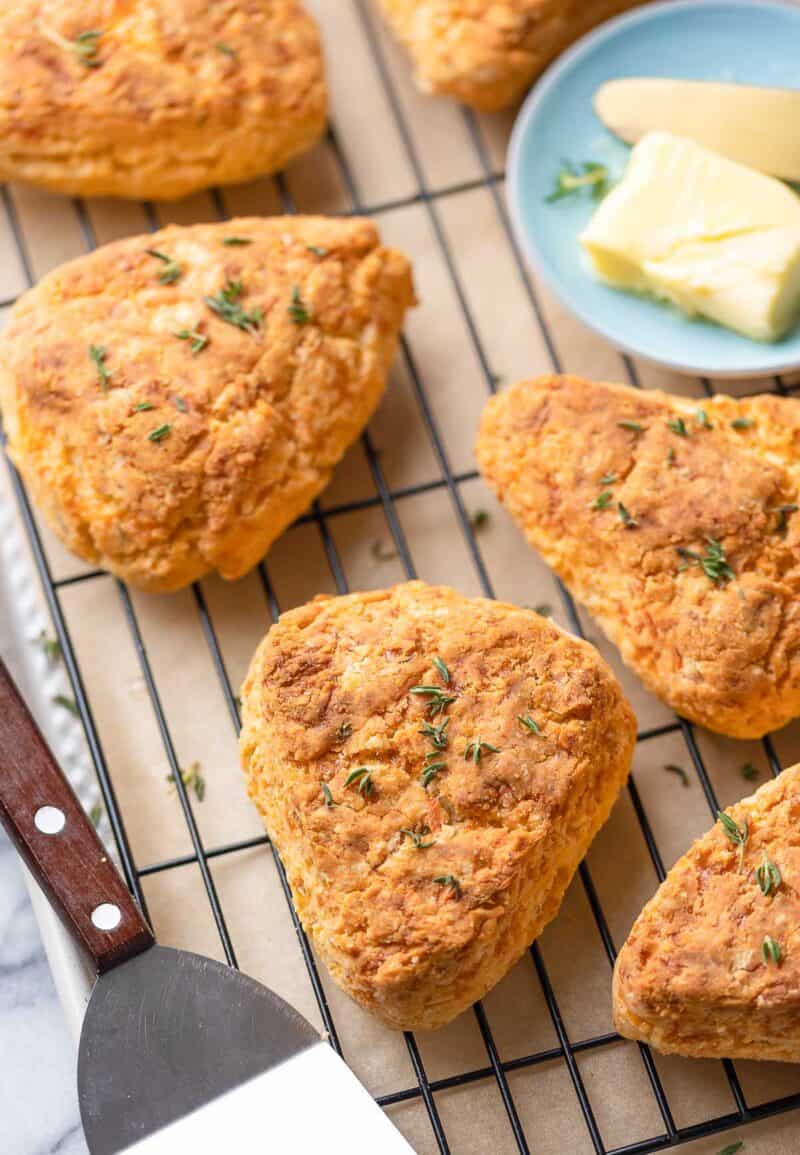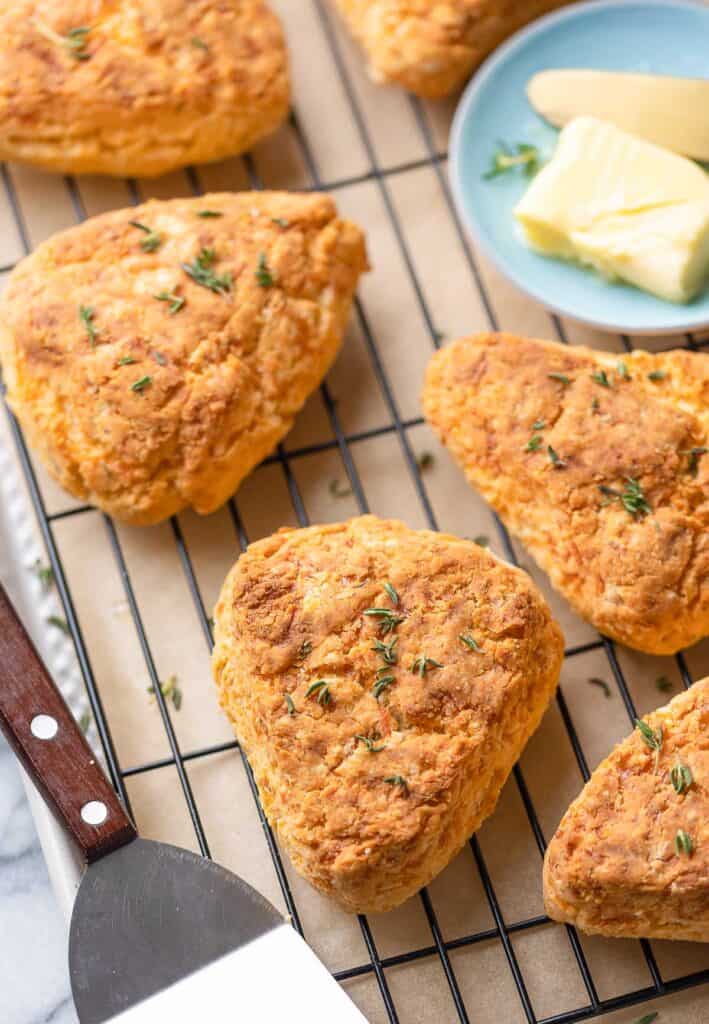 How to Make Gluten Free Cheese Scones
The process here is really quite simple.
There's no need for special tools or equipment. Just a large mixing bowl, a box grater, a whisk, a spoon and your hand will do. That being said, you can absolutely use extra tools like a stand mixer or pastry cutter if you like.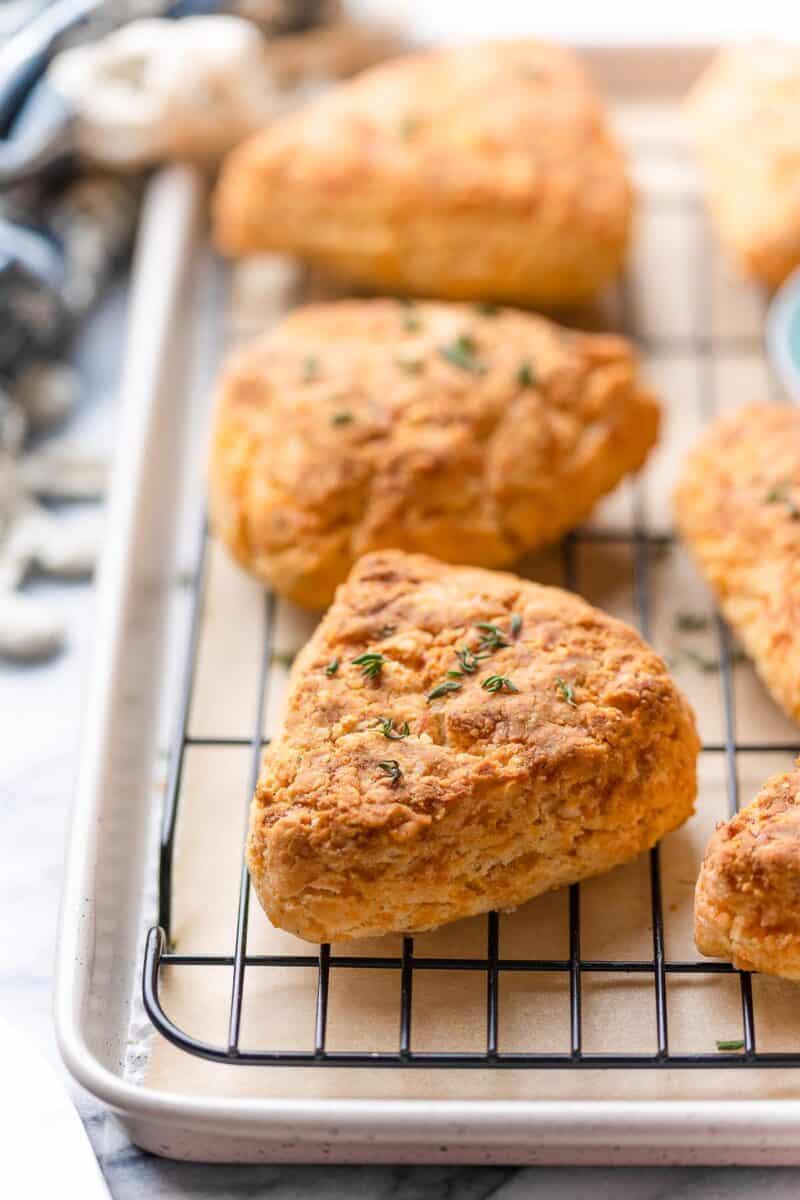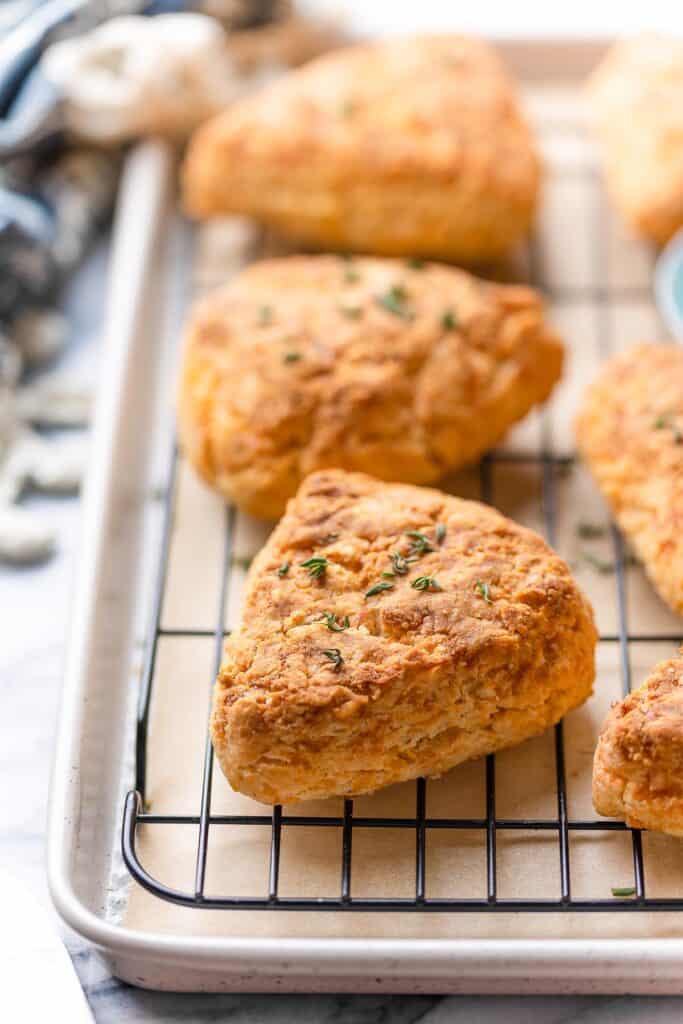 Ingredients
gluten free all purpose flour
almond flour

Almond flour is high in protein and fat. The added fat is especially useful here as it adds moisture to the recipe meaning the end result is a gluten-free scone that is softer and stays softer for longer when compared to scones made without almond flour.

baking powder

Baking powder = baked goods that rise up in the oven. One tablespoon may sound like a lot, but gluten free baking often need the extra help here.

cold butter

Cold butter (and yoghurt) is key. The idea is mix into diced or grated butter pieces into the dry ingredients, leaving small bits of butter intact. When the cold butter enters the hot oven the water in the butter steams which creates little pockets of heat. As the steam escapes the scone, it moves up through the biscuit creating even more lift. If the butter melts into the dough before it reaches the oven, the scones won't have as much levity and lift. Both salted and unsalted butter work here – your choice!

grated cheese

In the scones pictures here, I used a combination of grated cheddar cheese and double Gloucester (which is cheddar-like). Red leicester is another good non cheddar shout, as is Gruyère if you're in the mood for something a little more elegant.

dried herbs/spices

You can play around with the herbs and spices if you'd like. I went for a simple blend of complimentary herbs: dried thyme, oregano, basil and parsley. Paprika adds a bit of color – you can skip it if you wish.

greek yoghurt

Instead of cream or milk, I like to use yoghurt when making these gluten-free cheese scones. It's higher in protein and lower in fat compared to standard milk which I find makes for a more tender crumb in certain baked goods. Since this recipe already has added fat from the almond flour (and butter) I didn't want to over do it with the extra dairy here.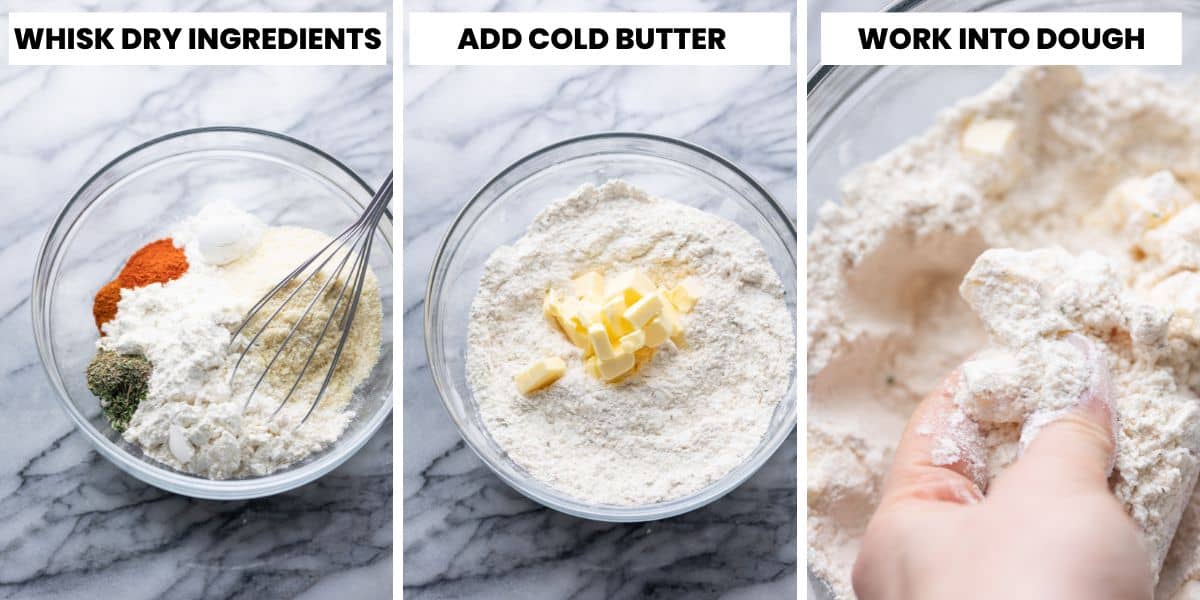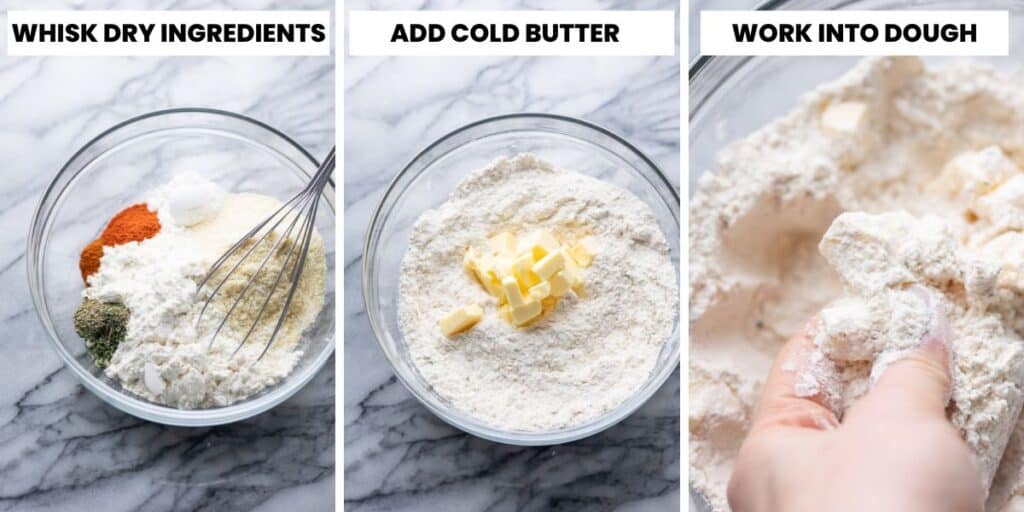 Steps
All-in-all the process is easy and can be simplified in a few steps:
Whisk the dry ingredients together in a large bowl until well combined.
Add the grated or cubed butter to the flour mixture. Mix into a sandy-like mixture with small bits of butter left in tact (resembling corn flakes).
Mix in the grated cheese.
Mix in the yogurt. The dough should be soft and a bit dry feeling, but still clumps together.
Transfer the dough to a lightly floured work surface then shape into a round disc.
Cut into wedges (12 small pieces or 6 large prices) and transfer to a baking sheet.
Bake for 18-22 minutes until golden brown.
Cool slightly and enjoy!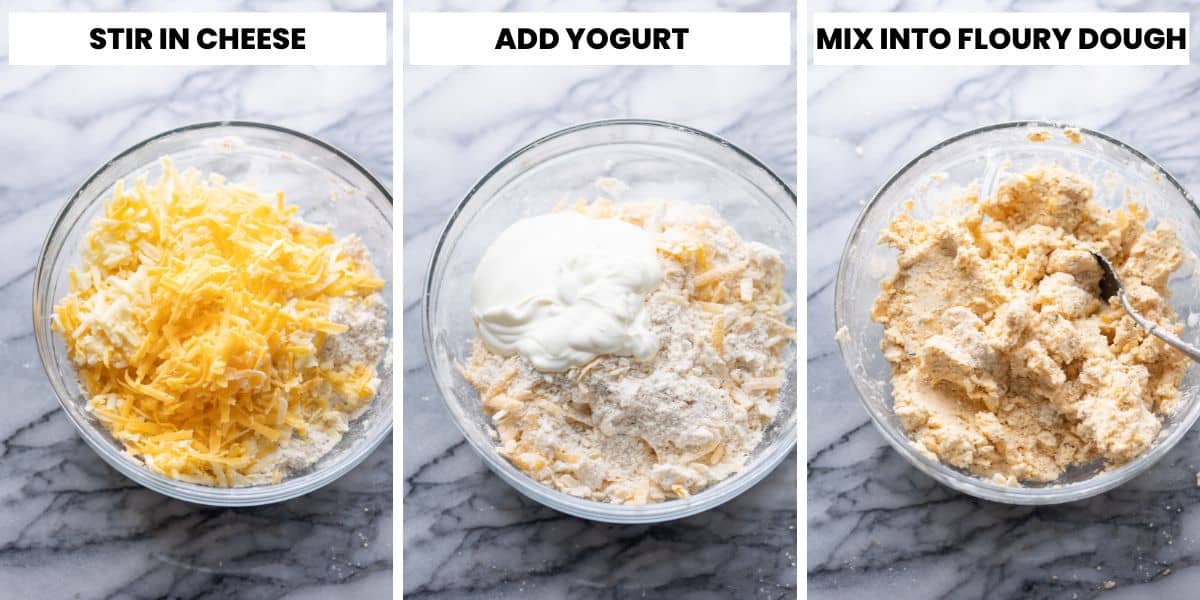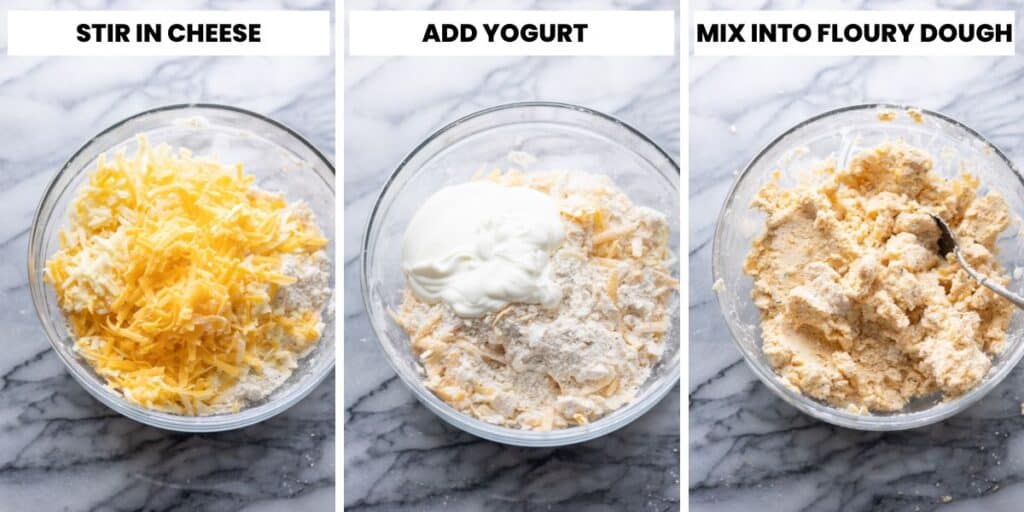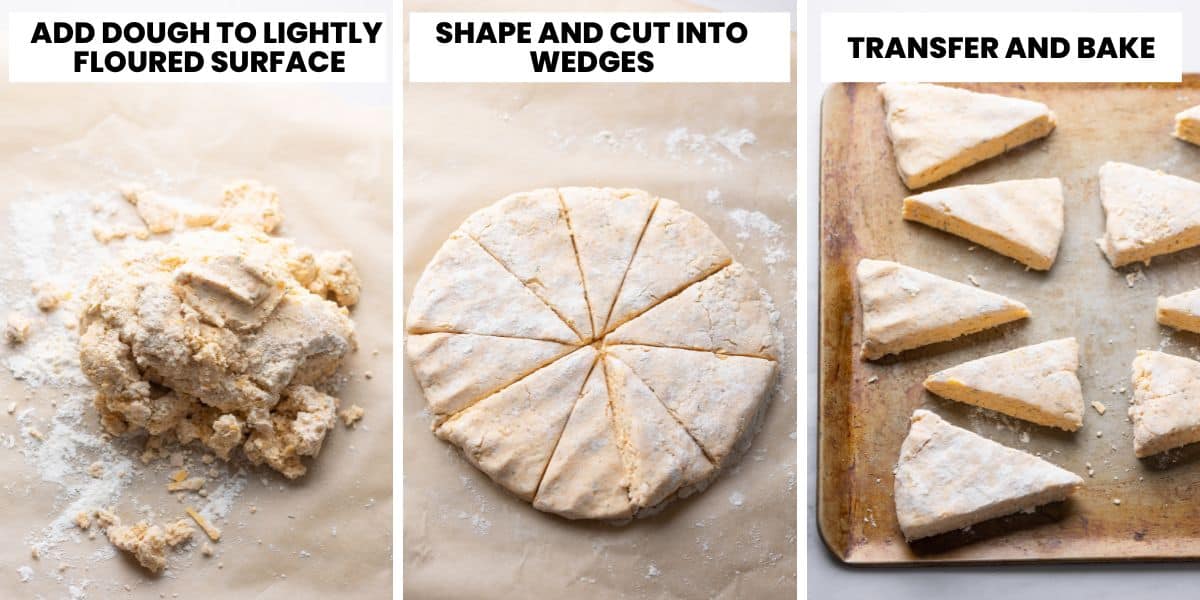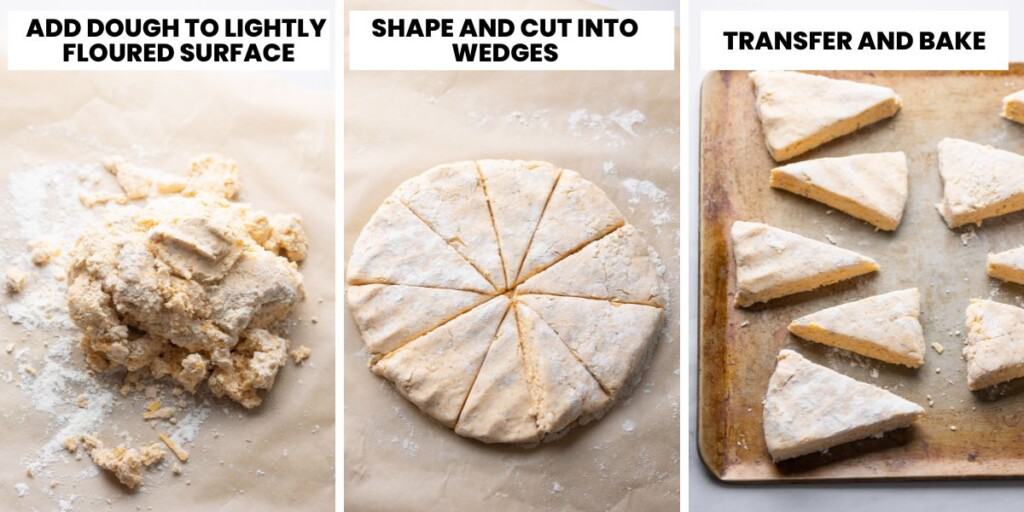 Final Tips and Questions
Can I make these gluten free cheese scones without the almond flour?
If you'd like a nut free option, I recommend you check out my Cheesy Chive Gluten Free Biscuits instead. They're not totally the same, but the recipe is very similar and just as delicious.
Can I make this recipe dairy-free or vegan?
I haven't yet tested these scones with dairy free butter, yogurt or cheese so I can't say 100% for sure, however I do think you should be able to successfully swap out the standard dairy in the recipe for vegan versions.
Should I chill the dough before baking?
So long as you're working with cold ingredients (butter/cheese/yogurt) you really shouldn't need to chill the dough before baking.
If you would like to prep these scones ahead of time you can make the dough a day in advance. Simply prep the dough up until the point you're ready to bake then refrigerate until needed.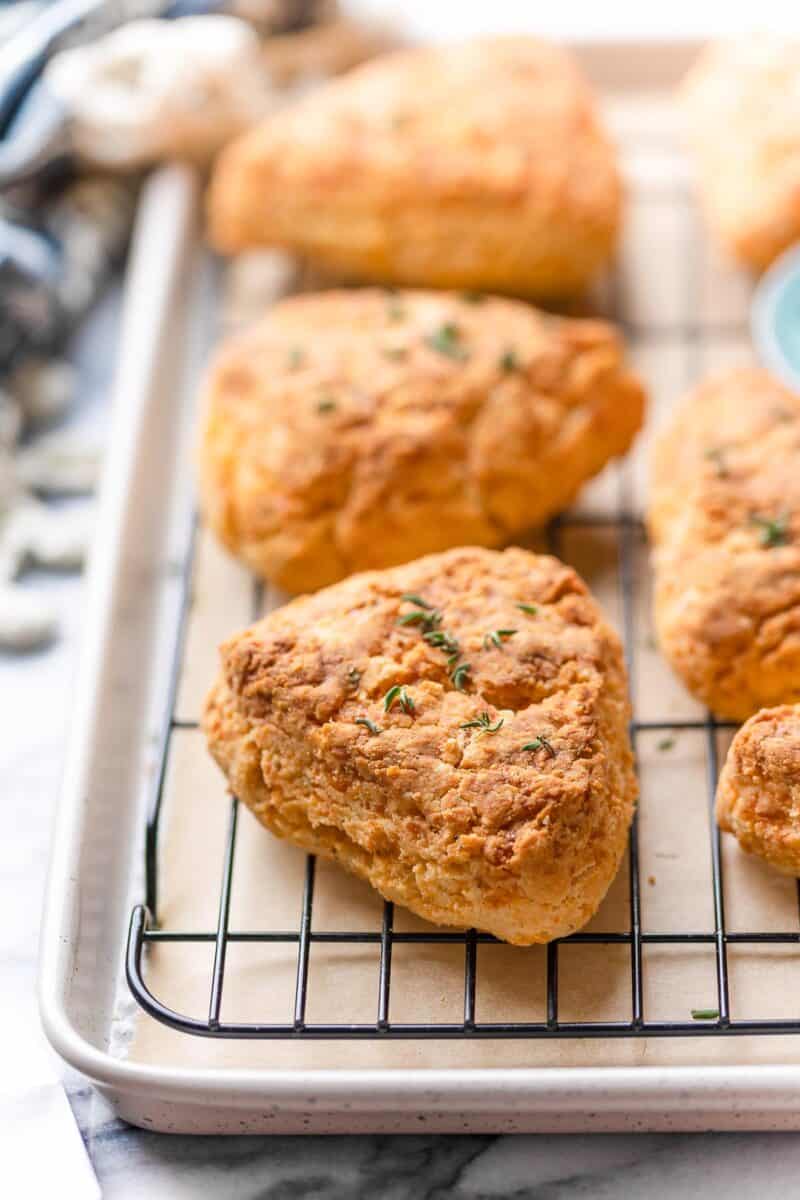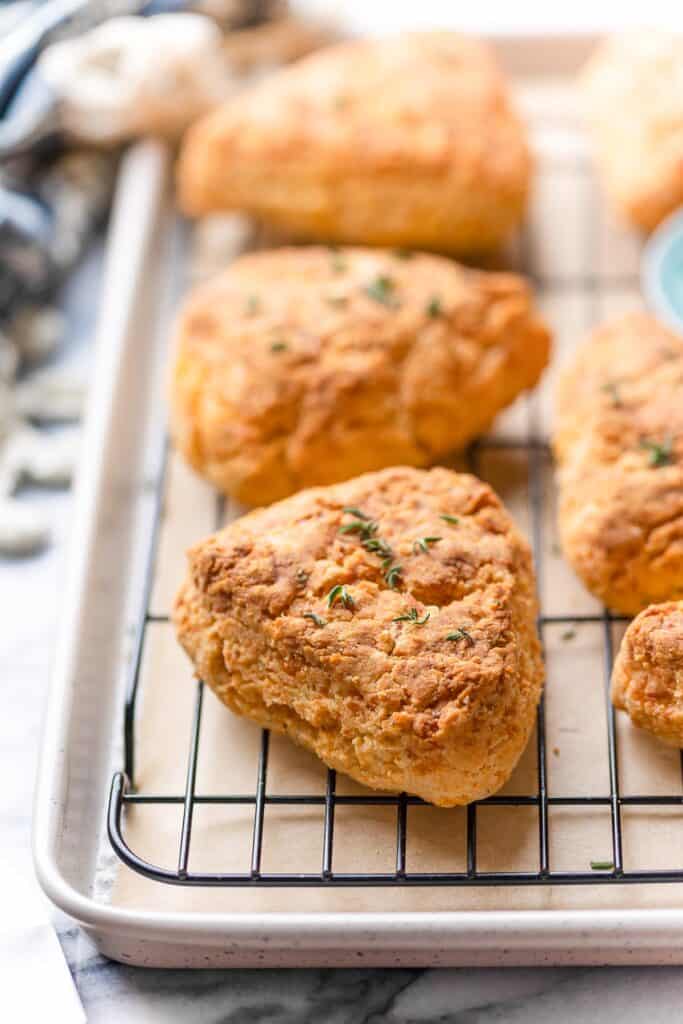 Enjoy!
And that's it! Tender, crumbly, cheese gluten-free scones in no time!
Serve these as a simple side dish to soups, stews and saucy mains. I recently made these to go alongside my latest leek and potato soup – in case you need a little recipe inspiration to get you started!
You can also enjoy this as a simple snack or even breakfast with a smear of butter or even cream cheese like you would with a bagel.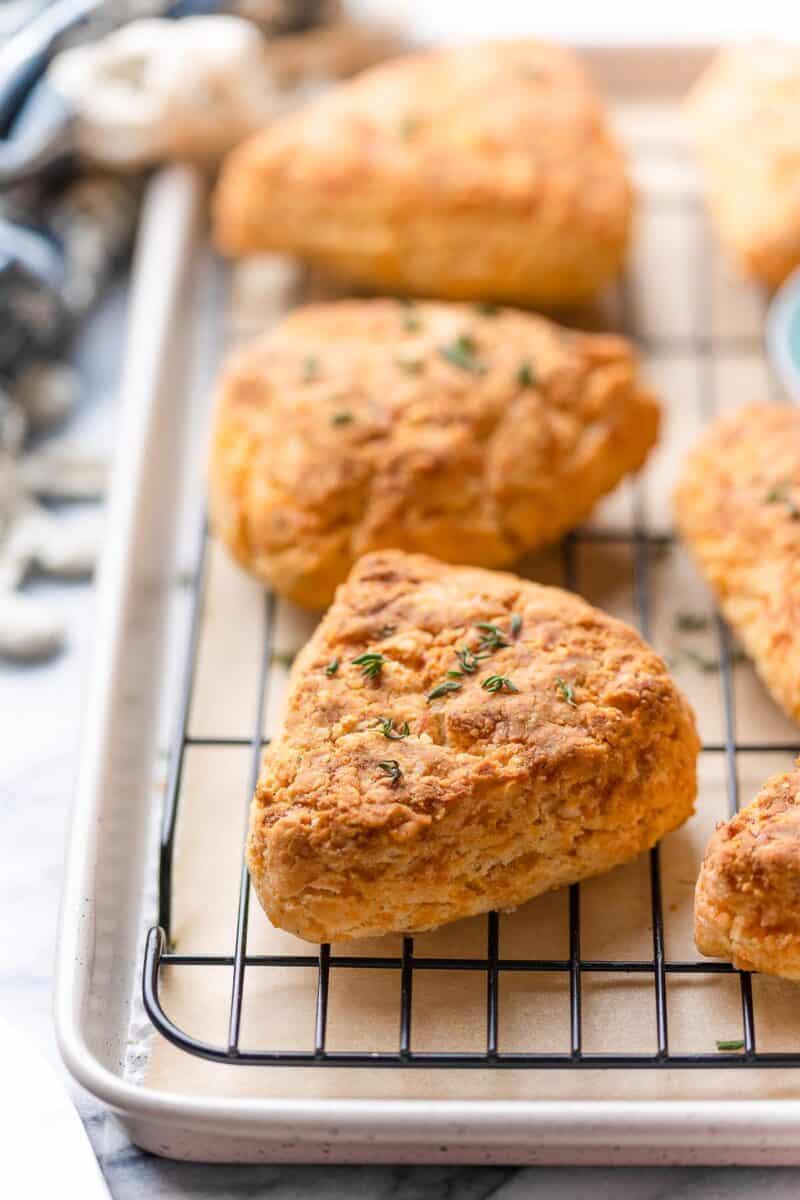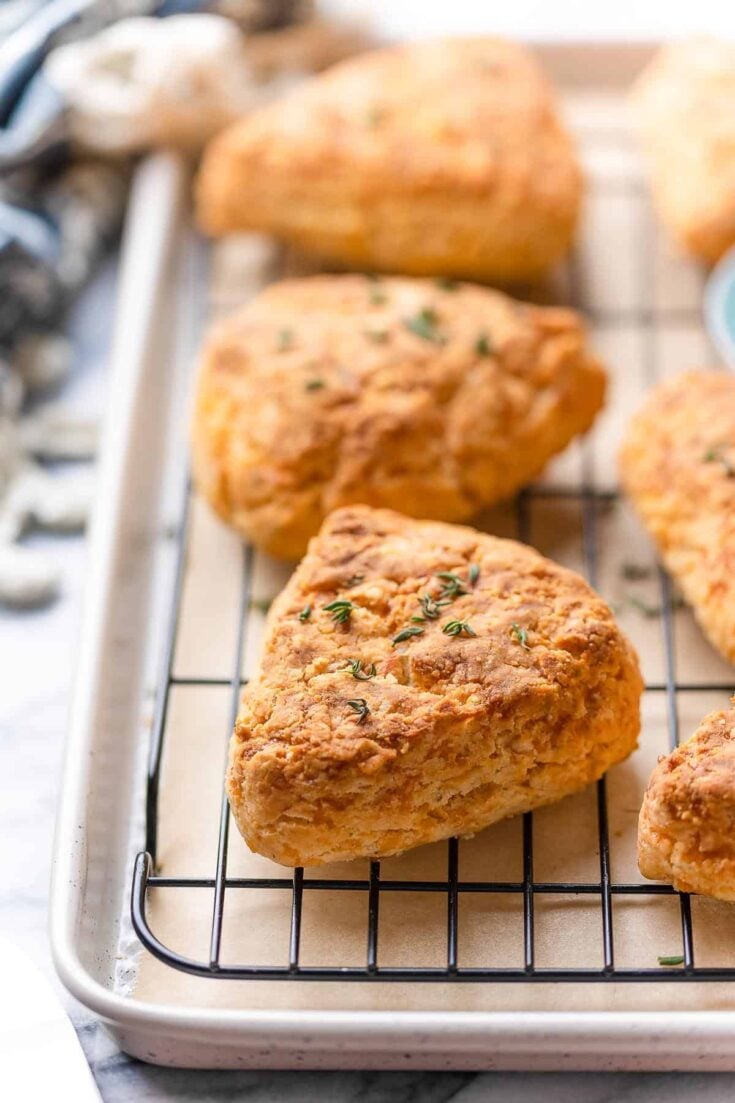 Recipe
Herby Gluten Free Cheese Scones
Yield:
6 wedges
Prep Time:
15 minutes
Cook Time:
20 minutes
Total Time:
35 minutes
Crispy, crunchy exterior with a soft and butter interior - these herby gluten free cheese scones are simple, satisfying and delicious! Gluten Free + Vegetarian + Low FODMAP
Ingredients
1 3/4 cup gluten free all purpose flour blend (245g)
1/3 cup almond flour (32g)
1 tablespoon baking powder
1/4 cup cold butter, diced or grated/ salted or unsalted (56g)
1 cup grated cheddar cheese, or cheddar-like cheese (113g | 4 oz)
1/2 teaspoon dried basil, oregano, parsley and thyme (each)
1/2 teaspoon paprika
1/4 teaspoon cayenne (optional)
1 cup greek yogurt (240g)
Instructions
Preheat the oven to 400°F/200°C. Set aside a large baking sheet.
In a large mixing bowl whisk together the dry ingredients until combined: gluten free all purpose flour, almond flour, baking powder, basil, oregano, parsley, thyme, paprika and cayenne.
Add the diced or grated butter to bowl. Use your fingers to gently rub the butter into the flour until the butter in well distributed throughout the flour with cornflake-like pieces of butter throughout.
Stir in the grated cheese. Add the yoghurt to the flour blend and mix until a soft, floury dough forms.
Lightly flour a large piece of parchment paper or a silicon baking mat. Transfer the scone dough to the floured surface and press together and pat down into 8-inch wide circle that's about 1-inch tall. Use a sharp knife to cut the dough into 6 large wedges.
Carefully transfer the wedges to the baking sheet. Make sure to leave a couple inches in-between each wedge of dough to leave room for rising in the oven.
Place in the middle of the oven and bake for 20-22 minutes and golden brown.
Notes
For smaller scones, cut into 12 wedges and bake for about 18-20 minutes.
This website provides approximate nutrition information for convenience and as a courtesy only. Nutrition data is gathered primarily from the USDA Food Composition Database, whenever available, or otherwise other online calculators.
More Gluten Free Breads and Biscuits You Might Like