Sweet and salty, soft and chewy – these Peanut Butter Cookie Bars hit all the right spots! Easy to make and utterly delicious – these Chocolate Chip and Oat Peanut Butter Cookie Bars will be ready in no time! Gluten Free + Low FODMAP + Vegan Friendly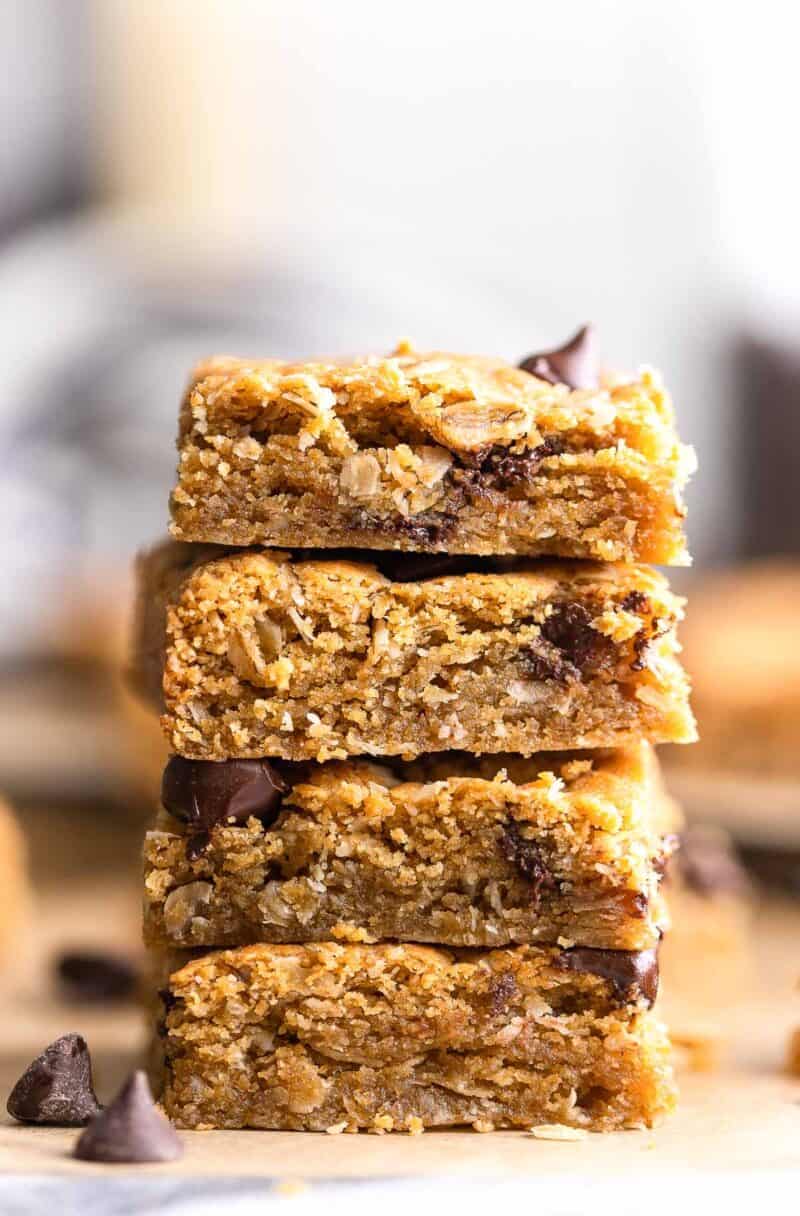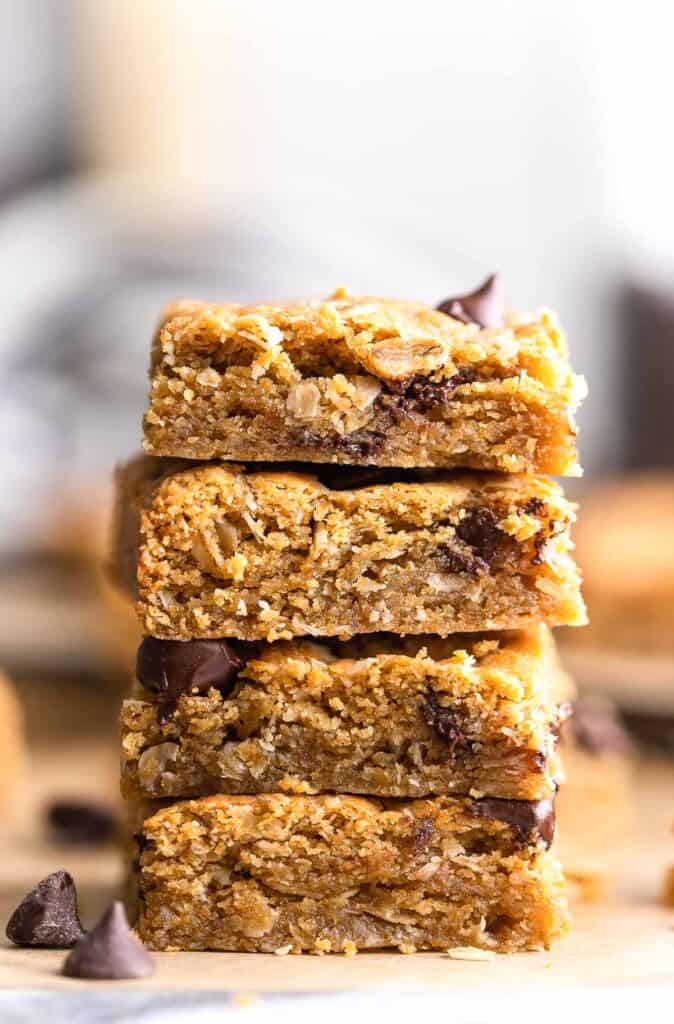 Ya know, I wouldn't really consider myself a massive peanut butter lover, but there is just something irresistible about peanut butter cookies.
That sweet and salty combo just speaks to my soul. Today we'll be adding yet another easy peanut butter dessert to my growing collection. Baking this into bar form satisfies that cookie craving with less work!
The end result?
Peanut butter blondies studded with melty chocolate chips and gluten free oats. They're soft, chewy and incredibly delicious!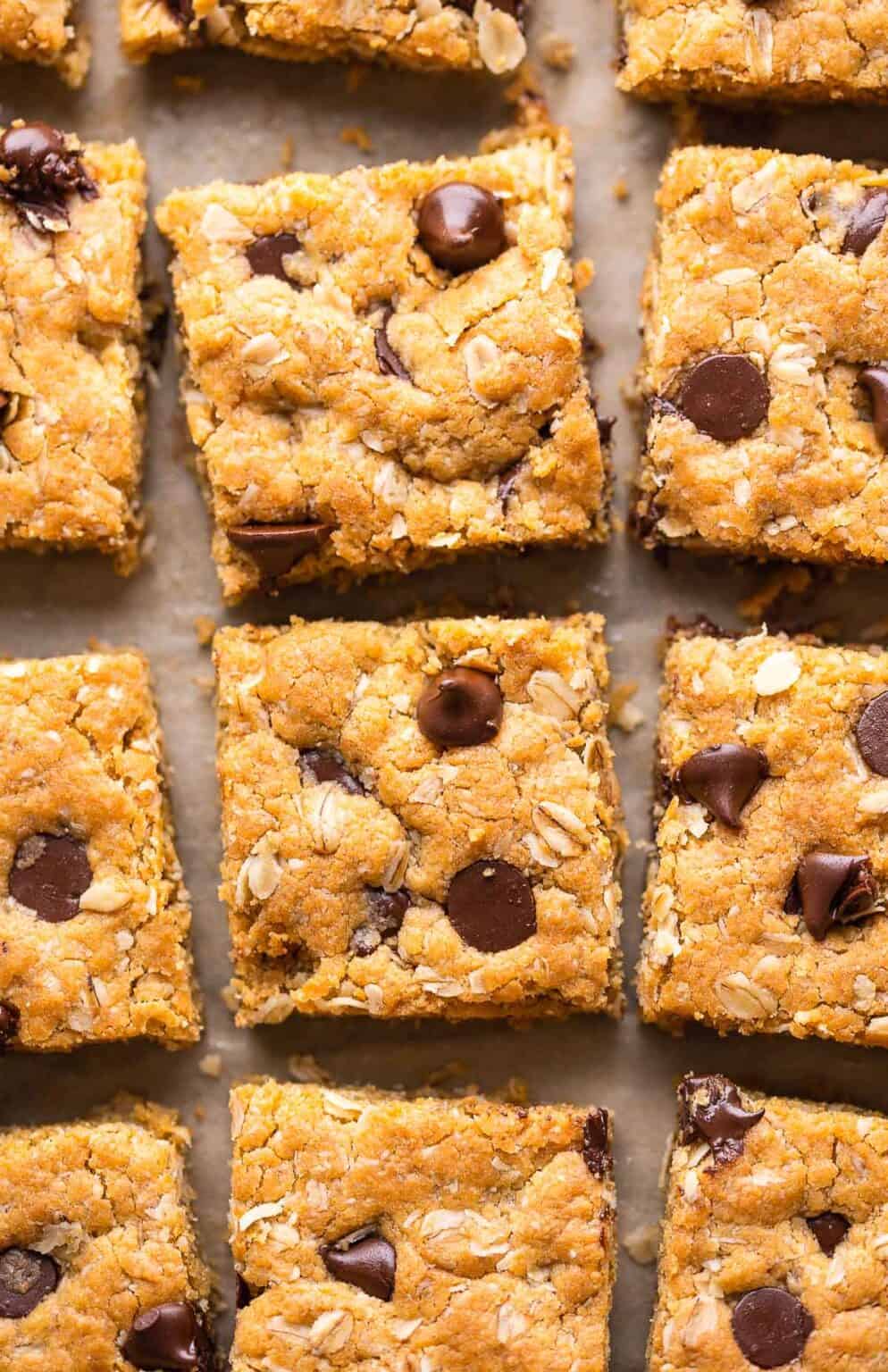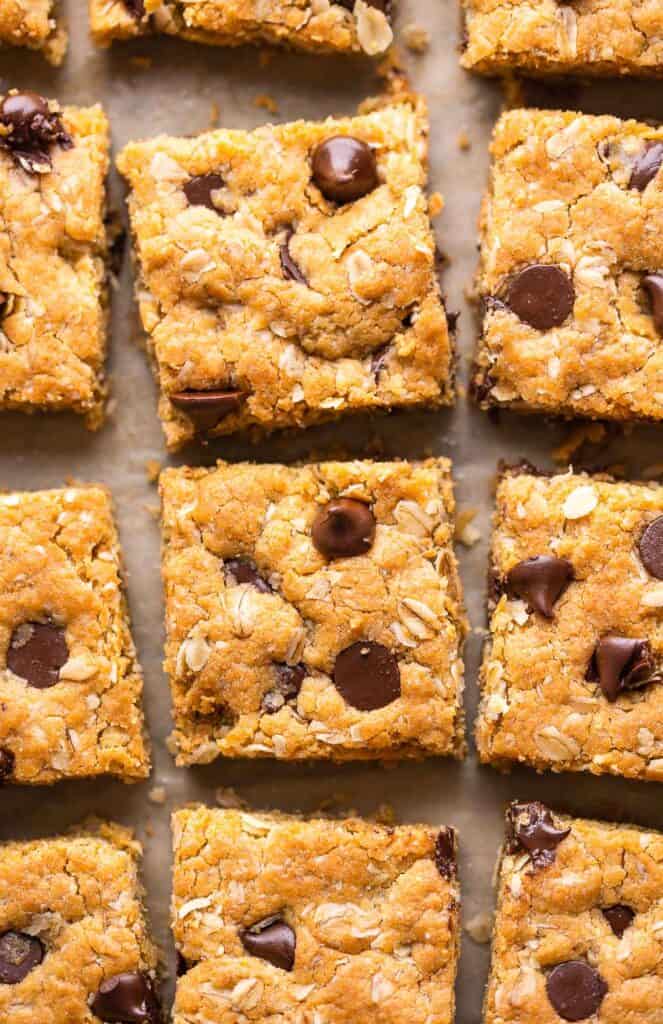 About These Peanut Butter Cookie Bars
I originally actually made this recipe thinking it was going to replace my original peanut butter oat bars.
It was only after I finished testing, picturing and eating (probably too many) peanut butter bars, that I realised my original recipe had enough positive comments and reviews that I couldn't change the recipe.
Fortunately, this recipe is different enough that it really does deserve its own spotlight.
And I mean, it's not like you can have too many variations on a classic peanut butter cookie, right?!
Key Ingredients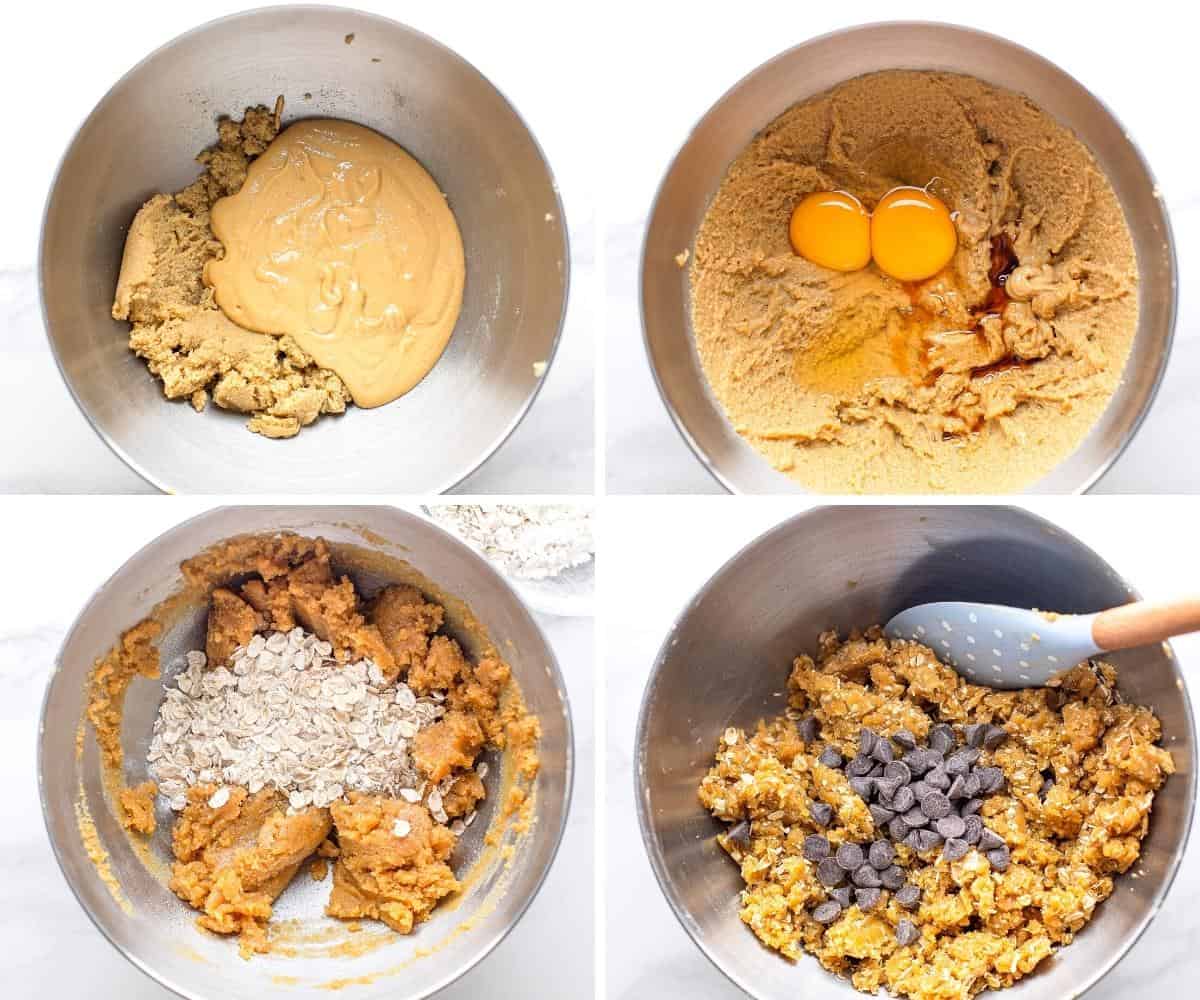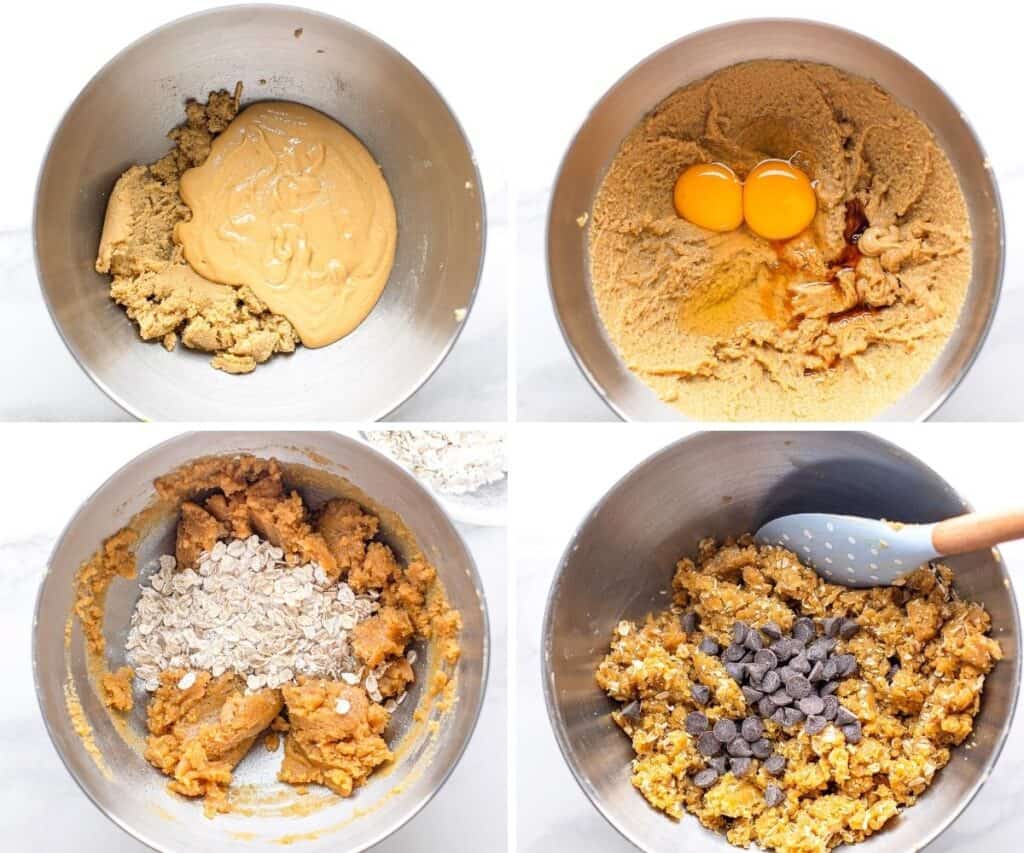 Wet Ingredients
Light Brown Sugar

Dark brown sugar also works here.
Brown sugar is slightly acidic which means it will react with the baking soda to create carbon dioxide bubbles and allow the bars to puff up in the oven.

Room Temperature Butter

Make this recipe dairy free with vegan butter!
I haven't tried this with coconut oil, but I do think it would work.
Peanut Butter

Feel free to use crunchy or creamy peanut butter here.
If you decide to use a natural peanut butter (it comes with a layer of oil on top), make sure to drain away as much of the excess oil as possible. Too much excess oil can make the bars feel a bit greasy after baking.
Sub out the peanut butter with almond butter or another nut butter of your choice.
One Egg + One Egg Yolk

I found that two eggs made these bars too cake-like and one egg was too dry. The extra egg yolk adds just enough moisture to make chewy cookie bars.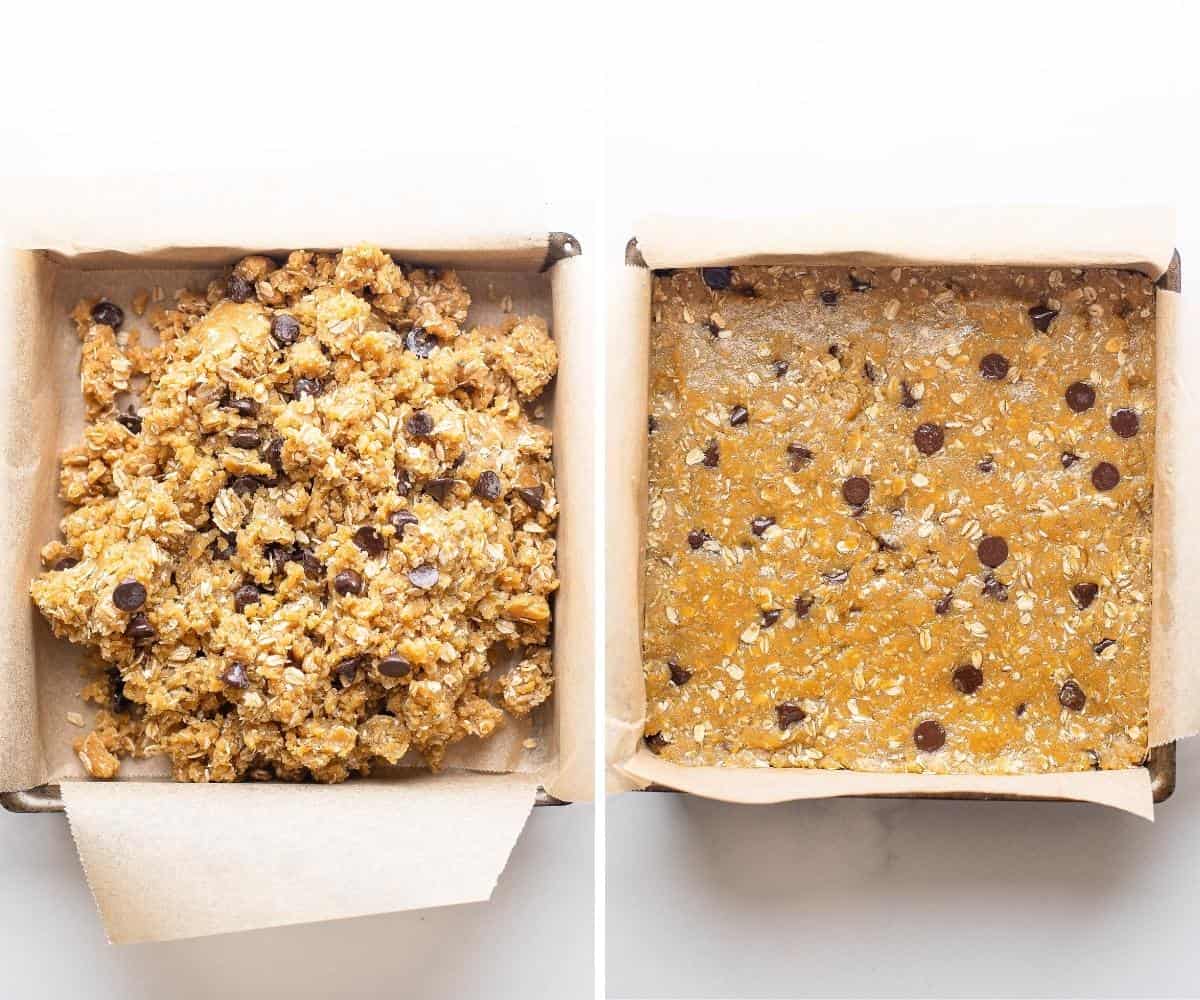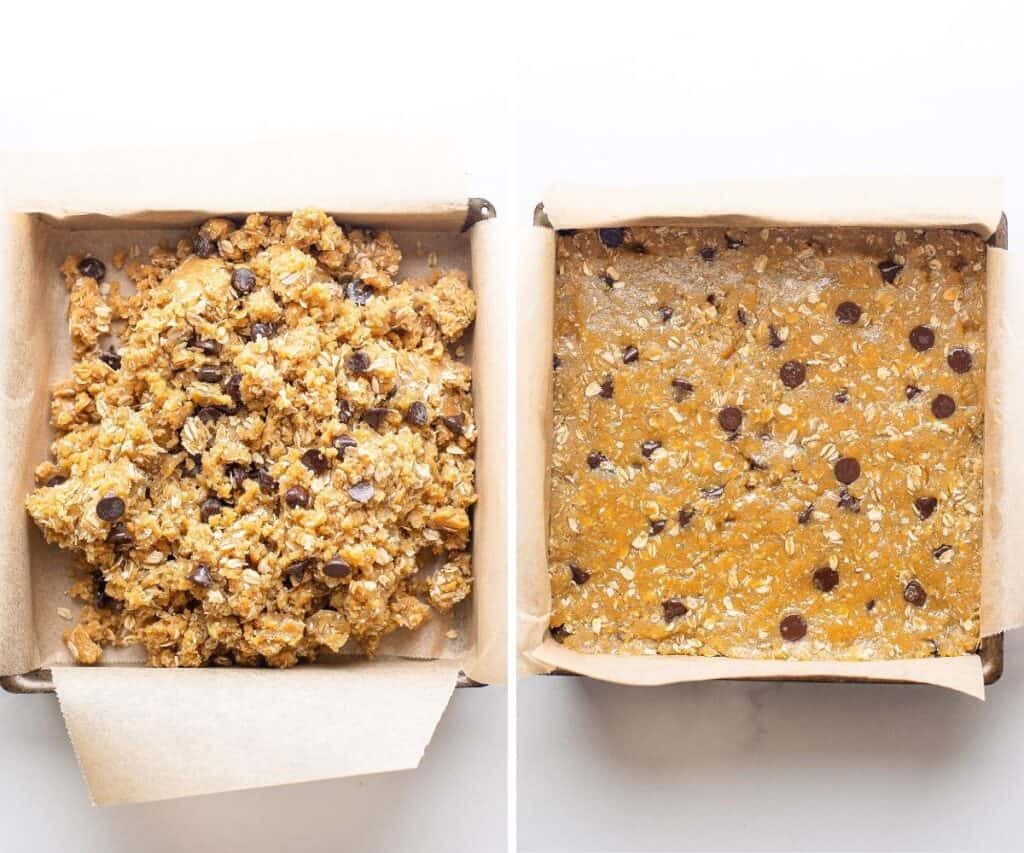 Dry Ingredients
Gluten Free Quick Oats

Make sure to use certified gluten free oats if you need these bars to be safe for you or someone you know who's gluten intolerant.
Even when they are totally gluten free, oats can still be a tricky ingredient for some Celiac's. Check out my post, Are Oats Gluten Free if you want to learn a little more about whether or not you should include them in your diet.

Gluten-Free Flour Blend
Chocolate Chips

Feel free to leave out the chocolate chips if you want.
You can also get creative and play around by adding different types of chocolate chips or add ins:

Use white chocolate chips, peanut butter chips, dark chocolate chips or even m&m's. Chopped nuts another great alternative!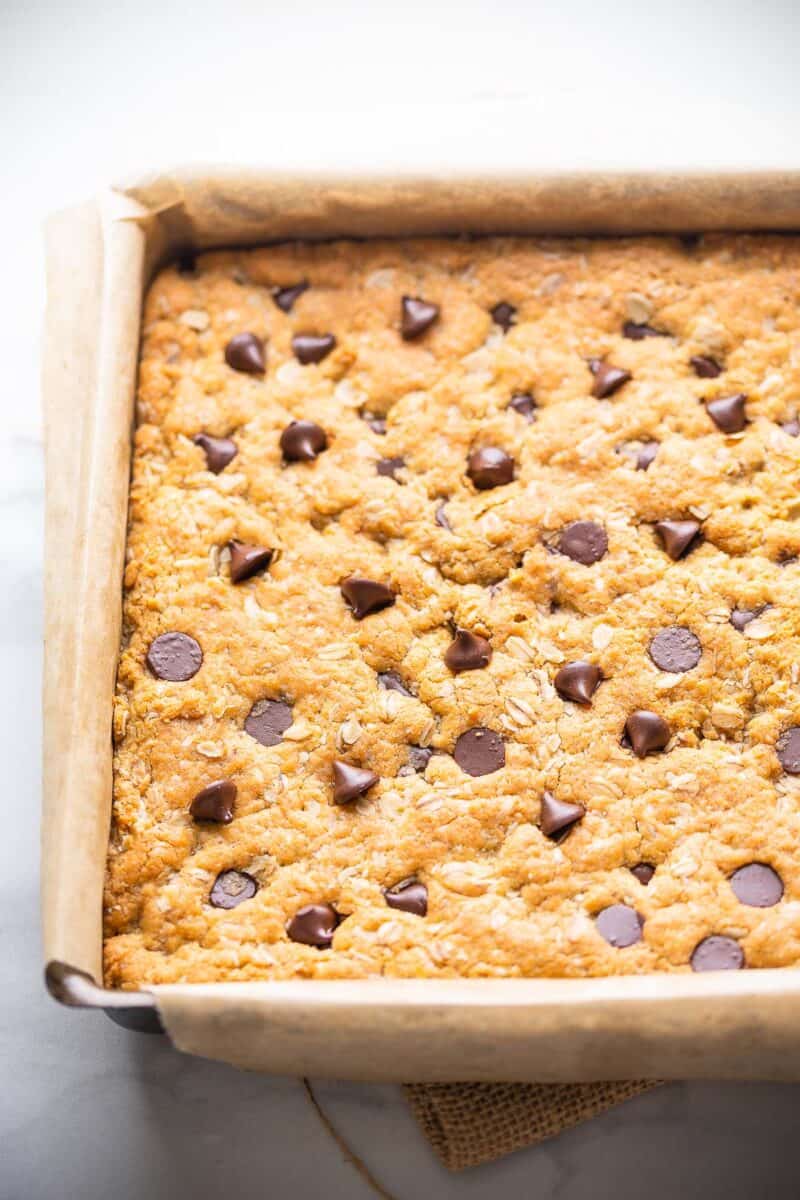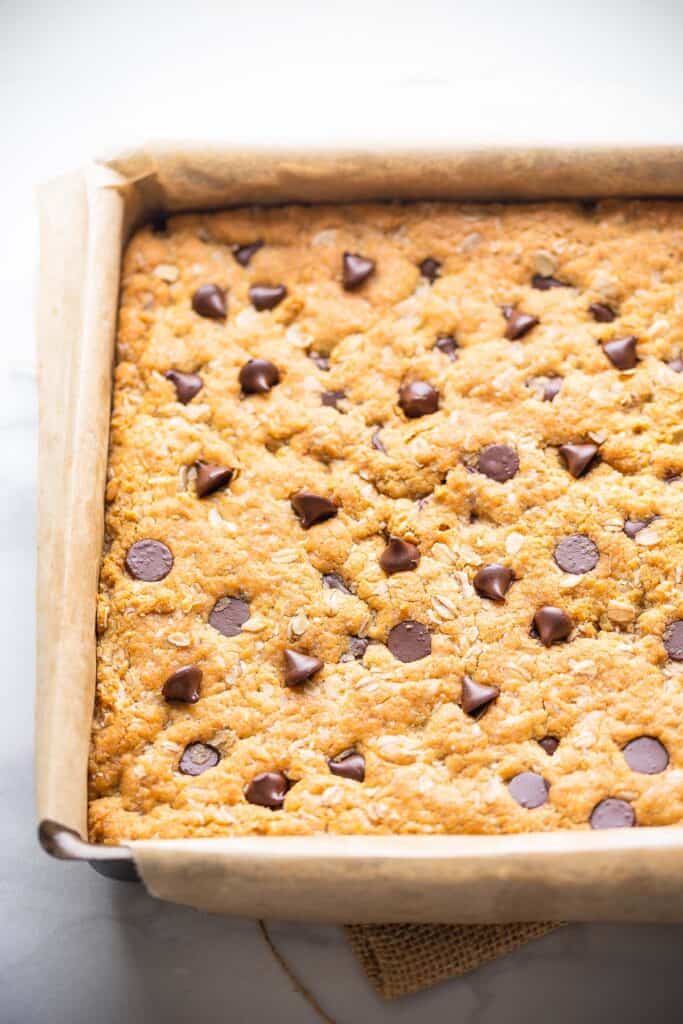 Freeze for Later
If you're unable to finish the bars right away just freeze it! You can freeze both the cookie dough and the baked peanut butter cookie bars easily enough.
Freeze the Dough
Follow the recipe as written until just before baking. Instead of placing the pan in the oven, wrap it up tightly in plastic wrap and foil and place in the freeze for about 3-4 hour until frozen solid.
After the dough has frozen in block form, pull the sides of the baking paper to remove the dough from the pan then wrap back up in plastic wrap/foil and seal in a large freezer bag. Label the bag and keep stored in the freezer up to 3 months.
When you're ready, place the dough back in the pan and bake from frozen. Add an extra 4-5 minutes to the overall bake time.
Freeze the Bars
Cool the bars completely.
Spread the bars then bars on a baking sheet you can fit in the freezer. Cover the baking pan and freeze until solid.
Transfer the cookies to a bag or freezer-safe container. Place a small sheet of baking parchment in between each bar to prevent them from freezing together. Bars will keep up to 6 months in the freezer. You can enjoy frozen cookies straight out of the freezer or allow them to thaw in the fridge overnight.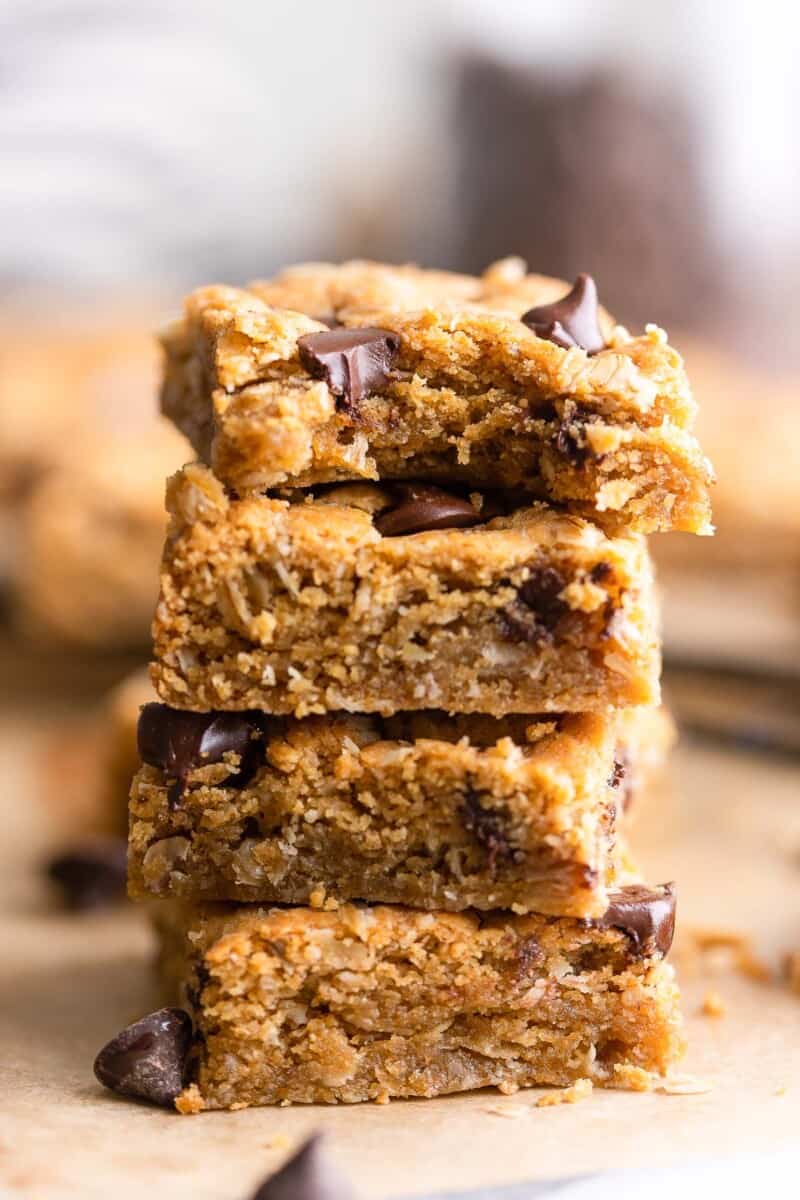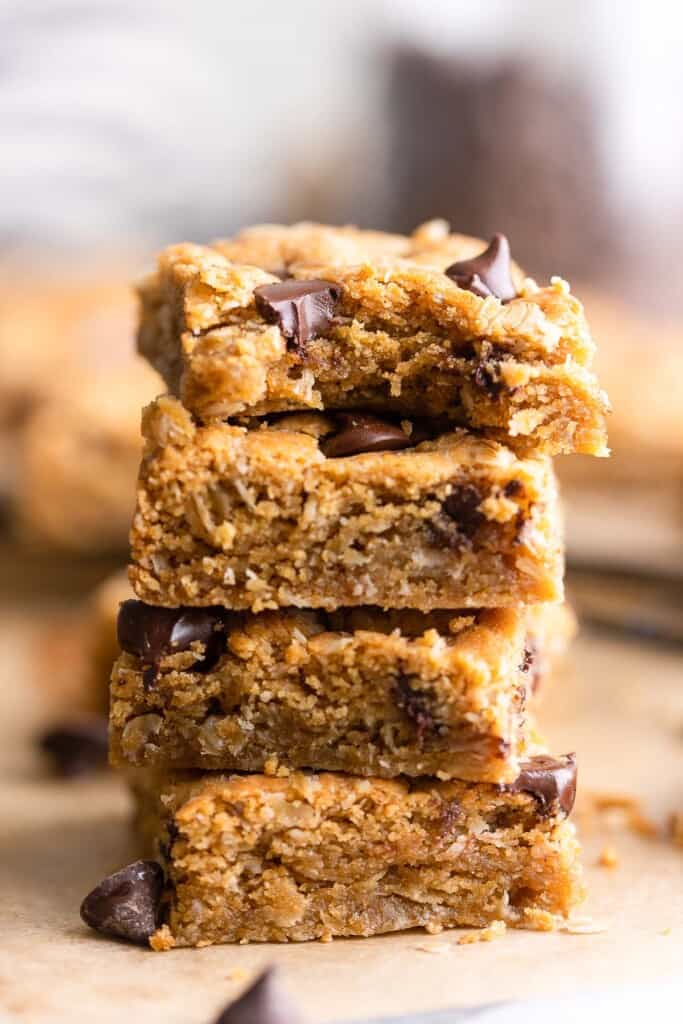 Enjoy!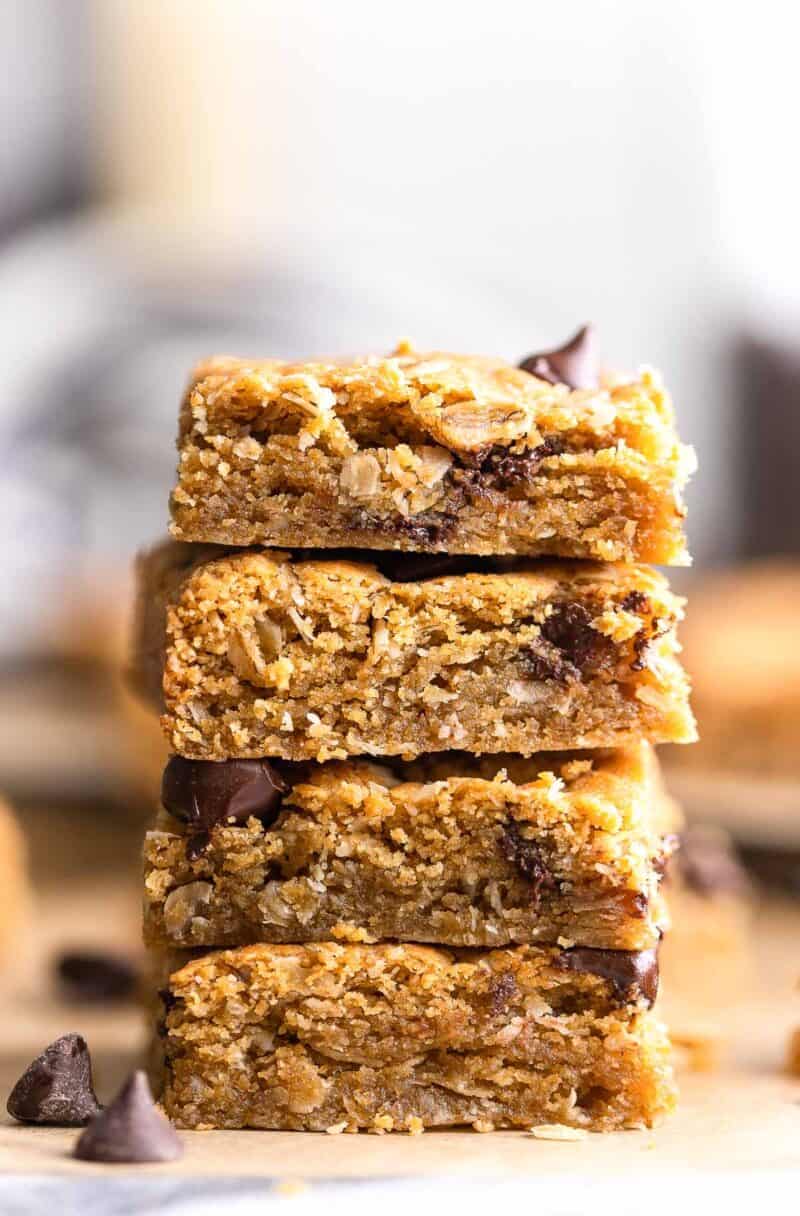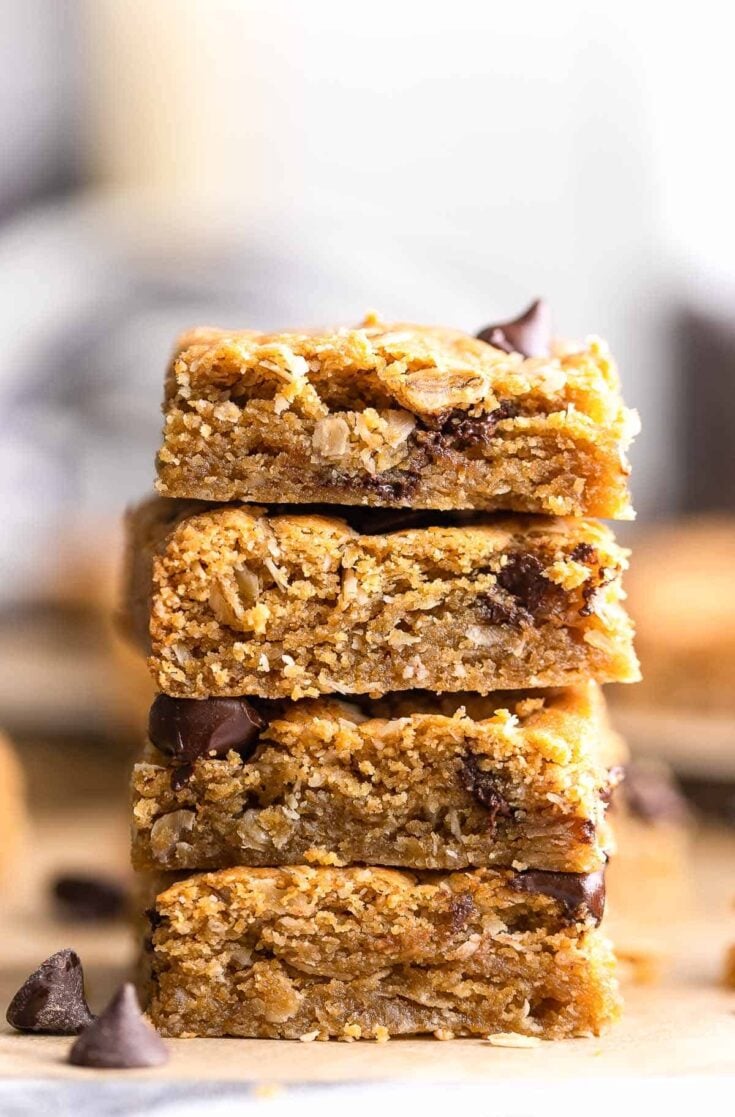 Recipe
Peanut Butter Cookie Bars with Oats
Yield:
16 squares
Prep Time:
15 minutes
Cook Time:
20 minutes
Total Time:
35 minutes
Sweet and salty, soft and chewy - these Peanut Butter Cookie Bars hit all the right spots! Gluten Free + Low FODMAP + Vegan Friendly
Ingredients
3/4 cup (165 g) light brown sugar
1/4 cup (55 g) softened butter, salted or unsalted
1 cup (250 g) smooth peanut butter (or crunchy)
1 egg plus one egg yolk
1 teaspoons vanilla extract
1 cup (90 g) certified gluten free quick oats
1/4 cup (35 g) gluten free all purpose flour
1 teaspoon baking soda
1/2 teaspoon salt (only add if using unsalted butter)
1/3 cup (57 g) chocolate chips
Instructions
Preheat oven to 350°F (180°C). Line an 8x8 inch (20x20cm) square baking tin with parchment paper - leave an inch or two of the paper hanging over the sides of the pan to easily lift out the bars later. Set aside.
In a stand mixer or a large bowl with a hand held mixer: combine the sugar and softened butter. Beat together on high for about a minute then add the peanut butter. Beat another minute on high until thick, but smooth.
Add the egg, egg yolk and vanilla extract. Mix into a smooth, creamy mixture until fully combined. Make sure to scrape down the sides of the bowl.
Add the oats, flour, baking soda and salt (if needed) to the wet ingredients. Mix on a low speed until combined.
Use a wooden spoon or stiff rubber spatula to stir in the chocolate chips until evenly distributed. The dough should be thick, soft, but a little gritty from the oats.
Transfer the dough to the prepared baking pan. Press into an even layer across the prepared pan. Place in the oven on a middle rack and bake for 16-20 minutes. The top should be golden brown and puffed up. For chewier cookie bars, bake 16-18 minutes and for less chewy bars bake 18-20 minutes.
Take the bars out of the oven and let cool in the pan for about 5 minutes. Lift the bars out of the pan and transfer to a wire rack to finish cooling. Let cool another 5 minutes, then slice, serve and enjoy.
Leave leftover out at room temperature loosely covered for up to 4 days or in an airtight container in the fridge 2 weeks.
Notes
Make it Vegan
Instead of eggs - add 5 tablespoons dairy free milk and 3 tablespoons corn starch in addition to the flour.
Use vegan butter and vegan chocolate chips.
Add an additional 3-4 minutes to the overall baking time. If the top of the bars are getting too dark in the oven, cover with foil or baking paper.
Let the bars cool at least 15-20 minutes before you slice in to them.

This website provides approximate nutrition information for convenience and as a courtesy only. Nutrition data is gathered primarily from the USDA Food Composition Database, whenever available, or otherwise other online calculators.
More Gluten Free Oat Recipes