You don't need to turn on your oven to enjoy good food this summer! Check out this list of low cook and no cook meals to see you through the season. These recipes can be made quickly and easily with little to no cooking required. As always – they're 100% gluten free! No sweat!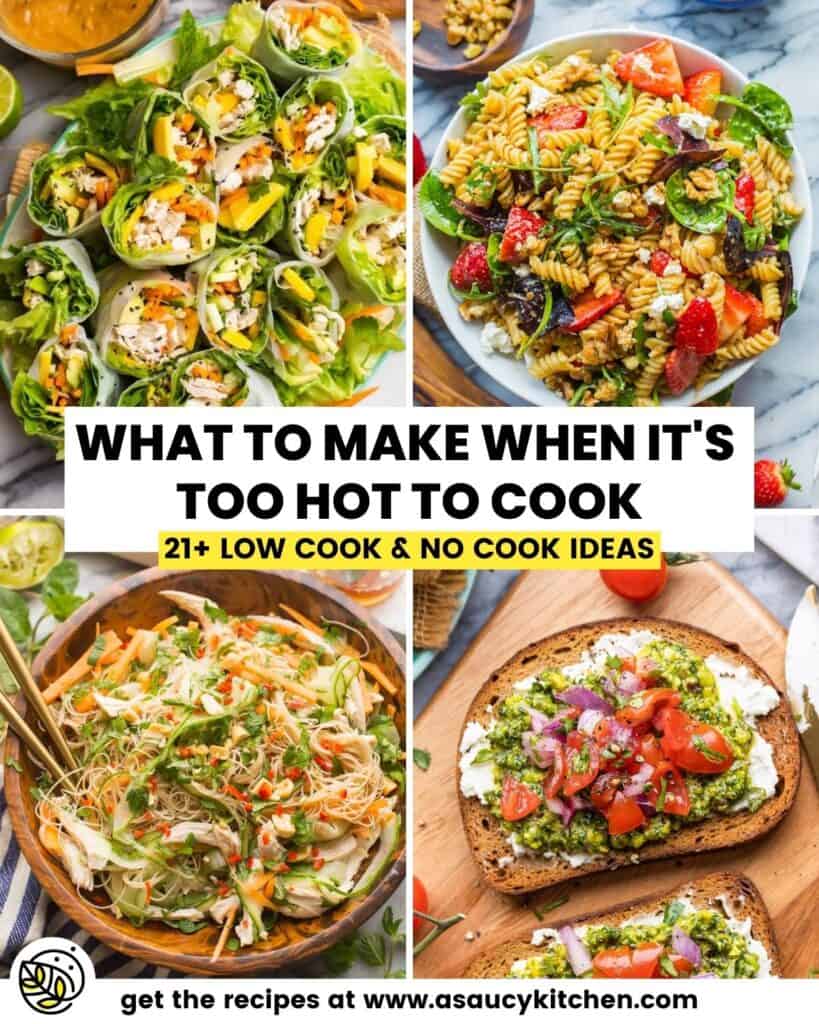 Summer. I love it. I live for it. I'm pretty sure I'm solar powered.
And yet – there always comes that point where I am OVER it. Well, not really over it so much as over the seemingly endless oppressive heat.
The thought of turning on my oven or standing over the stove for any prolonged period of time…no thanks.
Which then begs the question: What can I cook on a hot summer night?
So in that spirit, I've compiled a list of some of my favorite low cook and no cook meals you can make when it's too hot to function!
Low Cook & No Cook Meals
There are two main types of recipes you'll find here:
Low Cook Recipes

These will require very little cooking. Likely you'll need to boil pasta, noodles, quinoa or rice – a very hands off task that doesn't require you standing over a hot stove.
Recipes that require you to cook on the stove top (like chicken or beef) can be done in less than 10 minutes.
A few recipes might ask you to poach some chicken, but that is also a very hands-off task that doesn't leave you standing by a hot stove. You can also simply use leftover chicken to cut out the extra heat.

No Cook Recipes

Salads! Make use of all the delicious summer produce available this time of year while also keeping it light and healthy. They may be light but they're good enough to fill you up!
Sandwiches, wraps, summer rolls – a general mishmash of all kinds of tasty things.
Simple, yet delicious! This salad is loaded up with bright and refreshing veggies, protein-packed chickpeas and topped off with a punchy red wine vinaigrette. Spruce this salad up with a bit of feta or keep it dairy free by adding your favorite vegan alternative or ditching the cheese altogether. Either way, your taste buds will thank you – all without turning up the heat!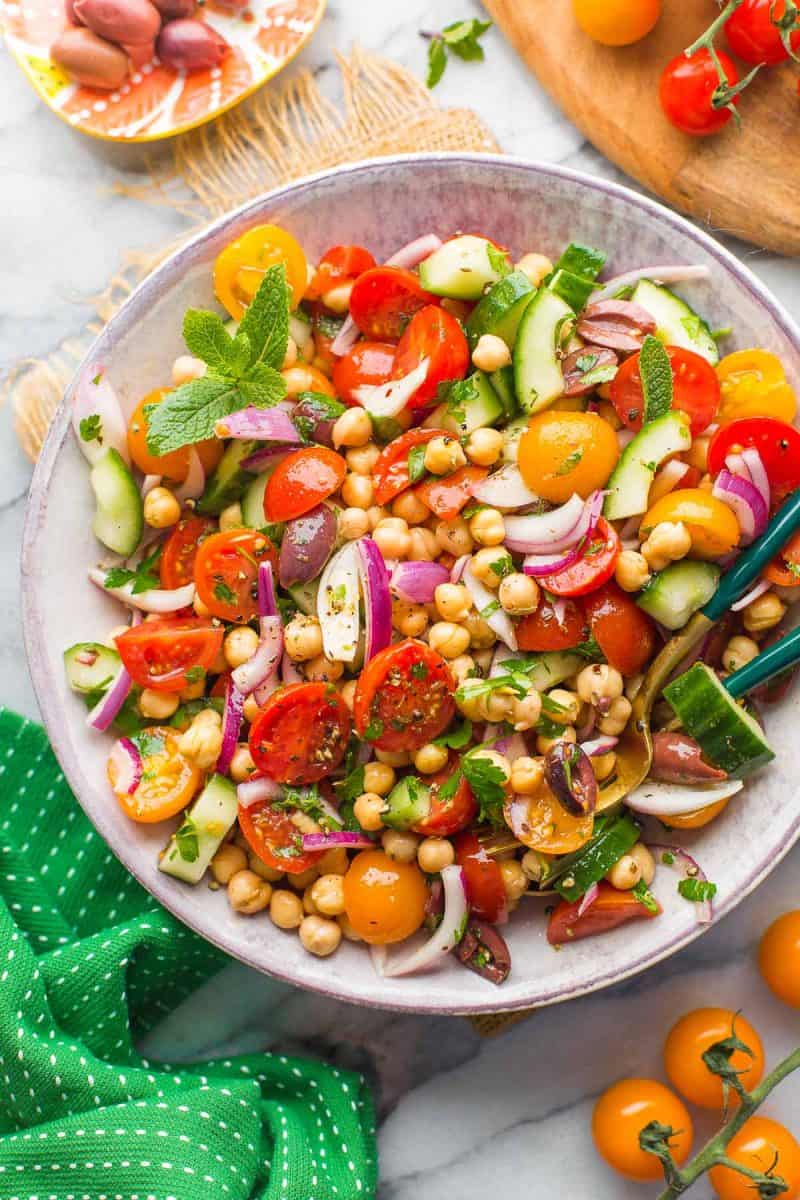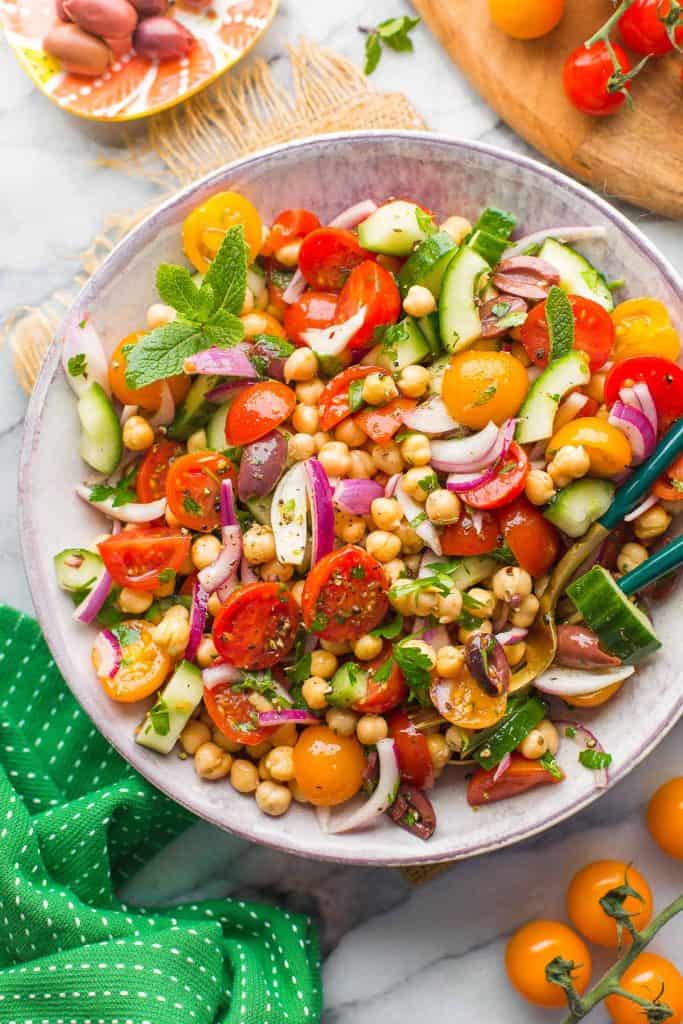 Juicy mango, lush avocado, shredded chicken, crunchy veggies, and fresh herbs wrapped and sealed off in a sheet of rice paper with a super simple coconut peanut dipping sauce for good measure. Fresh, filling and ridiculously delicious!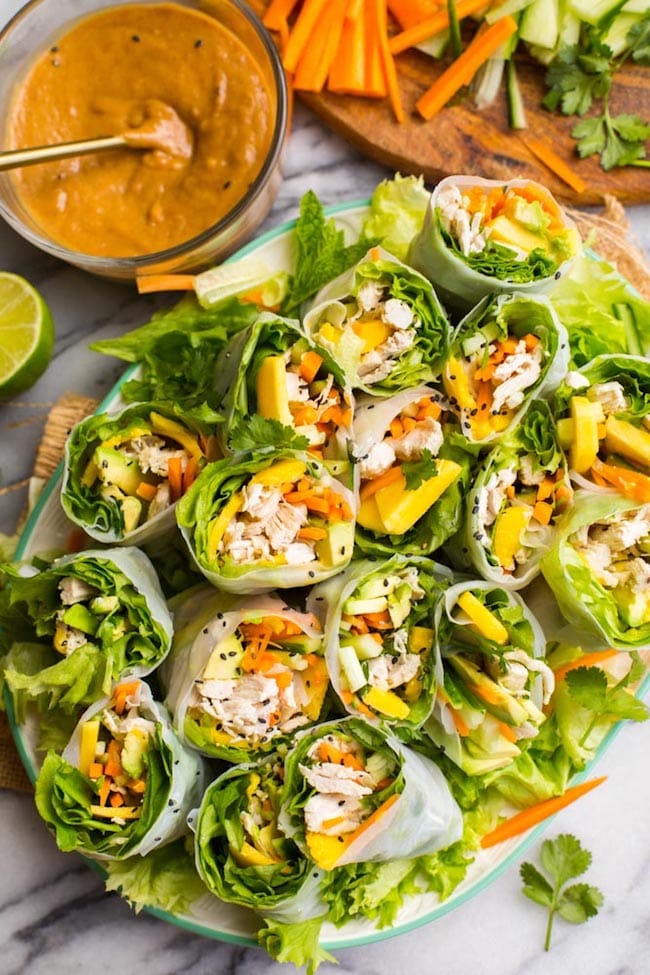 Loaded up with a heaping spoonful of the quick tomato salsa over a spread of cilantro lime pesto and cream cheese. Enjoy this is a light lunch, simple brunch or quick snack – it's the perfect thing to make when it's too hot outside to cook!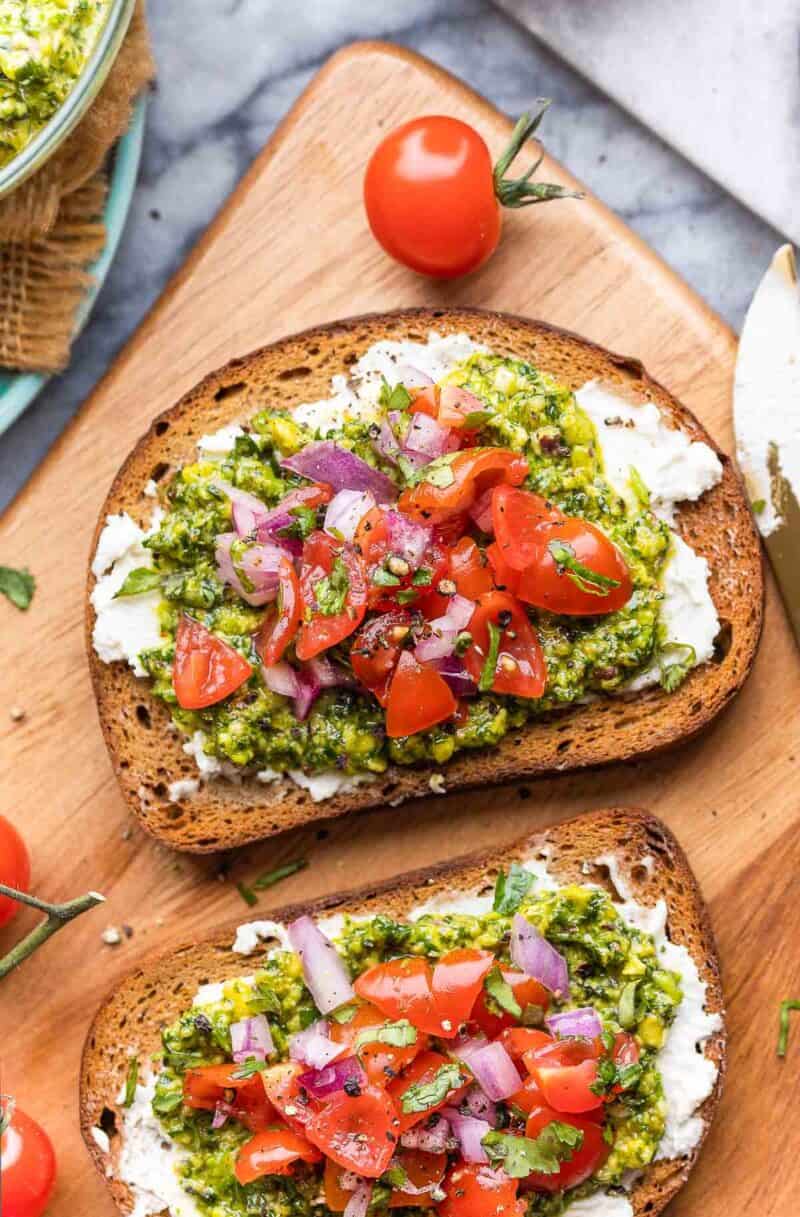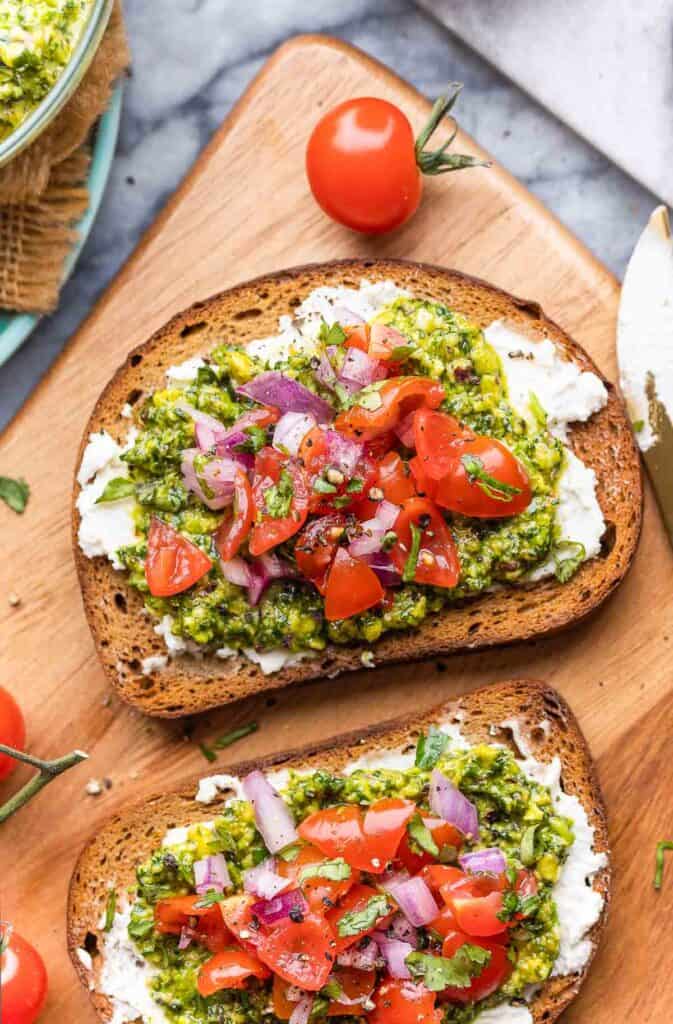 Creamy, punchy and tangy Sun Dried Tomato & Cannellini Bean Salad – make in 15 minutes or less with minimal prep! No need to turn up the heat – simply mix up and enjoy.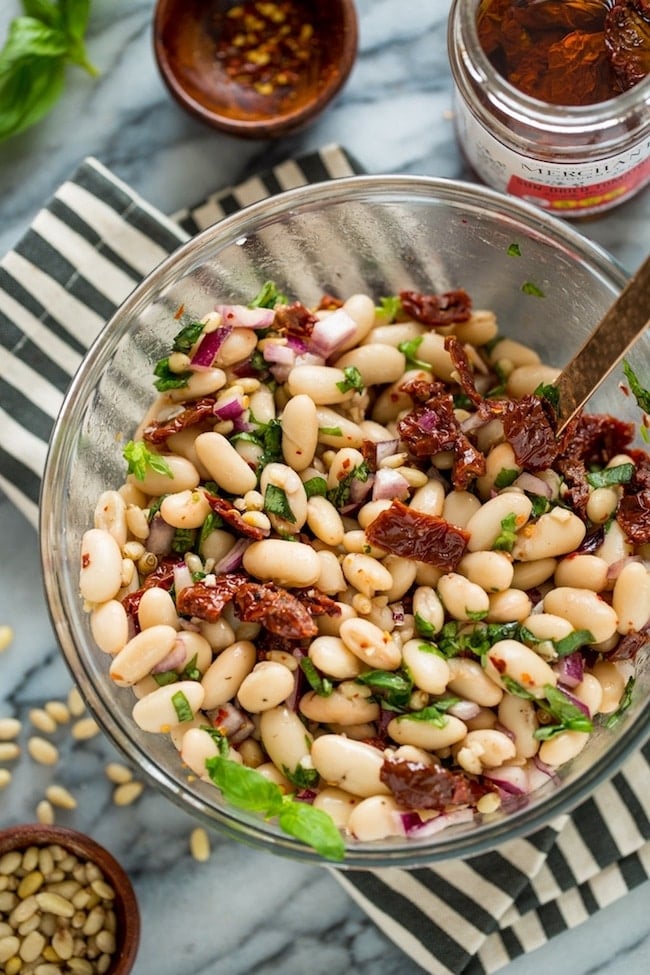 Fresh and flavourful Mango & Shrimp Thai Noodle Salad – bold & punchy flavours mixed together in a noodle salad with fresh herbs. The prawns and noodles cook quickly in minutes keeping the overall cook time to a minimum!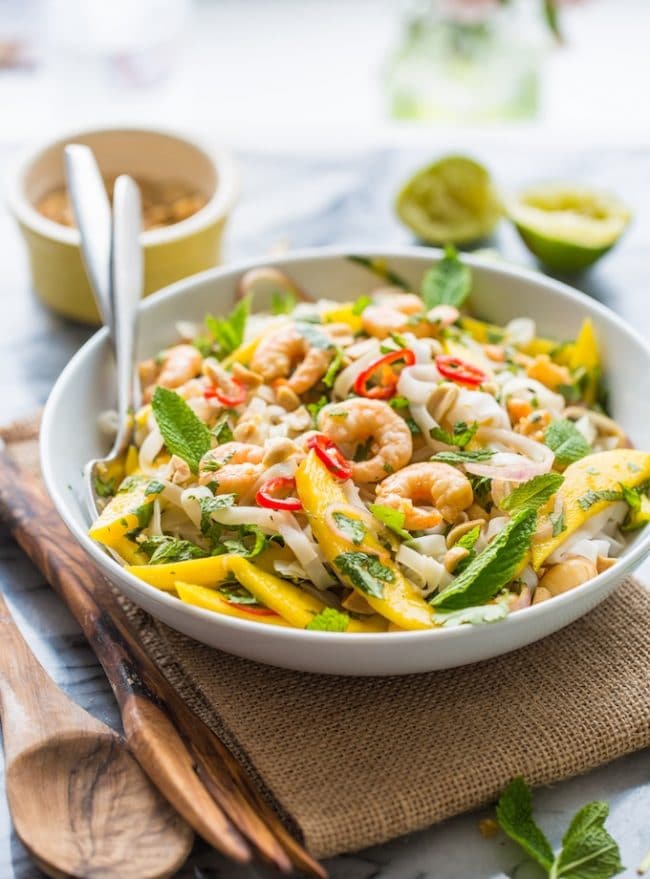 This Coronation Chicken is made with a Greek yoghurt and mayo sauce seasoned with curry powder, mango chutney and lemon juice. Chopped celery and toasted almonds are thrown in to the mix for some much needed added crunch to balance out all the creamy textures. Poach the chicken in a cumin, ginger and stock blend for a or use leftover cooked chicken for a quick and easy alternative!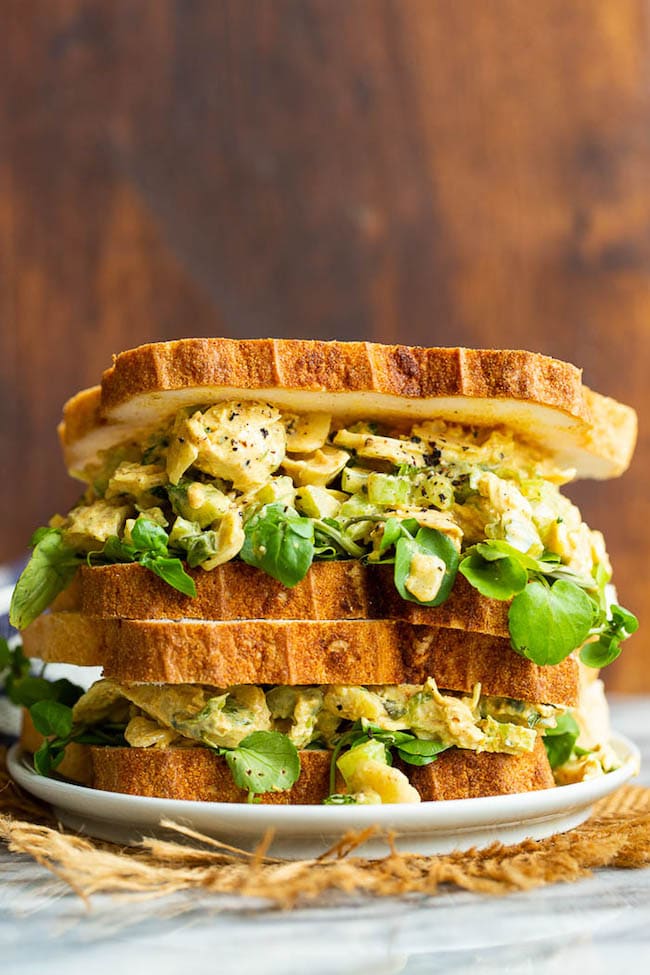 Simply boil the pasta, then toss with with chopped walnuts, crumbled feta and salad greens. It's ready in about 20 minutes or less with 10 ingredients total.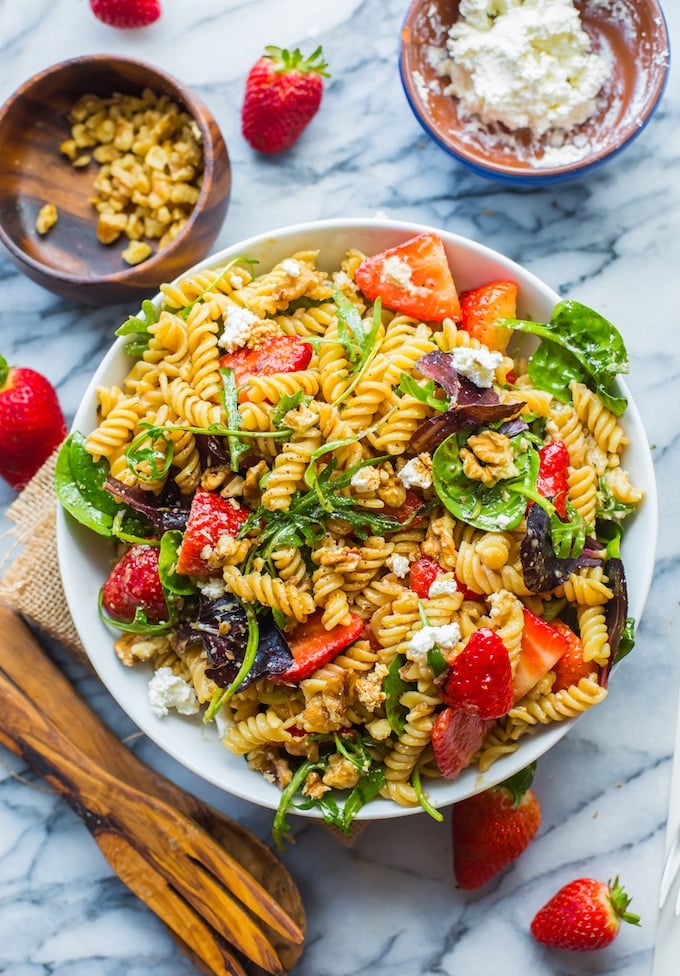 It's made with simple ingredients, requires little prep and packs in a mouthful of flavour – all while being naturally vegan and low carb! Made with diced cucumber, tomato and onion (in this case spring onion) mixed with fresh parsley and dried mint, then tossed in a fresh citrus making for a zesty, delicious and healthy salad.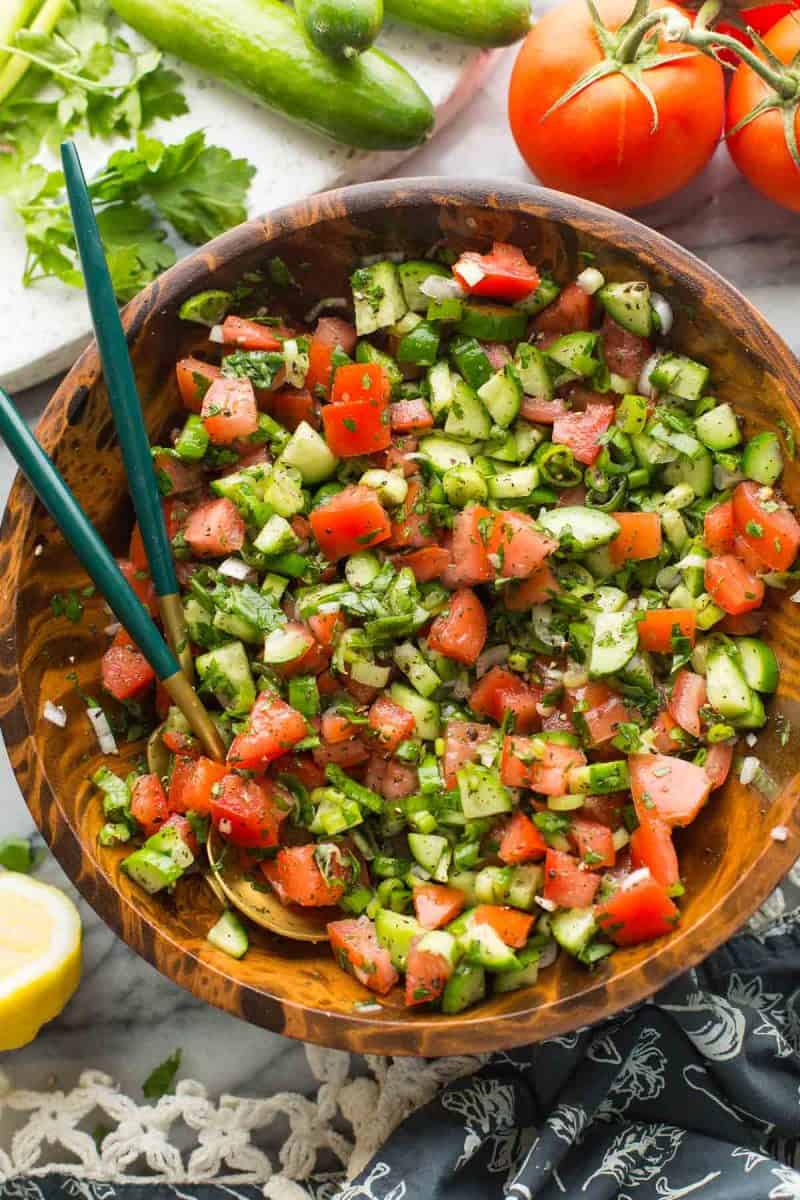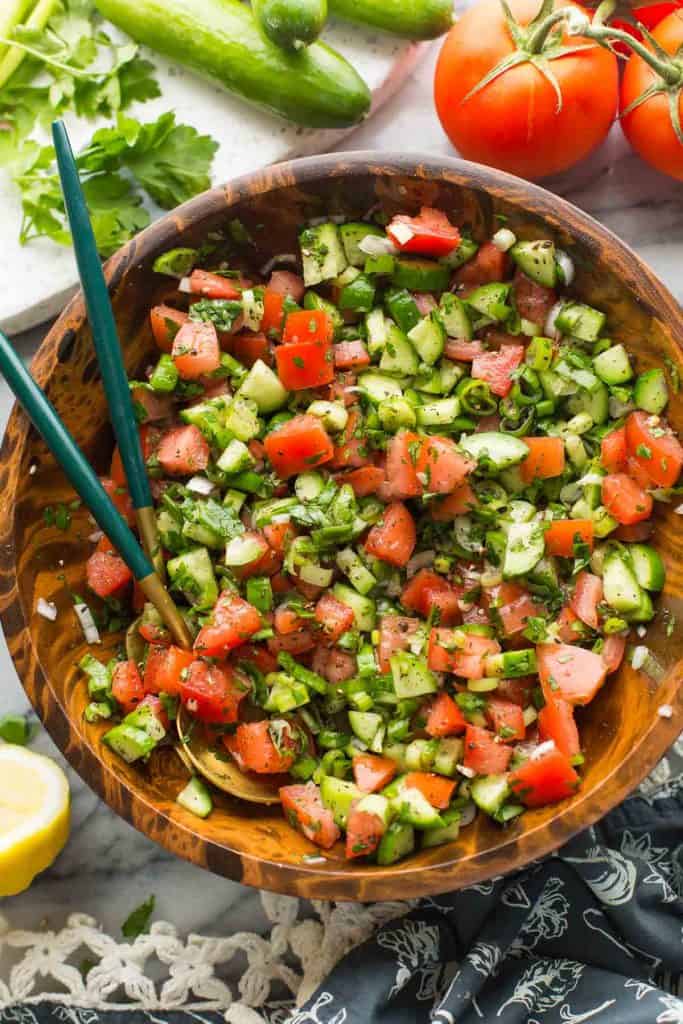 This salad is like eating crunchy water, but in the best way possible! It's a delicious blend of salty, tangy flavours, bright colors and hydrating veggies. If you've got a spiralizer – this salad has your name written all over it!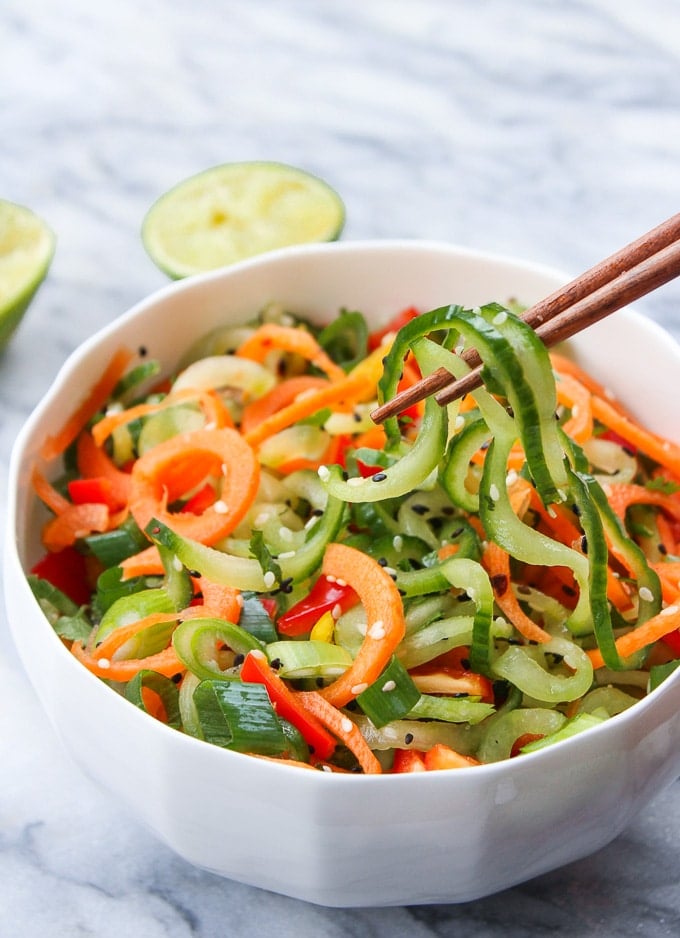 Make this Smashed Chickpea Salad in under 10 minutes with minimal effort! Enjoy on its own as a simple side salad, stuffed in a sandwich or filled into a wrap. Get your filling of protein, fibre, and bright, fresh flavours all in one delicious helping!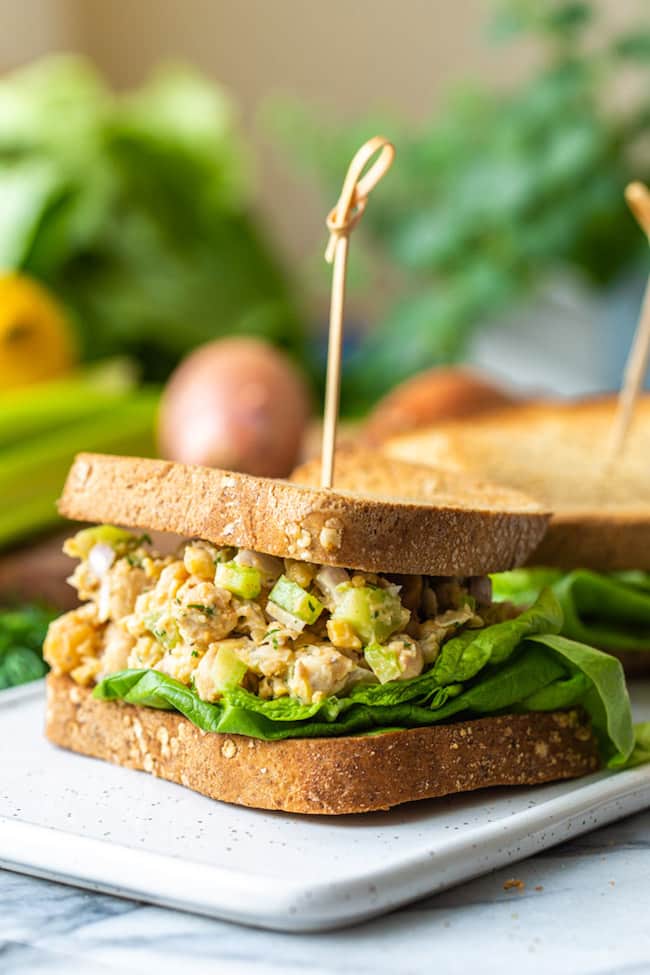 This pasta is deceptively easy and people are always surprised to find out that it's vegan! Blended up cashews make the base of the ultra-creamy tomato sauce and the nutritional yeast adds a cheesy, salty flavour that you'd normally get from parmesan. All you need to cook is the pasta. The rest gets blended together in no time!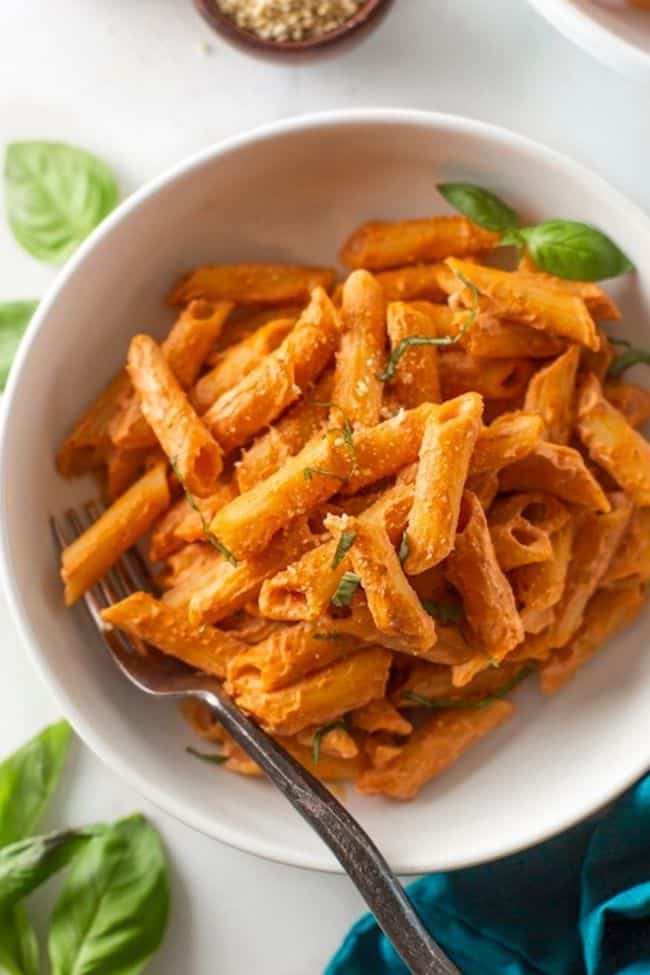 A little cooking is required for this salad, but the end result is well worth it! Chopped pan fried chicken, red bell pepper, onion and avocado tossed together with black beans and corn in a bed of salad greens and drizzled with a creamy tahini lime dressing – creamy and crunchy textures come together to make a fresh, filling and delicious salad made in no time!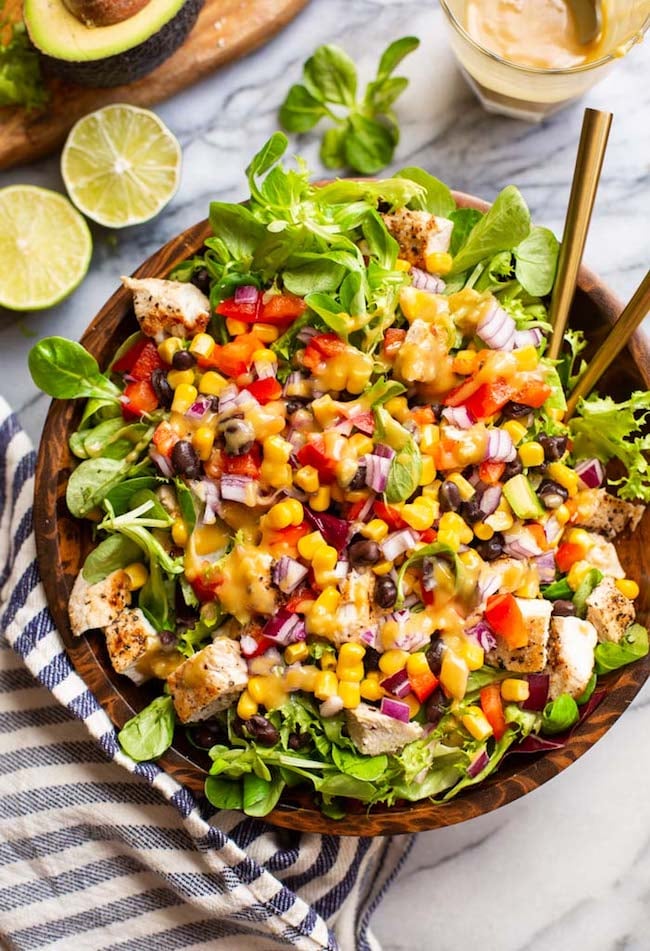 Another low cook meal worth the heat: these noodles! Fortunately, the noodles cook quickly and easily. Fresh aromatics sautéed and seasoned with spicy chili paste, soy sauce, peanut butter and sweetened with a touch of sugar make for a quick and easy noodle sauce. Make this dish in 15 minutes tops for a simple yet speedy noodle dish that will leave wanting more!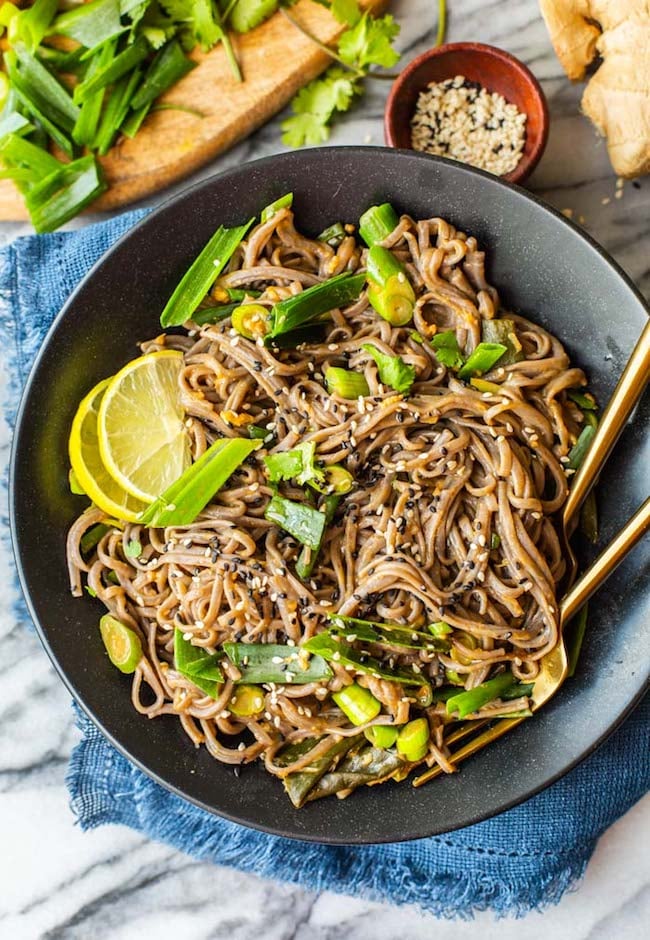 Chickpea Kale Antipasto Salad is tossed in a simple lemon-garlic vinaigrette – only 10 ingredients needed and about 10 minutes to make! It's simple. It's delicious. It's perfect for hot weather!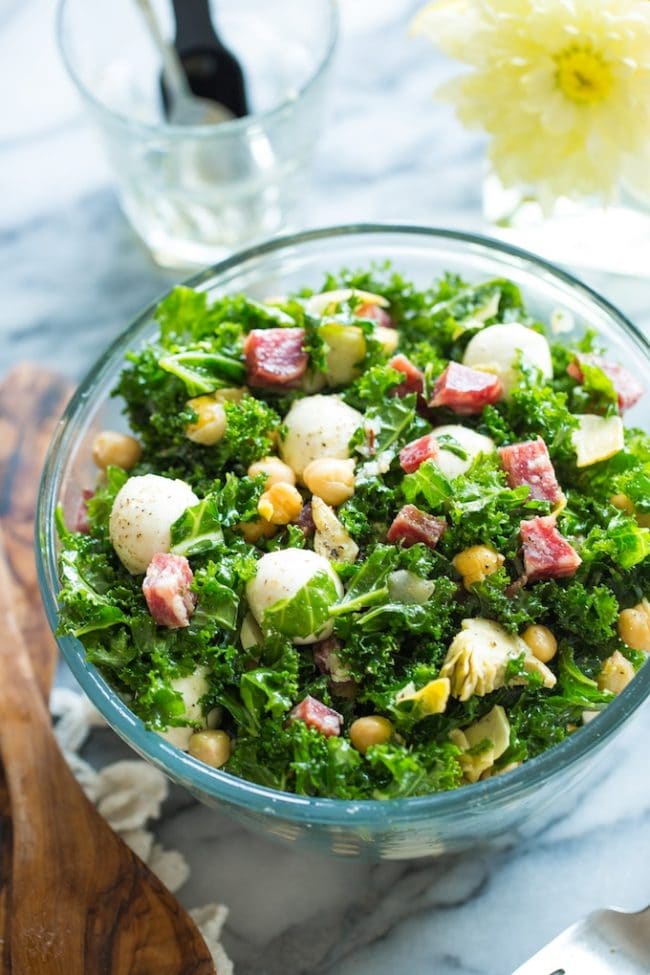 Salmon and Kale Caesar Salad with diced avocado, sunflower seeds and shaved parmesan. Canned salmon makes this salad protein packed & calcium rich while also being easy and affordable!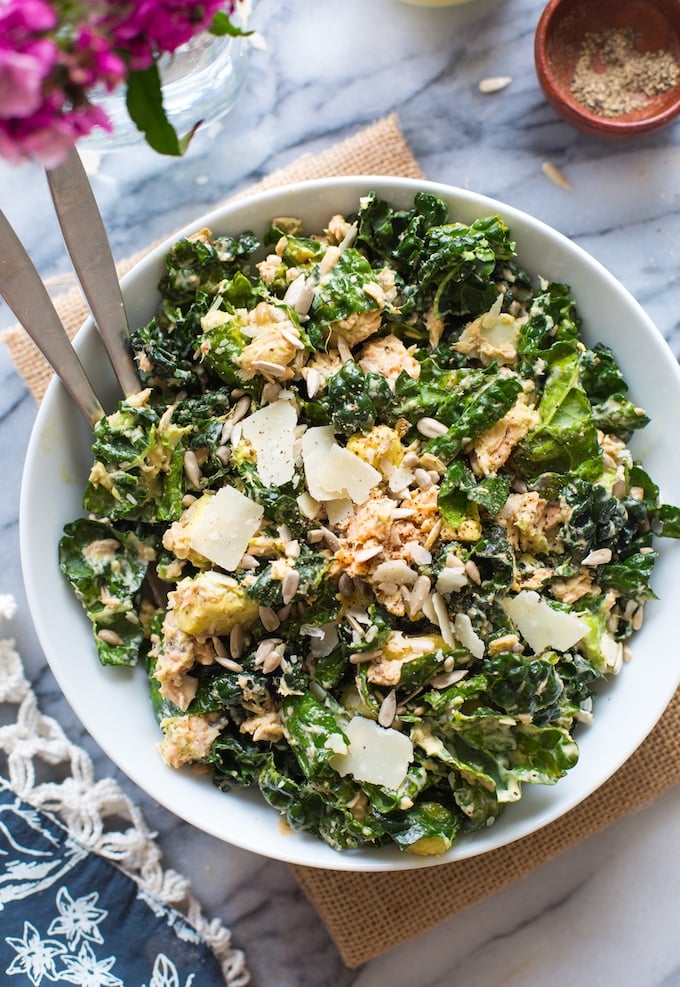 High protein, low carb spicy Beef Lettuce Wraps – prepped in one pan in under 20 minutes! The beef cooks up in about 10 minutes making this a great, low cook option if you're not in the mood for salad.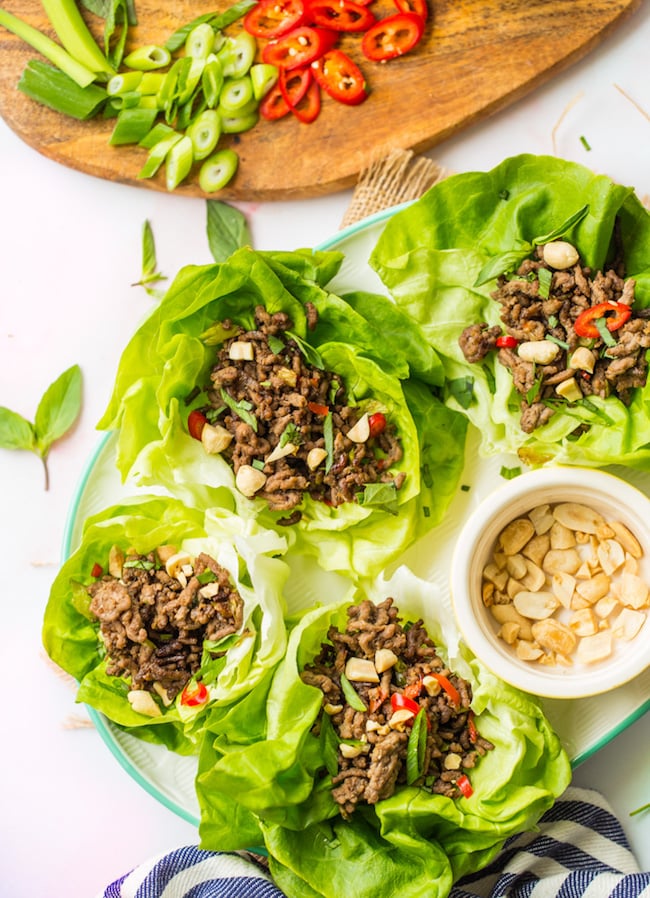 This Curried Chickpea Salad is a medley of crispy, crunchy, creamy textures that's filling, vibrant and easy to make! Enjoy as a side salad or stuff it in wraps and salads for a healthy and delicious meal.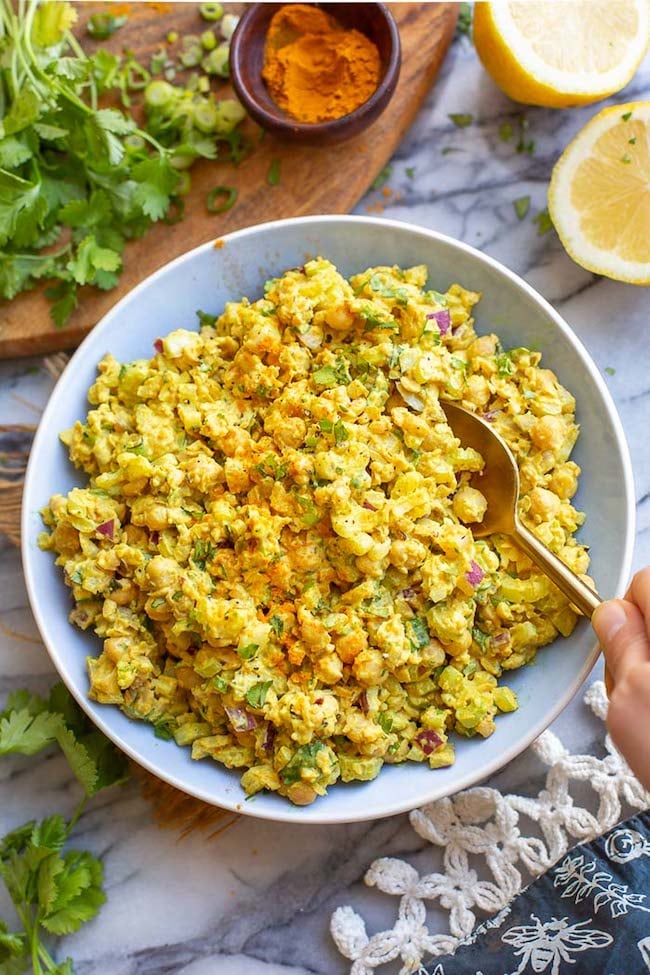 This Tabbouleh inspired Chickpea Quinoa Salad is a fresh, light and healthy salad that's as filling as it is satisfying – very! Loaded up with the usual Tabbouleh suspects: tomatoes, cucumber, spring onions and a generous amount of fresh herbs – this salad is not one to miss! The quinoa just needs to be left to cook on the stove top without much help making this another good low cook recipe. You can even prep the quinoa ahead of time and keep in the fridge until you're ready to assemble.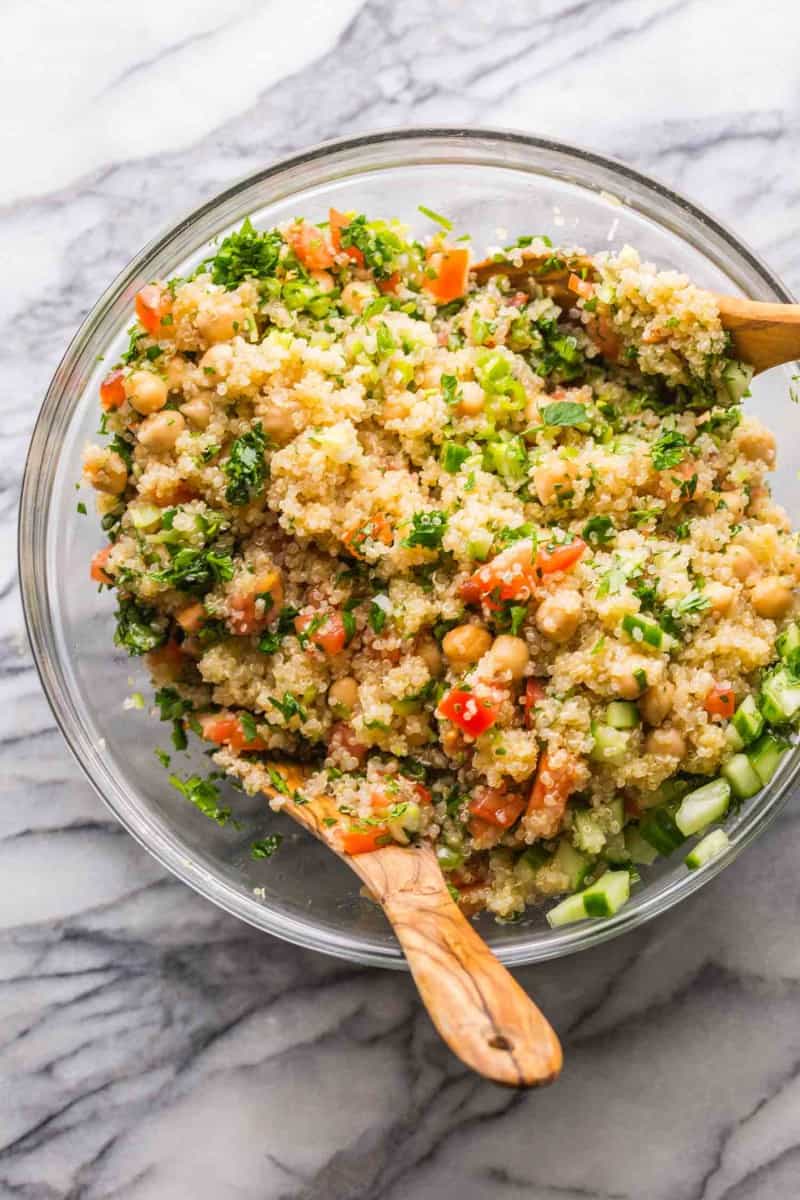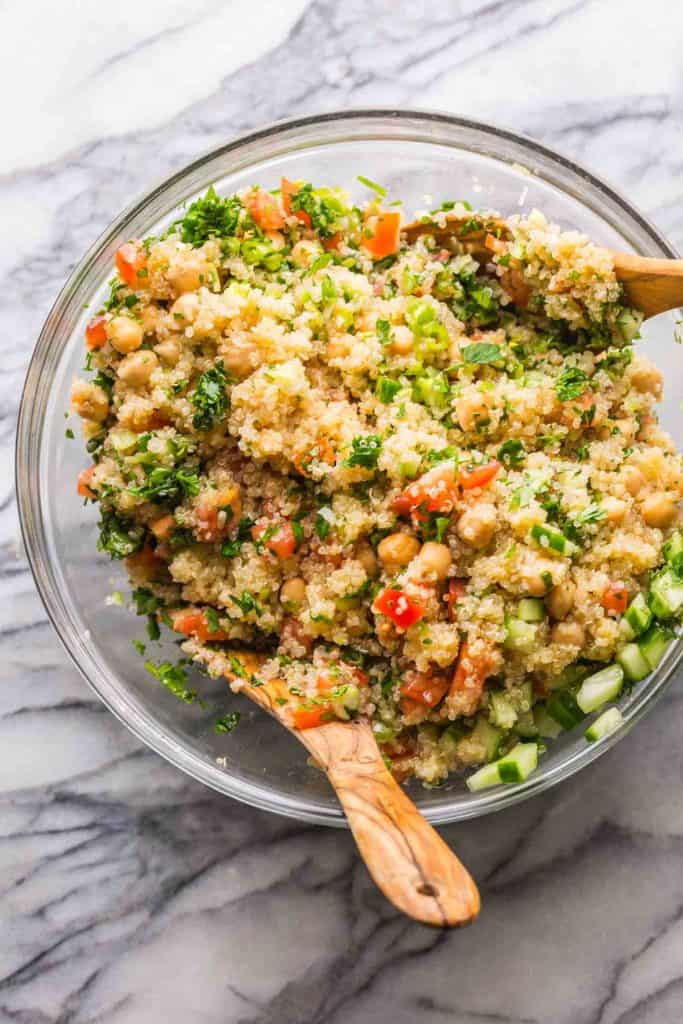 With fresh ingredients, crunchy textures and bright flavours – there's so much to love in this Vietnamese Chicken & Rice Noodle Salad! Made up of fresh herbs, crunchy veggies, shredded chicken, rice noodles and a sprinkling of salted peanuts, this salad comes together in no time with little prep. The real star of the show here is the simple, nuoc cham inspired dressing that really ties everything together with it's sweet, salty, spicy and tangy boost of flavour. Use leftover chicken to cut down on the cook time!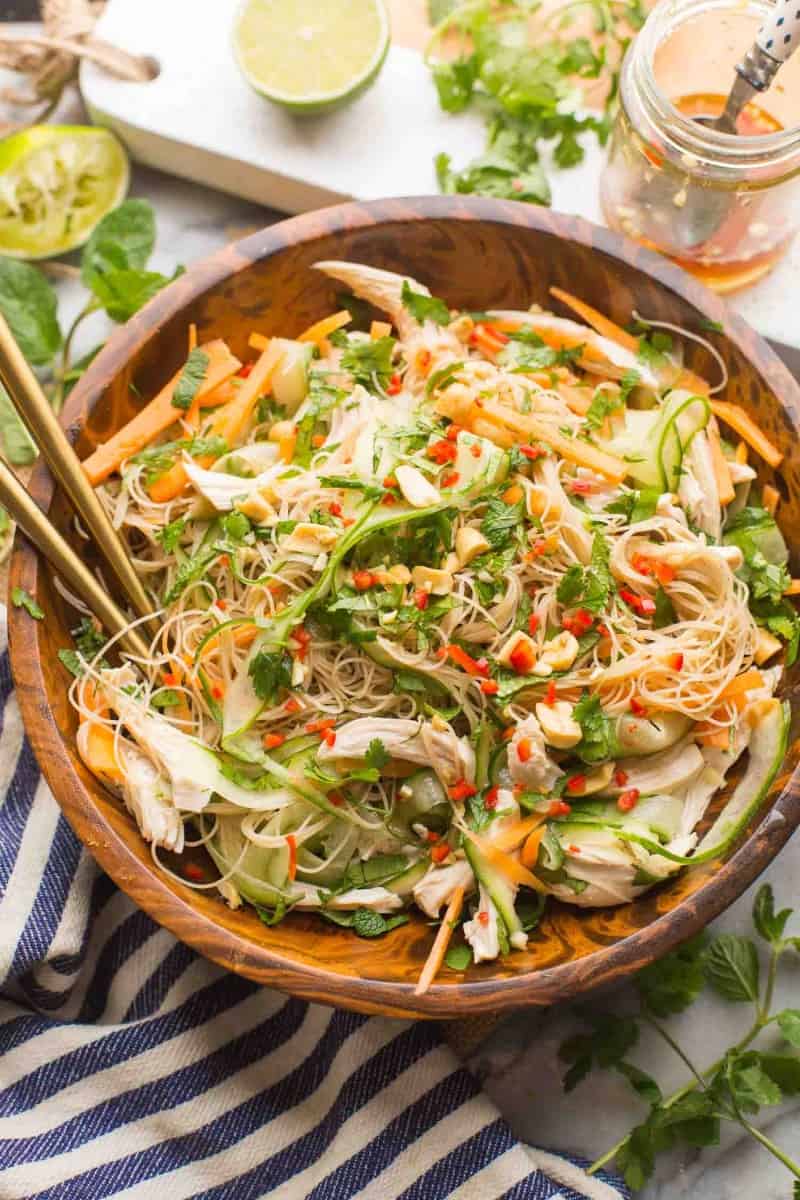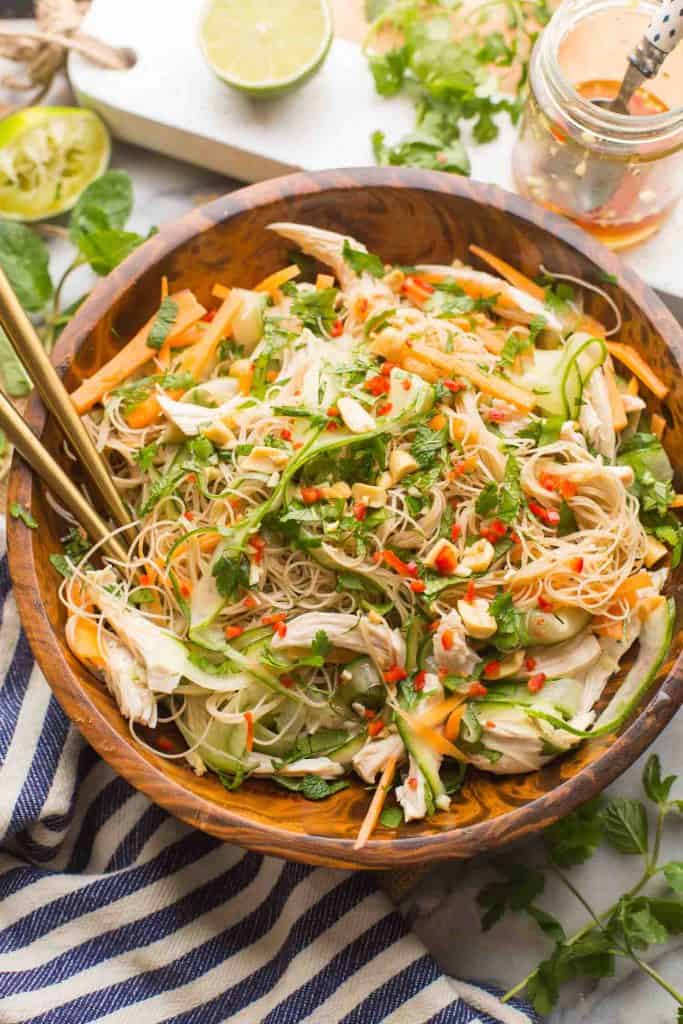 Simple balsamic pasta salad with fresh cherry tomatoes, arugula and basil in an easy vinaigrette.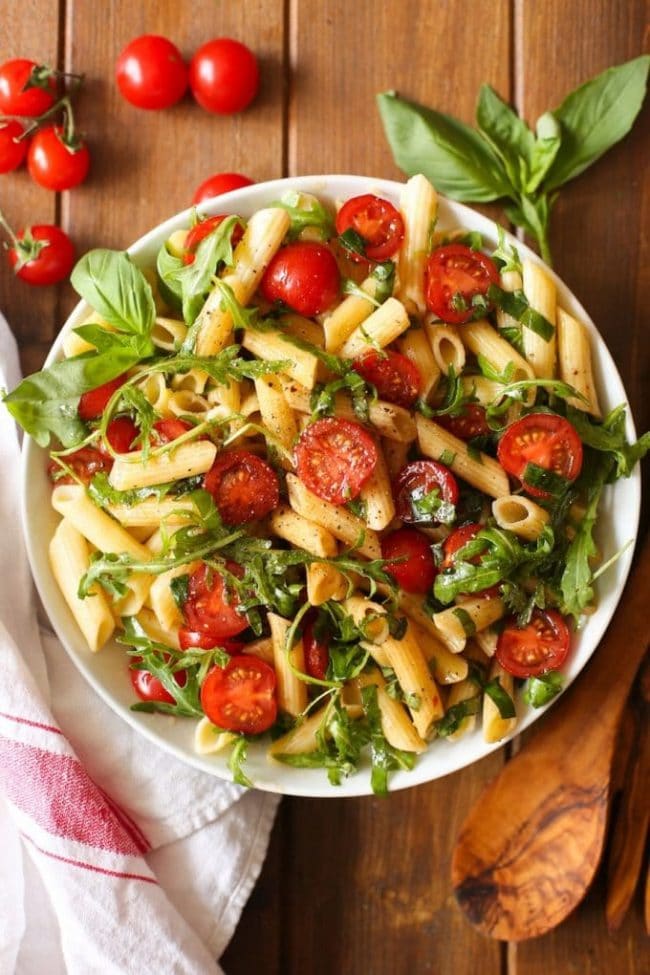 Fresh and flavourful Chickpea Mediterranean Salad with Quinoa, sun dried tomatoes, bright herbs and salty feta pieces. Make this healthy, vegetarian salad as a light lunch or dinner – it's one of the best ways to enjoy quinoa!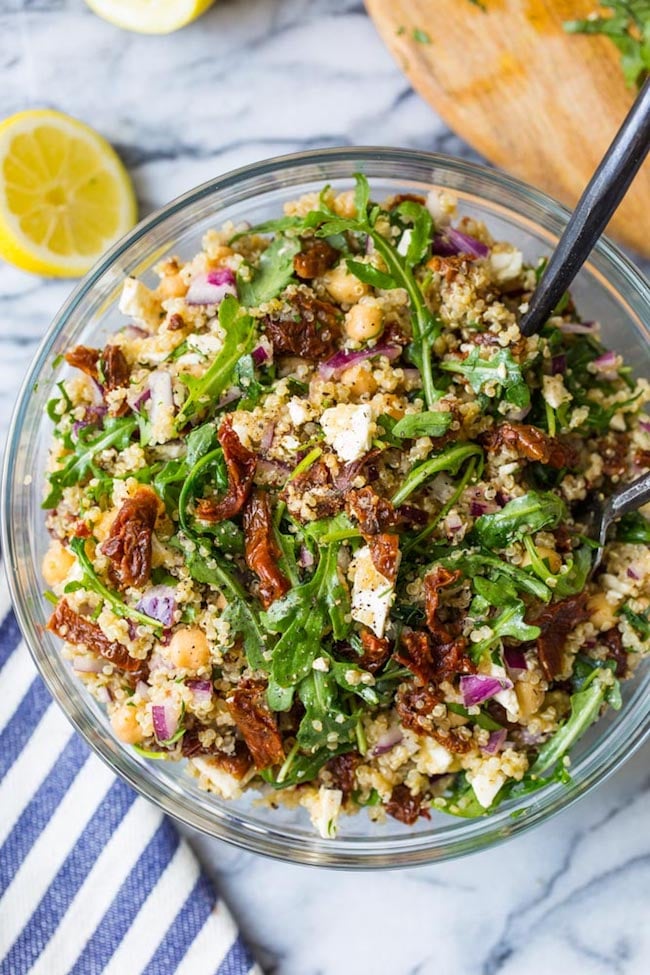 Simple, fresh and perfectly punchy – enjoy this Lemon & Cucumber Pasta Salad as a refreshing main or light side during the warm, summer months! Simply boil the pasta, mix the zesty lemon-mint vinaigrette and toss everything together until combined.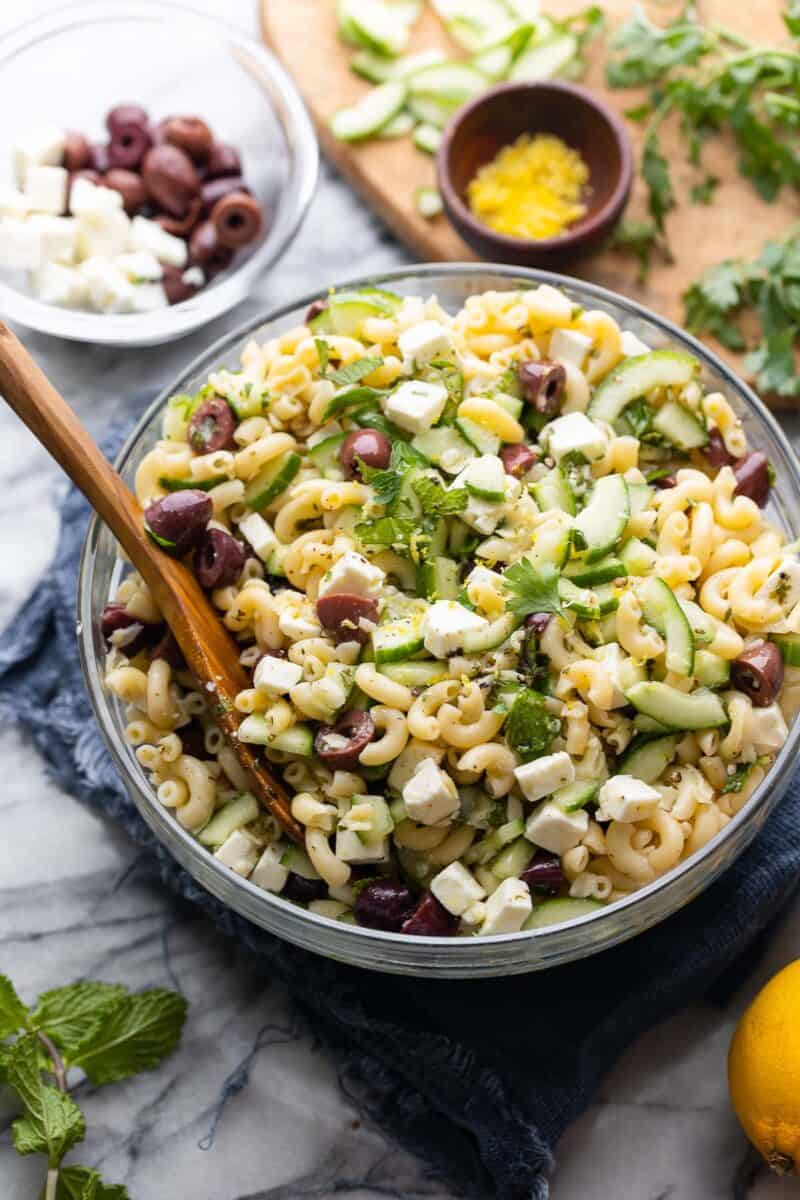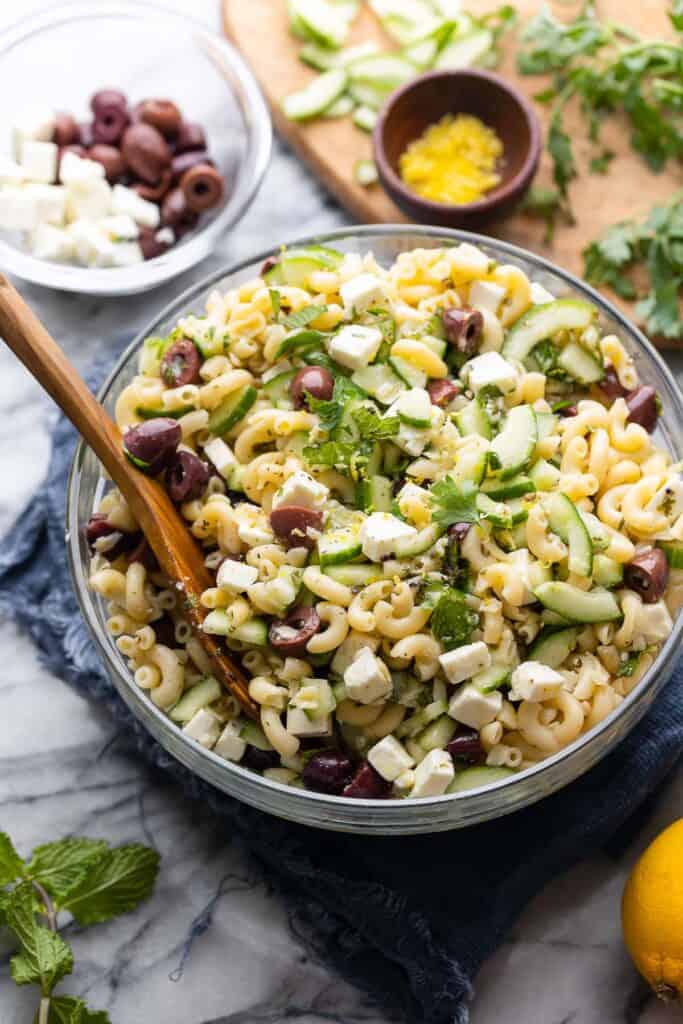 Still hungry for more?
Check out the full list of my Summer recipes for more snacks, drinks, sweets and seasonal eats!