A garlic free, low FODMAP pesto made with chives and basil for the perfect IBS friendly sauce. Vegan & Paleo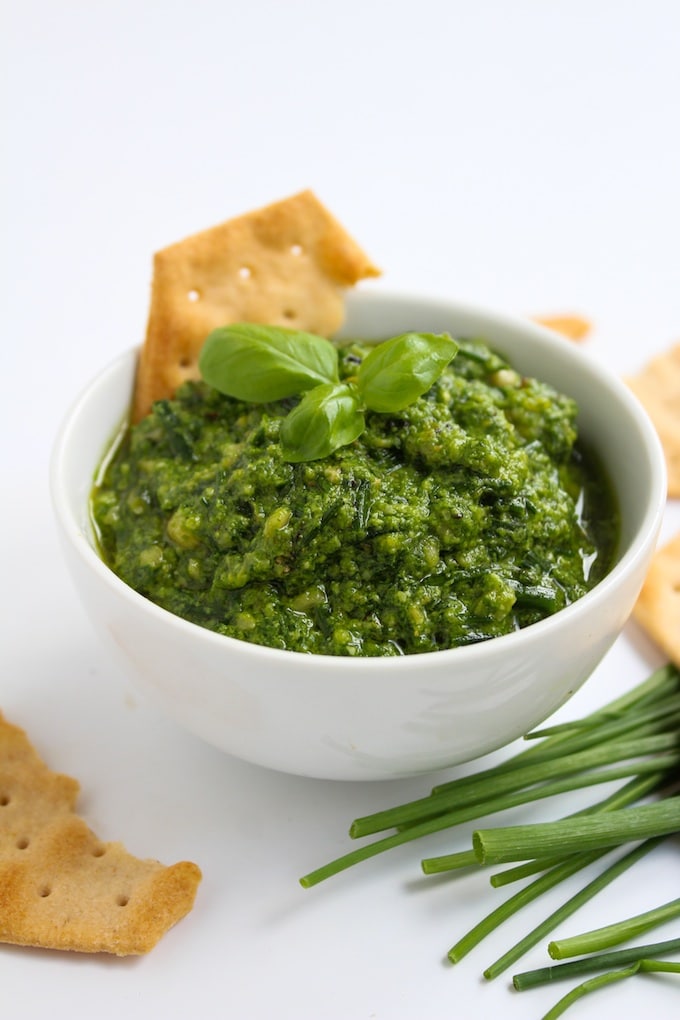 If you would have told me a year ago that I'd ever think of making a garlic free pesto I would have declared blasphemy and told you that you're out of your mind. I looove garlic. I come from a garlic loving family. Pesto and garlic go hand in hand – you can't have one without the other. It's like taking the tomatoes out of a marinara sauce – oh wait, I did that too! Apparently all bets are off with me and my food preparation.
And yet, as is often the case, here I am eating my own words to share with you this garlic free, low FODMAP pesto. As much as I love my garlic, I can honestly say that I don't miss a single thing in this sauce. In place of where I would normally use garlic, I swapped it out for chives to get that sharp, onion-y taste. Not only is this garlic free, but I also subbed the traditional parmesan with nutritional yeast to get that cheesy taste. If dairy isn't an issue for you then feel free to use the real stuff.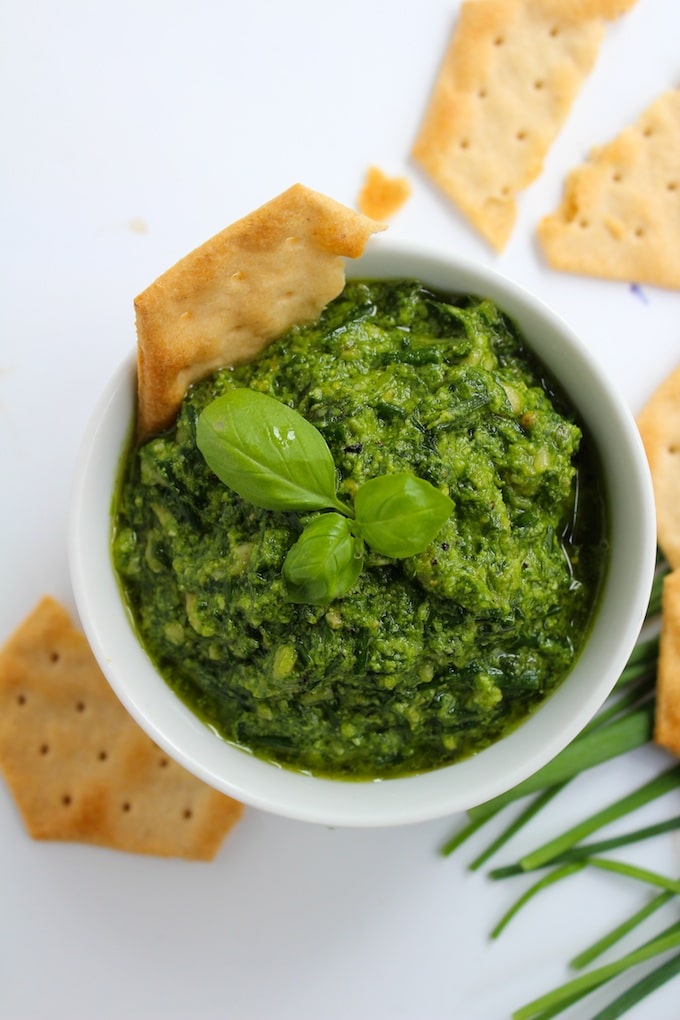 As much as I love garlic, I've grown to view it in a different light this past year. When you're forced to cook without something that is relied upon so heavily, you find ways to do without. Sometimes experimentation works, and sometimes it doesn't. As frustrating as I found it to cook without it, I know cooking this way has made me a better cook in the long run. There's actually a really interesting article about an Italian born chef who moved to Toronto to start his own restaurant. During the first 12 months of his restaurant, his staff were forbidden to use any garlic of any kind. The second year, they were allowed to use garlic infused oil. Finally after 2 years, his chef's were allowed to cook with garlic after they had "learned how to use garlic in the right way".
Full disclosure, we've actually started introducing garlic and a few other high FODMAP foods back into Mike's diet these past couple of weeks. Since he started following the Specific Carbohydrate Diet (basically no starches and grains) he's been tolerating foods that were previously off limits sooo much better. Avocados, full fat coconut milk, dates and blackberries are back on the table. Even eggs were an issue for a while, but he's having those again now much to my excitement. However, we don't want to push the boat too far out from shore so we're really just dipping our feet in the water at the moment. Even though he has been able to eat small bits of garlic without issue, I'm still preparing him mostly FODMAP free foods. It's been a lot of trial and error, but I feel like we're making progress with his diet.
Finally.
You can also easily substitute the extra virgin olive oil in this recipe for a garlic infused olive oil – just make sure that it is one that doesn't have bits of garlic floating around to keep it low FODMAP.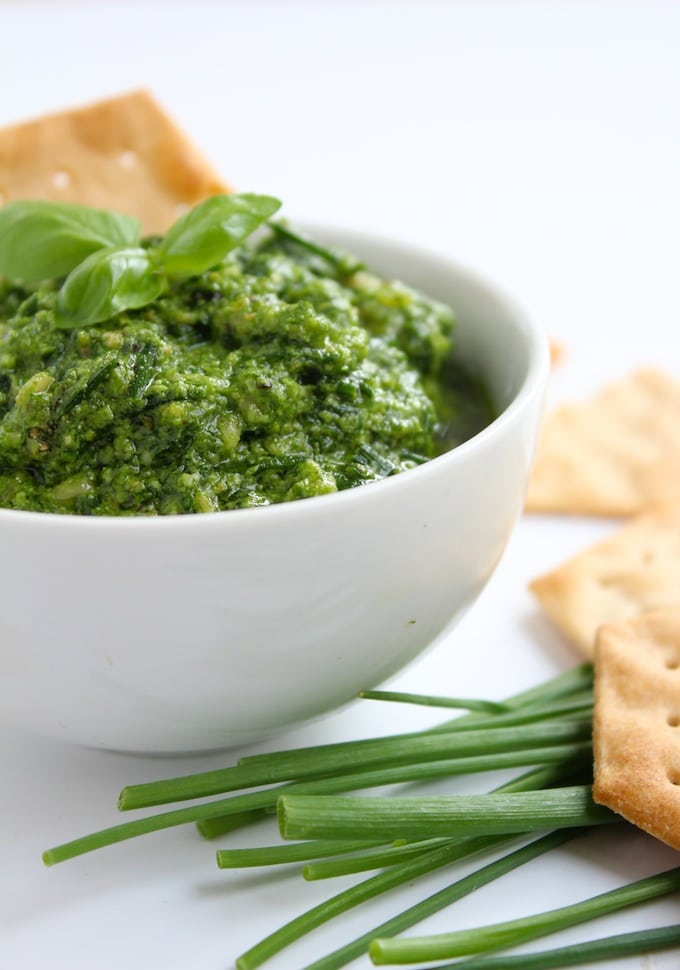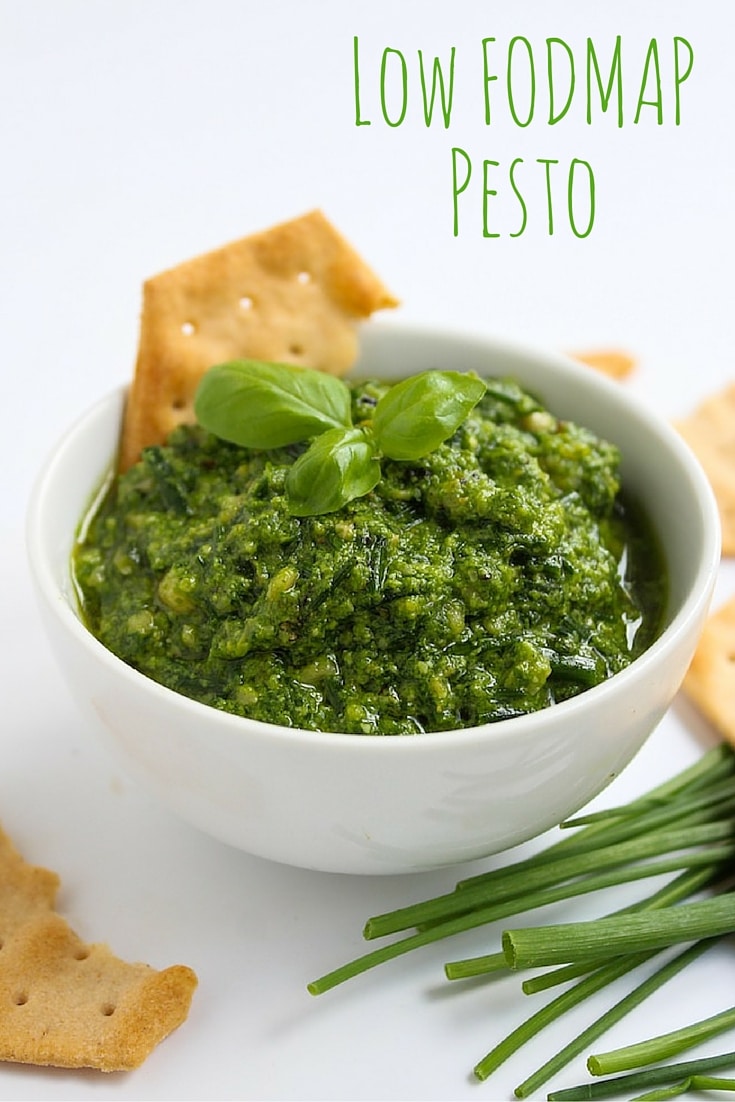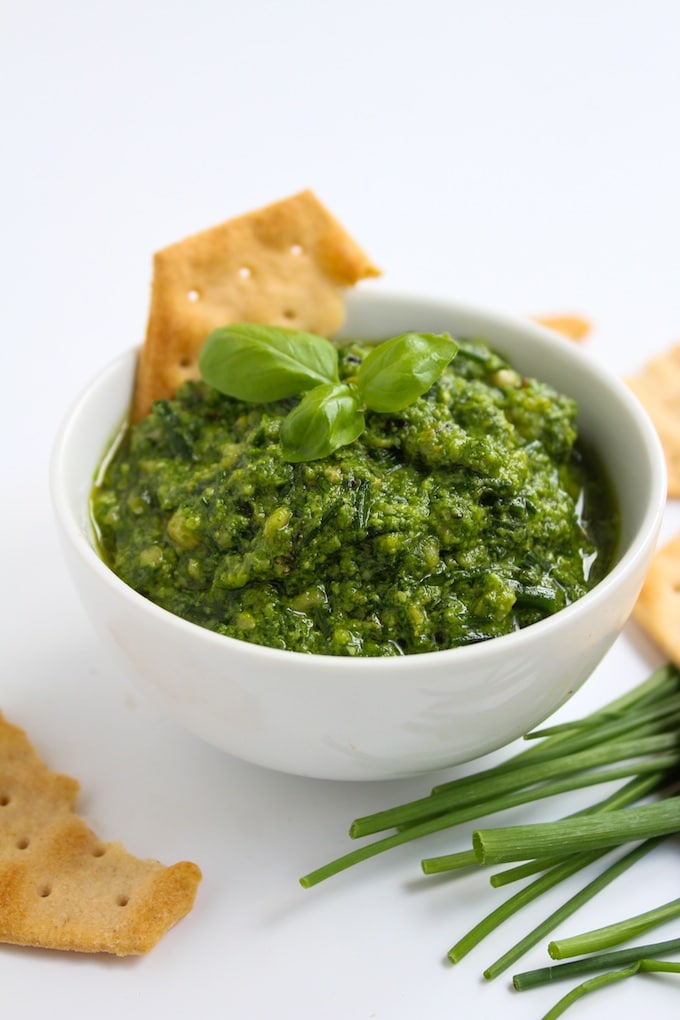 Yield:
8 servings
Prep Time:
5 minutes
Total Time:
5 minutes
A garlic free, low FODMAP pesto made with chives and basil for the perfect IBS friendly sauce. Vegan & Paleo
Ingredients
1 cup | 48 grams chopped chives
1/2 cup | 24 grams fresh basil
1/2 cup | 120 ml extra virgin olive oil*
1/2 cup | 35 grams pine nuts
1/4 cup | 25 grams nutritional yeast or grated parmesan
a squeeze of lemon juice
salt to taste
Instructions
Add all of your ingredients to a blender or food processor and process until you get your desired, pesto consistency. Season with salt and serve.
Notes
*you can also use garlic infused extra virgin olive oil
Nutrition Information
Yield:

8
Serving Size:
2 tablespoons
Calories:

203
Total Fat:

21g
Saturated Fat:

2g
Carbohydrates:

4g
Fiber:

1g
Protein:

4g
This website provides approximate nutrition information for convenience and as a courtesy only. Nutrition data is gathered primarily from the USDA Food Composition Database, whenever available, or otherwise other online calculators.