Khichdi Inspired One Pot Low FODMAP Chicken and Rice packed with bell peppers, tomato, ginger & spices | Low FODMAP + Dairy Free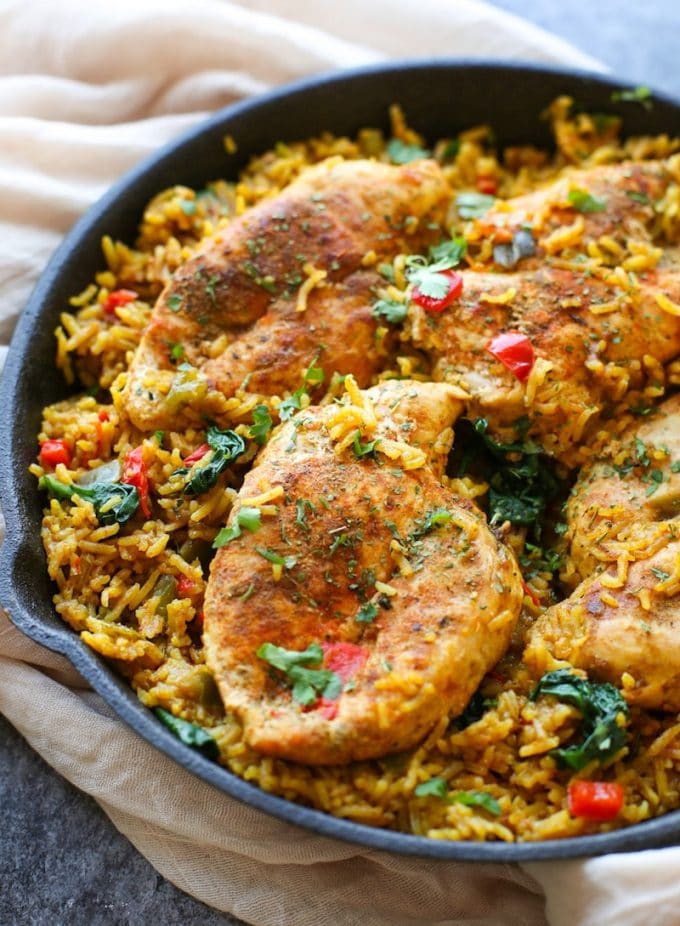 This recipe is sponsored by Case de Sante – providers of lab tested and certified Low FODMAP foods.
Out of all of the recipes I share on this blog, I think the ones I get the most excited about sharing are the FODMAP friendly dinners. Even though it's been over a year since Mike's successfully reintroduced most high FODMAP foods back into his diet I still love coming up with new recipes that fit the criteria because I remember how difficult they were to find during that time. To this day I still get comments almost daily on at least one Low FODMAP of someone thanking me for sharing a recipe that they're actually able to eat. Words cannot describe how honoured that makes me feel.
So needless to say – I'm sooo excited about this One Pot Low FODMAP Chicken and Rice!
We've got some leftovers in the fridge that I keep eating one spoonful at a time. Every time I pass by the fridge I can't help but stop and take a bite.
Can't stop! Won't stop! Let's get to it.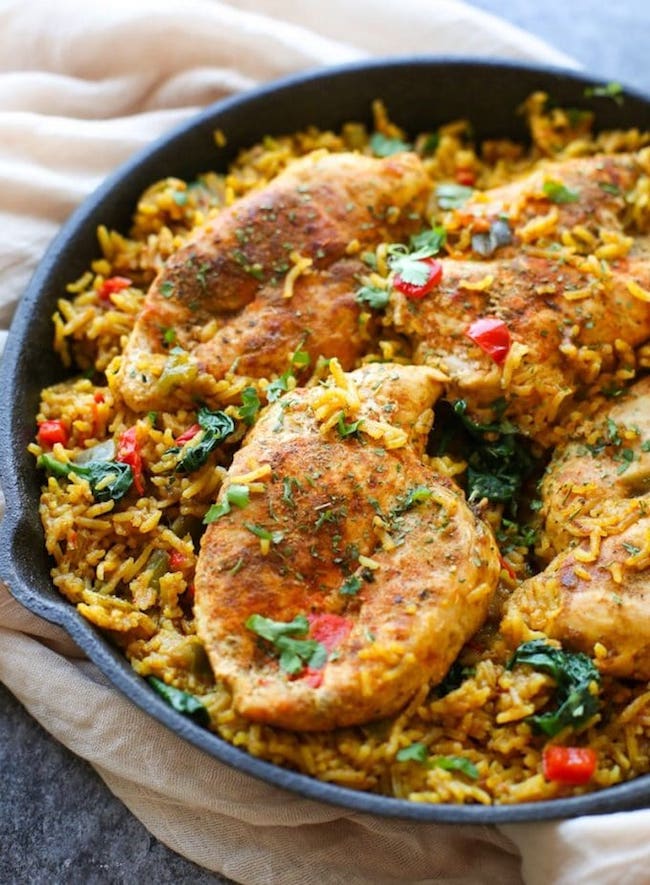 Low FODMAP Chicken and Rice
As mentioned in the title, this dish is a riff off of a popular South Asian dish, Khichdi.
A few weeks ago Mike & I went with a few friends to watch a football match at a bar in town and I ordered the Khichdi having no idea what it was. Not exactly the thing you'd expect to eat in a British bar while watching football, but it was sooo good. As soon as I got home I set myself to work in the kitchen trying to see if I could recreate it without looking up a recipe.
As it turns out, while the version I had was delicious, it was in no way traditional. No surprise there really.
What is Khichdi?
Traditional Khichdi (Moong Dal Khichdi) is a simple rice and lentil dish that's typically served to people recovering from illness because it's so easy on the stomach. I actually found that last bit out after I decided to make a FODMAP friendly khichdi inspired chicken & rice making it feel even more providential that I decided to combine the two.
Much like the khichdi I had at the pub, this dish is in no way traditional, but I promise it's every bit as good!
About this Low FODMAP Khichdi
Instead of using a rice & lentil mix this recipe just sticks with white rice. It's more simple and gentle on the gut.
I've also decided to throw in some chicken breasts to make this a full meal.
Even with the addition of the chicken this is still easy to make and done in one pot. The end result is a veggie packed dish with chicken that's both juicy and filling and rice that's beyond delicious.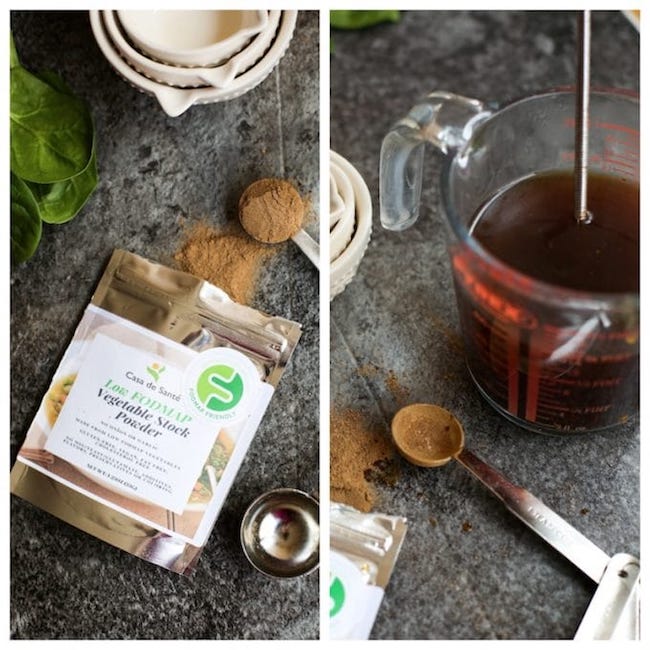 Low FODMAP Stock
Another thing that I'm also really excited about sharing today is the Casa de Sante range of high quality low FODMAP Certified (Lab tested for FODMAP) clean label products- especially their vegetable stock powder. I wish I had known about Casa de Sante products when Mike was in the middle of his low FODMAP diet because it would have made life so much easier.
Since the low FODMAP diet requires that you avoid certain foods that are known to trigger IBS symptoms, shopping for basic kitchen essentials poses a whole new level of difficulty. We were already carefully scanning food labels for traces of gluten but then we had to start looking for a whole new slew of ingredients at the same time. Sometimes we couldn't find products that were safe to eat which meant that I had to start making my own ketchup, pesto and other condiments like that.
One thing that I was also never able to find in store was low FODMAP cooking stock. Most stocks are made with onion & garlic which are a big no-go for anyone attempting to make FODMAP friendly recipes.
Enter in: Casa de Sante Vegetable Stock Powder. Just mix 1 teaspoon of powder with 1 teaspoon of hot water and you're all set. I tested this recipe a few times with the low FODMAP stock and with the organic Costco stock (containing onion & garlic) and Mike & I both agreed the Low FODMAP version tasted loads better.
This stock is:
✔️

Gluten Free

✔️

MSG Free

✔️

Preservative Free

✔️

Paleo

✔️

Vegan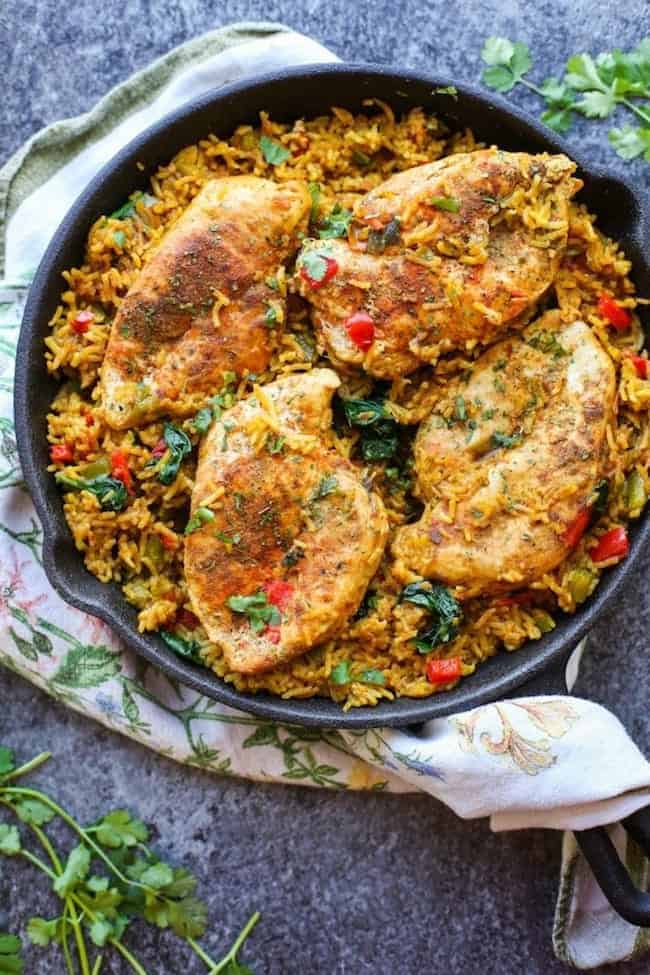 Whether or not you're eating low FODMAP I'm sure you'll love it as much as we do!
More Low FODMAP Recipes You Might Like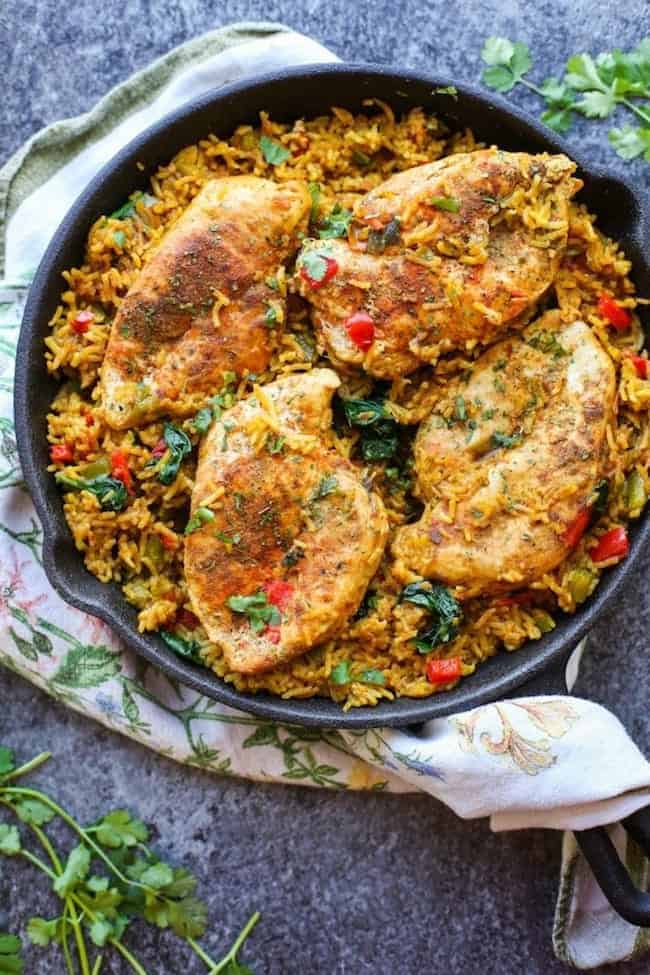 Recipe
One Pot Low FODMAP Chicken and Rice
Yield:
4 people
Prep Time:
15 minutes
Cook Time:
35 minutes
Total Time:
50 minutes
Khichi Inspired One Pot Low FODMAP Chicken and Rice packed with bell peppers, tomato, ginger & spices | Low FODMAP + Dairy Free
Ingredients
4 skinless boneless chicken breasts, about 1 1/2 pounds
1/4 teaspoons sea salt
1/4 teaspoon black pepper
1 3/4 teaspoon ground cumin, divided
1 3/4 teaspoon paprika, divided
1 tablespoon neutral flavoured cooking oil
1 red & green bell pepper, each, chopped and deseeded*
1 large tomato, chopped
1 tablespoon ginger, chopped, fresh
1 teaspoon turmeric powder
1 cup white rice, uncooked
2 cups Casa De Santa Low FODMAP Vegetable Stock, make it by mixing 2 teaspoons of the stock powder with 2 cups hot water
2 cups spinach
Instructions
Place the chicken breasts between two pieces of plastic cling wrap and pound them down to make them even in thickness. This will help the chicken cook evenly and make for more tender chicken. Sprinkle each side of the chicken with salt, pepper, 1 teaspoon cumin and 1 teaspoon paprika.
Melt the oil in a large skillet over a medium high heat on the stove. Add the chicken breasts and cook each side for 5-7 minutes or until browned on each side. Remove the chicken from a skillet and set aside on a plate. The chicken doesn't need to be fully cooked yet because you'll be returning it to the heat shortly.
Add the chopped bell peppers, tomato, and ginger to the same skillet and sauté for a few minutes to soften. Add the the remaining 3/4 teaspoons of cumin and paprika along with the turmeric powder to the skillet. Mix the spices into the vegetables to coat.
Stir in the uncooked rice and mix until the rice is coated with both spice and vegetables. Pour the stock into the skillet and cover the rice. Carefully add the chicken back into the skillet, cover with a fitted lid and simmer over a medium-low heat for 20 minutes until the liquid is almost absorb. Stir the spinach into the pot, cover and cook until the liquid is fully absorbed and the spinach is wilted.
Garnish with freshly chopped cilantro and serve.
Notes
Green bell peppers are high fodmap in large quantities. This recipe calls for 1 green pepper for the whole dish (serves 4 people) which would still make it low FODMAP for a single serving. If you'd prefer, feel free to just swap out the green pepper for another red pepper to avoid any potential problems!
Nutrition Information
Yield:

4
Serving Size:
g
Calories:

372
Saturated Fat:

4g
Cholesterol:

72mg
Sodium:

330mg
Carbohydrates:

43g
Fiber:

2g
Sugar:

2g
Protein:

30g
This website provides approximate nutrition information for convenience and as a courtesy only. Nutrition data is gathered primarily from the USDA Food Composition Database, whenever available, or otherwise other online calculators.