Low FODMAP Maple Mustard Chicken with earthy rosemary, potatoes, carrots and juicy chicken thighs  – a full dinner with only 10 ingredients! | Paleo + Gluten Free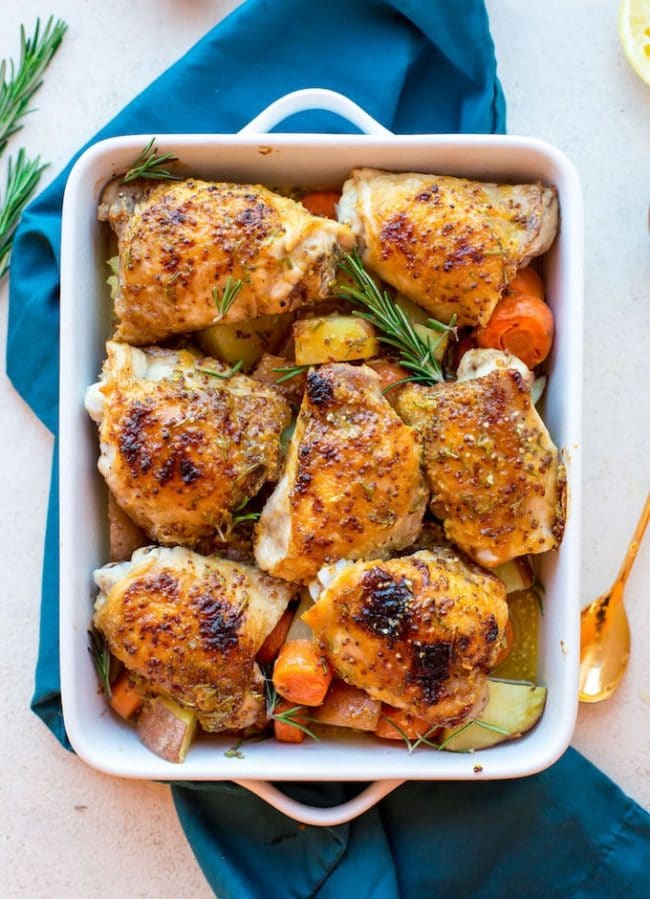 I know it's been awhile since I last shared a FODMAP friendly dinner, but I haven't forgotten you low FODMAP folks! Promise!
One of my goals for 2018 is actually share more low FODMAP recipes. Since it's still a fairly niche diet, finding compliant recipes isn't always easy – it definitely wasn't easy when Mike had to eat low FODMAP.
Ultimately, I'm just so happy that my recipes have been helpful to people. I've gotten so much positive feedback from people who were finally able to eat something different without the usual IBS pains to follow. From one home cook who's just trying to make tasty, allergy friendly food to another – I'm just here to help!
And I mean….it's 2018. No one should have to survive on plain old chicken & rice because of their dietary restrictions. That's just sad and unnecessary, ya know?
I feel like I've said 'FODMAP' far too many times in these past few lines so let's just get to it already before I become even more repetitive.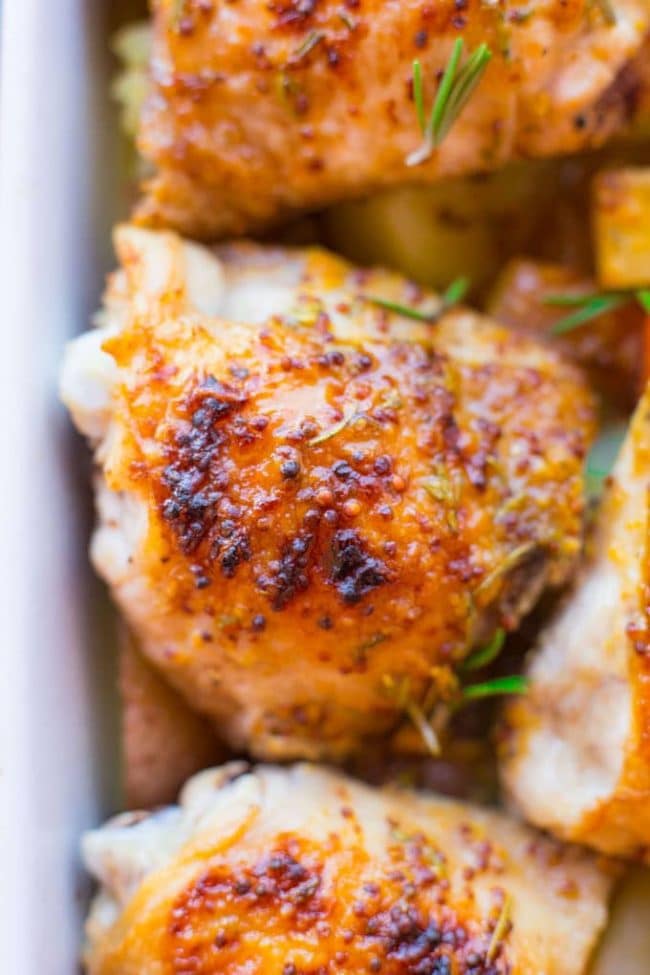 How to Make: Low FODMAP Maple Mustard Chicken
Even though this recipe requires a few different cooking methods (boiling, searing and roasting) it's still quite simple and easy to make!
Broken down into a few main steps:
Parboil the veggies: Throw the prepped potatoes & carrots in a large cooking pot and cover with salted water. Bring to a boil for about 10 minutes to soften up the veg before your final bake.

Par boiling the veggies means they will cook faster in the oven in time with the chicken

Score the chicken: Use a shape knife to slice across the skin in a few places. This will help the fat render (release) easier when frying which ultimately leads to crispier skin. It only takes seconds but it makes such a huge difference in the end.
Sear the chicken: Lay the chicken pieces skin side down on a large, cold pan and warm to a medium-high heat. Once the pan starts to sizzle, fry about 5-7 minutes on both sides. The skin should turn a lovely, golden color.

Don't worry about cooking the chicken fully at this time as it will finish in the oven.

Make the sauce: While the chicken is searing, mix together the remaining ingredients in a small bowl and set aside until you're ready to put it all together.
Bring it together and roast: Spread the parboiled veggies across the bottom of a large, rimmed baking dish. Place the chicken thighs over the top, skin-side up. Spoon the maple-mustard sauce over the top of each thigh, spreading it around to cover the sides. Tuck in a few springs of rosemary for good measure and bake!

The sauce will form a sort of caramelised crust while baking.
Since both the veg and the chicken is partially cooked this should only take about 25-30 minutes.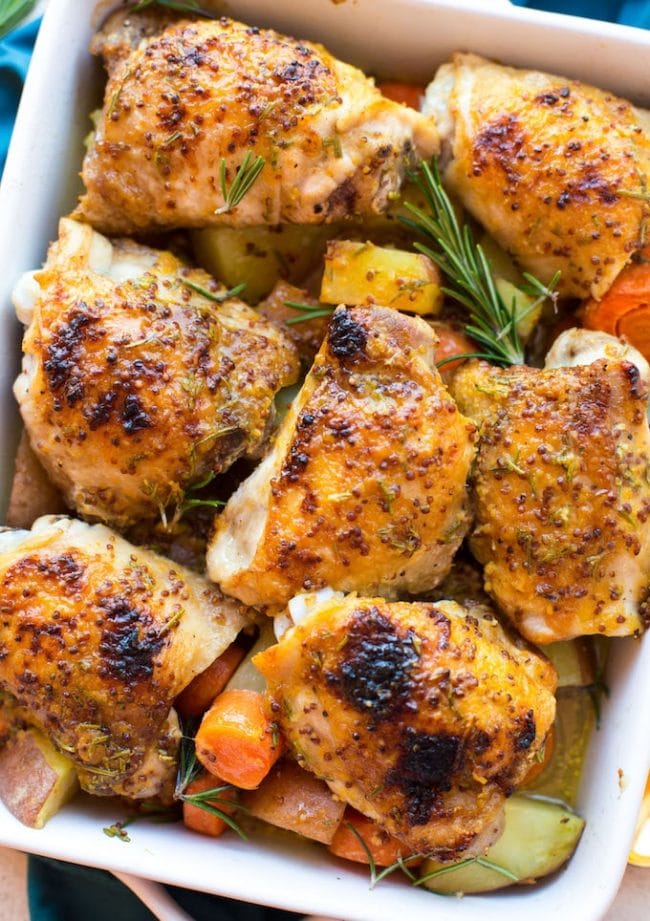 Low FODMAP or not this dish is a simple, straight forward meal that packs in a lot of flavour.
If you enjoyed this low fodmap chicken you might also enjoy a few other reader favorites: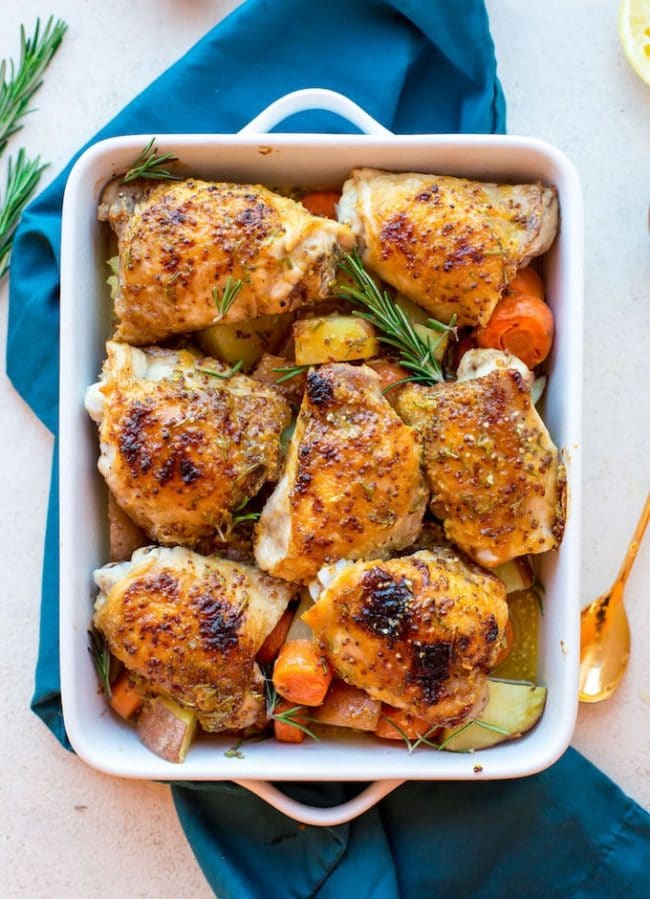 Recipe
Low FODMAP Maple Mustard Chicken with Rosemary
Yield:
6 thighs
Prep Time:
15 minutes
Cook Time:
50 minutes
Total Time:
1 hour
5 minutes
Low FODMAP Maple Mustard Chicken with earthy rosemary, potatoes, carrots and crispy chicken skin  - a full dinner with only 10 ingredients made in under an hour! | Paleo + Gluten Free
Ingredients
2 large potatoes, washed & peeled and cut into quarters
2 large carrots, washed and cut into 1-2 inch pieces.
6 bone in & skin on chicken thighs
1/2 teaspoon sea salt + pepper each (plus more to taste)
2 tablespoons dijon mustard
2 tablespoons whole grain mustard (see note on mustards)
3 tablespoons maple syrup
1 tablespoon lemon juice
1 tablespoon olive oil
1 tablespoon fresh rosemary, chopped or 1 teaspoon dried
Instructions
Preheat the oven for 375°F/190°C and lightly grease a large, rimmed baking dish.
Add the potatoes and carrots to a large pot and cover with salted water. Bring to a boil and cook for 10 minutes. Then drain the water and add to your prepped baking dish and set aside.
While the potatoes & carrots are boiling begin on the chicken. Use a small knife to prick about 3 or 4 gashes in the skin of the chicken. This will help render the fat of the chicken while cooking and make the skin crispier. Sprinkle the thighs with salt and pepper.
Place the thighs, skin side down on a large, cold non-stick skillet. Turn the heat up to a medium high and cook for about 4-5 minutes or until the skin is nice and golden. Flip, and cook the other side about 3-4 minutes.
While the thighs are cooking on the stove top prep the maple mustard glaze: in a small bowl mix together the mustards, maple, lemon juice, olive oil and rosemary. Taste and season with a little more salt and pepper if you see fit.
When both sides of the chicken is browned transfer to the prepped baking dish and lay out the chicken on top of the carrots and potatoes, skin side up.
Spread a spoonful of the maple mustard mixture on top of each chicken thigh. Spread it around to cover the thighs as much as possible. Add a couple extra sprigs of rosemary if you wish and then place your dish in the oven. Bake for an additional 25-30 minutes or until cooked through: an internal temp of 165°F/75°C.
Remove from the oven and let cook a few minutes before serving.
Notes
Keep in mind if you are interested in keeping this Paleo that you need to make sure to double check your labels to verify it's paleo friendly. You should also check that's also low FODMAP since a lot of mustards often contain garlic.
Nutrition Information
Yield:

6
Calories:

313
Saturated Fat:

5g
Cholesterol:

110mg
Sodium:

218mg
Carbohydrates:

10g
Fiber:

1g
Sugar:

7g
Protein:

19g
This website provides approximate nutrition information for convenience and as a courtesy only. Nutrition data is gathered primarily from the USDA Food Composition Database, whenever available, or otherwise other online calculators.