Don't let your leftover mashed potatoes go to waste – transform last nights mash into something totally new with these gluten free mashed potato biscuits! Made with a simple ingredients and mixed together in little time. Enjoy these plain, or spruce up with added herbs and flavours. Check the recipe notes to see how to make these biscuits vegan friendly and gum free!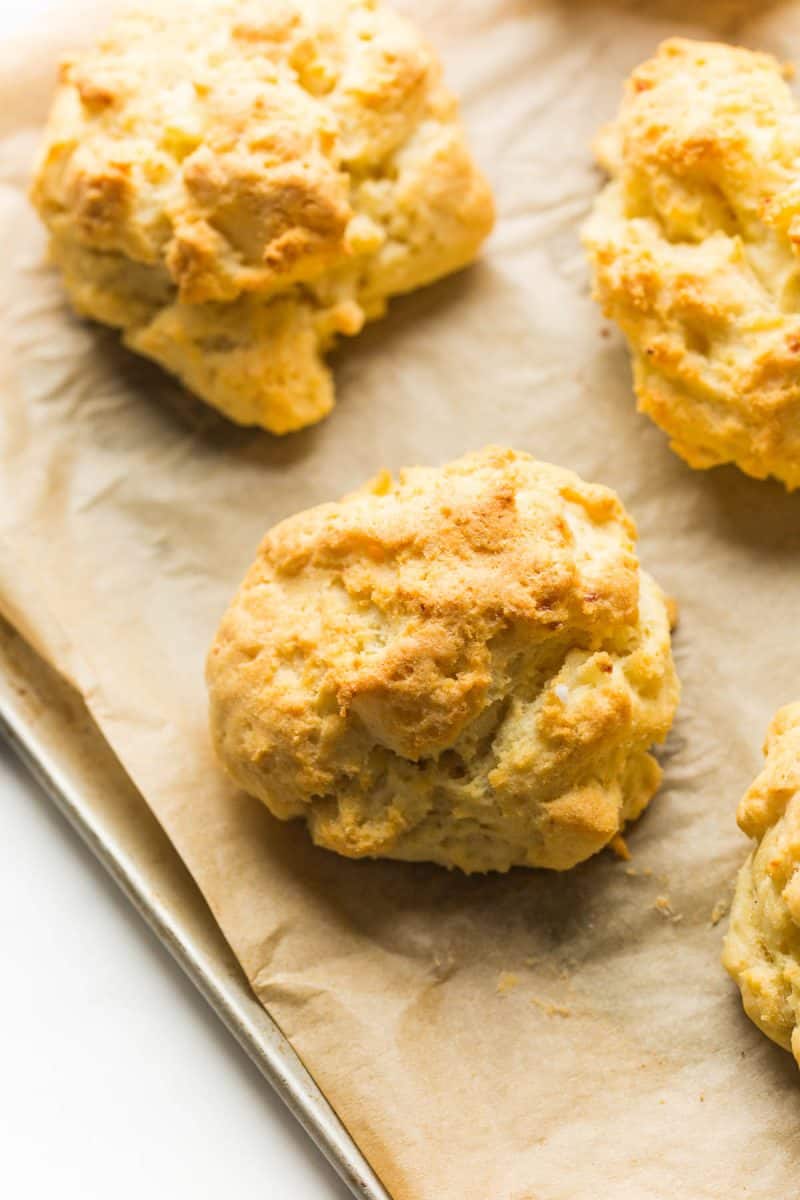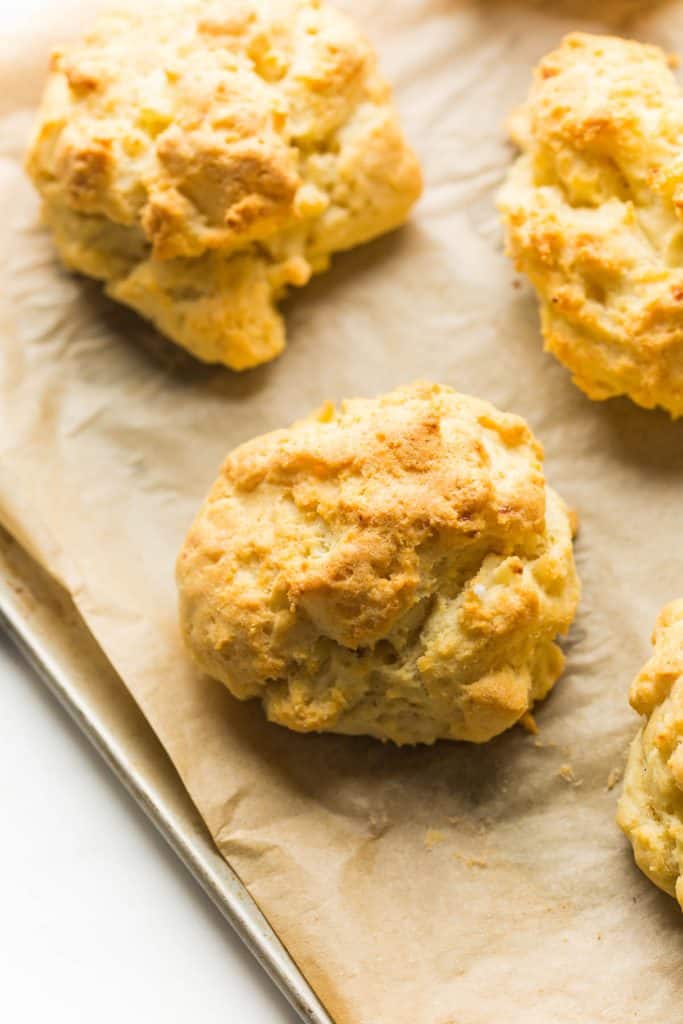 If there was a tier list for leftover foods, things like lasagna and chili would obviously be high up on the list. Those meals only seem to taste better over time.
I totally accept that this could be an unpopular opinion, but leftover mashed potatoes would be low on the list for me. It's just never something I look forward to eating and often forget that it's even in the fridge until it's too late.
Throw in some flour, butter and a few more ingredients and turn them into mashed potato biscuits – now we're talking!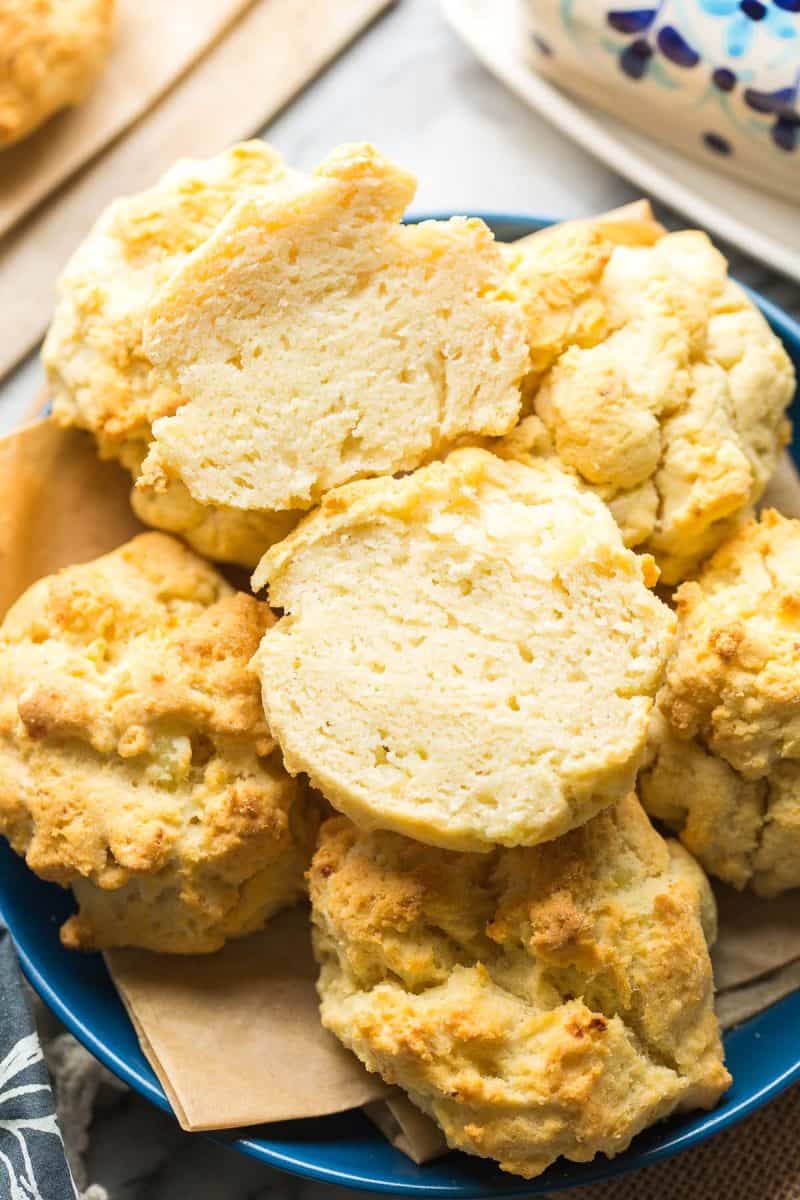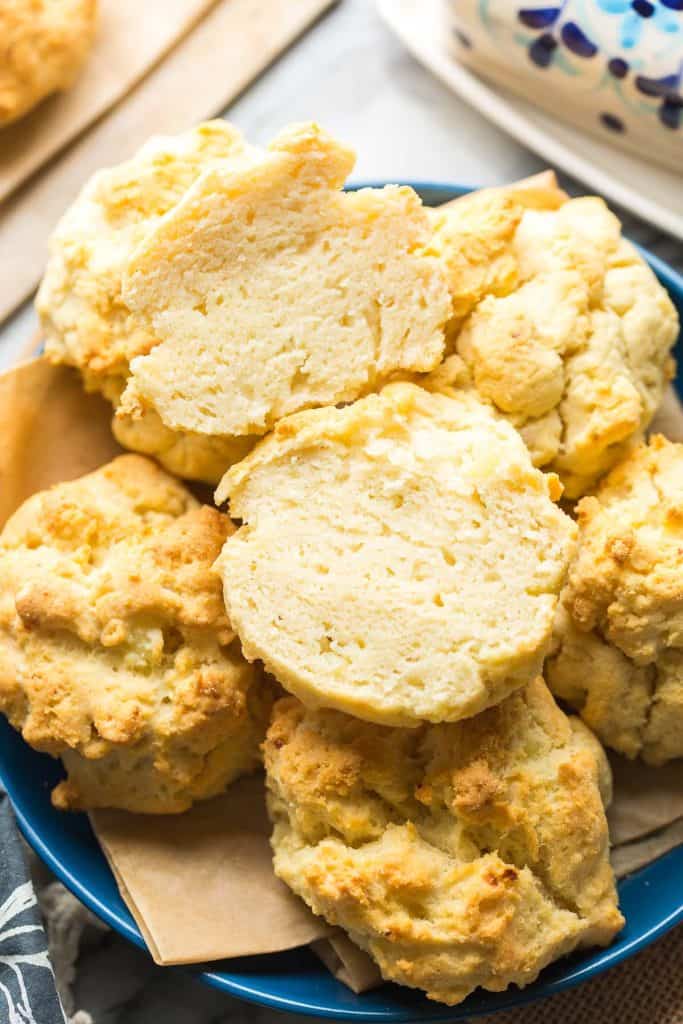 Why Make Biscuits with Potato?
Potatoes help make breads and bakes soft and moist thanks to their additional starch!
More specifically, the starch works well in recipes like this because it attracts and holds on to water. When it comes to gluten free baking – extra hydration is always a plus!
Check out my Paleo Sweet Potato Bread for another recipe example of a soft, moist potato bread!
Leftover Mashed Potato Biscuits
Overall, this recipe is extremely simple and straight forward. There are few ingredients required with minimal prep involved. The end result is a super tasty, soft and tender mashed potato biscuit!
The Steps
Whisk together the dry ingredients:

Whisk the gluten free all purpose flour, baking powder, salt and xanthan gum (if using). You can use a homemade gluten free flour blend or your favourite store bought.

Rub in the butter:

Vegan butter or coconut oil can be using in place of dairy butter. Use your hands to rub the butter in to the dry ingredients until you have a soft, crumbly flour-mixture.

Add mashed potatoes and milk:

Mix until your end up with a thick, soft dough. Add 1-2 additional tablespoons milk if the dough looks to dry. All of the flour should be fully incorporated.

Drop on to prepared baking sheet:

Divide the dough into about 6-8 large clumps and drop on to a baking sheet that has been lightly greased or lined with parchment paper. Leave a couple inches of space in between each biscuit for room to grow. You can shape the biscuits to be more even in shape and size, but I recommend that you do this carefully. I find that gluten free biscuits like this come out better with a less dense texture the less that are handled and smashed together.

Bake:

Pop the baking pan in the oven and bake for about 25 minutes until puffed and golden on top. Let cool for a bit then enjoy!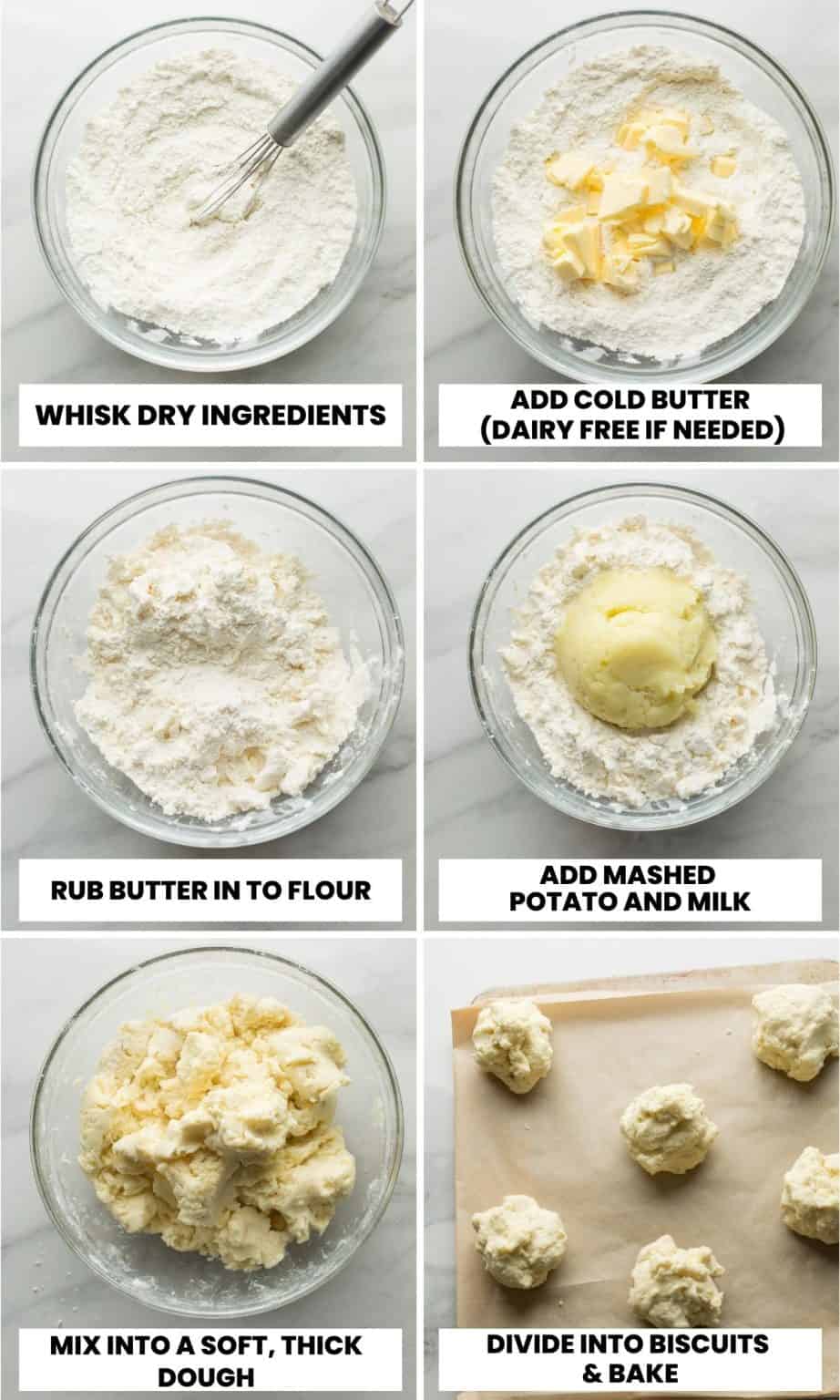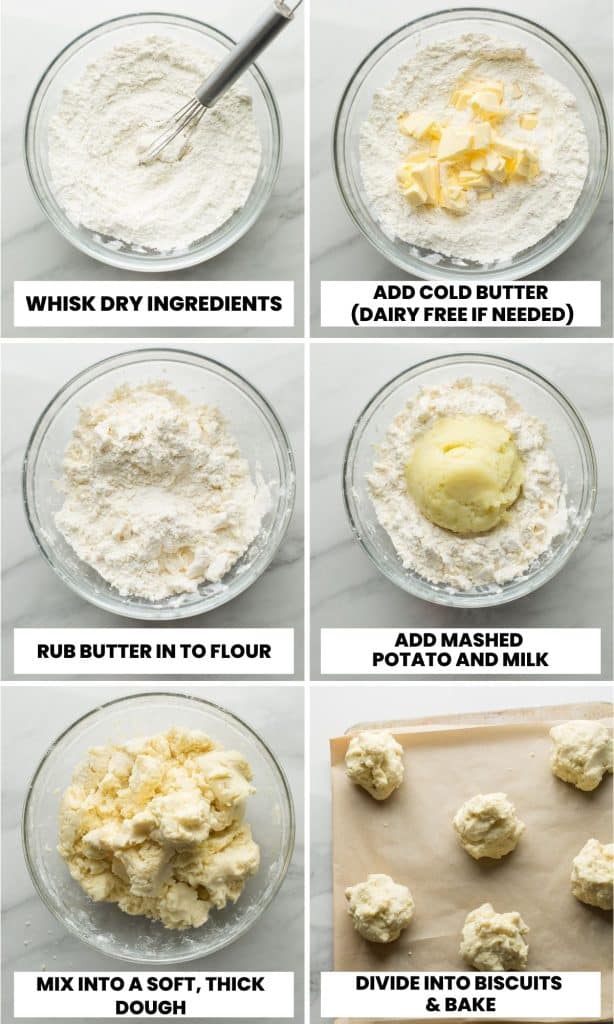 Substitutions and Additions
Make it vegan:
Swap out the dairy butter for a vegan butter or use softened (not melted) coconut oil.
Use an unsweetened dairy free milk in place of dairy milk.
Most mashed potato recipes are made with loads of cream and butter. Make sure that you're working with vegan mashed potatoes.
Make it without xanthan gum:
Xanthan gum is an excellent tool when it comes to gluten free baking. However, not every can easily find it in store or use in their diet for various reasons.
You can absolutely make this recipe without any added xanthan gum, but you will need to keep in mind that your biscuits won't hold together as well without the additional binding. I found no real
They won't crumble in your hands, but large chunks of the biscuits are more likely break off as you're eating them. This should only be a problem if you want to use these biscuits as a sandwich.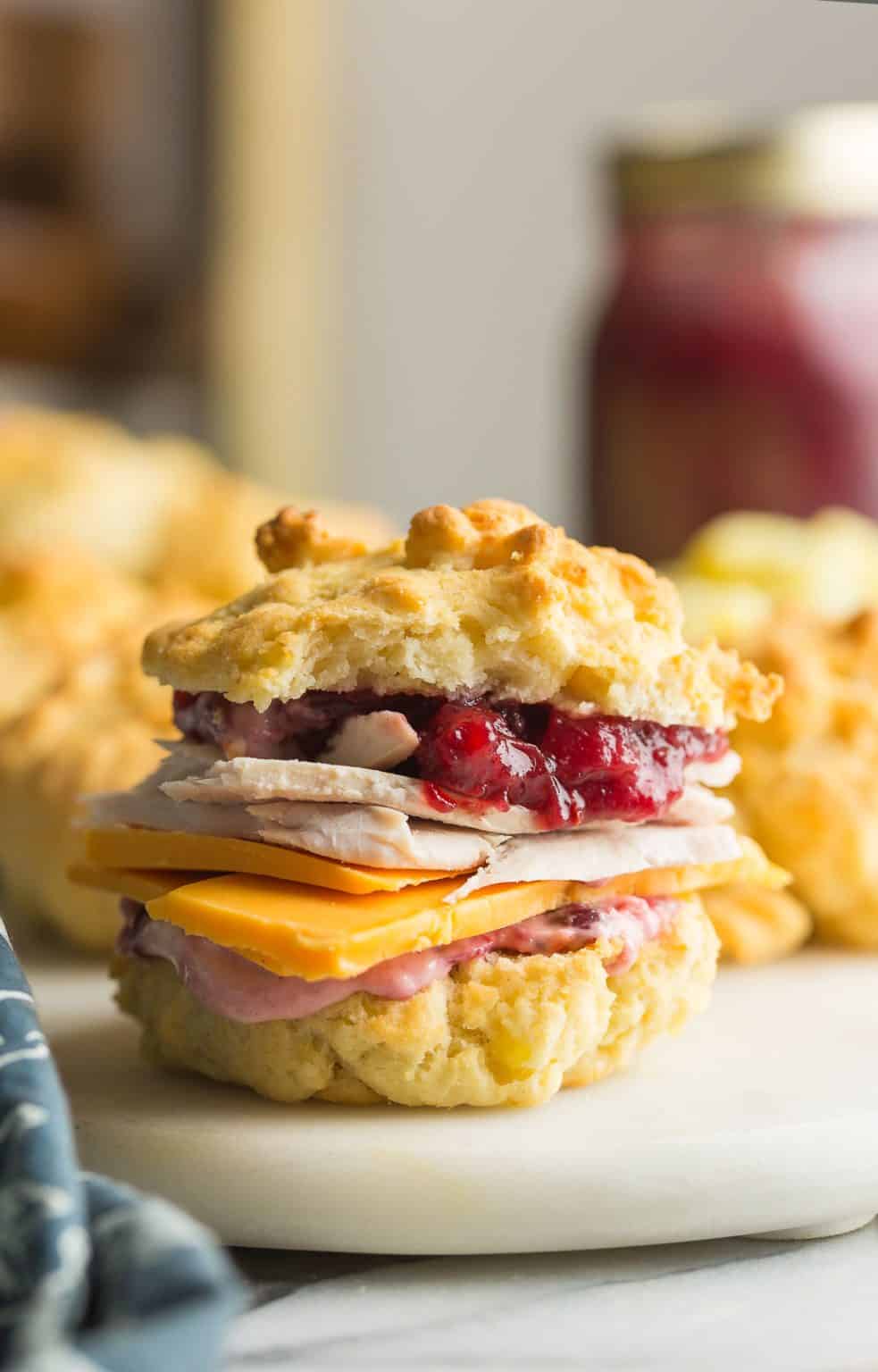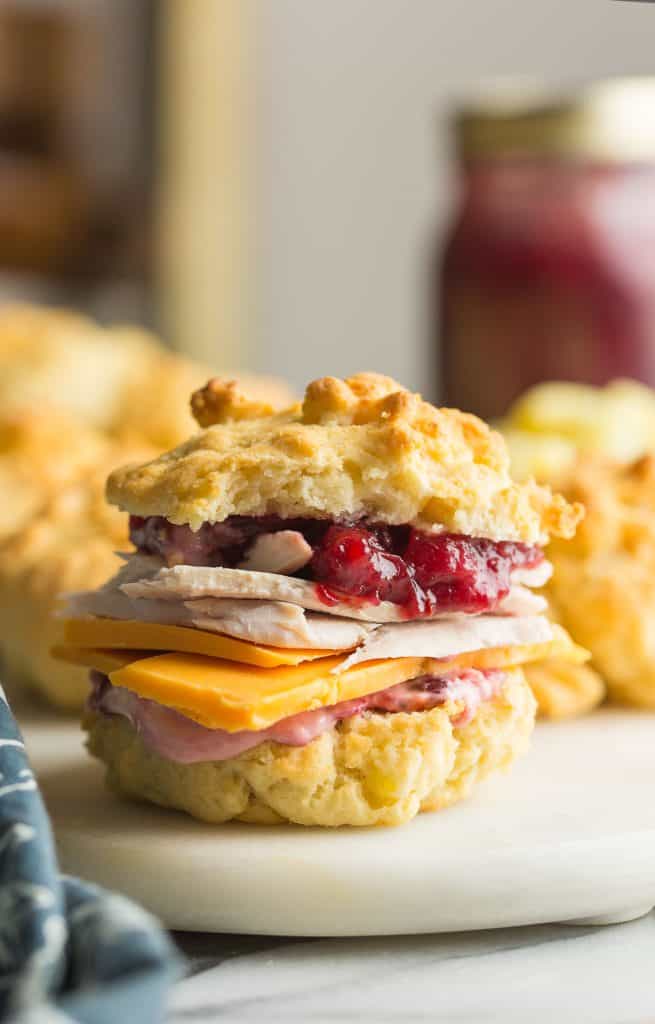 Flavour Additions:
I tested my potato biscuits using plain, unseasoned mashed potatoes (excluding salt). Even without the addition herbs and garlic that I like to include in my regular mashed potatoes, I found these biscuits to be quite tasty!
With that in mind: I recommend adding additional herbs and flavours to your potato biscuits to spruce them up! This would also be a great time to use up any leftover herbs your might be left with.
Ideas for Added Flavour:
make cheesy biscuits by adding up to 1 cup of grated cheese (vegan cheese works too) or about 1/4 cup nutritional yeast
about 1/4 cup freshly chopped chives or spring onions (for low fodmap – use chives or green parts of spring onions only)
fresh rosemary, sage, parsley and/or thyme – chopped
dried herbs: add up to 1 tablespoon dried herbs (I recommend sprinkling za'atar spice or everything bagel seasoning on top!)
Potato Biscuits Serving Suggestions
These potato biscuits make a fantastic side to most dinner recipes – particularly soups, stews and chilis.
You can also cut them in half and use as a sandwich bread! I've already made a few turkey sandwiches using these biscuits and my apple cranberry sauce. 10/10 would recommend!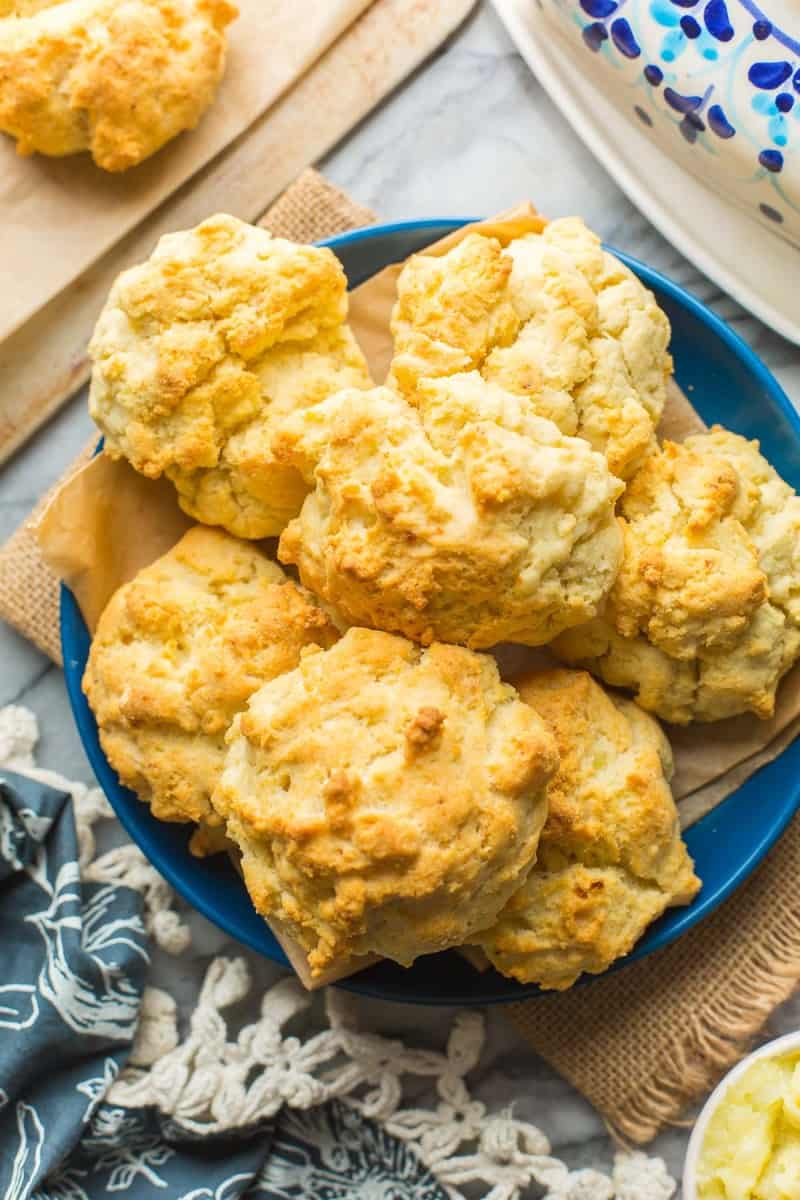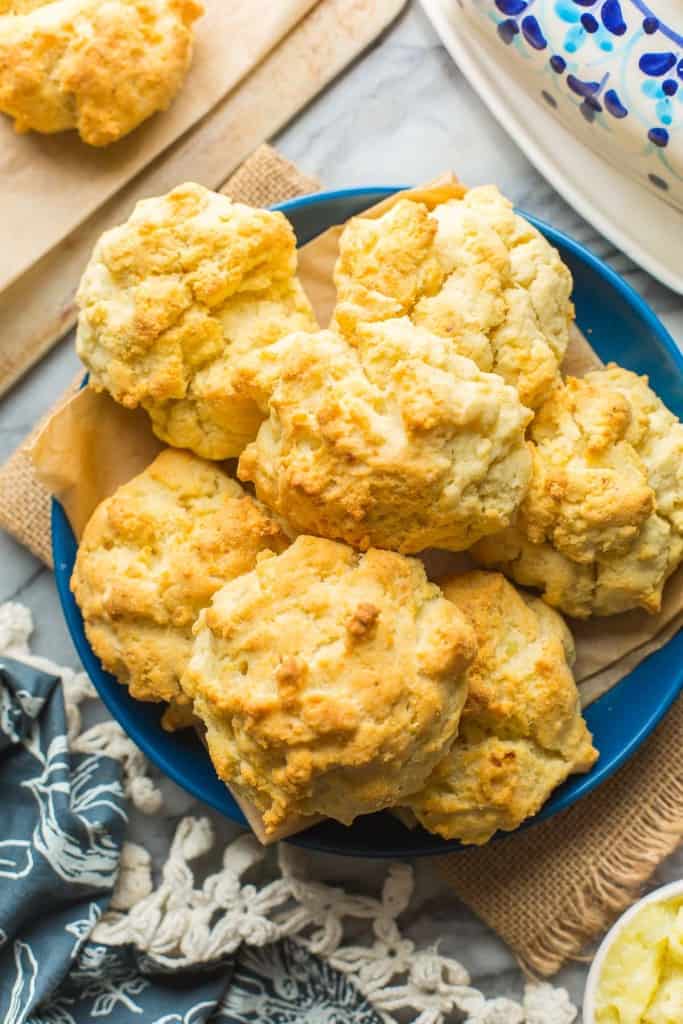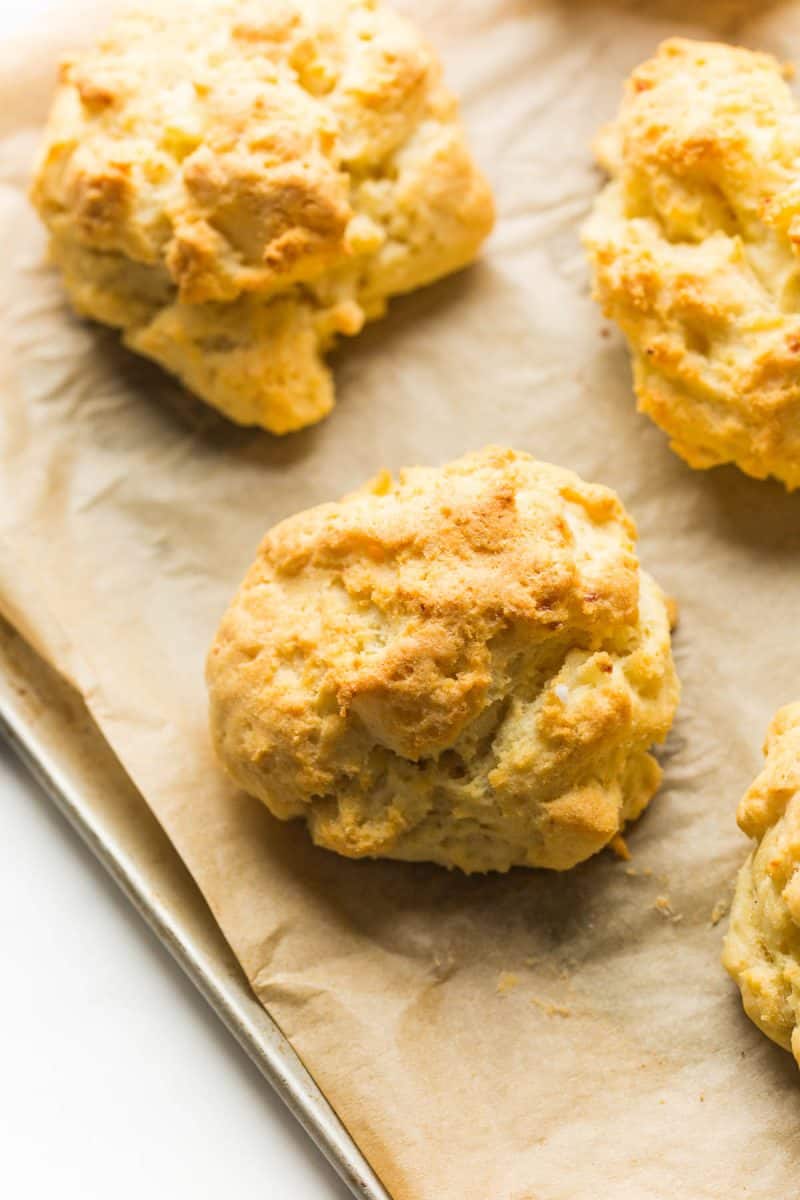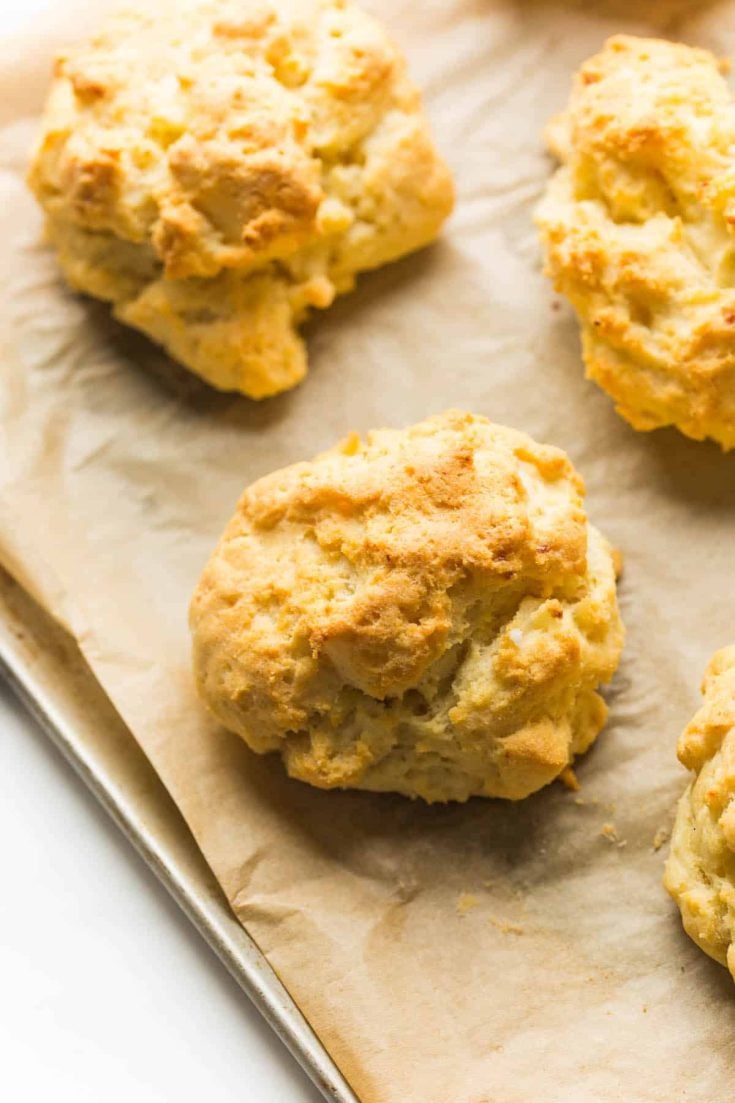 Recipe
Mashed Potato Biscuits
Yield:
6-8 biscuits
Prep Time:
10 minutes
Cook Time:
25 minutes
Total Time:
35 minutes
Ingredients
2 cups | 270 g gluten free all purpose flour flour
1 tablespoon baking powder
3/4 teaspoon xanthan gum (optional - see note)
1/2 teaspoon salt
6 tablespoons | 84 g cold butter, grated or diced into small cubes
1 cup | 230 g prepared mashed potatoes
1/2 cup | 120 ml milk
Instructions
Preheat oven to 400°F/205°C. Line or lightly grease a large baking sheet. Set aside.
In a large mixing bowl: whisk together the flour, xanthan gum (if using), baking powder and salt.
Add the grated or cubed butter to the flour. Use your hands to rub the butter into the flour mixture until you have a soft, crumbly, lumpy flour.
Make a well in the middle of the flour and add the mashed potatoes and milk. Stir until a soft, thick dough forms.
Drop large, heaping spoonfuls of the dough onto the prepared baking sheet. Leave a couple of inches in between each biscuit to leave room for growth. Make 6 large biscuits (good for sandwiches) or 8 medium-sized biscuits.
Place in the middle of the oven and bake for 25 minutes until puffed and golden in colour.
Let cool for a couple of minutes then enjoy warm.
Notes
You can make these with the xanthan gum, but the biscuits will fall apart more easily. This should only be a problem if you want to use them biscuits as a sandwich bread. You can use 1 tablespoon psyllium husk intstead of xanthan gum.
If you want to shape the biscuits to be more even in size and shape I recommend you do so very gently. I find that gluten free biscuits like this come out better (less dense) the less they are handled before baking.

Make it vegan:
Use vegan butter or coconut oil (soft but not melted) in place of the butter and dairy free (unsweetened) milk in place of the milk.
Ensure that the mashed potatoes are vegan.

This website provides approximate nutrition information for convenience and as a courtesy only. Nutrition data is gathered primarily from the USDA Food Composition Database, whenever available, or otherwise other online calculators.