Comfort food with a healthy twist! This Roasted Eggplant Lasagna uses sliced eggplant in place of lasagna noodles making for a delicious, hearty, low carb and gluten free dish the whole family will love!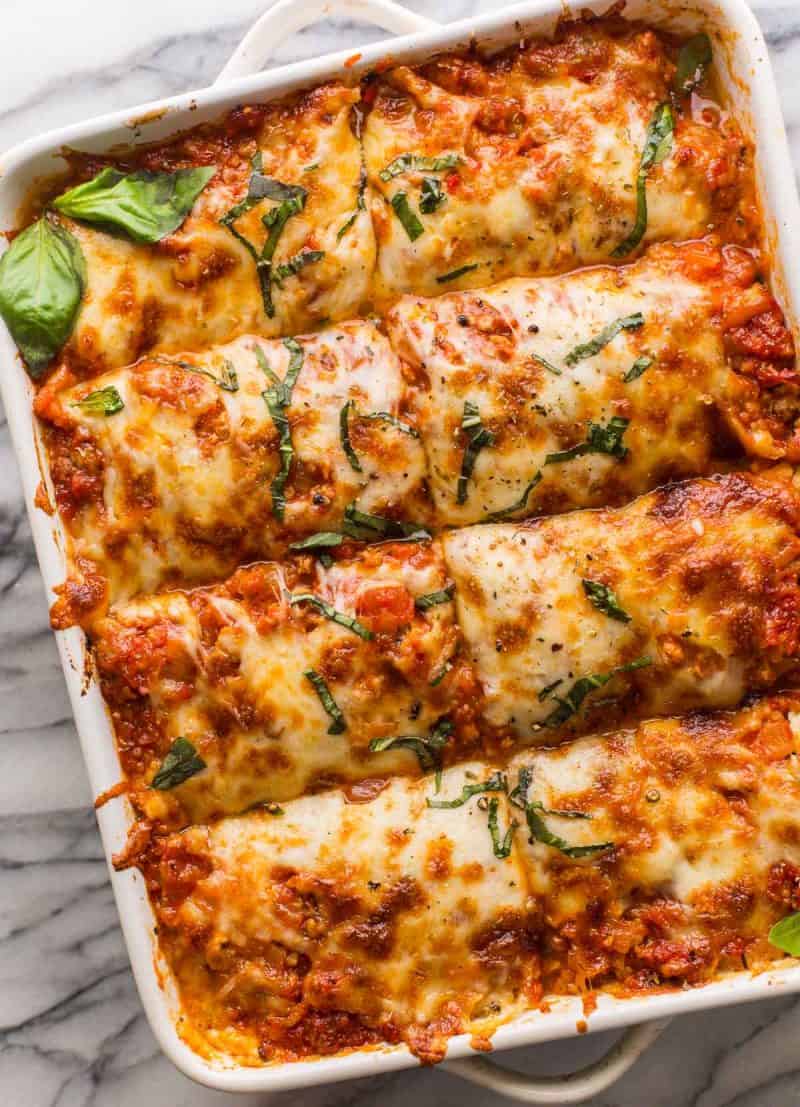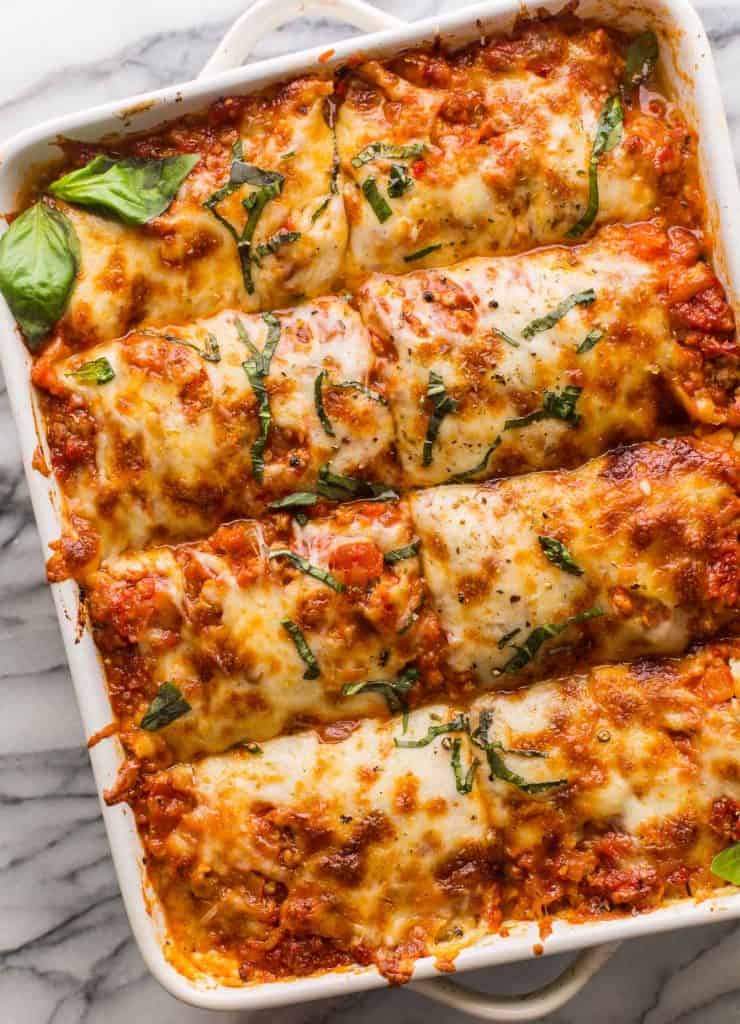 Eggplant Lasagna – Hearty + Healthy
Hearty, wholesome, cheesy and delicious – just a few ways to describe this Roasted Eggplant Lasagna!
Like any good lasagna recipe, this one is a labor of love. Despite all the steps, it's not actually that hard to make. The individual layers are fairly easy to sort out, but they will take a bit of time to assemble and prepare.
The end result? A lightened up, veggie packed, super satisfying, filling and delicious low-carb eggplant lasagna. Now say that five times fast!
What to look for when choosing your eggplant (aka aubergine)?
Choose grafiti (also known as Sicilian eggplant), Globe, or Italian eggplants. Grafiti eggplants are mostly purple with lots of white stripes all over. Globe eggplants are what you'll most likely see in grocery stores – they're thick, dark purple and medium-large in size. Italian eggplants are similar to globe – though they are slightly smaller and have a naturally sweeter taste.
Look for large eggplant with smooth, shiny and taunt skin. Wrinkly, dull skin is a sign that the eggplant is likely past its best.
How to Cut & Prepare for Roasting?
Cut off the stems and ends of the eggplant. Slice lengthwise into 1/2 in – 3/4 inch slices. Make sure not to slice too thin so they don't tear when moved.
Spread the slices in a single layer across 1-2 large prepared baking sheets. Be careful not to overcrowd your baking sheet(s) or the eggplants will steam in the oven and hold on to excess moisture.
Brush eggplant with about 1 tablespoon of olive oil and season with salt and pepper. Place in the oven and roast for about 30 minutes. The edges should be starting to caramelise and the tops lightly golden. About 15 minutes into the cook time, flip over the slices so they cook evenly.
Do I have to salt the eggplant first to draw out moisture?
For this recipe: no.
Eggplants, like most veggies, contain a lot of water. For this reason, many eggplant lasagna recipes will dictate that you should generously salt your eggplant and let sit out for about 15-30 minutes before cooking. The idea is that this step will help to pull out excess water in your eggplant so that you don't end up with a soggy, water-logged dish later on.
I tested this lasagna with and without a 30 minutes salting step, and I can't say that I noticed a difference in either method. Researching more into the topic, it seems that salting eggplant really only makes a difference when done for longer periods of time (90+ minutes). It's also useful when frying eggplant as it helps keep them from getting too greasy in all the oil.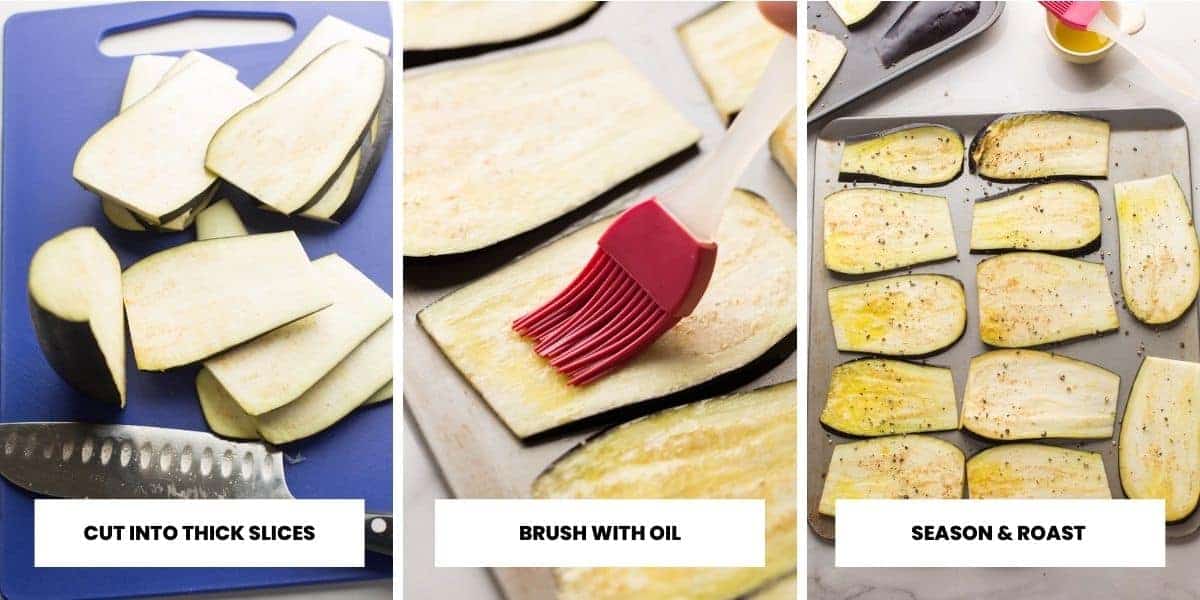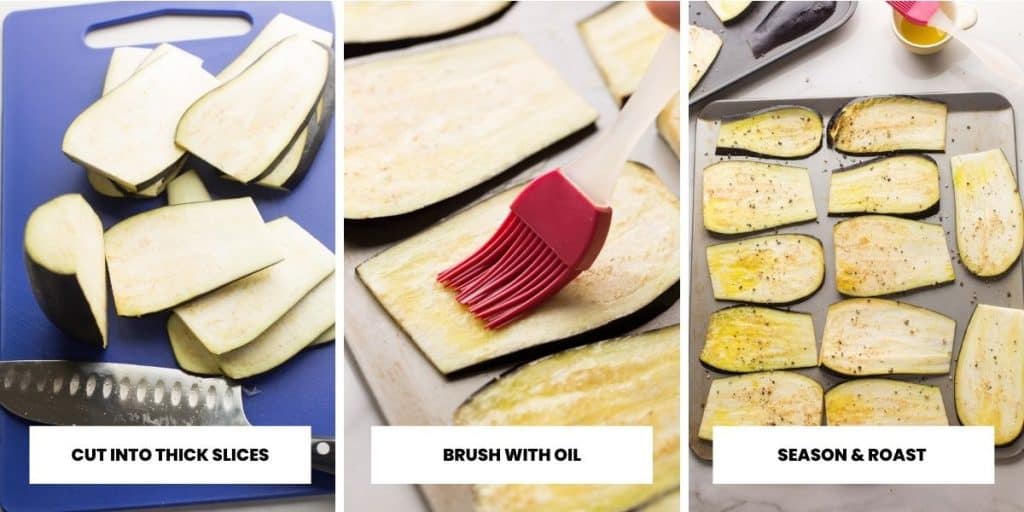 Meat Sauce
The meat sauce itself is fairly easy to make. It's prepared in one large skillet and follows the same basic formula for making bolognese.
Heat oil over a medium-low heat and add the onion. Sauté onion for about 5-7 minutes until it's soft and starting to turn translucent.
Add the garlic and cook about 1 minute until fragrant.
Add the turkey mince to the pan and cook about 5-10 minutes until browned and no longer pink.
Mix in the tomato paste, red pepper flakes and dried oregano. Cook these in with the turkey 1-2 minutes. This will give the tomato paste time to caramelise slightly making for a richer, tomato flavour.
Add the chopped or crushed tomatoes, sugar and remaining teaspoon salt (ignore the passata listed in the collage below).
Mix everything together and cook for about 15-20 minutes over a medium-high heat until you have a thick, meaty sauce. Make sure to taste and season as you see fit. Don't be afraid to add more sea salt or black pepper as needed.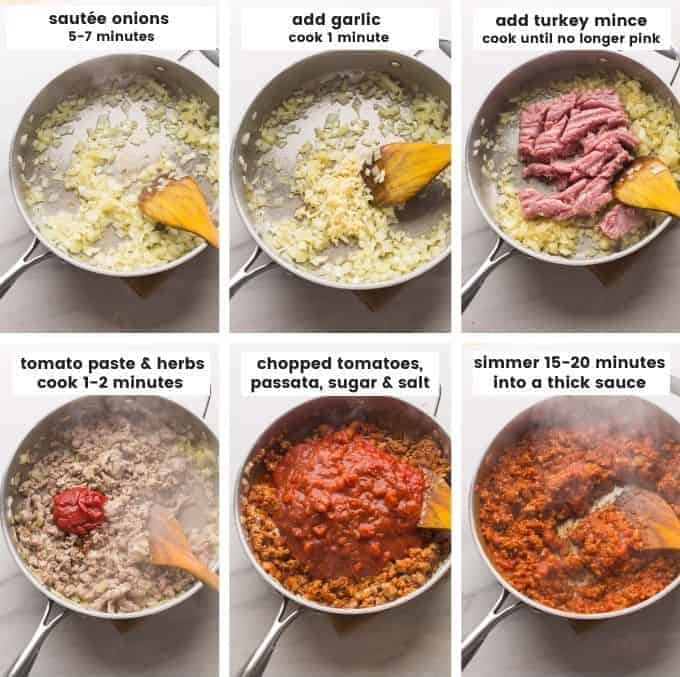 Cottage Cheese Filling
Classic lasagna recipes usually use ricotta cheese. This recipe uses cottage cheese which has a few benefits:
Cottage cheese has less calories and fat than ricotta making this an ideal substitute if you're tracking caloiries.
Cottage cheese is typically much cheaper and easier to find making it a more accessible option.
I actually only ended up making this lasagna in the first place because I accidentally bought low fat cottage cheese instead of regular cottage cheese and didn't know what else to do with it. It ended up working out better than I expected and made great use of what I find to be an otherwise inedible ingredient. (Why is fat free dairy so weird tasting?!)
Can I make this egg free?
Eggs help to hold the cheese mixture together so that it holds shape well when serving. It also helps make for a slightly creamier filling. If you're intolerant to eggs you can absolutely skip the egg. Just keep in mind that it might make for a slightly more messy lasagna in the end.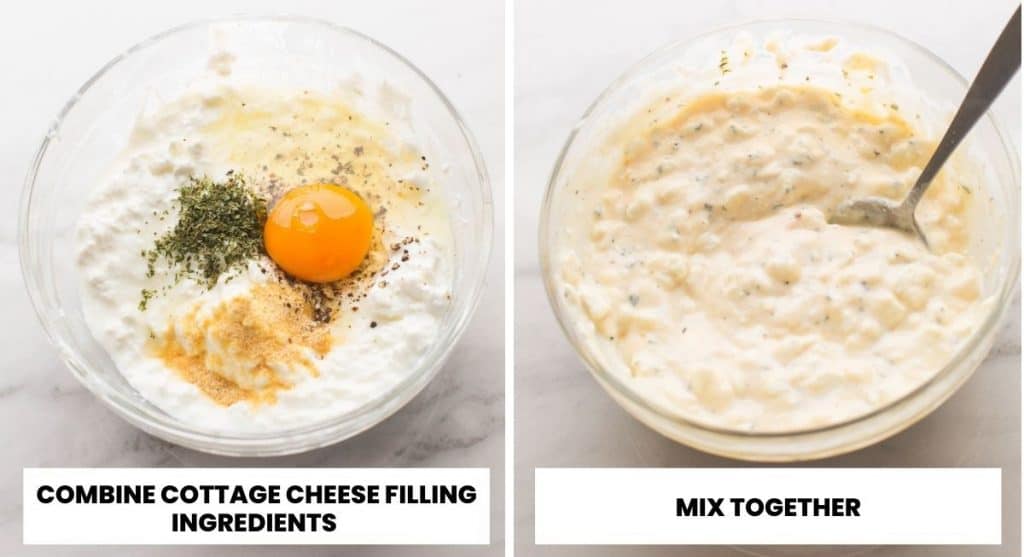 Assemble
Once all of your lasagna In the end your layers will look like this:
1/2 cup meaty tomato sauce on the bottom of the dish
Place eggplant slices on top (6 slices)
Half of the cottage cheese mixture + 1/2 cup mozzarella
1 cup meat sauce
Another layer of eggplant slices
Remaining half of cottage cheese mixture + 1/2 cup mozzarella
Remaining meat sauce, remaining 1 cup of the mozzarella cheese as the final layer
Once assembled, pop in the oven and bake uncovered (no need for aluminum foil as this will only steam and create moisture) for about 30 minutes with the oven temperature still set to 400°F/205°C.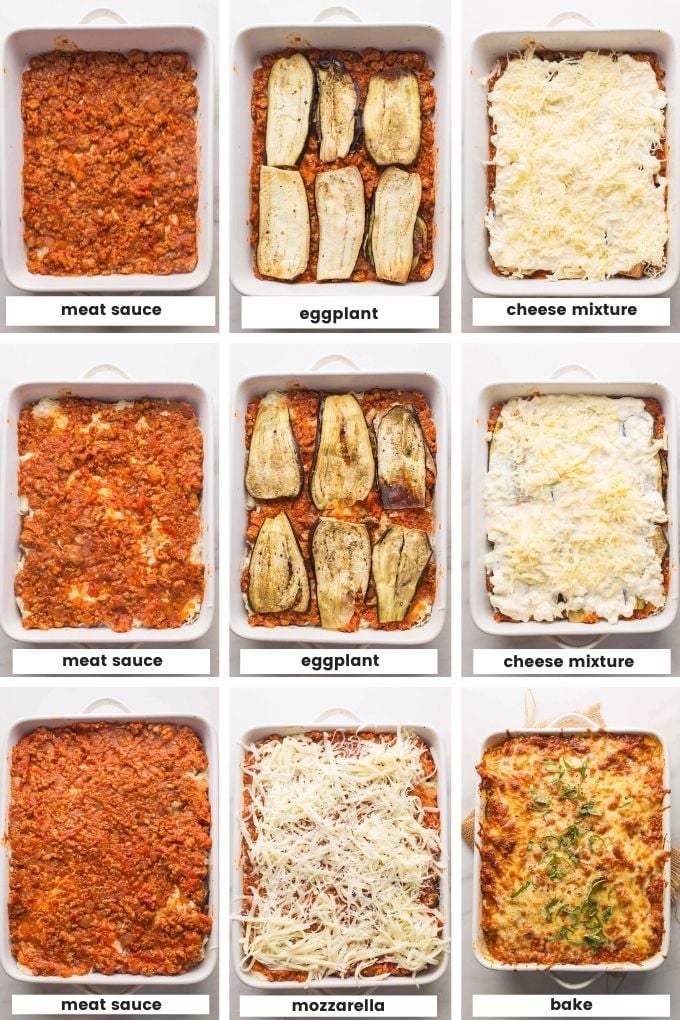 Substitutions and Additions
You can swap out the turkey for Italian sausage or ground beef.
Part skim ricotta can be used instead of cottage cheese. I don't recommend whole milk ricotta here because it tends to make for a more watery ricotta mixture.
Add fresh spinach and mushrooms to the sauce for an even more veggie packed meal. I don't recommend adding too many extra veggies like peppers or zucchini because that will increase the overall water content of this dish.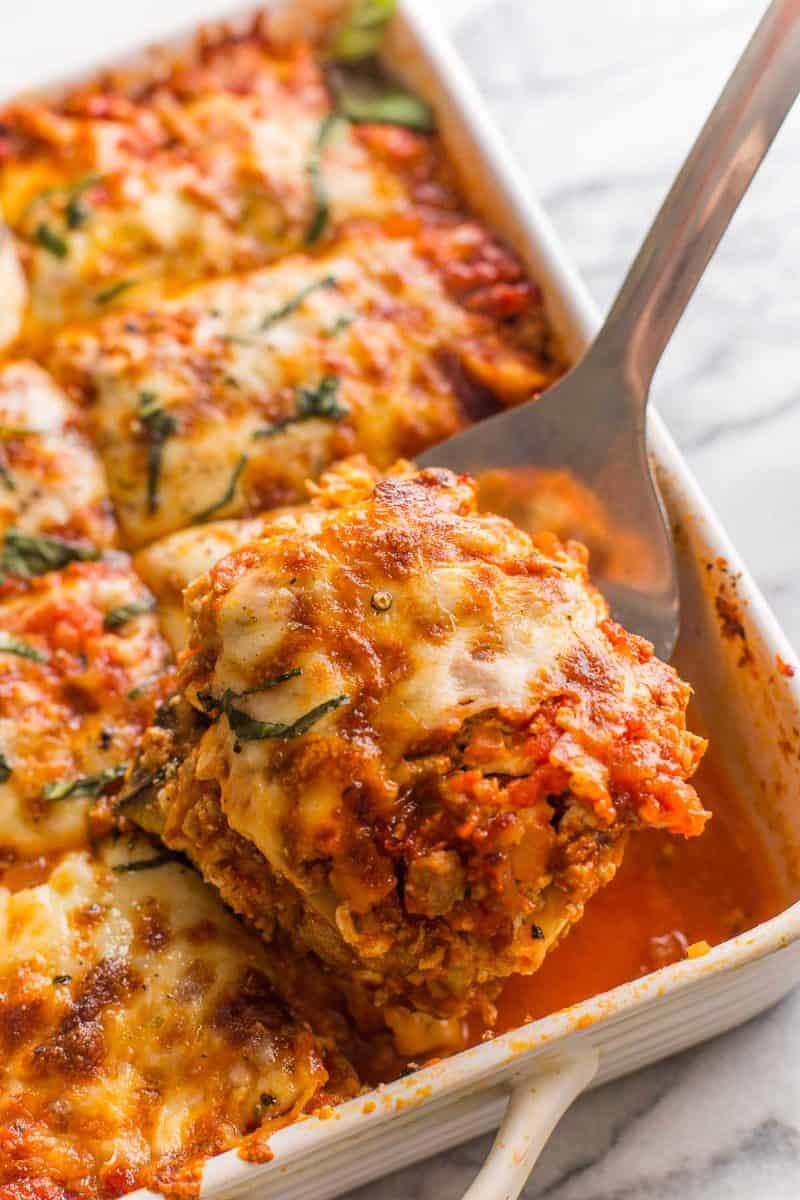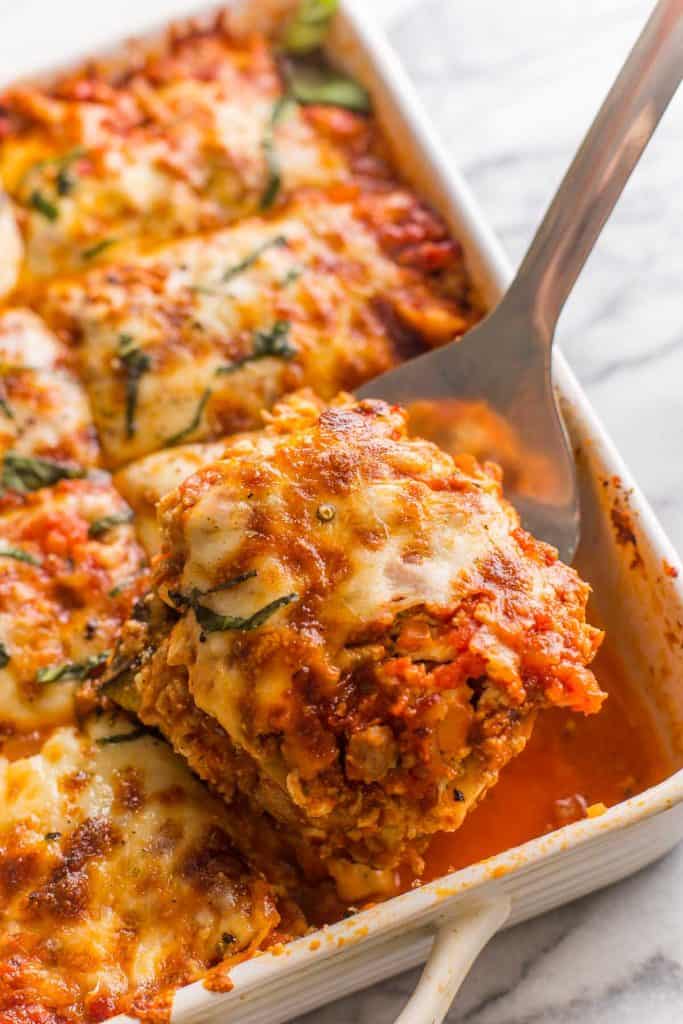 Leftovers & Storage
Leftover lasagna will keep well in the fridge for 4-5 days if covered and stored in an airtight container.
Leftovers can also be frozen for 2-3 months. You can freeze individual slices (ideal for easy reheating) or as a whole. To freeze: let the lasagna cool completely, then wrap up well in a freezer-safe container or plastic wrap+foil (make sure it's airtight).
More Healthy Lasagna Recipes You Might Enjoy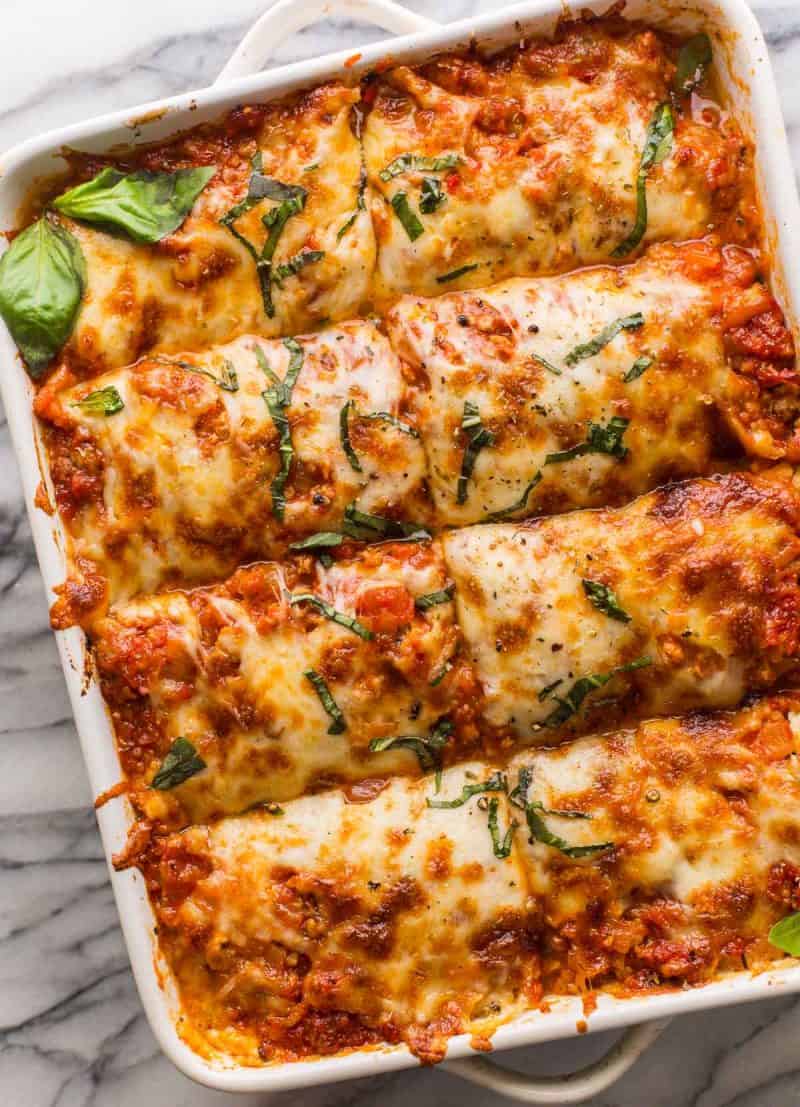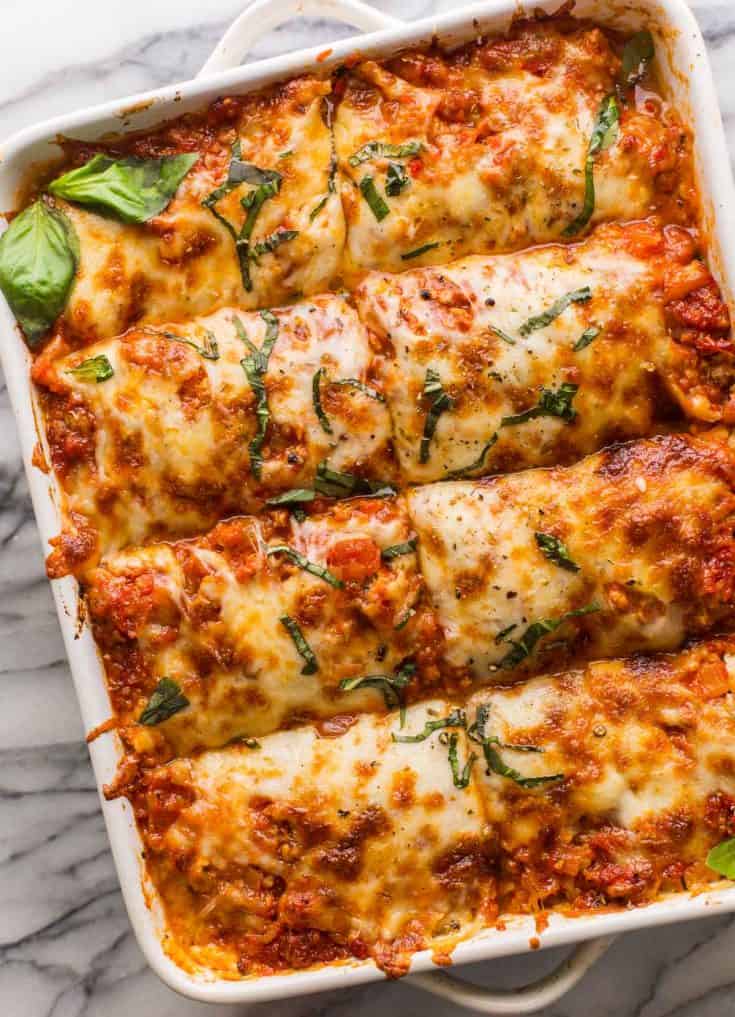 Recipe
Roasted Eggplant Lasagna with Turkey
Yield:
8 servings
Prep Time:
20 minutes
Cook Time:
1 hour
30 minutes
Total Time:
1 hour
50 minutes
Comfort food with a healthy twist! This Roasted Eggplant Lasagna uses sliced eggplant in place of pasta noodles making for a delicious, hearty, low carb and gluten free dish the whole family will love!
Ingredients
2-3 firm eggplants, about 1 1/2 pounds (ends cut off and sliced into 12 into 1/2 inch slices cut lengthwise)
1 1/2 teaspoons salt, kosher or sea salt (divided)
4 tablespoons | 60 ml olive oil, divided
Meat Sauce
1 medium onion, diced
3 large clove | 1 heaping tablespoon garlic, minced
1 lb ground turkey
1/4 cup | 64 g tomato paste
1/2 teaspoon red chili flakes
1 teaspoon dried oregano
1 [28 oz] or 2 [14 oz] cans chopped tomatoes
2 teaspoons sugar
Cottage Cheese Filling
15 oz cottage cheese or ricotta cheese (see notes)
1 egg
1/4 cup | 22.5 grated parmesan
1 teaspoon dried parsley
1/2 teaspoon garlic powder
1/2 teaspoon freshly ground black pepper
2 cups | 226 g grated, part skim mozzarella
Instructions
Preheat oven to 400°F/205°C. Lightly grease a couple of large baking sheets.
Eggplant: Spread the eggplant slices over the prepared baking trays. Pat with a paper towel to remove surface dampness, then brush each side with 1-2 tablespoon olive oil. Spread the eggplant across the baking sheets. Leave space in-between each slice to prevent overcrowding. Sprinkle about 1/2 teaspoon salt & pepper over the top.
Place in oven and roast for 30 minutes. About halfway through, flip the eggplant and switch the baking sheets around for an even cook. When done roasting, remove the baking sheets from the oven and set aside until you're ready to assemble the lasagna.
Meat Sauce: In a large pot or skillet, add the remaining olive oil and diced onion. Cook over a medium heat for about 5-7 minutes until soft. Add the garlic and cook another minute. Add the ground turkey and cook a few minutes until no pink meat remains.
Add the tomato paste, chili flakes and oregano. Mix in and cook 2-3 minutes. Add the chopped tomatoes, sugar and salt. Let simmer and cook until a thick sauce forms, about 15-20 minutes. Stir every so often to keep the bottom from burning. Taste and season as you see fit.
Filling: In a medium-sized bowl combine the cottage cheese (or ricotta), egg, parmesan, parsley, garlic and pepper. Mix until combined.
Assemble: Lightly grease a 9in x 13in [33cm x 23cm] casserole dish. Spread about 1/2 cup of the meat sauce across the bottom of the dish. Place 6 eggplant slices evenly spread over the meat sauce. Spread half of the cottage cheese mixture over the eggplant. Sprinkle 1/2 cup mozzarella over the top. Repeat with another meat layer, the remaining eggplant, remaining cottage and another 1/2 cup of mozzarella. Spread the remaining meat sauce over the top of the casserole followed by the remaining 1 cup cheese.
Bake: Place in the middle of the oven and bake for 25-30 minutes until hot, bubbly and the cheese has turned golden. Let rest about 10 minutes before slicing and serving. Top with fresh herbs if desired and enjoy.
Notes
You can easily replace the cottage cheese with ricotta cheese for a lower fat/calorie alternative.
Make it egg free: Mixing in an egg in the ricotta/cottage cheese mixture helps make for a creamy filling that holds its shape well throughout the bake process. If you're intolerant to eggs you can simply make this without the egg - just keep in mind that the cheese layers might be more prone to slipping out as you serve this.
This website provides approximate nutrition information for convenience and as a courtesy only. Nutrition data is gathered primarily from the USDA Food Composition Database, whenever available, or otherwise other online calculators.