Easy Tomato Soup made in the instant pot with fresh summer tomatoes – roughly chop your veggies, add them to the pot and cook for 10 minutes! Use an immersion blender or traditional blender to puree the soup into a light, smooth and comforting soup. Gluten Free + Vegan + Paleo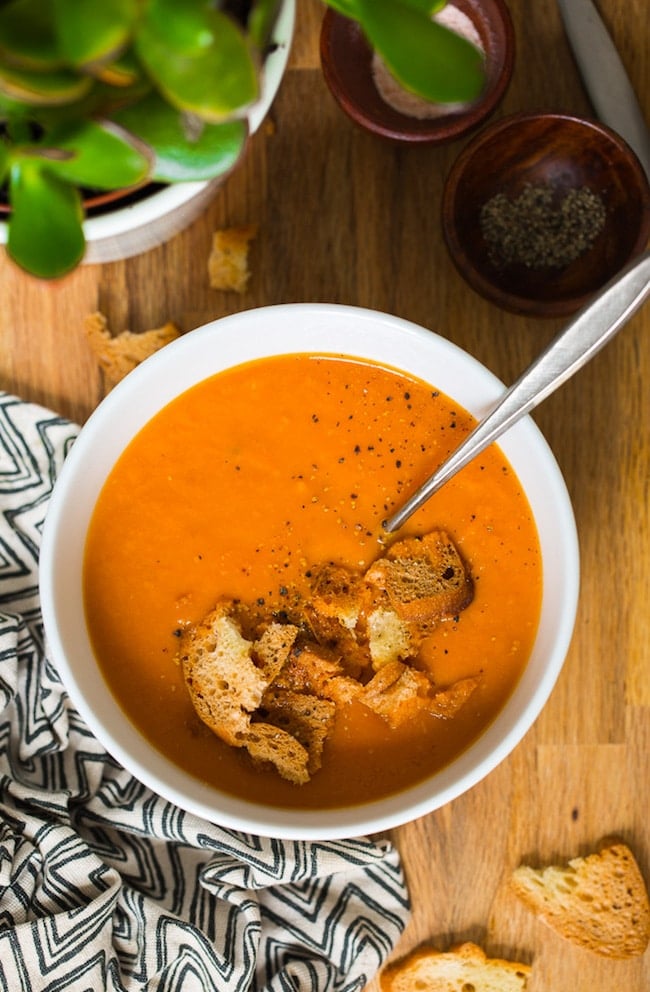 ---
Everyone needs a good, easy tomato soup recipe in their life. A simple, back pocket recipe to pull out for sick days, rainy days, and random Tuesday afternoons when you need something fast, healthy and straight up cozy.
And just incase you don't own yet an instant pot are aren't interest in pulling out any large cooking equipment no worries. I've got a similar stove top roasted tomato soup that takes a little more time, sure, but it's still dead easy and super delicious!
That being said – if you're looking for big flavour with minimal effort (and you don't want to stand over a hot stove in later summer when these veggies are at their best) than carry on down, my friends! There's a piping hot bowl of soup with some crusty bread with your name all over it.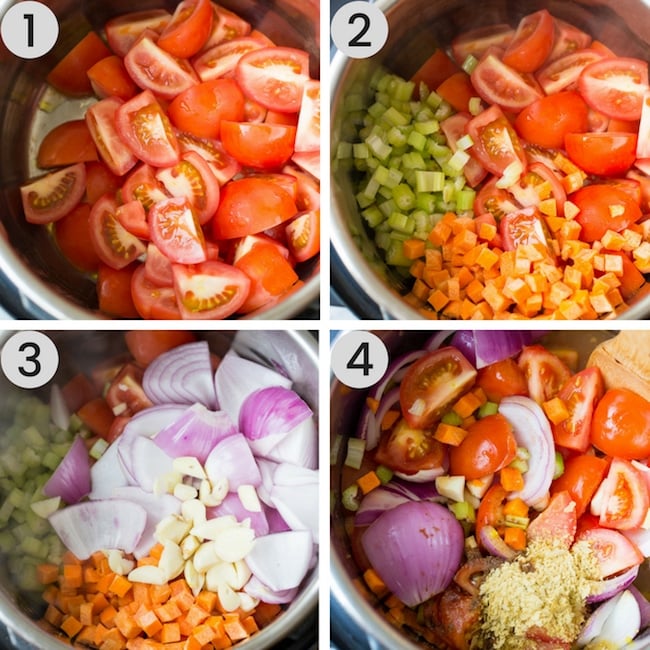 How to Make Easy Tomato Soup in the Instant Pot
All together this soup takes about 30 minutes to make – most of that time is pretty hands off. You don't need to worry about baby sitting a hot, bubbly soup over the stove top or checking the oven for burnt veggies.
Start out by warming up the instant pot and sautéing your veggies. This does two things:
Adds another layer of flavour.
Begins warming up the instant pot so that it will take less time for it to come up to temperature later to cook.
All you need to do is add your olive oil and start layering in the veggies as pictured above (pictures 1, 2 and 3). In fact, you don't even need to chop the celery and carrots quite as much as I have in picture 2. I just enjoy chopping veggies and it looks neater in pictures.
I've made this many times before by just roughly chopping everything into large, messy chunks without any problems. It will definitely blend up faster if you chop it all smaller, but by the time the soup is done cooking in the instant pot it will all be so soft and easy to process anyway.
Moving on…
After you're done softening all the veg slightly, add the remaining ingredients:
tomato paste – adds body
balsamic vinegar – more depth of flavour
vegetable stock – what's a soup without stock?
nutritional yeast – adds cheesiness – think parmesan but without the dairy
And then just seal, cook and wait.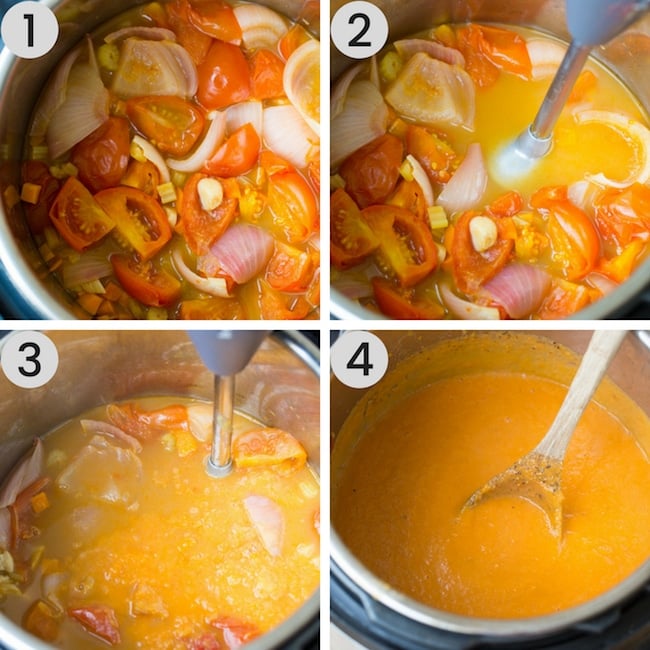 When it's all done cooking allow your instant pot to depressurise for another 10 minutes. With most instant pots you won't even need to do anything extra here so go ahead and carry on with whatever you're doing.
When you're ready to go you can start blending up the soup into a smooth puree as seen in the pics above. Use an immersion blender right in the bowl or blend this up in a blender. If you use a blender I recommend blending this in batches – you don't want to fill up the blender more than a third of the way full or you'll risk hot soup splattering all around your kitchen.
Ingredient Substitutions
You can swap out the fresh tomatoes for two 14 ounce (or 1 28 ounce) can of fire roasted tomatoes. Standard can size in the UK (and I believe Europe in general) is about 400 grams so just use two of those.
While I do believe that nutritional yeast is totally worth keeping stocked in your pantry you can use parmesan (vegan or dairy) in its place for a similar, cheesy flavour.
Chicken stock can be subbed out for vegetable stock so long as you don't need this to be vegan/vegetarian.
To serve you can top this off with some homemade croutons or enjoy it with a slice (or three) of some crusty French Bread. These gluten free spinach and feta parcels make for a nice, cheesy addition. If the season is right it would seem almost criminal not to add some fresh basil into the mix as well. So long as this soup is involved – you can't go wrong!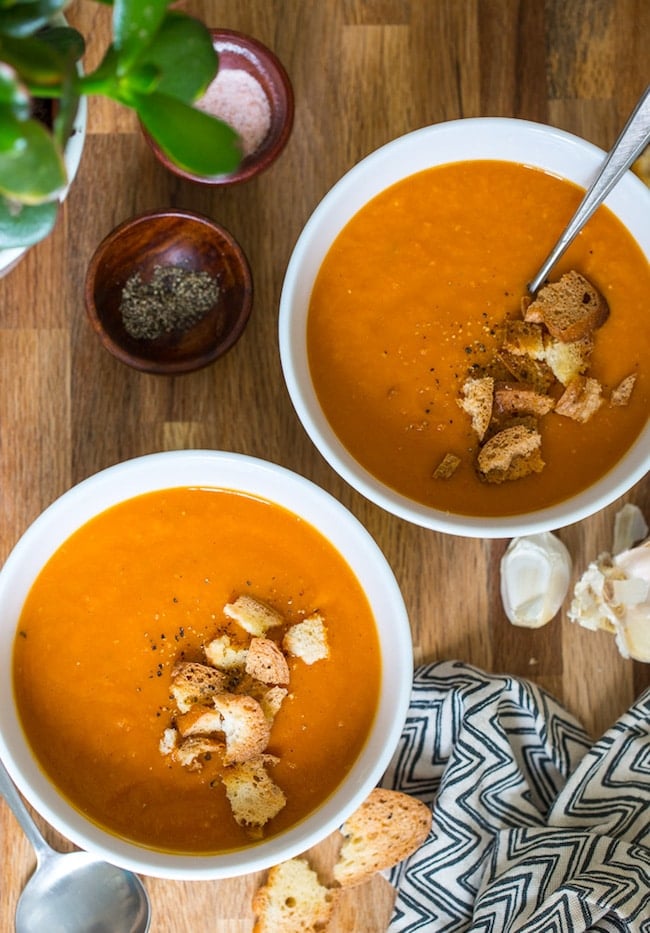 FACEBOOK | INSTAGRAM | PINTEREST
Don't forget to #asaucykitchen on instagram if you try this Easy Tomato Soup! I love seeing what you make! You can also post your pictures to my facebook page!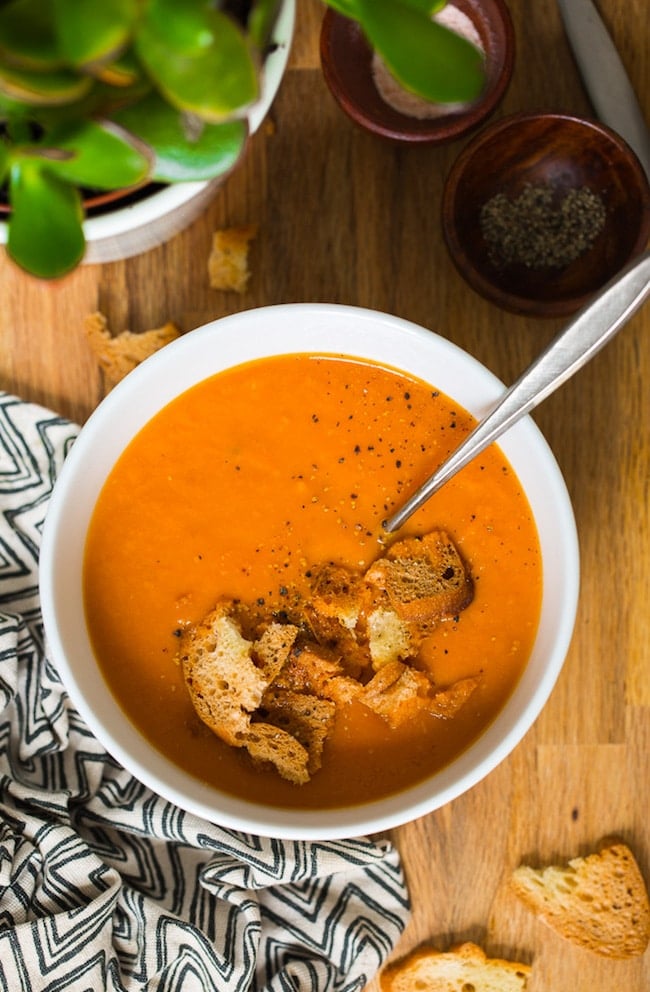 Recipe
Easy Tomato Soup in the Instant Pot
Yield:
5 servings
Prep Time:
10 minutes
Cook Time:
20 minutes
Total Time:
30 minutes
Easy Tomato Soup made in the instant pot with fresh tomatoes - just roughly chop your veggies, dump in the pot and cook for 10 minutes! Use an immersion blender or traditional blender to puree the soup into a light, smooth and comforting summer soup. Gluten Free + Vegan + Paleo
Ingredients
1 tablespoon olive oil
2 pounds tomatoes, quartered
1 cup carrots , chopped
2 medium stalks celery, chopped
1 large red onion, roughly chopped
6 large cloves garlic, roughly chopped
2 tablespoons tomato paste
2 tablespoons nutritional yeast
1 tablespoon balsamic vinegar
1 cup vegetable stock, aim for a low sodium stock
Instructions
Press the sauté button on the instant pot (affiliate link) and wait for it to heat up. Add the olive oil.
Add the tomatoes, carrots, celery, onion and garlic to the instant pot and stir. Cook 3 minutes, stirring often.
Add the remaining ingredients (tomato paste, nutritional yeast, balsamic vinegar and stock).
Secure the lid on the instant pot and make sure the dial on top is set to 'sealing'. Switch to cook on high pressure for 10 minutes. (Press 'Manual' or 'Pressure Cook' and set the timer to 10 minutes.)
After the time is up the Instant Pot will automatically switch the keep warm. Let it keep warm for 10 depressurising on its own before releasing the steam valve.
Use an immersion blender to process until smooth.
If you don't own an immersion blender you can blend up the soup in batches using a blender or food processor. Just make sure to be careful when removing the blender lid and open away from your body.
Taste and season with salt and pepper as needed.
Notes
You can use two 14 ounce (or two standard 400 grams) cans of fire roasted tomatoes for the fresh tomatoes if you like.
You can use parmesan cheese (vegan or dairy) instead of the nutritional yeast
You can use chicken stock instead of vegetable stock if you don't need this to be vegan/vegetarian.
How long does it keep? 
About 5 days
Can you freeze it?
Yes! Since there is no dairy in this recipe you won't need to worry about it curdling/separating when reheated. 
Let the soup come to room temperature and store it in 2 gallon, freezer safe zip lock bag.
Keeps well in the freezer for 6 months.
Nutrition Information
Yield:

5
Serving Size:
cup
Calories:

102
Sodium:

105mg
Carbohydrates:

14g
Fiber:

4g
Sugar:

7g
Protein:

4g
This website provides approximate nutrition information for convenience and as a courtesy only. Nutrition data is gathered primarily from the USDA Food Composition Database, whenever available, or otherwise other online calculators.