Simple, juicy Paleo Turkey Burgers made with ground turkey, spinach, spring onions and a few seasonings! Gluten Free + Whole30 + Low FODMAP Options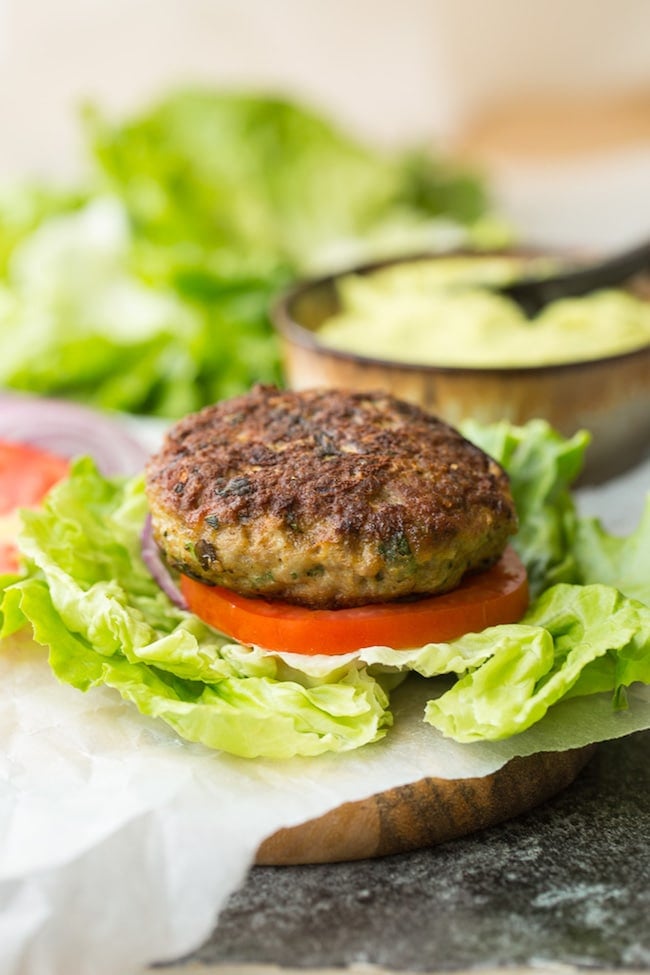 Originally published May 25, 2015 – Updated August 13, 2018
Anyone who's ever attempted a low FODMAP diet for at least 10 minutes knows that there area lot of do's and don'ts you need to constantly keep in mind….mostly don'ts.
To stay sane you really just need to try to keep it simple with the 'safe' foods and try not to overthink to much or else risk losing your mind thinking about all the foods your can't have. Fortunately, I'm a firm believer that the best foods are often times the most simple. Sometimes all you need it a little salt and pepper to transform a dish like with these paleo turkey burgers.
They're simple ✔️juicy ✔️healthy ✔️delicious! Let's get to it!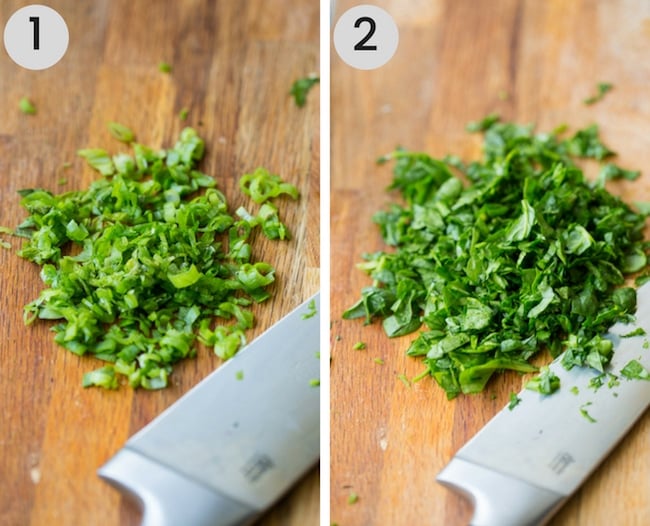 How to Make: Paleo Turkey Burgers – Low FODMAP
There's not a lot of prep that goes into these turkey burgers, but it's important to start there with our adds: spinach and spring onions. Chop them up into little bits as seen pictured above (photos: 1 and 2).
A note about spring onions: In order to be considered safe for a low FODMAP diet make sure you only use the green parts here. You'll still get that onion-y flavour without the accompanied stomach upset.
Did you know that you can also regrow your spring onions using the left over white stalks? It's surprisingly fast and easy!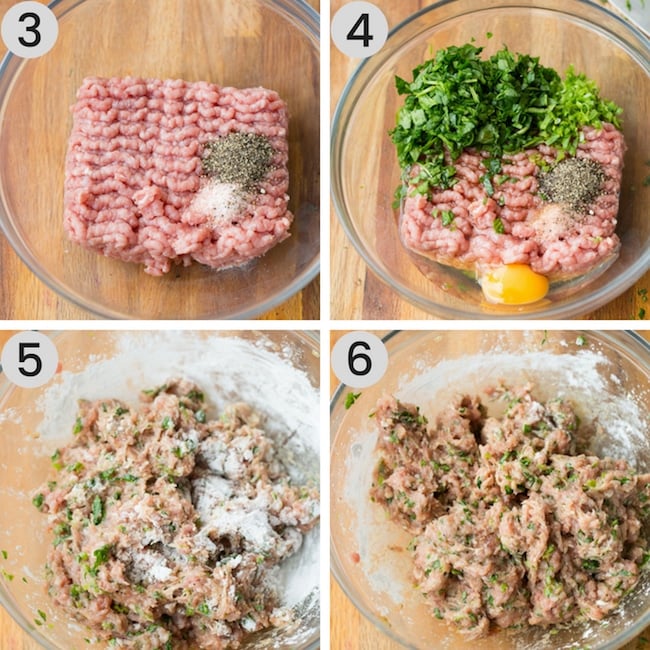 Once your spinach and green onions are ready to go it's really just a matter of bringing it all together in a mixing bowl along with:
salt + pepper –
coconut aminos – extra umami flavour (can use tamari instead but it will no longer be paleo/whole30 compliant).
an egg – moisture & binding
tapioca four – for extra binding
What can I use instead of tapioca flour?
arrowroot flour/starch will be very similar and still paleo/whole30 compliant
almond flour – still paleo/whole30 compliant and make this more low carb/keto friendly
oat flour
breadcrumbs (gluten free)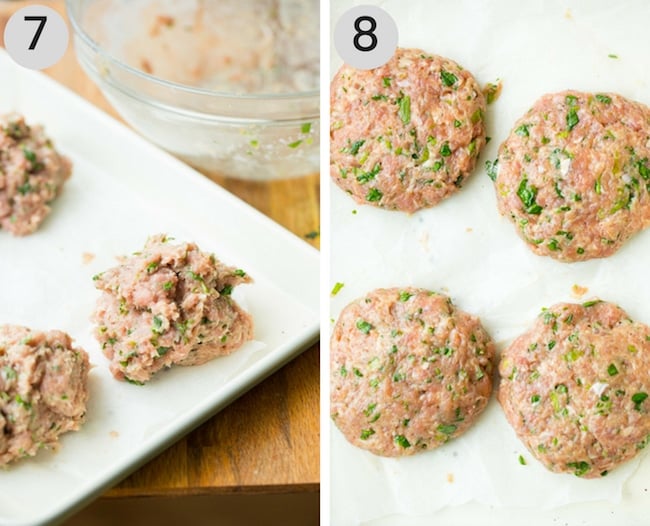 Then just divide up the turkey into four different sections and shape into burgers. When the time comes fry them in a little oil for about 10ish minutes on each side and you're all set.
Can I make these paleo turkey burgers in the oven?
Yes! If you prefer to bake these, brush the tops with a little oil in bake in the oven at 350°F/180°C for about 25-30 minutes. About half way through the cook time flip them over to cook on the other side.
Serve these up in lettuce wraps or topped onto your favourite gluten free burger buns.
Since Mike no longer has to follow along a low FODMAP diet I did serve our burgers up with some tomato and onion slices.
If you need a few low FODMAP serving suggestions you can also try making: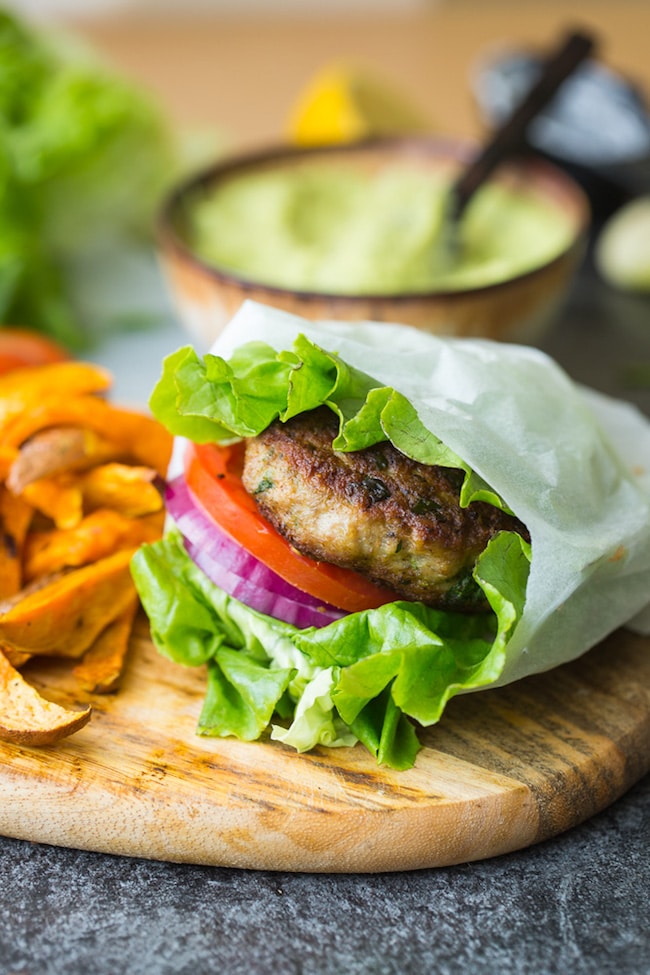 Enjoy!
FACEBOOK | INSTAGRAM | PINTEREST
Don't forget to #asaucykitchen on instagram if you try these Paleo Turkey Burgers! I love seeing what you make! You can also post your pictures to my facebook page!
Yield: 4 burgers
Paleo Turkey Burgers with Spinach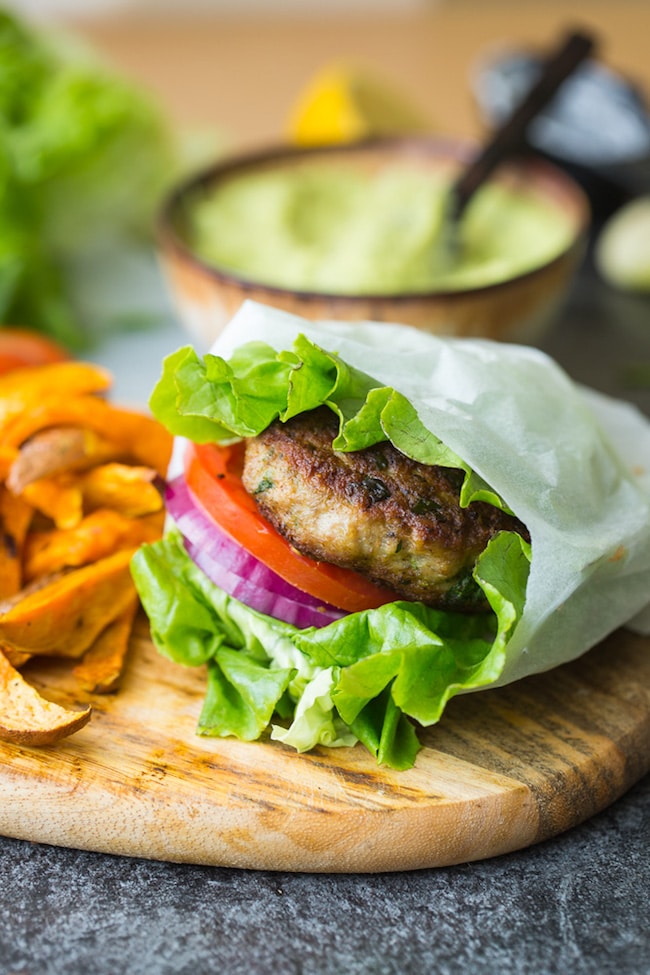 Simple, juicy Paleo Turkey Burgers made with ground turkey, spinach, spring onions and a few seasonings!
Ingredients
1 pound ground turkey, aim for at least 7% fat
1 teaspoon ground black pepper
3/4 teaspoon sea salt
2 spring onions, chopped - use the green parts only for Low FODMAP
1 cup spinach, chopped - measure after chopping
1 tablespoon coconut aminos, can sub with tamari
1 egg
1/4 cup tapioca flour
oil for frying
Instructions
In a large bowl, mix together the ground turkey, salt, pepper, spring onions, spinach and coconut aminos and egg.
Mix in the tapioca flour.
Divide the meat into four sections. Form into round patties - about 4 inches wide and 2 inches tall.
Warm the oil in a frying pan. When the oil is hot add the patties to the pan and fry on each side, about 10-15 each until cooked through. Internal temp should be 165°F.
Serve in lettuce wraps with sliced onion, tomatoes or other additions of your choice. For low FODMAP version don't use onion or tomato.
Notes
What can I use instead of tapioca flour?
arrowroot flour/starch will be very similar and still paleo/whole30 compliant
almond flour - still paleo/whole30 compliant and make this more low carb/keto friendly
oat flour
breadcrumbs (gluten free)
Low FODMAP Condiments to go along:
Nutrition Information:
Yield:
4
Serving Size:
patty
Amount Per Serving:
Calories:

176
Cholesterol:

103mg
Sodium:

601mg
Carbohydrates:

8g
Protein:

28g