Thinly sliced red onions gently massaged with sumac and salt, dressed in oil, lemon and vinegar then tossed with fresh parsley – simple, punchy and incredibly fresh!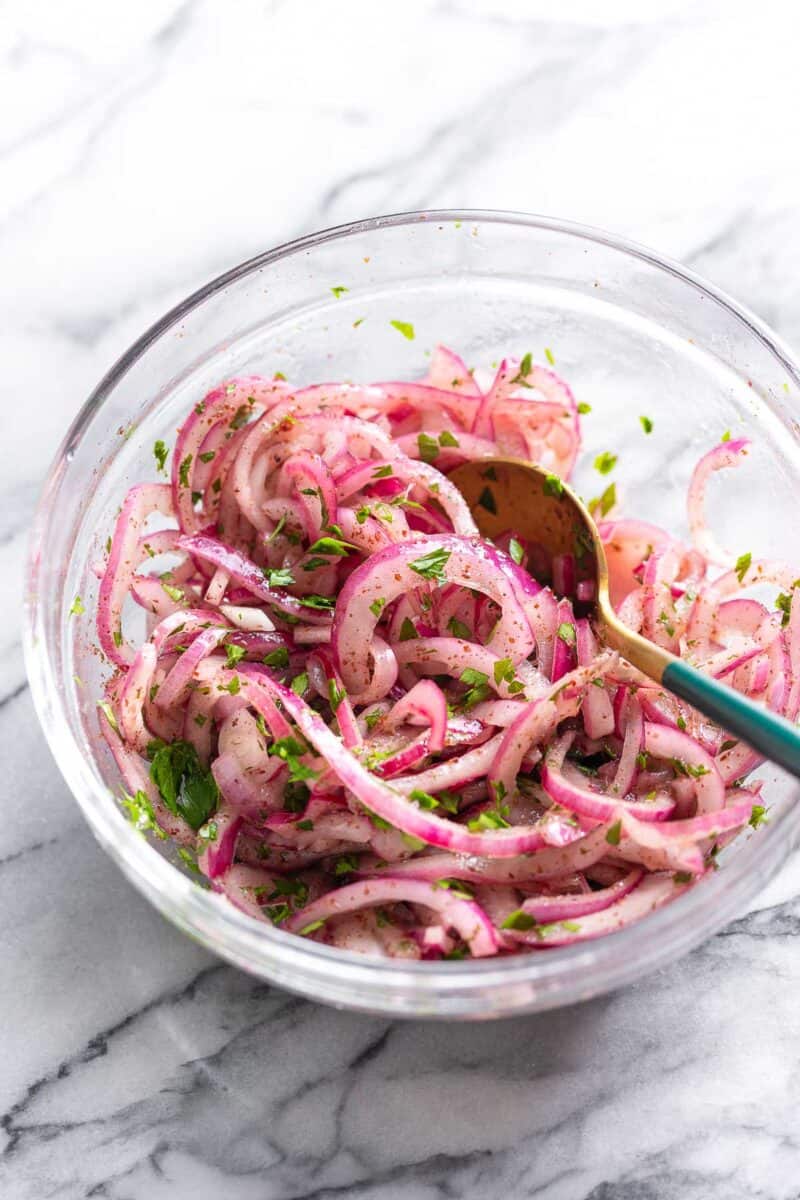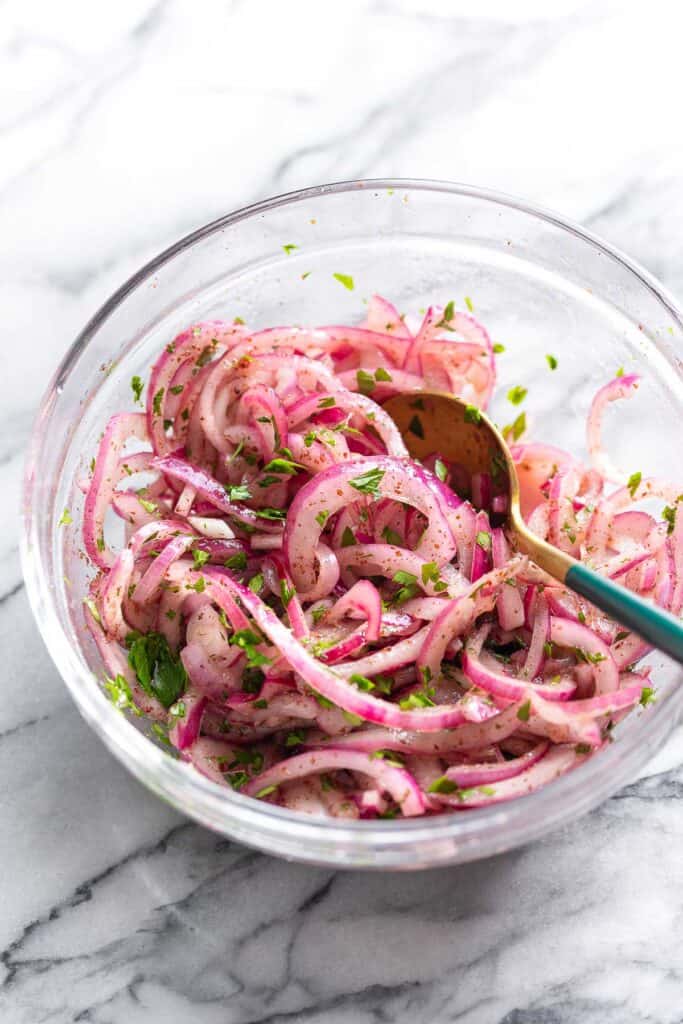 Sumac Onions (A Turkish Onion Salad)
Simply put: sumac onions = Turkish-style onion salad.
Main ingredients include: sliced onions, sumac powder, salt, lemon, oil and fresh chopped parsley.
It's a traditional Middle Eastern condiment usually served alongside grilled meats and fish or as a part of a mezze platter.
Though it may look like nothing more than a simple onion salad at first glance, its flavors are anything but basic!
What is sumac?
Sumac is a popular Middle Eastern spice made from the dried and ground sumac berries of the sumac bush. It has a bright, citrusy, acidic flavor making it an incredibly versatile ingredient found in both sweet and savory recipes.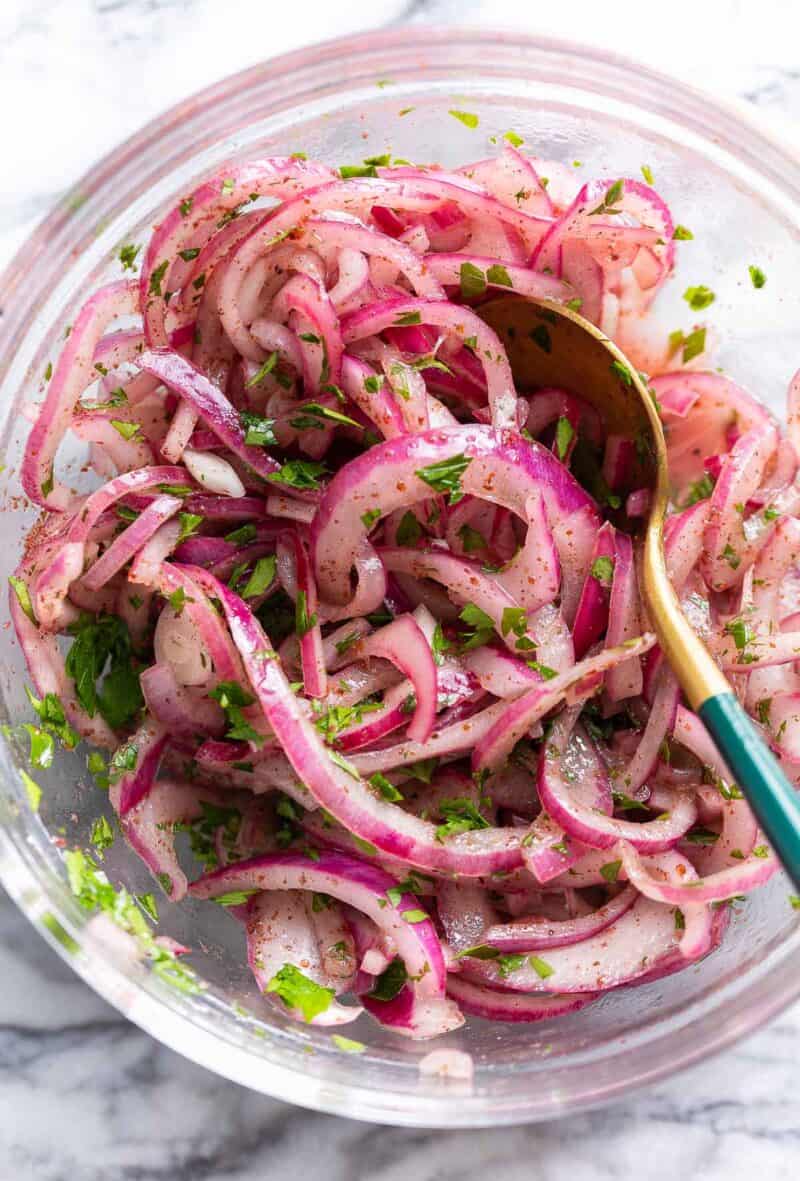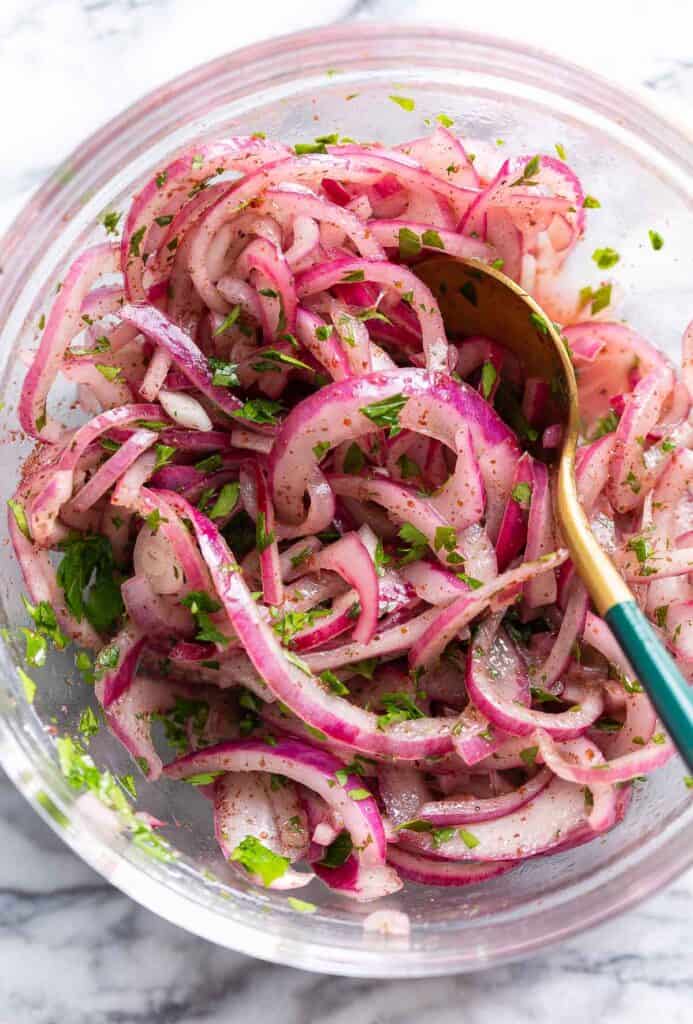 How to Make turkish sumac onions
Cut onion into thin slices.

Use a sharp knife or a mandoline to minimise the chance of tearing up as you cut the onions.

Add sumac spice and a little salt then use your hands to massage the spice into the onions.
Stir in lemon juice (or vinegar), olive oil and fresh parsley.
Cover bowl or transfer to an airtight container and set aside for a quick pickle (about 20 minutes|) or marinate in the fridge up to 4 days.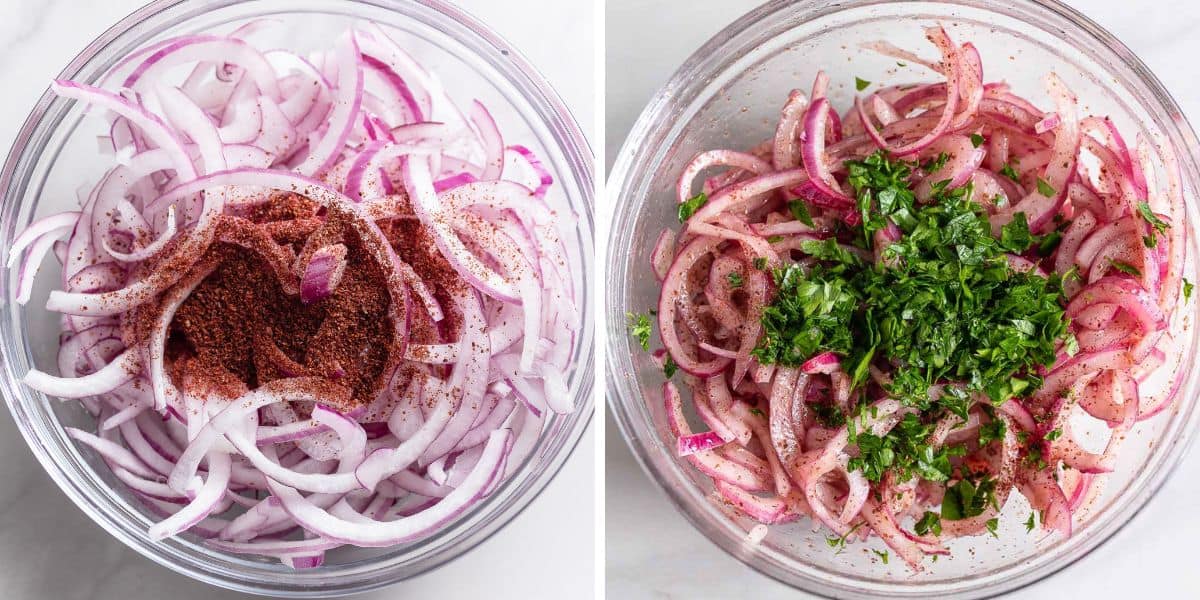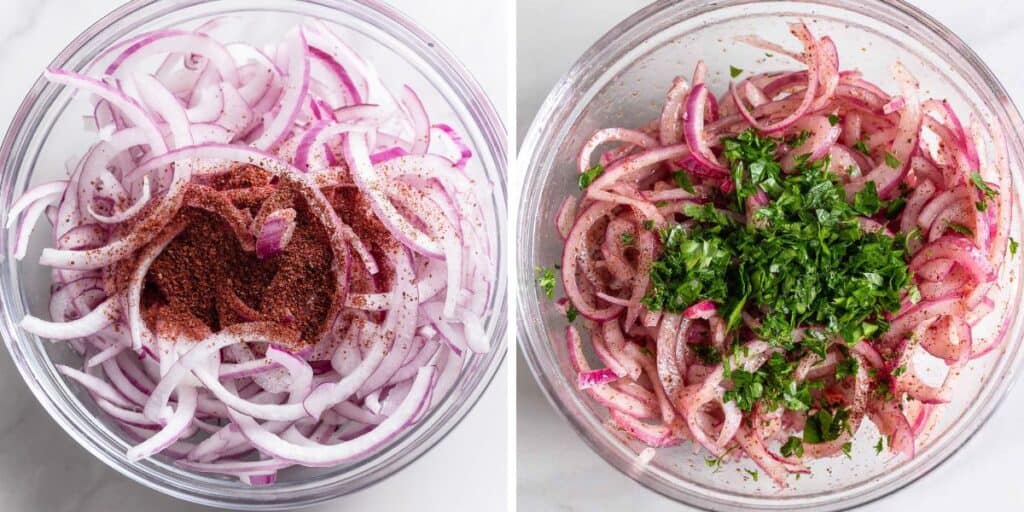 Why massage the onions?
Salt helps draw out the moisture and tones down some of the more pungent raw onion flavours. This translates to better flavor absorption, a more vibrant color and a softer texture.
Do you have to massage the onions?
No! If you'd prefer not to get your hands dirty, you'll still end up with an incredibly flavored dish.
It's a great, extra step that takes little effort if you like getting really involved with your food. That said, it seems to be a step rooted more-so in tradition than necessity.
You might taste the difference. You might not. Your choice!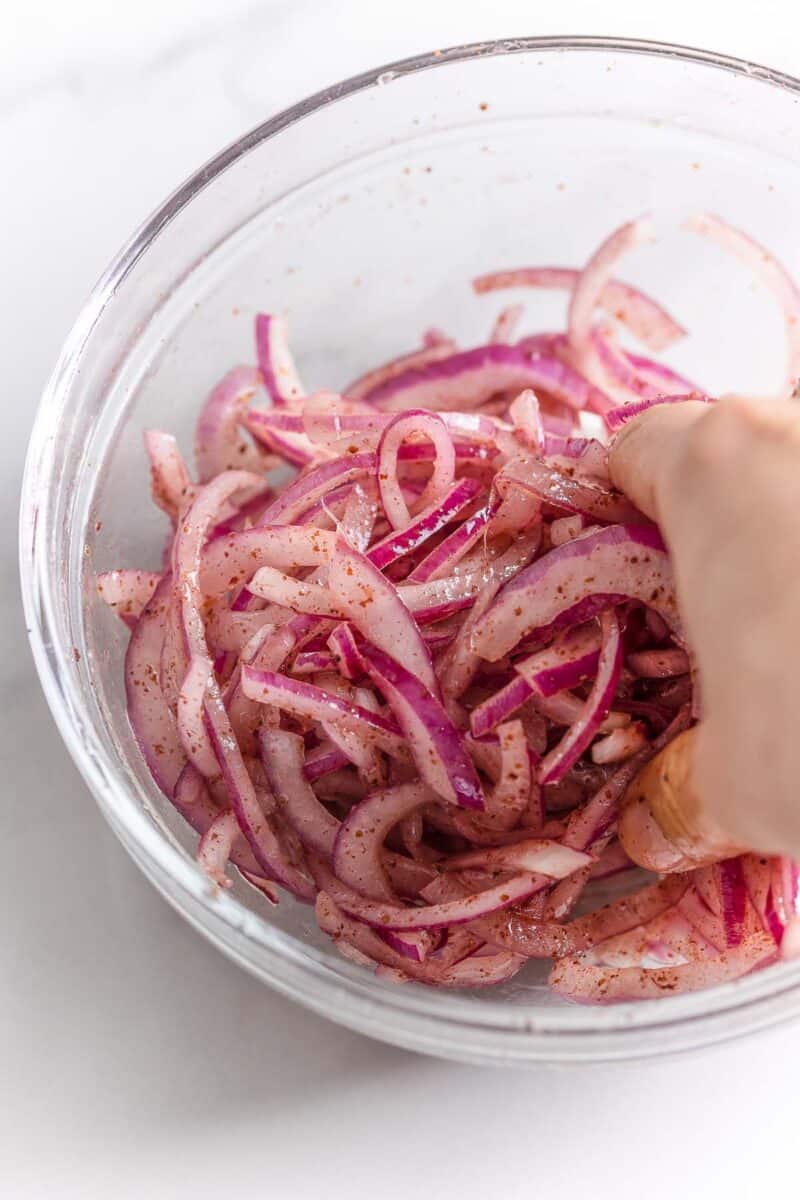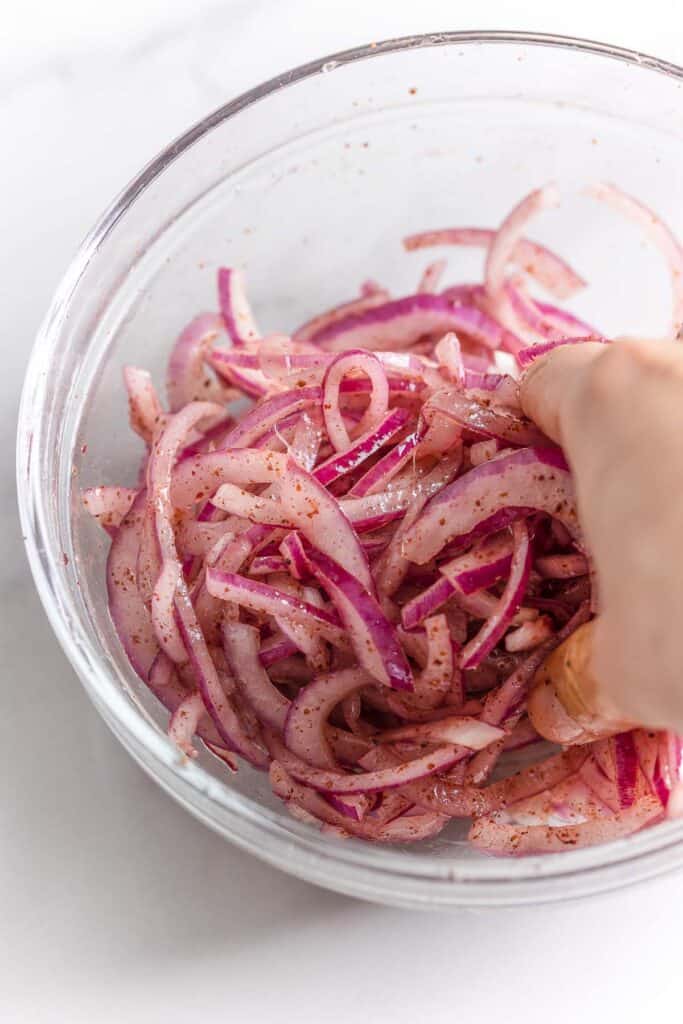 Additions and Variations
Swap parsley out for cilantro or mint.
Add aleppo pepper (pul biber) or red pepper flakes (mild) or red chili flakes (spicy).
Swap lemon juice for lime juice to lean in to the tart, punchy flavor.
Add pine nuts for a nice crunch.
Swap red onion for white or yellow onions which are less spicy and more mild in flavor.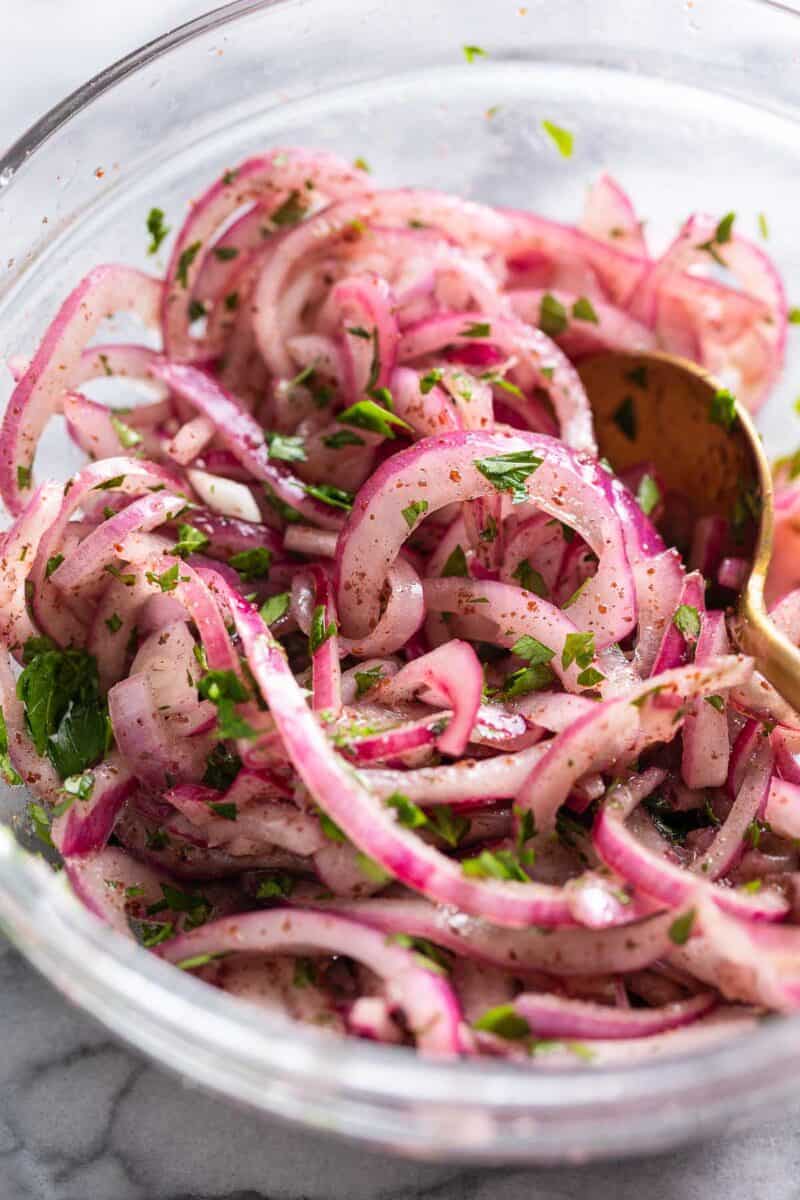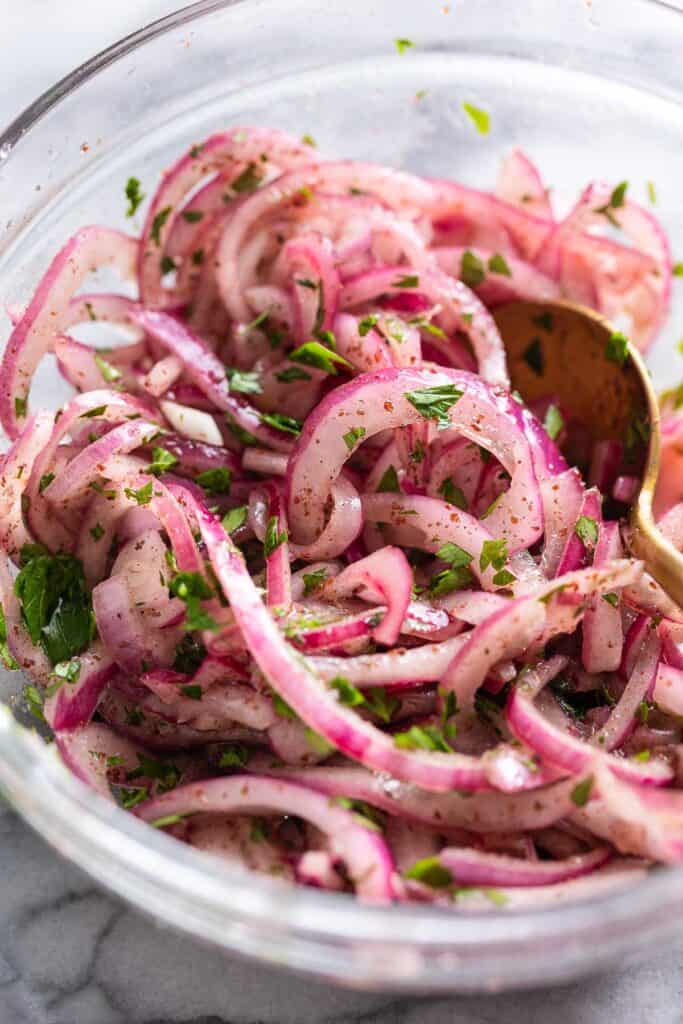 More Simple salads
Enjoy
Serve this tangy onion salad as a simple side dish alongside fish and meat dishes for a pop of brightness and punch of flavor. Add to burgers, wraps, sandwiches, salads and grain bowls.
If you do enjoy these onions you'll also like this Turkish White Beans Salad (Piyaz) – it's like a more bulked out version of this recipe.
Let me know if you try this sumac onion recipe! Leave a comment and review with your thoughts. I always appreciate the feedback and serving suggestions that you come up with!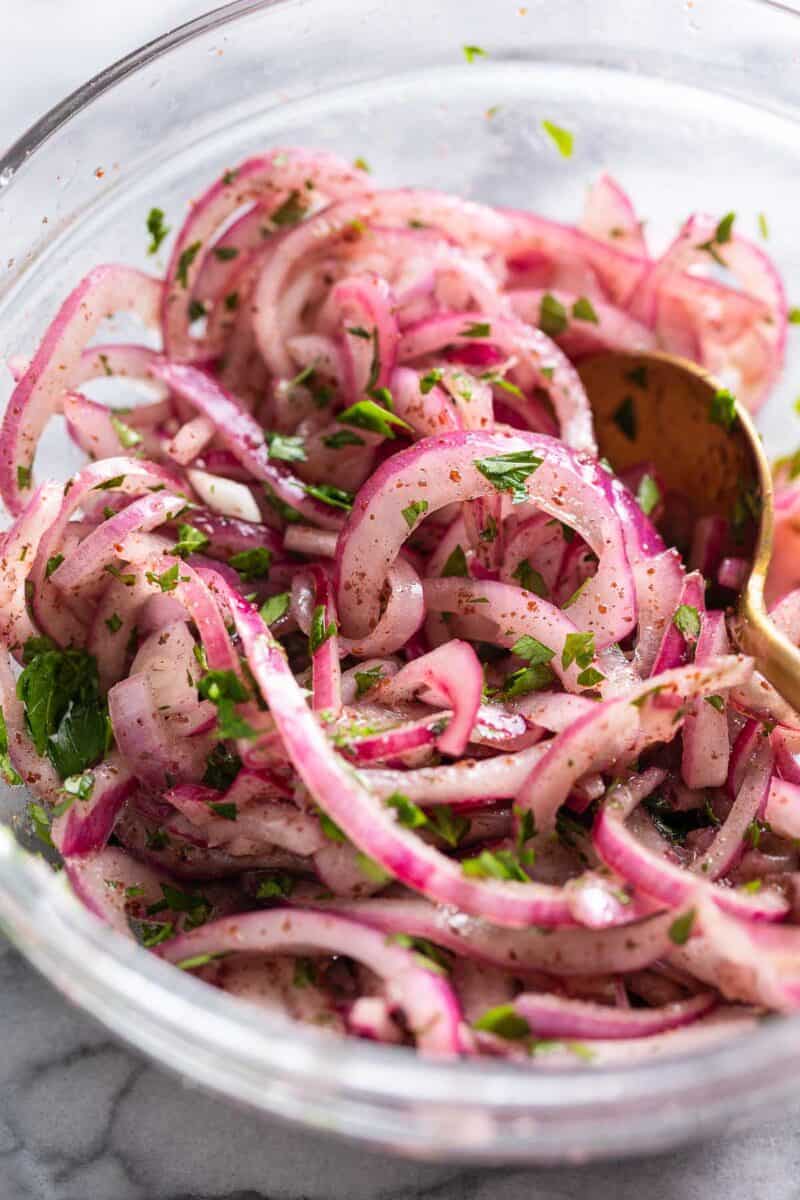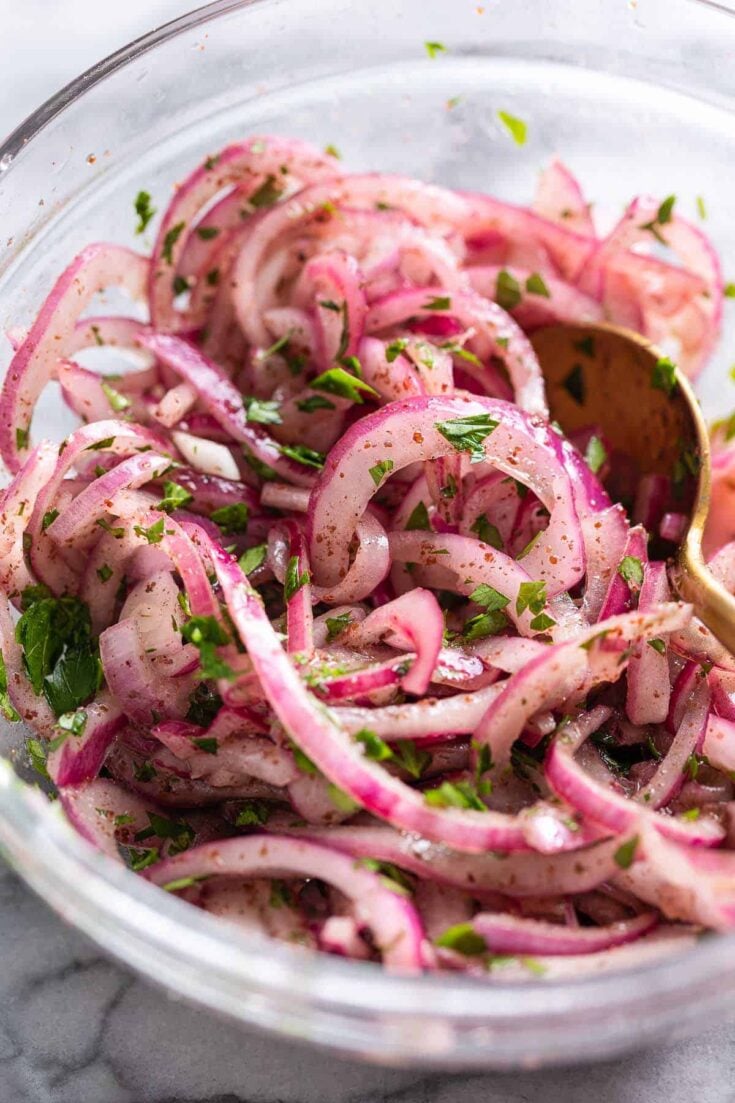 Yield:
2 cups
Prep Time:
10 minutes
Additional Time:
20 minutes
Total Time:
30 minutes
Thinly sliced red onions gently massaged with sumac and salt, dressed in oil and vinegar and tossed with fresh parsley - simple, punchy and incredibly fresh!
Ingredients
1 large red onion, thinly sliced
2 teaspoons sumac
1/2 teaspoon salt
1 tablespoon red wine vinegar or lemon juice*
1 tablespoon extra virgin olive oil
1 tablespoon fresh parsley, chopped
Instructions
Add the onion slices, sumac and salt to a medium bowl. Use your hands to gently massage the salt and sumac into the onions for about 30-60 seconds.
Add the remaining ingredients: vinegar, oil and parsley. Mix together then cover and set aside to marinate at least 20 minutes before serving or store in an airtight container up to four days.
Serve as a simple side salad or enjoy as condiment. Add onions to burgers, sandwiches, wraps, salads, etc.
Notes
The onions will continue to soften over time. Drain excess liquid before serving if needed.
Substitutions
Swap out the parsley for other mint or cilantro.
Use white or yellow onions in place of red onion. The sumac onions will be less spicy/sweet with white onions so you may want to consider adding a pinch of sugar.
Red wine vinegar will enhance the bright pink/purple color of the red onion, but you can use lemon juice instead.
This website provides approximate nutrition information for convenience and as a courtesy only. Nutrition data is gathered primarily from the USDA Food Composition Database, whenever available, or otherwise other online calculators.