Ricotta Zucchini Fritters made with grated zucchini, ground almonds, lemon zest, parsley and ricotta topped with a tomato caper salsa.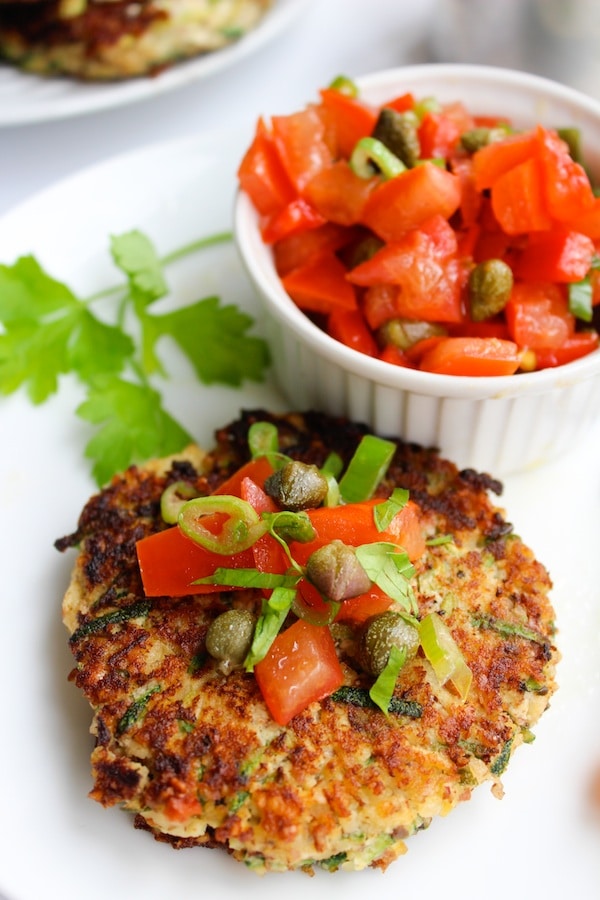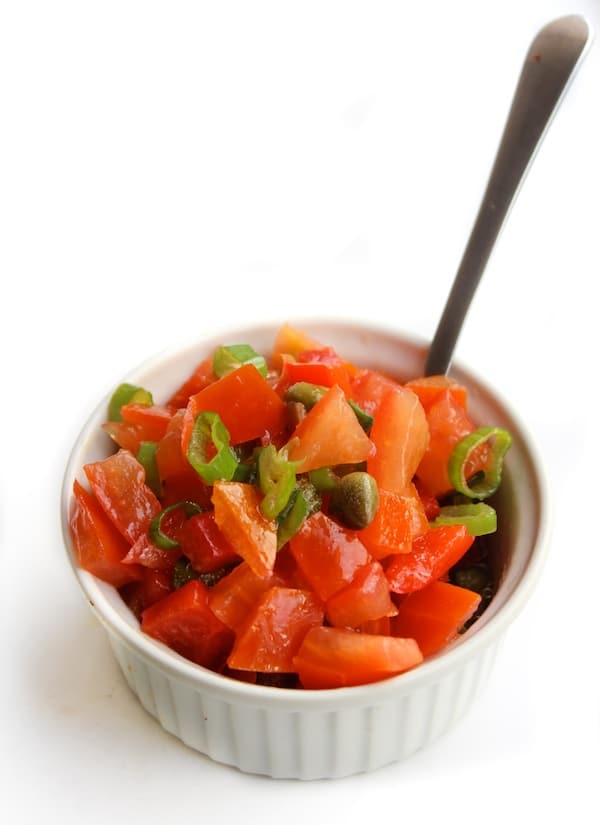 I think my style of cooking (and I'm pretty sure most of you can relate) largely depends on what needs using before it goes off. Today it was the ricotta cheese I bought last week that I forgot all about and a half empty bottle of capers that I found at the back of the fridge. I'd love to be more organized and planned out with that kind of thing – it would make shopping trips so much easier if I knew how much and what I needed to buy in order to get us through the week. But no. I'm more of an organized chaos kind of girl which is really just what people say when they've got absolutely no idea what they are doing.
The good thing about my lack of organizational skills is that I'm constantly having to figure out what to make with the ingredients that I've got in. At times it feels like I'm in an episode of Chopped, but with much less obscure ingredients – which is mostly the premise of the show. But whatever. It's fun seeing professionally trained chefs figure out how to make a gourmet dish in 30 minutes out of pig tongue, pomegranate seeds, and reese's peanut butter cups….or something else equally ridiculous.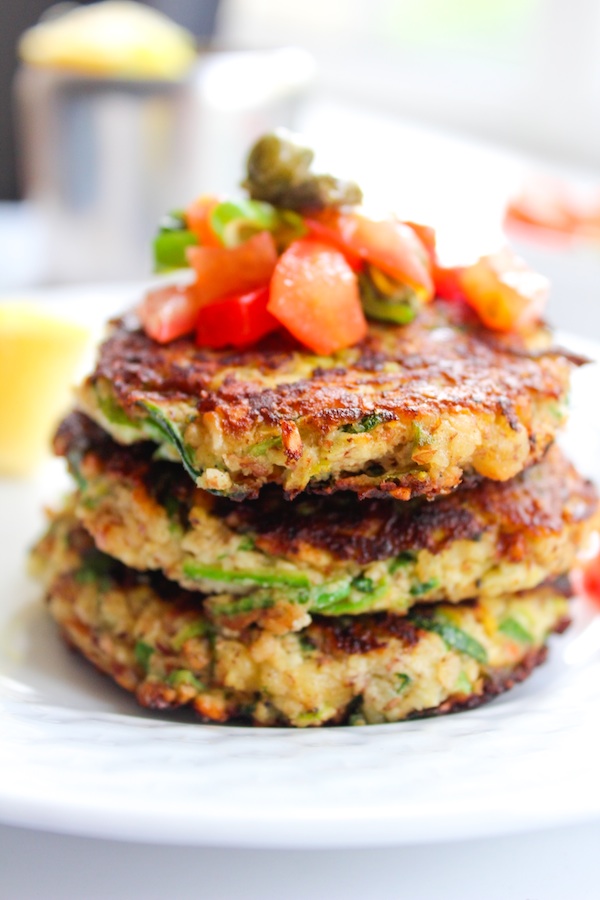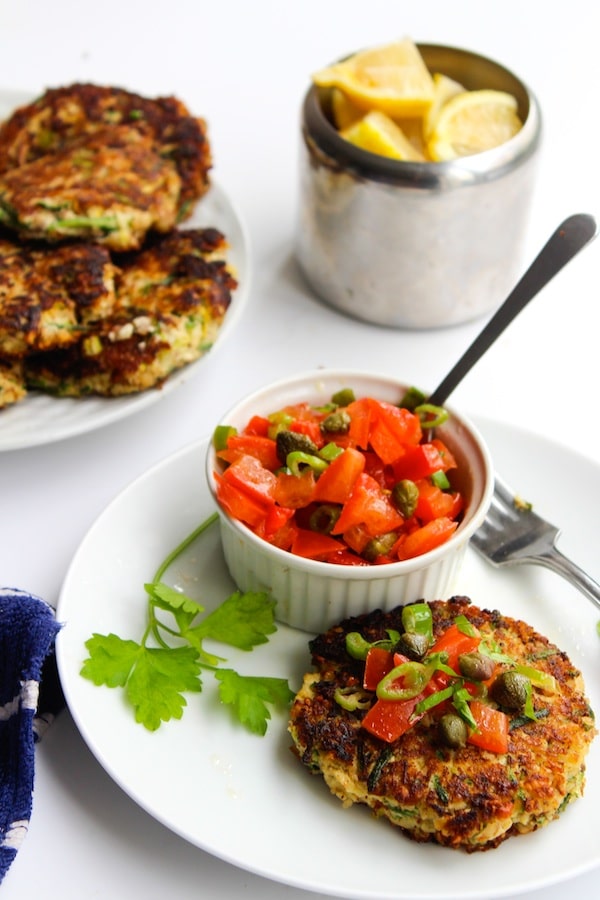 I may not quite be at pig tongue level, but I have fun trying to pieces together different ingredients to make something edible which lead me to these ricotta zucchini fritters. I decided to throw on this tomato caper salsa because 1) capers are delicious and b) it feels like a much more substantial food when there's a little something extra to go with it. My favorite part about it (and it will be yours too) is the fact that it takes all of one minute to throw together.
Typically fritters like this are made with breadcrumbs which are obviously out of the question when you can't eat bread, so I decided to swap it with almond flour. Unfortunately, Costco didn't have the almond flour in stock that I normally get there. They had an alarming amount of Christmas poppers and gifts sets for August, but no almond flour. What gives, Costco? You can use regular almond flour for this recipe, or you can do what I did and grind it up in a blender. I left it a bit crumbly in this which gave it a really nice little crunch.
Do you guys watch Chopped? My family introduced me to it the last time went to Arizona and totally got me hooked.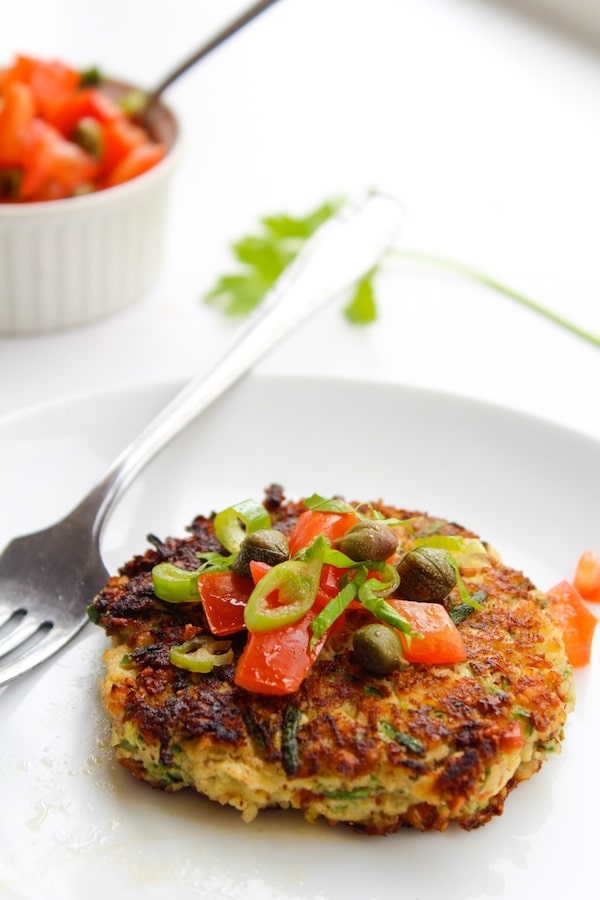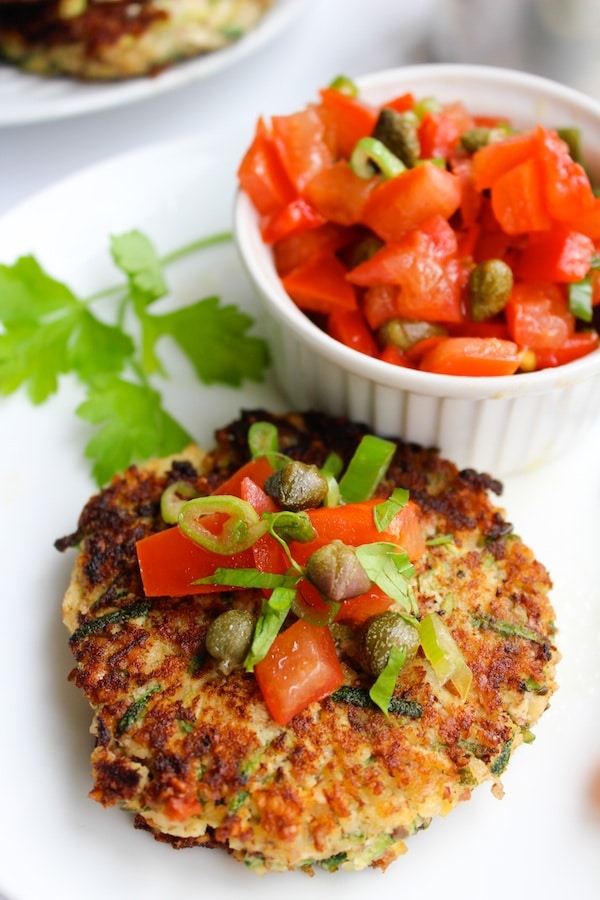 Recipe
Ricotta Zucchini Fritters with a Caper Salsa
Yield:
8 -10 fritters
Prep Time:
15 minutes
Cook Time:
10 minutes
Total Time:
25 minutes
Ricotta Zucchini Fritters made with grated zucchini, ground almonds, lemon zest, parsley and fresh ricotta topped with a tomato caper salsa.
Ingredients
2 medium zucchini, , washed and grated
1/3 cup (80 g) ricotta
1 egg
1/2 cup ground almonds, (or more to get the desired firm consistency)*
1 teaspoon sea salt
1 teaspoon pepper
2 tablespoons freshly chopped parsley
lemon zest from a lemon
oil for frying
Salsa
3 plum tomatos seeded and chopped
1/2 small red pepper seeded and diced
3 spring onions chopped, (green part only for low FODMAP)
2 tablesoons capers
1 tablespoon extra virgin olive oil
1 tablespoon apple cider vinegar
Instructions
Begin by draining the excess water from the zucchini. You can do this by wrapping the zucchini in a cheese cloth or a dish towel and squeezing the towel to let the water run out. Get rid of as much of the excess water as possible.
Add all of your ingredients to a bowl and mix together.
Heat your skillet with oil before scooping out about a 1/4 cup of batter and dropping it into the hot oil. Flatter then fritters using a spatula or back of a fork and let it fry for about 2 minutes or until it's golden on one side. Flip it, and let the other side fry to a nice golden color.
To make the salsa, toss all the ingredients in a small bowl and then serve over the fritters.
Notes
*You can use almond flour if you don't have ground almonds
Nutrition Information
Yield:

8
Serving Size:
g
Calories:

128
Saturated Fat:

4g
Cholesterol:

27mg
Sodium:

369mg
Carbohydrates:

5g
Fiber:

1g
Sugar:

2g
Protein:

4g
This website provides approximate nutrition information for convenience and as a courtesy only. Nutrition data is gathered primarily from the USDA Food Composition Database, whenever available, or otherwise other online calculators.