Gluten free and vegan BBQ Jackfruit Pulled 'Pork' Sandwiches – meaty, tender jackfruit cooked, pulled and tossed in a quick homemade BBQ sauce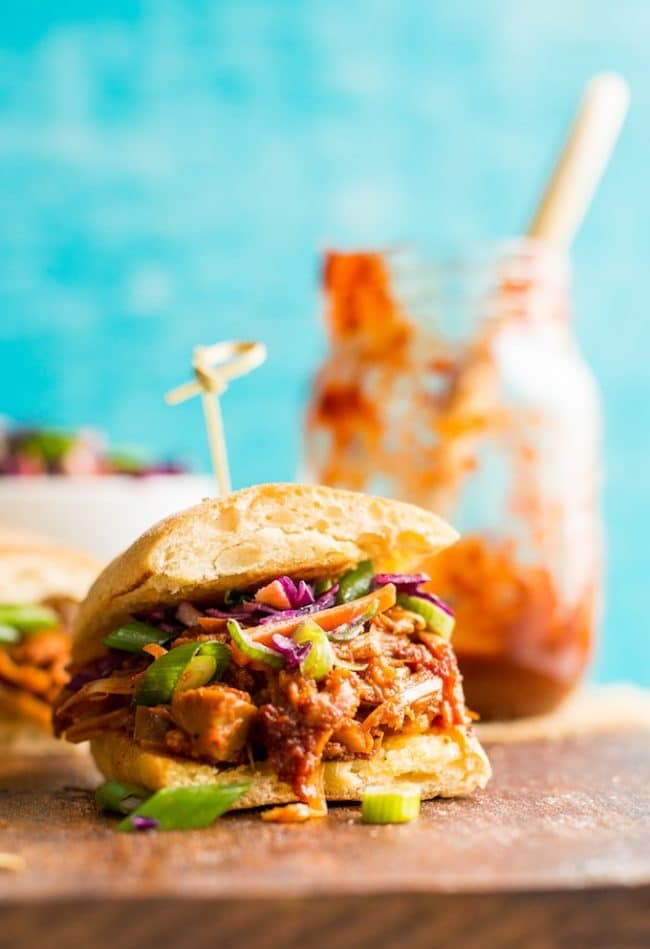 Jackfruit! Ever heard of it?
My first introduction to jackfruit was a couple years back when Mike & I had wandered into this tiny little hippy cafe tucked away on the outskirts of our city centre. I couldn't for the life of me tell you what I got but I definitely remember Mike ordering the pulled-not-pork sandwich off his gluten free menu and w o w was it good.
I couldn't get over
a) How good it tasted
b) How spot on the texture was for a vegan sub
c) How it wasn't already an insanely popular thing
I think in the past year or so it's really started to pick up. In the vegan world most people probably already know about the wonders of jackfruit pulled pork, but I'd like to see it go a little more mainstream. It's not just a good vegan food, it's straight up delicious.
Last week I serve these to Mike & his friends and one of them didn't even realise that it wasn't actually pork until about half way through his sandwich.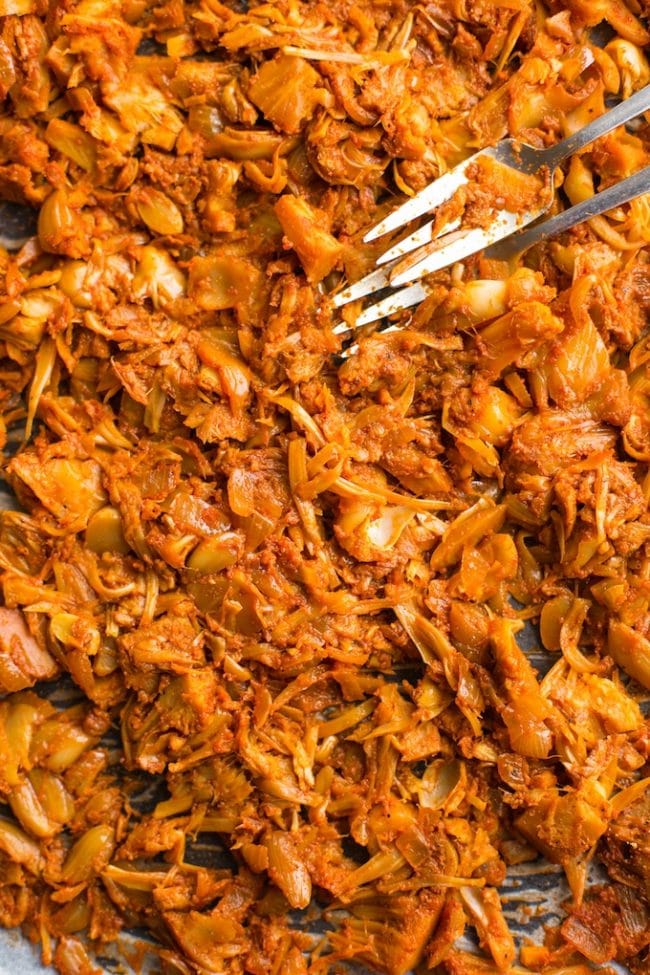 How to Make: Vegan BBQ Jackfruit Pulled 'Pork' Sandwiches
It all starts with the BBQ sauce. You can absolutely use a different BBQ sauce here, but if you don't have a premade one on hand – this one is super easy to make in very little time!
Just add your BBQ sauce ingredients to a sauce pot, mix and simmer for about 10 minutes. It's a pretty versatile sauce and if you feel comfortable in your culinary abilities then I fully encourage you to play around with the spice and seasoning to really make this your own.
Once you're all set with your sauce move on to the jackfruit pulled 'pork'. Make sure you use young jackfruit in brine – it's sometimes sold in syrup. After draining & rinsing the canned jackfruit set it aside momentarily to sauté your onion. Once the onions have gone soft add the jackfruit to your skillet along with the BBQ sauce and water. Cover and let simmer and soften for about 20 minutes. The jackfruit will become more tender in this time allowing your to break it apart easily so that it's texture is more pulled pork-like.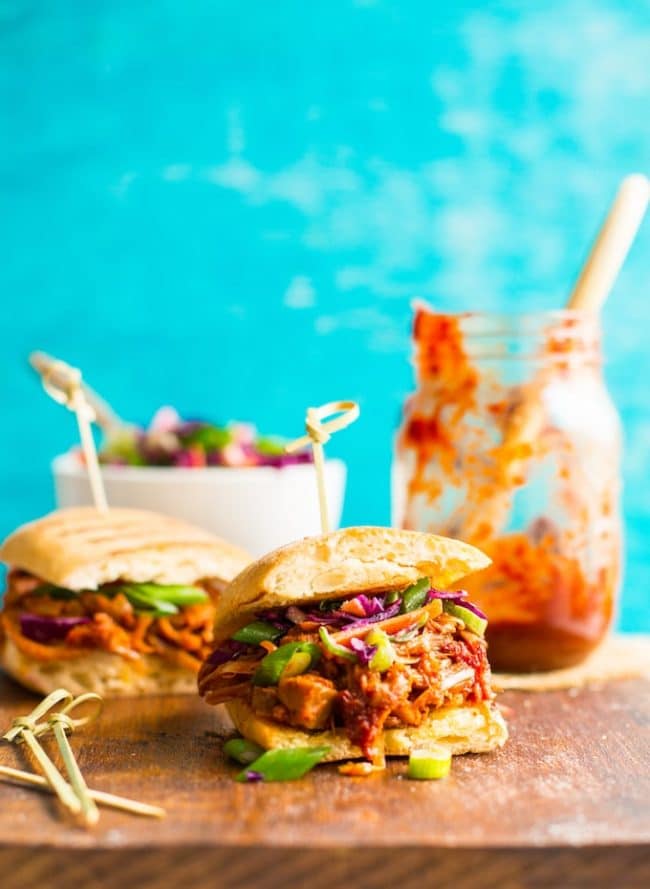 I've been seeing them more and more stocked in health focused grocery stores and random vegan markets. If you're not sure where to buy jackfruit – Amazon is always a good bet <<affiliate link. It's definitely worth playing around with because it really does make for a great soy free, paleo friendly meat substitute – especially if you're usually skeptical of faux meats.
If you are interested in a more paleo friendly version of this recipe you might enjoy this stuffed BBQ jackfruit sweet potatoes as well!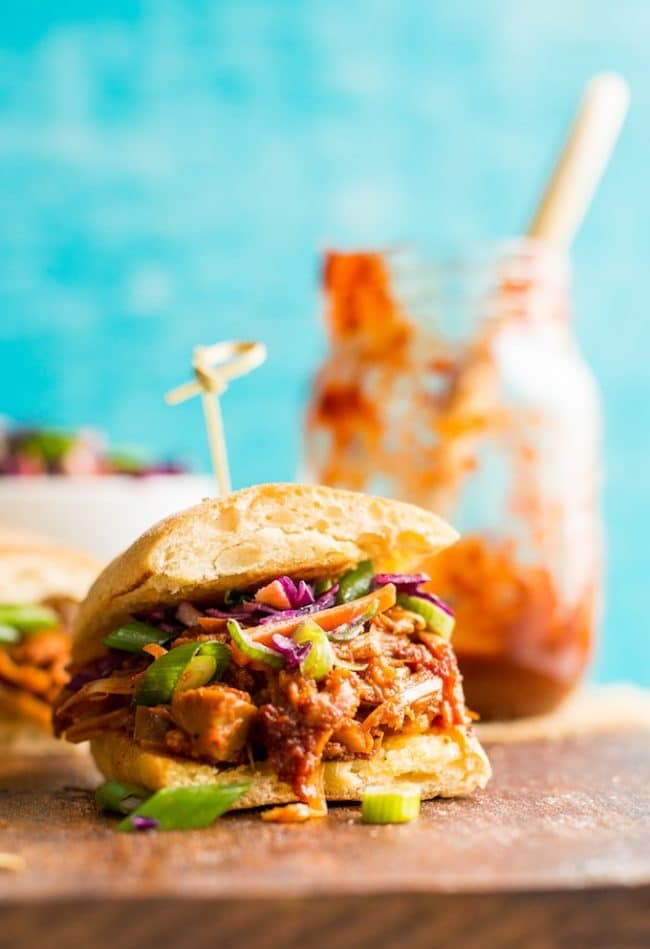 Recipe
Vegan BBQ Jackfruit Pulled "Pork"
Yield:
4 servings
Prep Time:
10 minutes
Cook Time:
50 minutes
Total Time:
1 hour
Gluten free and vegan  BBQ Jackfruit Pulled 'Pork' Sandwiches - meaty, tender jackfruit cooked, pulled and tossed in a quick homemade BBQ sauce 
Ingredients
BBQ Sauce
1 1/2 cup tomato sauce
3 tablespoons tomato paste
1 tablespoon molasses
1/4 cup coconut sugar(can sub with brown sugar)
2 teaspoons apple cider vinegar
1 tablespoon chilli powder
1 teaspoon onion powder
1 teaspoon garlic powder
3/4 teaspoon smoked paprika
1/2 teaspoon mustard powder
1 teaspoon salt
Pulled Jackfruit
1 tablespoon | 15 ml olive oil
1 medium onion, chopped
2 20 oz cans young, green jackfruit in brine (NOT syrup)
1 cup BBQ sauce (recipe above)
1 cup | 240 ml water
1-2 tablespoons sriracha or chlili paste (optional)
salt + pepper to taste
8 gluten free burger/sandwich buns
Instructions
Vegan BBQ Sauce
Add everything to a small or medium sauce pot and whisk together over a medium low heat. Let simmer for 10 minutes. Taste and season as necessary.
Pulled Jackfruit
Drain and rinse jackfruit.
Heat the oil in a large skillet. When the oil is hot add the chopped onion and cook for 5-7 minutes until the onion is soft.
Add the rinsed jackfruit, BBQ sauce and water to the skillet. Stir well and cover leaving to cook on a medium low heat for at least 20 minutes, stirring occasionally.
Preheat oven to 400°F/200°C. Line a large baking sheet with baking parchment and set aside.
Use a potato masher or spatula to mash and pull apart the jackfruit so that it resembles pulled pork. Taste and season with chilli paste (if using) and salt and pepper.
To finish, spread the pulled jackfruit across the lined baking sheet in an even layer and bake in the oven for 10 minutes.
Stir in additional BBQ sauce if desired. Add to your burger buns and serve.
Notes
Feel free to use your own favourite BBQ sauce instead of this homemade one.
Nutrition info below does not include calories for the bun/bread. When I did include the bread is skewed the nutrition by way too much for an ingredient that will vary from person to person.
Nutrition Information
Yield:

4
Serving Size:
sandwich without bun
Calories:

348
Sodium:

727mg
Carbohydrates:

80g
Fiber:

4g
Sugar:

8g
Protein:

2g
This website provides approximate nutrition information for convenience and as a courtesy only. Nutrition data is gathered primarily from the USDA Food Composition Database, whenever available, or otherwise other online calculators.