These vegan jackfruit carnitas make for the perfect weeknight dinner – they're prepped all in one pan and are ready in about 30 minutes with pretty basic ingredients! Add to tacos, burritos, bowls and more!| Gluten Free + Vegan + Paleo Option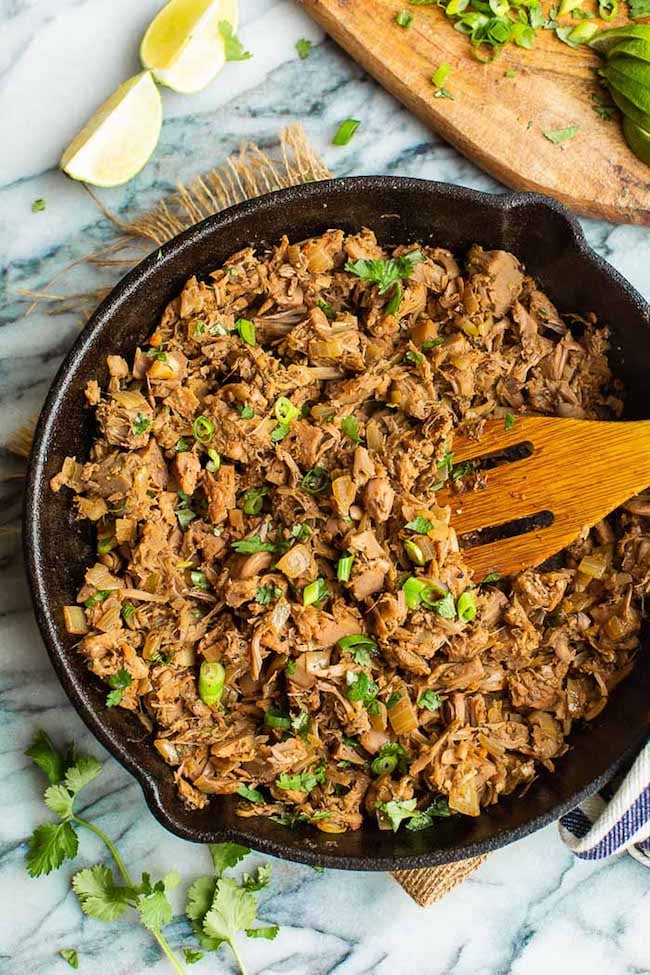 What is Jackfruit?
Jackfruit is a tropical, fig-like fruit that grows in tropical areas of Southeast Asian, Brazil, and Africa.
In recent years jackfruit has really had a chance to shine in plant-based cooking thanks to it's meaty texture. Having fed jackfruit recipes to friends and family who aren't vegan (these BBQ Jackfruit Pulled 'Pork' Sandwiches to be exact) – I haven't met a single person who wasn't pleasantly surprised at how well it worked as a meat substitute.
And if that still hasn't swayed you it's also good to note that jackfruit is very low calorie food that contains no saturated fat or cholesterol and is also a great source of fibre and potassium.
Where to buy canned jackfruit?
I've been seeing them more and more stocked in health focused grocery stores and random vegan markets like Trader Joe's Sprouts and Whole Foods. If you're not sure where to buy jackfruit – Amazon is always a good bet <<affiliate link.
If you live in the UK I've seen this stocked in Sainsbury's and Tesco (not the local stores).
What does jackfruit taste like?
When it comes to canned jackfruit, it's got a fairly neutral taste. You might be able to detect a vague sweetness, it's not very strong. When cooked in recipes like this you're really just getting the flavour of whatever sauce/seasonings you're using.
Can I use fresh jackfruit in this recipe?
I have never personally used fresh jackfruit so I'm afraid I can't give advice on how to cook with it.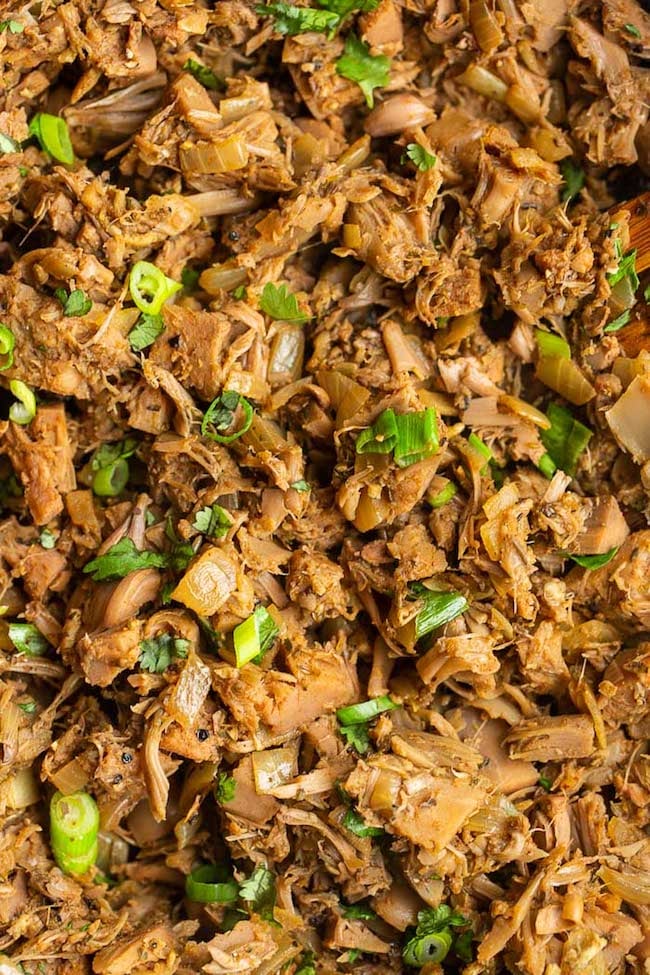 How to Make Vegan Jackfruit Carnitas
The Prep
Altogether these carnitas take about 30 minutes to make from start to finish. Even the prep involved is pretty minimal. All you need to do is:
drain and rinse your canned jackfruit
chop an onion and mince a few garlic cloves
mix together a few herbs & spices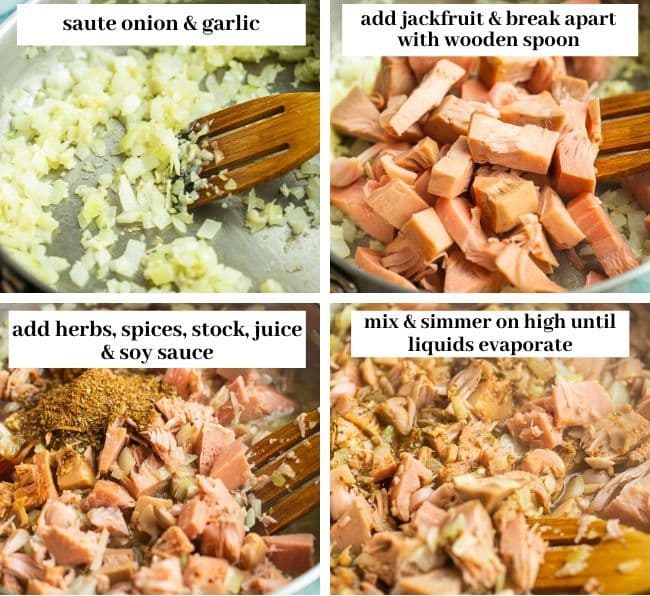 The Cook
Once you've prepped everything, warm up a little olive oil in a large skillet and add the onion and a pinch of salt. Sauté the onion over a medium heat and cook about 5 or so minutes until it's soft and translucent, then add the garlic and cook another 1-2 minutes. Garlic burns much quicker than onion which is why it's important to cook them one at a time.
Next up: add the jackfruit. Mix the jackfruit into the skillet and as it heats up, use a wooden spoon to break it down. The warmer the jackfruit gets, the easier it shreds.
As it starts breaking down you can add the spice blend, soy sauce, vegetable stock and lime juice. Mix everything together well and turn the heat up so that the liquids reach a simmer. The idea here is to add in a load of flavour and then reduce down the liquids and let it absorb into the jackfruit. Let the jackfruit simmer, stirring every so often for about 10-15 minutes until the pan starts to dry.
At this point you can enjoy the jackfruit carnitas as is – fill up tacos, burritos, taquitos (recipe coming soon) etc! If you'd like, you can crips up your jackfruit a little more by baking them in the oven at a high temperature for about 10 minutes. This of course, adds a little time on to the overall recipe but it's both optional and fairly easy to do.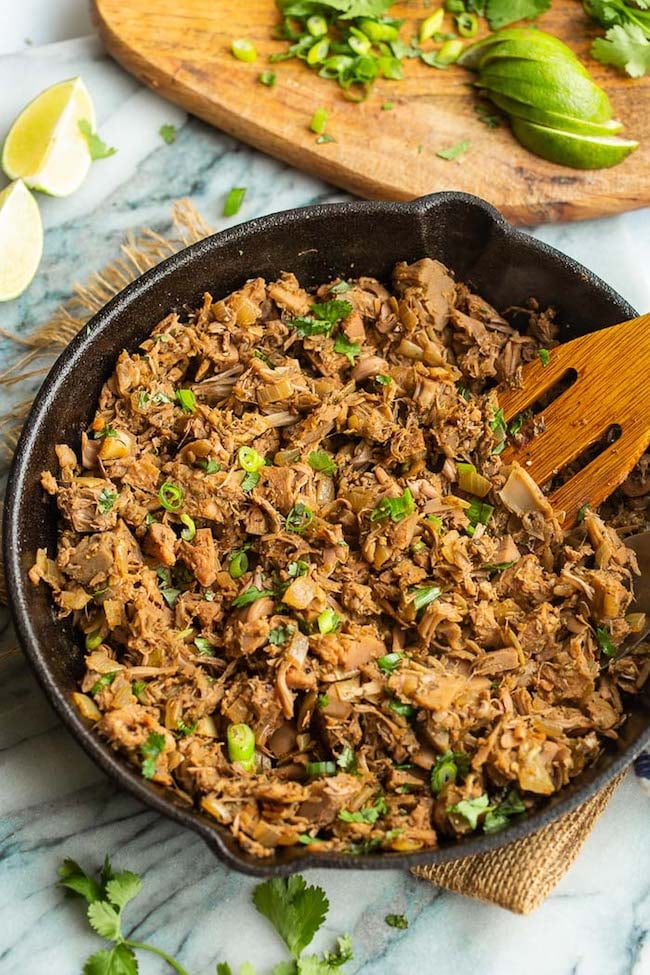 If you interested in trying out more jackfruit recipe you might be interested in checking out a few of these:
FACEBOOK | INSTAGRAM | PINTEREST
Don't forget to #asaucykitchen on instagram if you these Vegan Jackfruit Carnitas! I love seeing what you make! You can also post your pictures to my facebook page!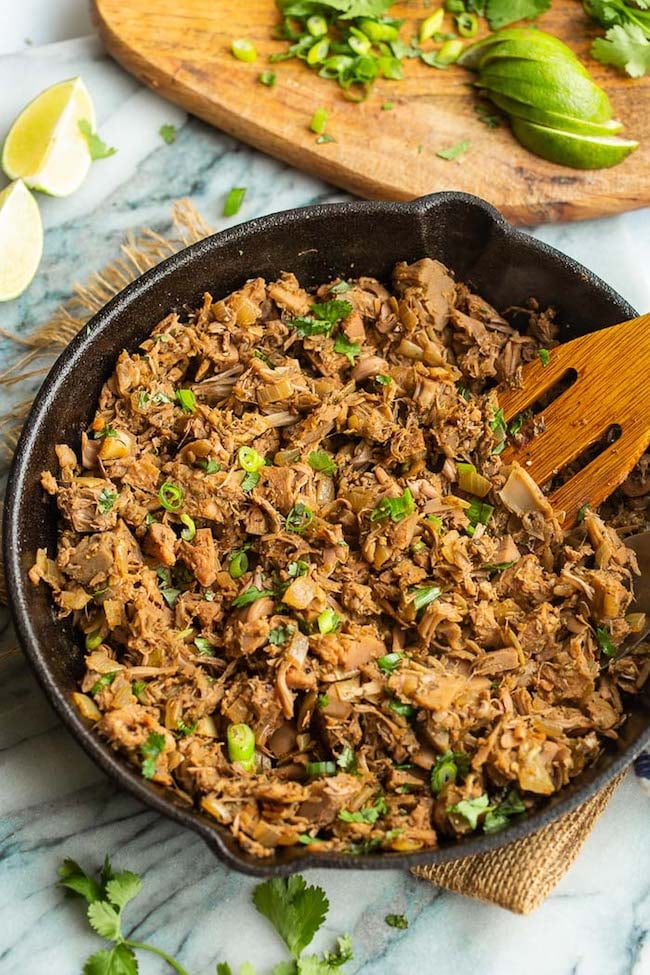 Recipe
Jackfruit Carnitas
Yield:
4 cups
Prep Time:
10 minutes
Cook Time:
20 minutes
Total Time:
30 minutes
These vegan jackfruit carnitas make for the perfect weeknight dinner – they're prepped all in one pan and are ready in about 30 minutes with pretty basic ingredients! Add to tacos, burritos, bowls and more!| Gluten Free + Vegan + Paleo Option
Ingredients
Spice Blend
1 tbsp oregano
2 tsp ground cumin
1 tsp salt
1 tsp chili powder
1 tsp paprika
1/2 tsp ground black pepper
Jackfruit Carnitas
2 (14 oz) cans jackfruit in water or brine (NOT syrup)
2 tbsp (30 ml) olive oil
1 onion, diced
3 cloves garlic, minced
1/4 tsp salt
1 cup (240 ml) vegetable stock
1 tbsp (15 ml) lime juice
1 tbsp (15 ml)gluten free soy sauce/tamari or coconut aminos for soy free
Optional Toppings for Serving
Fresh cilantro, chopped
Spring onions, sliced
lime wedges
Black Pepper to taste
Instructions
Add all of the herbs and spices listed under 'spice blend' to a small bowl and whisk together until combined. Set aside.
Drain and rinse the jackfruit. Set aside.
In a large skillet: add the olive oil and warm over a medium heat. When the oil is hot add the chopped onion and cook for 5-7 minutes until onion is soft. Add the garlic and coo another 2 minutes.
Add the drained/rinsed jackfruit to the skillet. Use a wooden spoon to break apart the jackfruit. As the jackfruit heats up it will start to break apart easier.
Add the spice blend, vegetable stock, lime juice and soy sauce to the skillet. Turn the heat up to medium-high and mix everything together until fully combined. Let the mixture simmer and cook about 10-15 minutes until the liquid has fully evaporated from the pan. Make sure to stir every so often to keep things from burning.
Taste and season as you see fit. You can serve as is in burritos, tacos, bowls etc.

Optional Step for Extra Crisp
Preheat oven to 400°F/200°C. Line a large baking sheet with baking parchment and set aside.
Transfer the pulled jackfruit across the lined baking sheet in an even layer and bake in the oven for 10 minutes.

Notes
Make it soy free: Use coconut aminos in place of the soy sauce and add an extra 1/4-1/2 tsp salt (or to taste)
This website provides approximate nutrition information for convenience and as a courtesy only. Nutrition data is gathered primarily from the USDA Food Composition Database, whenever available, or otherwise other online calculators.