This Coffee Granita a simple, yet elegant frozen dessert made with less than a handful of ingredients and without any special equipment whatsoever. The end result is an icy, caffeinated treat that's lightly sweetened with brown sugar and gently spiced with cinnamon and vanilla. This recipe is a must make for all the coffee lovers out there! | Gluten Free + Vegan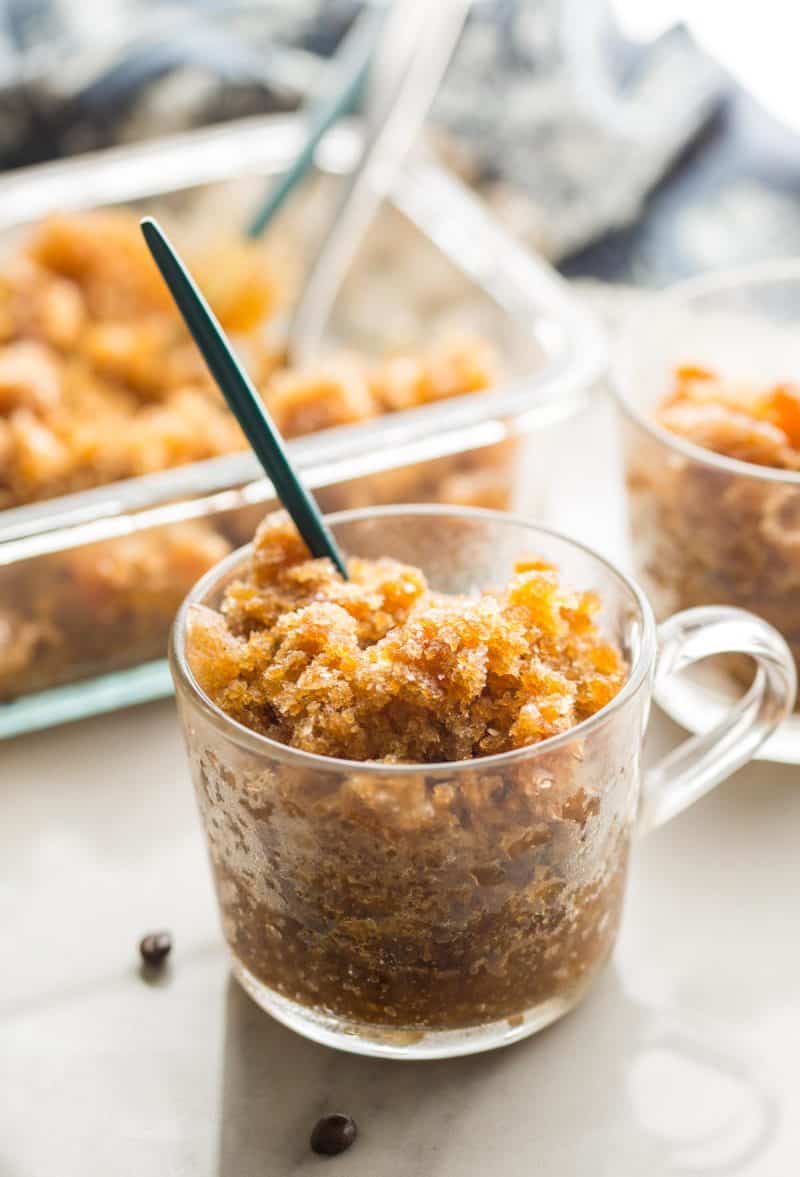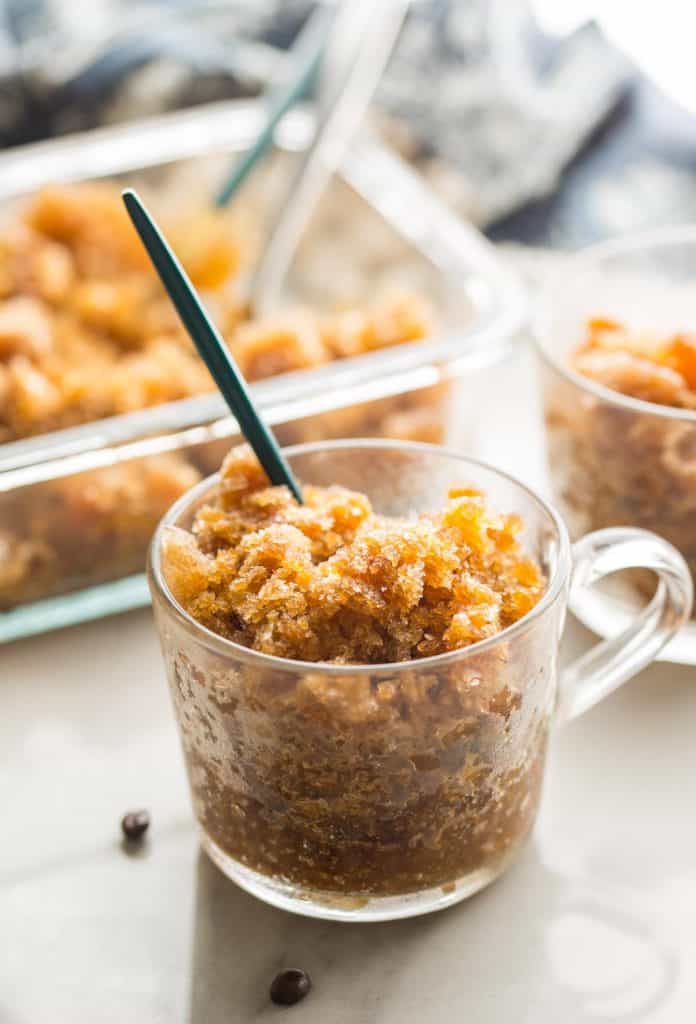 If you're looking for new ways to get in your daily dose of caffeine – then look no further than this coffee granita! With the summer season currently in full swing, it's an especially welcomed, refreshing treat to pull out of the freezer during these hot summer days.
Why you'll love it:
It's made with very few ingredients.

This coffee granita recipe is made with only four, basic ingredients. You will almost certainly have them all on hand.

There's no fancy equipment needed.

Assuming you already have a coffee maker of some sort – then you're all set. No need for an ice cream machine or an electric mixer. Just a shallow dish for freezing and a dinner fork for mixing.

It can be made with sugar alternatives to suit your needs and preferences.

This recipe calls for brown sugar, but you can absolutely swap it out for something else: white sugar, coconut sugar, maple syrup, honey and other low carb sweeteners.

It's refreshing and delicious!

Technical details aside – if you like coffee then there's a good chance you'll also love this!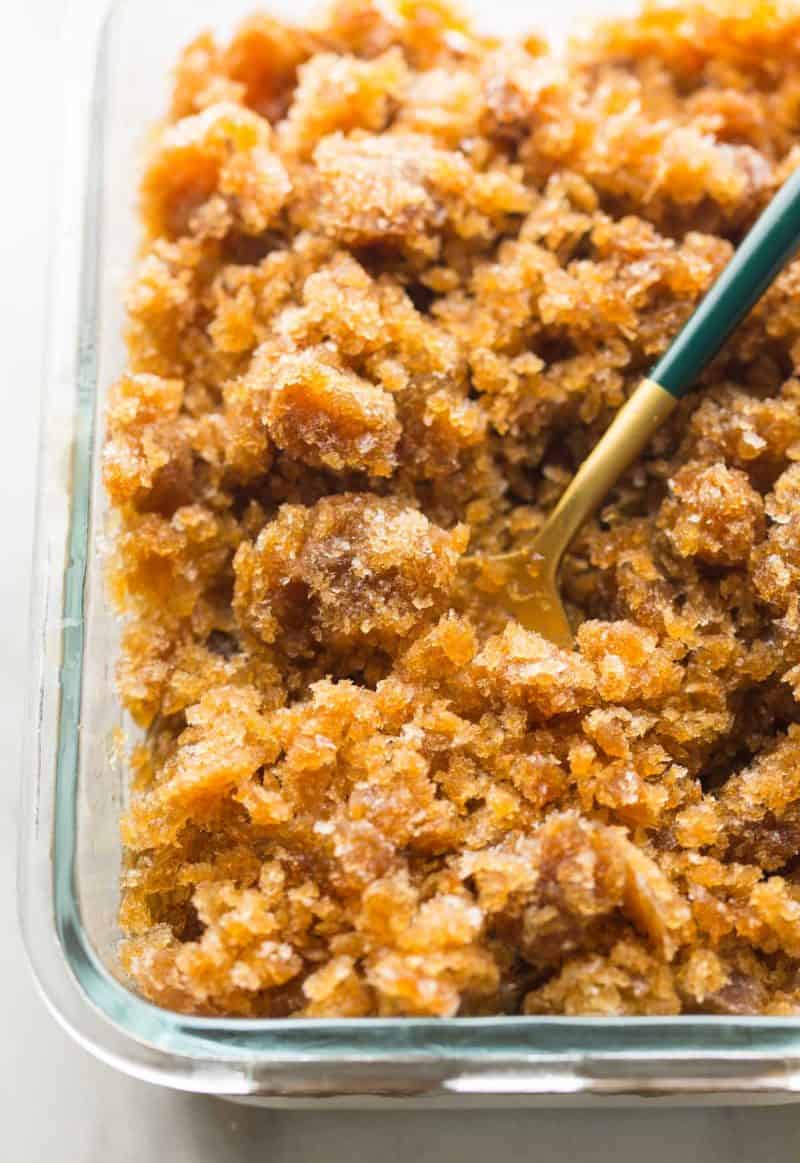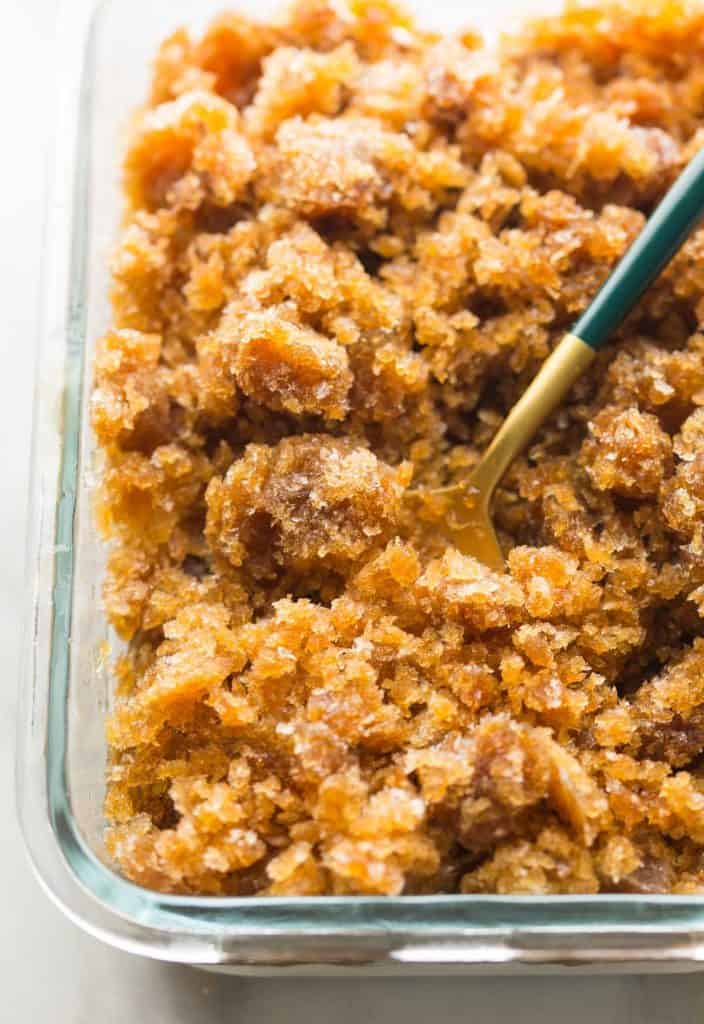 What is Granita?
Simply put, granita (also known as granita di caffe) is an Italian frozen, flavoured ice. It was first made popular in Sicily, though it's now widely available throughout most of Italy with slight textures and techniques depending on where you're at.
It's not too unlike shaved ice, though the method in which it's made is where the main difference comes into play. Shaved ice is made from literally shaving or blending ice or other frozen ingredients. Granita on the other hand starts out in liquid form, gets frozen into an icy mixture and is then broken down and scraped into small crystals and crunchy ice.
The end result is a simple and refreshing frozen dessert made from essentially water (or in this case strong coffee), sugar and various flavourings.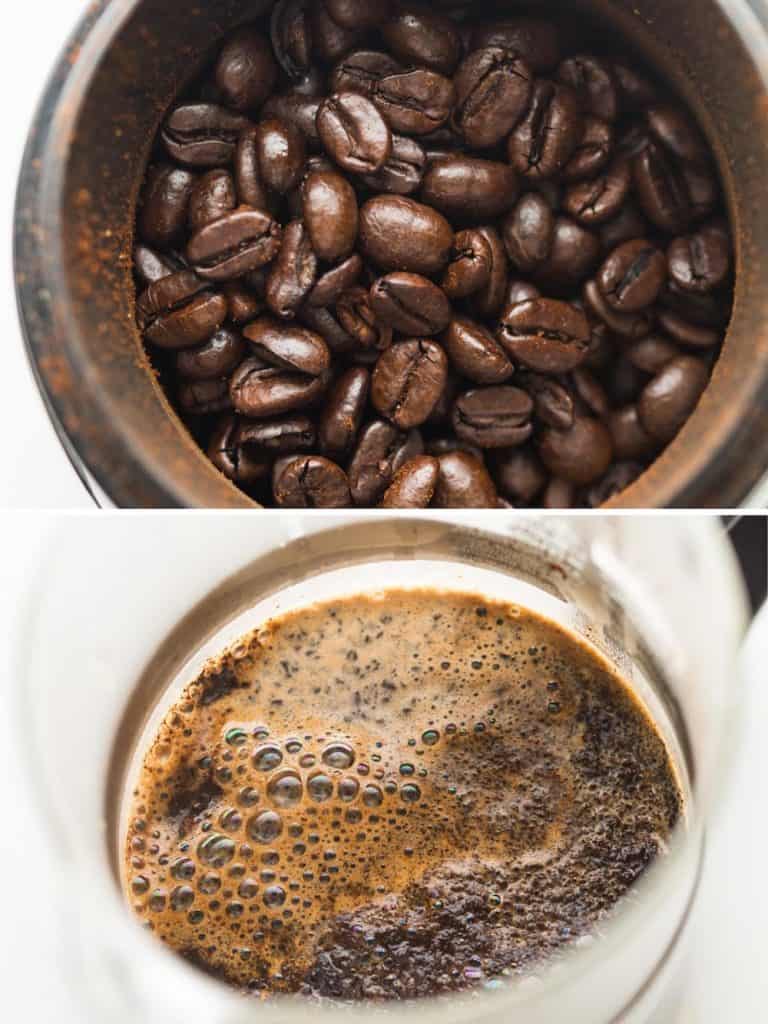 How to Make this Coffee Granita
Ingredients
Hot Coffee: You can use iced or leftover coffee, but hot coffee is ideal. Hot coffee will allow you to easily dissolve the sugar without needing to heat everything up in a separate pan.
Light Brown Sugar: Brown sugar naturally contains small amounts of molasses making for a more rich and robust flavour. It's great in coffee! You'll only need 1/2 cup sugar but you can change this amount based on your flavour preferences.
Ground Cinnamon: Adding a pinch of cinnamon to coffee goes a long way in enhancing its overall flavour and sweetness. The problem with adding cinnamon is that it can sometimes result in a gritty texture that's not quite as pleasant. This coffee granita on the other hand is the perfect way to marry the two flavours. You'll be able to enjoy that gentle cinnamon hum without any of the added grit.
Vanilla Extract: Vanilla is another great flavour enhancer when it comes to coffee. You don't need much here in order for the vanilla flavours to really pop.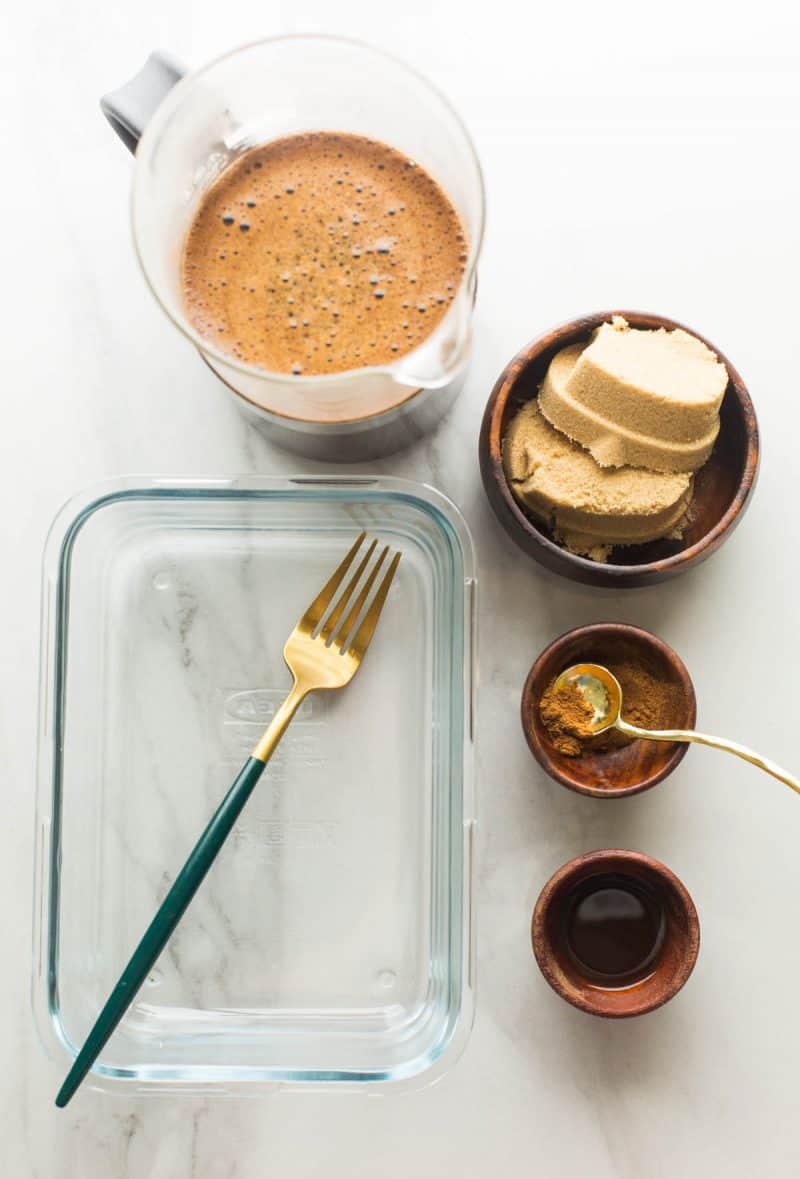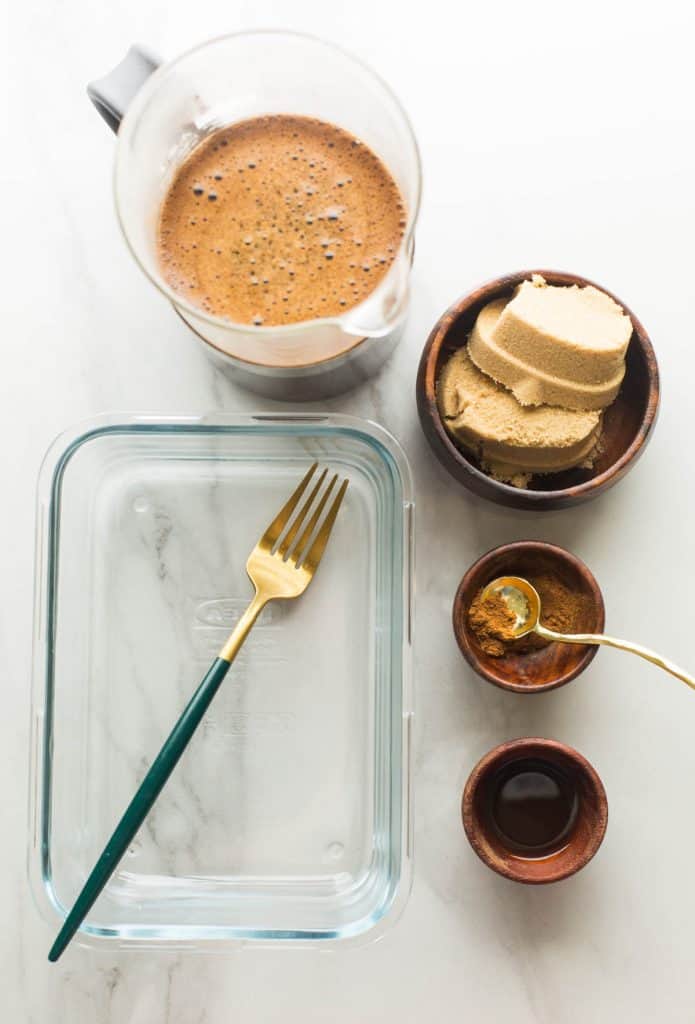 The Method
Brew your coffee.
Make the coffee granita base: Pour the hot coffee into a shallow, freezer-safe container with a fitted lid. Add the sweetener and gently mix together until the sugar dissolves. Stir in the cinnamon and vanilla extract.
Let the coffee cool down to room temperature, then cover and place in the freezer for one hour.
Take out the container scrape down the side of the pan or container then place it back in the freezer. You'll need to repeat this scraping and breaking process every hour or so as your mixture freezes until complete. In the end you should have a fluffy pile of dry brown crystals – then your coffee granita is complete!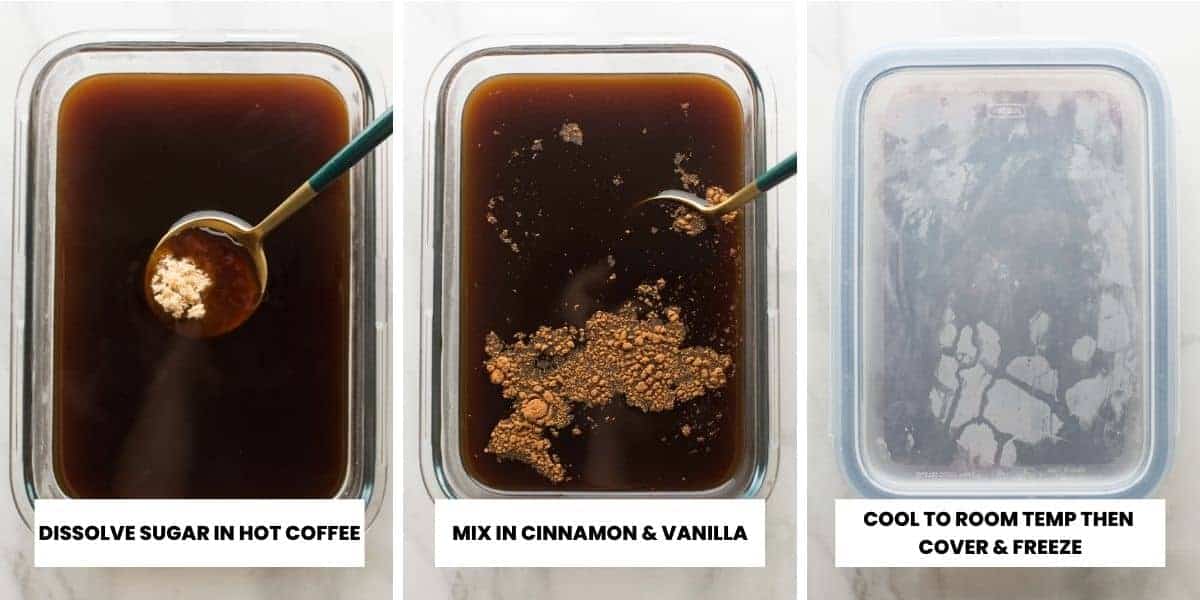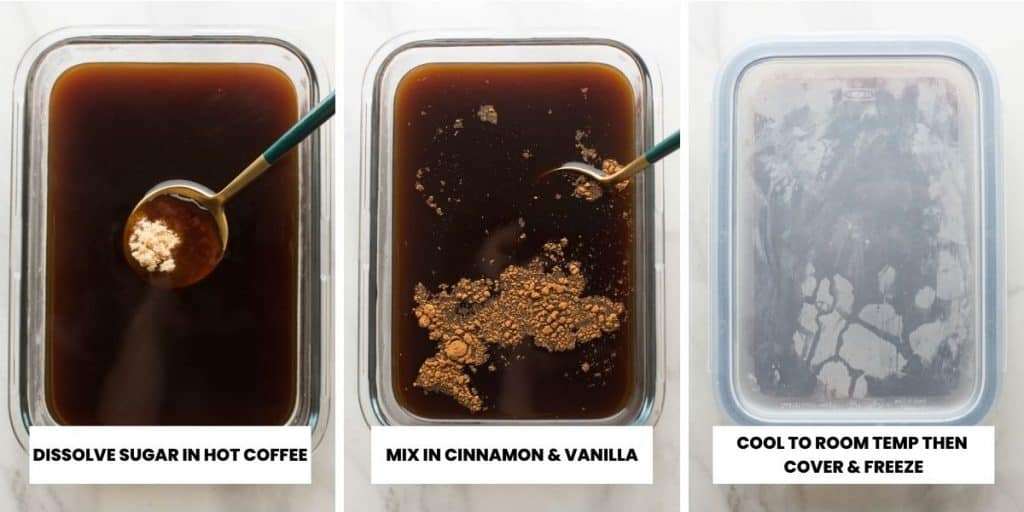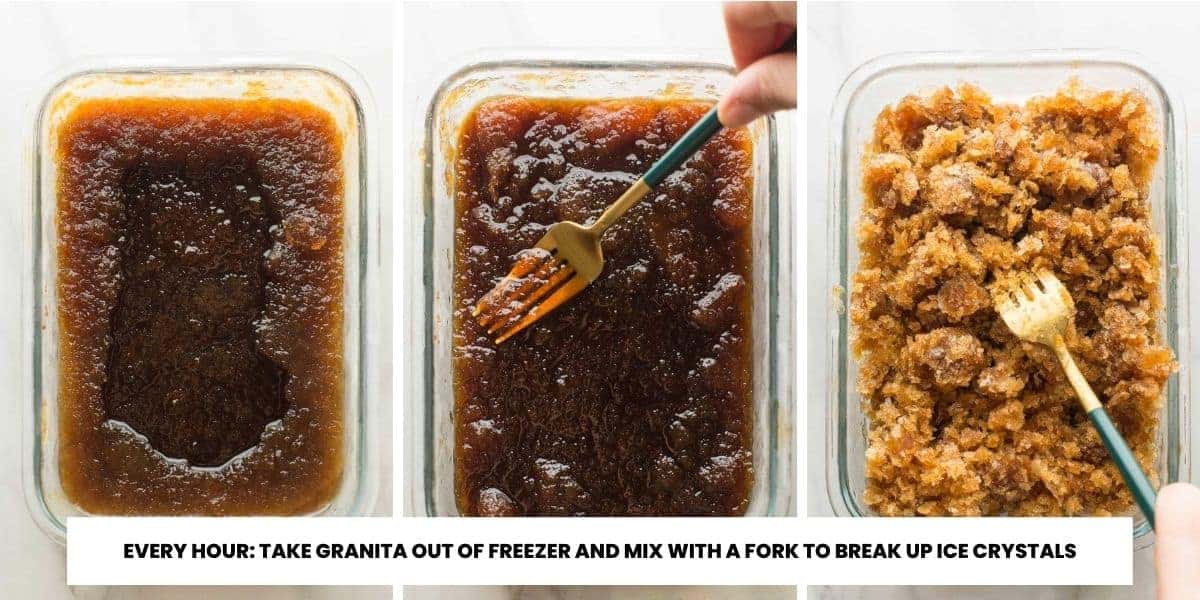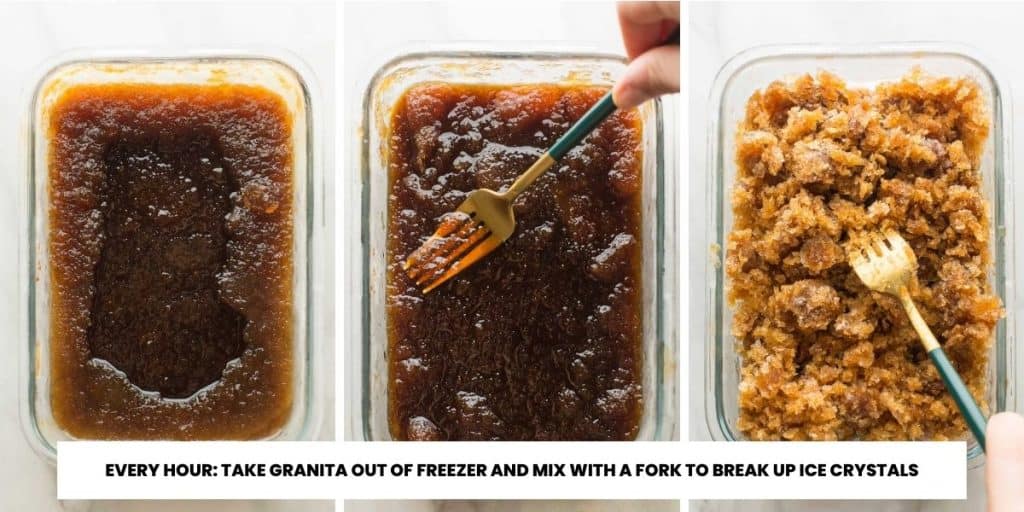 Substitutions and Additions: How to Make Your Own Unique Coffee Granita
Brown Sugar >> Other Sweeteners:

You can very easily swap out the brown sugar for equal amounts of other sugar alternatives like raw cane sugar, white, or coconut sugar.
If you choose to use something like maple, honey or agave you may want to decrease the amount of added sweetener because they are usually sweeter to taste than more common granulated sugars.
Low carb sweeteners: Stevia, xylitol and monk fruit are all low carb options that will work here, but how much you use will largely depend on what exactly it is that you use. I recommend that you check the specific recommendations for each sweetener to determine the right amount for you.

Make it boozy:

Rum, amaretto, cream liqueur (Baily's is gluten free), coffee liqueur (like Kahlúa) can all be added for a boozy, grown-up twist. Just keep in mind that the freeze time may increase with the added alcohol. If you add more than recommended your granita may never full freeze.
Add 2-4 ounces (depending on how boozy you want it) to the granita mixture before freezing.

Milk or Cream (dairy free if desired):

For a latte granita: add milk or cream to the coffee granita base before freezing. Replace 1/2 – 1 cup of coffee with milk or cream. Make sure that you dissolve the sugar in the hot coffee before adding the milk. Dairy free milk or cream will work too – almond milk and coconut milk both work great here!
Alternatively, you can add a dollop of thick cream or coconut milk to serve with at the end.

Shaved or Chopped Chocolate for topping:

Turn up the decedance factor by adding chopped or shaved chocolate at the end to serve.
Enjoy!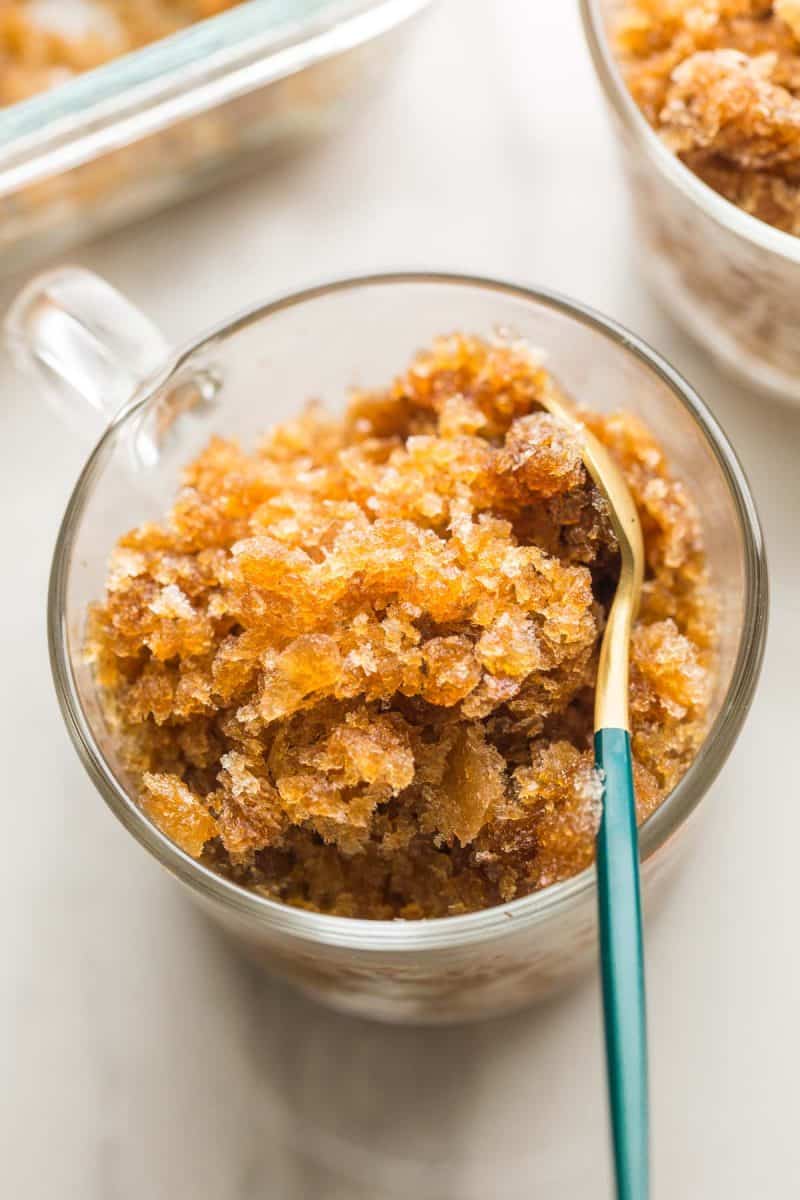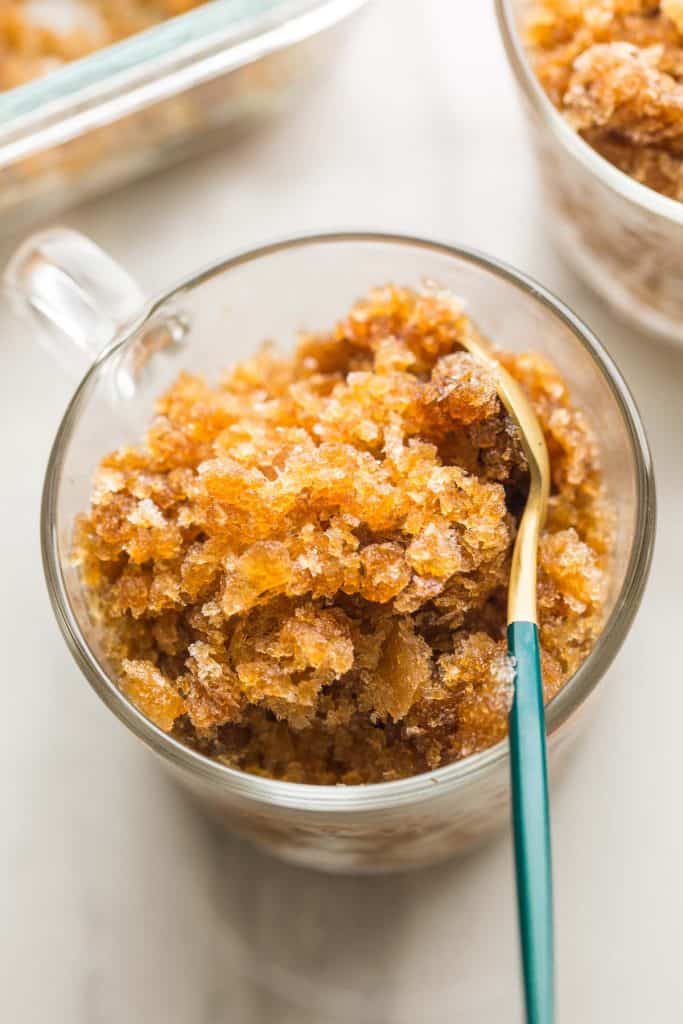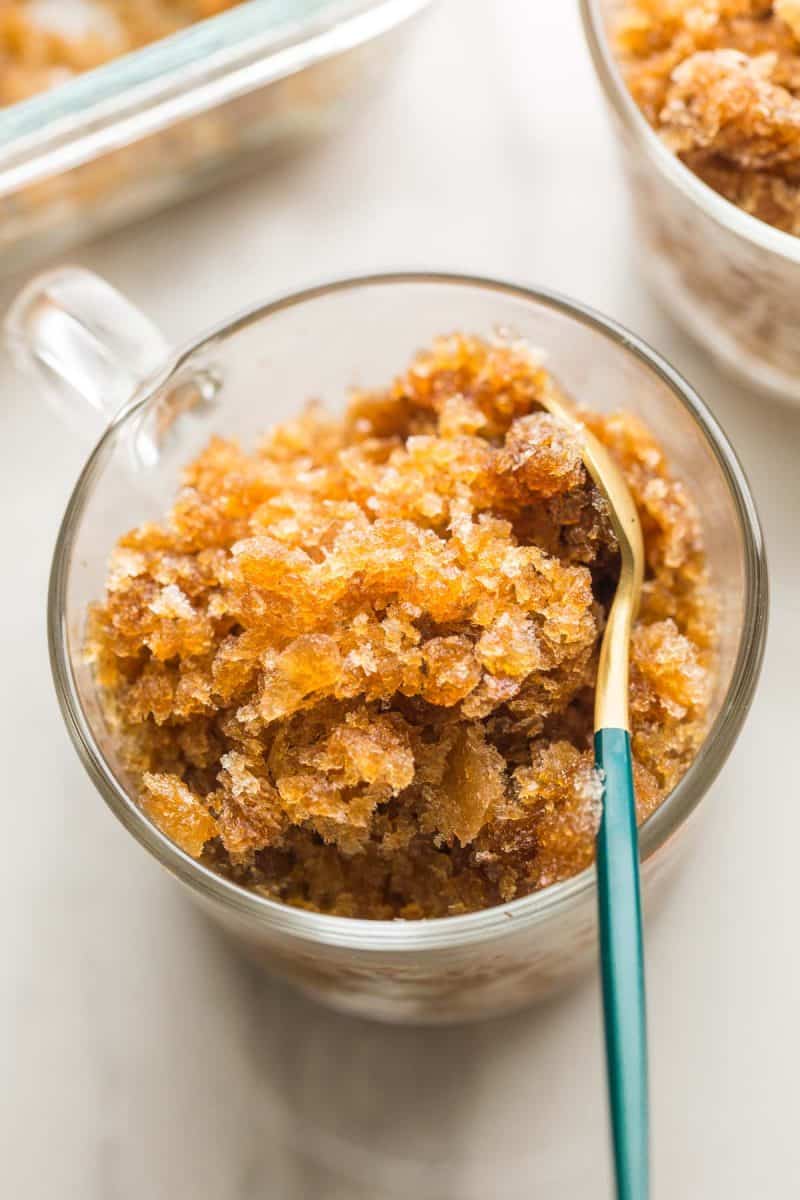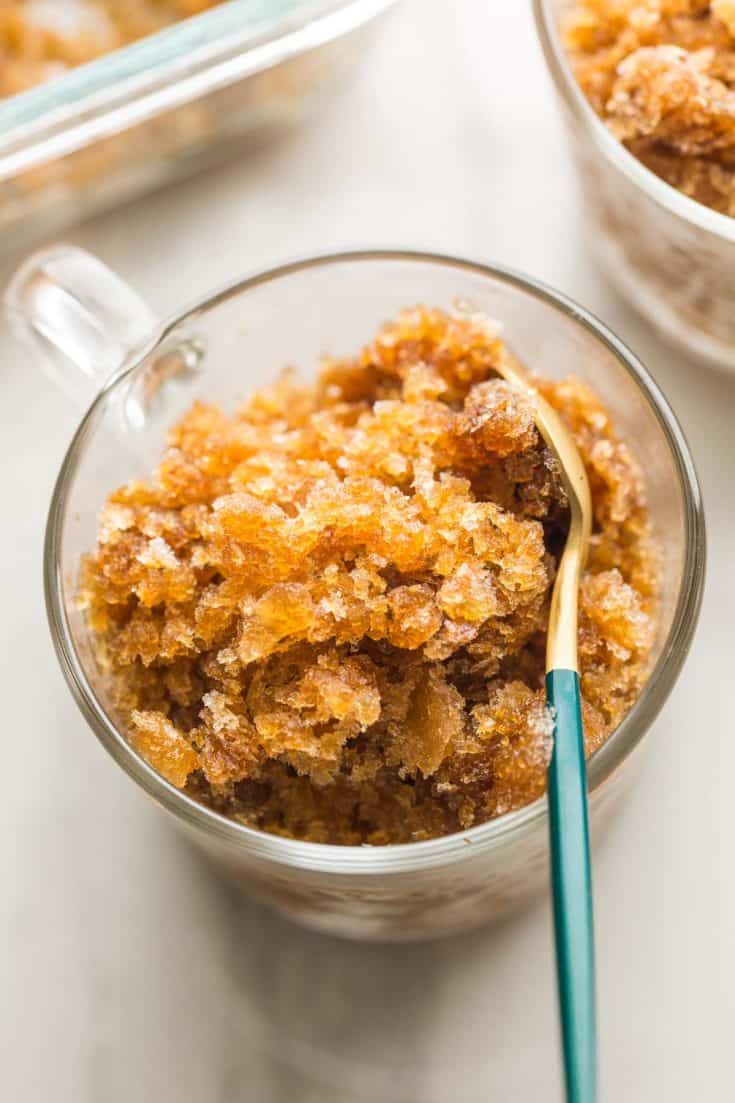 Yield:
6 servings
Prep Time:
10 minutes
Additional Time:
5 hours
Total Time:
5 hours
10 minutes
An icy, caffeinated treat lightly sweetened with brown sugar and gently spiced with cinnamon and vanilla
Ingredients
3 cups | 720 ml coffee, freshly brewed and still hot
1/2 cup |110 g light brown sugar
1 teaspoon vanilla extract
1/4 teaspoon ground cinnamon
Optional Toppings
whipped cream (dairy free if needed)
chopped or grated chocolate
Instructions
Pour the hot coffee into a freezer-safe container with a fitted lid. Add the sugar and gently mix together until the sugar has fully dissolved into the coffee.
Stir in the vanilla extract and cinnamon.
Let the coffee mixture cool to room temperature. Cover with a fitted lid then place in the freezer for an hour.
After an hour, take out the granita and mix with a fork. At this point you should start to notice ice crystals forming around the sides. Scrape ice crystals and bread apart large ice chunks and they form. Place the container back in the freezer. Repeat this process every hour until you have a frozen, icy coffee slushy (about 4-6 hours total).
Serve in small glasses and enjoy as is or with optional toppings.
Notes
Substitutions and Additions
Brown sugar can be replaced with other sugar alternatives. If using a liquid sweetener like honey, maple or agave consider reducing the amount need from 1/2 cup to 1/3 cup.
Low carb sweeteners can also be used but make sure to check out the best practices for substitutions depending on what you use.
Add 2-3 ounces of Rum, coffee liqueur, Bailey's or amaretto before freezing for a boozy twist.
You can replace 1/2 - 1 cup coffee with milk or cream (dairy free if needed). Just make sure to add the milk/cream after dissolving the sugar in hot coffee.)
Decaf coffee also works!

This website provides approximate nutrition information for convenience and as a courtesy only. Nutrition data is gathered primarily from the USDA Food Composition Database, whenever available, or otherwise other online calculators.