Avocado Chickpea Pesto Salad – Diced avocados, tomatoes, chickpeas & mozzarella balls tossed in a fresh pesto sauce. A fast, easy, no heat summer dish. | Gluten Free + Grain Free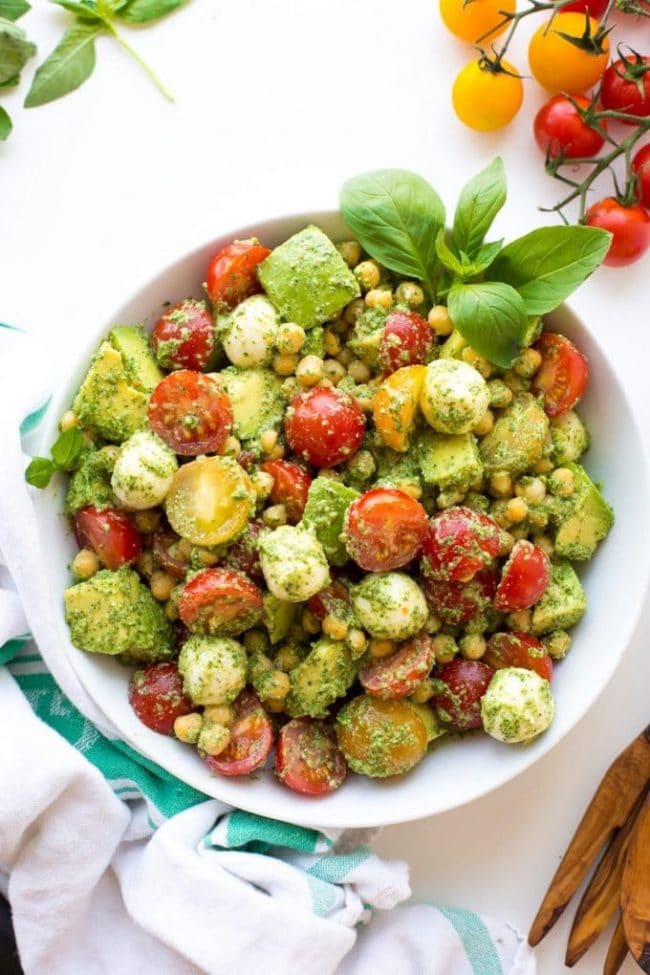 Basically I'm just throwing all of my favourite things together in a bowl and calling it a day.
You with me?!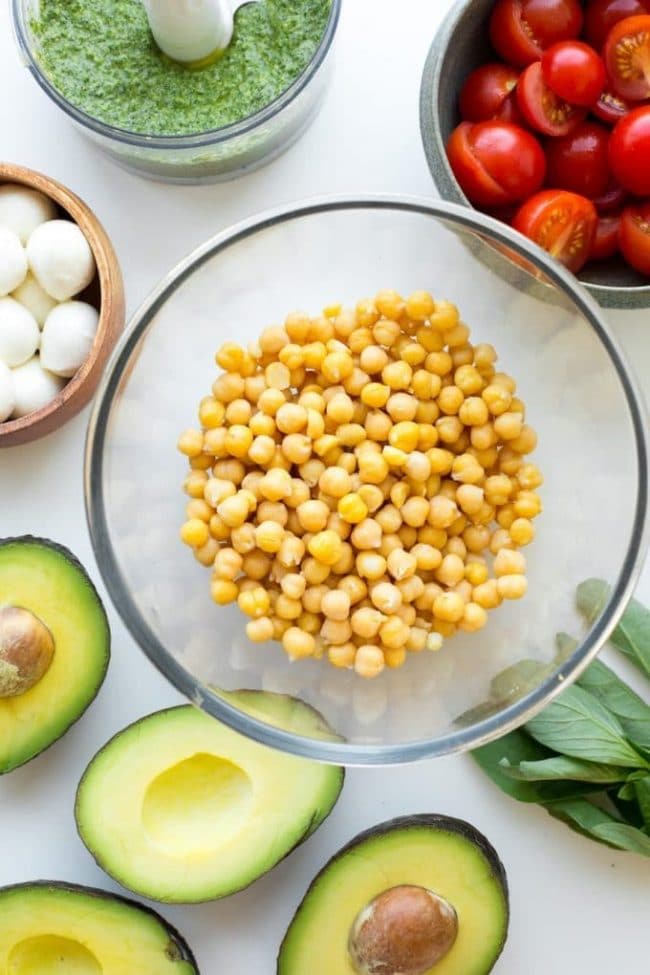 Although I'm going to let you in on a little secret here.
I actually don't like uncooked tomatoes. Cooked tomatoes I adore, but I've always been a bit weirded out by the juiciness of fresh tomatoes.
At least, I kind of don't like uncooked tomatoes – I'm working on it. I'm determined to fall in love with them. It's my summer project to come up with new ways to eat fresh tomatoes until I genuinely like them on their own. I've always said that anyone can like any food – you just have to find the ways in which you enjoy them. There are just way too many cool things that you can do to food to rule something out altogether, ya know?
I once claimed to hate avocados, and then I sat down with a bowl of chips and guac and my life forever changed….no exaggerations there of course.
And I'm proud to say that my little project is working because in this context, I love everything about this salad – cherry tomatoes & all!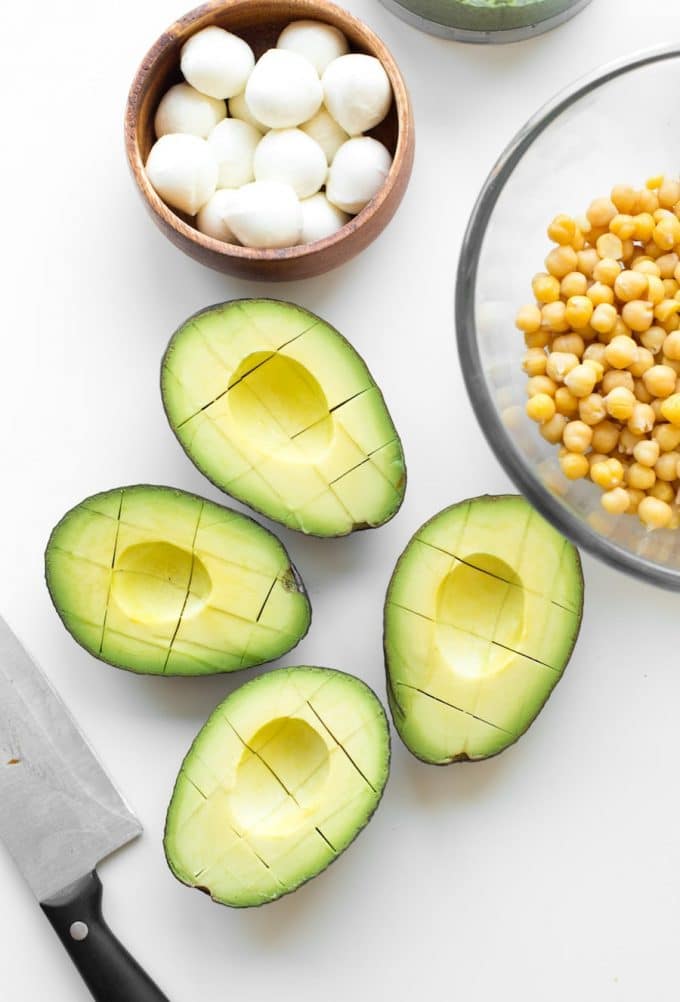 Making of: Avocado Chickpea Pesto Salad
The inspiration for this Avocado Chickpea Pesto Salad came from a similar stuffed avocado recipe I shared last summer. It's essentially the same recipe, just made in a more user friendly way. Stuffed avocados may well be amazing but they can be a little tedious to assemble. Just sayin'.
Also – by chopping up all the avocados we get a better ratio of pesto to everything else which is very much an excellent life choice. If pesto can't make me love an ingredient then I don't know what will!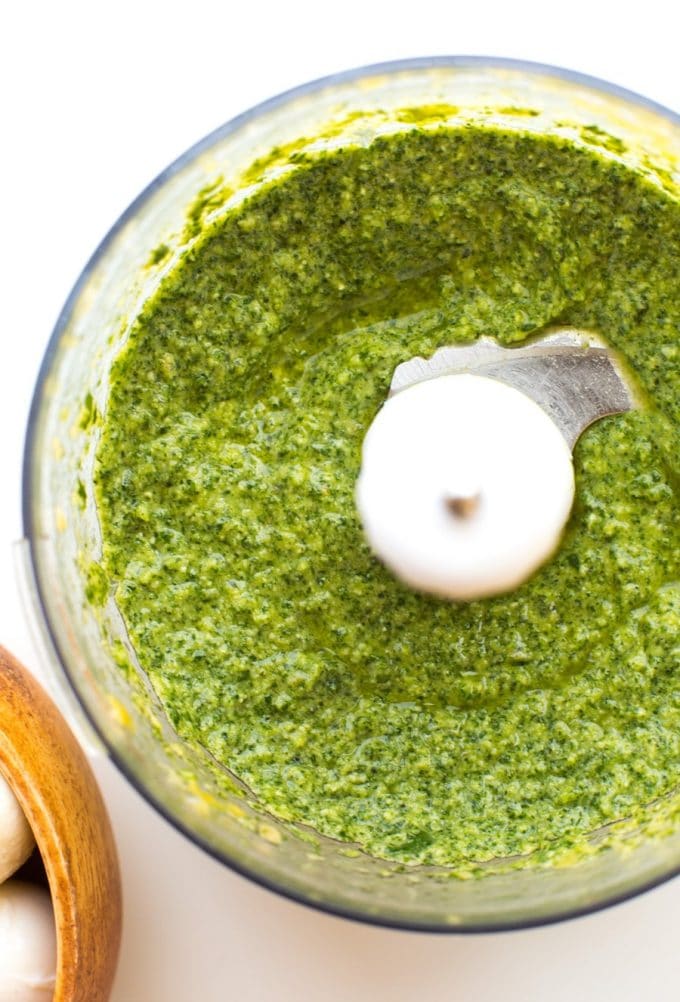 Making this salad is incredibly simple – all you need is a good blender or food processor and about 10 minutes of your time.
Making your pesto is as easy as tossing your ingredients in a blender and processing until you get your desired pesto consistency. Taste and season with a little extra salt as needed and then just keep tasting because it's just so good.
Then you just pour over your fancy-schmancy homemade pesto you just made over your salad and toss to combine.
Done!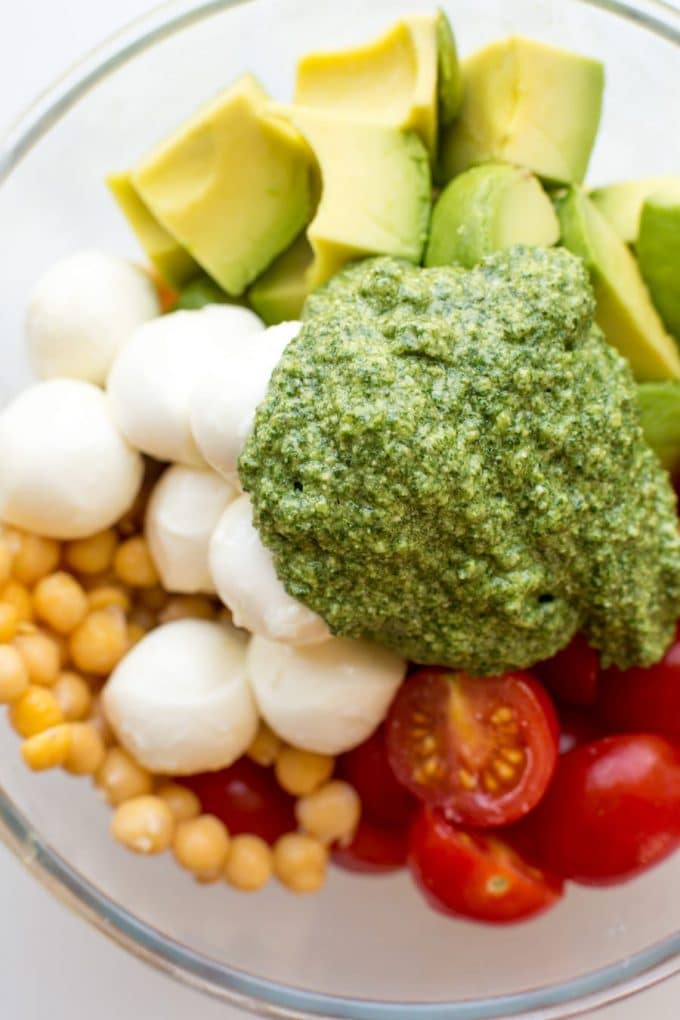 This makes for a great, no-heat summer salad recipe that takes little time to make. It keeps well in the fridge for 2-3 days tops. Any longer than that and your avocados start to get a little sad. To make this last longer you can always reserve adding the avocados until just before serving.
Hope you enjoy!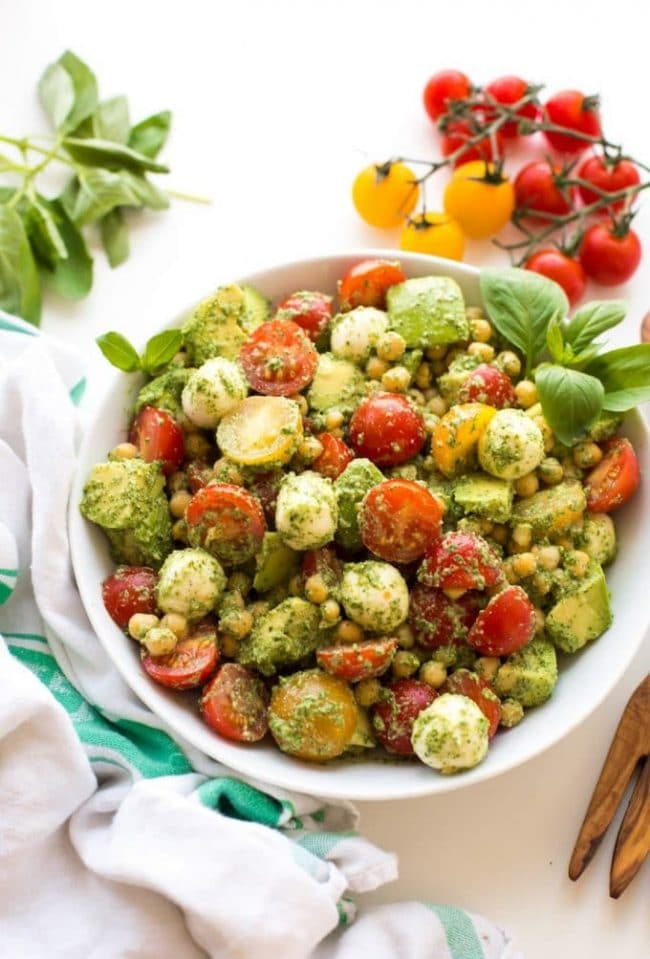 FACEBOOK | INSTAGRAM | PINTEREST
Don't forget to #asaucykitchen on instagram if you try this Avocado Chickpea Pesto Salad! I'd love to see what you make with it! You can also post your pictures to my facebook page!
Yield: 6 servings
Avocado Chickpea Pesto Salad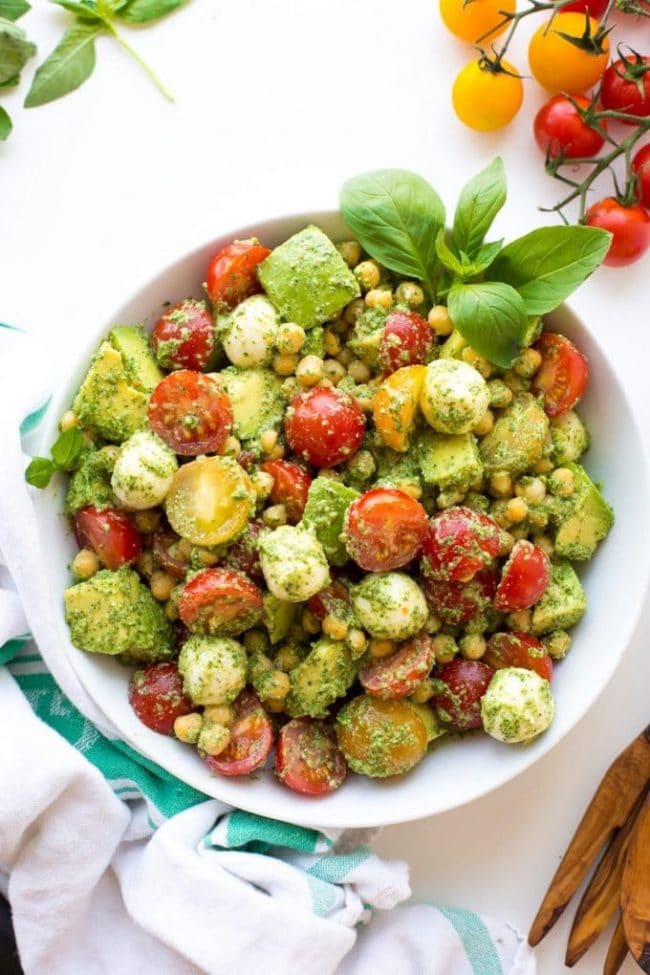 Avocado Chickpea Pesto Salad - Diced avocados, tomatoes, chickpeas & mozzarella balls tossed in a fresh pesto sauce. A fast, easy, no heat summer dish. | Gluten Free + Grain Free

Prep Time 10 minutes

Total Time 10 minutes
Ingredients
Pesto
2 cups fresh basil leaves, packed
1/3 cup pine nuts
1/2 cup grated parmesan
3 cloves garlic (about 3 teaspoons)
3/4 teaspoon sea salt or to taste
3 tablespoons | 45 ml extra virgin olive oil
Salad
1 cup cherry tomatoes, cut in half
1 can | 14 ounces chickpeas, rinsed & drained
2 avocados pits removed and diced
4 oz container fresh mozzarella balls, drained
Instructions
Pesto
Add the basil, pine nuts, garlic cloves, and parmesan to a food processor. Blend everything together until roughly chopped and then slowly drizzle in the oil. Continue processing until you reach your desired pesto consistency. Taste and season as you like.
Salad
Add the tomatoes, chickpeas, avocados and mozzarella balls to a large salad bowl.
Pour the pesto sauce over the contents of the salad bowl and toss everything together, coating it all in the pesto.
Once everything is well coated, serve & enjoy. This should keep in the fridge, covered for 2-3 days.
Nutrition Information:
Yield:
6
Serving Size:
serving
Amount Per Serving: Calories: 392Saturated Fat: 5gCholesterol: 14mgSodium: 443mgCarbohydrates: 25gFiber: 8gSugar: 4gProtein: 15g

For more heat free, summer recipes be sure to check out our Southwestern Avocado Quinoa Corn Salad, Paleo Cauliflower Tabbouleh, Greek Salad with Chickpeas, Fruit & Nut Summer Salad, Asian Cucumber Sesame Salad, and Antipasto Skewers!