Fresh, versatile and insanely delicious – this Cilantro Lime Pesto breaks almost all of the rules of a traditional basil pesto with satisfying results! Think chimichurri meets classic pesto. Use it as a pasta sauce, salad dressing, sandwich spread and more!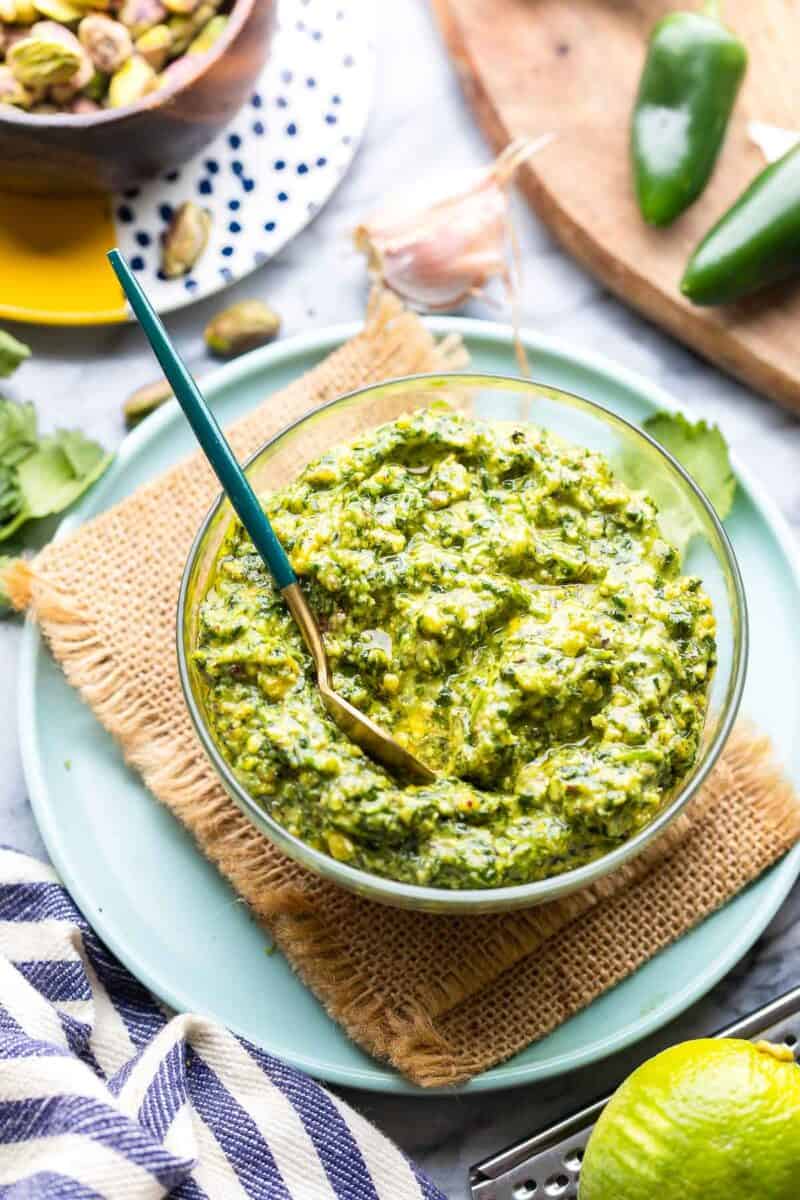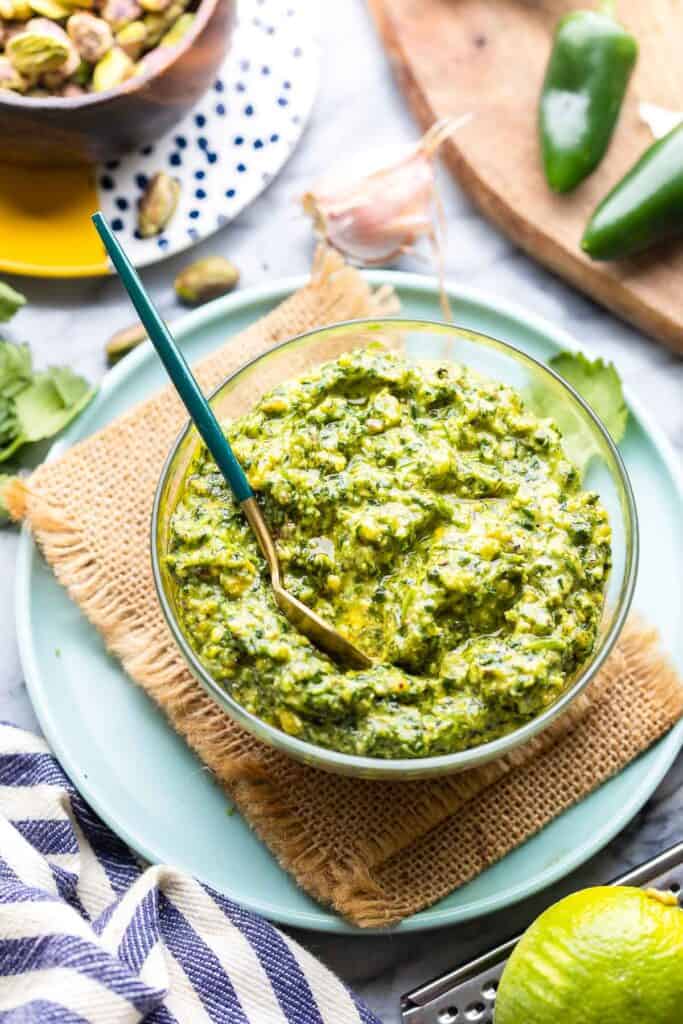 Shoutout to the Magic Sunflower in Dronfield for providing the inspiration for my Cilantro Lime Pesto Toast & Tomato Salsa!
My lunch was so good the last time we ate there I had to pop over to the grocery store before heading home just so I could get everything to recreate it.
This cilantro pesto is so insanely good – I figure it needed its own dedicated recipe post all to itself.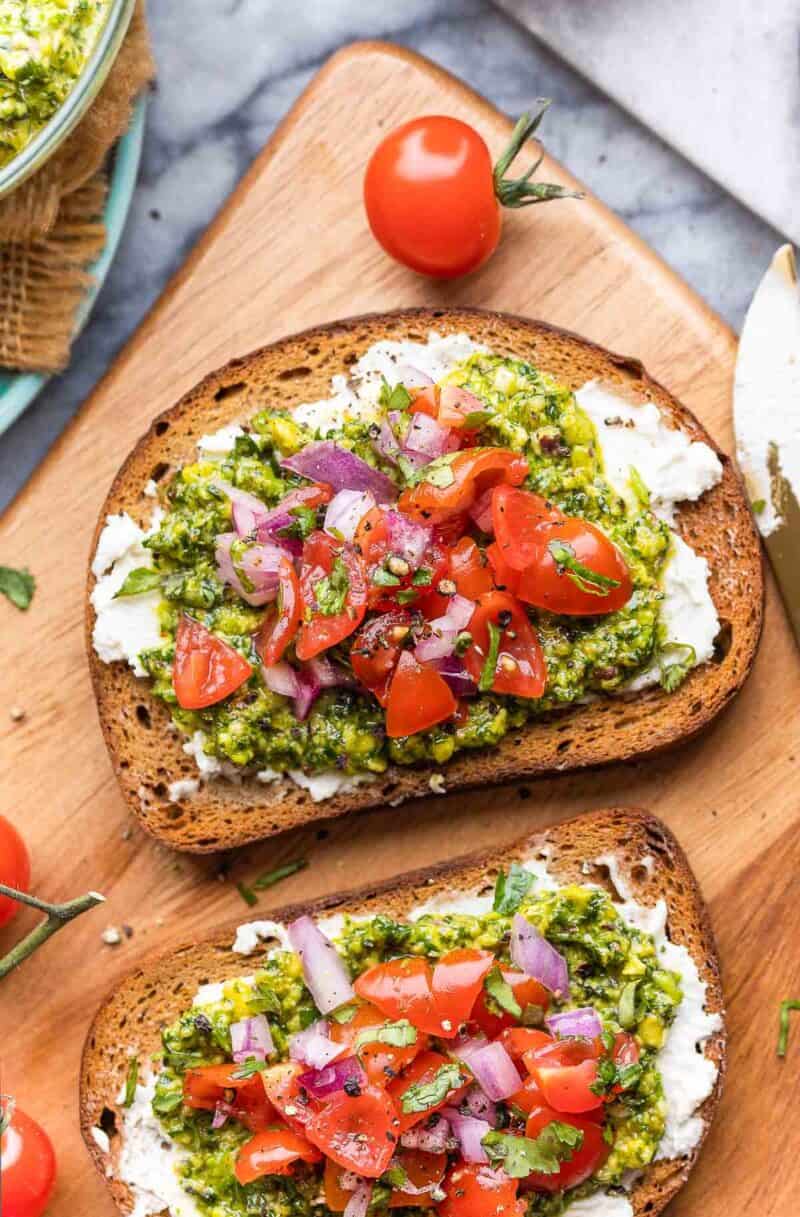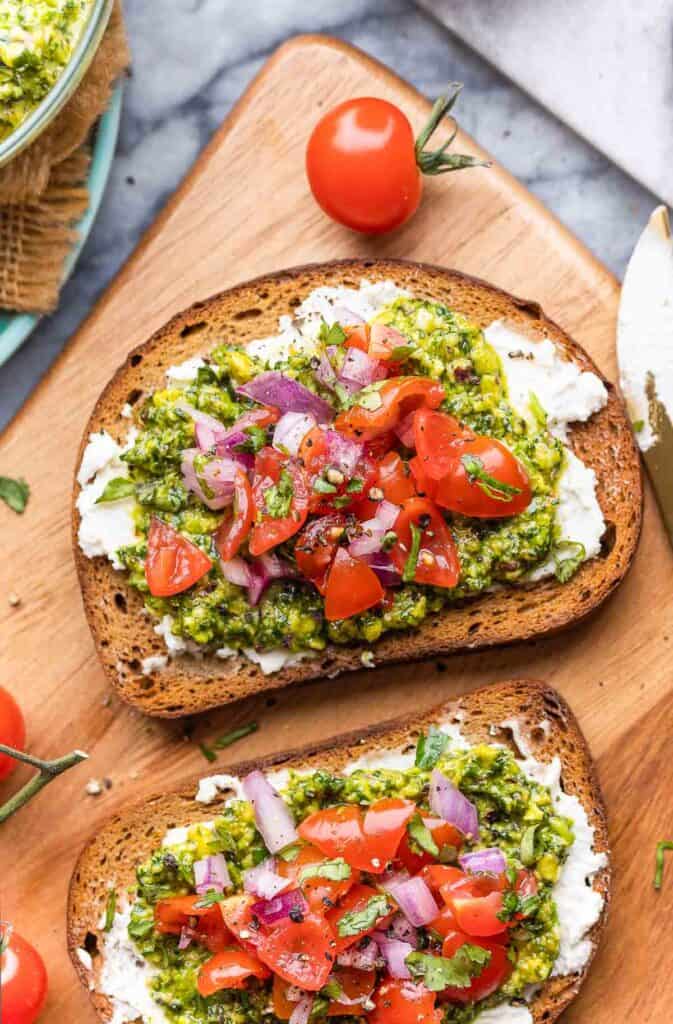 What's so special about this Cilantro Lime Pesto?
Easy: It's ready in minutes.
Adaptable: Check out the recipe notes for simple swaps that won't compromise on flavor.
Vegan: No parmesan cheese required.
Zesty: The cilantro and lime create next level freshness.
Versatile: There are so many different ways to enjoy this pesto – with pasta, as a dipping sauce, with your favorite protein, etc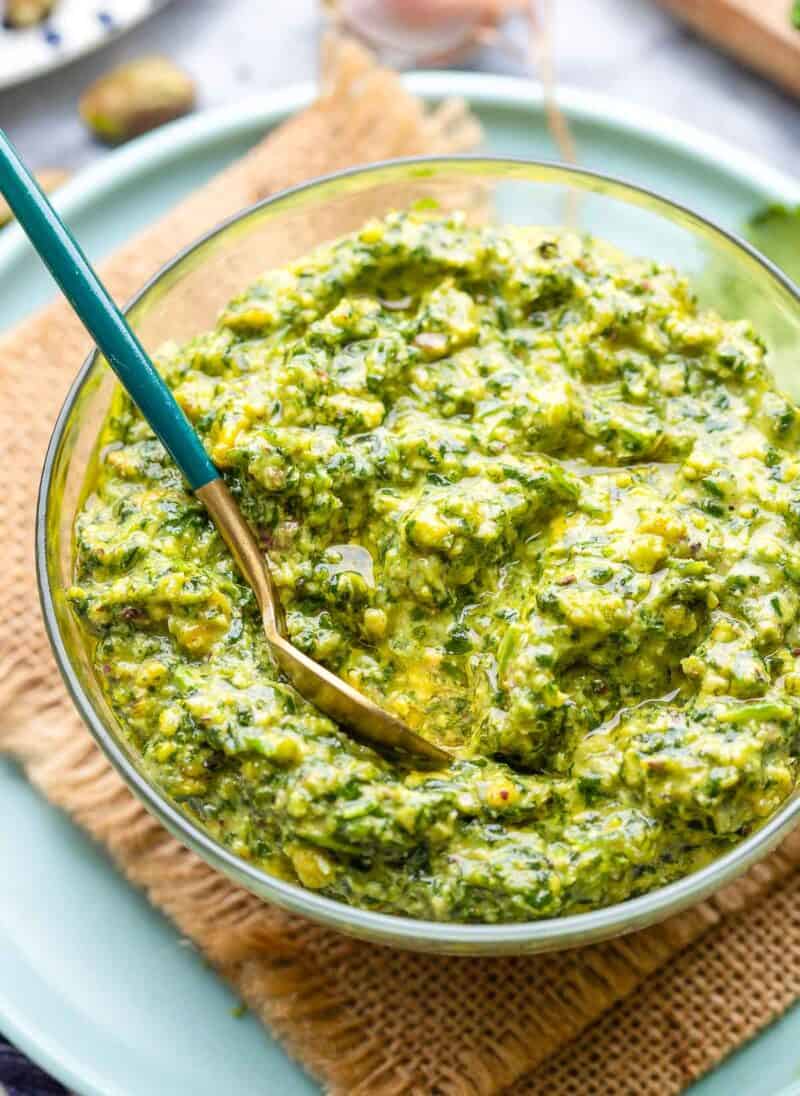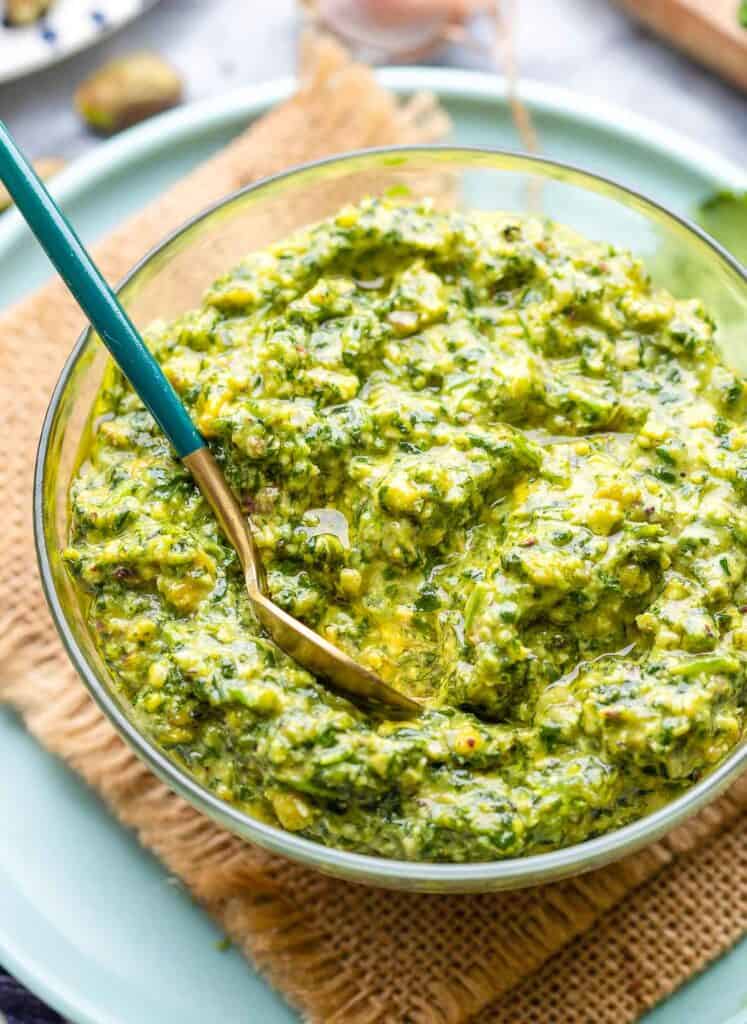 How to Make This Cilantro Lime Pesto
When it comes to the ingredient list, this recipe mostly follows the basic formula of a more standard basil pesto: fresh herbs, nuts, garlic, citrus, salt and oil.
What's different here?
Cilantro (aka fresh coriander) replaces the basil.
Pistachios replace the pine nuts – see the recipe notes for more pistachio substitutes if needed.
Lime Juice and instead of lemon juice make adds an extra zesty flavor.
Jalapeño – this adds a slight punch of heat to take this pesto up a notch.
Steps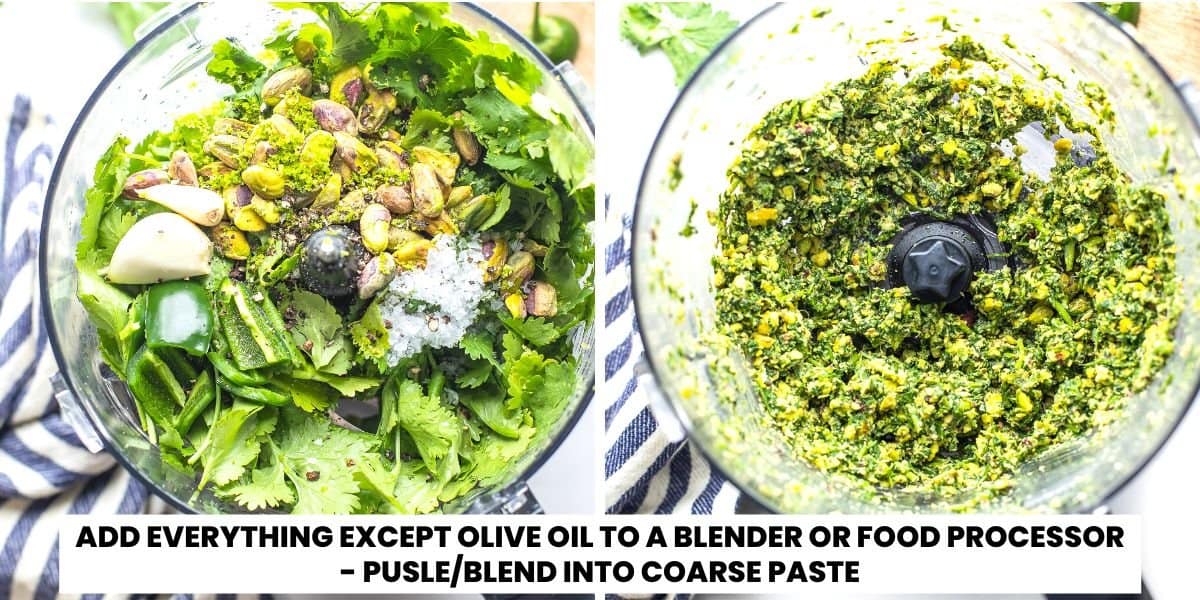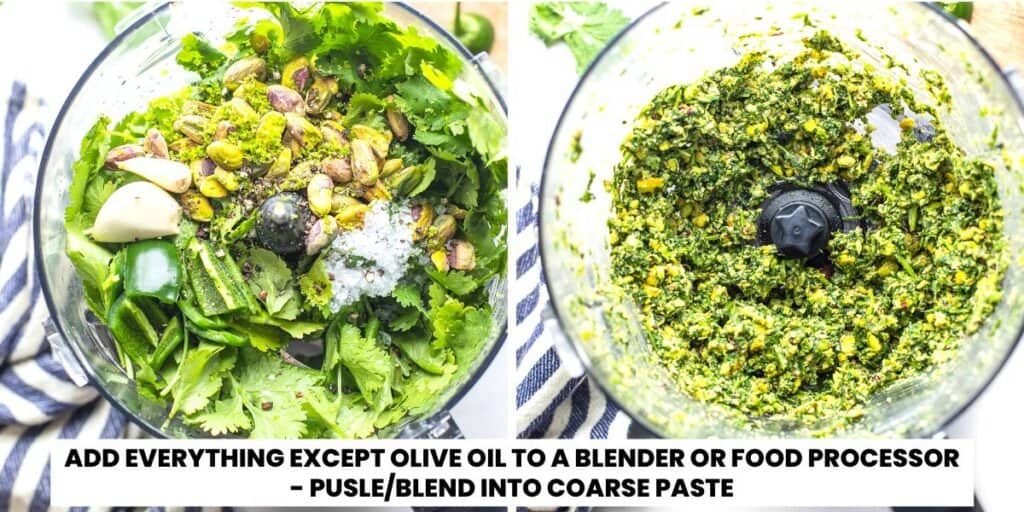 Like all pesto recipes, the steps here are simple and straight forward.
Add everything to a blender or food processor except for the oil.
Pulse or blend your pesto ingredients into a coarse texture (scape down the sides of the blender if needed)
With the blender running, begin drizzling the olive oil into the pesto in a steady stream to create an emulsified sauce (meaning the oil won't separate later).
Taste and season your pesto with more salt, pepper and lime juice as you see fit.
Enjoy!
Tip: Include the Stems!
Cilantro stems are soft and flavorful. Don't worry about removing them for this pesto because they are going to get blended up anyway!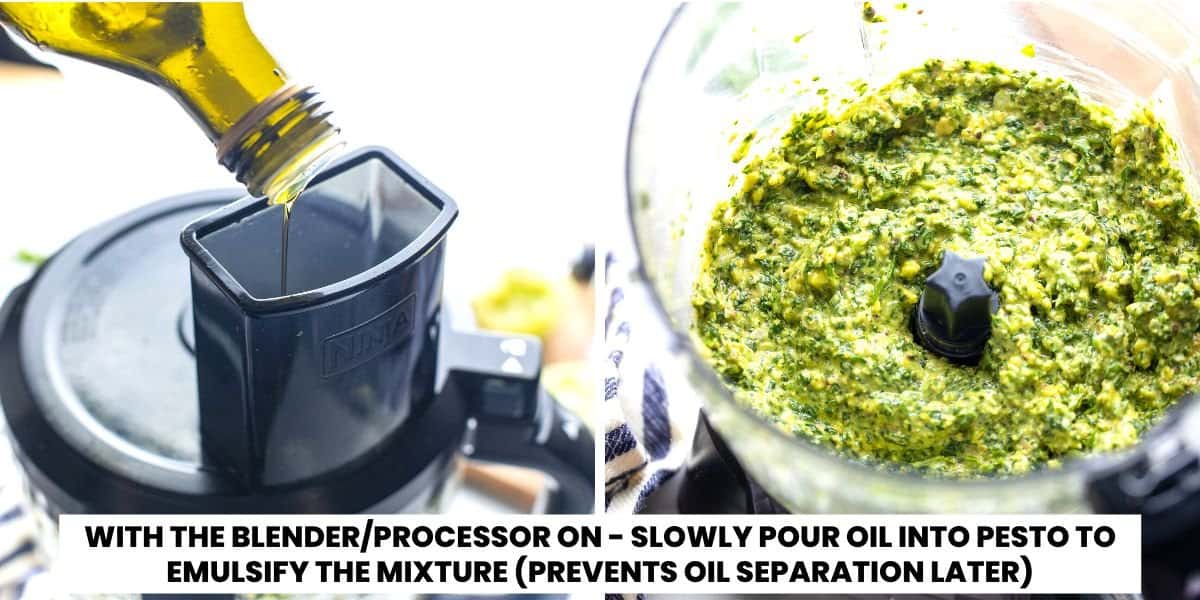 Substitutions & Adaptations
One good thing about this cilantro pesto recipe is how adaptable it is. There are a good number of ways you can play around with the recipe to make it your own without compromising on flavor. A few ideas to get you started: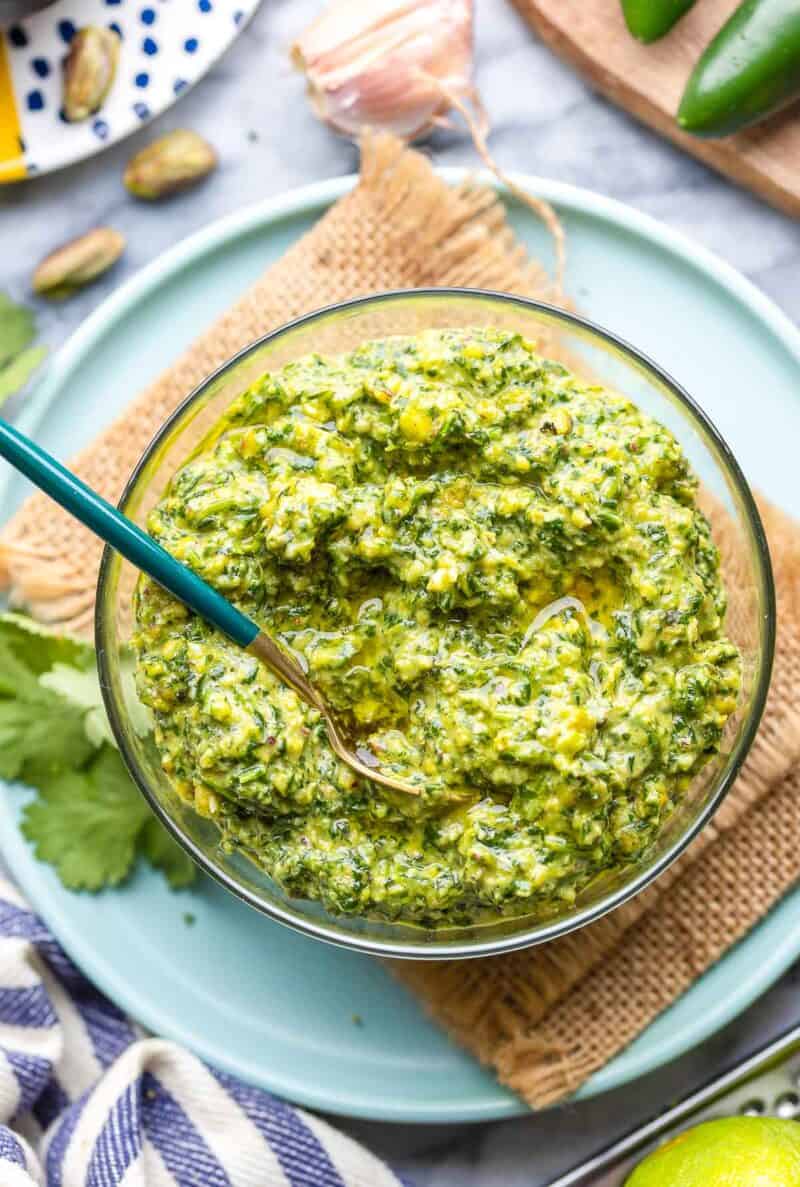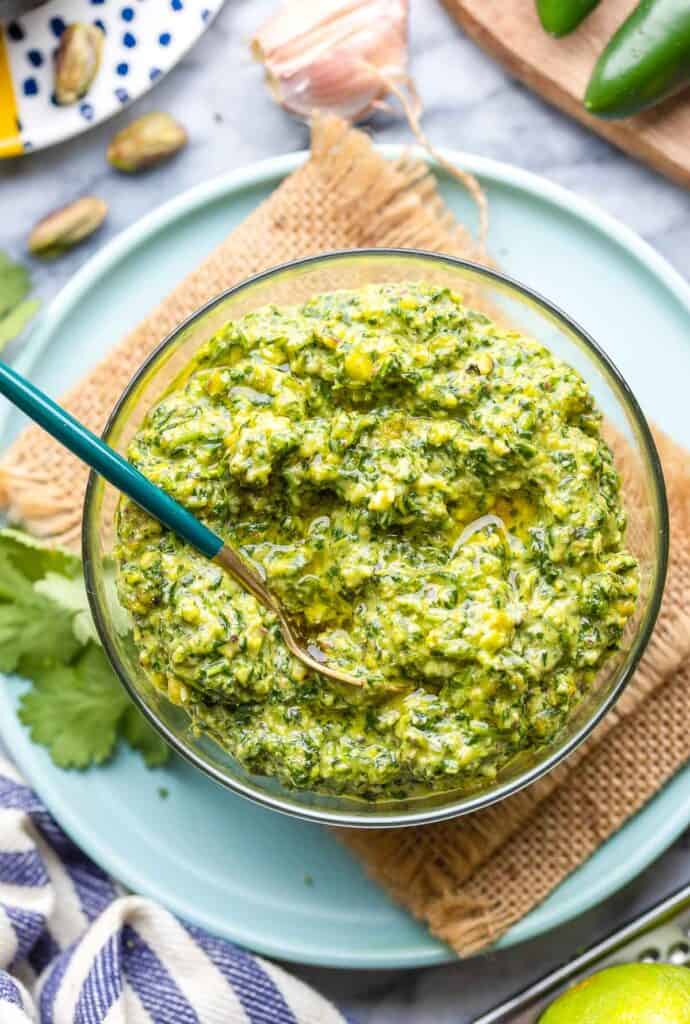 Swap out the pistachios for other nuts or seeds.
Pistachios, while delicious, can be pricey and inaccessible depending on where you live. Instead of pistachios, you can easily use almost another other nut/seed with good results.
Try almonds, cashews, brazil nuts, walnuts or pine nuts (to name a few) instead. For a nut free alternative you can try using sun flower seeds or pumpkin seeds (my usual go to).
Add more/different herbs.
For a little more nuance, try swapping out half the cilantro with other herbs like fresh basil, parsley or mint.
Lemons instead of lime.
No limes? No problem! Just use a lemon instead if that's all you have!
Amp up the heat.
Even with the jalapeño, this pesto is quite mild. If you'd like a stronger heat kick you can add an extra jalapeño or use a slightly hotter chili (something like a serrano chili).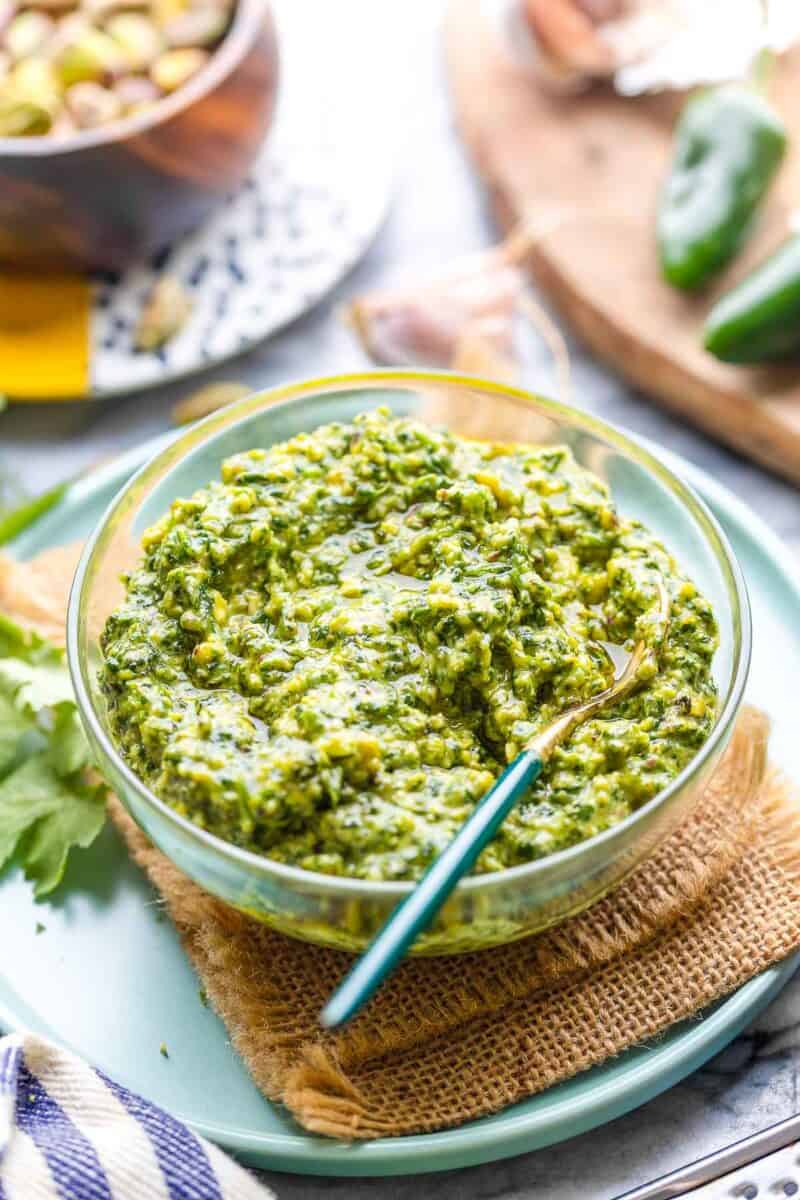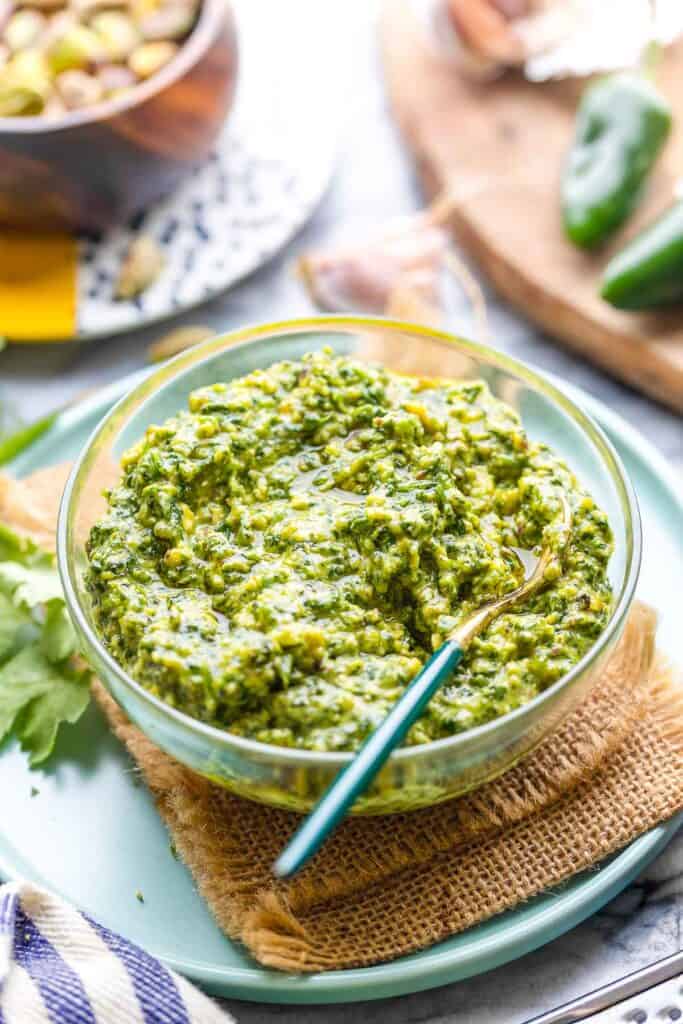 How long will this keep? Homemade pesto can be kept for up to five days if stored in an airtight container and kept in the fridge.
Freeze for later: If you want to keep this sauce safely past the five day mark – freeze it! I love to freeze pesto and other sauces in ice cube trays. It stores easily and is great for when you want a little more control or portion sizes and use. Once frozen, pop out the pesto cubes then transfer to another freezer-safe container until you're ready to use it.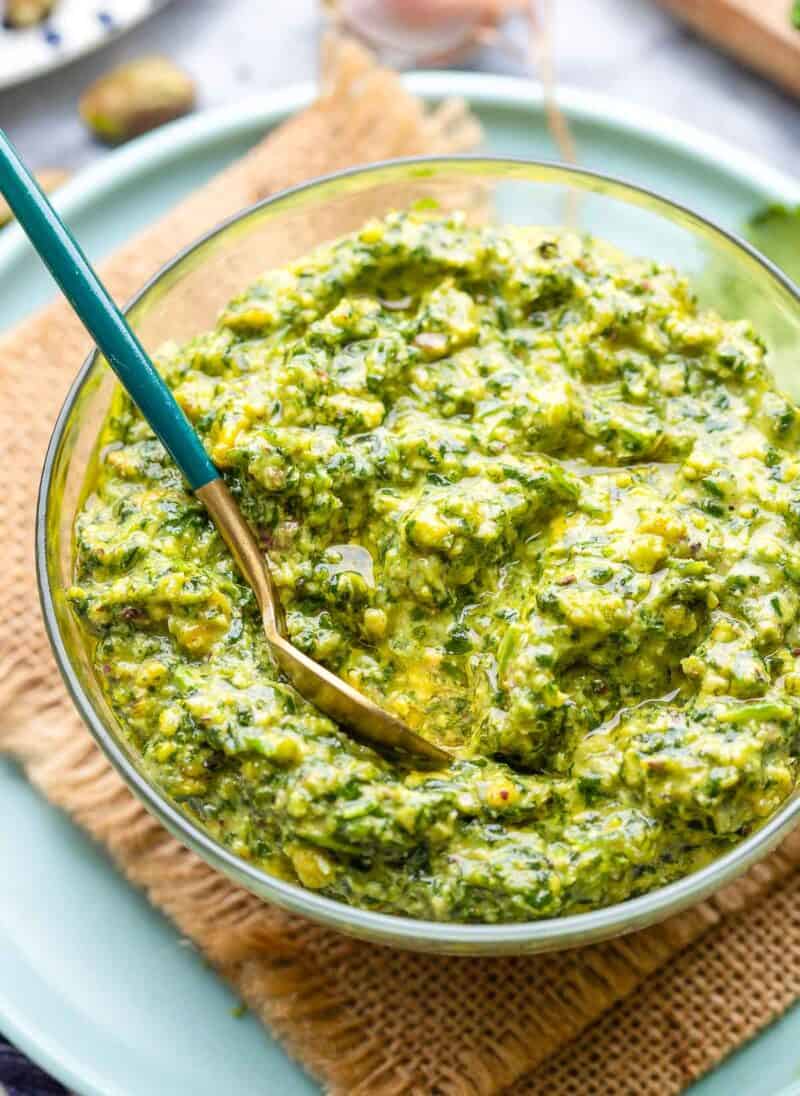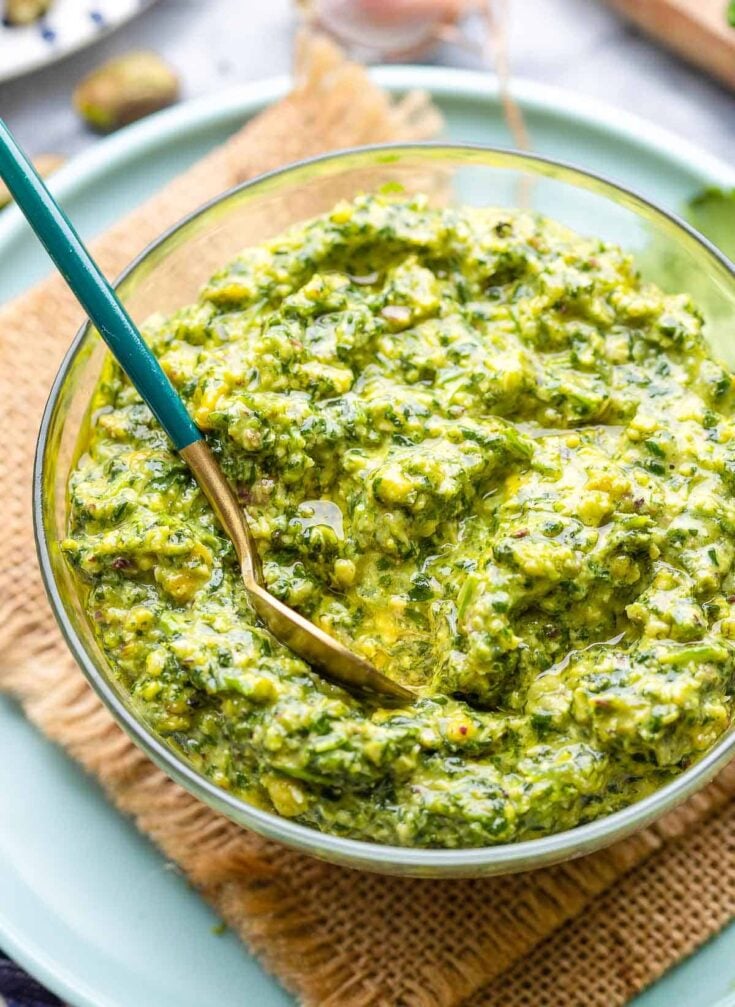 Recipe
Cilantro Lime Pesto
Yield:
1 1/2 cups
Prep Time:
10 minutes
Total Time:
10 minutes
Think chimichurri meets classic pesto. Use it as a pasta sauce, salad dressing, sandwich spread and more!
Ingredients
2 cups fresh cilantro leaves, packed (50 g)
1/2 cup shelled pistachios (67 g)
1 jalapeño, deseeded
3 cloves garlic, minced (about 1 tablespoon)
1 tablespoon lime juice (15 ml)
1/2 teaspoon salt, or more to taste
1/4 teaspoon freshly ground black pepper, or more to taste
1/2 cup extra-virgin olive oil (120 ml)
Instructions
Add the cilantro, pistachios, jalapeño, garlic, lime zest, lime juice, salt and pepper to the bowl of a food processor or blender. Blend or pulse until the ingredients are all finely chopped and well combined. Stop and scrape down the sides of the bowl as needed.
With the blender running on a low speed, pour in the the olive oil into the blender in a slow and steady stream (this allows the pesto to emulsify which prevents the oil from separating later).
Blend until you reach your desired consistency (for a thinner pesto sauce add an addition 1-3 tablespoons oil).
Taste and season with black pepper and more salt as needed.
Keep stored in an airtight container in the refrigerator for up to 1 week or in the freezer up to six months.
Notes
Pistachio substitute: Feel free to another nut/seed of your choice. Pumpkin seeds and sunflower seeds can be used as a nut free alternative. Pine nuts, walnuts and almonds make for a food pistachio substitute.
How much cilantro to use: One bunch of cilantro typically weighs somewhere between 1-2 ounces (3/4-1 cup). That being said, there is quite a lot of variety in sizes depending on where you shop. If you're struggling to get an exact amount of cilantro - just go with two bunches.
This website provides approximate nutrition information for convenience and as a courtesy only. Nutrition data is gathered primarily from the USDA Food Composition Database, whenever available, or otherwise other online calculators.
More for Pesto Lovers