Enjoy the best produce summer has to offer with this Baked Vegan Pesto Pasta! Cherry tomatoes and zucchini and lightly roasted and then mixed in with your favourite gluten free pasta and tossed in a thick and creamy dairy free pesto sauce. Finishing off this dish in the oven makes for a pasta that's tender on the inside with a slightly crispy crust to tie it all together. Use your favourite pesto to complete the sauce or make this easy, homemade pesto included in the recipe!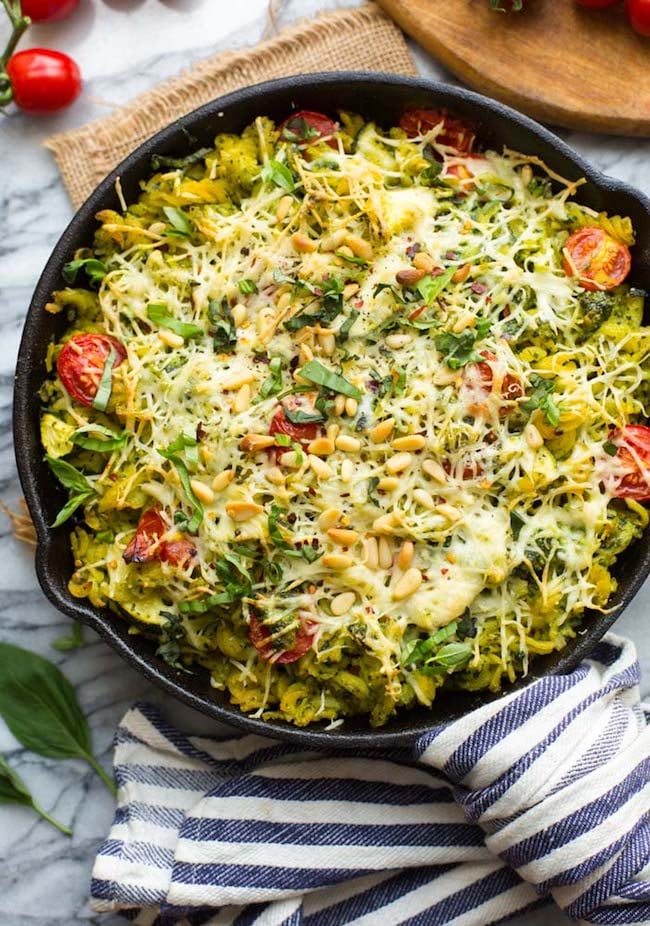 How to Make this Baked Vegan Pesto Pasta
Altogether this process can be broken down into a few main stages:
Roast the veggies – roasting first gives the tomatoes & zucchini a little more time to caramelise and deepen in flavour. This is a mostly hands off job once you've finished slicing and dicing. Just toss in oil then pop in the oven while you prep the sauce.
Prep the pasta – while the veggies are roasting, boil your pasta until it's almost al dente.
Make the pesto (or just use a store bought one) – I've included a dairy free pesto recipe in these instructions but feel free to use one cup of your favourite store bought or try homemade pesto like my Rocket Pesto (Arugula Pesto) or even a French inspired Pistou (a nut and dairy free peso!)
Make the creamy pesto sauce – This is simply done by whisking flour and oil in a sauce pan until it forms a roux-like mixture. Then mix in some veggie stock until a thick sauce forms. Finally, mix in your pesto and that's it. Taste and season with salt if needed.
Mix everything together & bake – When you're ready mix the veggies and pesto sauce in with the pasta and mix until everything is fully coated in sauce. Then transfer the pasta to a large casserole dish or oven safe skillet. Top off with some vegan cheese and a small handful of pine nuts for a little crunch and then bake. Bake for about 15 minutes until the cheese has melted and formed a light crust over the top of the pasta and you're all set.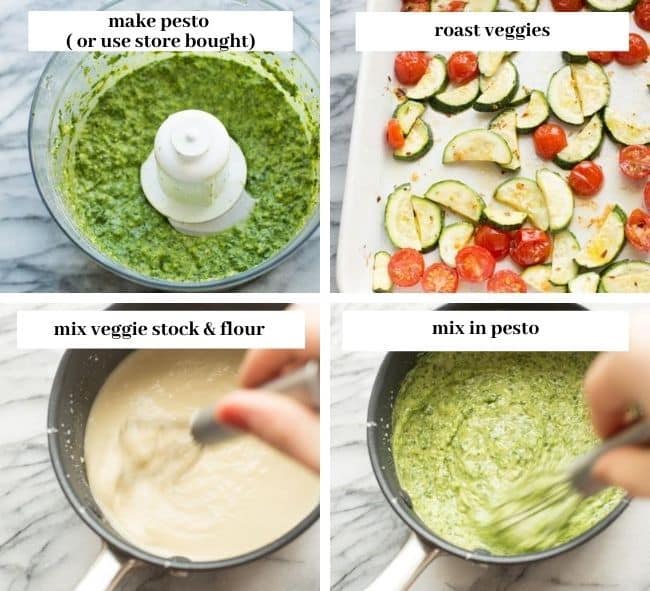 Tips & Questions Before You Begin
Undercook Your Pasta
Since you are going to be boiling and then baking your pasta you should undercook the pasta in the early stages. Your pasta be still almost al dente after boiling so that it finishes off cooking in the oven without going mushy.
Do I have to finish it off in the oven?
Nope! If you prefer you can absolutely enjoy this pasta once you've mixed everything together in the pot. Just make sure to cook your pasta through fully instead of al dente.
So why bake it then?
Finishing this dish off in the oven makes for crispy crust on top and a softer, more tender pasta on the inside. It also gives your very al dente pasta more time to fully cook through in the end.
How can I make this low FODMAP?
Double up on the zucchini, don't add cherry tomatoes and use a FODMAP friendly pesto (like my LOW FODMAP chive pesto) instead of a more traditional garlic pesto.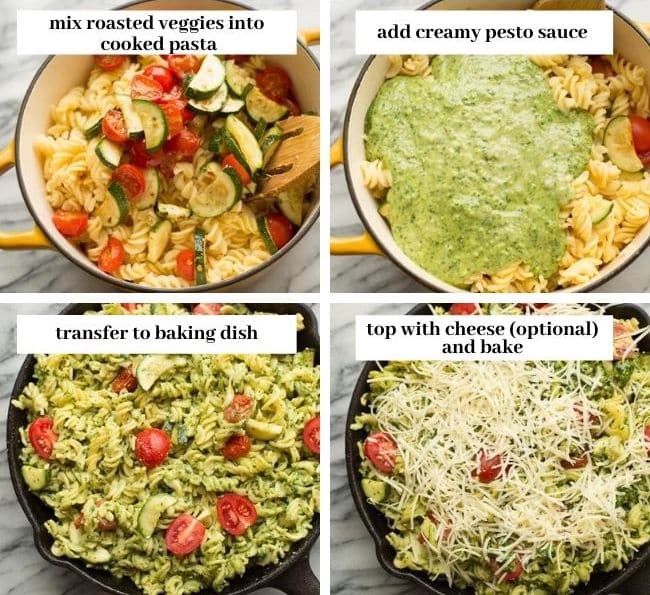 And that's it! Tender pasta with juicy cherry tomatoes and caramelised zucchini slices swimming in a pesto packed dish that's easier to make than you might think!
Enjoy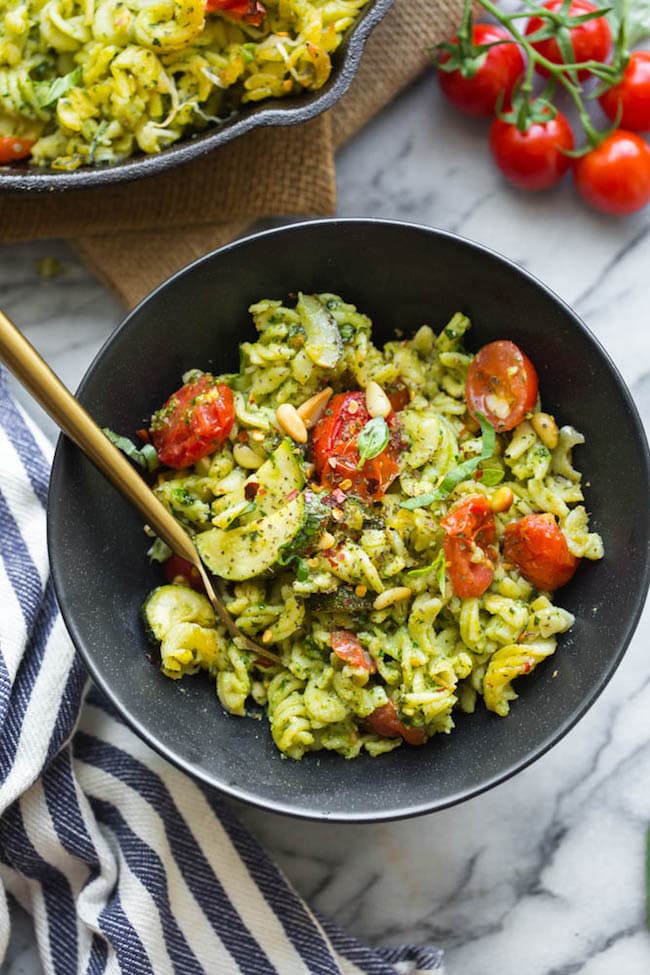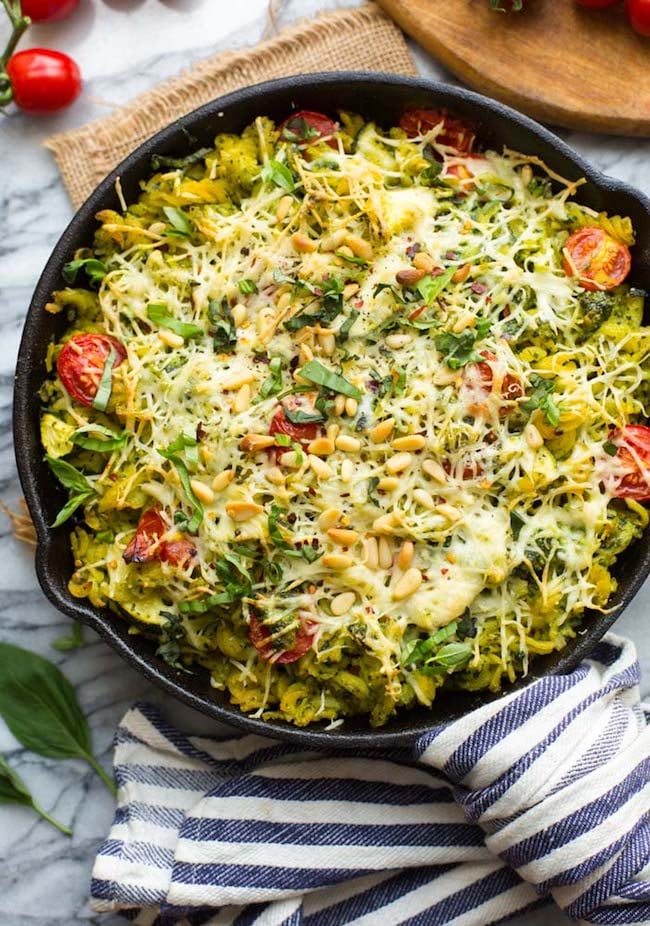 Recipe
Baked Vegan Pesto Pasta
Yield:
4 servings
Prep Time:
15 minutes
Cook Time:
35 minutes
Total Time:
50 minutes
Cherry tomatoes and zucchini and lightly roasted and then mixed in with your favourite gluten free pasta and tossed in a thick and creamy dairy free pesto sauce. Finishing off this dish in the oven makes for a pasta that's tender on the inside with a slightly crispy crust to tie it all together.
Ingredients
Pasta
3 tablespoons (45 ml) olive oil, divided
2 cups cherry tomatoes cut in half
1 large zucchini, sliced
1 pound gluten free pasta like fussili, penne, macaroni, etc.
2 tablespoons gluten free all purpose flour
1 1/2 cup (360 ml) vegetable stock
2 tablespoons nutritional yeast
Pesto
2 cups fresh basil leaves, packed (can sub the basil with spinach, arugula, kale or other fresh leafy greens)
1/3 cup pine nuts
1/4 cup nutritional yeast
3 cloves garlic, about 1 tablespoons
3/4 teaspoon sea salt or to taste
3 tablespoons (45 ml) extra virgin olive oil
1 cup grated vegan cheese
2 tablespoons pine nuts, optional
Instructions
Veggie & Pasta Prep
Preheat oven to 425°F(218°C). Lightly grease a 9x13 inch casserole dish or large, oven-safe skillet.
Add the tomatoes and zucchini to the casserole dish along with one tablespoon oil. Toss the veggies in oil then place in the oven and roast for 15 minutes while you prep your other ingredients. After the veggies are done roasting, lower the oven temp to 400°F(205°C).
While the veggies are roasting, add your pasta to boiling water and cook until extremely al dente. Your pasta will continue to cook in the oven so undercook it here so it doesn't end up mushy later. Once done, drain and then return the pasta back to the pot and set aside.

Sauce & Assembly
In a small sauce pot over a medium heat, add the olive oil. When the oil is hot, whisk in the flour to create a roux.
Whisk until no lumps remain then stir in the vegetable stock and nutritional yeast. Let the sauce simmer about 2-3 minutes until it visible thickens.
Stir in the pesto until combined then remove from the heat.
After the veggies have finished roasting, mix them into the cooked pasta. Pour the creamy pesto sauce over the pasta and mix until the pasta and veggies are fully coated.
Transfer the pasta back into the roasting dish you used earlier. Spread the pasta evenly over the dish.
Sprinkle the cheese and pine nuts (if using) over the top of the pasta then place everything in the oven and bake another 15 minutes until the cheesy has melted.
Remove from the oven and let cool at least 5-10 minutes before serving. Top with your favourite vegan parm and fresh basil if desired and enjoy.
Pesto

Add the basil (or greens), pine nuts, garlic cloves, and yeast to a food processor. Blend everything together until roughly chopped and then slowly drizzle in the oil. Continue processing until you reach your desired pesto consistency. Taste and season as you like.
Notes
You can sub the pesto with 1 cup of your favourite homemade or store bough pesto.
This website provides approximate nutrition information for convenience and as a courtesy only. Nutrition data is gathered primarily from the USDA Food Composition Database, whenever available, or otherwise other online calculators.
More Gluten & Dairy Free Pasta Recipes You Might Enjoy