Since arugula (rocket) is usually widely available year-round, this rocket pesto recipe is a great one to make no matter what season you're in! Though it's made with nearly identical ingredients as a traditional basil pesto, the natural peppery flavour of rocket makes for an entirely different experience! Make sure to read the recipe notes for tips and substitutions including how to make this recipe dairy free or vegan friendly!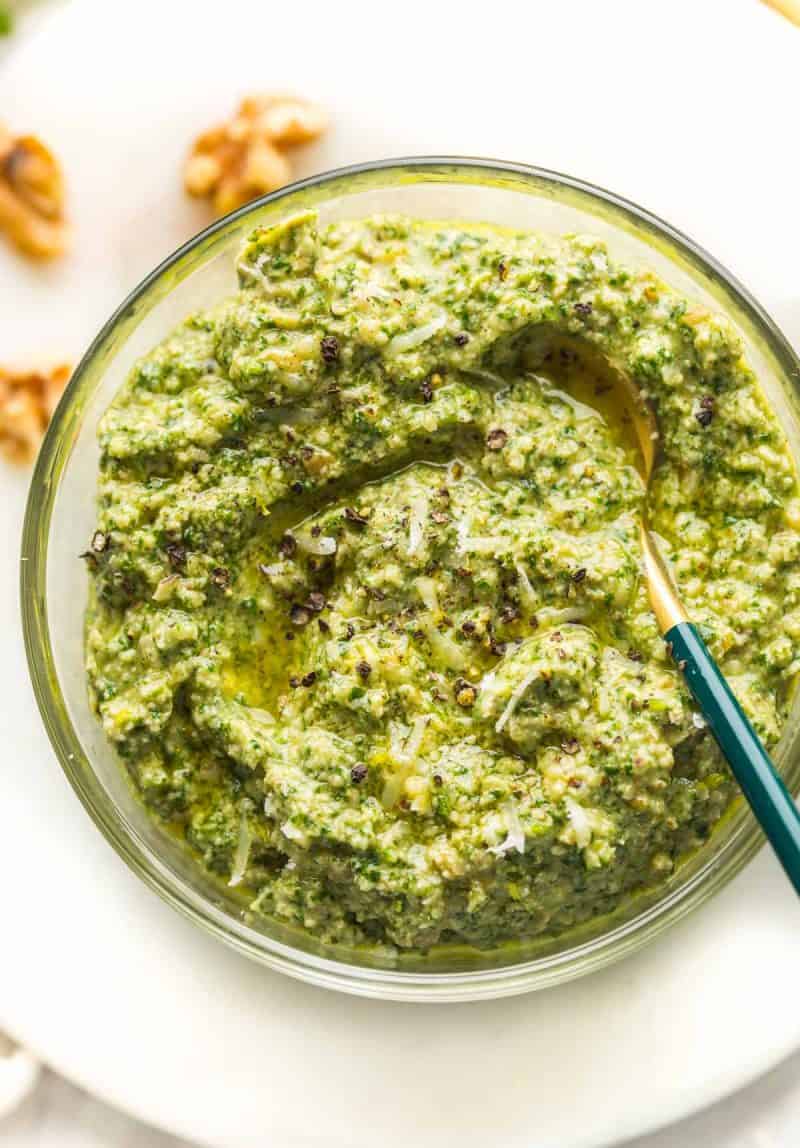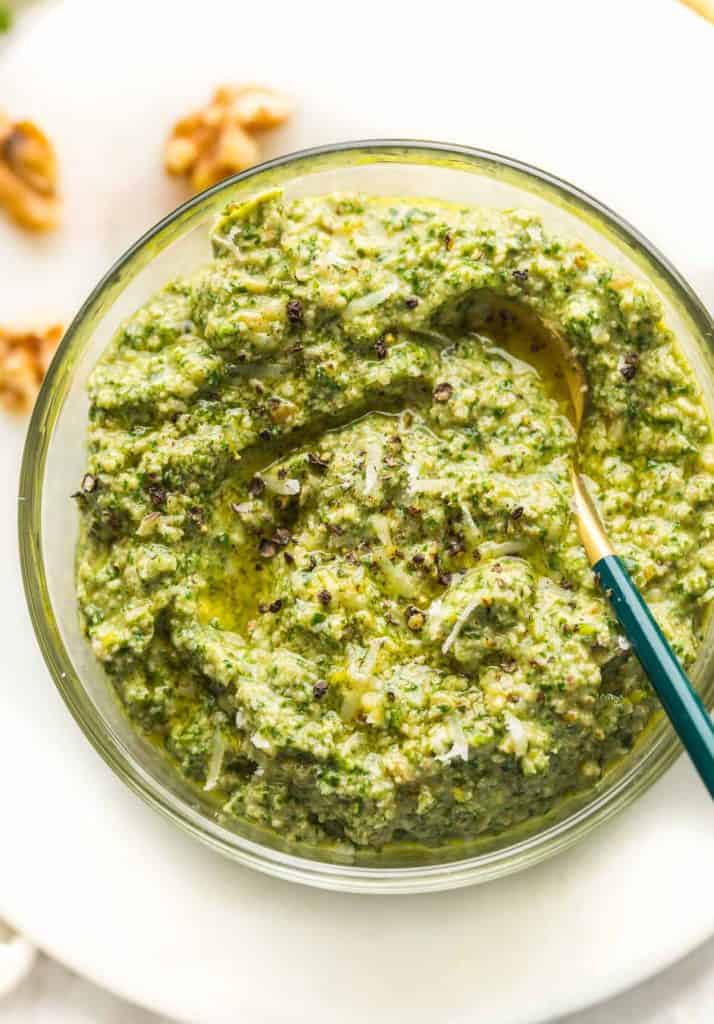 Rocket Versus Arugula – Which Is It?
If you're native to the United States or Canada, you might be more familiar with the name arugula. Rocket, on the other hand is the name used in the United Kingdom and Australia. Funnily enough, both of these names are derived from different Italian names for this spicy herb.
North American arugula came about from the name rucula which was used more commonly Southern Italy immigrants. Rocket is derived from the name more commonly used by Northern Italians: ruchetta.
So whether you want to refer to this as an arugula pesto or a rocket pesto – they're both the same and they are both delicious!
Ingredients: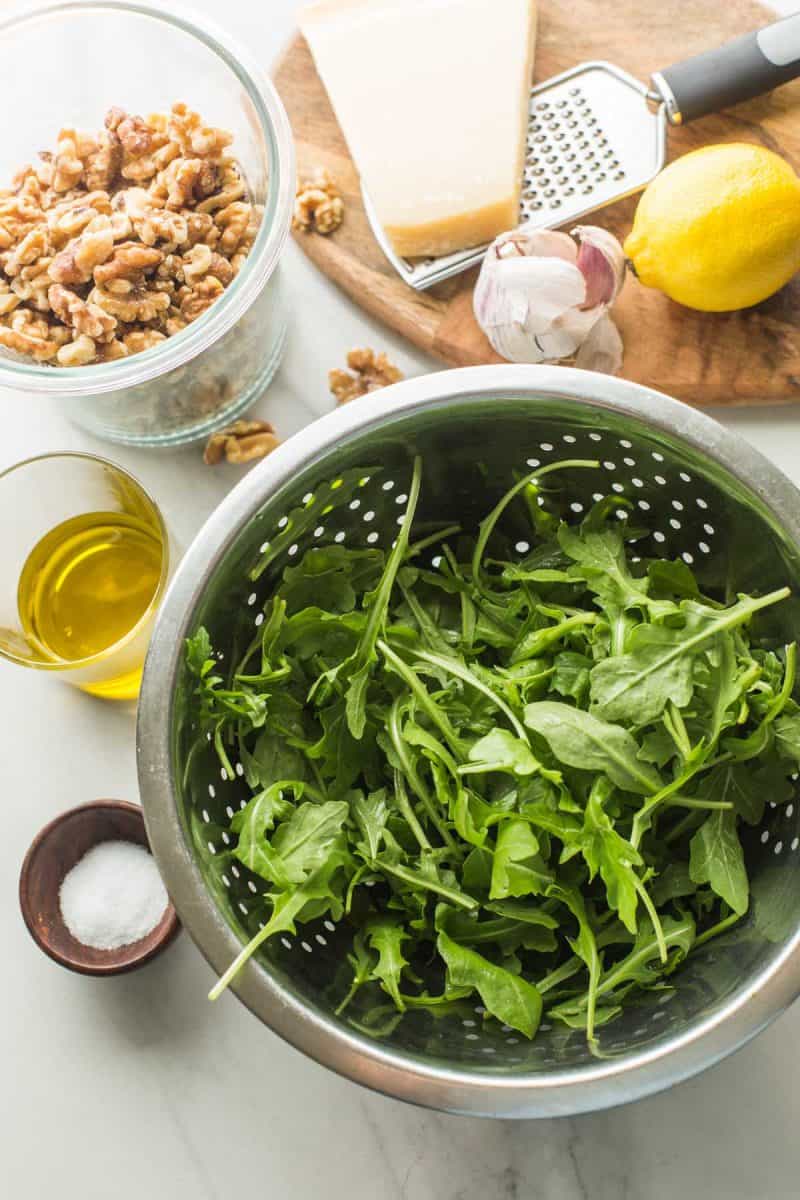 Rocket Leaves
As a general rule of thumb, large rocket leaves with thick stems have a more intense peppery flavour. Small leaves (usually younger) are less intense with a touch more sweetness to them. If your leaves have thick stems I recommend cutting them off to prevent the pepperiness from overpowering the other flavours.
Walnuts
Pine nuts are another common ingredient in rocket pesto recipes. I chose to use walnuts because they're usually more affordable, but feel free to use either here.
Garlic
Garlic and pesto go hand in hand. The amount required will vary from recipe to recipe depending on personal preferences. Feel free to play around and make your own pesto by adding more or less based on what you like.
Olive Oil
When it comes to sauces like this or recipes that don't require much cooking, a good quality extra virgin olive oil is always best.
Lemon
You'll need both lemon zest and lemon juice. Make sure to zest your lemon before juicing it! I always forget to do that first which makes the zesting more of a pain.
Parmesan
If you wanted to get technical with your cheese, look for parmigiano reggiano. Only cheese produced in Italy using a specific recipe can be given the formal name. Parmesan is simply an imitation of parmigiano reggiano – it can be made any where in the world using similar recipes. Keep in mind that parmigiano reggiano is not suitable for vegans and vegetarians.
Salt & Pepper
No recipe is complete without one or both of these! Go easy on the salt to begin with. You can always add an extra pinch of salt at the end as a final touch.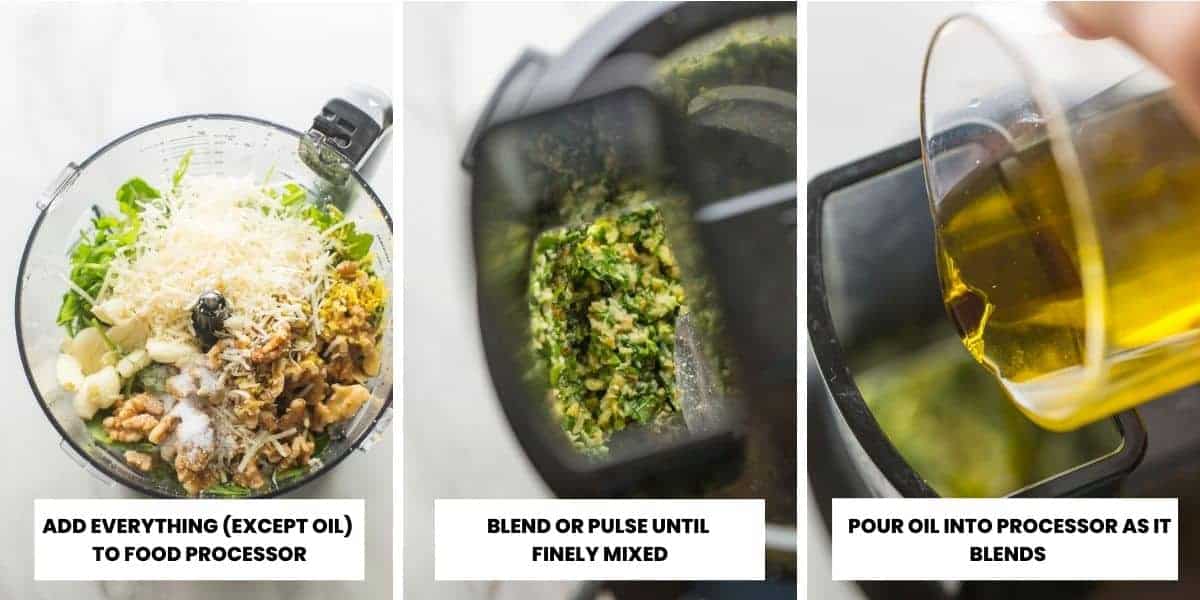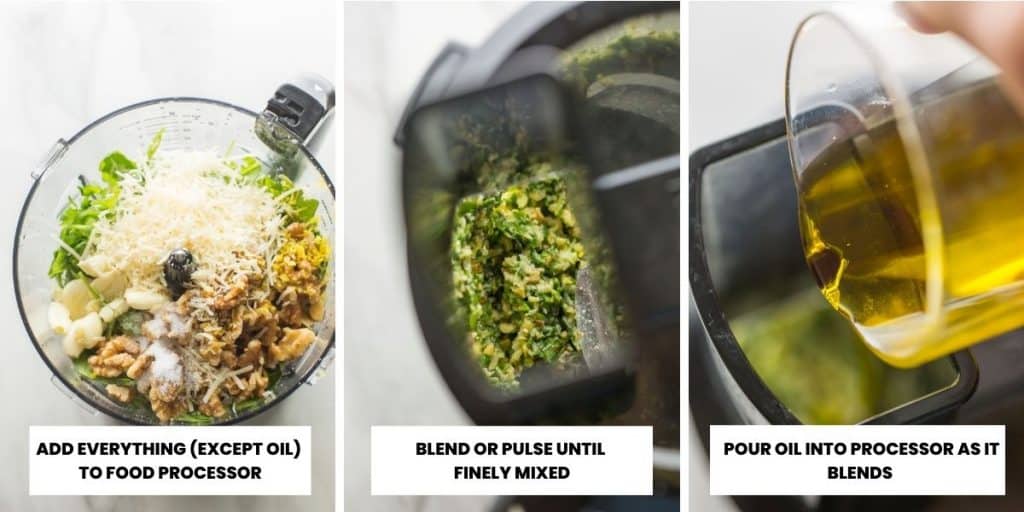 Substitutions
Walnuts:
You can use an equal amount of almonds or cashew nuts in place of the walnuts. You'll end up with a slightly different nutty flavour depending on what you use, but all work well!
Use 1/2 cup pine nuts instead of walnuts.
For nut free options: use hulled pumpkin seeds or sun flower seeds.
Parmesan Cheese:
Use vegan parmesan to make a vegan rocket pesto.
Nutritional yeast is my tried and true, go-to vegan parmesan sub. It adds a bit of cheesiness and it usually comes fortified with extra vitamins and minerals.
You can skip the parmesan/nutritional yeast altogether!
Rocket:
Feel free to swap out half of the rocket for basil leaves, spinach or even kale. It will change the overall flavour, but these are all very tasty options to make this pesto more your own.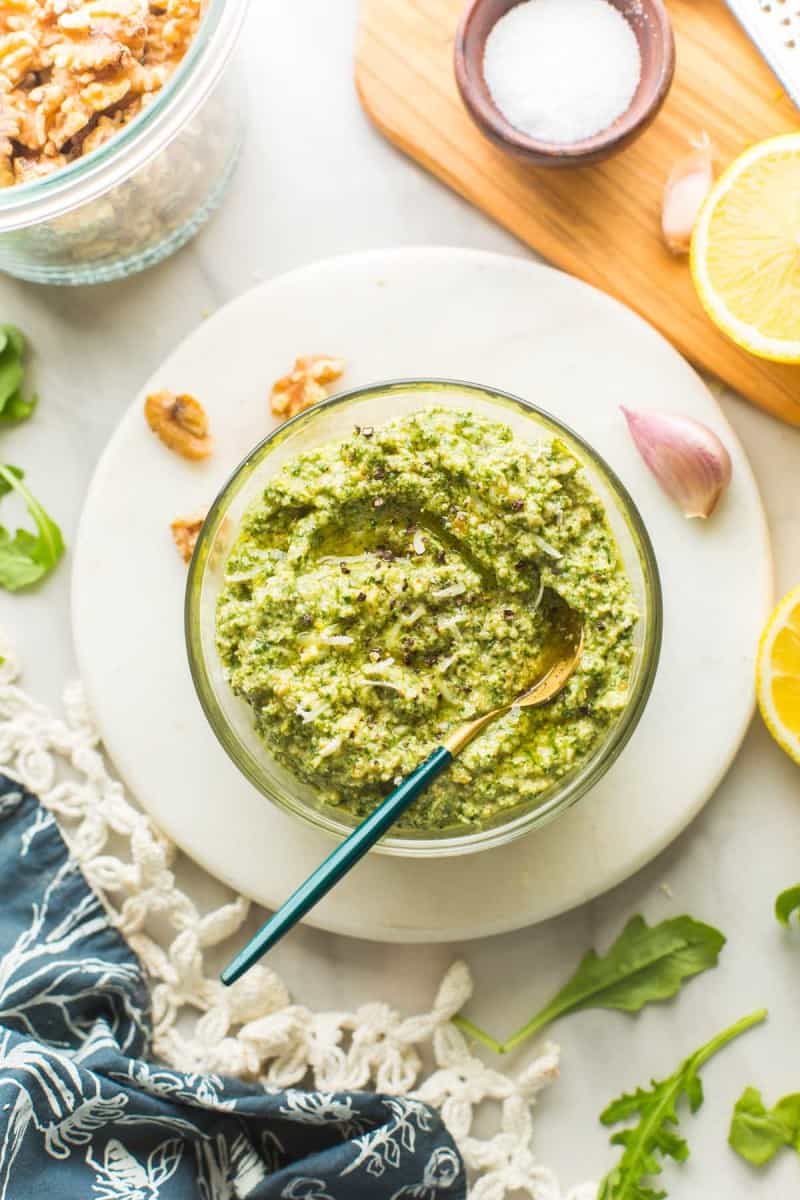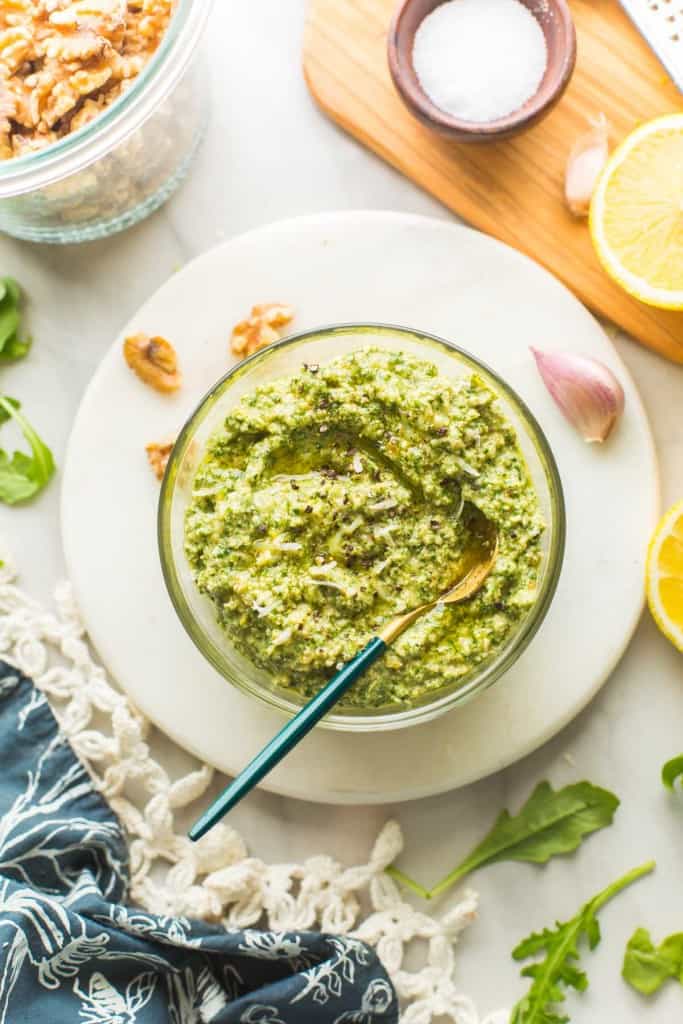 How And When To Use This Rocket Pesto
This rocket pesto goes great with steak and grilled vegetables.
For salmon lovers – serve it spread over the top.
Use the sauce to make a rocket pesto pasta.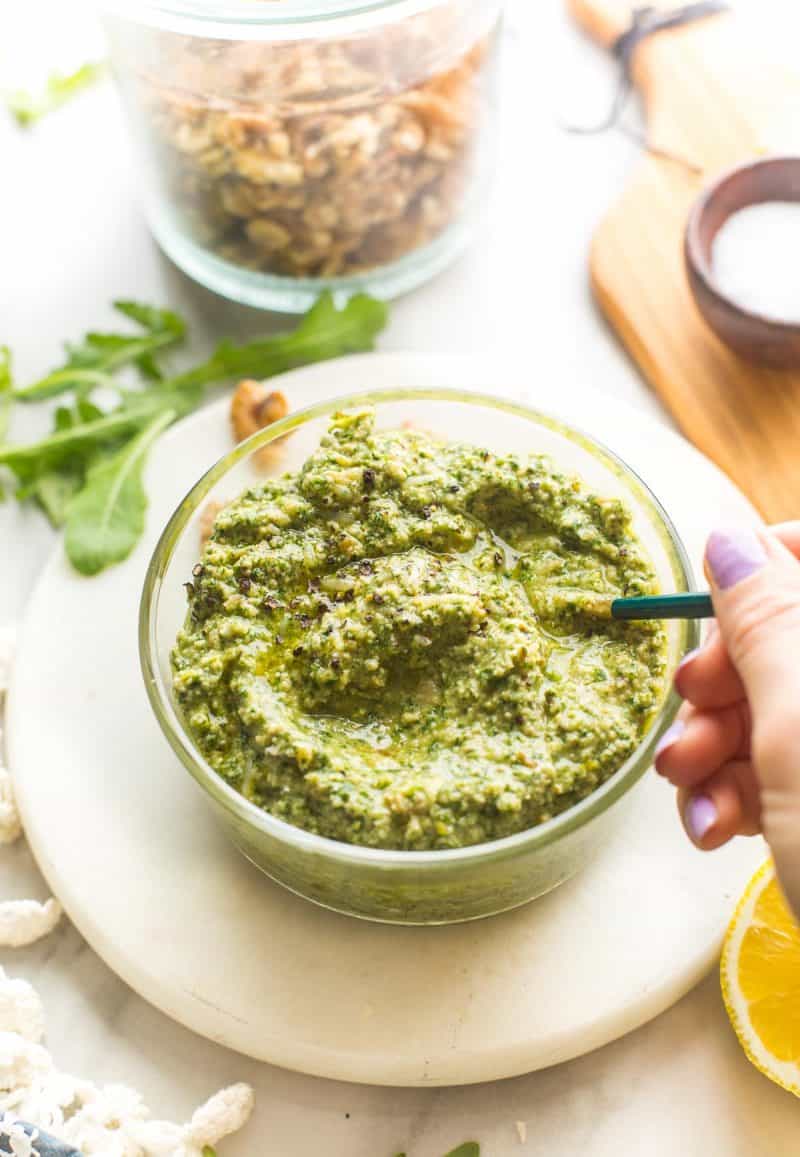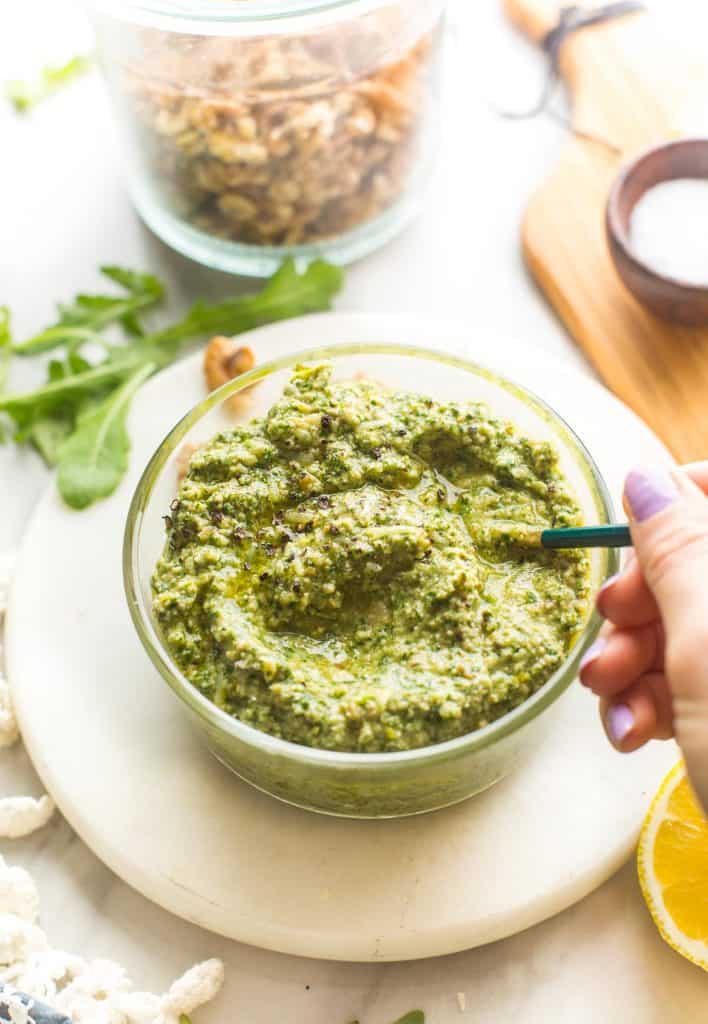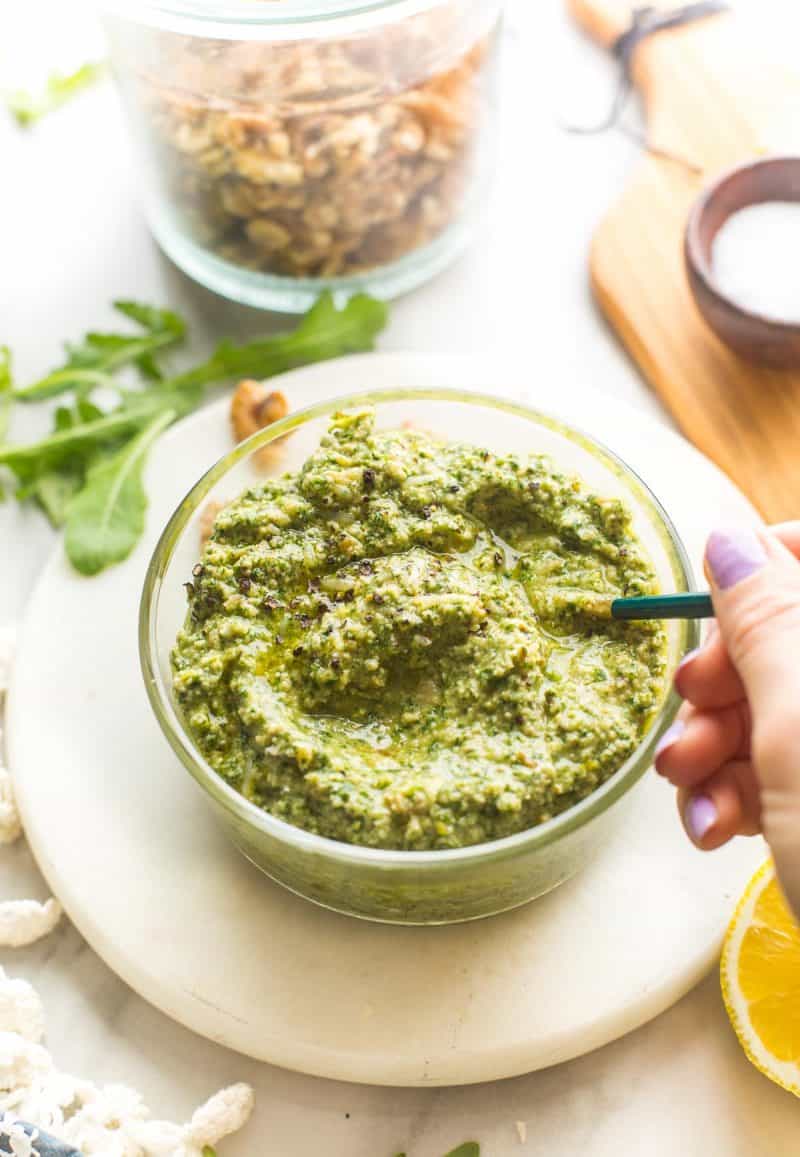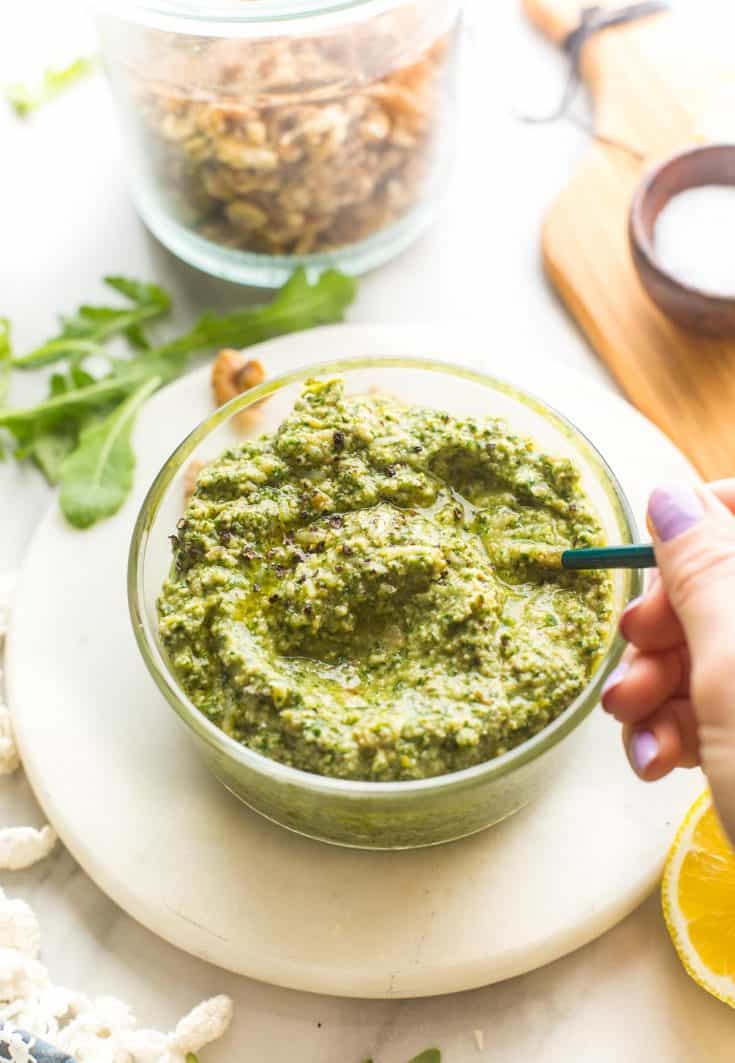 Recipe
Rocket Pesto (Arugula Pesto)
Yield:
1 1/4 cup
Prep Time:
5 minutes
Total Time:
5 minutes
Though it's made with nearly identical ingredients as a traditional basil pesto, the natural peppery flavour of rocket makes for an entirely different experience!
Ingredients
4 cups | 80 g rocket leaves (arugula leaves)
3/4 cup | 75 g shelled walnuts
1/2 cup | 50 g grated parmesan cheese
3 cloves garlic or 1 tablespoons minced garlic
1 teaspoon lemon zest
2 tablespoons | 30 ml fresh lemon juice
1/4 cup | 60 ml extra virgin olive oil (add more oil to make a thinner pesto)
1/2 teaspoon sea salt or kosher salt
freshly ground black pepper to taste
Instructions
Add the rocket (arugula), walnuts, cheese (or nutritional yeast), garlic, lemon zest, lemon juice and salt to the bowl of a food processor or blender. Blend or pulse until the ingredients are all finely chopped and well combined. Stop and scrape down the sides of the bowl as needed.
Pour the olive oil into the blender and continue blending until you've reached your desired pesto consistency. For a thinner pesto sauce add more olive oil or water 1 tablespoon at a time.
Taste and season with black pepper and more salt as needed.
Keep stored in an airtight container in the refrigerator for up to 1 week or in the freezer up to six months.
Notes
Walnuts can be replaced with pine nuts (only use 1/2 cup) or almonds.

Make it Vegan/Vegetarian Friendly
Technically, true parmesan cheese (officially labelled as Parmigiano-Reggiano) is not vegetarian as it must be made with calf rennet. However, you can buy vegetarian versions simply labelled 'Parmesan'. Make sure to check the labels of your cheese if it's important that you avoid animal products like this.
Alternatively, you can look for a vegan parmesan (or just use nutritional yeast).
Make it Nut Free
Pumpkin seeds and sunflower seeds can easily be used in place of the walnuts.



This website provides approximate nutrition information for convenience and as a courtesy only. Nutrition data is gathered primarily from the USDA Food Composition Database, whenever available, or otherwise other online calculators.
More Pestos & Sauces You Might Enjoy