Bright, zesty and utterly delicious – this Cilantro Lime Pesto Toast is the perfect thing to make in the summer heat when you don't want to turn on your oven! Load up the toast with a heaping spoonful of the quick tomato salsa over a spread of cilantro lime pesto and (plant based) cream cheese. Enjoy this as a light lunch, simple brunch or quick snack! Gluten Free + Vegan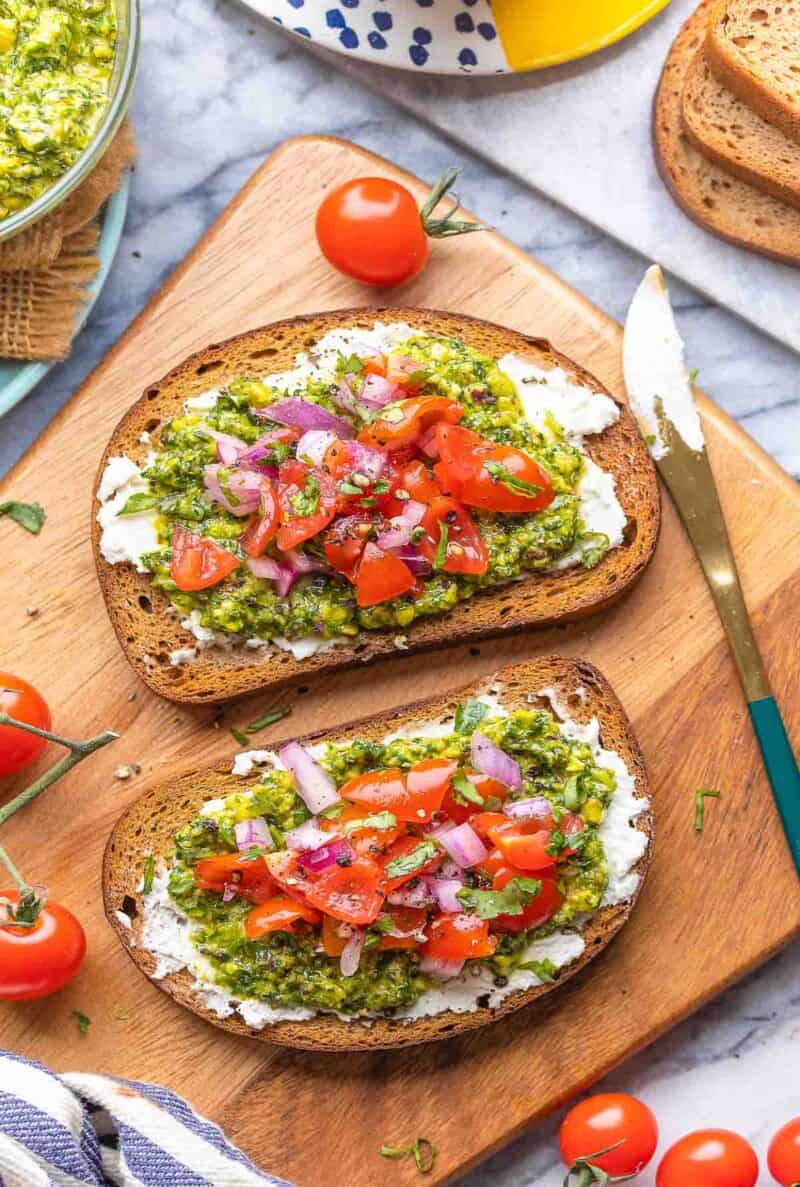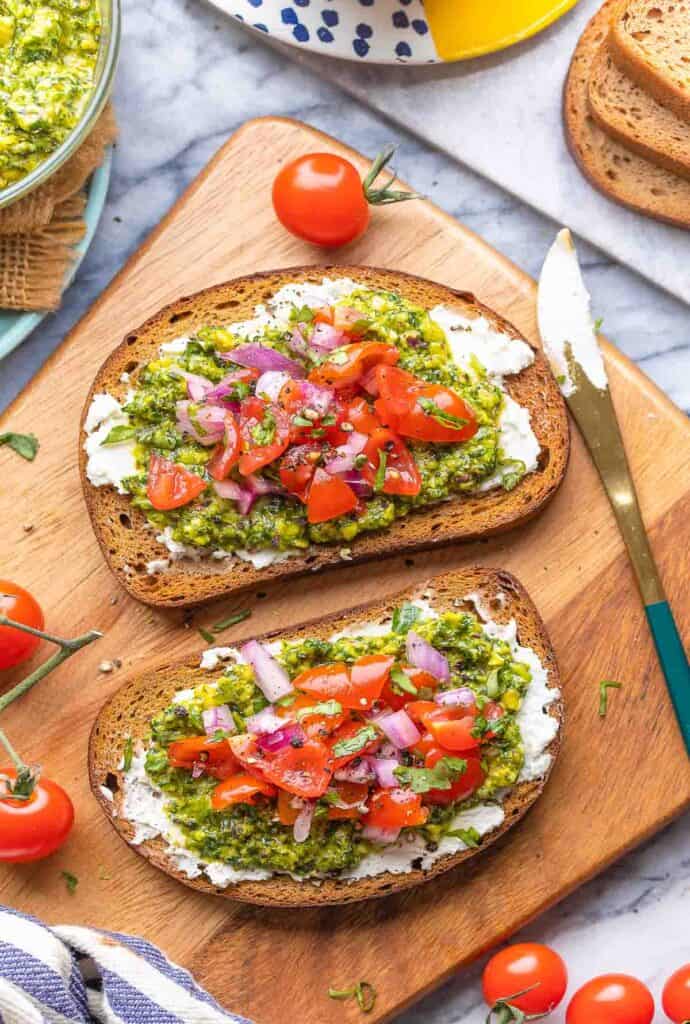 Cilantro Lime Pesto Toast
Listen. I love avocado toast as much as the next millennial, but this cilantro lime pesto toast is truly next level. Between the salsa, the pesto and even the cream cheese – everything comes together into one perfect combination.
Shout out once again to the Magic Sunflower for making the most insanely good lunch! It was so good I had to pop over to the grocery store before heading home just so I could get everything to recreate my pesto tomato toast at home.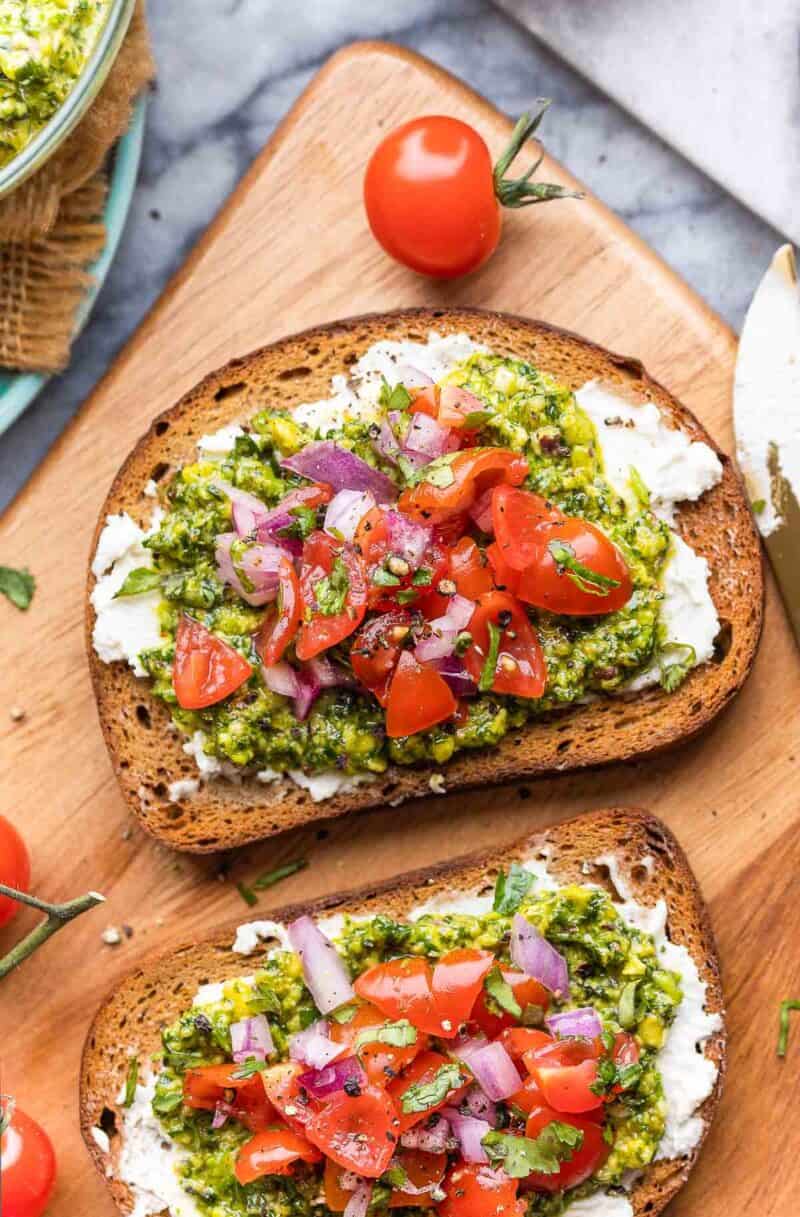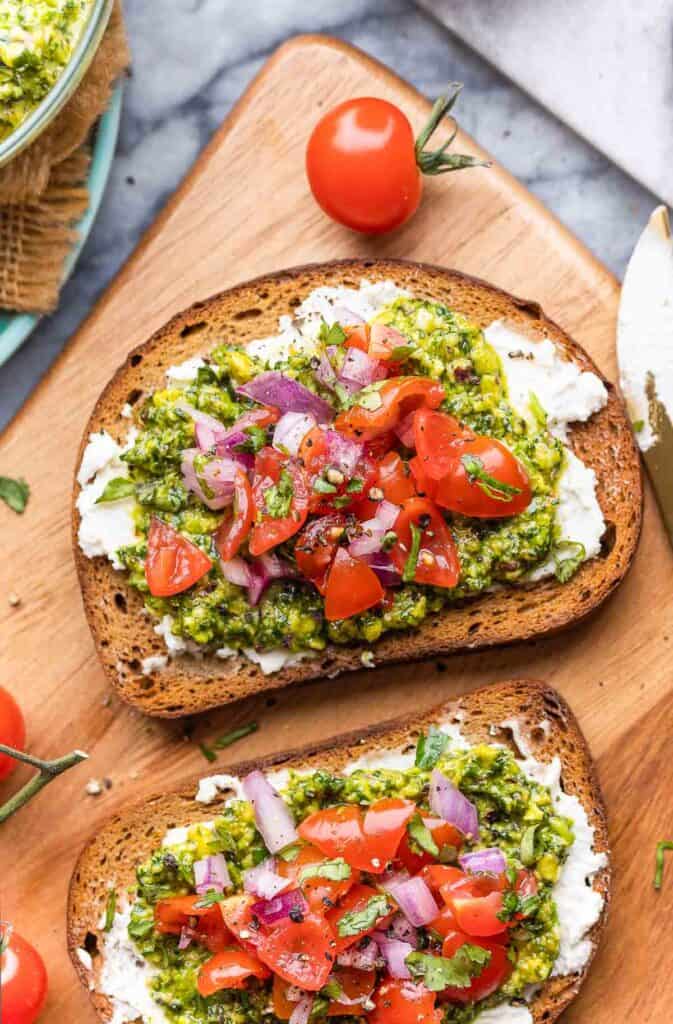 What's It Made Of?
Don't be intimidated by the length of the ingredient list! It might look long at first glance but this recipe is really just four main components. Key ingredients include:
✔️ Toast – I used Schaer's Delis Style Sourdough for a gluten free and vegan option but you can use your favorite bread here.
✔️ Cream Cheese – I used Nush's Creamy Almond Spread. Having tried a few different vegan cream cheese spreads, this one is easily my favorite.
✔️ Cilantro Lime Pesto – Think chimichurri meets basil pesto. It's incredibly fresh, fragrant and bright.
✔️Tomato Salsa – Simply dice and toss some cherry tomatoes, red onion, cilantro and a squeeze of lime juice together and season with salt and pepper. It's fast, easy and super tasty.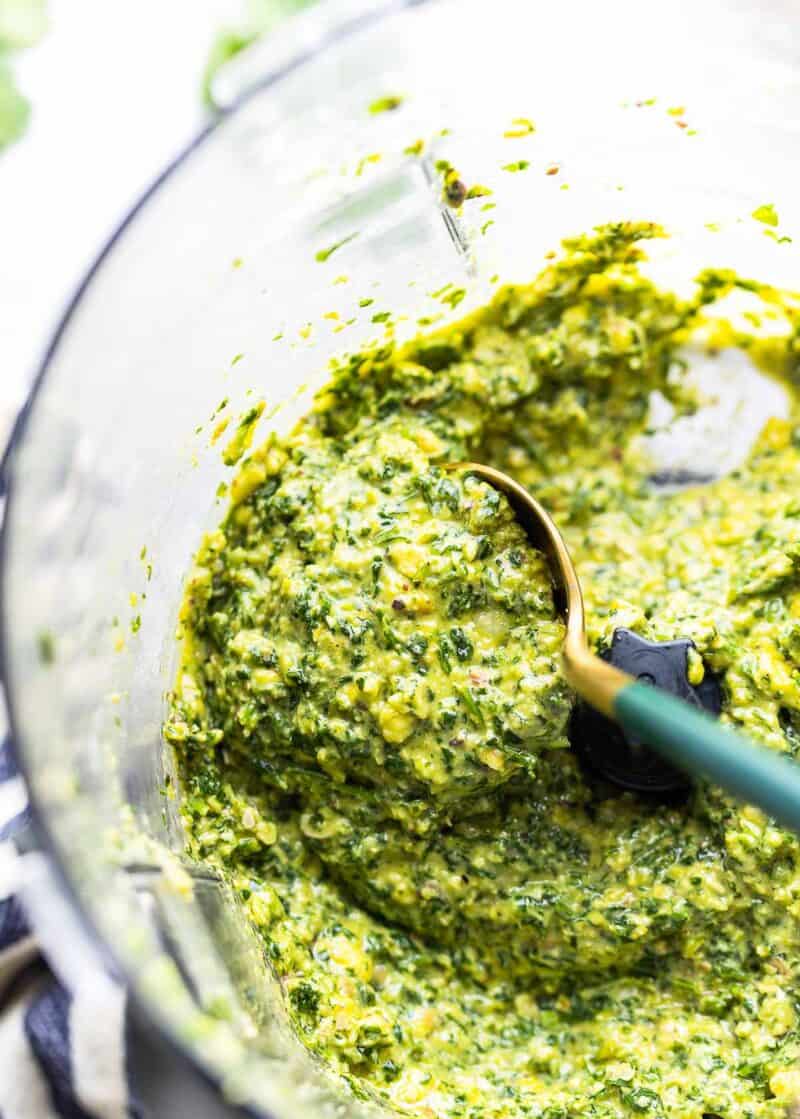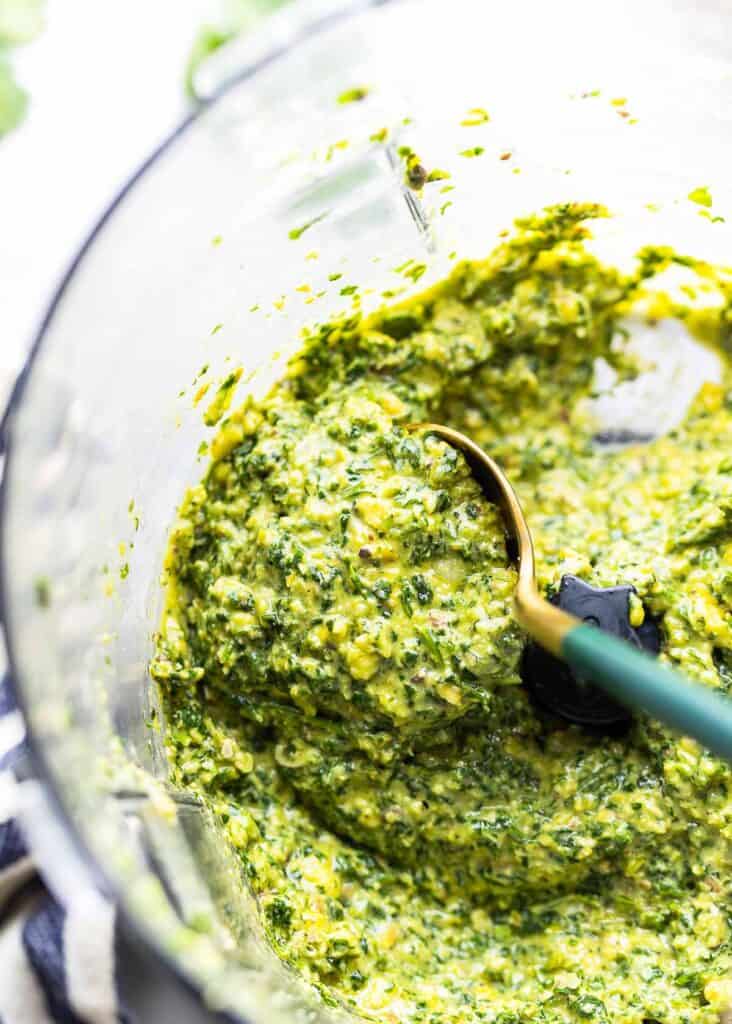 Assembly
This pesto toast is a great recipe to enjoy during the hot summer months. There's little heat and cooking involved other than toasting the bread until golden brown.
Preparation is fairly simple. The pesto mixture can be quickly blitzed up in the bowl of a food processor or blender and while tomato salsa can be chopped in 10 minutes or less.
Once your pesto is made, the salsa is mixed and the bread is toasted, assembly is a breeze. Start off with a smear of cream cheese then a spread of pesto. Finally spoon a bit salsa over the top and that's it!
Finish off with an extra pinch of salt, pepper and maybe even a sprinkling of red pepper flakes and you're all set.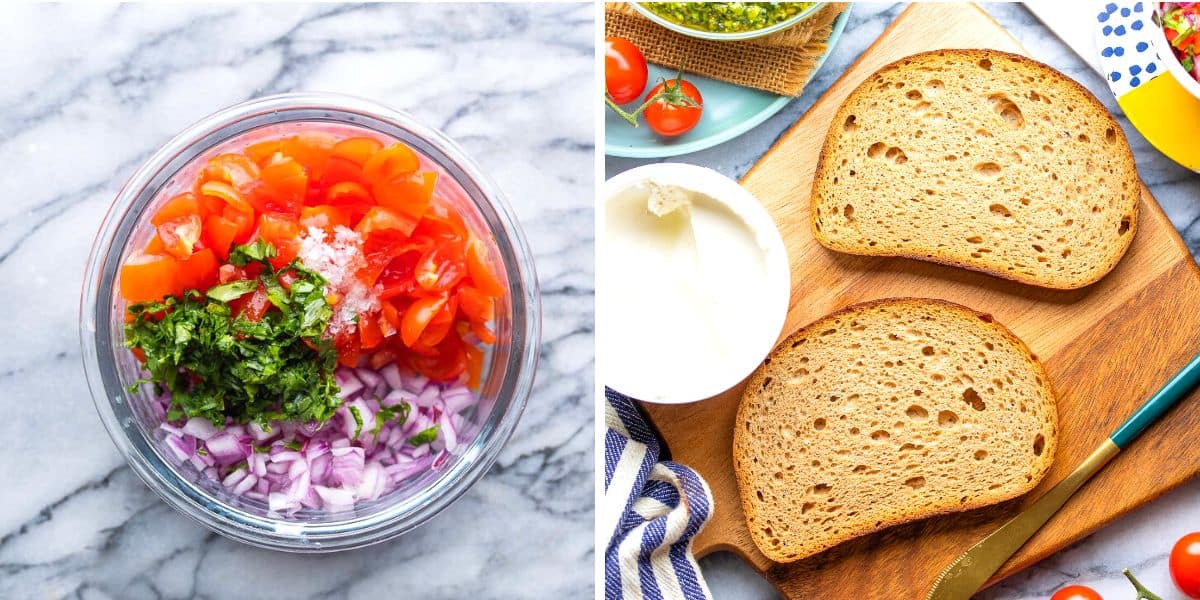 Substitutions and Additions
Swap out the Pistachios
Pistachios, while delicious, can be pricey and inaccessible depending on where you live. Instead of pistachios, you can easily use almost another other nut/seed with good results.
Try almonds, cashews, brazil nuts, walnuts or pine nuts (to name a few) instead. For a nut free alternative you can try using sunflower seeds or pumpkin seeds (my usual go to).
Different Herbs
Try swapping out half of the cilantro for other fresh herbs like mint, parsley or basil.
Top with More Greens
Add a bit more veg to your toast by adding a small handful of salad greens on top. Try baby spinach, watercress, arugula, etc.
Larger Tomatoes
Instead of chopping up a cup of cherry tomatoes you can use 1-2 larger fresh tomatoes.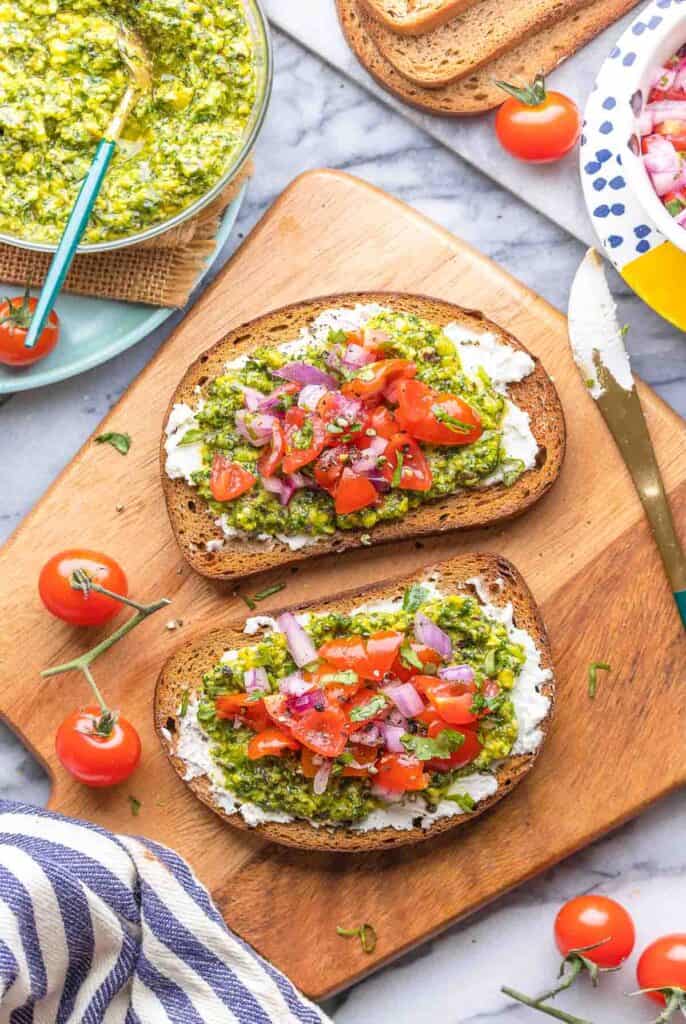 Serving Suggestions
Depending on your mood and hunger level – there's no bad time to enjoy this pesto toast!
If you prepare the pesto and salsa in advance you can throw it together to make a quick and delicious breakfast or brunch. It makes for an easy lunch that's both filling and light. Serve it with a hearty side like this Zhoug Style Tomato Quinoa Salad and make it into a fuller meal.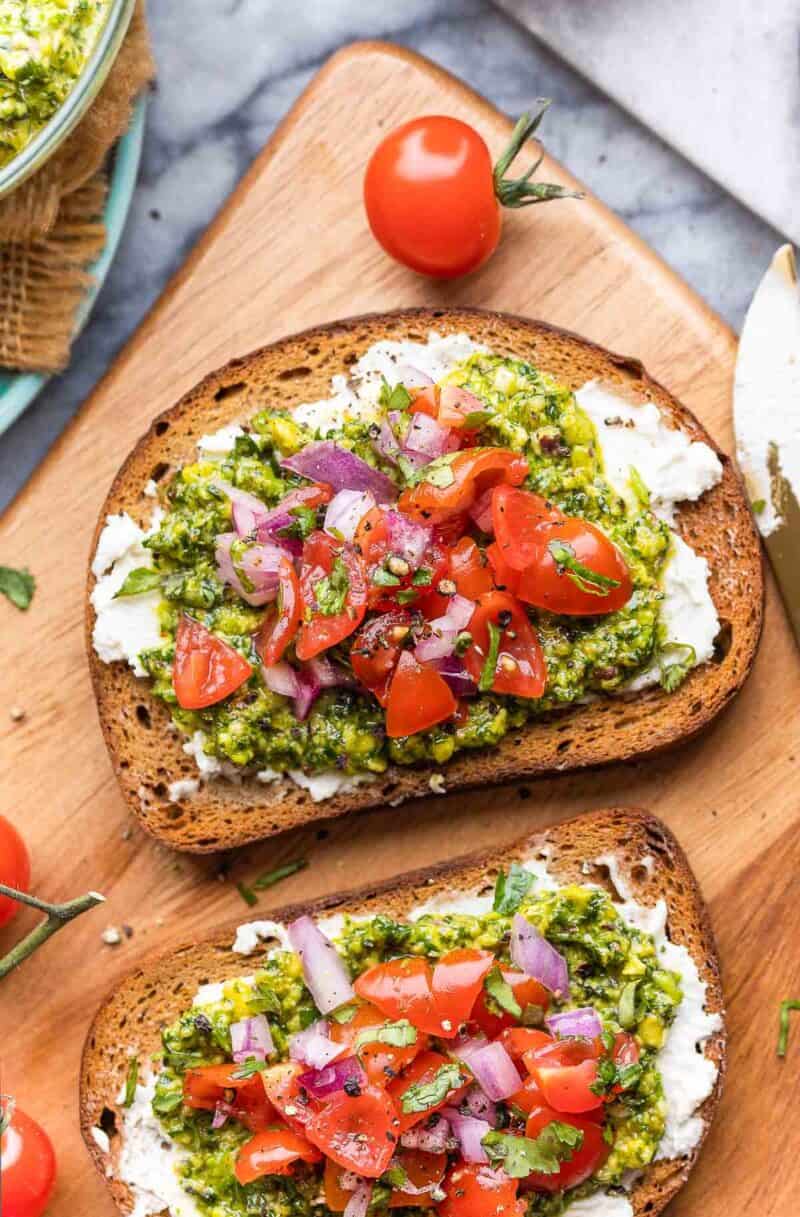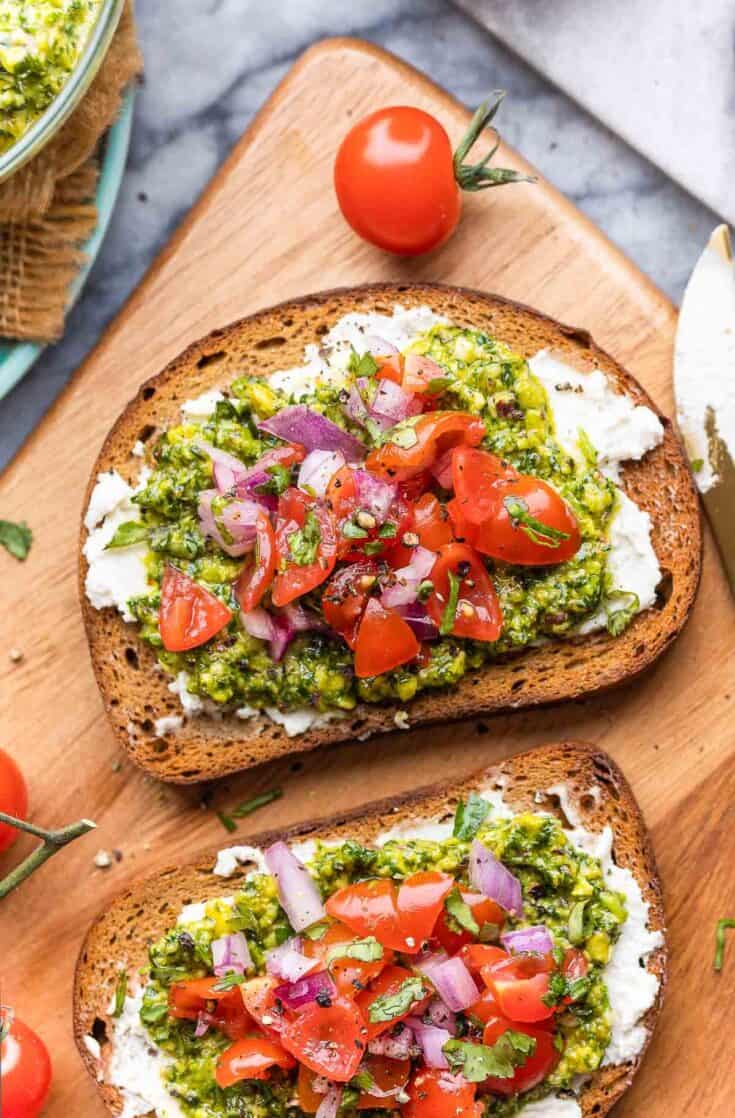 Recipe
Cilantro Lime Pesto Toast & Tomato Salsa
Yield:
6-8 slices of toast
Prep Time:
15 minutes
Total Time:
15 minutes
This recipe makes enough for about 6-8 pieces of toast. Prep the pesto and salsa to make and enjoy for a few days.
Ingredients
Cilantro Lime Pesto
2 cups fresh cilantro leaves, packed (50 g)
1/2 cup shelled pistachios (67 g)
1 jalapeño, deseeded
3 cloves garlic, minced (about 1 tablespoon)
1 tablespoon lime juice (15 ml)
1/2 teaspoon salt, or more to taste
1/4 teaspoon freshly ground black pepper, or more to taste
1/2 cup extra virgin olive oil (120 ml)
Tomato Salsa
1 cup (150 g) cherry tomatoes, quartered
1/2 small red onion, finely diced
1 tablespoon (15 ml) lime juice
small handful of fresh cilantro (coriander leaves) chopped
pinch of salt and black pepper
Toast
Bread Slices (gluten free and/or vegan if needed)
Cream Cheese (dairy on non dairy) - use about 1 tablespoon cream cheese per slice of bread
Instructions
Cilantro Lime Pesto
Add the cilantro, pistachios, jalapeño, garlic, lime zest, lime juice, salt and pepper to the bowl of a food processor or blender. Blend or pulse until the ingredients are all finely chopped and well combined. Stop and scrape down the sides of the bowl as needed.
With the blender running on a low speed, pour in the the olive oil into the blender in a slow and steady stream (this allows the pesto to emulsify which prevents the oil from separating later).
Blend until you reach your desired consistency (for a thinner pesto sauce add an addition 1-3 tablespoons oil). Taste and season with black pepper and more salt as needed.
Tomato Salsa & Toast Prep
Add all of the tomato salsa ingredients to a small bowl and toss together to combine.
Toast the bread.
Spread about 2-3 teaspoons (or more - your preference) cream toast over each piece of toast.
Spread about 1-2 tablespoons (or more) pesto over the cream cheese.
Top the pesto with a spoonful of the tomato salsa and enjoy!

Notes
The will make about 1 1/2 cups pesto which is more than you'll need. Store the extra pesto in an airtight container for up to a week or in the freezer for 6 months.
Leftover salsa can be kept stored in an airtight container in the fridge for 3-4 days.
I recommend scooping out the watery seeds of the tomatoes before mixing to keep any leftover salsa from getting too watery.
This website provides approximate nutrition information for convenience and as a courtesy only. Nutrition data is gathered primarily from the USDA Food Composition Database, whenever available, or otherwise other online calculators.
More delicious ways to spruce up toast: