Looking for another easy weeknight meal to perk up your plate? Or maybe you've got a jar of miso and you're not quite sure what to make? Try these baked, ginger Miso Chicken Thighs! | Gluten Free + Dairy Free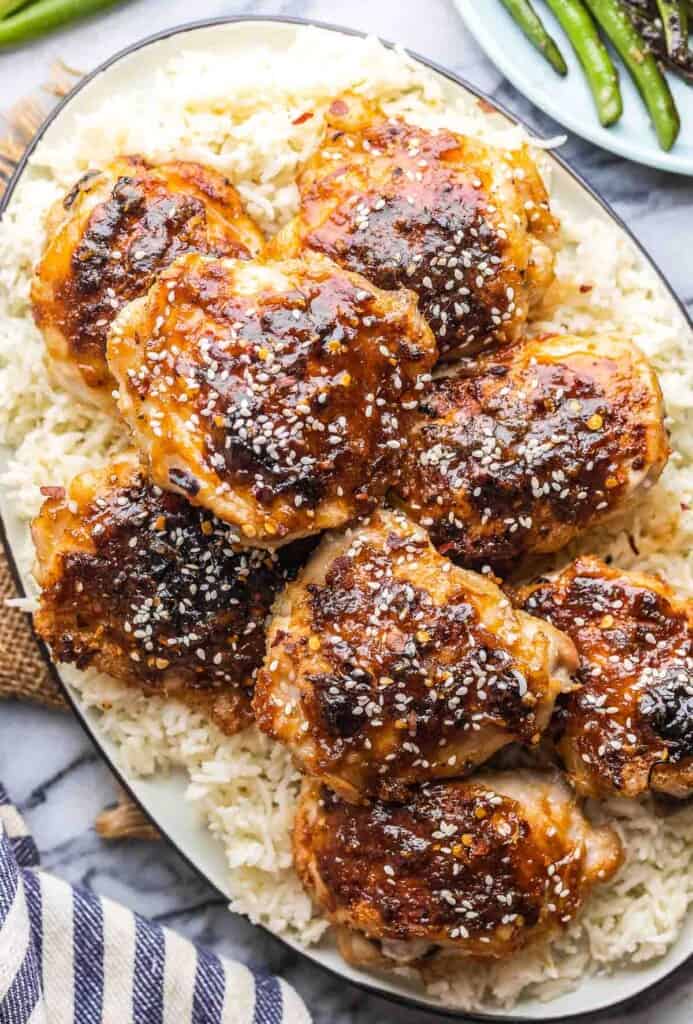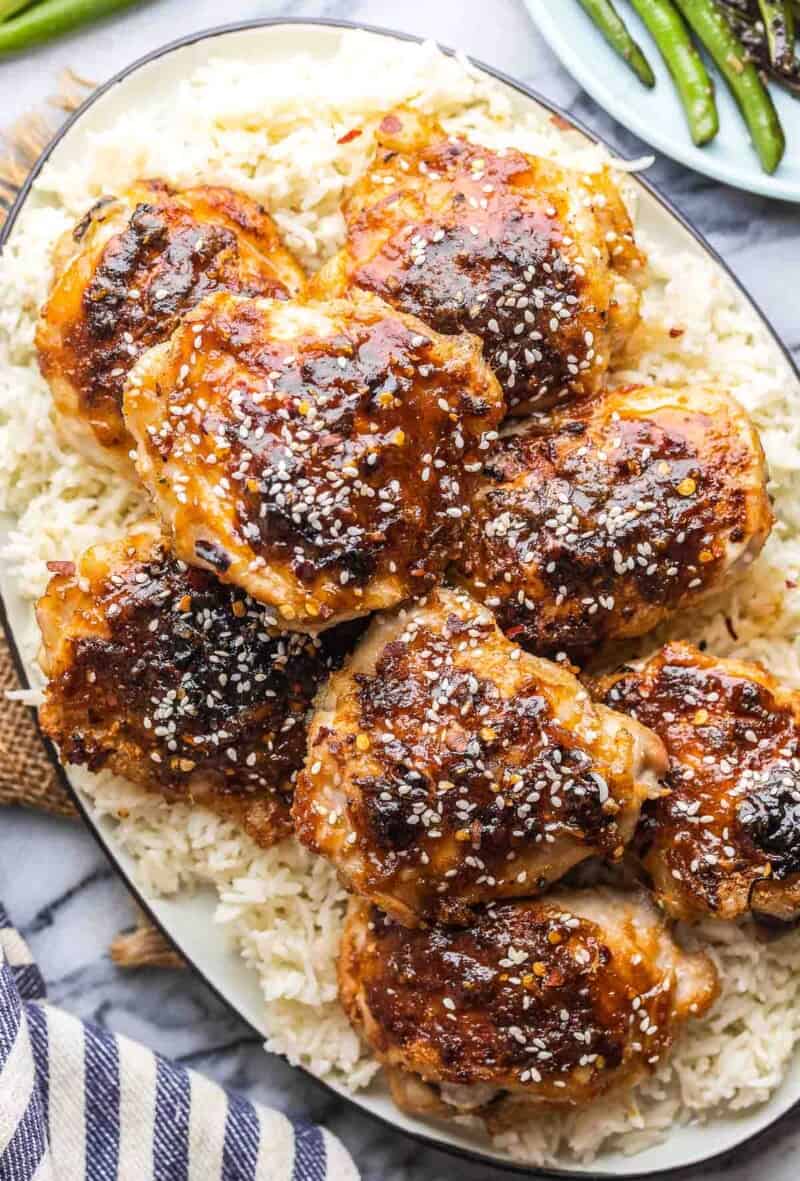 Reasons to love this miso chicken recipe? Just to name a few:
✔️The prep is pretty basic – other than grating the ginger (which can be done directly into the sauce pan) there is no chopping or dicing required.
✔️You'll be finished cooking and eating in under an hour – no marinating.
✔️It's a delicious balance of sweet and salty flavors in every umami packed bite!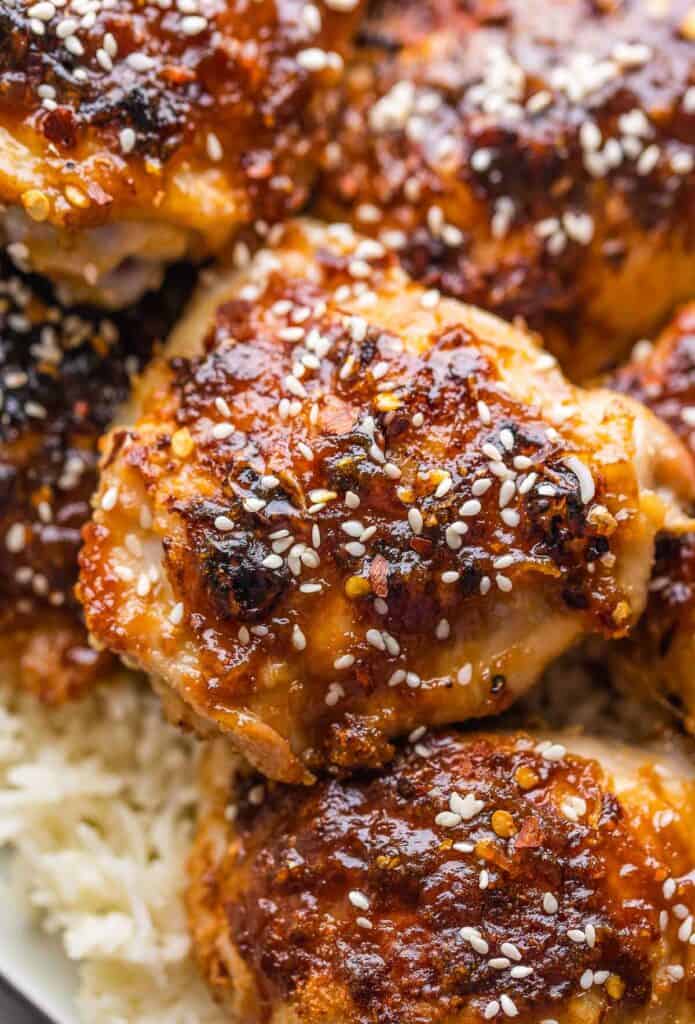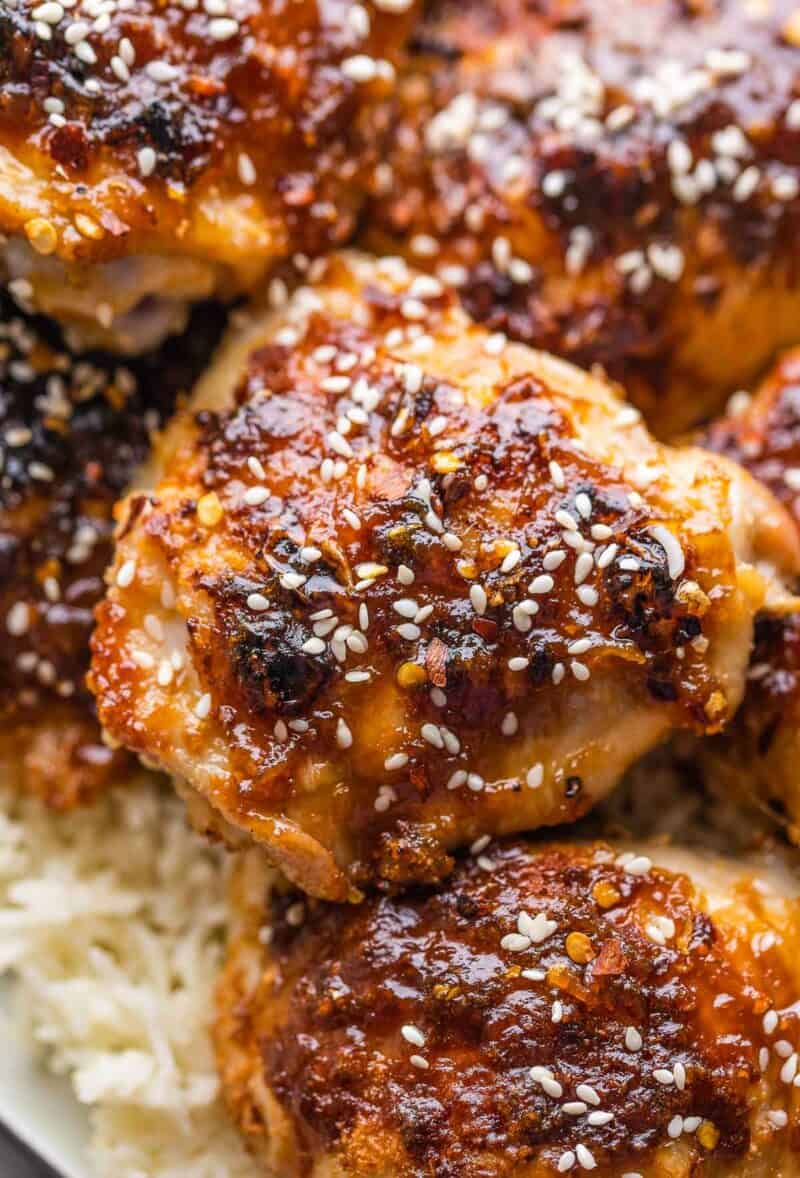 How to Make These Miso Chicken Thighs
Altogether the prep and process is quite easy. To sum it up, it can be broken down into three main stages.
Coat the chicken thighs in an onion, garlic and baking powder mixture then bake for about 20 minutes.
Combine then simmer the miso sauce into a glaze, then brush the chicken with about half the sauce.
Bake the thighs a final 15-20 minutes then brush with the remaining sauce and enjoy.
Chicken Prep
First things first: start by whisking together a small amount of baking powder with onion and garlic granules. Once mixed, pat the chicken thighs down with a paper towel to remove any excess moisture, then sprinkle with the mixture.
Why add baking powder to chicken? Good question!
The slightly alkaline mixture raises the skin's pH levels, which allows proteins to break down more efficiently, giving you crisper, more evenly browned results.* Simultaneously, it combines with the bird's natural juices, forming carbon dioxide gas that leaves you with a layer of tiny bubbles. It's these bubbles that increase the skin's surface area, allowing it to develop a crunchy texture once cooked.

Niki Achitoff-Gray, Serious Eats
Why crisp up the skin when the glaze will ultimately tone it down? Another good question!
Instead of dredging the chicken in flour to make a breading, the crispy skin will act as a sort of coating for the chicken for the glaze to grab onto. This means you'll have less prep, less mess and less calories overall. Wins all around.
When you're ready, place the thighs on an oven safe wire rack over a large baking dish or sheet and bake for about 20 minutes.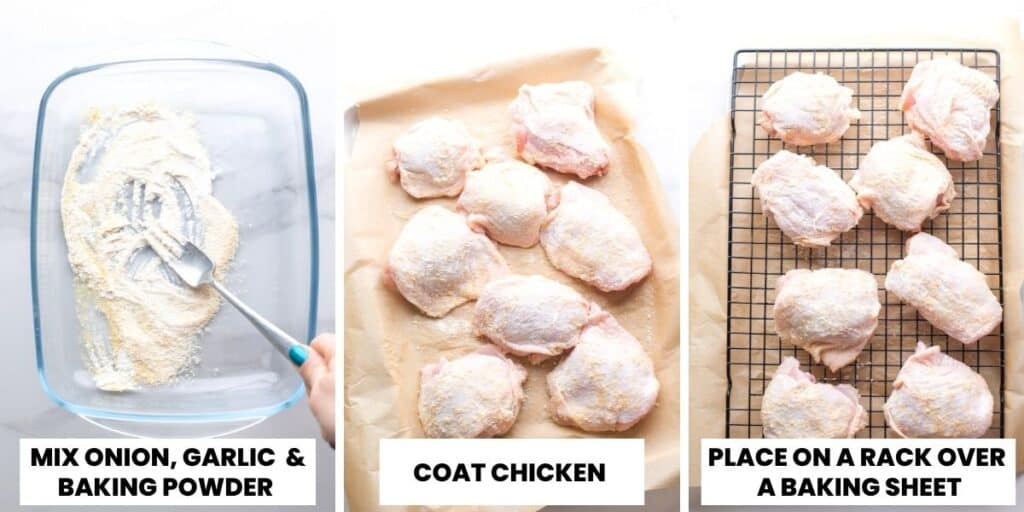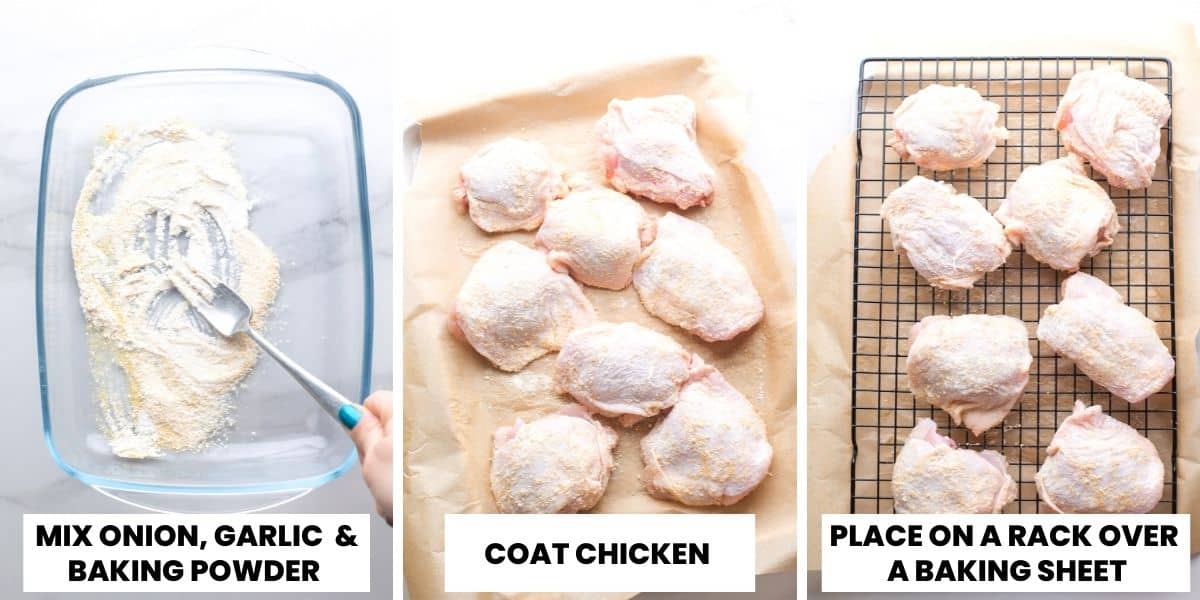 The Miso Sauce
For the sauce: mix the remaining ingredients together in a small sauce pot and place over a high heat to boil. Boil for about a minute, then reduce down to maintain a simmer.
The idea here is to let the sauce reduce down and thicken to make a glaze suitable for brushing on to the chicken.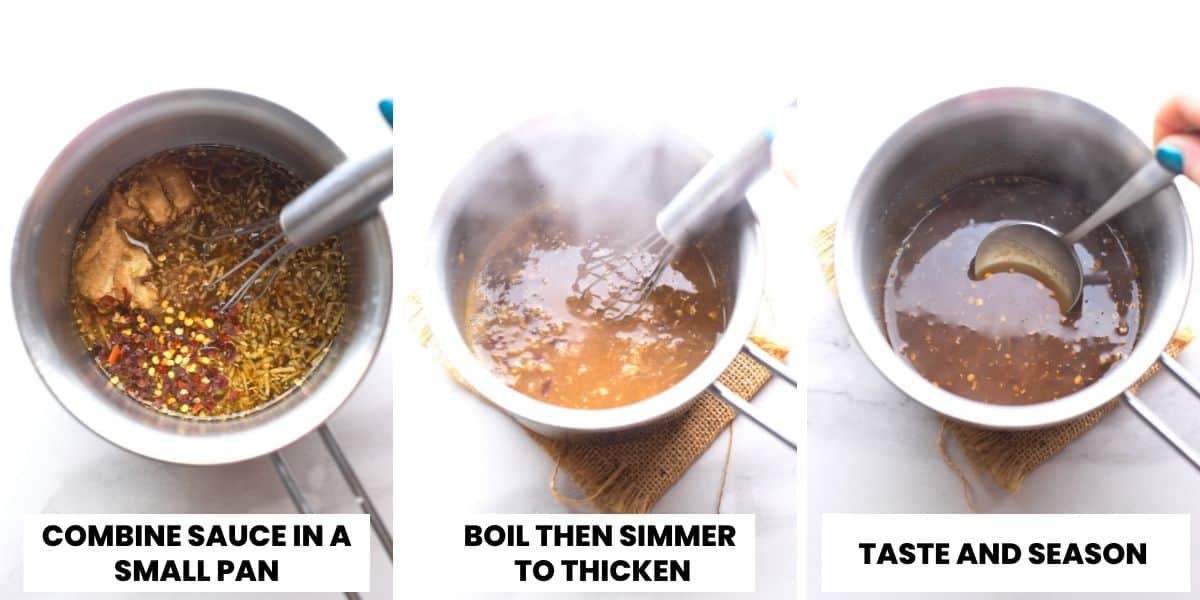 Brush, Bake then Brush Again
After about 20 minutes in the oven, take out the chicken and brush with about half the sauce. The will impart a little extra flavor into the chicken as it bakes and will caramelize a bit more in the oven.
Return the chicken, and bake another 15 or so minutes until cooked through. I like to finish off with an extra 1-2 minutes under the broiler to add a bit more color to the chicken (color = flavor).
Finally, remove the chicken and brush once more with the remaining sauce. Make sure to brush both sides. There should be no excess sauce leftover in the end.
Finish off with a sprinkling of sesame seeds, red chilli flakes and/or sliced green onions and that's it! Let the chicken rest for a few minutes before serving and enjoy.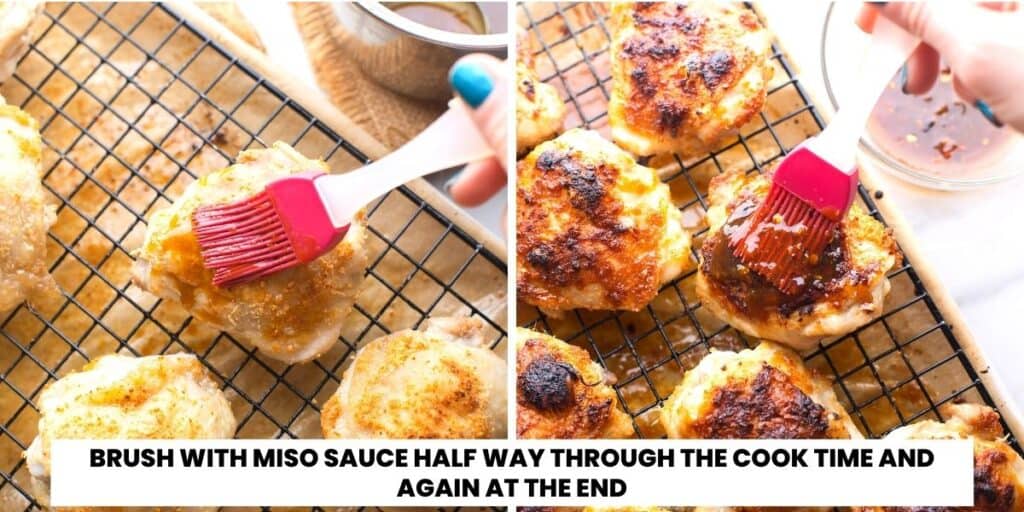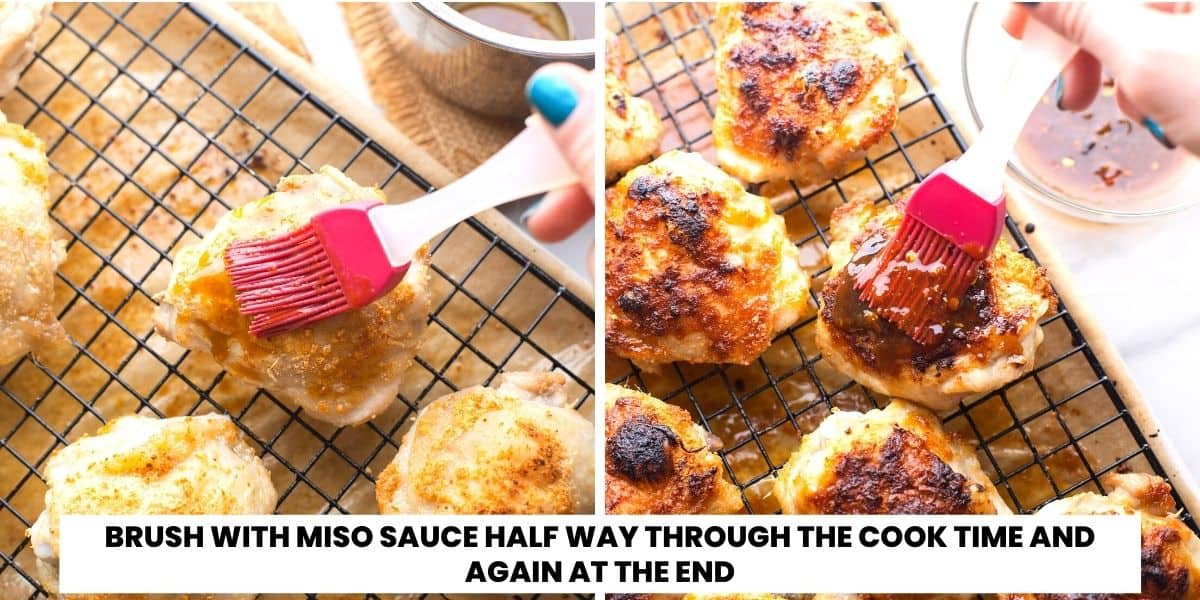 Bone In & Skin On Chicken Thigh Substitutes
Skinless Chicken Thighs

Leave out the baking powder, onion and garlic granule mixture.
Mix together the sauce then pour over the chicken and let marinate at least 30 minutes before cooking.
Transfer the chicken to the baking sheet leaving behind the marinade. Bake for 35-40 minutes or until cooked through.
While the chicken cooks, transfer the leftover marinade to a small sauce pot and boil/simmer as stated in the recipe. Brush the glaze over the chicken at the end.

Chicken Breasts – follow the instructions for my baked chicken breast without all the added spices.

Preheat oven to 425°F/220°C and bake for 18-20 minutes or until cooked through. Brush the chicken with the miso glaze just once at the end.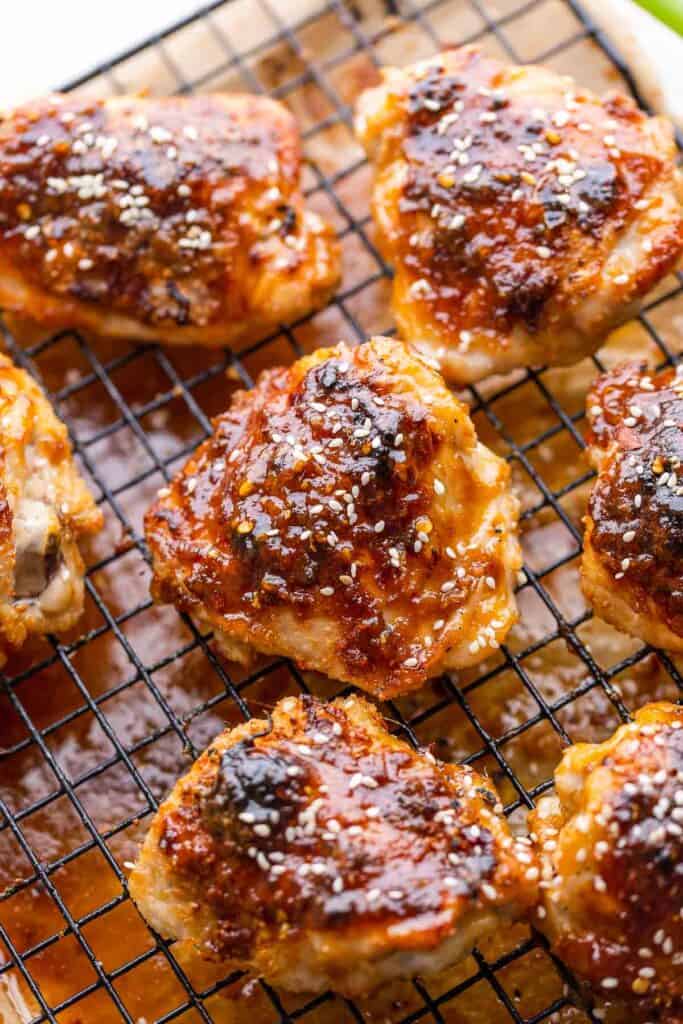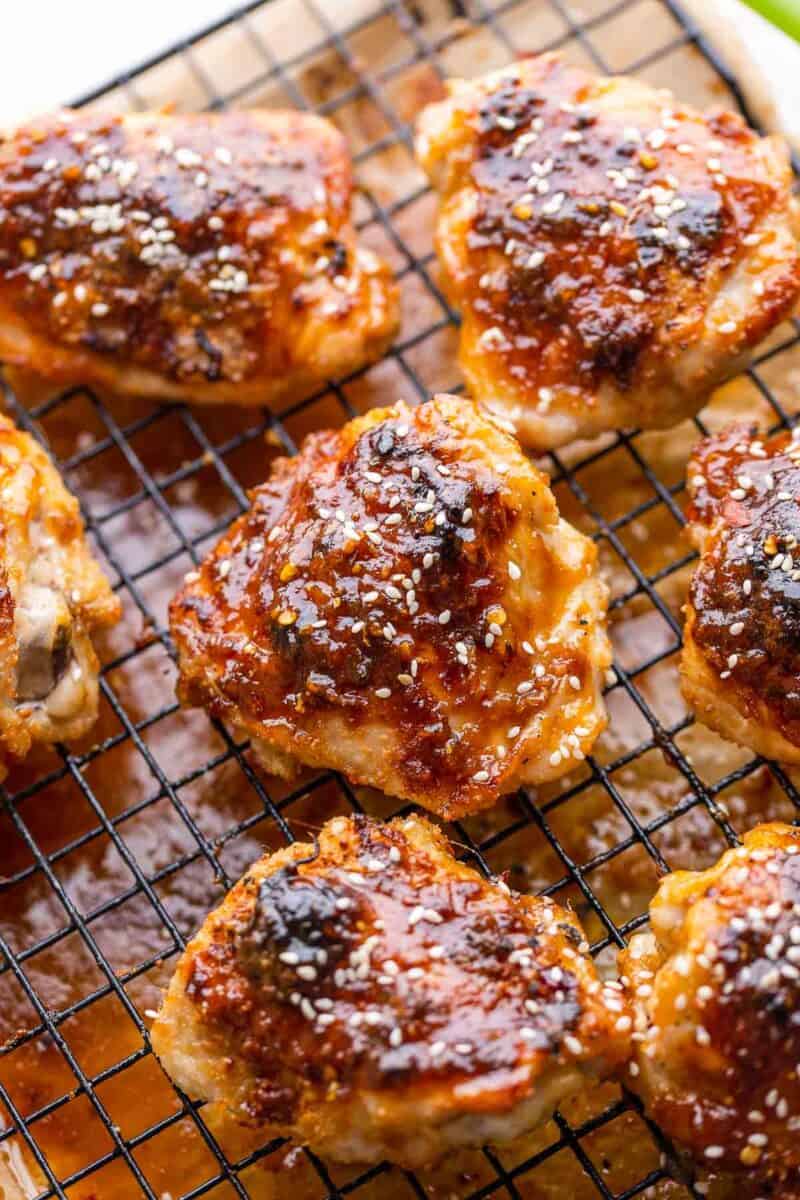 Brown Sugar Alternatives
Brown sugar is cheap and fairly accessible which is why I chose to use it to make my miso sauce. I also think the deep, molasses flavor works well with the soy and miso. White granulated or caster sugar will also work well in these miso chicken thighs if that's what you have to hand.
If you're interested in cooking with refined sugar free options you can use honey or maple syrup instead. As both honey/maple are naturally sweeter than brown sugar, I recommend you start with only 3 tablespoons of honey/maple to begin with. You can taste and season the sauce as you go. If it's too sweet, add a pinch of salt to balance it out. If that's not enough, add 1-2 teaspoons rice vinegar or soy sauce.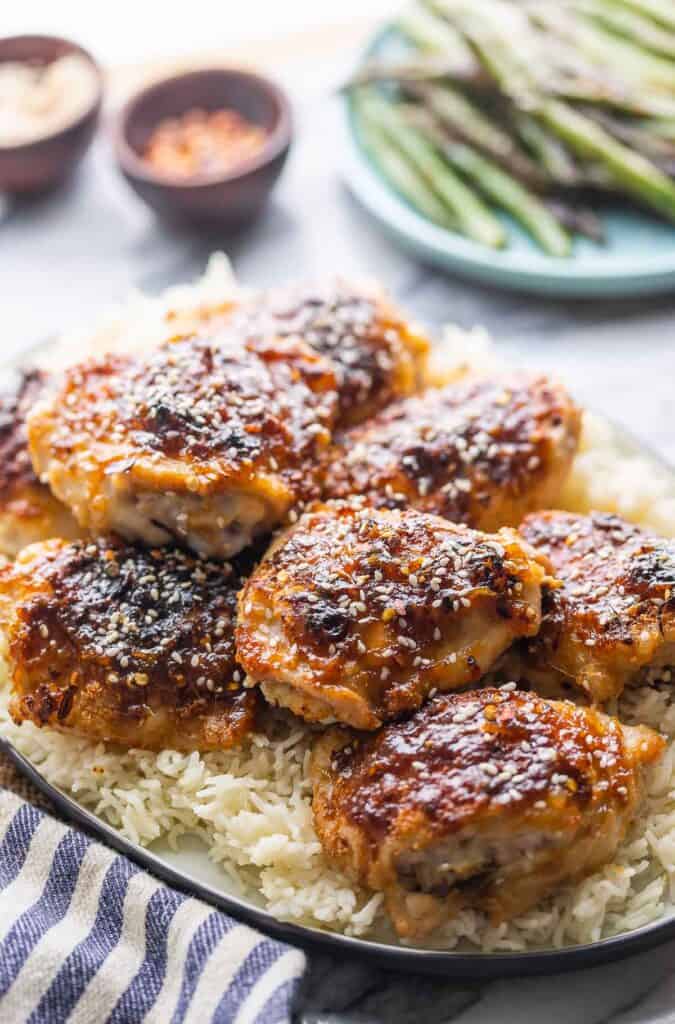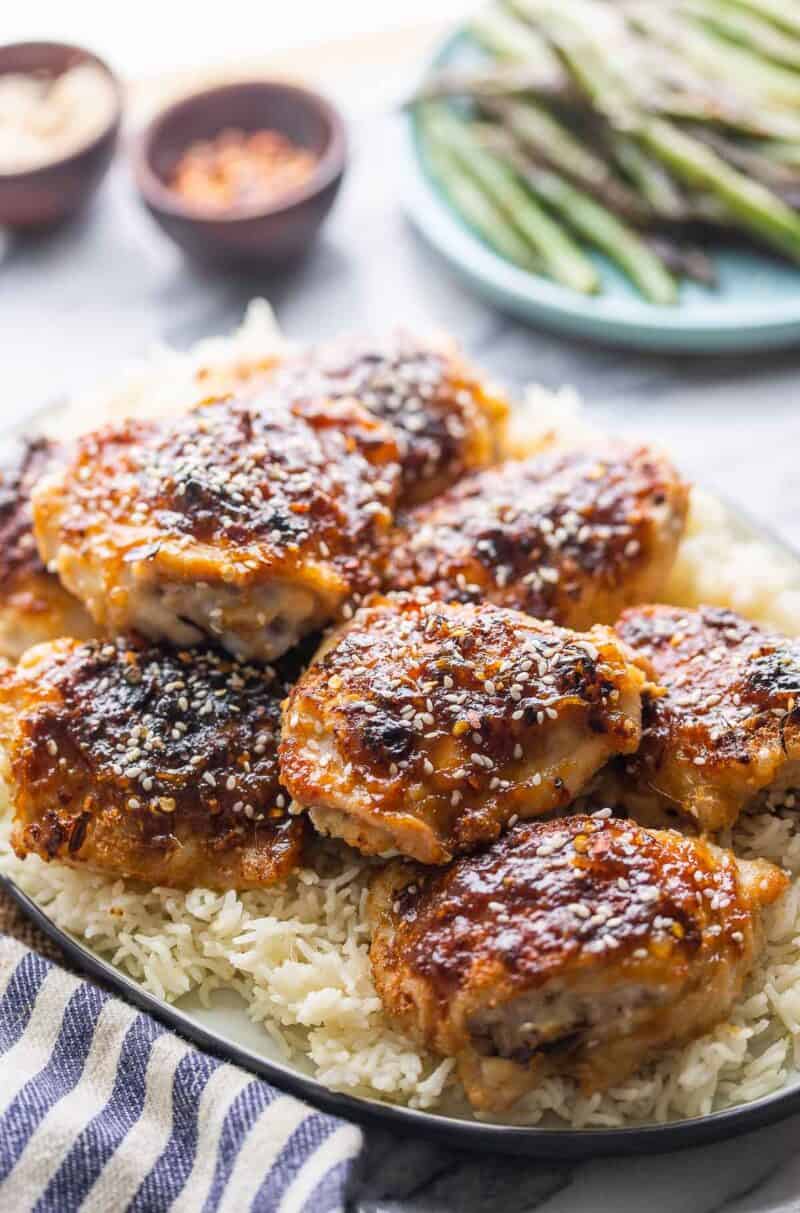 More Recipes Using Chicken Thighs