Make the most of seasonal ingredients with this balsamic cranberry chicken dish the entire family will love! Marinated chicken thighs, sautéed mushrooms and juicy cranberries cooked and coated in a bright and savory balsamic sauce. | Dairy Free + Paleo Friendly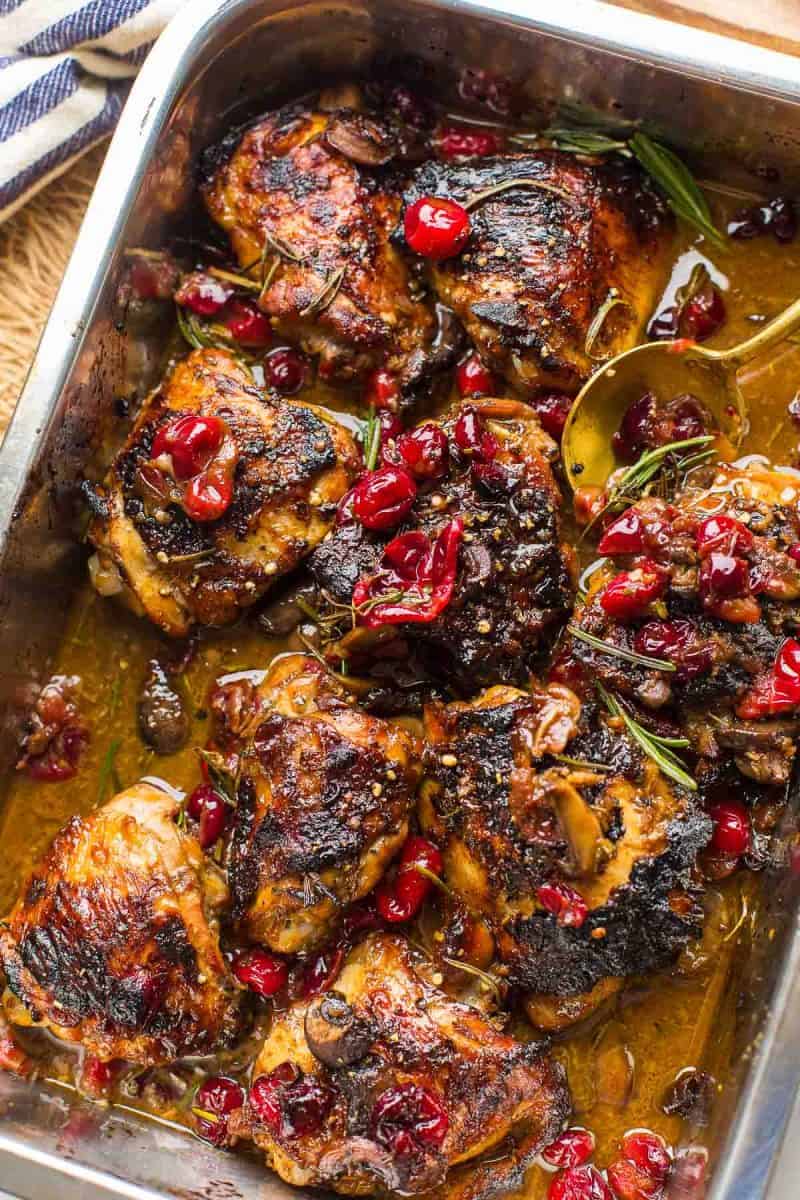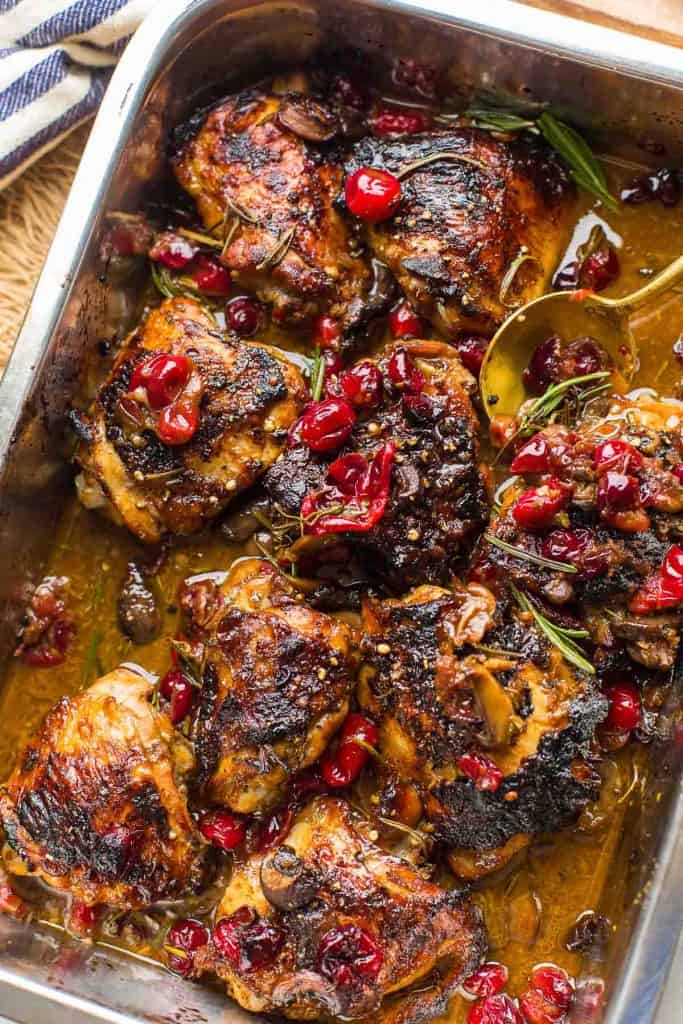 Need a few reasons to make thees Balsamic Cranberry Chicken Thighs?
✔️Dairy free with paleo options
✔️Hearty, wholesome and satisfying
✔️Made with seasonal ingredients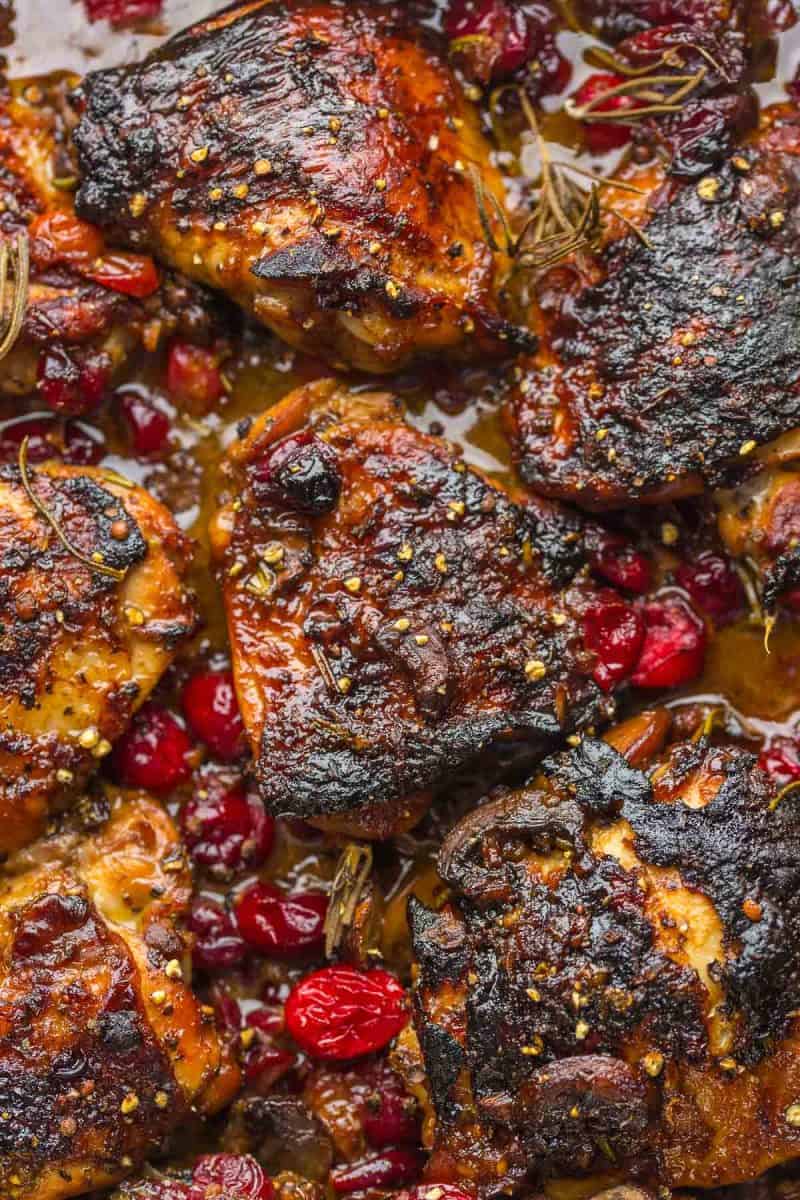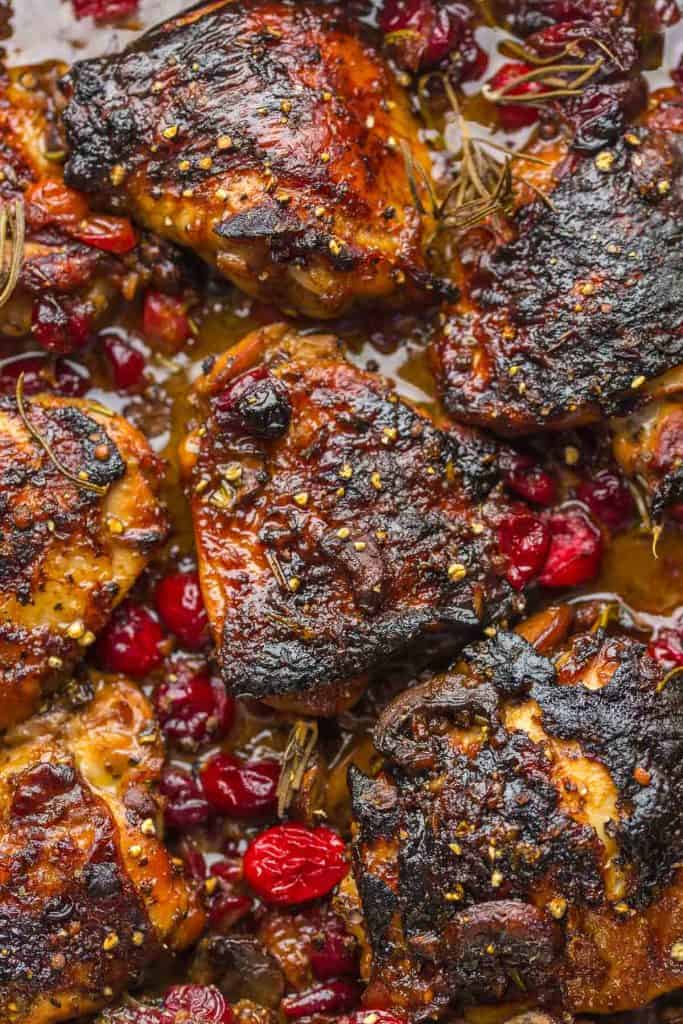 Cranberry Chicken Steps
Marinate. Mix together the balsamic marinade then add the chicken and cranberries. Toss together then cover and refrigerate from 1 to 24 hours.
Sear chicken. Cook the chicken thighs, skin-side down for about 5-7 minutes until the skin browns. Flip over and cook another few minutes, then add to a roasting pan.
Sauté and reduce. Sauté the mushrooms to soften for a few minutes, then add the remaining marinade and cranberries to the pan. Cook on high to boil, then simmer a few minutes until the liquids reduce into a thicker consistency.
Bake. Pour the mushrooms and cranberry sauce over the chicken then bake for about 20-25 minutes and that's it!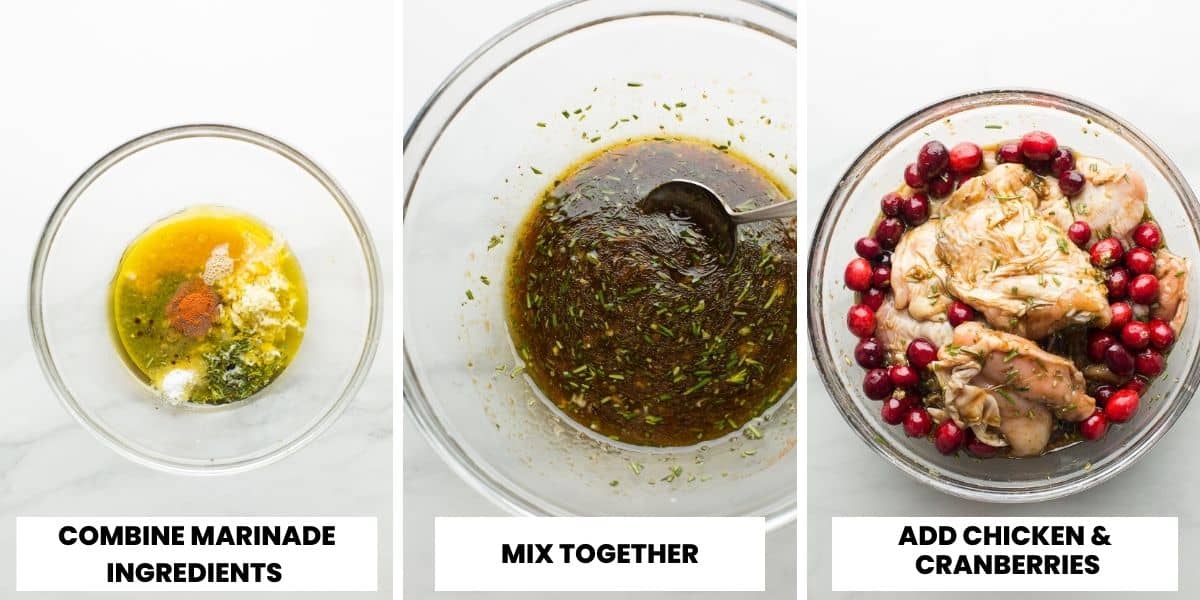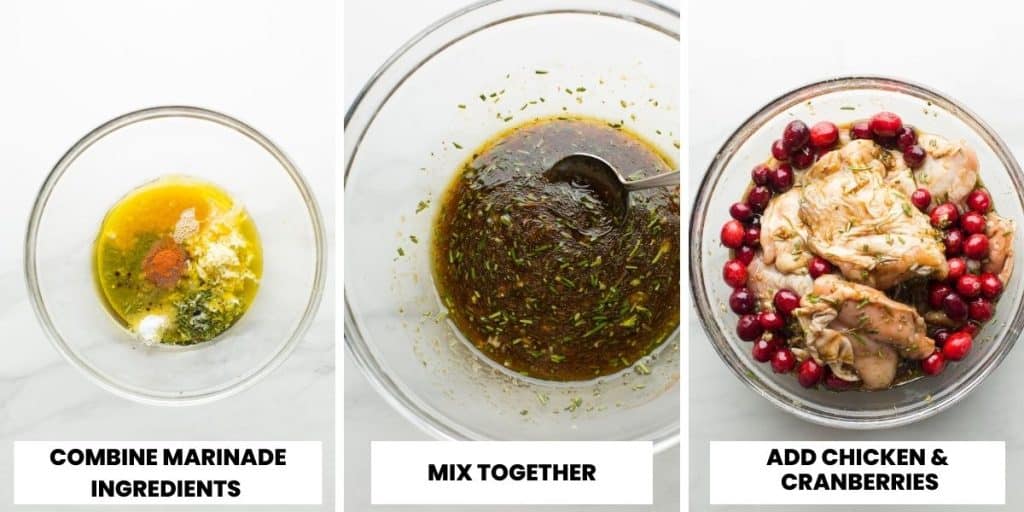 Sear the Chicken
Why cook the chicken on the stove top first?

Searing the chicken skin first makes for an extra crispy skin!

What does it mean to sear chicken?

Searing is a cooking technique in which you cook the surface of a food at a high temperature to form a brown or goldened crust. As a general rule of thumb in food: color = flavor. The crust around the chicken also makes for a crispier texture which also makes for a more interesting eating experience.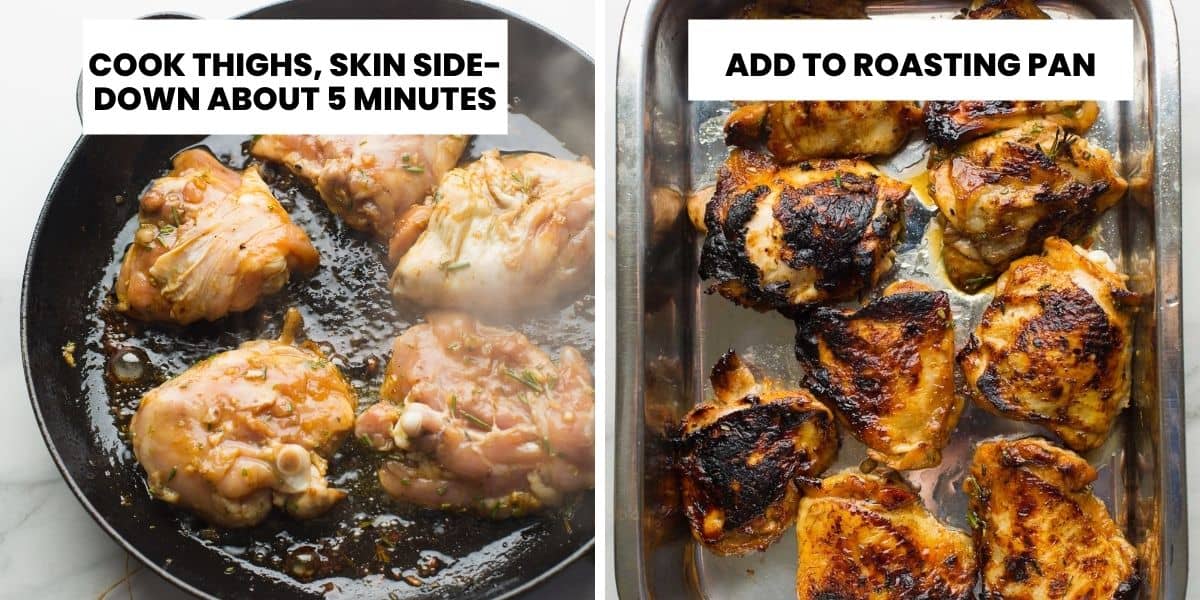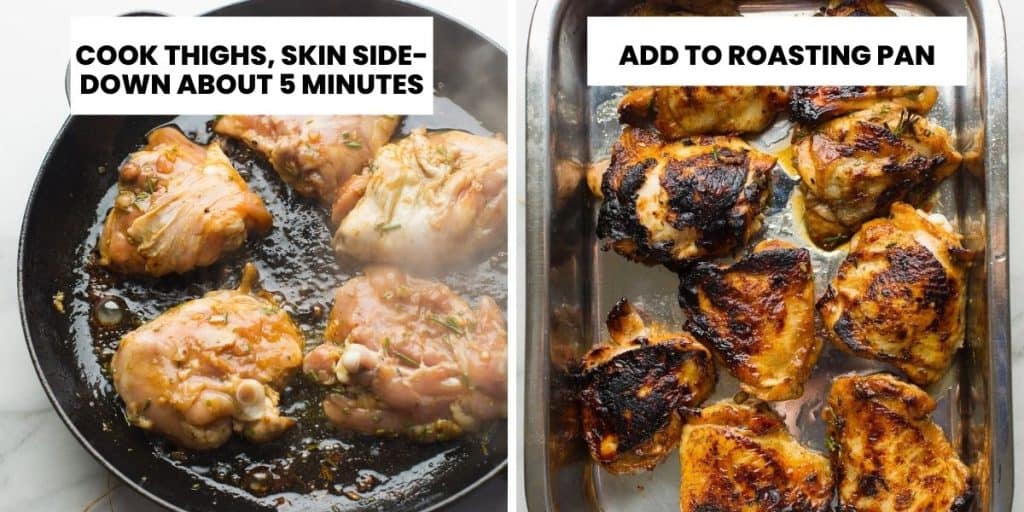 Can I skip the skin-searing step?
Yes! The skin won't get as crispy, but you can skip this step if you like. Increase the cooking time to 35-40 minutes or until the internal temperature reaches 165°F (75°C).
Optional: Turn the oven temperature up as high as it will go/to a broil and cook for about 2-3 minutes at the very end. This will help crisp up the skin just a bit before serving.
You can skip the searing step but you still need to sauté the mushrooms and cook the sauce into a thicker glaze.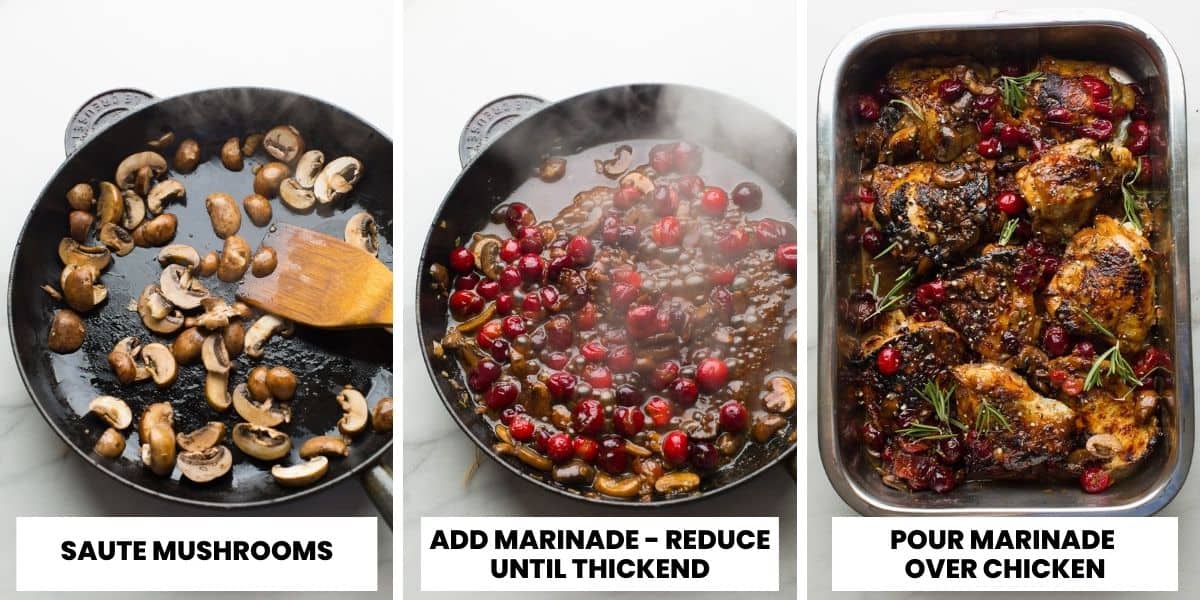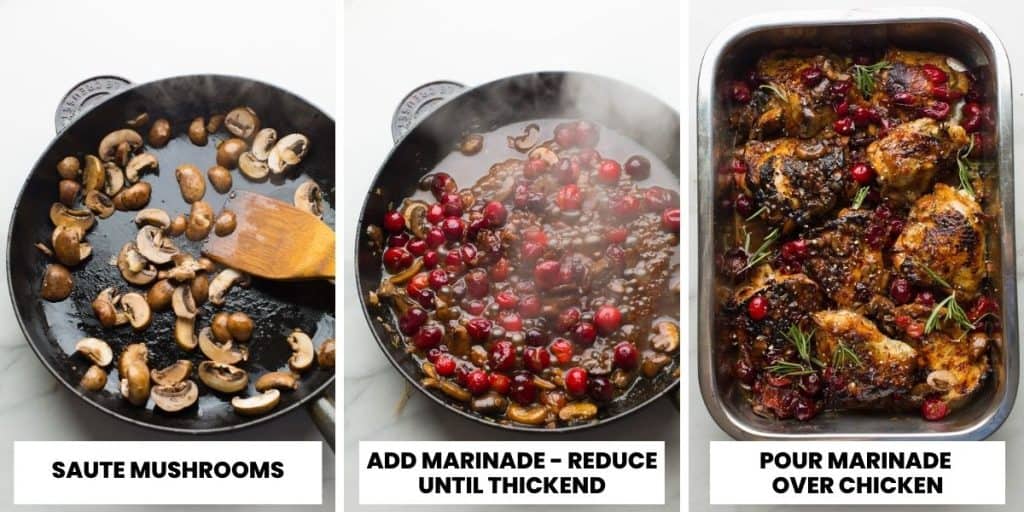 Substitutions and Adaptations
Make this with boneless and skinless chicken thighs. Keep in mind that your chicken won't be crispy without the skin but you can certainly make this boneless and/or skinless.

Skip the searing altogether. Place the raw, marinated chicken directly into the prepared baking dish. You still need to sauté the mushrooms and reduce the sauce, but there is no need to cook the chicken before roasting. Boneless thighs cook faster than bone-in so this should cook in less time.

Use dried herbs and spices instead of fresh.

As a general rule of thumb, you can swap out dried herbs in place of fresh by only using 1/3 of the amount. The marinade calls for 1 tablespoon freshly chopped rosemary so you would need 1 teaspoon dried rosemary.
As for the garlic, you need about 1/4 teaspoon of garlic powder for every fresh clove. In this case you would need 1 1/4 teaspoon garlic powder.

Fresh parsley or thyme instead of rosemary.

Rosemary is great here because it's got a woody, peppery flavor that pairs well with tangy flavors like balsamic. If you don't have any rosemary on hand you can use other herbs like parsley or thyme instead. Different herbs will of course change the overall flavor of the dish, but they will work with the other flavors.

Brown sugar instead of honey or maple.

Honey and maple syrup are great sweeteners for keeping this refined sugar free, but they may not always be considered pantry staples. Brown sugar is a great swap you can use instead.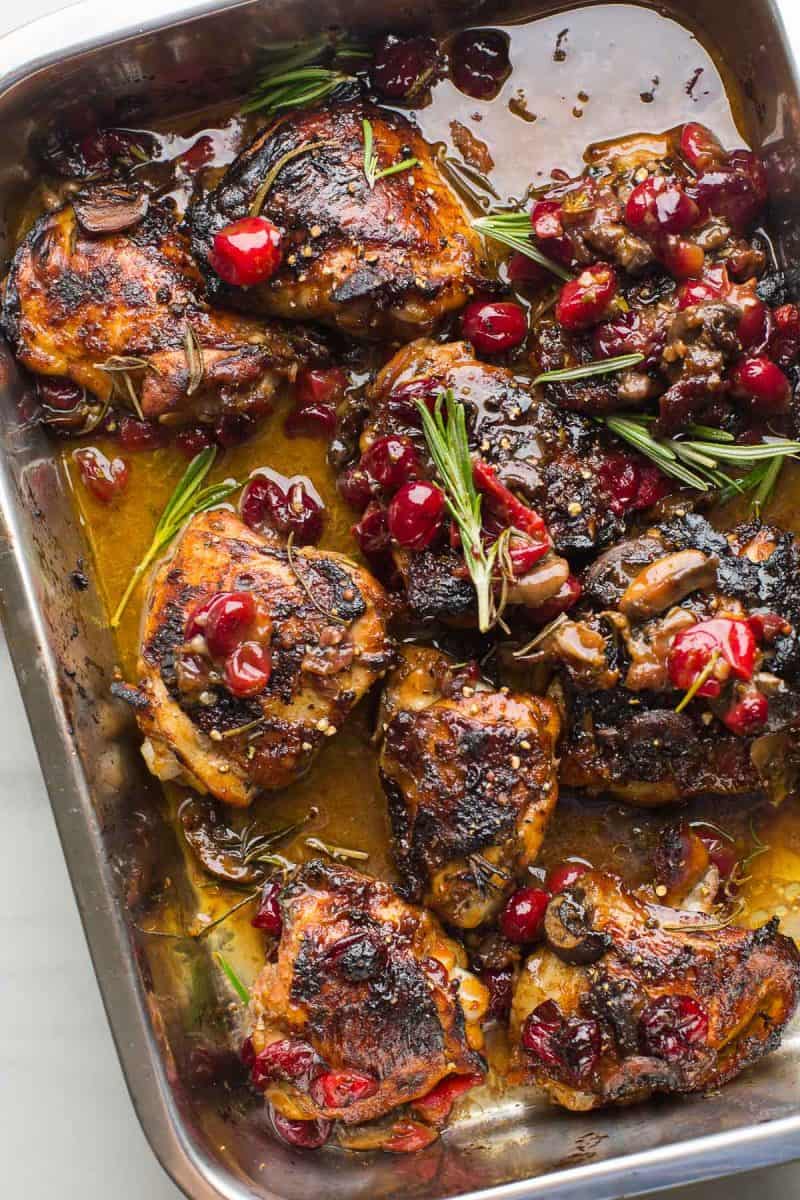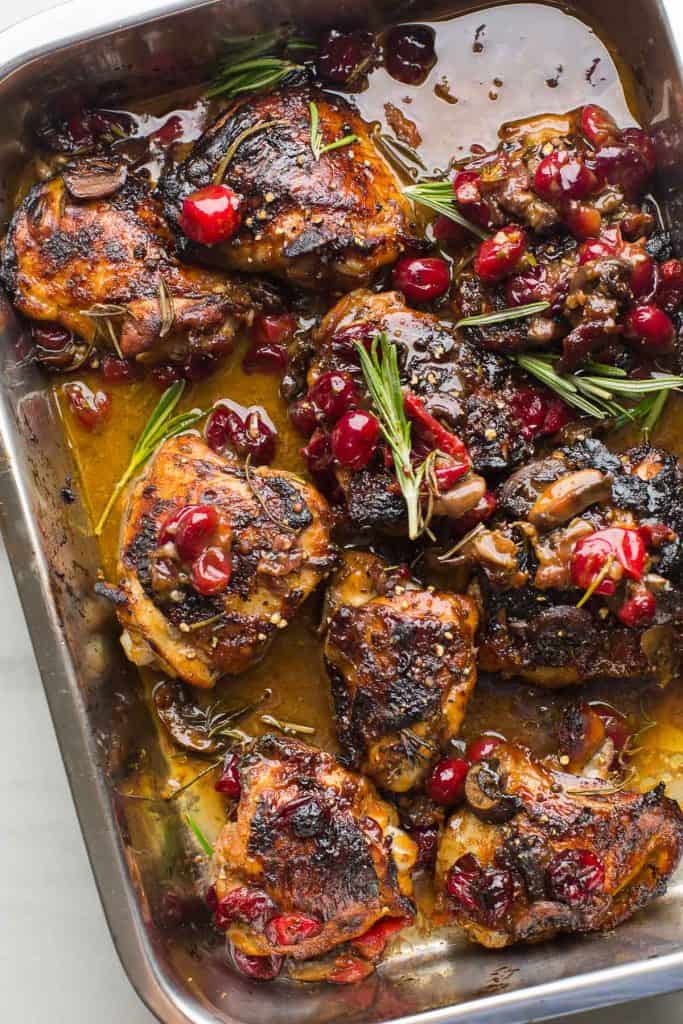 And that's it! With plenty of sauce left in the pan, serve this dish over a a pile of mashed potatoes (or mashed cauliflower for a low carb option) with a Brussels sprouts salad on the side and you have a winner!
More easy dinners for busy weeknights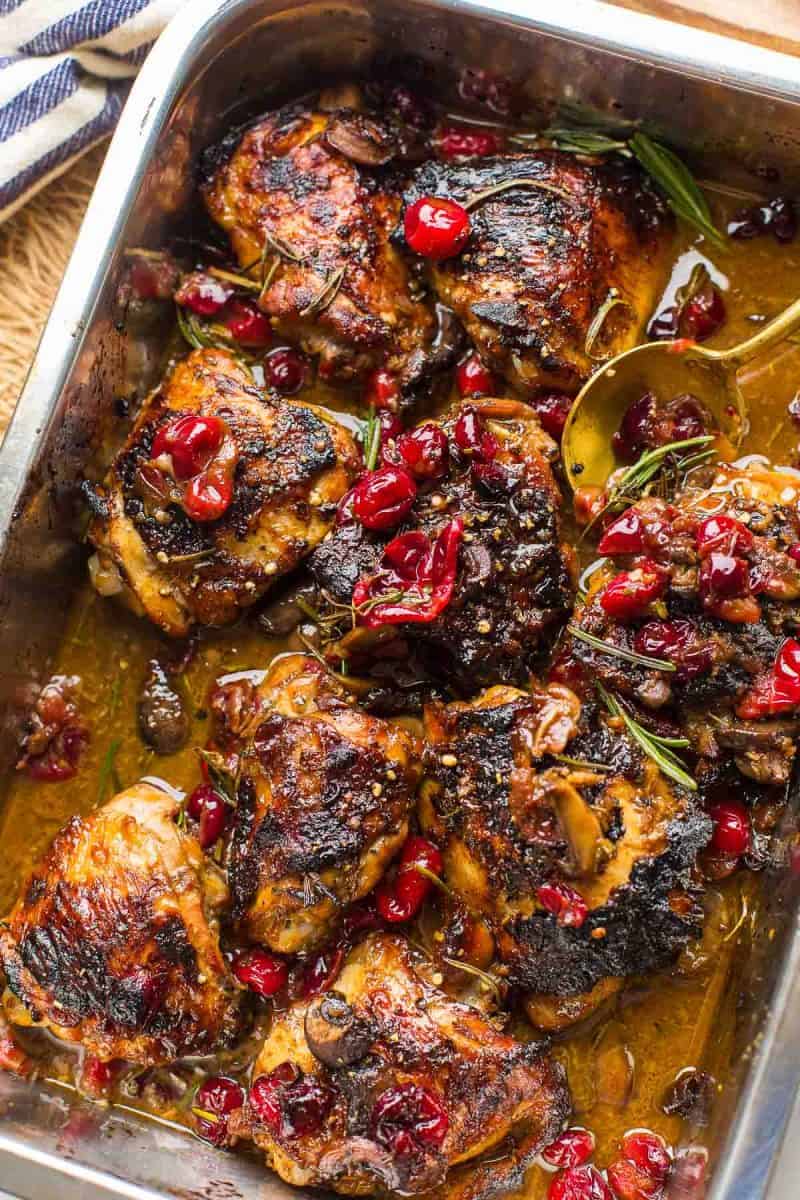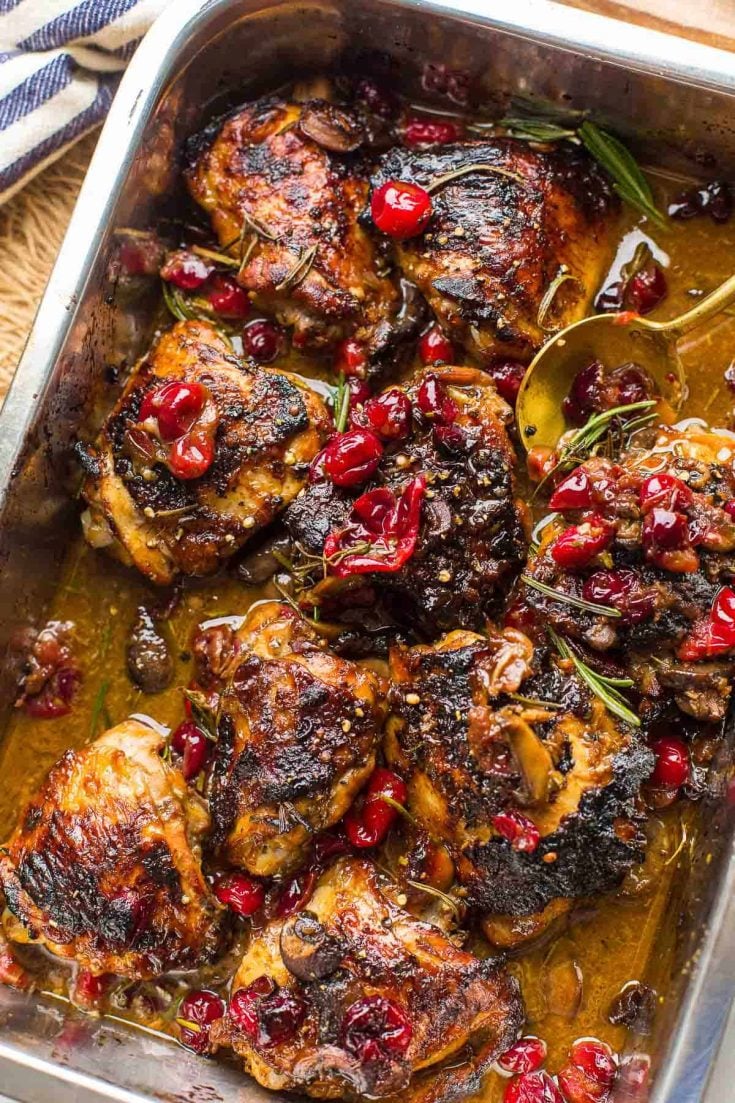 Recipe
Balsamic Cranberry Chicken Thighs with Mushrooms
Yield:
4-6 servings
Prep Time:
10 minutes
Cook Time:
45 minutes
Total Time:
10 minutes
Marinated chicken thighs, sautéed mushrooms and juicy cranberries cooked and coated in a bright and savory balsamic sauce. | Dairy Free + Paleo Friendly
Ingredients
Marinade
1/3 cup (80 ml) olive oil
1 tablespoon fresh rosemary, chopped (measured after chopping)
5 cloves garlic, minced
1 orange, juiced (about 1/4 cup | 60 ml)
3 tablespoon (45 ml) coconut aminos or gluten free soy sauce/tarmari
2 tablespoons honey or maple
2 tablespoons (30 ml) balsamic vinegar
1 teaspoon sea salt or kosher salt
Other Ingredients
2 tablespoons (30 ml) olive oil, divided
1 1/2 cup (150 g) fresh cranberries
2 lbs (about 1kg) chicken thighs, bone-in & skin-on (6-8 pieces)
8 oz fresh mushrooms, sliced
fresh rosemary sprigs
black pepper for topping
Instructions
In a large bowl mix together the marinade ingredients: olive oil (⅓ cup | 80ml), fresh rosemary (1 tbsp), garlic (5 cloves), orange juice (¼ cup | 60 ml), coconut aminos or soy sauce (3 tbsp | 45 ml), honey or maple syrup (2 tbsp | 40 g), balsamic vinegar (2 tbsp | 30ml) and salt (1 tsp).
Add the chicken thighs and cranberries to the bowl. Mix until well coated in marinade. Cover and refrigerate at least one hour and up to 24 hours. Take the chicken out of the fridge and leave at room temperature at least 15 minutes before cooking.
Preheat oven to 400°F/200°C. Lightly grease a large roasting pan or casserole dish and set aside. For easy clean up you can line the pan with aluminium foil.
Place a large skillet or pan over a medium heat. Add a tablespoon of olive oil to the pan. Once hot, add the chicken, skin side down, to the pan (save the cranberries & marinade). Don't overcrowd the pan with chicken - leave a little room in between each piece. You may need to do this is two batches. Let cook about 5-7 minutes without flipping to sear the skin. Flip over then cook another 4 minutes.
Transfer the seared chicken to the prepared baking dish. Repeat with the remaining thighs until they have all been seared and partially cooked. Arrange in a single layer.
Take the pan/skillet off the heat and wipe down/wash any burnt on or browned bits. Add the remaining 1 tablespoon (30 ml) olive oil to the pan over a medium-low heat. Add the mushrooms and cook about 2-3 minutes to begin to soften.
Pour the remaining marinade and cranberries to the pan. Cook on medium-high, bringing the liquids to a boil. Reduce the heat and let simmer about 4-5 minutes until the marinade reduces down into a thicker glaze and some of the cranberries burst.
Pour the thickened sauce over the chicken thighs. Tuck the remaining rosemary springs all around the chicken. Place in the preheated oven and bake for about 25-30 minutes or until cooked through (if you have a meat thermometer check that internal temperature is 165°F/75°C).
Remove from oven. Finish off by sprinkling freshly grated black pepper over the top. Serve over mashed potatoes or mashed cauliflower - spoon the juice from the pan over the top and enjoy.
This website provides approximate nutrition information for convenience and as a courtesy only. Nutrition data is gathered primarily from the USDA Food Composition Database, whenever available, or otherwise other online calculators.