Simple, delicious and rich in antioxidants– this Instant Pot Cranberry Orange Juice recipe comes together in little time without too much fuss! Simply pile in the fresh fruit, cover with water and cook for about 10 minutes. Once cooked, strain, sweeten and enjoy!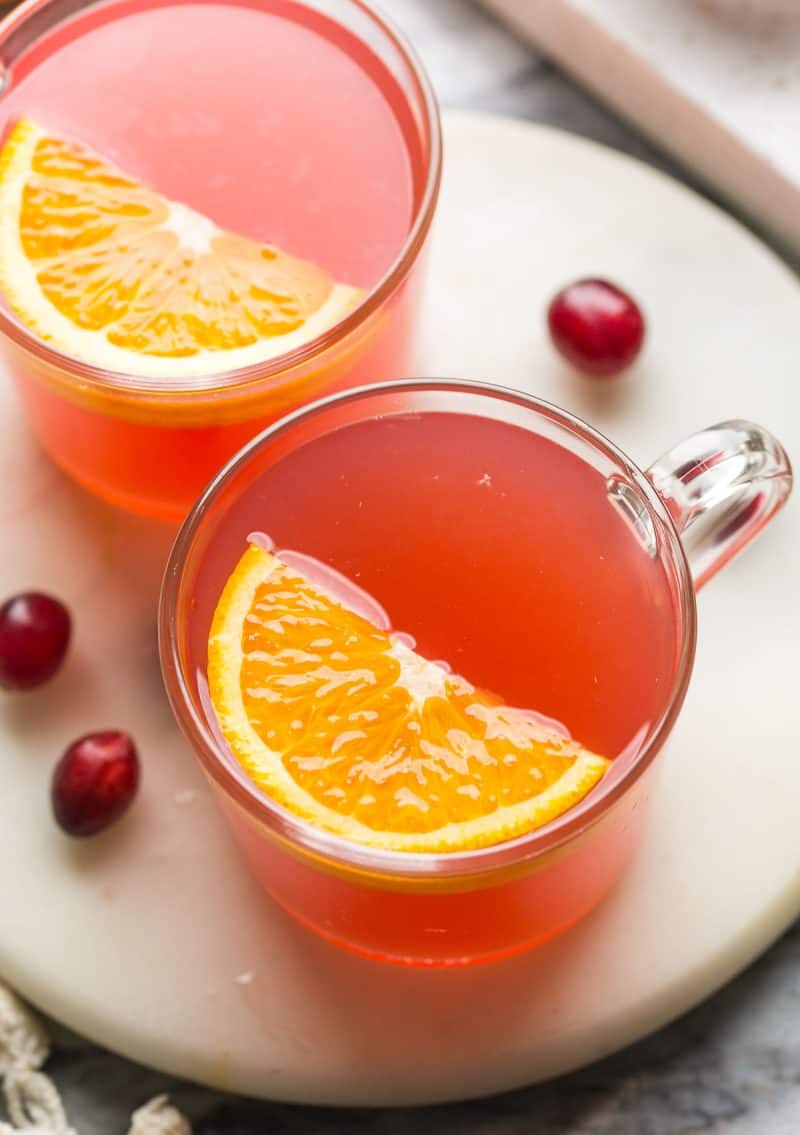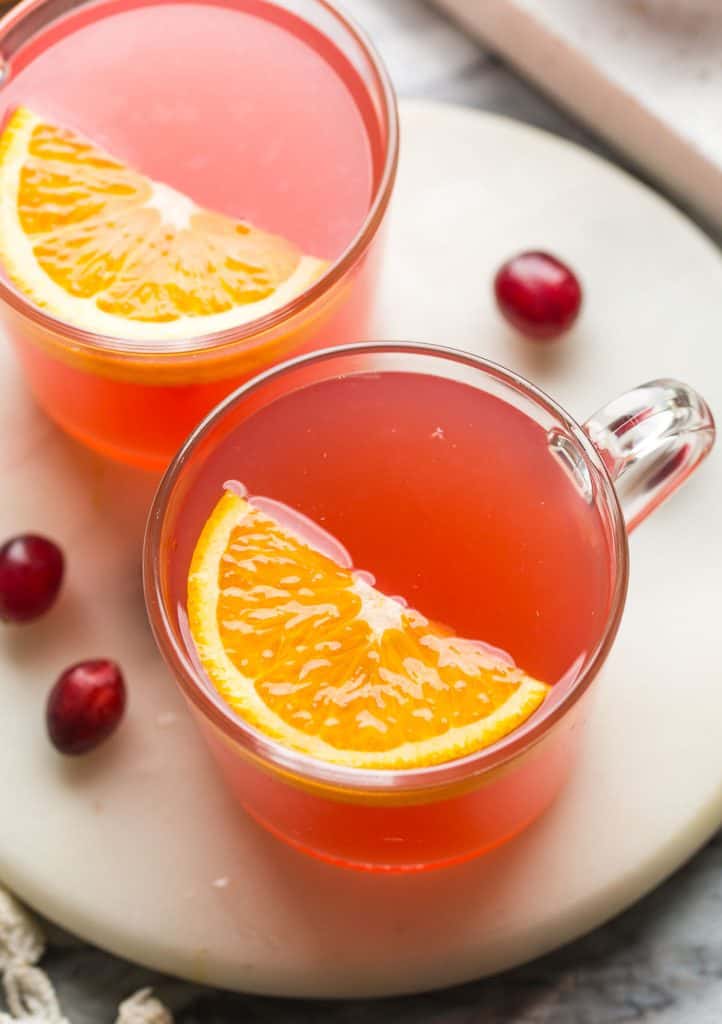 With darker, shorter days upon us, warm up with this healthy and refreshing Cranberry Orange Juice!

Made with fresh cranberries and oranges, this drink is rich in antioxidants and low in sugar. Enjoy it hot or cold. Cozy up with a steaming hot mug or poured over a chilled glass of ice. Either way, you can't go wrong!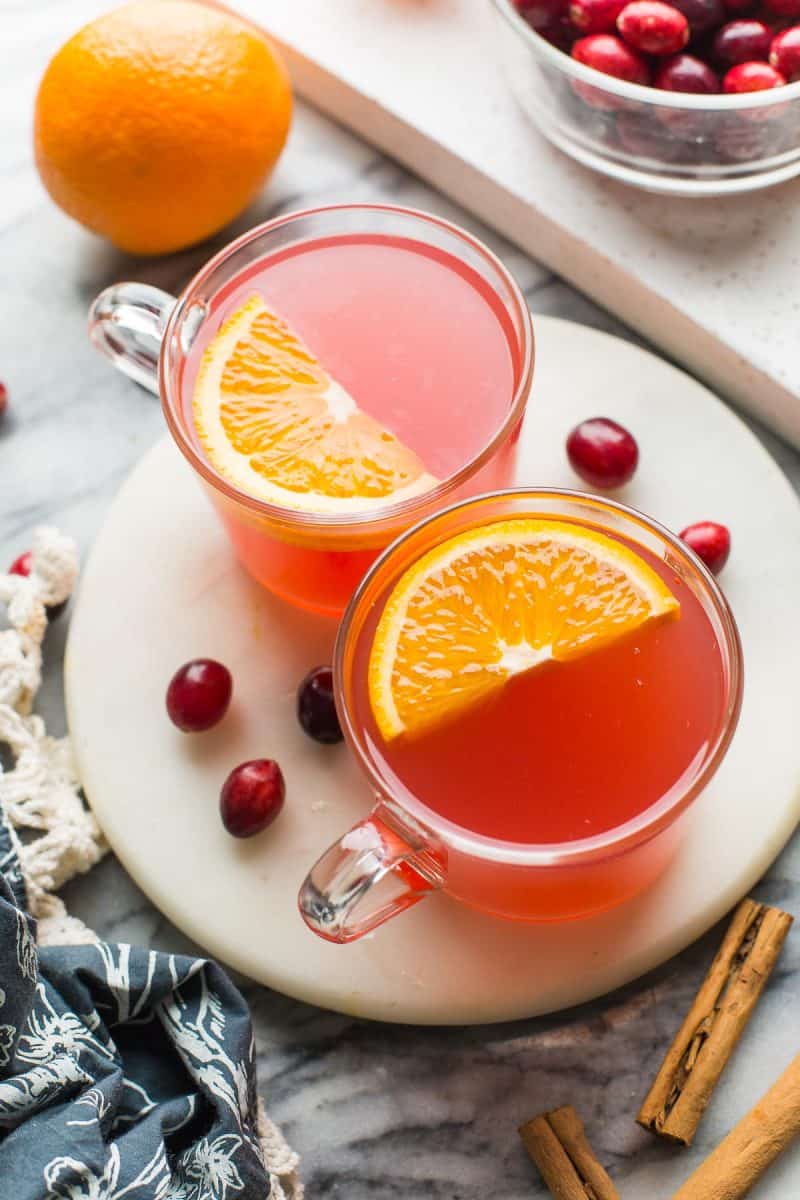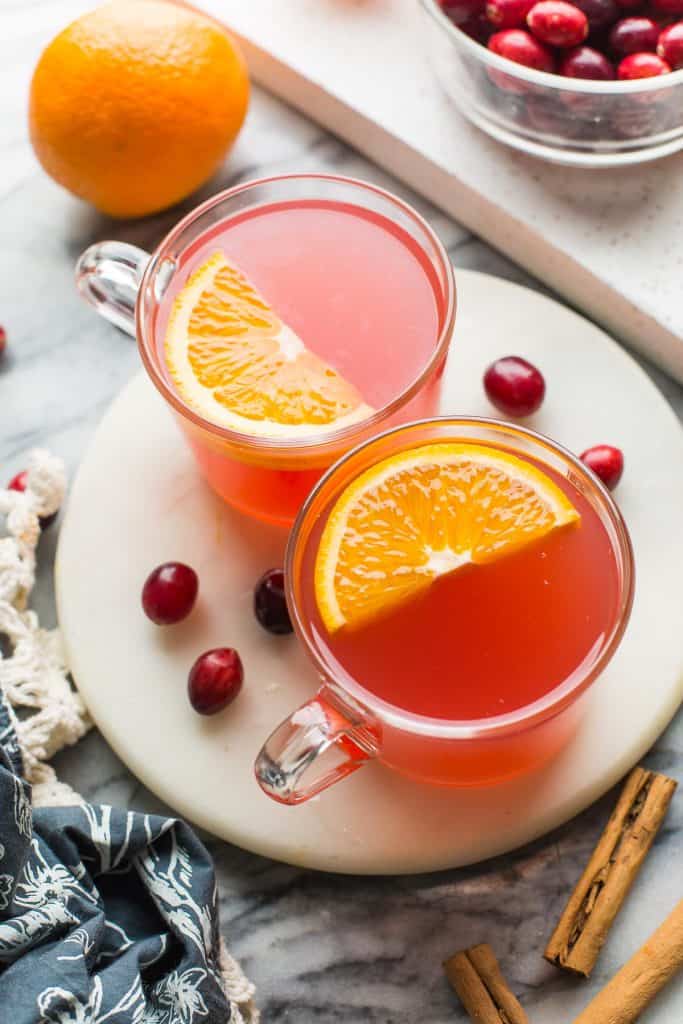 Kudos to Prepare and Nourish and providing the inspiration for this recipe! A few years ago I came across her Honey-Sweetened Cranberry Juice and I've made it made times since with little tweaks here and there. This version is made with oranges and ginger for an extra boost of flavor and nutrition.
It's makes for a great, non-alcoholic drink to serve and enjoy with friends over the holidays which is why I like to make mine with maple syrup to keep it vegan and low fodmap friendly for more to enjoy.
Ingredients
Cranberries: Not just good as a Thanksgiving dish! Cranberries are bright, fresh and full of delicious health benefits. Because they have a naturally tart and somewhat bitter taste on their own, they are best prepared with additional fruit and sweeteners.
Oranges: In addition to their delicious, sweet flavor, oranges also provide a number of immune supporting benefits. Oranges and cranberries together make for a holiday flavor classic that's bright and refreshing.
Ginger: Sweet and fiery – ginger packs in an extra punch to your taste buds and an extra punch of anti-inflammatory properties.
Cinnamon: There are a lot of bright and tangy flavors in this drink. Cinnamon adds a bit of warmth to balance it all out.
Maple Syrup or Honey: Either sweetener will do! Maple will provide a more woody flavor while honey is more floral. The different sweeteners will influence the final flavor of the juice, so choose according to your personal taste. Keep in mind that maple syrup is both vegan and low fodmap friendly.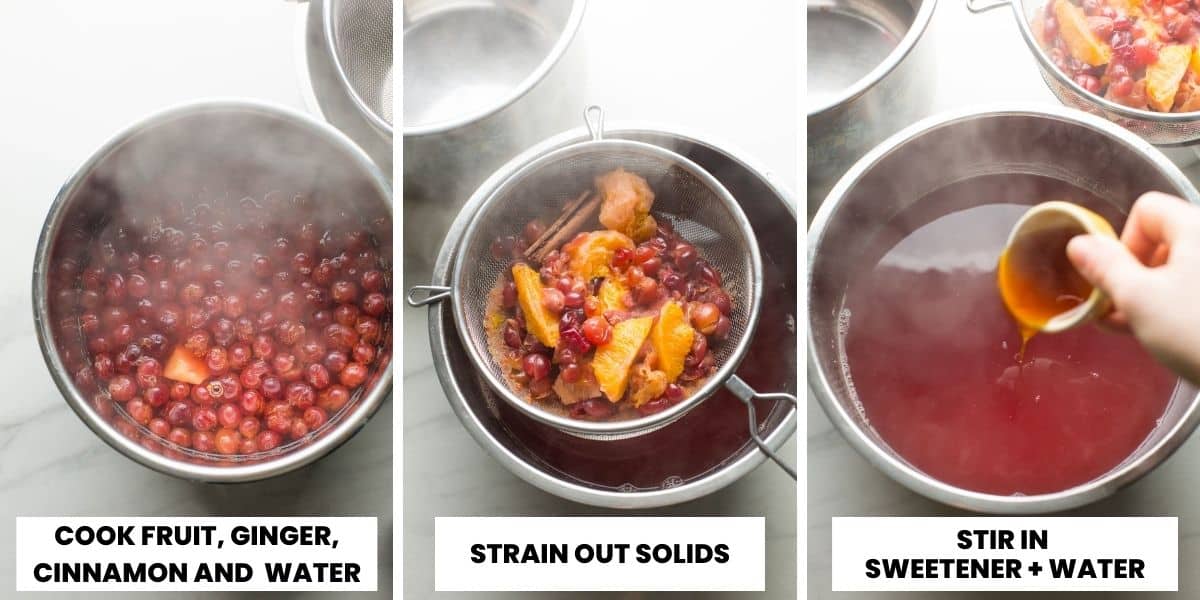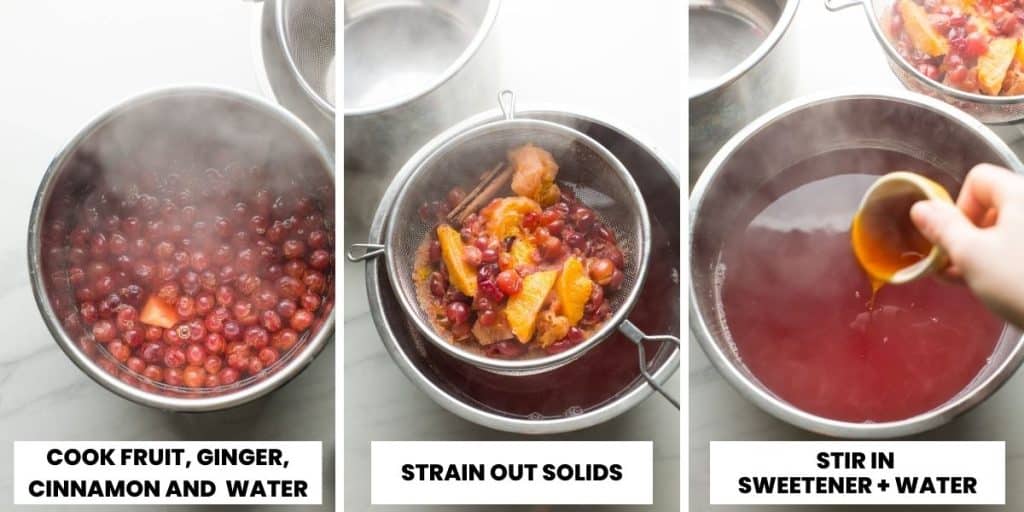 Instant Pot Cranberry Orange Juice Steps
Add fruit to pot. Add the cranberries, oranges, ginger and cinnamon to the pot.

You can leave on the orange peel but you might need to increase the added sweetener later.
I recommend you smash up the ginger slightly before adding it to the pot to amp up its spicy flavor.

Top with water. You need to cover the fruit with water, but make sure not to fill up the pot past the max fill line. I made my instant pot cider in a 6 quart instant pot which in the end was just barely filled to the max. If you make this in a smaller pot, you may need to scale down the recipe.
Strain. Place a fine-mesh strainer over a large heat-safe bowl. Carefully pour the contents of the pot into the strainer to filter out the solids.
Taste, sweeten and serve. After filtering the juice through a fine mesh strainer, add it back to the pot, taste one more time to sweeten or season as you see fit.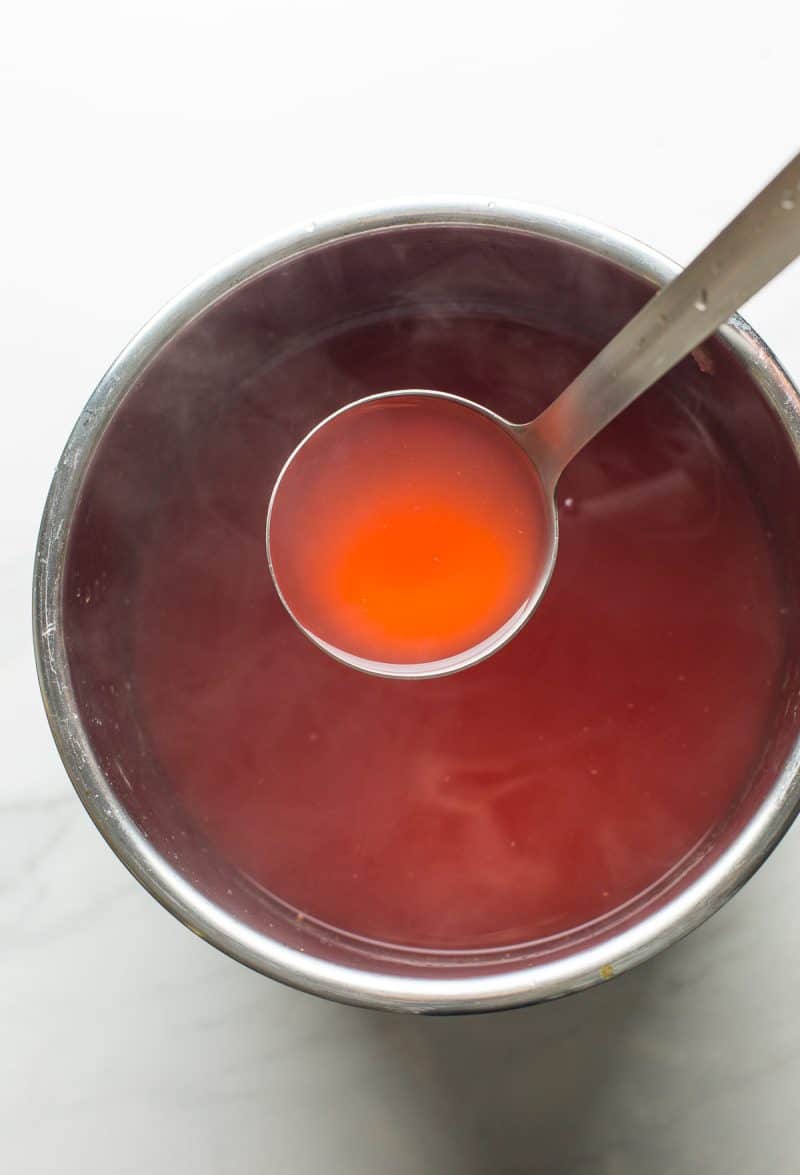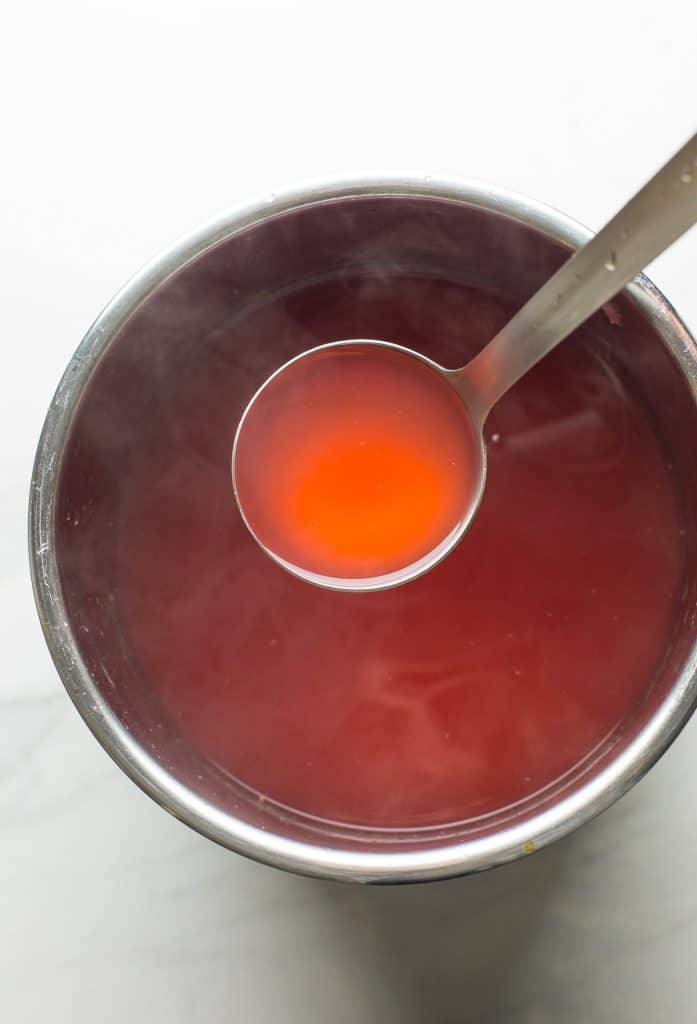 Quick Questions
Can I Make This On The Stove Top?
Yes! The method is similar, but it will take longer.
To make this on the stove top:

Add the cranberries, oranges and ginger to a large pot and cover with water. Bring the pot to a boil. Once boiling, cook for about 20 minutes. Strain out the fruit solids then return the juice back to the pot. Stir in the sweetener and cook on a low heat until fully dissolved.
Can I use frozen cranberries?
Yes! Simply swap out the fresh for frozen berries and that's it. No need to change anything. The instant pot will take just a few minutes longer to climb up to the right temperature, but that's nothing that you need to worry about.
Optional Additions & Swaps
Swap the sweeteners. Use brown sugar or white sugar in place of the maple/honey.With brown sugar, you may need to increase the amount to 2/3 cup as it's not as sweet as maple or honey.
Additional Aromatics. Star anise, allspice, nutmeg and vanilla all pair well with cranberries.
Alternative citrus fruits: The citrus from the orange is really what makes this drink pop. If you don't have any oranges you can add lemon, lime or blood orange. Stick with just one citrus fruit to begin with. You can always add an extra squeeze of lemon juice if needed. No fresh citrus on hand? Add at least 1/4 cup orange juices (or more) instead.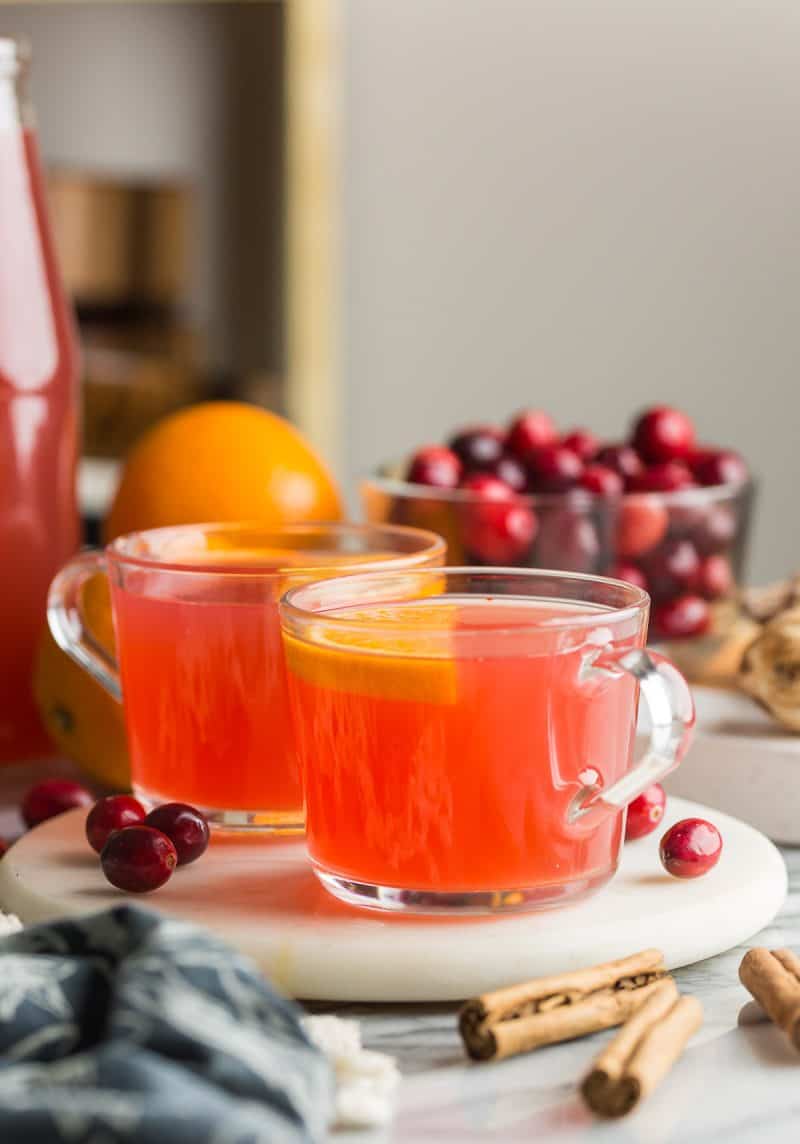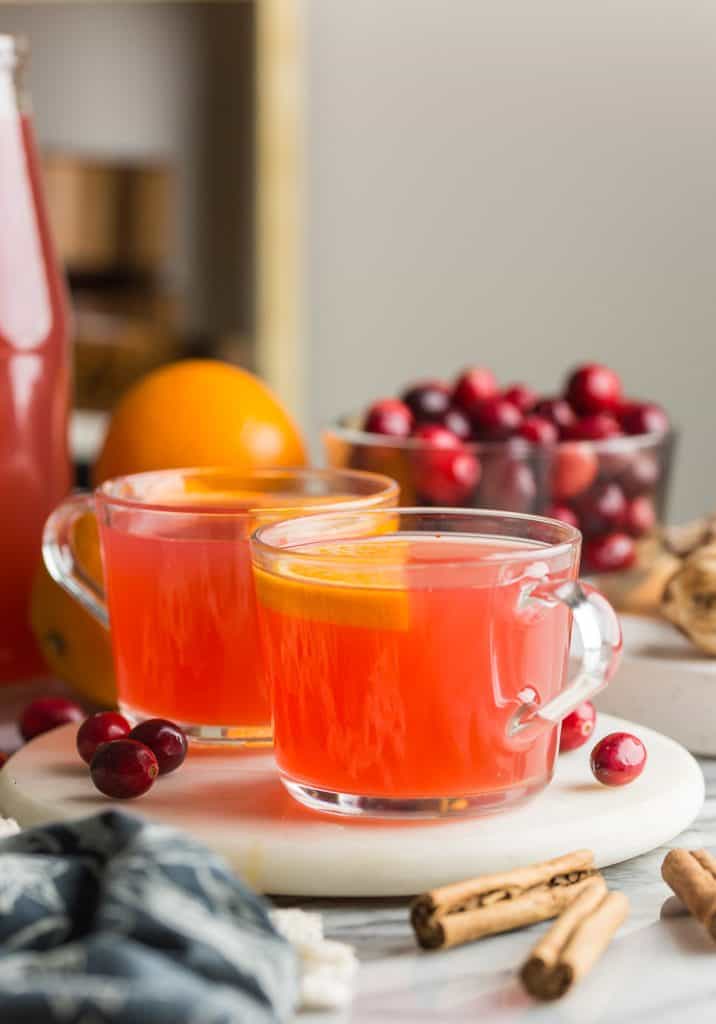 More Cranberry Recipes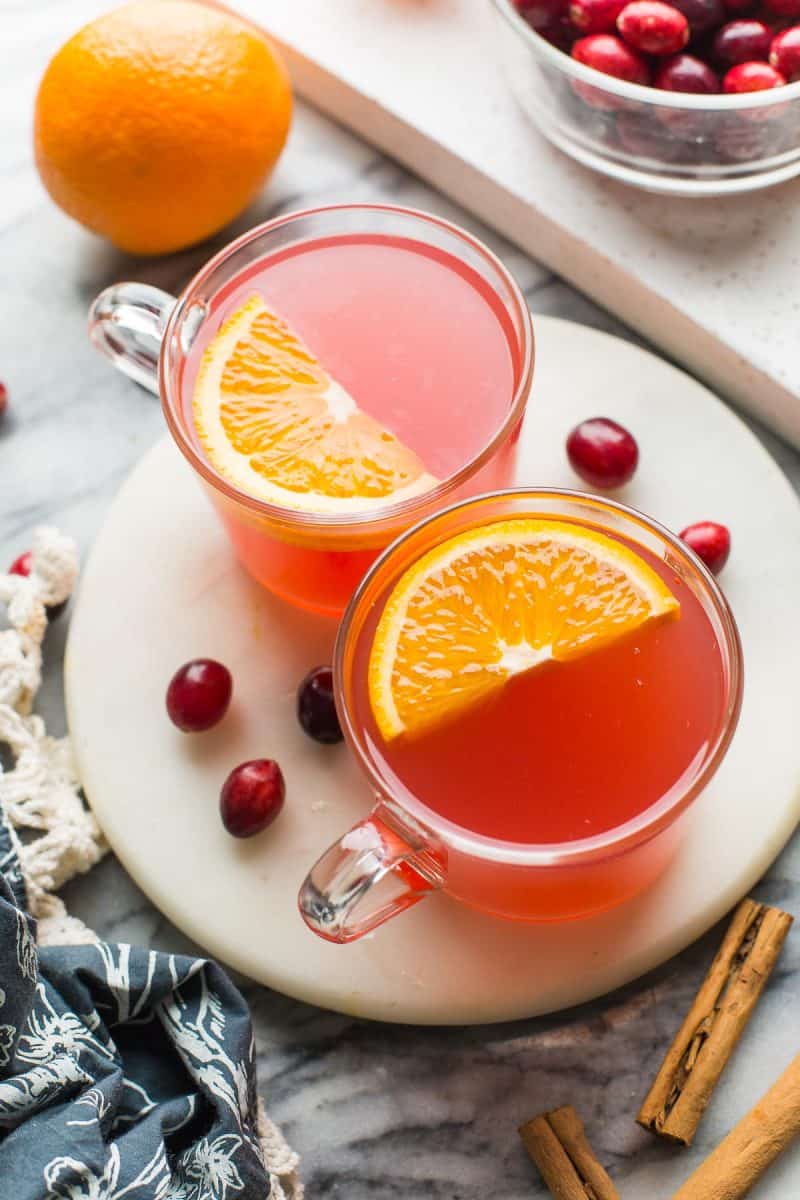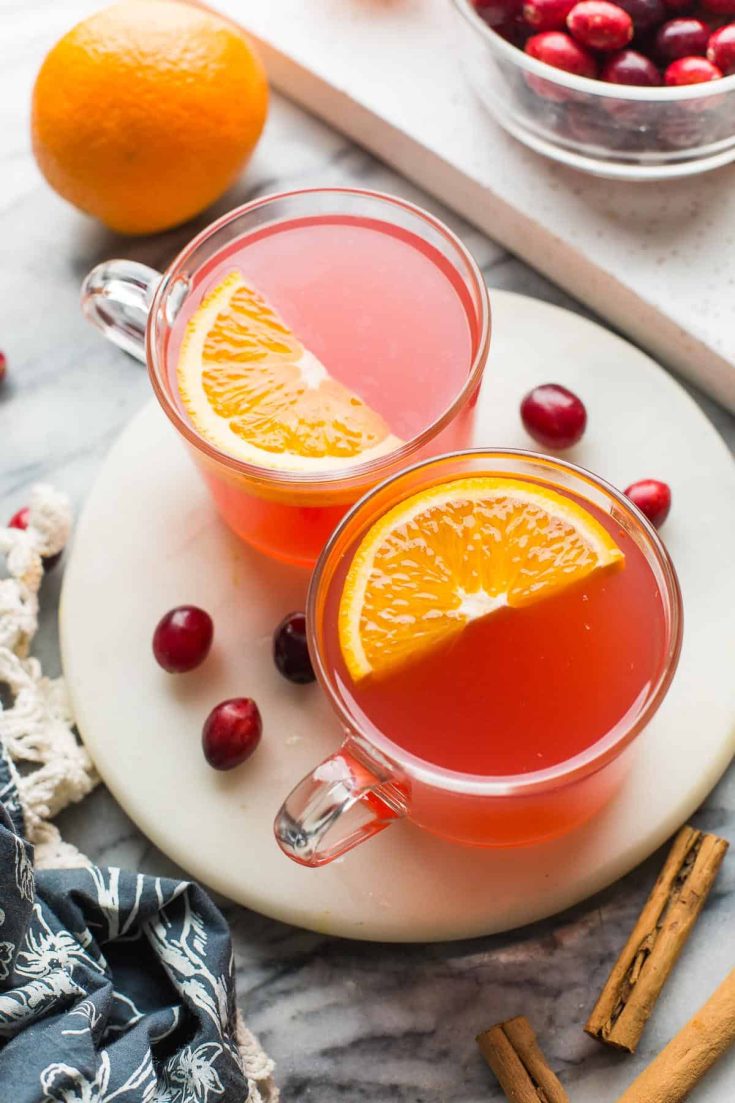 Recipe
Instant Pot Cranberry Orange Juice
Yield:
about 10 cups
Prep Time:
5 minutes
Cook Time:
10 minutes
Total Time:
5 minutes
Simple, delicious and rich in antioxidants– this Instant Pot Cranberry Orange Juice recipe comes together in little time without too much fuss!
Ingredients
4 cups (400 g) fresh cranberries, washed
2 large oranges, peeled and cut into quarters (or 1/4 cup | 60 ml orange juice)
1 inch chunk of ginger, peeled or unpeeled (smash gently with the back of spoon to release some of its juices)
1 cinnamon stick
10 cups (4 pints) water
1/3 cup maple syrup (105 g) or honey (113g)
Instructions
Add the cranberries, oranges, smashed ginger, cinnamon stick (if using) and water to the pressure cooker.
Close/seal the pot. Set on High Pressure for 10 minutes and start.
When the 10 minutes are up switch to Cancel/Keep Warm and allow the pot to depressurise on its own for at least 10 minutes. Then release the valve and let any additional steam escape before opening the pot.
Place a fine mesh strainer over a large, heat-safe bowl. Gently pour the contents of the instant pot into the stainer to filter out the solid fruit.
Stir in the sweetener until dissolved. Taste and sweeten with more sugar if needed.
Serve hot or cold. To serve cold, wait for the juice to cool fully before transferring to refrigerator friendly closed containers. Keep in the fridge for up to 5 days and enjoy.
Notes
Cook and prep time does not include the time it takes for the instant pot to warm up before it actually starts cooking.
This website provides approximate nutrition information for convenience and as a courtesy only. Nutrition data is gathered primarily from the USDA Food Composition Database, whenever available, or otherwise other online calculators.