With little more than a few simple ingredients and a gentle simmer, you're only about 20 minutes away from making your very own, delicious homemade arrabbiata sauce! Arrabbiata is such a versatile sauce – enjoy it on your next pasta night, on pizzas, as a dipping sauce and so much more! | Paleo + Vegan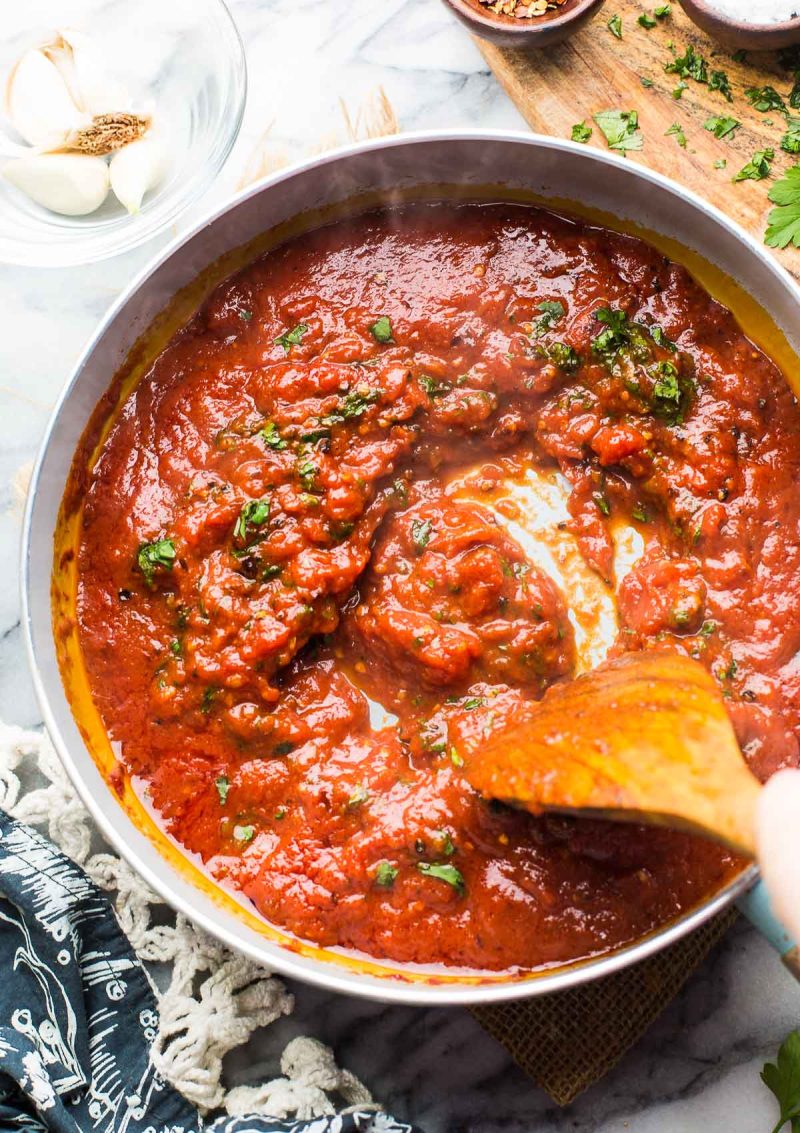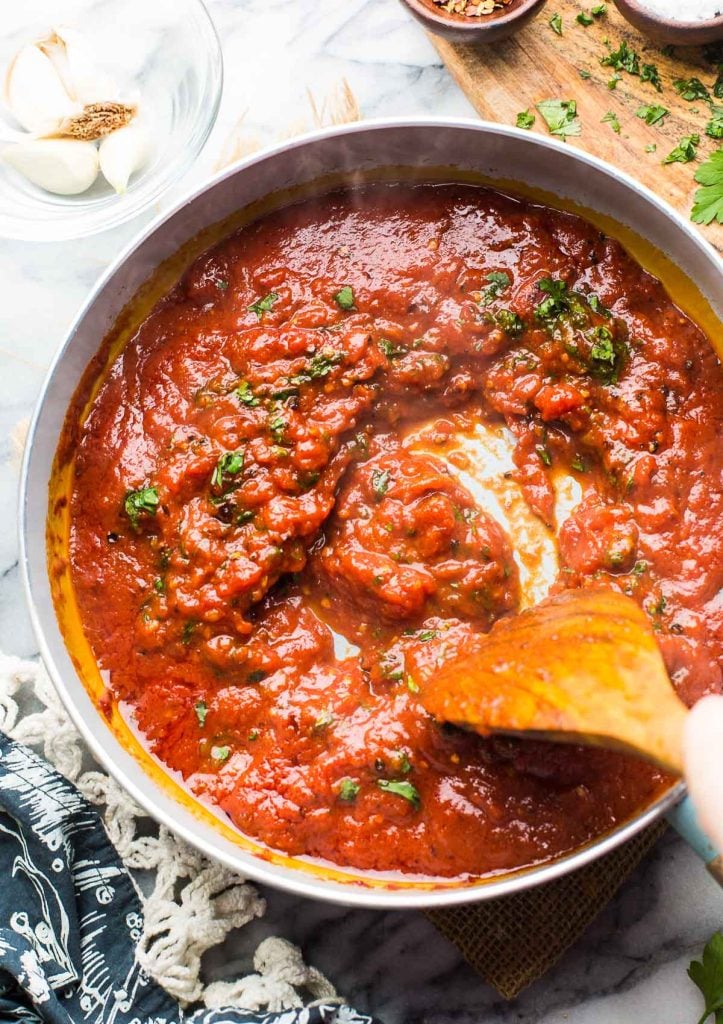 What is Arrabbiata Sauce?
Arrabbiata (also known as sugo all'arrabbiata in Italian) essentially translates into 'angry sauce'.
It's a simple, spicy tomato sauce that originates from the Lazio region of Italy (in Rome). Main ingredients include: tomatoes, garlic and red chili flakes cooked in extra virgin olive oil – it's a simple recipe, but one that leaves an impression. Think marinara sauce with an extra kick of heat. If you like spicy food then you'll love this sauce!
In Romanesco dialect, arabbiato is typically used to describe a dish that is spicy almost to the point of excess. So the name angry sauce is quite an appropriate name given it's known for its spicy kick!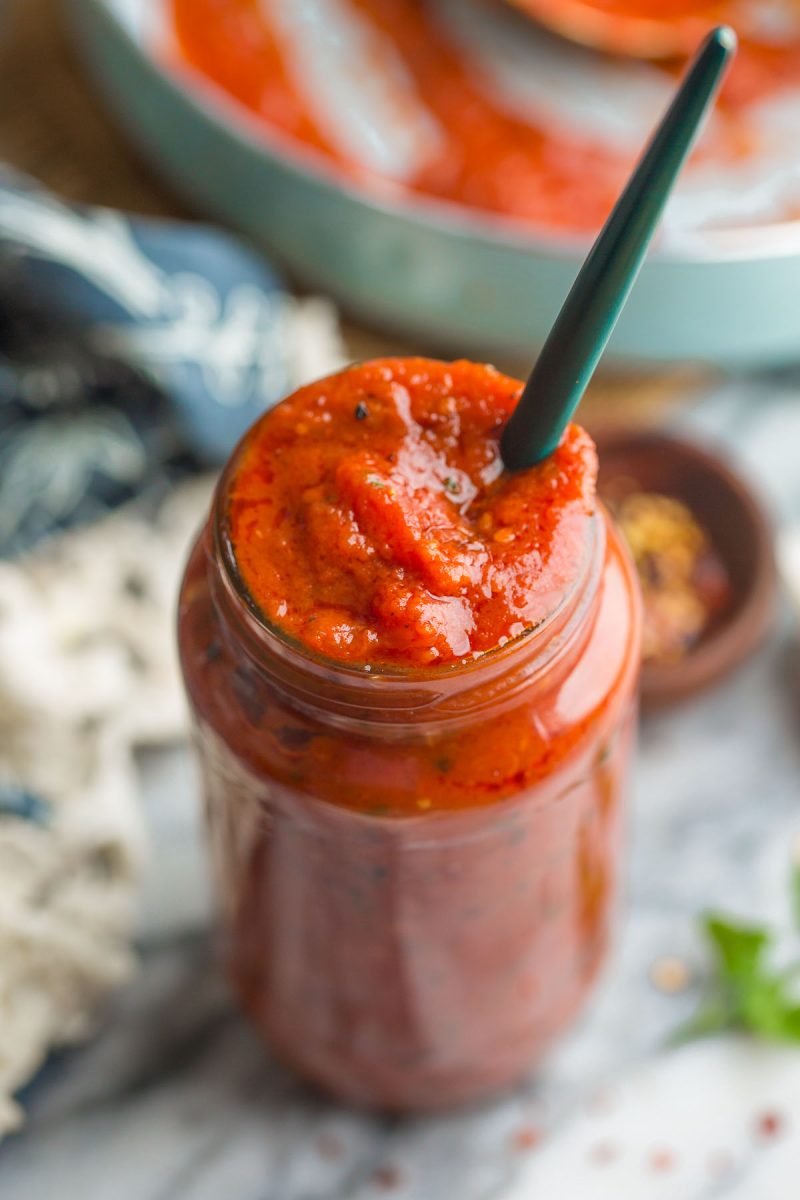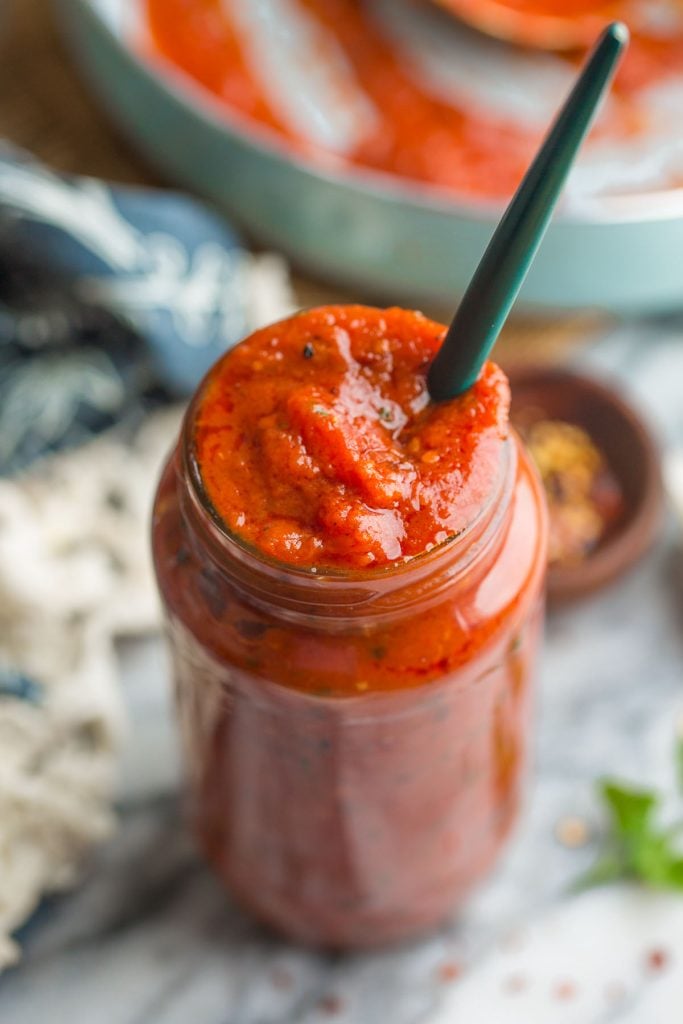 How to make a simple & fuss free Arrabbiata sauce
What do I mean by simple and fuss free?
There are a lot of recipes and personalities out there who are going to tell you that there is a right and a wrong way to make arrabbiata (true for any popular cuisine/dish).
You need to use san marzano tomatoes or fresh tomatoes, you must never add sugar to your tomato sauce, you have to use fresh ingredients, etc. Blah, blah, blah.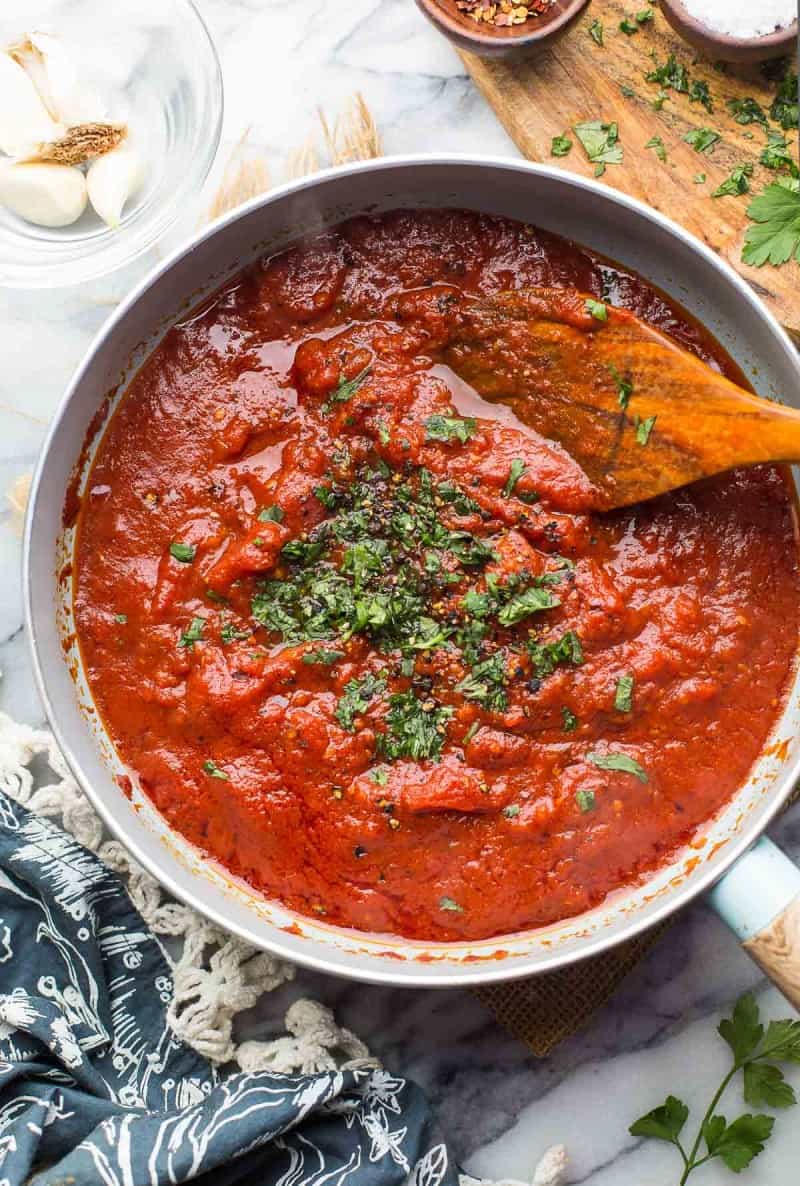 Listen. I am all for celebrating authenticity when it comes to food, but I'm also not going to write off trying new things because it's not perfect. We don't all have access to the same type or quality of ingredient and it would be a real shame to gatekeep easy and delicious food just because it's not authentic.
This recipe is simple and straight forward and leaves a lot of room for adding and subbing ingredients as you see fit.
Steps
Like I said earlier, this recipe is incredibly easy and straight forward. The process can be simplified into a few main steps: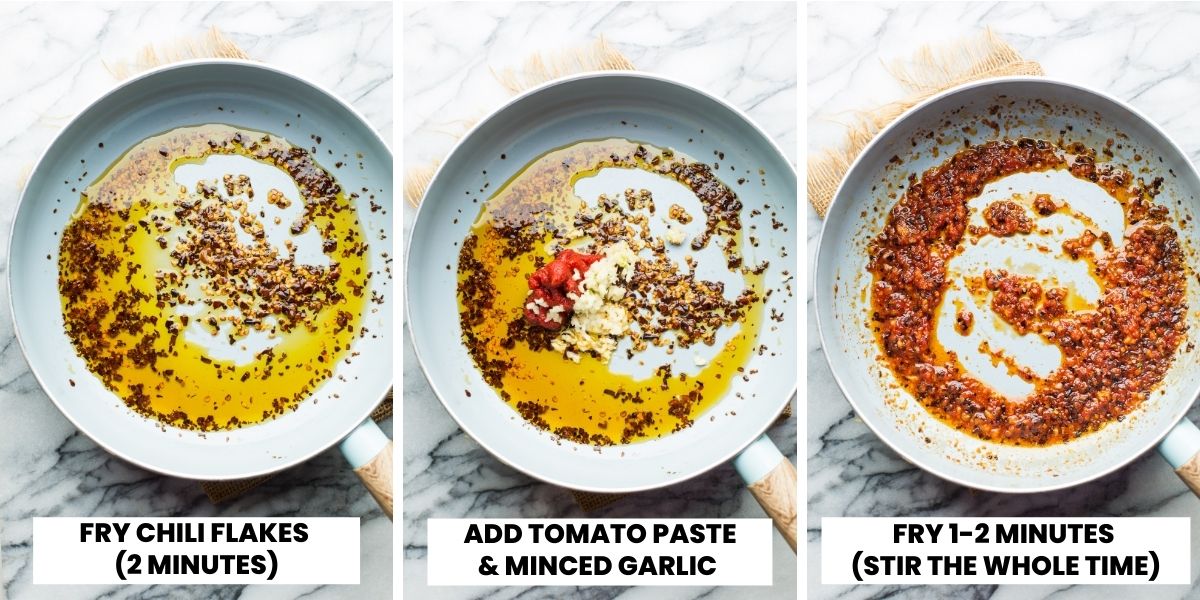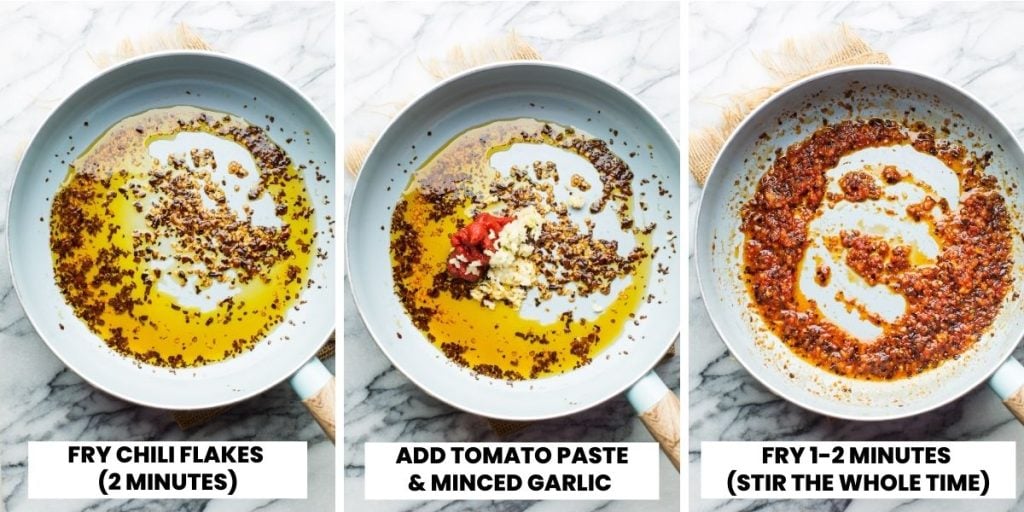 Fry the chili flakes in olive oil.

Cook gently over a medium heat to infuse the oil with some of that heat from the chili. Stir often to keep the flakes from burning. Feel free to adjust the amount of red pepper flakes to suit you and your preferences.

Add tomato paste and fresh garlic and cook another minute or two.

Not every arrabbiata sauce recipe has tomato paste. I've included it in mine to create a richer, more intense tomato flavor. This is especially helpful when using certain canned tomatoes as their intensity can be quite lacking in some.

Add the tomatoes, seasoning and simmer until thickened.

Simmer the tomatoes, uncovered about 15 minutes. Stir the sauce every so often to keep things from burning. As the sauce cooks, the tomatoes will soften and break down.

Add fresh herbs and season as needed.

Finally, stir in some fresh basil or parsley at the end then taste your sauce to season as you see fit. Salt and pepper go a long way in improving a dishes overall flavor so don't be afraid to add more as needed.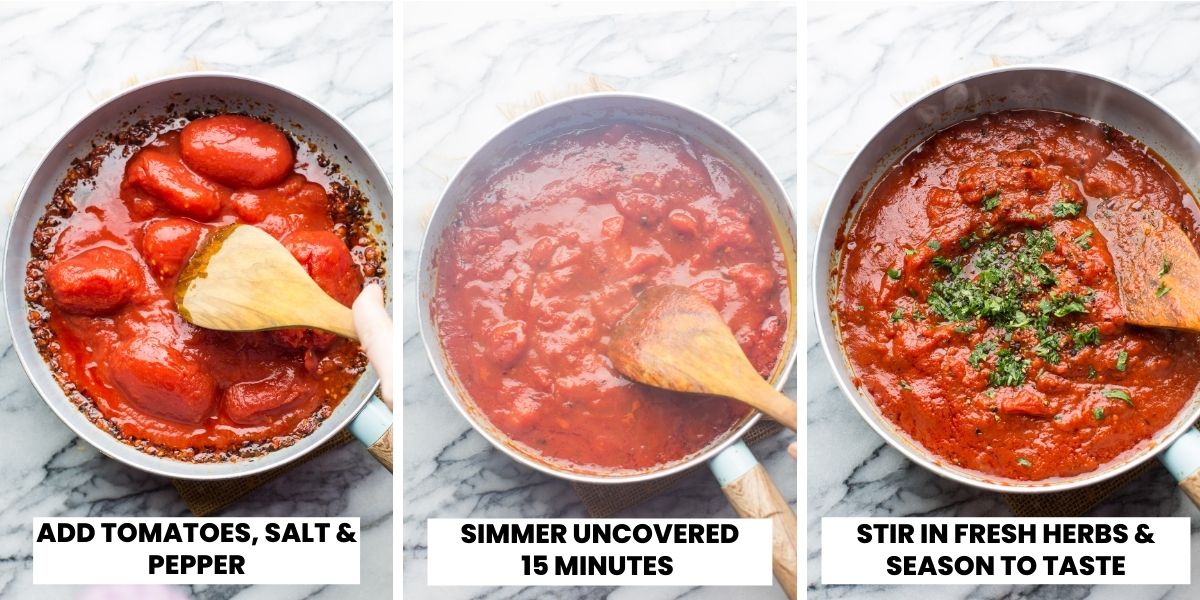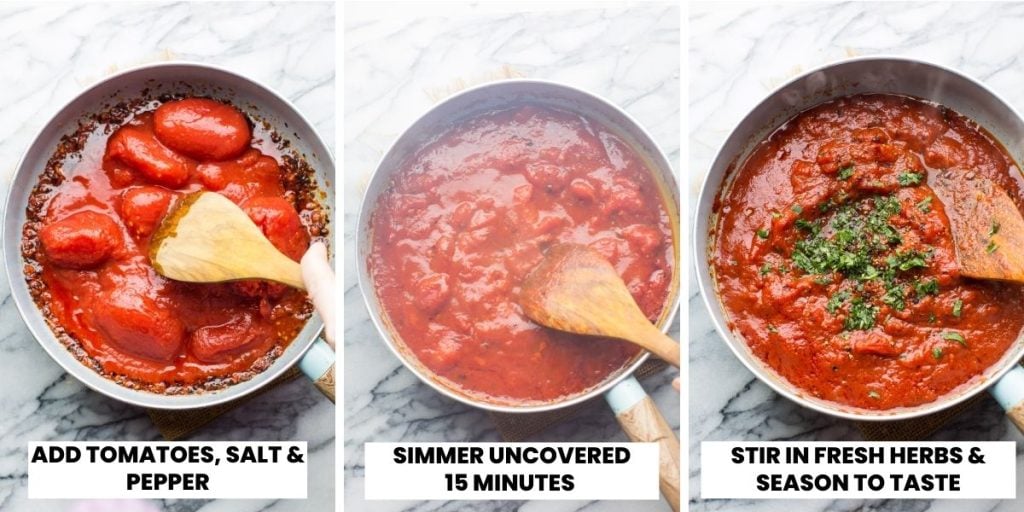 Tip: Add Pasta Water
If you're making this dish to serve over pasta – add a ladle of that pasta water to your sauce as it cooks. This does two things:
Pasta water will add flavor to your sauce – so long as you salted your pasta water properly.
The starchy pasta water will help the sauce cling on to the pasta better.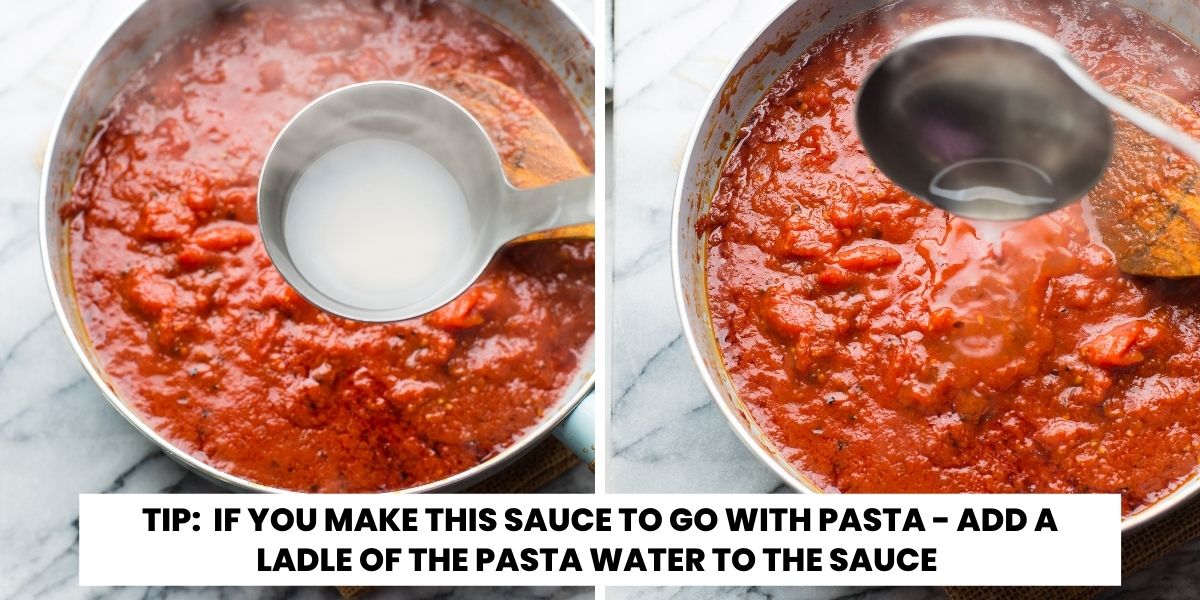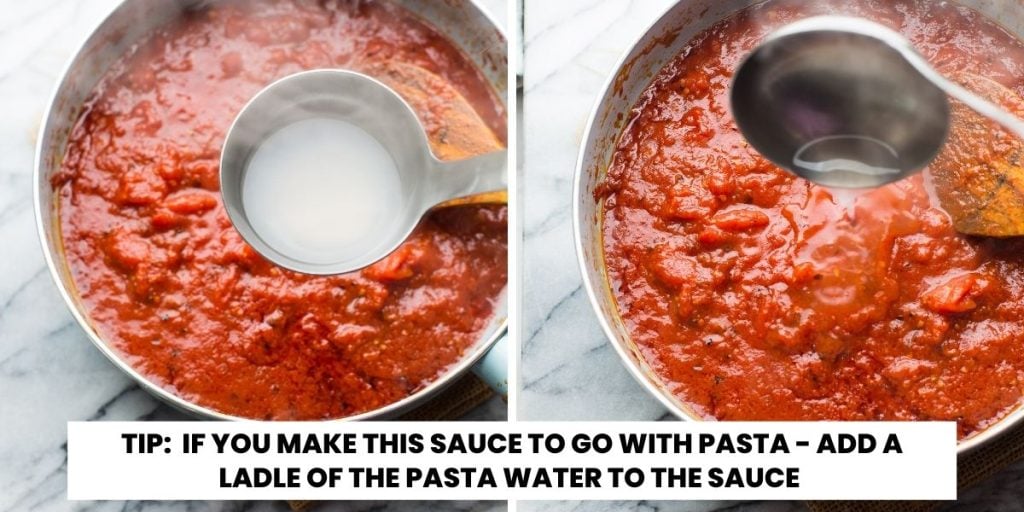 Chopped Tomatoes Vs Whole Tomatoes
Most arrabbiata recipes call for whole tomatoes (canned or fresh). This is because whole tomatoes cook down much faster and easier. Crushed or chopped tomatoes usually have calcium chloride (a firming agent) added to it which helps them retain their shape better while cooking.
If you'd prefer a smoother sauce then try to use whole (peeled) tomatoes if possible. You can also blend your sauce with an immersion blender if you can't find whole tomatoes in a grocery store near year.
If you don't it chunky (or prefer it chunky) then diced or crushed tomatoes are totally fine.
Your choice!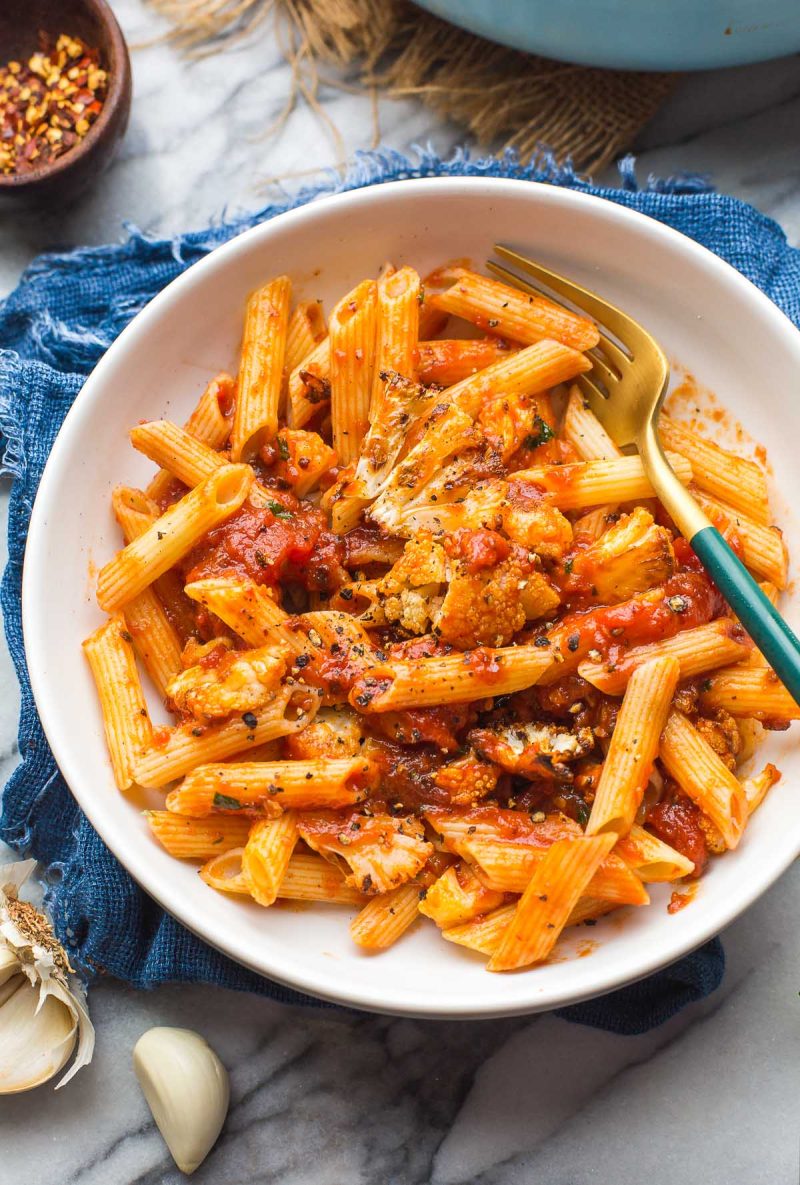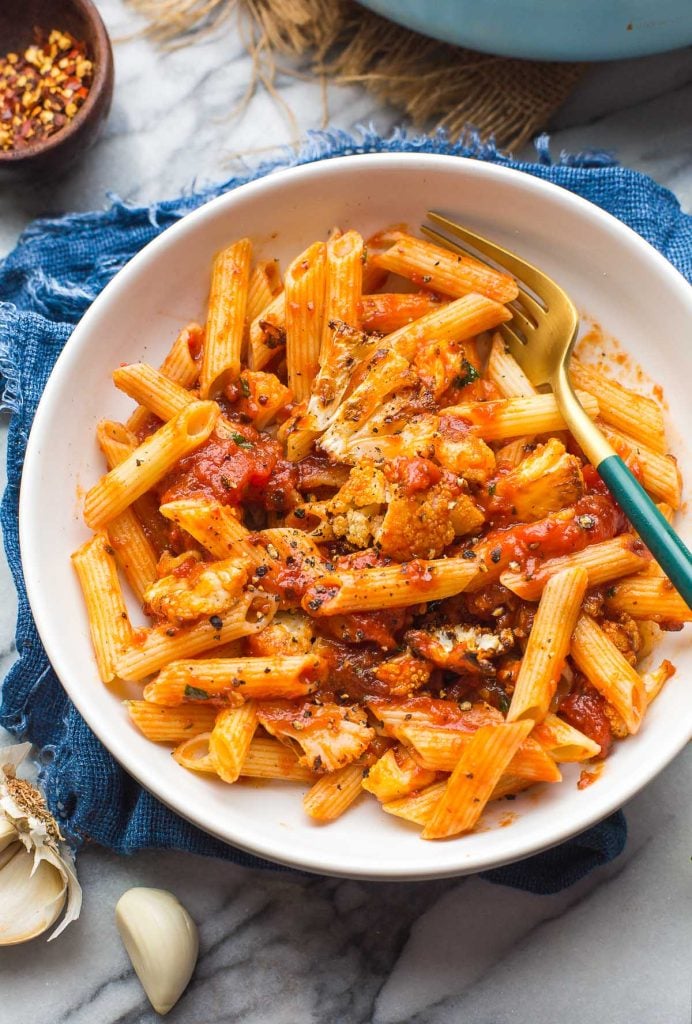 Serving Suggestions
There so many different ways to enjoy this sauce! Here are a few ideas to get you started:
As a spaghetti sauce (or whatever your favorite pasta is). I recently made this to go over a penne pasta and mixed in some roasted cauliflower. So good!
Take your homemade pizza (and pizza rolls!) to the next level by adding an spicy kick.
As a dipping sauce – mozzarella sticks, panisses, garlic bread, breadsticks, etc.
Anywhere you might use marinara – meatballs, lasagna, pizza boats, etc.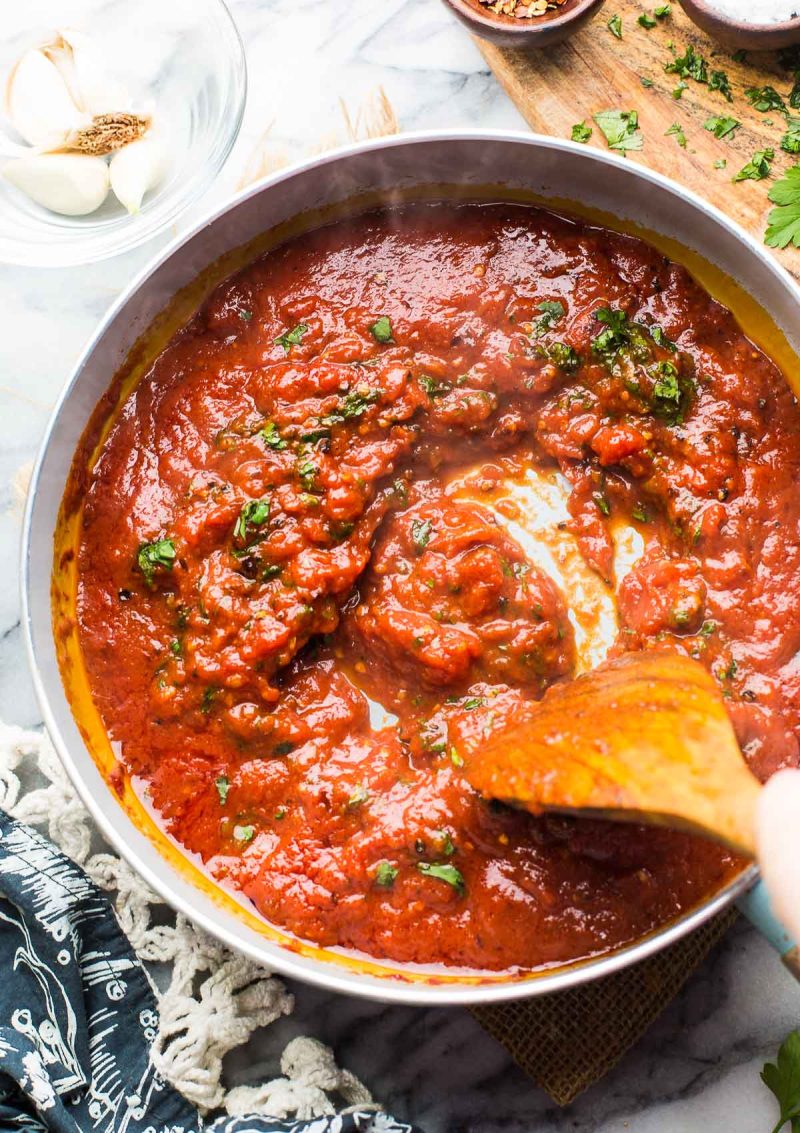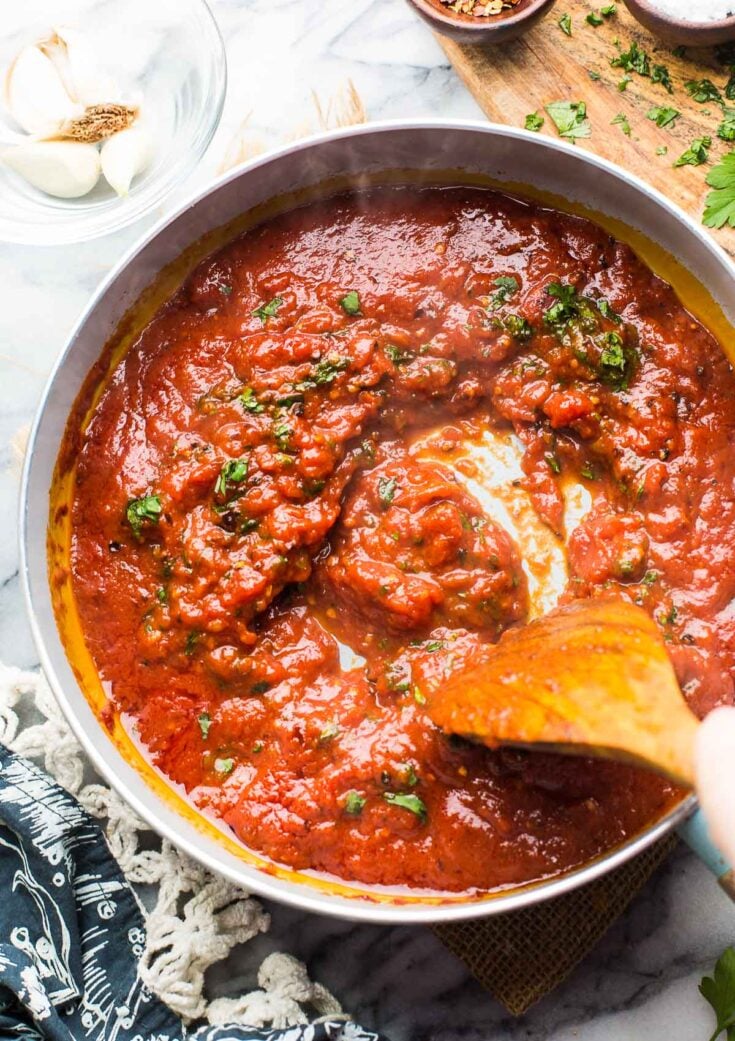 Recipe
Arrabbiata Sauce (Spicy Tomato Sauce)
Yield:
about 2 cups
Prep Time:
5 minutes
Cook Time:
20 minutes
Total Time:
20 minutes
Arrabbiata is such a versatile sauce - enjoy it on your next pasta night, on pizzas, as a dipping sauce and so much more! | Paleo + Vegan
Ingredients
3 tablespoons (45 ml) extra virgin olive oil
2-3 teaspoons chili flakes (crushed red pepper flakes)
2 tablespoons (32g) tomato paste
2 large cloves garlic
2 cans (14.5 oz | 400 g ) whole, peeled tomatoes*
1 teaspoon sea salt or kosher (or to taste)
3/4 teaspoon freshly ground black pepper (or to taste)
1 small handful fresh parsley or basil, chopped
Instructions
Add the olive oil to a medium or large skillet or pot and warm over a medium heat. Add the chili flakes and cook about 2 minutes, stirring often.
Turn down to a medium-low heat. Add the tomato paste and garlic cloves. Continue cooking another 1-2 minutes. Stir often to keep the garlic from burning.
Add the peeled tomatoes, salt and pepper to the pot. Turn the heat up so that the sauce reaches a gentle simmer. As it cooks, the tomatoes will soften - use a wooden spoon to break them up into smaller pieces. Let simmer, uncovered about 15 minutes, stirring every so often.
Taste and season the sauce with more salt and pepper as you see fit. Add more chili flakes for a more intense heat. Stir in the fresh herbs and serve. Enjoy this sauce over pasta, pizza, roasted vegetables, etc.
Notes
This recipe can be doubled, but you will need to simmer your sauce longer to get it properly thickened.
I recommend that you use a pot or a deep skillet/pan to cook this sauce to reduce the amount of tomato splatter as it cooks.
You can use diced or crushed tomatoes instead of whole - just keep in mind that it will make for a chunkier sauce as they don't cook down quite as well.
Not all canned tomatoes are created equally - some taste more bitter or acidic than others. If you find your sauce tastes a bit too acidic, add a bit of sugar to your sauce. Add small amounts at a time and taste in between each addition until you get the flavor you want.
Leftovers: Keep stored in the fridge in an airtight container up to one week.
Freeze for later: Once cooled completely, store in a freezer safe, airtight container and keep for up to three months.
This website provides approximate nutrition information for convenience and as a courtesy only. Nutrition data is gathered primarily from the USDA Food Composition Database, whenever available, or otherwise other online calculators.
More Sauces & Condiments You Might Enjoy