Healthified Homemade Pizza Rolls made with a grain free sweet potato crust | Paleo + Gluten Free + Dairy Free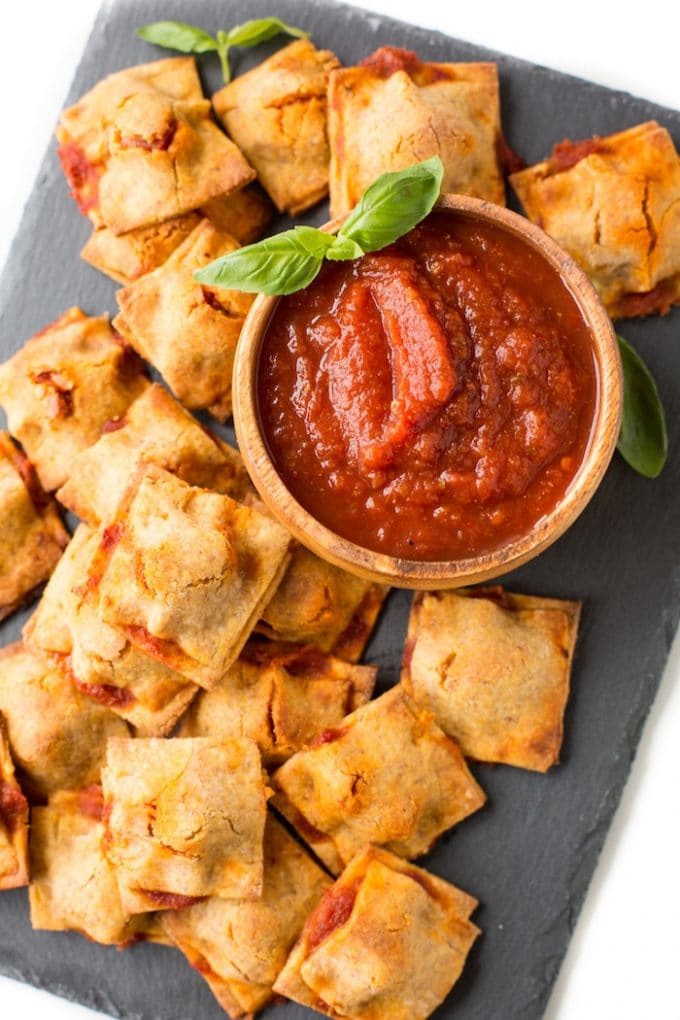 If you don't now or haven't at any time loved pizza rolls then I don't think I know how to relate to you as a person. The love is real and it's deep, my friend.
I'll give a pass if you don't know what pizza rolls are. I just recently found out that they're not available here in the UK – at least not where we live.
Pizza rolls were my probably my favourite childhood snack food. Pizza rolls and pop tarts. Also cheez-its! I swear I didn't actually have that much junk food growing up – it was just such a treat when I did! At any rate, growing up with two older brothers pretty much guaranteed that I couldn't overeat anything good because they'd eat it all up before I got much. A blessing and a curse I suppose.
At least now I get the fun job of remaking all my childhood favourites in a more diet friendly way. I like to live by the Michael Pollen food rule of: "Eat All the Junk Food You Want as Long as You Cook It Yourself." All about that balance!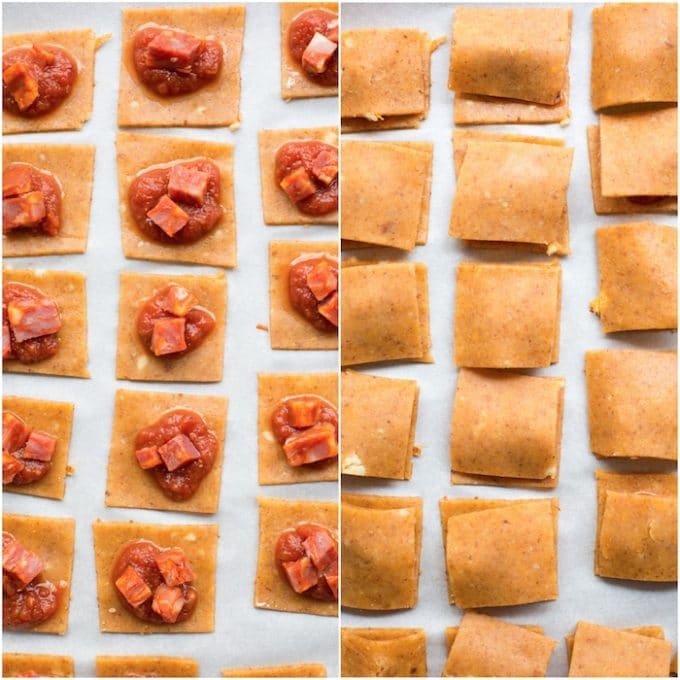 Making of: Homemade Pizza Rolls
This recipe is made up of two parts: the crust & the filling.
The Filling: this recipe includes a very basic marinara sauce. It takes a couple of minutes to mix together, but you can always use your favourite marinara here whether that's store bought or homemade. You just need a cup for filling and dipping & you're all set.
As for the meat filling – you've got a couple of option. Pepperoni is not paleo, but I like using it in these because it's fast & easy to prepare and it saves me one more pan that needs to be cleaned up later. If you'd like to keep this strictly paleo you could always use a cooked, crumbled up sausage instead here and I promise it's just as good.
If you're okay with dairy you could also throw in a little mozzarella in here as well!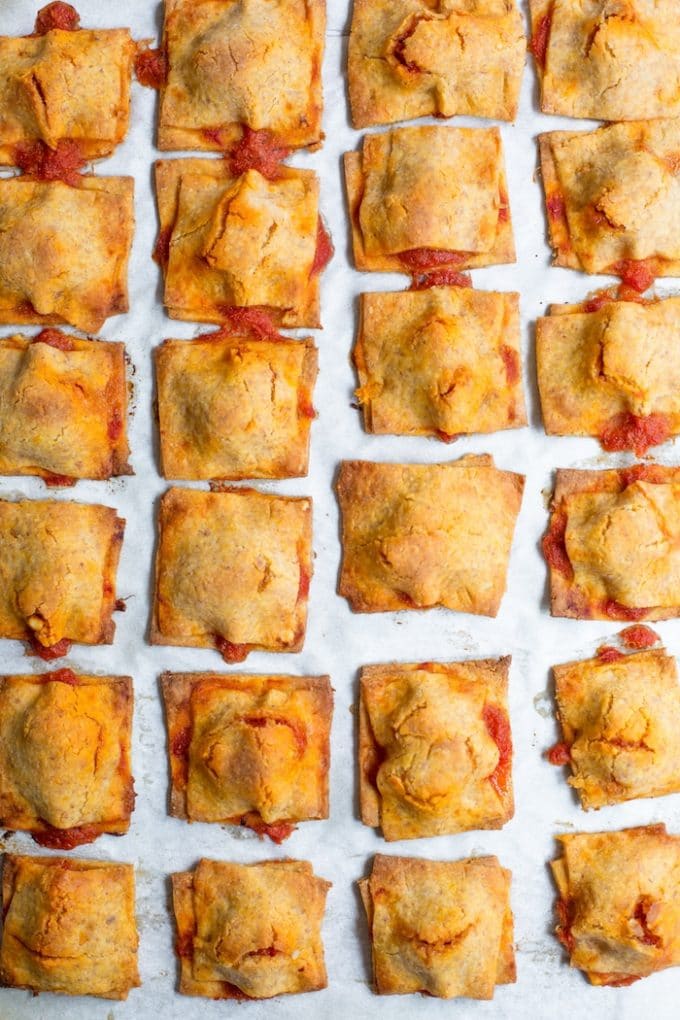 The Crust:
A few things to note about the crust:
Almond flour is very difficult to find here in the UK so I buy large bags of almonds from Costco and grind them into a meal. It's similar to almond flour, but it's exactly the same thing and can sometimes yield different outcomes in recipes. If you choose to use almond flour here instead I recommend using a kitchen scale to weigh out the amount you need (150 grams) for a more accurate outcome. I haven't been able to try this using almond flour so I can't speak to how it will turn out, but I do think it would still work. If you try it please let me know in the comments below!
As for the mashed sweet potato – there are a couple of ways to go about mashing it.
Option 1 (fast way): Poke a sweet potato all over with a fork and then microwave for about 4-5 minutes until soft and tender. Large sweet potatoes will need more time than small potatoes. Once microwaved, let cool for about 10 minutes before handling and the slice the potato down the middle and scoop out the insides. The peel should easily come off at this point. Then just use a fork or potato masher to mash until smooth.
Option 2 (long way): Poke a sweet potato all over with a fork and then bake in the oven for 45-60 minutes at 400°F/205°C. Remove from the oven and let cool for about 10 minutes before handling. Slice down the centre of the potato and scoop out the insides. Use a fork or potato masher and mash until smooth.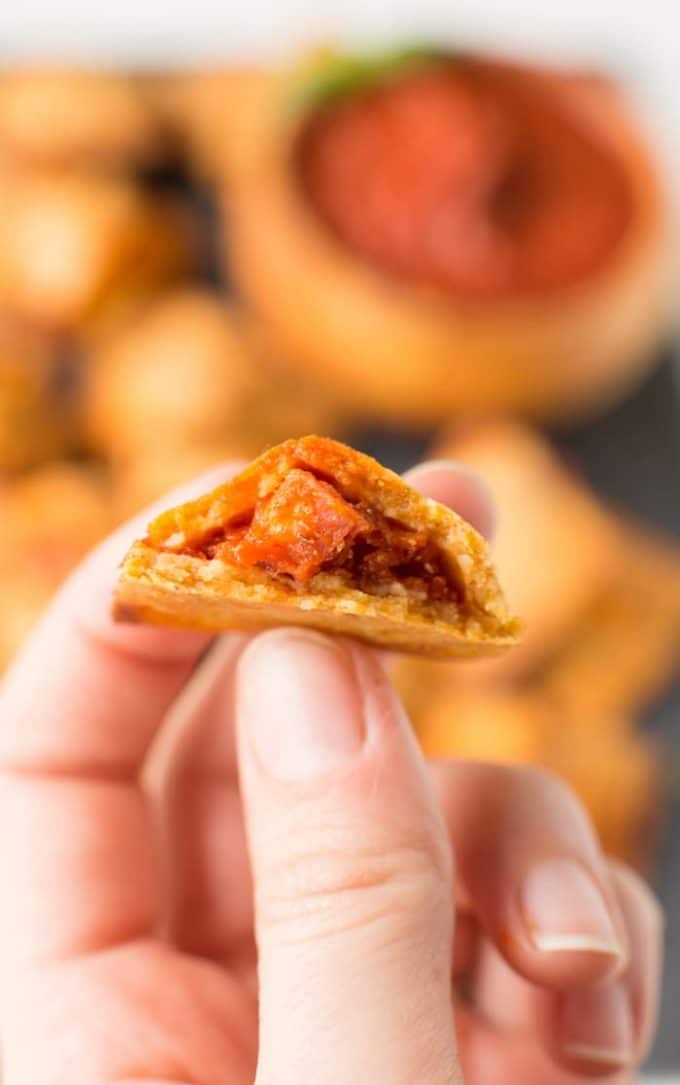 I hope you all love these pizza rolls as much as we have! These also freeze well which means you can make a load of these at once and pull out when your cravings hit! All you need is a couple of minutes in the microwave and you're set!
Enjoy!
FACEBOOK | INSTAGRAM | PINTEREST
Don't forget to #asaucykitchen on instagram if you try these Homemade Pizza Rolls! We love seeing what you make! You can also post your pictures to my facebook page – those are always fun to see!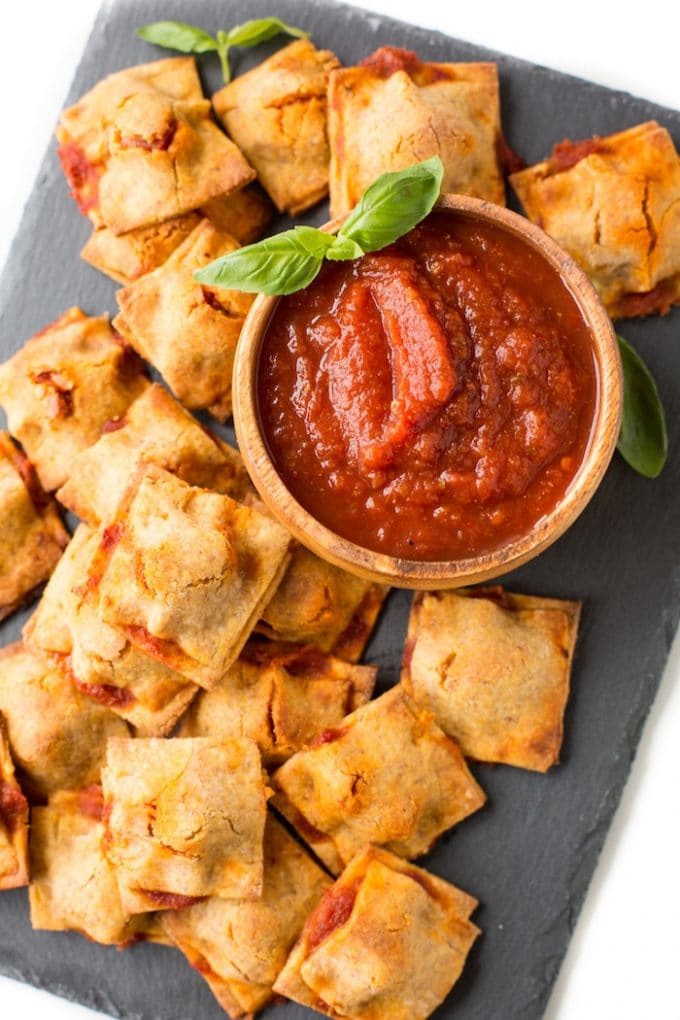 Recipe
Homemade Pizza Rolls
Yield:
30 pizza rolls
Prep Time:
15 minutes
Cook Time:
20 minutes
Total Time:
35 minutes
'Healthified Homemade Pizza Rolls made with a grain free sweet potato crust | Paleo + Gluten Free + Dairy Free
Ingredients
Crust
1 cup | 150 grams whole almonds
1/2 cup | 100 grams mashed sweet potato
1/2 cup | 50 grams tapioca flour + more for rolling out the dough
1/2 teaspoon salt
1/2 teaspoon garlic powder optional
1 tablespoon | 15 ml melted coconut oil
Filling
1 cup passata (or crushed tomatoes)
1 teaspoon balsamic vinegar
1 teaspoon oregano
1/4 teaspoon onion powder
1/4 cup pepperoni cut up into small 1/4 inch cubes, optional (see note below)
Instructions
Filling
In a small sauce pot add the passata or crushed tomatoes, balsamic vinegar, oregano and onion powder. Stir it all together and warm on a medium low heat for for a couple of minutes. Taste & season with salt & pepper as needed. Once warm remove from the heat and set aside until you need it to fill the rolls.
Crust
Preheat the oven to 400°F/205°C
Add the almonds to a blender or food processor and blend until you reach a soft, flour-like texture.
Transfer the almond meal to a large mixing bowl with the mashed sweet potato, tapioca flour, salt, and garlic powder. Stir in the coconut oil. Mix everything until it all comes together to form a sticky dough.
Sprinkle a little more tapioca flour over a large sheet of parchment paper. Place the dough on top of the paper and then place another sheet of parchment paper over the top. Roll out the dough between the paper until it's 1/8 inch thick.
Peel back the top piece of paper and cut the dough into 1 1/2inch - inch squares.
Transfer half of the squares of dough to a lined or greased cookie sheet. Leave about 1/2 inch space between each square.
Spoon about 1/2 - 1 teaspoon of the sauce on the middle of each square. If you're using pepperoni (or another paleo friendly filling) place one cube on top of the filling in each square.
Take the remaining half of the square crust pieces and place them on top of the filling. Gently press the edges of the dough down and seal with the bottom crust.
Transfer the baking pan to the oven and bake for 15-20 minutes or until the edges of the pizza rolls are slightly golden brown. Remove from the oven and let cool for 5-10 minutes. Warm the rest of the marinara filling and serve alongside the pizza rolls as a dipping sauce.
Notes
I grind whole almonds to make almond meal in the recipe because pre ground almond flour isn't easy to find here and the UK. While almond meal & almond flour are very similar and can often times be used interchangeably they can different results in baking. For the most accurate result use whole almonds because I can't speak to how these turn out with almond flour. I also recommend weighing the almond four with a scale. If you do try it please let me know in the comments! 
Pepperoni is not paleo. If you want a paleo option use 1 cup cooked sausage  instead. 
Nutrition Information
Yield:

30
Serving Size:
g
Calories:

46
Sodium:

43mg
Carbohydrates:

4g
Protein:

1g
This website provides approximate nutrition information for convenience and as a courtesy only. Nutrition data is gathered primarily from the USDA Food Composition Database, whenever available, or otherwise other online calculators.