Apple Cinnamon Homemade Pop Tarts made with a grain free almond flour dough and naturally sweetened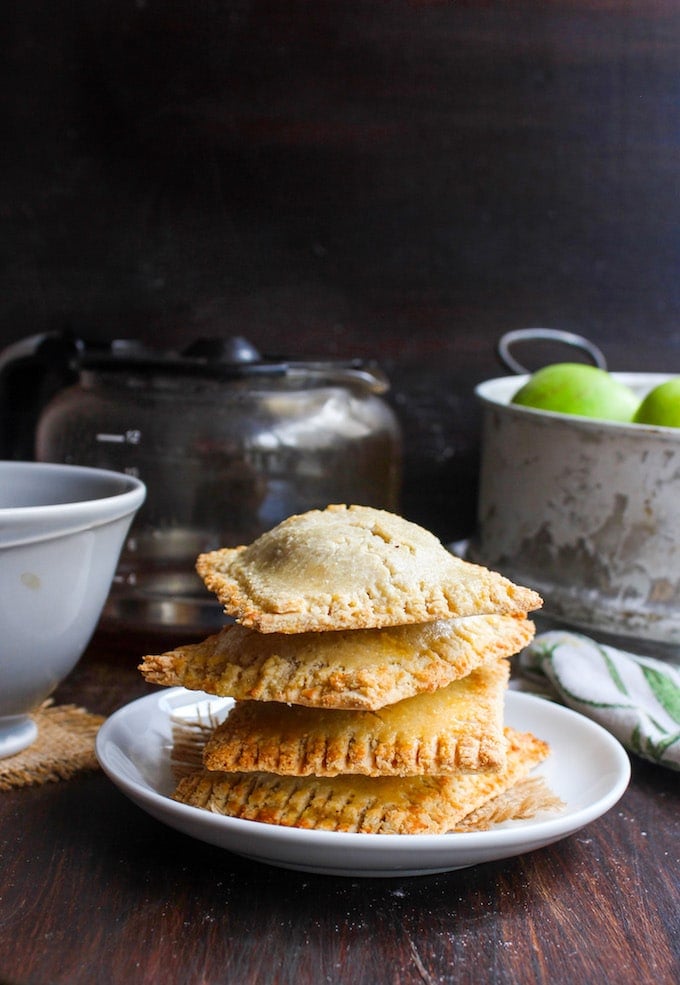 Paleo Homemade Pop Tarts
Is that an oxymoron or what?
Mike & I often joke about the idea of 'paleo' desserts. I like the idea of primal brownies and edible cookie dough made with ancient grains. Ya know – things our ancestors certainly did not eat. Things that go against the basic principles of ~paleo living.
And yet here I am today presenting you with a fresh plate of these paleo apple cinnamon homemade pop tarts because that's how we do it here. Or rather, I've got pictures of them for you.
While we may not eat strictly Paleo here, we do look to it as a guideline for healthy living. More veggies less packed goods etc etc.  You can go too wrong if that's the general idea.

Since neither myself nor Mike has much desire to reign in on the sweets, it's nice have specific parameters to operate within for healthier treats. Especially when it comes to pop tarts. I shudder to think how many pop tarts I threw down when I was in high school. I probably had a brown sugar cinnamon pop tart every day for lunch when I was Junior. There were vending machines all over campus and me with a weak will and a pocket full of change. #NoRegrets
Also, paleo baking is fun. That alone is enough reason for me to go full on with the grain free treats. So there. 
At least now I can make up for it by making homemade pop tarts from scratch with a healthier spin. Even these apples are home grown! I've been waiting all summer for these. There's a fine balance we have to find between waiting long enough for them to be ripe and ready but not too long that the worms go for them. The struggle is real.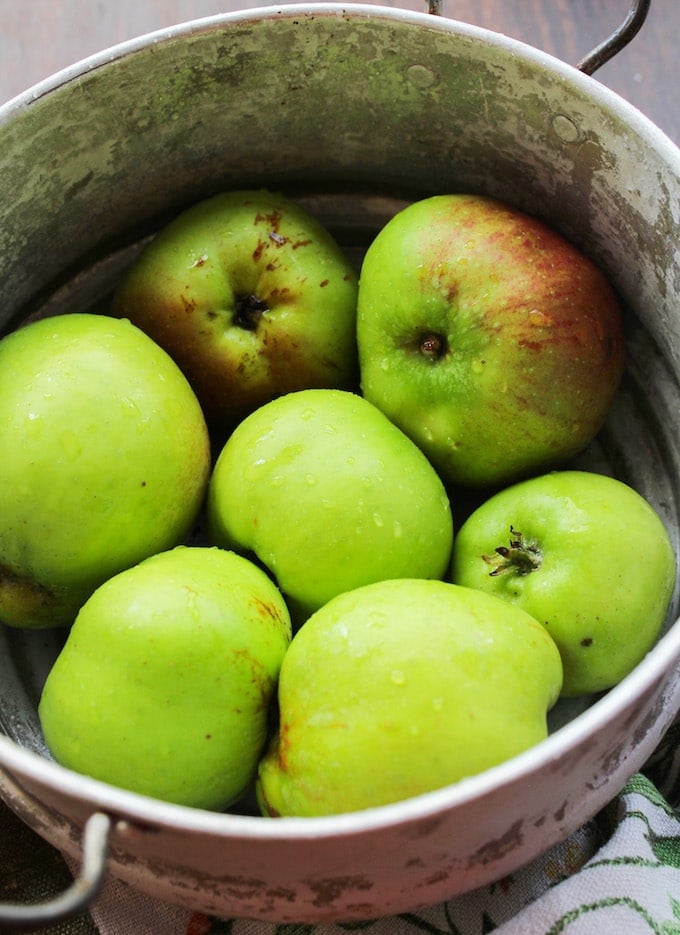 I also made a quick cinnamon maple glaze to drizzle on a few these. It's 0% paleo, but 100% worth it.  Glazes on pop tarts just feel necessary to me. I didn't want to take time to soak any cashews just make it paleo because I am #impatient. If you are on the look out for a paleo friendly maple glaze you can try the one I used on these pumpkin donuts I made last year. If you're not bothered you can do what I did and whisk together 1/4 cup powdered sugar with a splash of maple syrup and about 1/2 teaspoon cinnamon. So good.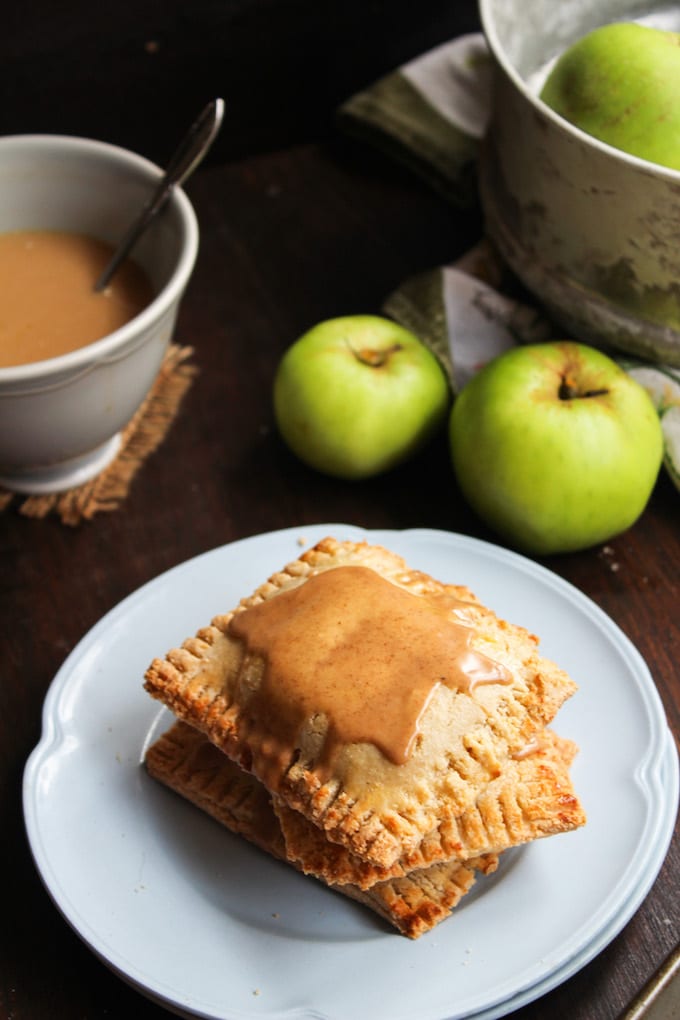 PS – primal or not our ancestors would most definitely be noshing on pop tarts if they had toaster ovens back in the caveman days. Who wouldn't?
FACEBOOK | INSTAGRAM | PINTEREST  
Don't forget to #asaucykitchen on instagram if you try these homemade pop tarts! We love to see what you make with it!  You can also post your pictures to my facebook page!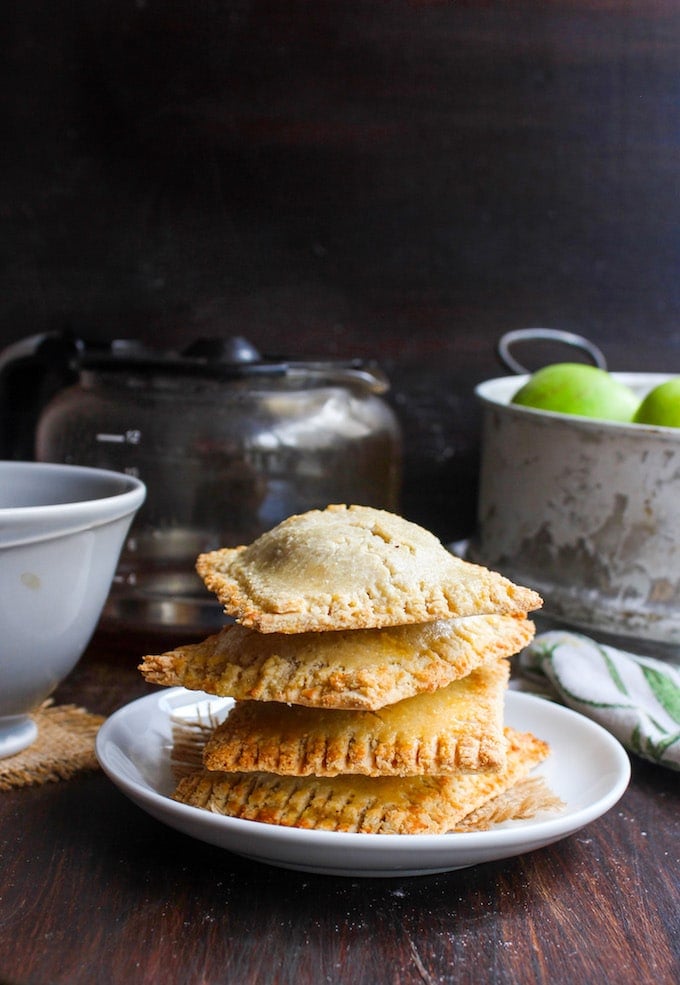 Recipe
Cinnamon Apple Homemade Poptarts
Yield:
7 poptarts
Prep Time:
35 minutes
Cook Time:
15 minutes
Total Time:
50 minutes
Apple Cinnamon Homemade Pop Tarts made with a grain free almond flour dough and naturally sweetened | grain free & refined sugar free
Ingredients
pop tart dough
2 cups almond flour, can use 1 cup oat flour with 1 cup almond flour
3/4 cup tapioca flour
1/4 teaspoon sea salt
1/2 teaspoon baking powder
1 tablespoon coconut sugar
1/4 cup cold butter, cut into cubes
1 egg, whisked*
apple filling
3 cups apples, came out to about 3-4 large apples for me, peeled & diced I used bramley, but you could also use granny smith
1 teaspoon vanilla extract
1 tablespoon fresh lemon juice
1 teaspoon cinnamon
1/4 cup honey or maple syrup
Instructions
Prepare the dough
In a large bowl combine the almond flour, tapioca flour, sea salt, baking powder and coconut sugar and mix to combine.
Add the cubed butter to the dough until you reach a sandy mixture. Add the egg and mix to combine until the dough starts to stick together. Divide the dough half and form two balls. Set aside will you prepare the filling. If you're dough is still too dry see my notes below.
Make the filling
To make the filling add the apple, vanilla, lemon juice, cinnamon and sweetener in a medium sized pot. Warm the mixture on a medium low heat for about 10-15 or until the apples start to break down. Make sure to stir every few minutes to keep the mixture from burning to the bottom.
For a smoother filling you can mash the apples to break them down. I left large apple chunks in my filling, but this part is up to you. Taste the filling and adjust to your tastes - more honey/maple if it's too tangy, more lemon juice if it's too sweet.
Once done, remove the apples from the heat and let cool while you roll out the dough
Assembling the pop tarts
Preheat the oven 350°F
Roll 1 of the dough balls out between two pieces of parchment paper. Once it's rolled out to about 1/4 inch thick use a pizza cutter or a sharp knife to cut into rectangles (about 4 inches long/3 inches wide). Repeat this process on the rest of the dough until it's all cut into little rectangles.
Lay half of the cut outs onto baking sheets. Spoon about 2 tablespoons of the filling onto each half. Top the filling with the other half of the dough cut outs. Use a fork to seal the edges of the pop tart and poke a few holes on the tops. Bake for 10-15 minutes or until the edges start to brown.
Remove from the oven and let cool on cooling racks until you're ready to eat.
Notes
Different paleo flours can behave differently depending on the brand/source. If your dough is too crumbly and dry add an extra egg white to the dough to add moisture and binding power. The dough might feel a little sticky at first, but it should absorb in a be easier to roll out and handle. Alternatively, if your dough is too sticky to work with then add more tapioca flour 1 tablespoon at a time until it's good enough to roll out.
These are best on the first day, but you can crisp them up again in the oven/toaster for a few minutes before eating. makes 5-7 pop tarts
I no longer recommend using coconut oil in this recipe - I've since made this pie crust a few times and have found the coconut oil to be too unreliable - it only ever works in really cold temperatures. If you need to keep this dairy free you can use palm oil, but if you can handle dairy then butter works perfectly
Nutrition Information
Yield:

7
Serving Size:
poptart
Calories:

358
Saturated Fat:

5g
Cholesterol:

40mg
Sodium:

155mg
Carbohydrates:

35g
Fiber:

4g
Sugar:

14g
Protein:

7g
This website provides approximate nutrition information for convenience and as a courtesy only. Nutrition data is gathered primarily from the USDA Food Composition Database, whenever available, or otherwise other online calculators.