Baked paleo pumpkin spice donuts with a cashew cream maple frosting – in case you need a little motivation to get up in the morning!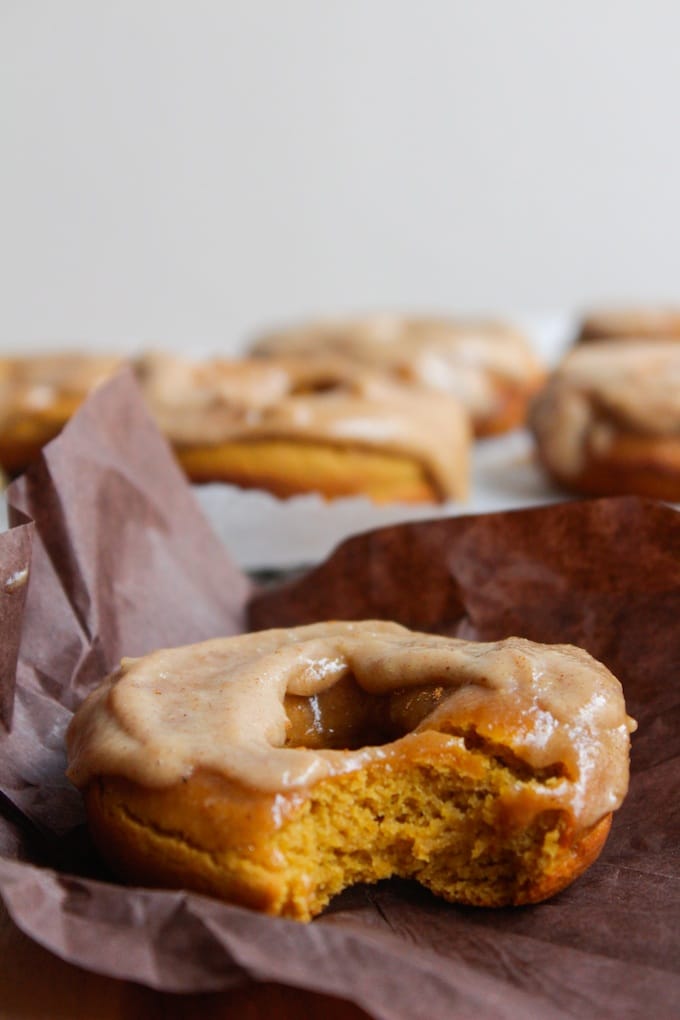 I have a bit of a confession to make.
Let me just preface this quickly by saying that there are a lot of specialty food items that are really hard to find in England. Things that I used to easily get here in the US can be so hard to find – pumpkin puree being one of those things.
I somehow missed the fact that you can actually make your own pumpkin puree, and in my time of need I did what I often do and went to Amazon. A few clicks later I bought myself a single can of pumpkin puree.
I just got it in my head that I needed pumpkin.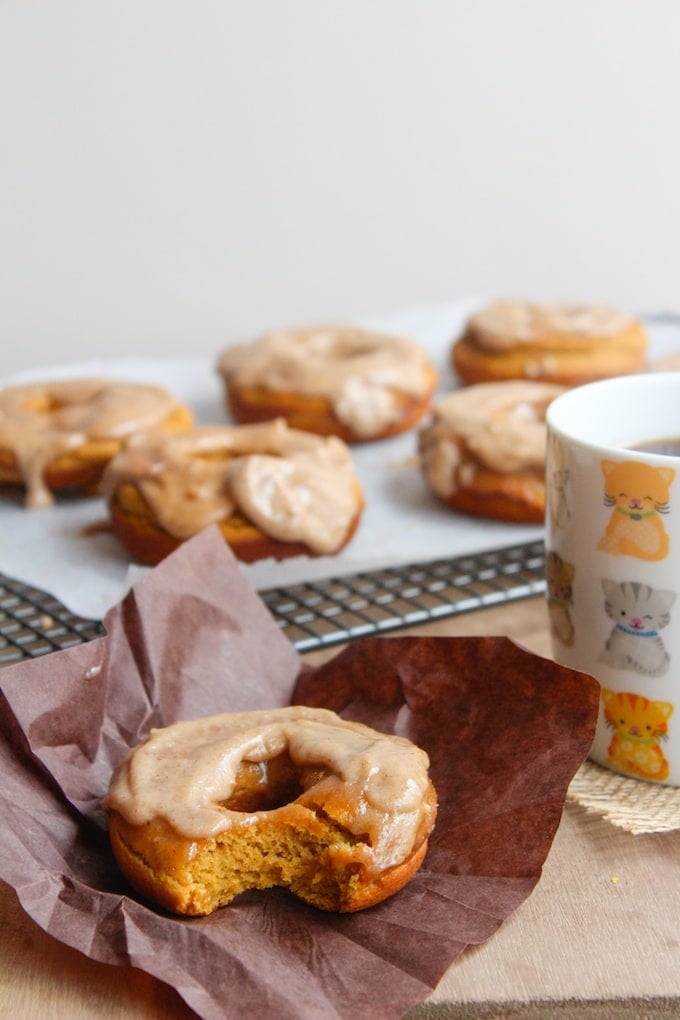 That in itself isn't the crazy part. The crazy part is that I actually paid £4.39 – that's $6.71 USD.  I paid almost $7 dollars for a solitary can of pumpkin puree. Oops. I'm normally a very cheap frugal person.
Thankfully, Tracy from The Thing's We'll Make reminded me that you can in fact make your own pumpkin puree – quite easily! As an American Expat living Spain, Tracy knows all too well how difficult things can be to find. #TheStruggleIsReal. The next week I went out and bought an actual pumpkin and made my own puree using this guide by the Food Network. How about that!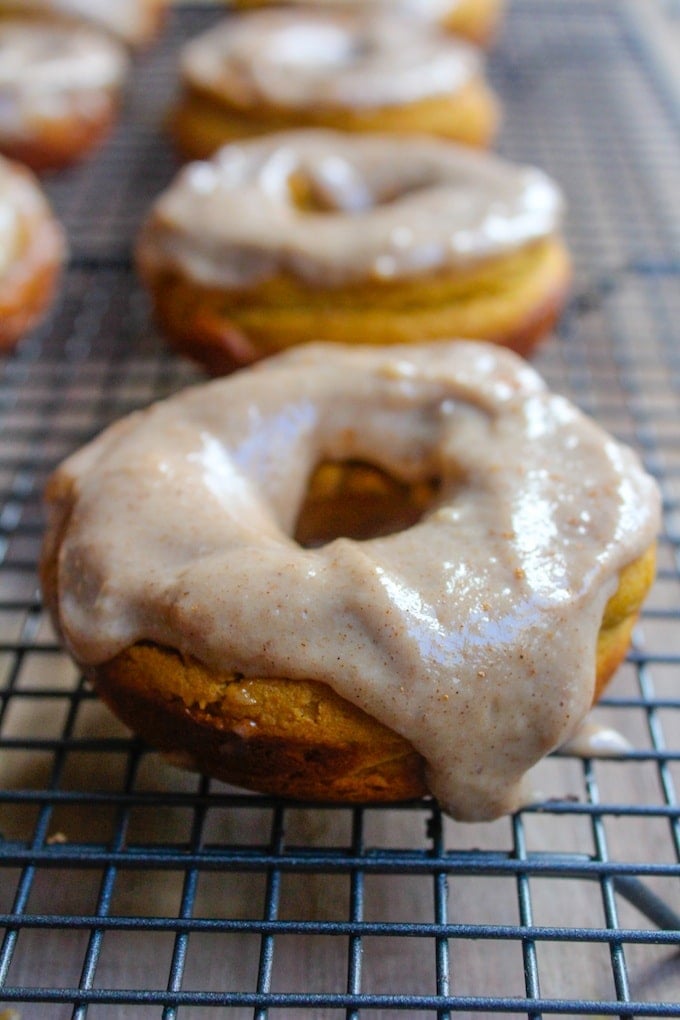 Before I flew back to Arizona to spend Thanksgiving with my family, I noticed that I still had a bit of pumpkin puree left over that needed using. In my mind, left over puree = time to bake some donuts. Obviously. I think in my mind, baking is the solution to many of life's problems.
Anyways, I'm going to go ahead and cut this this post short from now. I'm still slightly on English time, my dad just poured me a glass of wine. I have a feeling that wine and blogging don't mix and I'm not particuarly interested in finding out. I'm on vacation, ok? Plus I have a very excited dog who has been dropping his toys at my feet since I sat down to write this. It would just be rude to ignore him much longer.
Long story short: paleo pumpkin spice donuts! And don't forget about that maple glaze –  I live for maple glazed things.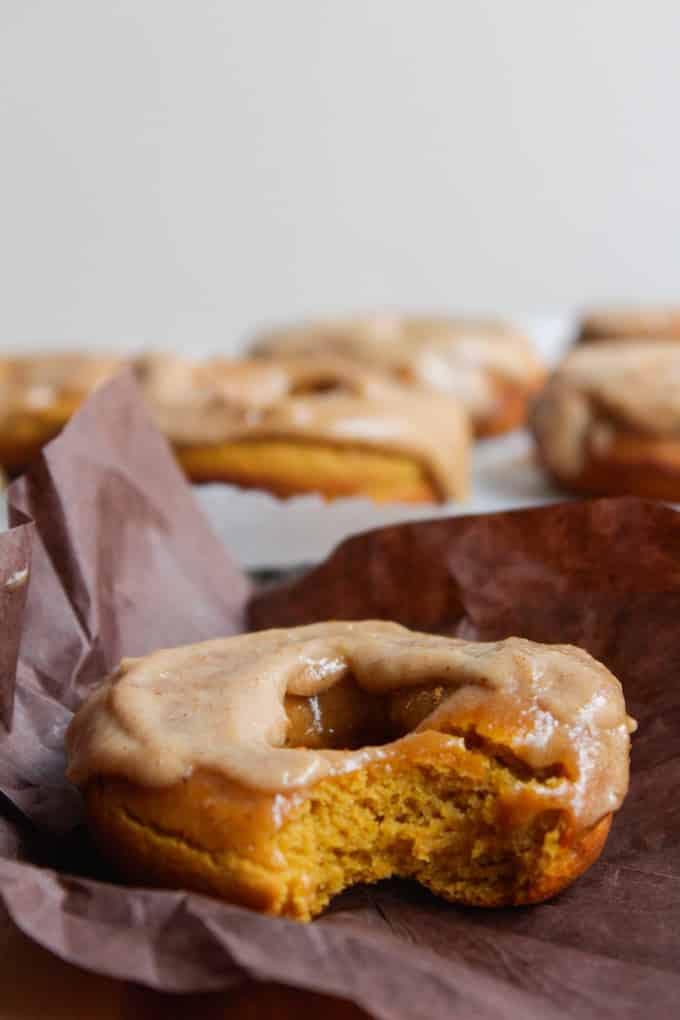 Recipe
Paleo Pumpkin Spice Donuts with Maple Frosting
Yield:
6 -8 donuts
Prep Time:
20 minutes
Cook Time:
15 minutes
Total Time:
35 minutes
Baked paleo pumpkin spice donuts with a cashew cream maple frosting - in case you need a little motivation to get up in the morning!
Ingredients
Donuts
2 eggs
3/4 cup pumpkin puree
2 teaspoon vanilla extract
1/2 cup coconut sugar
1 1/2 cups almond flour
1/4 cup tapioca flour
1 tablespoon baking powder
1 tablespoon pumpkin pie spice
1/4 teaspoon salt
2 tablespoons coconut oil, , melted
2 tablespoons coconut milk, (if needed)
Maple Frosting
3/4 cup cashews soaked in boiling water for at least 2 hours, (I like to start soaking the cashews the night before so it's ready for the next day)
3 tablespoons maple syrup, (or honey)
1 teaspoon pumpkin pie spice
1 teaspoon vanilla extract
1 teaspoon lemon juice
3 tablespoons coconut oil, , melted
Instructions
For the Donuts
Heat your oven to 375°F/190°C. Grease your donut pans with a little bit of coconut oil and set aside for later.
In a mixing bowl, whisk your eggs and pumpkin puree together until smooth. Add the vanilla extract, and coconut sugar and mix until fully blended.
Add the almond flour, tapioca flour, baking powder, pumpkin pie spice and salt to the batter and mix until there are no remaining lumps. You may need to use an electric mixer for this part.
Pour the melted coconut oil into the batter and beat until smooth. If your batter is too thick add the coconut milk to thin it out a bit.
Spoon the batter into the greased donut molds fully filling the mold to the top. You can also scoop out the batter into a piping bag or large zip lock bag and pipe the batter into the molds. Bake for 12-15 minutes. Check the donuts about halfway through and flip around if your oven has hot spots.
Allow the donuts to cool completely before frosting.
For the frosting
Drain the water from the cashews that have been soaking for at least 2 hours and place the cashews in a blender with all of the other frosting ingredients and blend until smooth.
Nutrition Information
Yield:

6
Serving Size:
g
Calories:

480
Saturated Fat:

12g
Cholesterol:

59mg
Sodium:

153mg
Carbohydrates:

38g
Fiber:

4g
Sugar:

18g
Protein:

11g
This website provides approximate nutrition information for convenience and as a courtesy only. Nutrition data is gathered primarily from the USDA Food Composition Database, whenever available, or otherwise other online calculators.
This post contains affiliate links.  I only post links for products I personally use and believe in. If you make a purchase on Amazon after clicking one of my links, I receive a small commission and the price you pay is not affected.  Thank you!