These juicy chicken meatballs are a healthier and leaner alternative to standard beef, pork or veal based recipes! Ground chicken mixed with a blend of herbs and spices sautéed and simmered in marinara make for an easy and delicious meatballs that you can mix together in no time! This recipe uses almond flour and nutritional yeast and almond flour for a grain free and dairy free for a paleo/whole 30 twist, but you can absolutely sub in parmesan and breadcrumbs for a more traditional taste!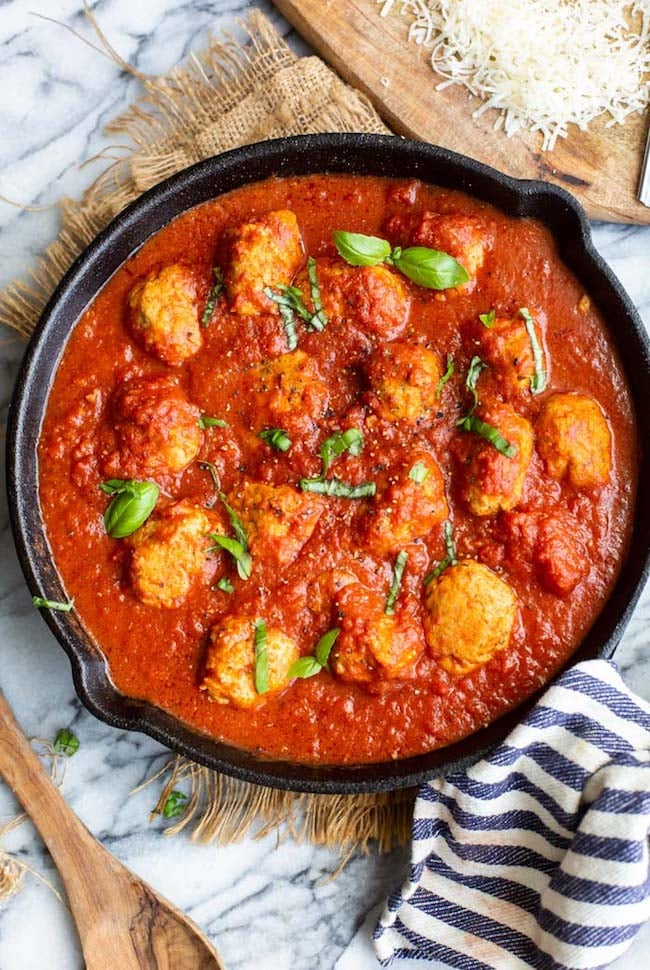 How to make these healthy chicken meatballs
Altogether these meatballs are pretty easy to make. It's really just a matter of adding all of the ingredients together in a big bowl and mixing until fully combined.
Fast, easy and super satisfying!
I do recommend mixing the meatball mixture together using your hands. I know it can be tempting to use a spoon or fork, by getting your hands dirty here will ensure that all of your spices are fully mixed throughout.
Once mixed, roll your mixture into 1-2 inch balls. You should end up with about 20 balls more or less depending on how big you make them.
After rolling, sauté the balls in a warmed skillet with a little bit of olive oil. Cook each side about 2-3 minutes before turning until browned. You don't actually need to cook the meatballs through yet as they will cook fully in the marinara. At this point your goal is to brown the outsides and create a flavourful crust.
Next, simply add the marinara. Stir in the sauce to fully coat the meatballs, then let it all simmer for about 15 minutes to fully cook and that's it! Feel free to use store bought or homemade marinara. If you're following a Whole30 diet make sure to either check the label for hidden sugars or just make it from scratch.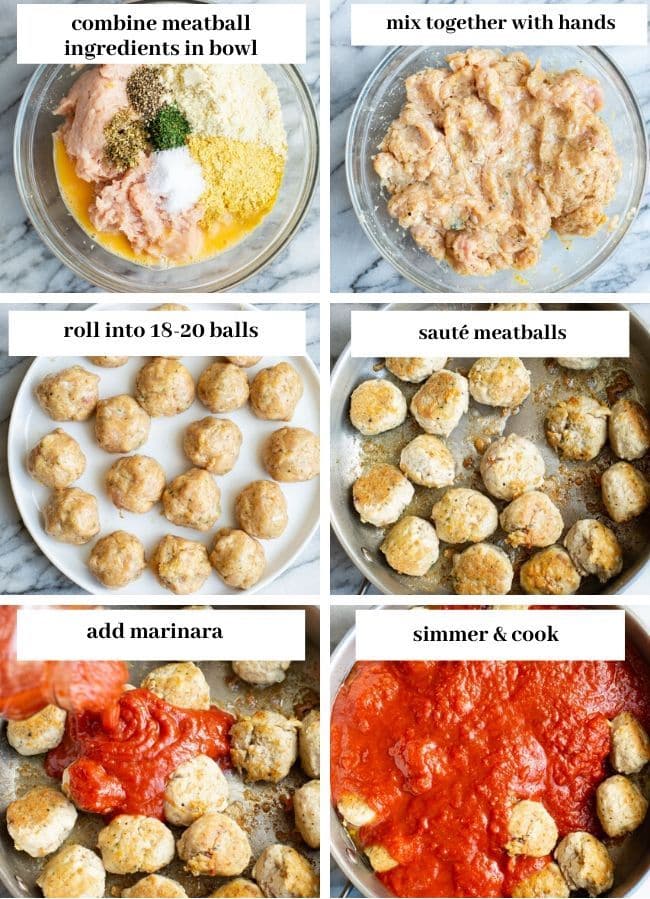 Chicken Meatball Tips & Substitutions
How do I make my own chicken mince?
You can make your own chicken mince by grinding it up in a food processor. You can use chicken breast or thighs – just make sure it's boneless/skinless. I recommend using thighs for juicier meatballs.
Can I use something other than chicken?
You can use ground turkey, pork or beef. Whichever meat you choose will change the taste so make sure you pick something you like!
Can I make these nut free?
Yes! Using almond flour makes these meatballs paleo/ whole30 & keto friendly but you can use regular gluten free breadcrumbs or panko instead with no problems.
What can I use instead of nutritional yeast?
Swap out the nutritional yeast for parmesan. Nutritional yeast is simply a dairy free way to infuse these meatballs with a slight cheesy flavour similar to parmasean.
Can I bake these instead of frying?
Yes! I recommend baking them for about 30 minutes at 400°F/205°C. Line a large baking sheet with baking paper and make sure to flip them meatballs over halfway through the cook time.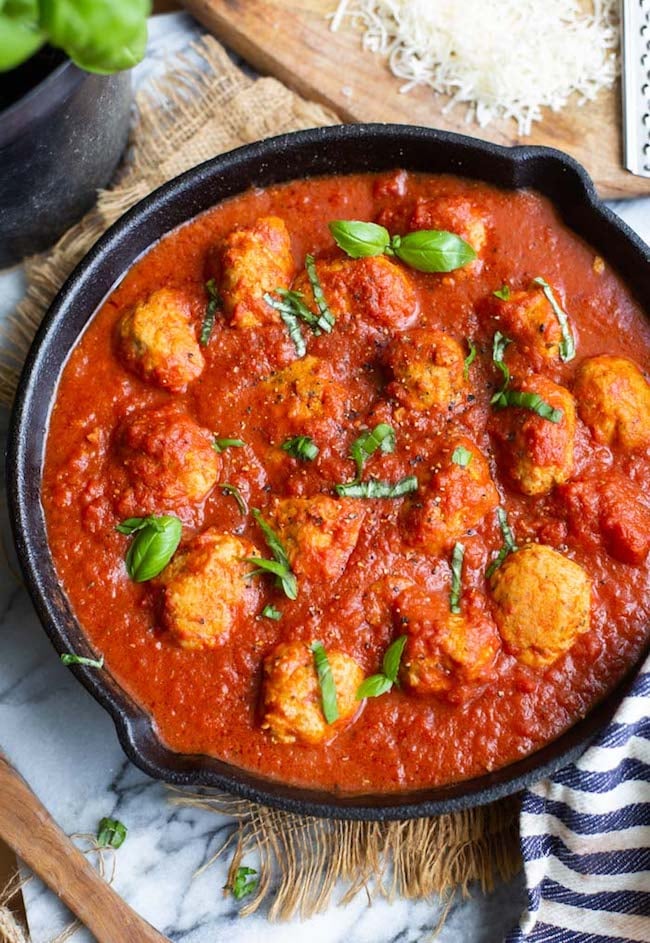 Enjoy these meatballs served over your favourite pasta. You can't go wrong with a traditional spaghetti or maybe even penne. I quite enjoy these with some cooked gnocchi mixed in. If you really want to have a good time you can also make your own homemade meatball marinara subs with these.
If you'd like to keep this dish paleo/low carb friendly they also go great served over a bowl of zucchini noodles.
FACEBOOK | INSTAGRAM | PINTEREST
Don't forget to #asaucykitchen on instagram if you try these healthy chicken meatballs! We love seeing what you make! You can also post your pictures to my facebook page!
Yield: 18-20 meatballs
Healthy Chicken Meatballs in Marinara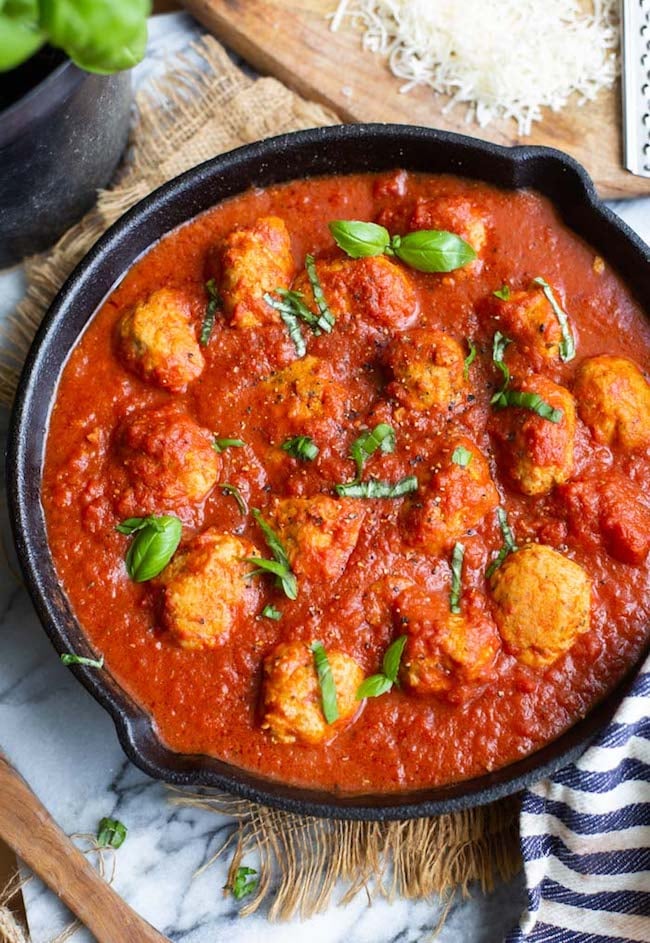 Ingredients
1 1/2 pound ground chicken
1/4 cup nutritional yeast (or grated parmesan)
1/2 cup almond flour (or gluten free breadcrumbs)
1 egg, whisked
3 garlic cloves, minced
3/4 tsp dried oregano
1/2 tsp dried parsley
1/2 tsp ground black pepper
1 tsp salt
2 tbsp olive oil
Instructions
In a large bowl: combine the ground chicken, nutritional yeast, almond flour, egg, garlic, oregano, parsley, salt and pepper. Use your hands to mix the everything together until well combined.
Begin rolling the mixture into balls about 1-2 inch big. You should end up with about 18-20 meatballs. Lightly grease your hands with olive oil to keep your hands from getting too sticky.
Add the olive oil to a large, non stick skillet and warm over a medium heat. When the oil is hot, add the meatballs to the pan and cook about 4-5 until lightly browned.
Pour the marinara over the meatballs, low the heat to medium low and let everything cook about 12-15 minutes until the balls are fully cooked. Serve over pasta or vegetable noodles and enjoy.
Notes
If you're following a Whole30 diet make sure to check the label for hidden sugars on the marinara sauce if using store bought.
I recommend using chicken thigh mince. If you can't buy chicken mince in store you can grind up your own in a food processor.