Start off the New Year right with these healthy, hearty and satisfying recipes featuring ingredients that are in season in January! With tons of recipes to choose from you're sure to find something you can look forward to trying! As always these recipes are all 100% gluten free – many of them are also dairy free, vegan and paleo friendly as well.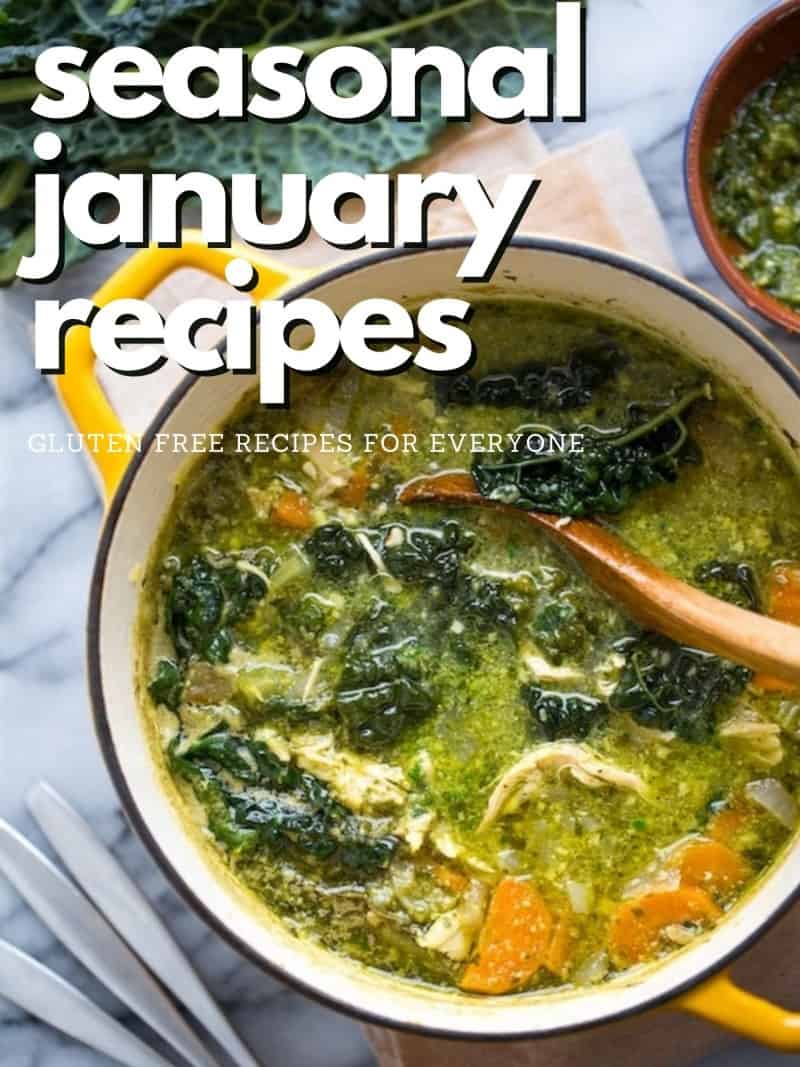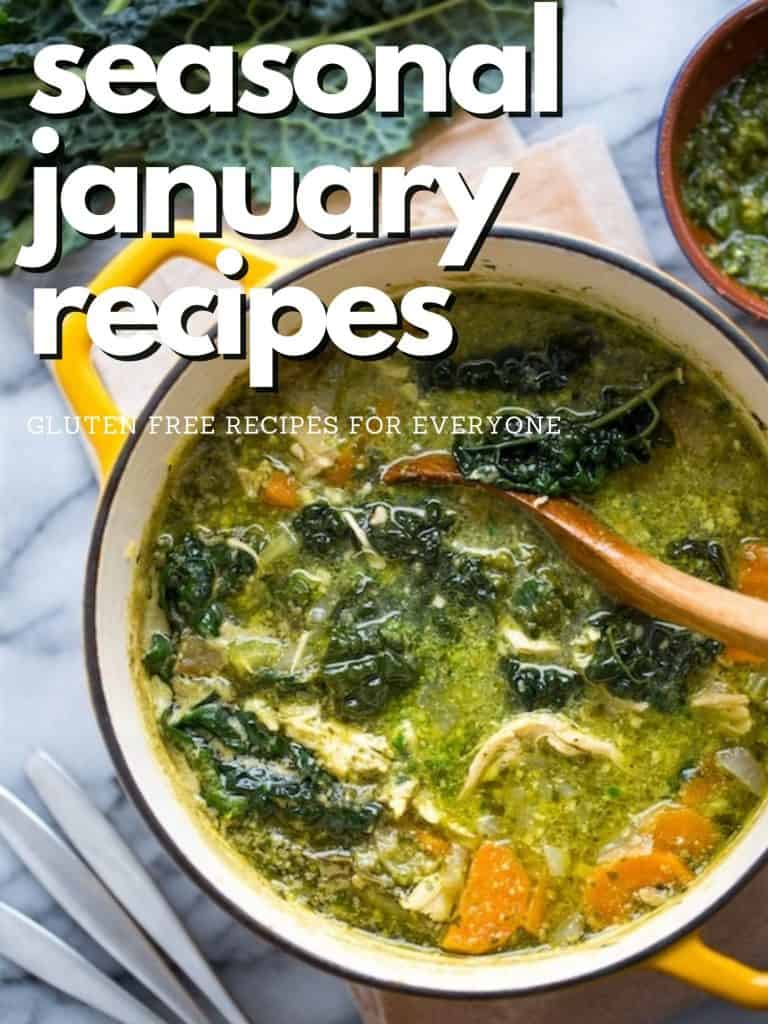 Happy New Year!
Congratulations – we've made it through the holiday season and on to another year.
I don't know about you, but now that the Christmas leftovers have run out and the New Years resolutions have begun, it's time to look forward into the month of January as an opportunity to unwind, reset and eat lots of tasty (and healthy!) food.
In case you need a little inspiration to get you started I've complied a quick list of what's good, healthy and in season this January. Of course, what's available might vary a bit depending on where you're at on the globe, but you should still find plenty of healthy and delicious recipes to make you hungry!
Ingredient Spotlight: Winter Squash
Pumpkin isn't just great for enjoying around Halloween! Winter squash (carnival, acorn, butternut and spaghetti squash just to name a few) is versatile, flavourful and nutrient rich making it a fantastic ingredient to work with during the cool winter months.
Once you get the hang of peeling and chopping (which can admittedly be a pain) transform your humble squash into a delicious soup, stew, curry or casserole!
Tip for choosing ripe & ready squash: Winter squash should feel ripe and heavy with its stem fully intact. Tap your squash with your knuckles and listen - if your squash sounds hollow it's ready to go.
Here are a few of my favourite recipes featuring winter squash:
Ingredient Spotlight: Cabbage (+ family!)
What else is in the cabbage family other than...well...cabbage?
Kale
Brussels Sprouts
Broccoli
Cauliflower
Though these veggies are somewhat loosely related, they all stem from the same plant species: Brassica oleracea, a wild mustard plant. I'll spare you all the nitty gritty details of plant species (though can read more about it here if you're interested).
Instead, I'll focus here more on sharing this next handful of delicious recipes featuring some of winters finest and healthiest veggies!
Ingredient Spotlight: Citrus
While it's true that many of us can get our hands on citrus fruit pretty much year-round, winter is when many of these fruits are at their ripest and juiciest. And what better time to become mo than in the chilly winter months when an extra dose of Vitamin C is most helpful?
Whether you're looking to zip up your baking with some fresh zest or add a little zing to a main meal - these citrus packed recipes are sure to brighten up your tastebuds!
What else is in season? Honorary mentions:
What are your favourite January recipes?
If you've got any favourites that you love to make and enjoy at this time of year – please let me know in the comments below! I love seeing what you make and I always appreciate the inspiration!
Reader Interactions