Sweet Potato Leek Soup topped with Spicy Toasted Pumpkin Seeds: a veggie filled, warming winter soup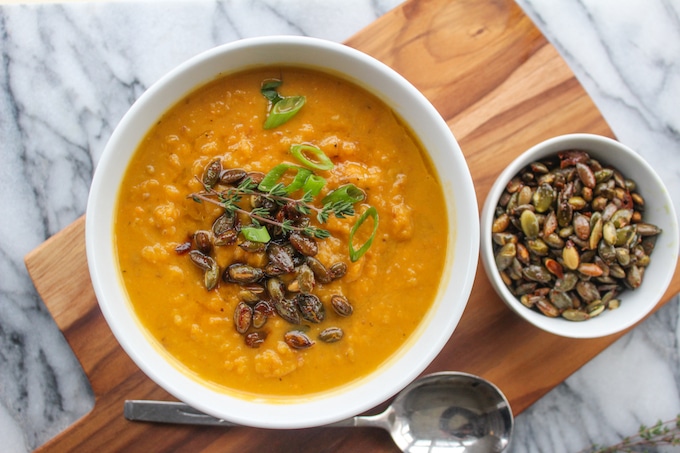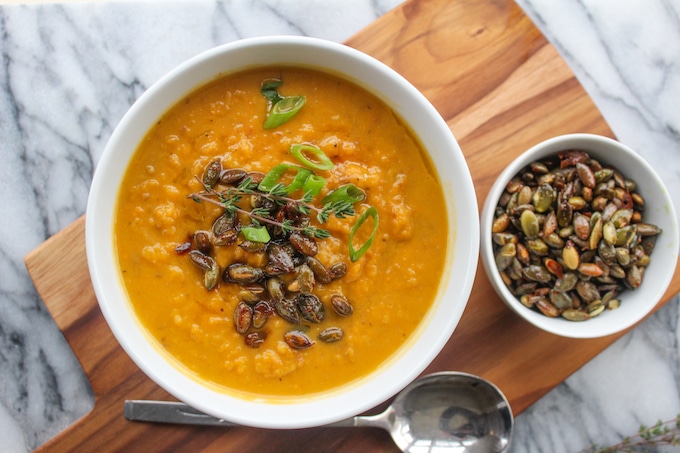 Can you believe that Christmas is only one week away? And that New Years is two weeks? 2016: Where did you come from? My head spins at the thought of another year fast approaching because 2015 can't possibly be almost over. And yet thinking back on this past year I realize how much that I've actually done.
Why does time move by faster as you get older?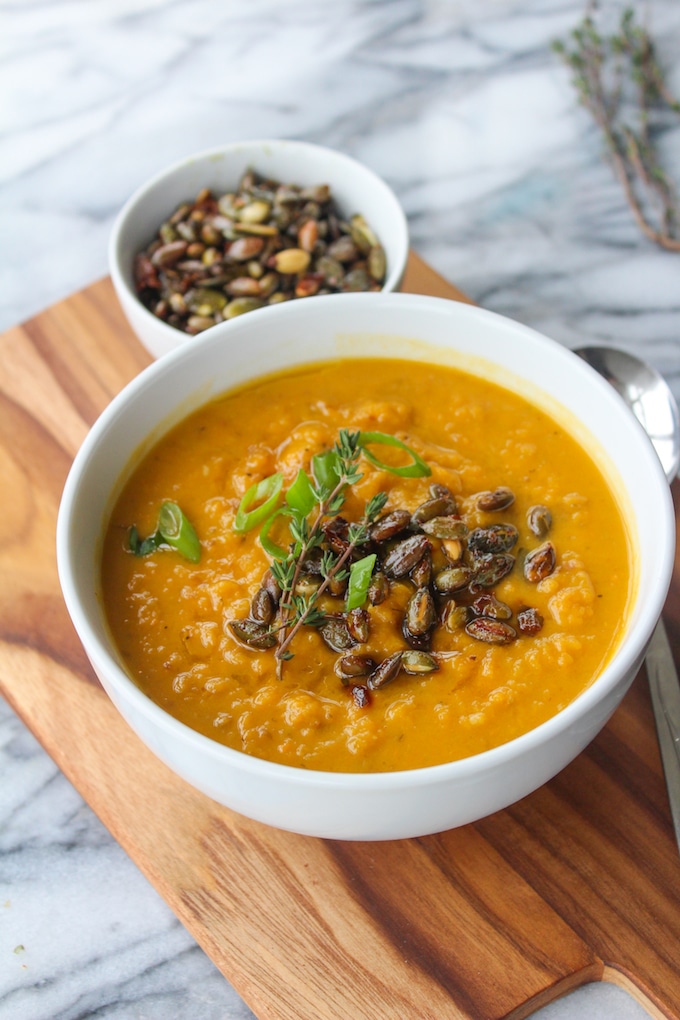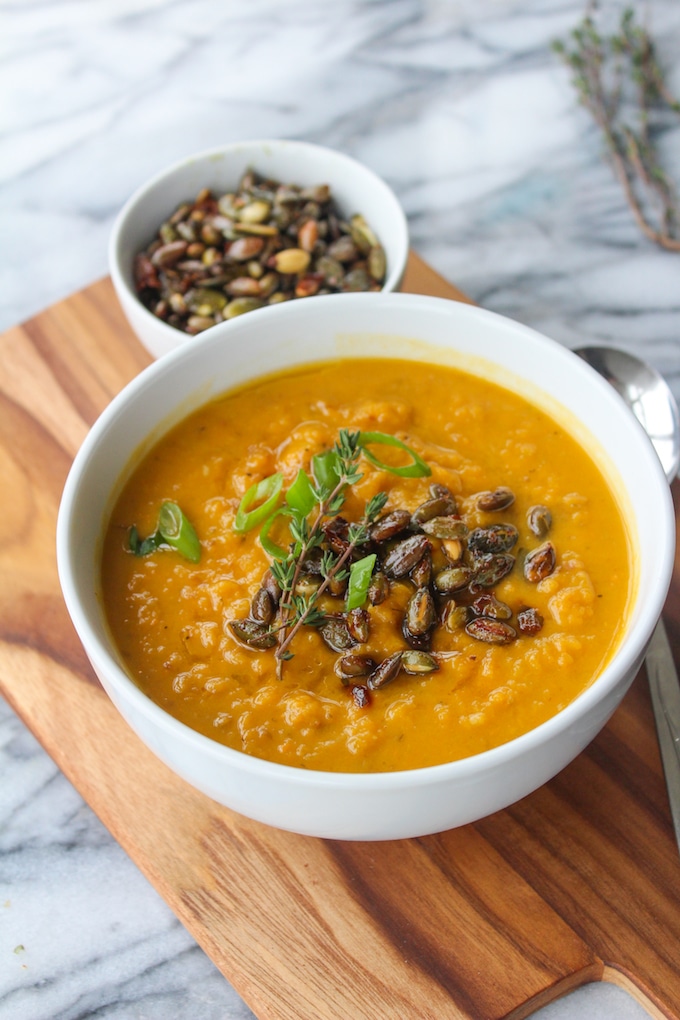 But enough about that for now – you're here for the soup!
As much as I'd love to gorge myself on all the Christmas treats that are available right now I've been trying to make an effort to get in as many veggies as I can to balance it all out. Why couldn't I be born with a speedy metabolism that allowed me to be up to my eyeballs in cookies without gaining a pound?
So my determination not to gain 20 pounds this holiday season combined with the fact that I was once again overly ambitious at the store last week buying more sweet potatoes than once person could possibly eat on their own – soup was of course a no brainer. At least I love soup almost as I love eating raw cookie dough so really it's not all bad.
I got the idea for this sweet potato soup from a recipe originally by My New Roots that she shared on Design Love. The skeleton of this recipe is the same, but I tweaked a few things based on what I had on hand and decided to give the pumpkin seeds a little more spice to balance out the sweetness of the potatoes. You can skip the pumpkin seeds altogether if you don't have any on hand, but I'd be lying if I didn't say you'd be missing out.
Now all you need is a little French Bread for dipping and you're all set!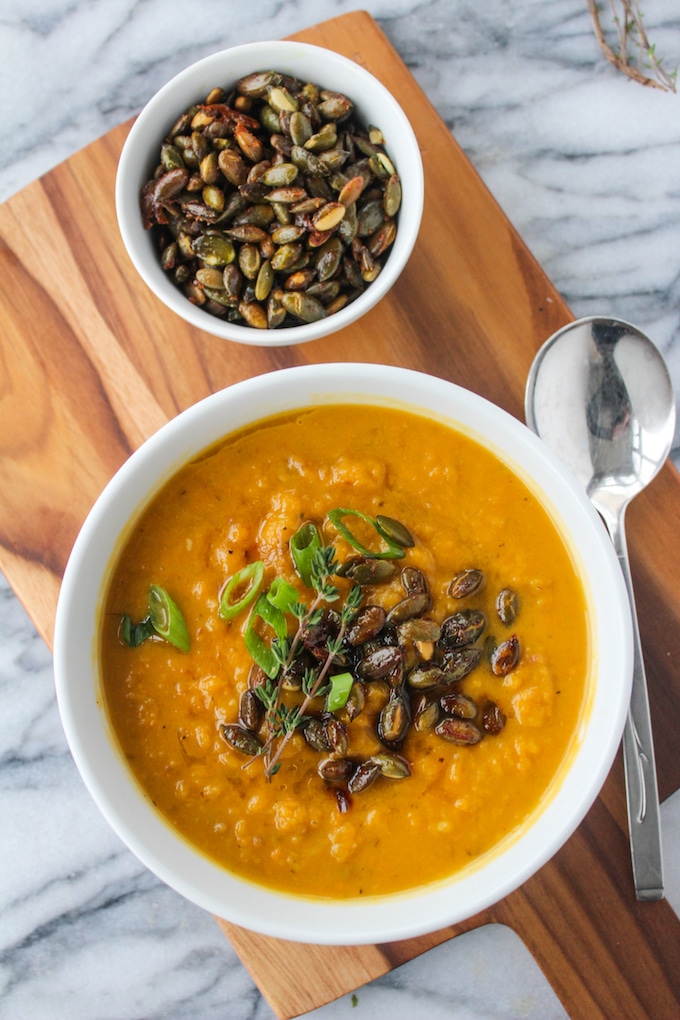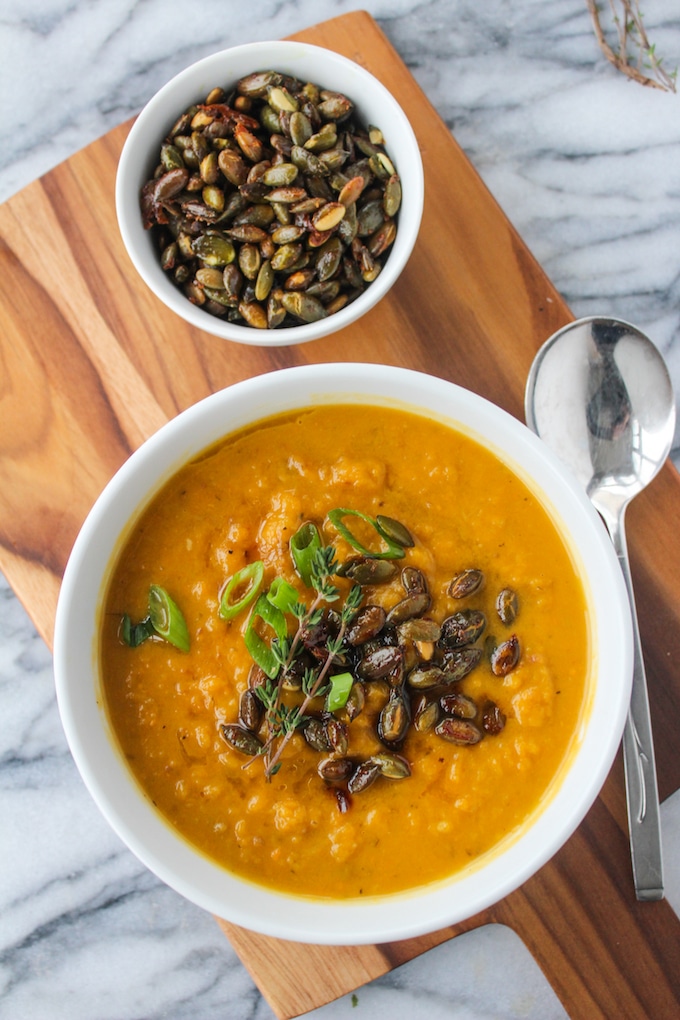 Sweet Potato Soup with Spicy Toasted Pumpkin Seeds
---
Sarah Nevins
Yields 4-6
10 minPrep Time
30 minCook Time
40 minTotal Time
Ingredients
Soup

1 tablespoon coconut oil
1 teaspoon salt
1 teaspoon dried thyme
2 large leeks
4 garlic cloves, crushed
3 medium sweet potatoes (1/2 kg)
1.5 liters vegetable stock for vegan option or chicken stock

Pumpkin Seeds

1/2 cup pumpkin sees/pepitas (65 grams)
1/2 tablespoon olive oil
1/2 tablespoon maple syrup
1/2 teaspoon cayenne
pinch of salt
Instructions
Soup

Chop the leeks up before washing them (this helps to get the dirt between layers).
In a large stock pot melt the coconut oil and then add the leeks, salt, and thyme and cook on a medium heat for about five minutes until the leeks begin to soften. Stir every so often. Add the crushed garlic to the leeks.
Scrub the sweet potatoes clean (no need to peel) and cut into 1 inch cubes. Add to the pot, stir, and then cover for a couple of minutes.
Add the stock to the pot, bring it to a boil and then reduce the heat to a simmer cooking until the sweet potatoes are soft enough to easily pierce with a fork.
Using an immersion blender puree the soup until it becomes creamy. You can also transfer the soup to a regular blender if you don't own an immersion blender.
Season with additional salt if it needs it.

Pumpkin Seeds

Preheat your oven to 300°F/150°C
Toss the pumpkin seeds in a small bowl with the other ingredients until they are coated and then spread them out on a baking sheet lined with baking parchment. Spread the seeds out so that they are in an even, single layer and then roast in the oven for about 10-15 minutes. Remove from the oven and allow the seeds to cool slightly before adding them to the soup
6.8
https://www.asaucykitchen.com/sweet-potato-leek-soup-with-spicy-toasted-pumpkin-seeds/
She brains and reluctant dishwasher for A Saucy Kitchen