Spanakorizo is a traditional, plant based Greek dish packed full of spinach, rice, herbs and lemon. It can be served as simple, hearty main dish or enjoyed as healthy side. Naturally gluten free and vegan – check out the recipe notes for tips on how to make this low FODMAP as well!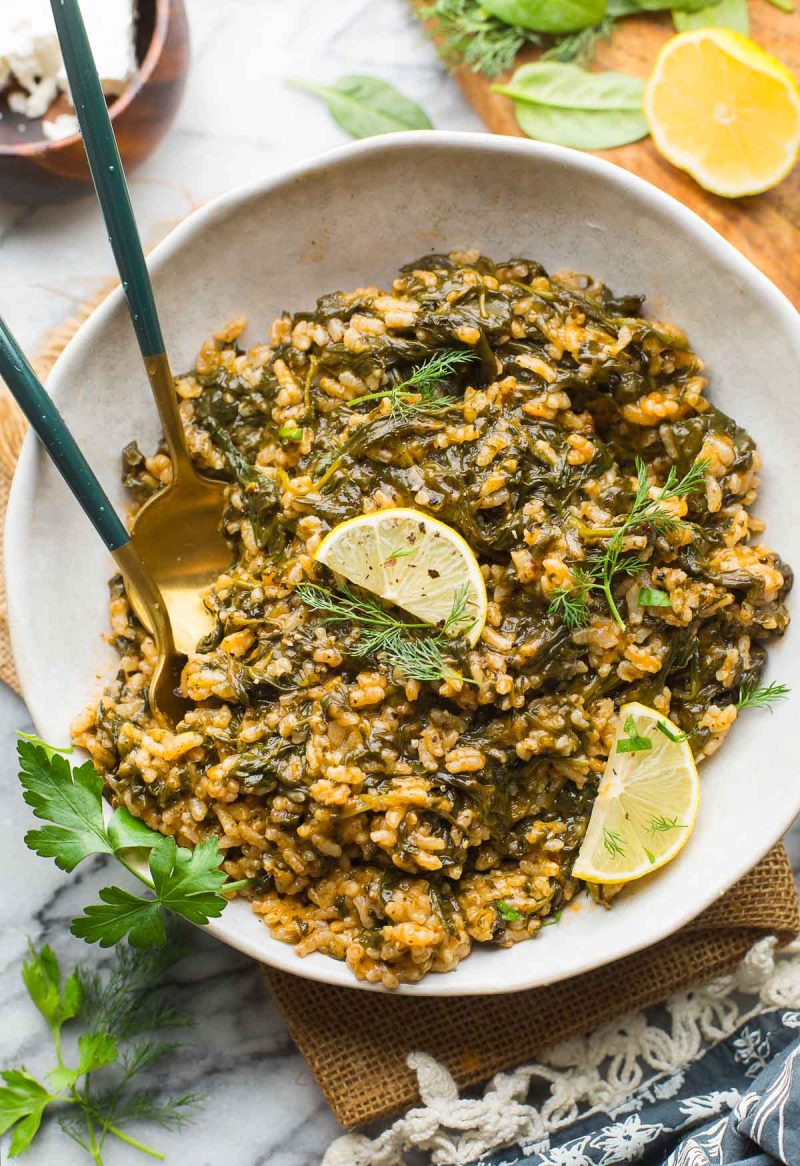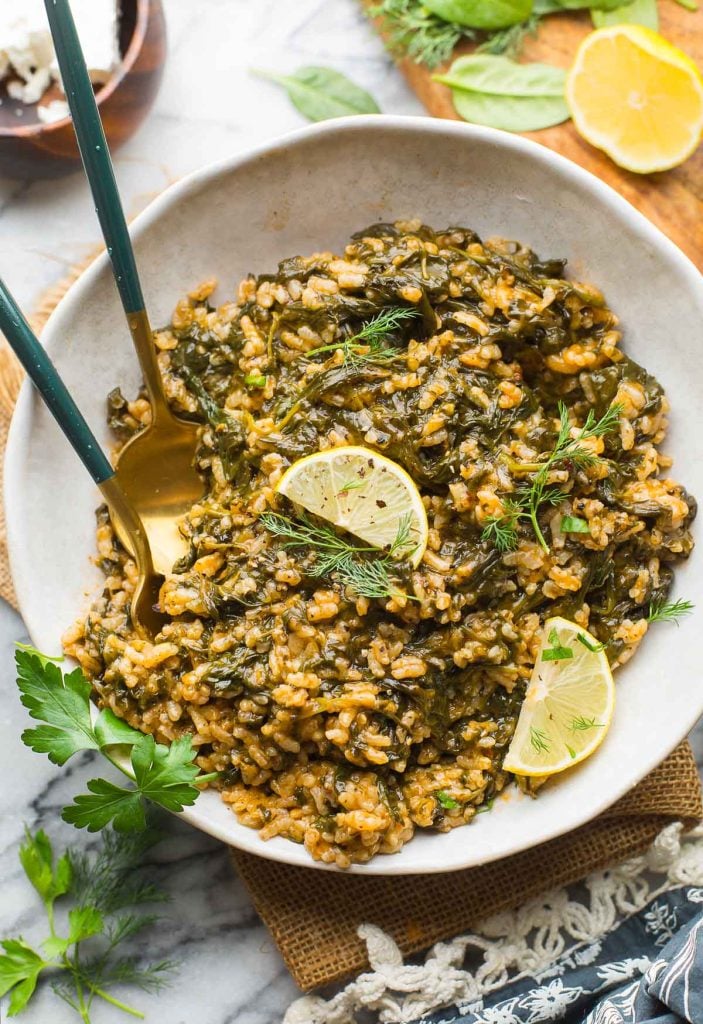 What is Spanakorizo?
Spanakorizo is a Greek spinach and rice recipe – like a pilaf! It's widely enjoyed as an easy comfort food that just so happens to be absolutely bursting with nutrients and potential health benefits.
It can be enjoyed as a main meal or an easy side dish – depending on your preference.
What's Inside?
Spinach (lots of spinach) – Fresh spinach is better but frozen can also be used.
White Rice – Choose a medium grain rice for extra creamy texture.
Spring Onions – Sautéd in extra-virgin olive oil as a foundation flavour in this recipe.
Lemon – Fresh lemon juice is ideal for the best overall flavour.
Tomato Paste – Not always present in spanakorizo recipes, but I find it makes for a richer flavor.
Herbs – Fresh dill is typically found in most recipes. I also like adding parsley for it's fresh, peppery flavour.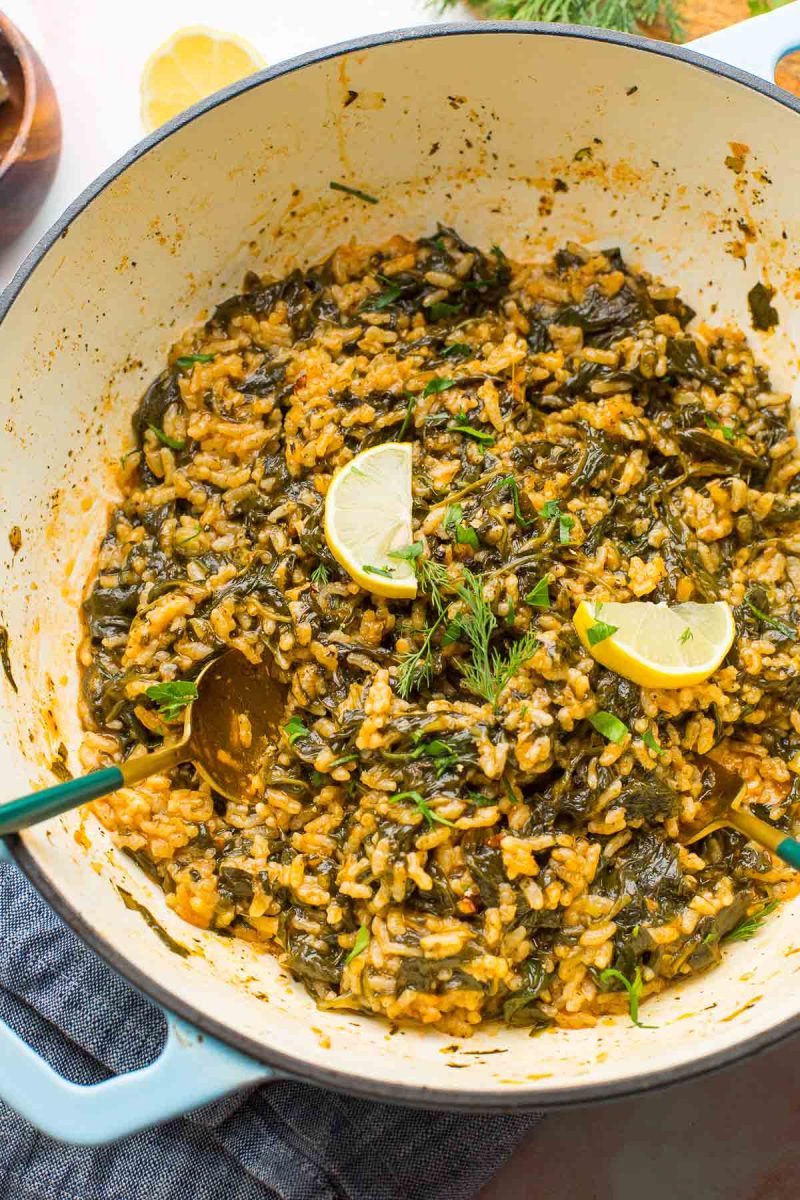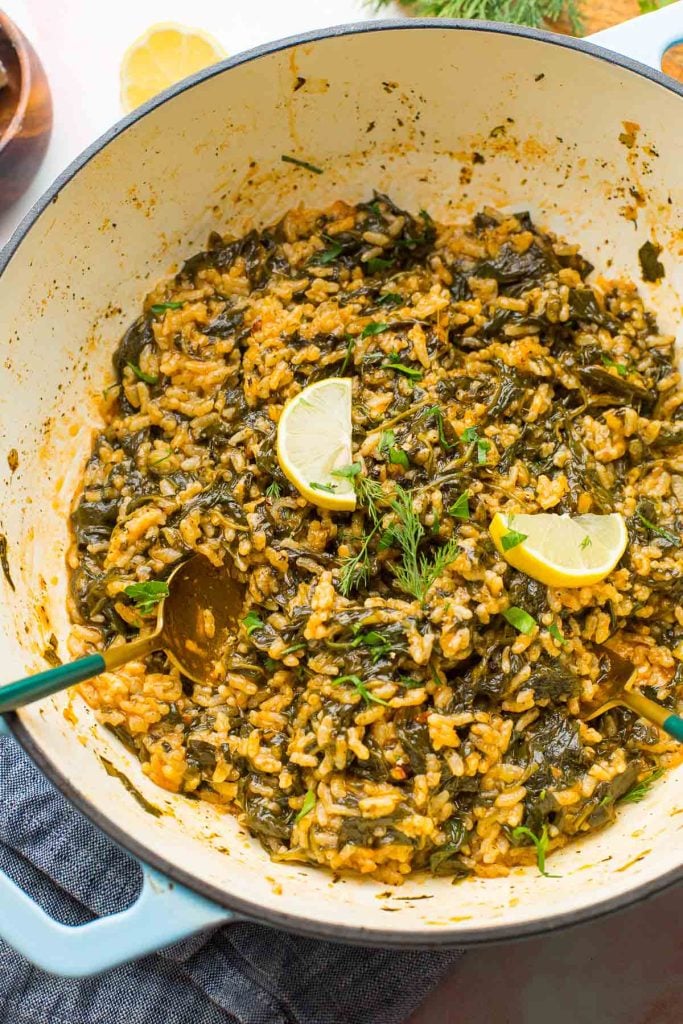 How to Make this greek spinach rice recipe
Altogether this is a simple dish made with simple ingredients that are prepped in one pot. At first glance the recipe might look a little fussy, but rest assured you can break down the process into a handful of basic mains steps:
Prep the rice.
Sauté the greens.
Stir in the rice, seasoning and tomato paste.
Add water, simmer and cook about 20-25 minutes.
Rest the rice, then fluff and season with fresh herbs and seasonings.
Rice Prep
Before you do anything else, it's important to get started on the rice.
Place the rise in a fine mesh strainer and rinse until the water coming through the strainer comes out clear or mostly clear. This accomplishes two things:
This will help wash away excess starch on the rice. Too much starch will make for gummy, sticky rice that clumps easily when stirred.
Washing rice before cooking helps to reduce the amount of dirt, debris and arsenic often found in rice. Rice in known to contain small amount of arsenic due to the way its grown. In small amounts it's not a huge deal, but if you follow a gluten free diet you probably consume a lot of rice in general. It's a good idea to minimise your exposure when possible.
After you wash the rice, add it to a bowl and cover with water. Let the rice sit and soak about 15 minutes before you cook it. This will help cut down on the cook and reduce the amount of liquid needed for cooking the rice through.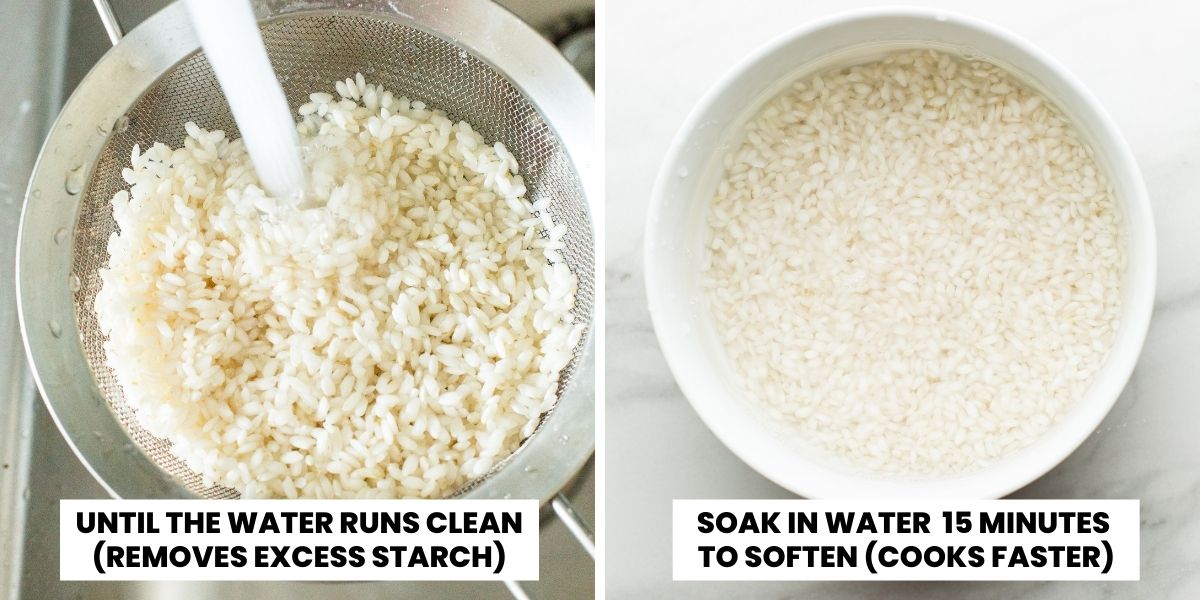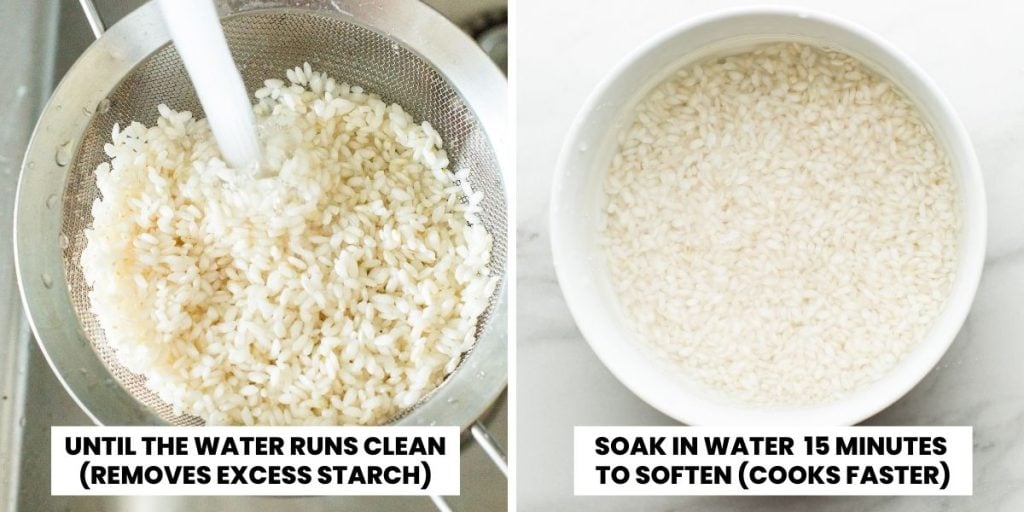 What Kind of rice to use?
There are three main types of rice:
Short grain rice: It's extra starchy and sticky and is usually used to make things like sushi, rice pudding and paella. Examples: glutinous rice, sticky rice, etc.
Medium grain rice: Less sticky than short grain rice but still has enough moisture and starch to make for creamy textures. Generally used to make risotto. Examples: arborio rice (Italian) and Carnaroli (Greek).
Long grain rice: Lowest in starch making for a drier, firmer rice. Used typically in pilaf, biryani. Examples: basmati rice and jasmin rice.
You ideally want to use a medium grain rice when making Spanakorizo. This will provide its creamy texture that this dish is known for.
If you don't have or can't find medium grain rice you can use a long grain variety instead. Just keep in mind that it will result in a much drier texture.
The Cooking Process
In a large skillet or pan (a braising pan is ideal), sauté the chopped spring onions in olive oil and cook for 2-3 minutes until fragrant and soft.
Next, add the spinach and lemon juice. It's going to look like a lot (it is), but it will reduce down to look like very little within a few minutes. If your spinach held on to a lot of water after washing it will likely leave a lot of liquid in the pan. Keep cooking on a medium heat or a medium-high heat a few extra minutes to evaporate.
When the rice is ready, add it to the pot along with the tomato paste and dried mint. Mix everything together and cook about 2-3 minutes.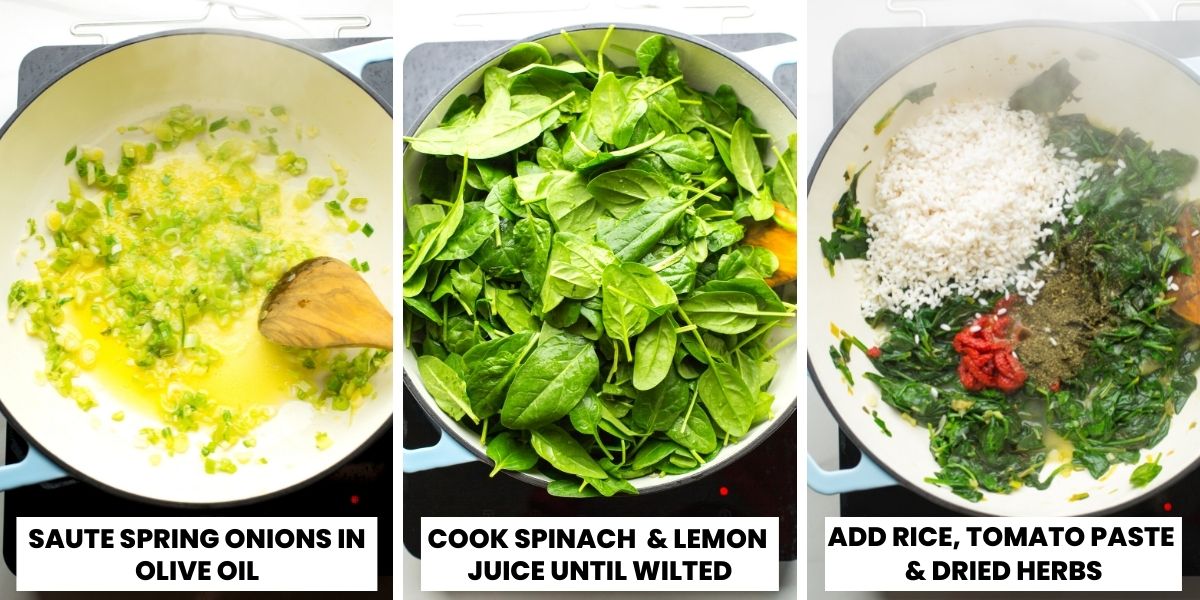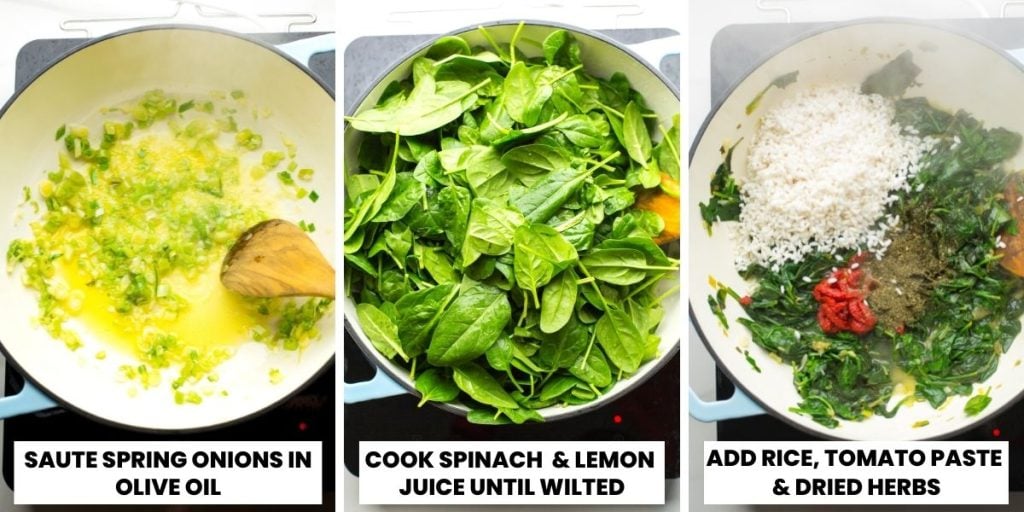 Simmer & Cook
When you're ready, add the water to the pot and bring to a simmer. Mix and let everything cook and simmer a few minutes to reduce the liquid slightly. Cover with a fitted lid and continue to simmer the dish about 20 minutes. After 20 minutes, take a peak and check on the liquid. If there is too much, leave it another 5 minutes.
After it's done cooking, take the pot off the heat and leave about 5-10 minutes to rest with the lid still on. The rice will absorb the moisture in the pot and thicken up slightly.
Finally, add the fresh herbs to the rice and fluff up the rice to mix. Taste and season as you like. Don't be afraid to add more lemon juice – it really makes this dish shine.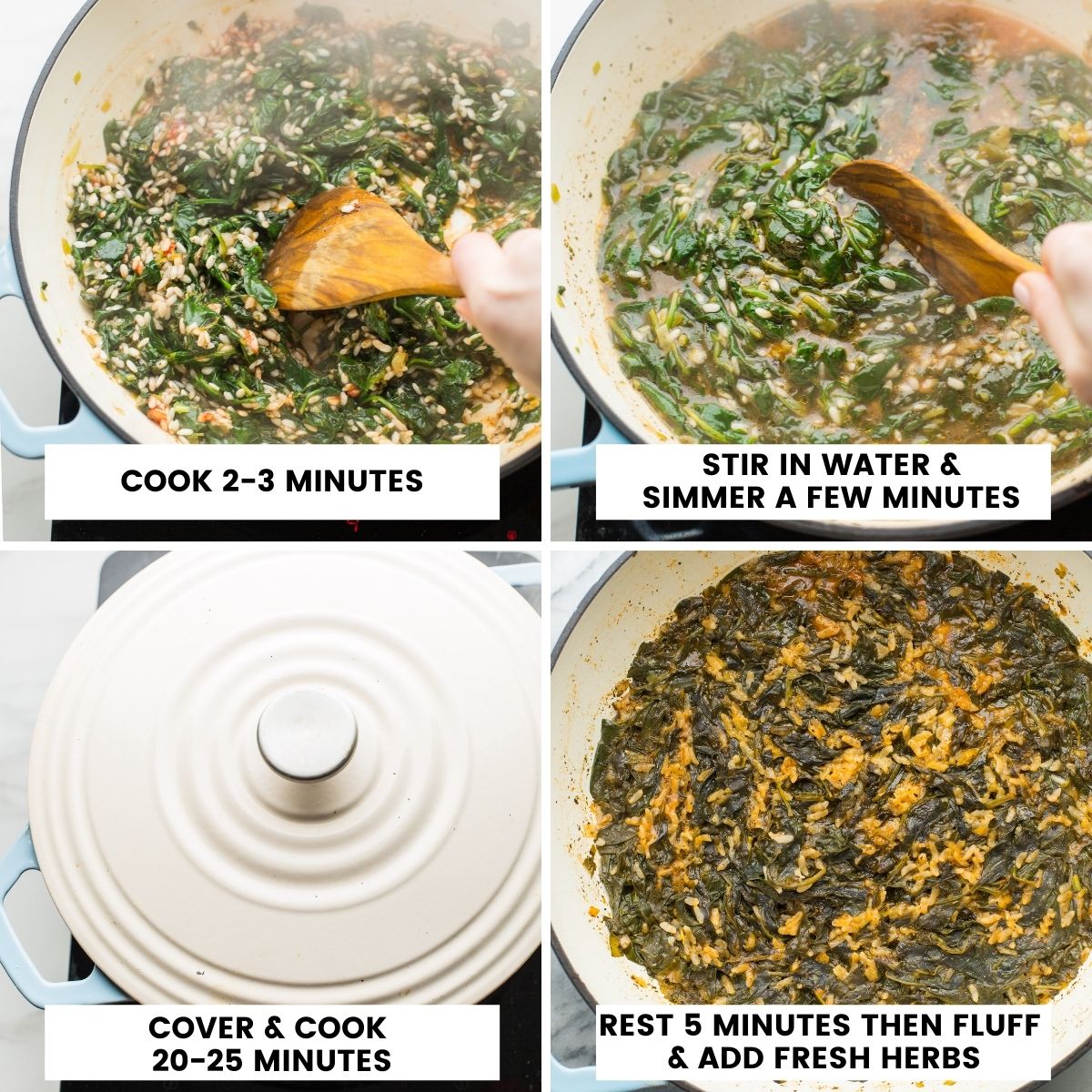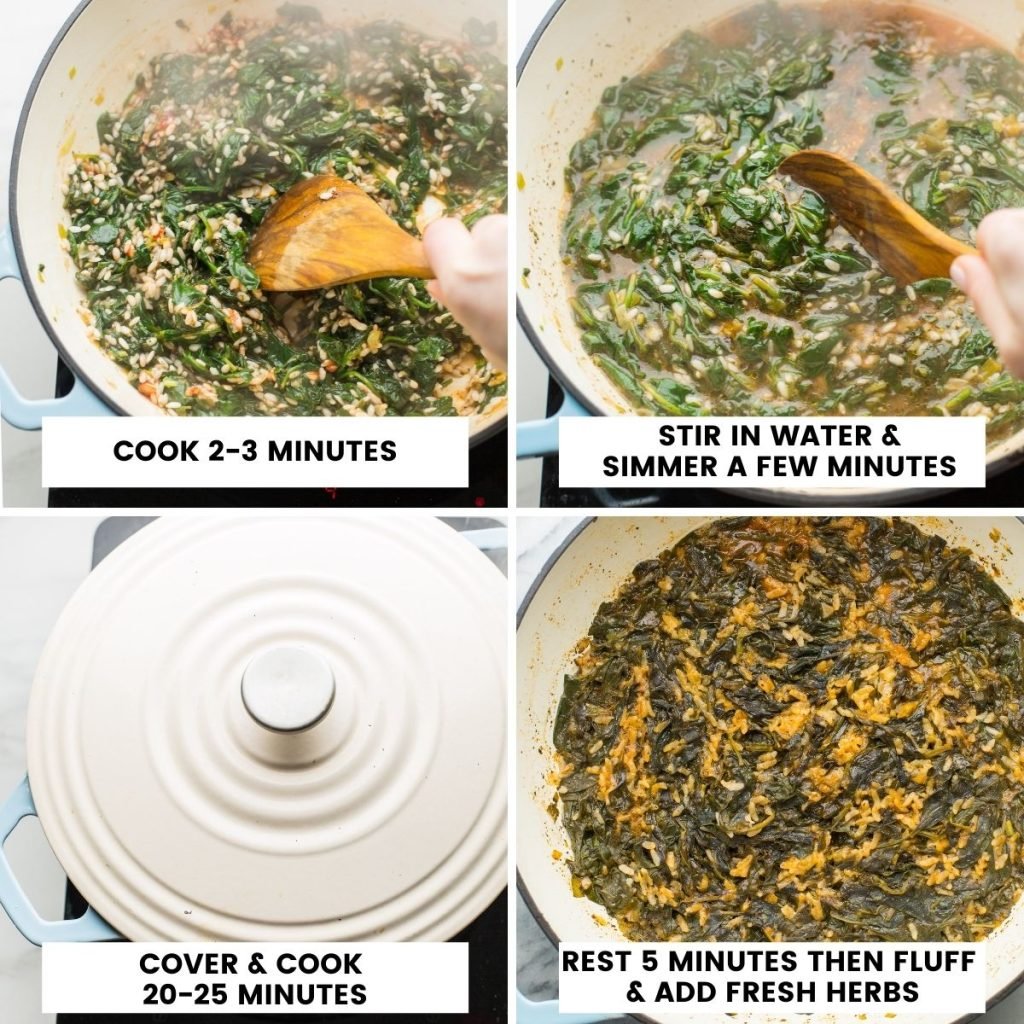 Substitutions, Adaptations and Additions
Make it Low FODMAP
A lot of other recipes are made with regular onions, shallots and/or garlic. I made my Spanakorizo recipe with spring onions to make it more versatile and accessible to anyone following a low FODMAP diet with one simple tweak:
Make sure to only use the green parts of the spring onion.
Spring onions (also known as green onions or scallions) are a part of the Allium family of vegetables. Alliums also include onion, garlic, leeks and shallots – foods that provide a sweet, pungent flavor so commonly used as a foundation ingredient in most cuisines.
Unfortunately, many alliums contain carbohydrates (sugars) that are not easily digested by people with IBS which is why they are avoided in low FODMAP recipes. Fortunately, the leading experts on FODMAP safe foods has concluded that the leafy parts of spring onions are low enough in these sugars that they are safe to enjoy without discomfort.
Use Stock or Broth instead of Water
Water is wonderful. It's cheap, it's accessible and it gets the job done. This Spanakorizo doesn't need vegetable broth or stock to taste good, but it is a great way to infuse a little extra flavour in to this dish.
You can use half water/half stock or just go all in with all stock. Stock cubes or Bouillon cubes work – whatever you have. You can even use chicken stock if that's all you have on hand – just keep in mind that it will no longer be a vegan or vegetarian dish (if that's important to you).
The only recommendation I make is that use use a low sodium stock or broth here. If you don't have low sodium stock then I recommend you dilute it by using 1 cup water and 1 cup stock. You also may want to avoid adding salt to your Spanakorizo until the end so that you can salt to taste.
To keep this low FODMAP you must also make sure that you choose a suitable stock. I have a Low FODMAP Vegetable Stock recipe if you need one.
Use Onions or Leek instead of Spring Onion
No spring onions on hand? No worries! Use an onion or leek instead. Just make sure to cook them about 5-7 minutes to soften instead of the recommended 2-3 minutes for spring onions
Serving Suggestions
Spanakorizo is the type of dish that can be enjoyed as both a main course or a side depending on your mood! It's quite a filling dish all on its own thanks to the rice and generous amounts of spinach.
Add a fried egg to pack in a bit more protein and fat for a satisfying main or serve it along side something like these Greek Lemon Chicken Kebabs or Spinach and Feta Pie.
Serve alongside this Greek Marinated Chicken for a super filling main!
As for additional toppings and additions – Spanakorizo is often served topped with fresh herbs, lemon wedges and feta cheese.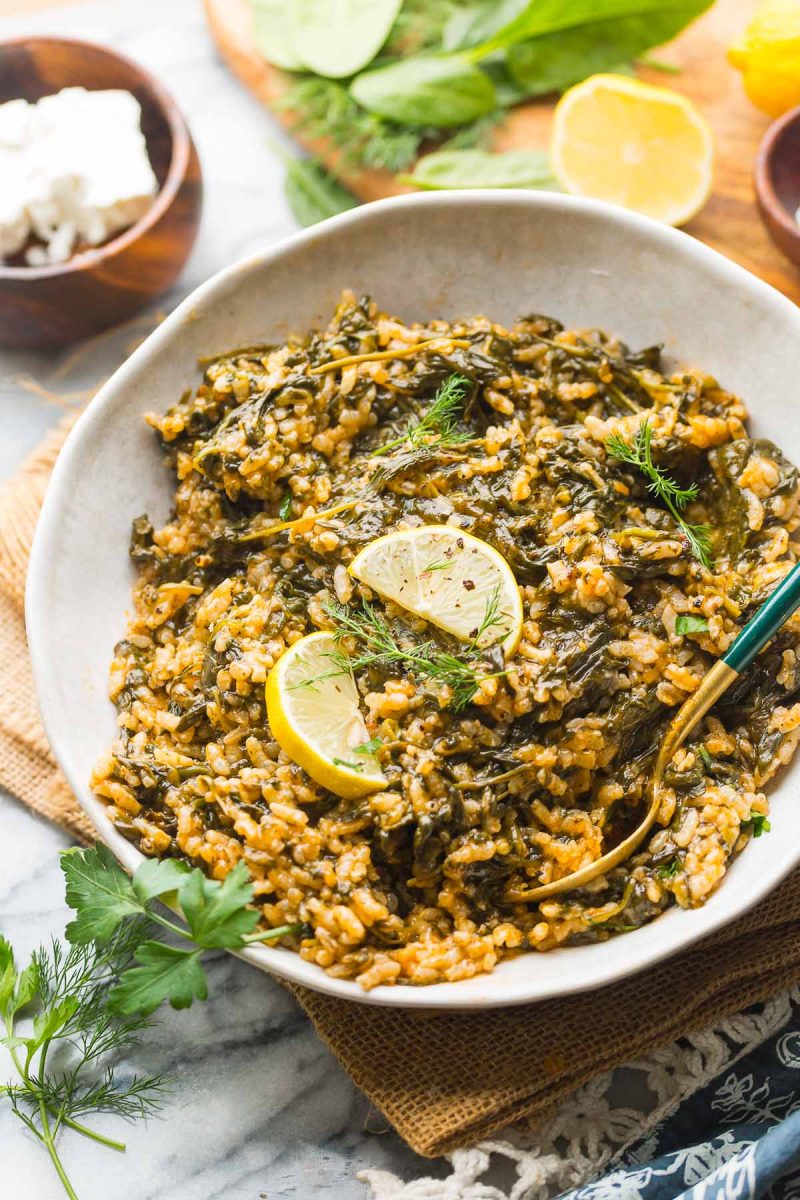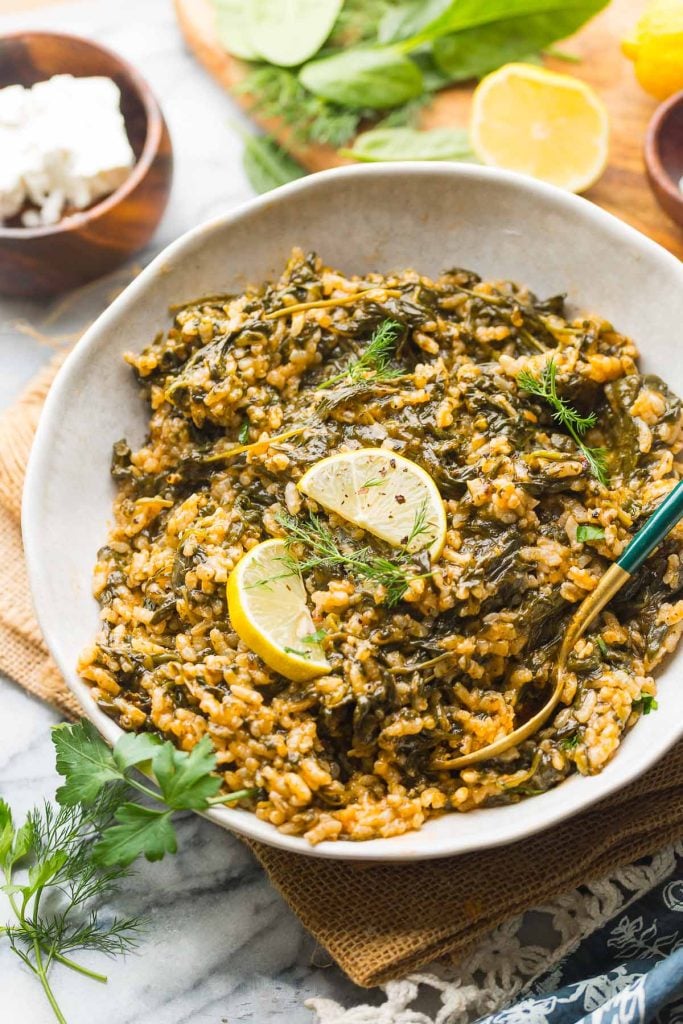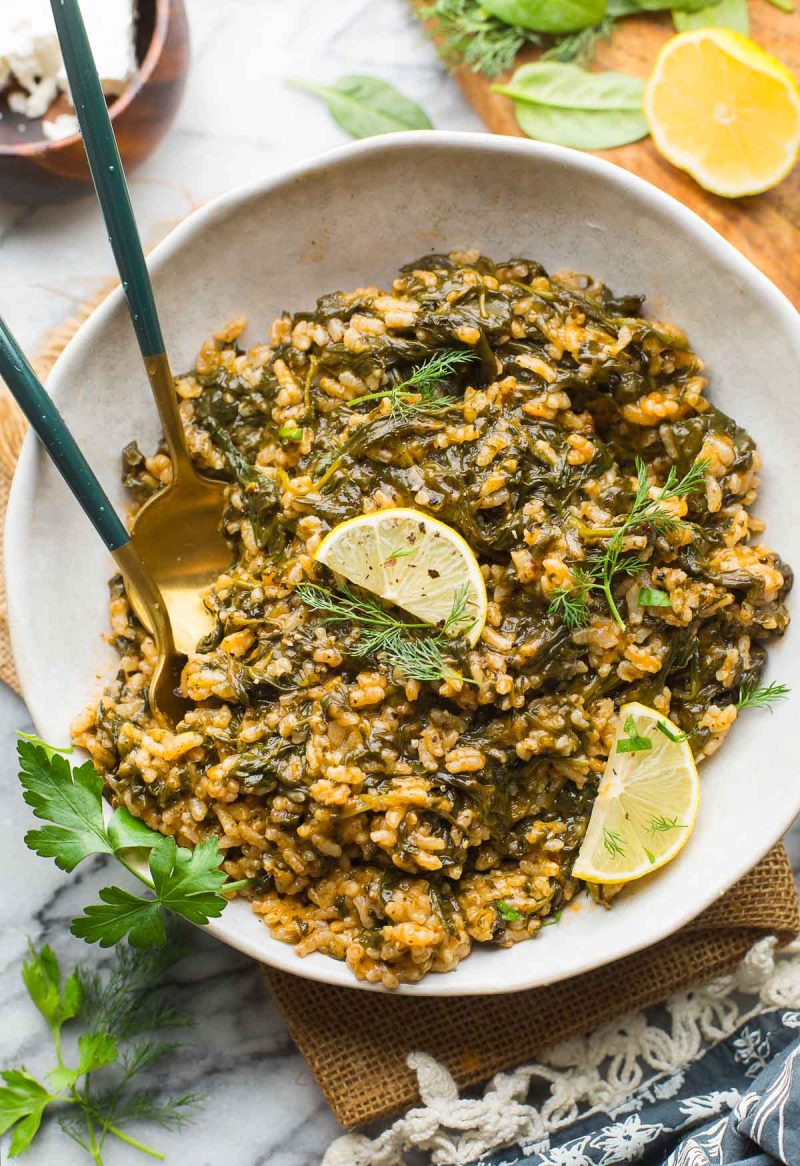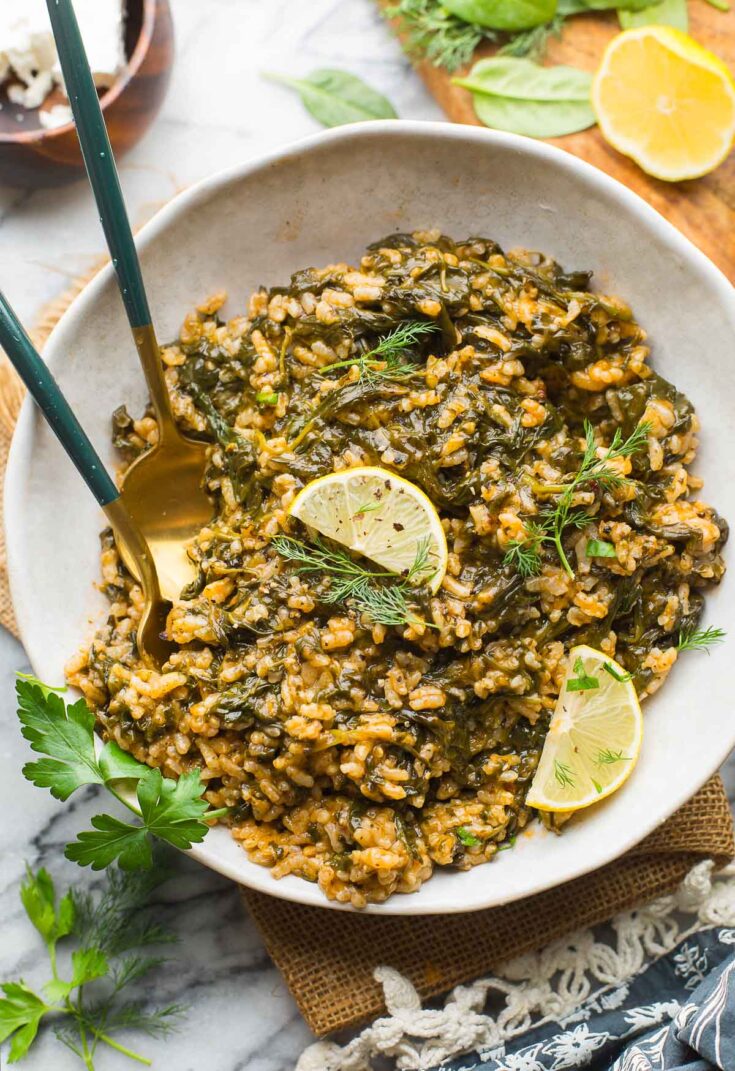 Recipe
Spanakorizo (Greek Spinach and Rice)
Yield:
5 servings
Prep Time:
20 minutes
Cook Time:
35 minutes
Additional Time:
5 minutes
Total Time:
1 hour
Spanakorizo is a traditional, plant based Greek dish packed full of spinach, rice, herbs and lemon. It can be served as simple, hearty main dish or enjoyed as healthy side.
Ingredients
1 cup (185g) uncooked medium grain rice (like arborio or carnaroli)
1/4 cup (60 ml) extra virgin olive oil
1 bunch (8-10 stalks) spring onions/scallions, chopped
1 pound (450 grams) fresh baby spinach, washed
2 tablespoons (30 ml) fresh lemon juice, plus for more serving
1/2 teaspoon sea salt or kosher salt, plus more for seasoning
1/4 teaspoon freshly ground black pepper
1 teaspoon dried mint
2 tablespoons (32g) tomato paste
2 cups (480 ml) hot or warm water
1/4 cup fresh parsley and/or dill, chopped
Instructions
Place the rice in a fine mesh strainer and rinse until the water running through it comes out clear to remove excess starch. Place the rinsed rice in a bowl, cover with water and set aside to soak and soften for at least 15 minutes.
Add the olive oil to a large pan or skillet and warm over a medium-low heat. Add the chopped spring onion and gently sauté for about 2-3 minutes, to soften.
Add the spinach, lemon juice, salt and pepper to the pan. Stir and cook a few minutes until the spinach has wilted.
Drain the rice well and add it to the pan along with the dried mint and tomato paste. Stir and cook 2-3 minutes.
Add the water to the pan. Bring the mixture to a gentle boil for about to minutes to reduce the liquids slightly then turn the heat down low, cover and let simmer (undisturbed) for about 25 minutes. If there is too much liquid left in the pot, keep simmer a few more minutes.
Take the pan off the heat and leave it covered for another 5-10 minutes then fluff up the rice before serving. Stir in the fresh herbs (parsley and/or dill).
Taste and season with additional salt, pepper and lemon juice as needed. Top with additional fresh herbs or spring onions if desired and enjoy.
Notes
Make it low FODMAP: make sure to only use the green parts of the spring onion.
Vegetable stock in place of or in addition to water: Use a low sodium stock (stock cubes work too). You can replace all of the water with stock (2 cups) or use 1 cup water 1 cup stock.
Leftovers: Keep stored in an airtight container in the fridge up to 3 days. Enjoy hot or cold.
Type of rice: Medium-grain rice is best to make for a creamy texture.
Tomato Paste: You can omit the tomato paste if desired.
Nutrition Information
Yield:

5
Serving Size:
2/3 cup (200g)
Calories:

329
Total Fat:

11g
Saturated Fat:

2g
Trans Fat:

00g
Unsaturated Fat:

9g
Sodium:

481mg
Carbohydrates:

46g
Fiber:

9g
Sugar:

5g
Protein:

10g
This website provides approximate nutrition information for convenience and as a courtesy only. Nutrition data is gathered primarily from the USDA Food Composition Database, whenever available, or otherwise other online calculators.
You Might Also Enjoy