These delicious Greek chicken meatballs are easy to make with simple ingredients in little time! Bake them in the oven or throw in the air fryer for a mostly fuss free and hands off cook time. They're made with a mixture of ground chicken, garlic, lemon and a mixture of dried herbs. Simply mix, roll and cook!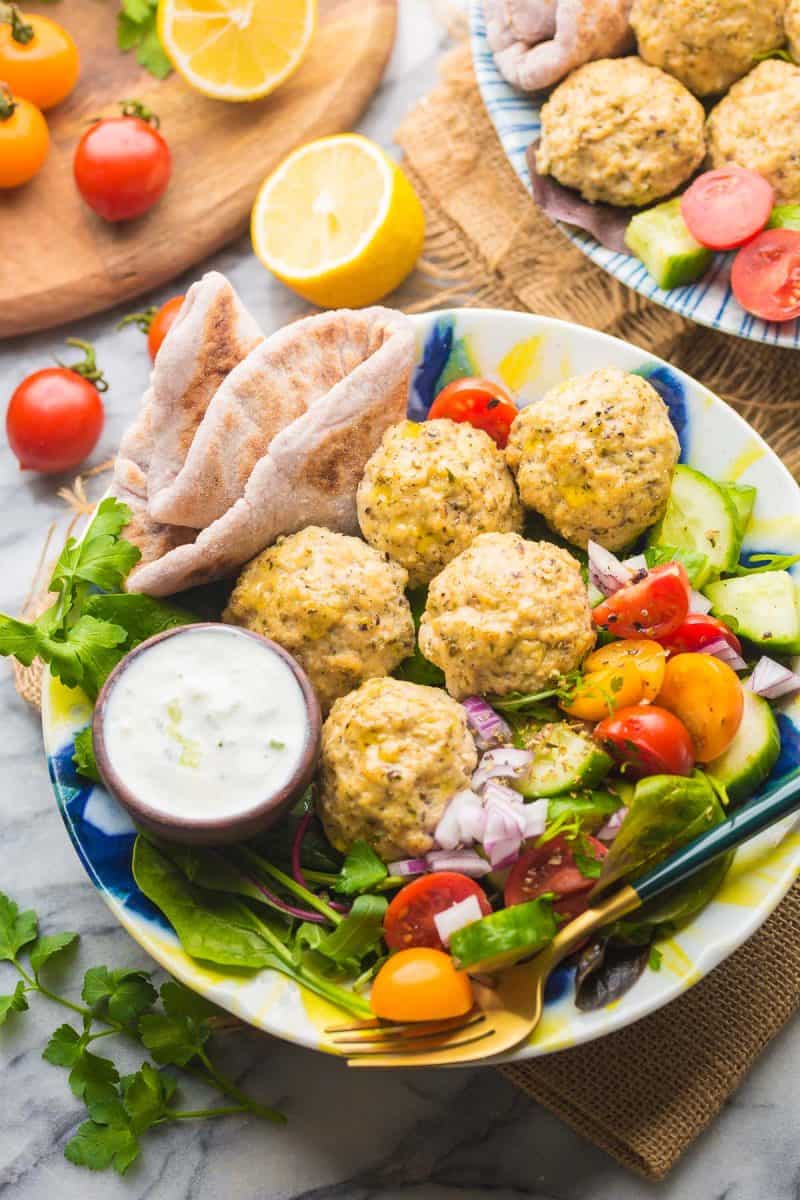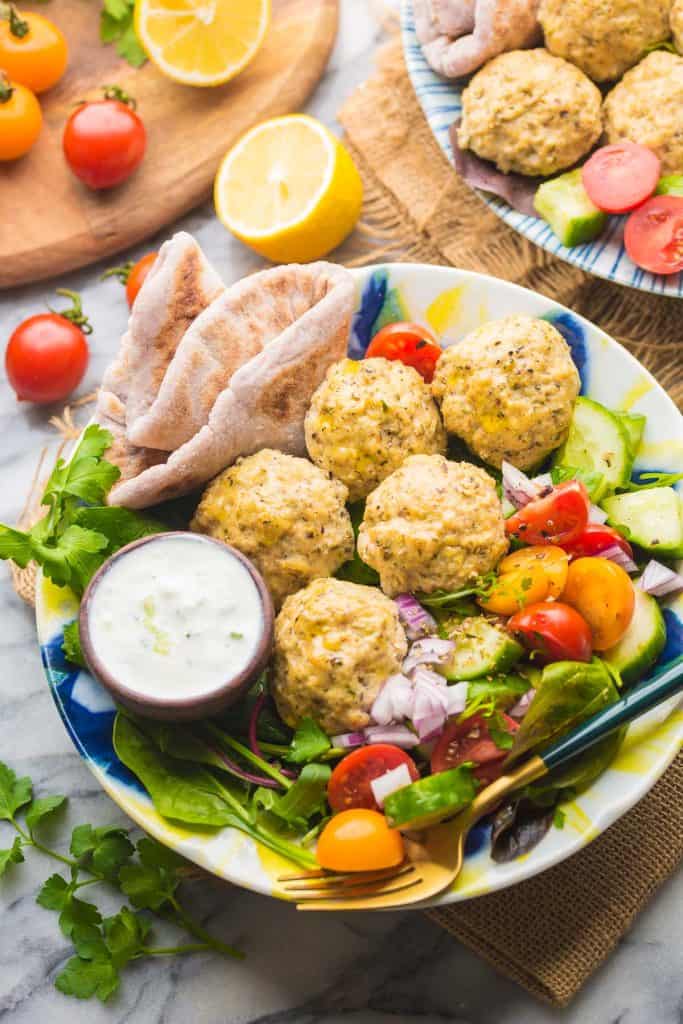 Greek Chicken Meatball Recipe
Fast and easy, these Greek chicken meatballs make for a great recipe to whip up on busy nights!
The prep is mostly just a matter of gathering the ingredients and mixing them all together in a large bowl. When you're ready to cook all you have to do is roll the meat mixture into balls and then place them onto a baking sheet to bake until cooked through.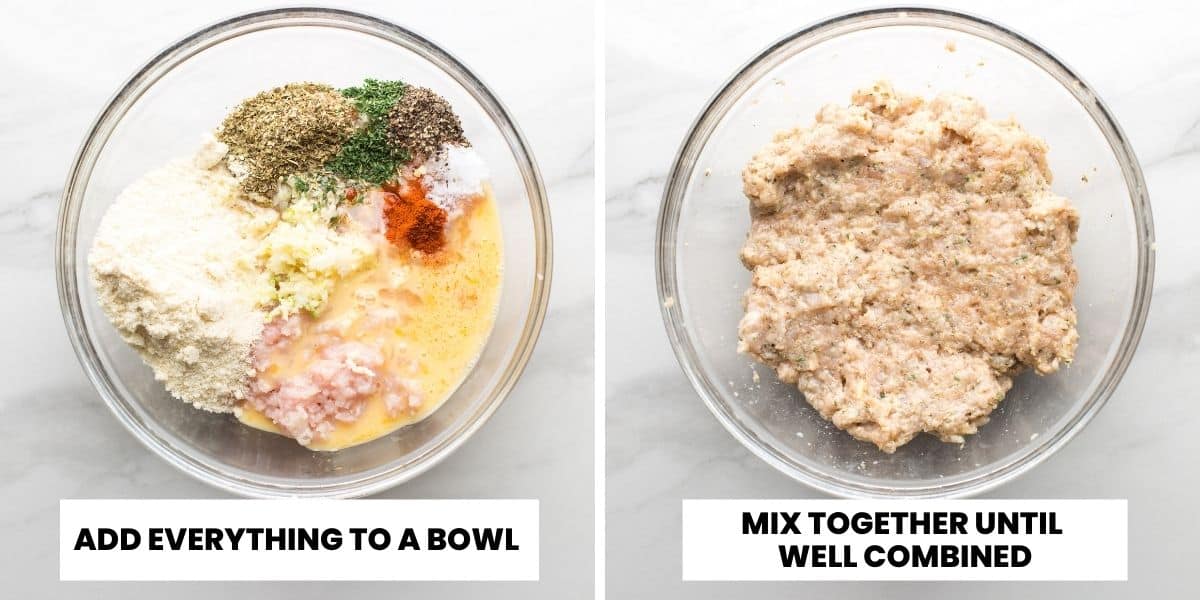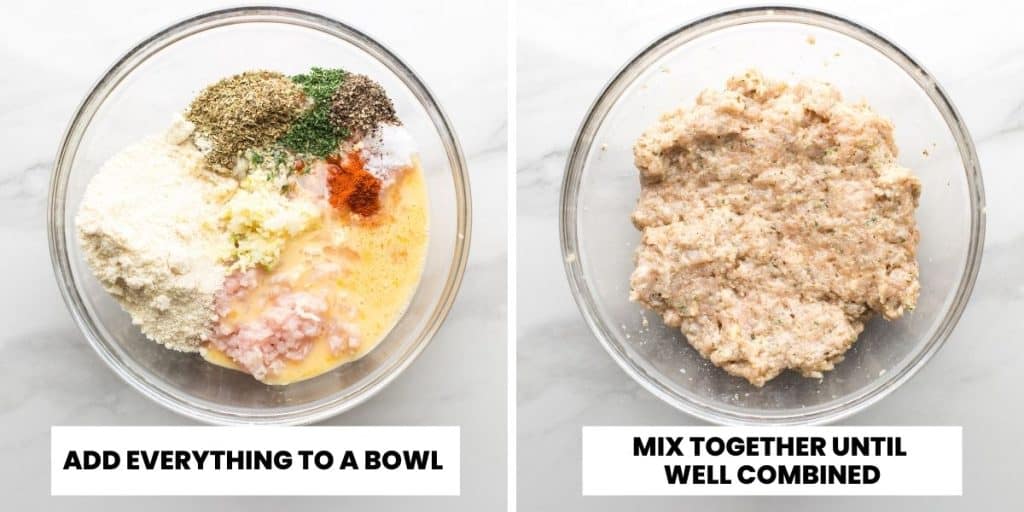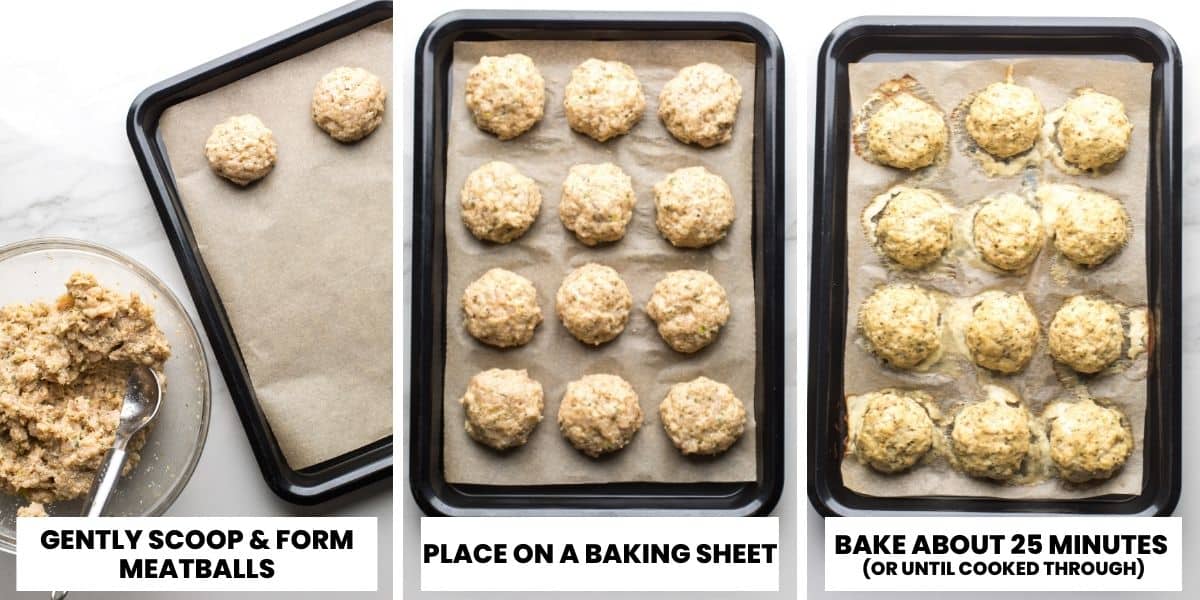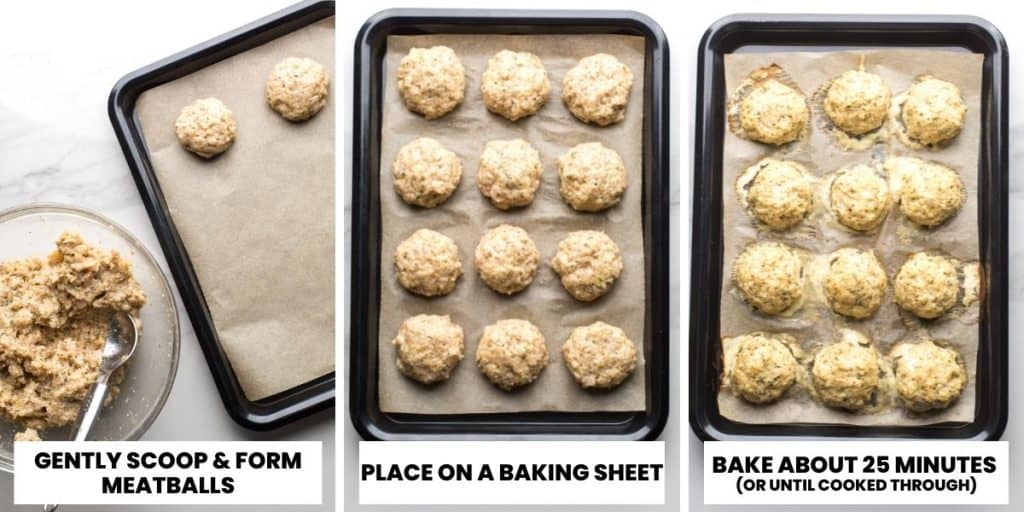 Quick Questions
What's the best type of chicken to use?
Ground chicken made from thighs or a mixture of thighs and breast is most ideal for juicy chicken meatballs (in my opinion). Chicken that is too lean can lead to dryer, tougher meatballs. Fat percentage will vary depending on what you buy. Look for chicken mince that's about 90%-95% lean (that's about 5%-10% fat). That being said, you choose lean chicken if you'd prefer. I just recommend making sure you serve these meatballs with some sort of sauce or dip.
Can I use another type of Ground Meat other than chicken?
Absolutely! Taste will vary depending on what you use, but the general process is mostly the same. Ground turkey is another great lean protein option but ground beef and and ground lamb would also work well here.
How to Make Your Own Ground Chicken?
You can make your own chicken mince by grinding it up in a food processor. You can use either chicken breast or thighs – just make sure it's boneless/skinless. I recommend using a combination of both breasts and thighs so that you get a good balance of both white and dark meat, but it's up to you.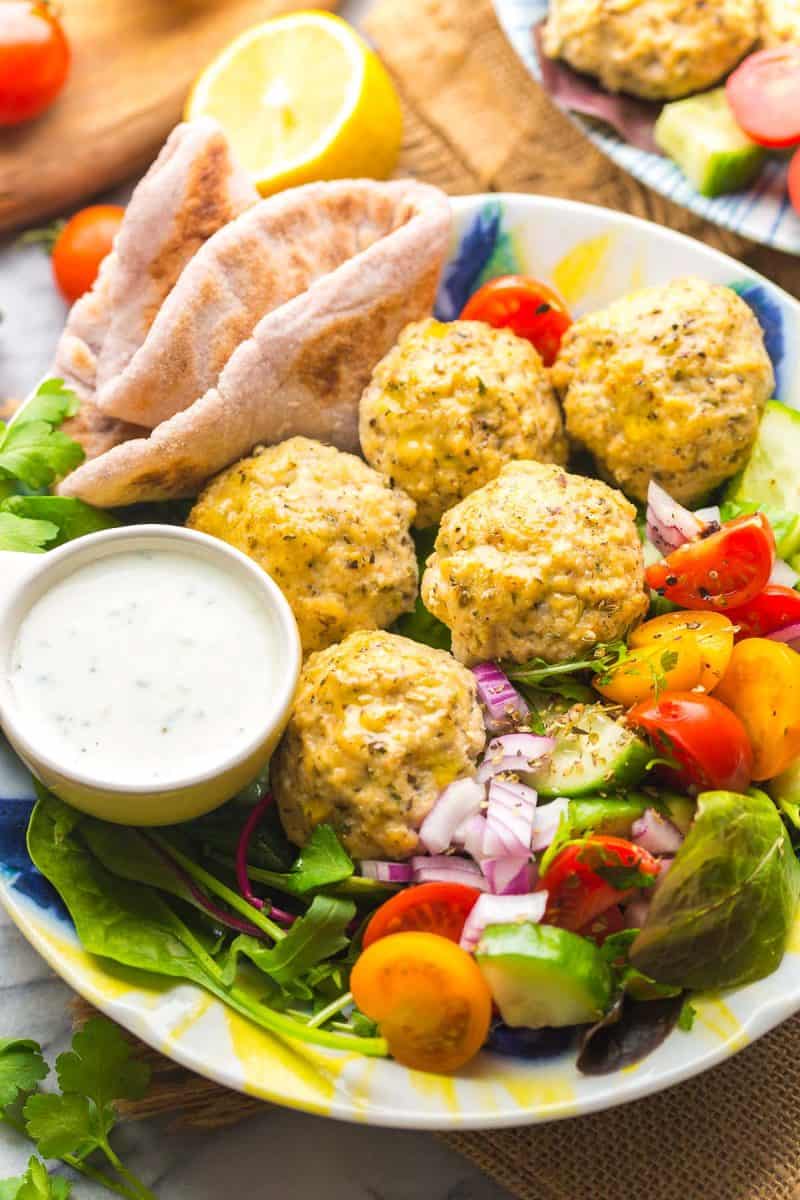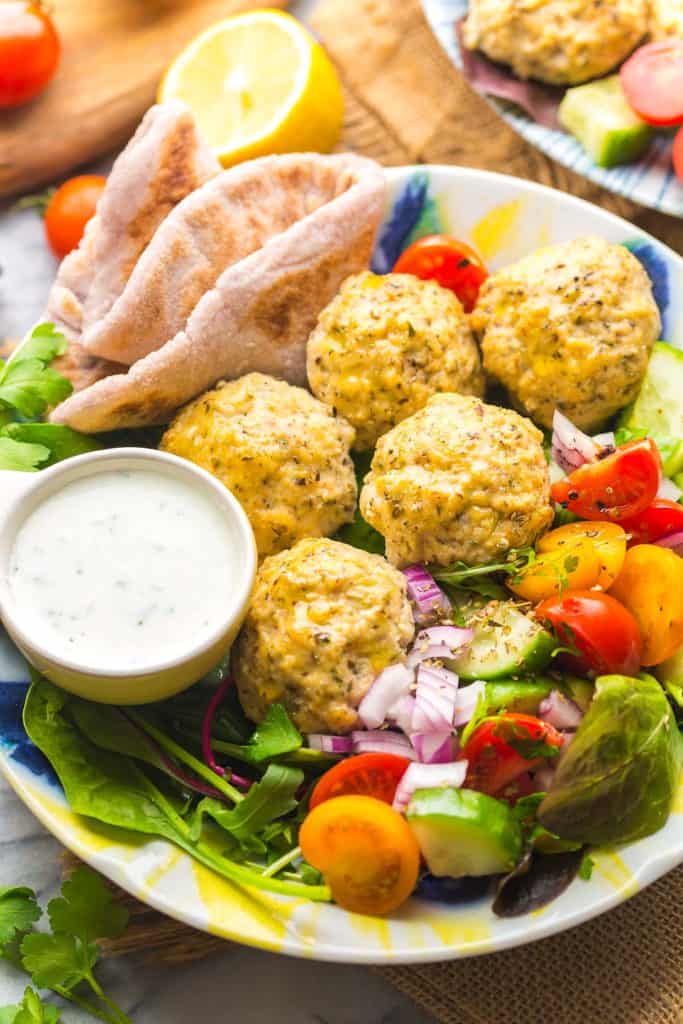 Chicken Meatball Tips:
Don't over mix the meat. The key to tender chicken meatballs is to handle your meatball mixture gently. Use your hands to get a good feel of the mixture and stop mixing when everything is well combined.
Gently form balls (don't pack!). This follows a similar line of logic as the tip above. It's also something I have found to be true whenever I bake gluten free biscuits. When rolling your meat into balls, be gentle with it. If you pack your meat into firm little balls they will be quite tough after baking.
Make even sized meatballs. If you make some meatballs big and others small they will bake at different rates in the oven. In the end you'll have some dry, overcooked meatballs and some soft and undercooked.
Air Fryer Greek Chicken Meatballs
Add the meatballs to the air fryer basket and lightly coat with a nonstick cooking spray or a little oil. Fry at 400°F/200°C for about 5-7 minutes. About halfway through the cook time, flip the meatballs over so they evenly cook and that's it!
Freezer Instructions
Freeze after cooking:
Let the meatballs cool completely, then pack away in a freezer safe bag or container. Make sure to label the bag or container with the current date and name then pack away in the freezer for up to two months.
Thaw in the fridge before heating.
Simply take the meatballs out of the freezer and place in the fridge for about 24 hours until defrosted. This works best if you're planning your meals in advanced.
Reheat in the oven from frozen.
No time for defrosting? No problem! When you're ready to enjoy the meatballs you can cook from frozen. Bake at 400°F/205°C for about 15 minutes or until the internal temperature of each meatball is 160°F/74°C.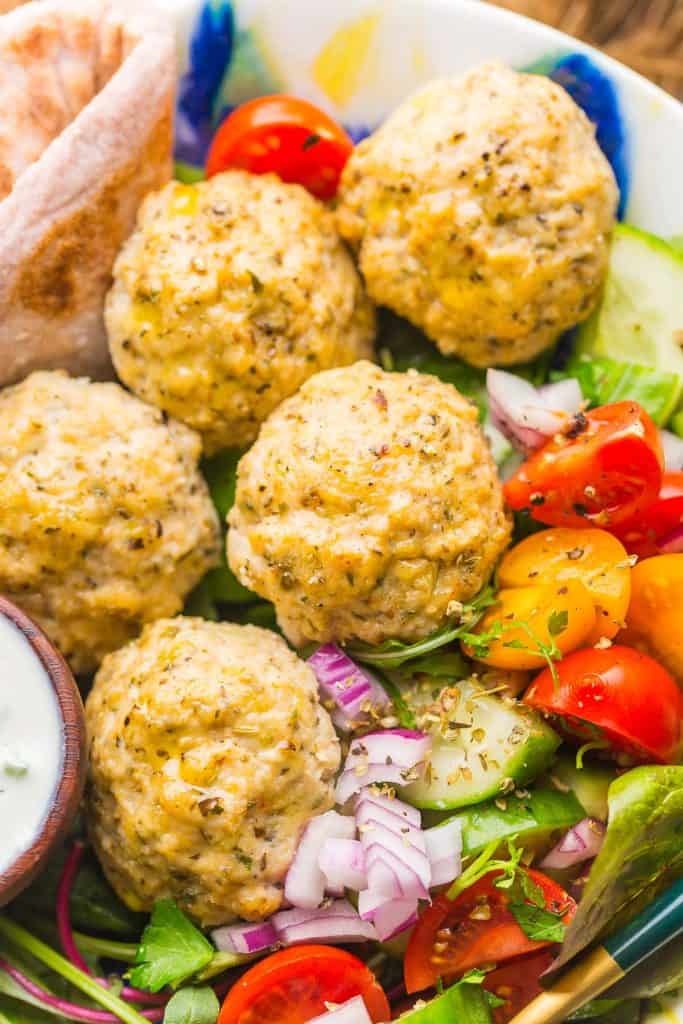 Serving Suggestions
There are so many different ways to enjoy these meatballs depending on what you're in the mood for. The recipe below includes an optional tzatziki sauce recipe that can be mixed together in minutes.
A few more ideas to get you started:
Add them on top of a salad to a healthy, veggie and protein packed meal:
Mix into a soup or rice dish:
Keep it low carb and/or make a paleo meal with these sides: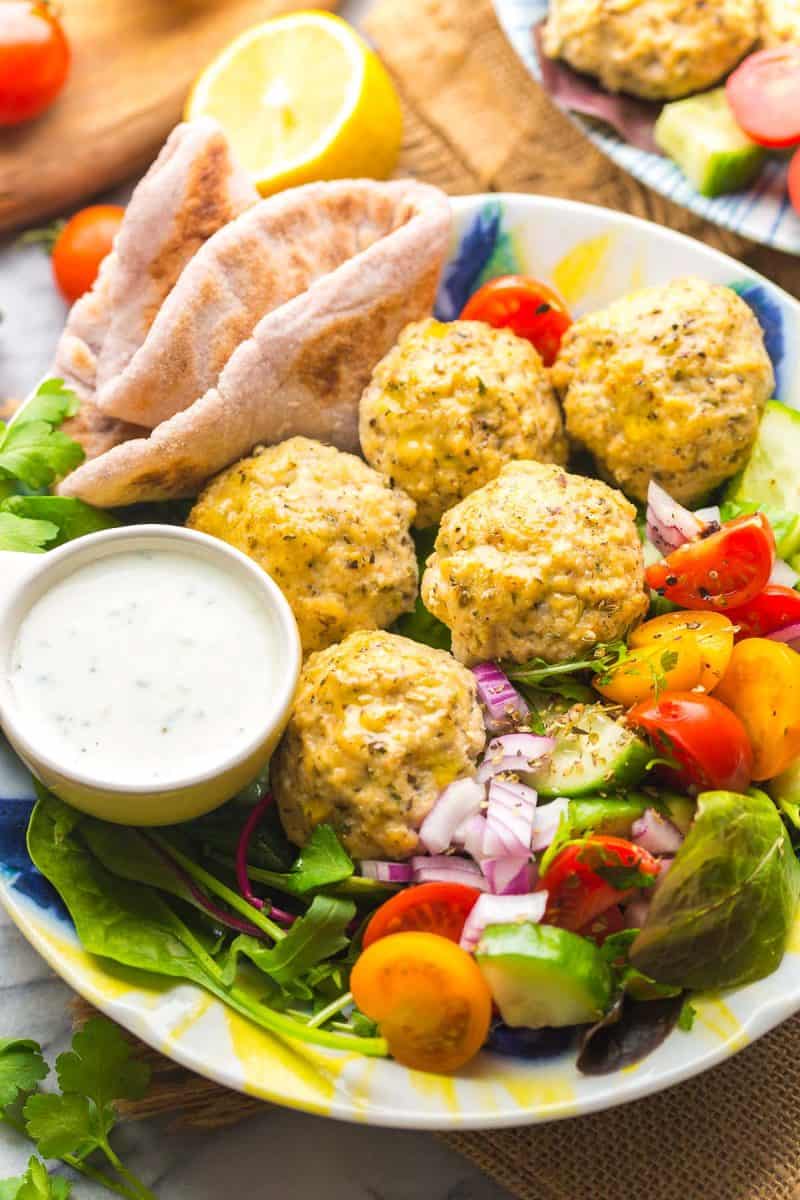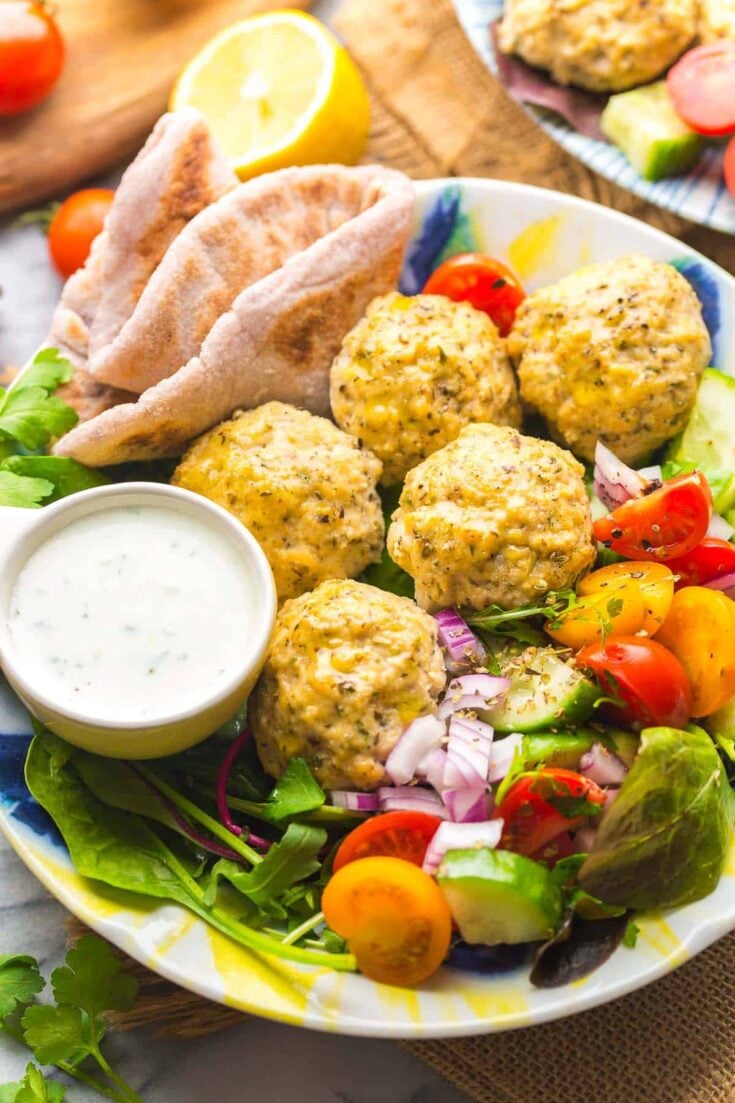 Recipe
Baked Greek Chicken Meatballs
Yield:
20 meatballs
Prep Time:
10 minutes
Cook Time:
25 minutes
Total Time:
35 minutes
Made with a mixture of ground chicken, garlic, lemon and a mixture of dried herbs. Simply mix, roll and cook!
Ingredients
1 1/2 lbs (680g) ground chicken or turkey (aim for about 5-10% fat)
4 cloves garlic, minced or grated
1 cup (96 g) almond flour (or gluten free breadcrumbs)
1 egg, whisked
3 tablespoons (45 ml) fresh lemon juice
1 tablespoon (15 ml) olive oil
2 tablespoons dried oregano
1 teaspoon dried parsley
1 teaspoon salt
1 teaspoon ground black pepper
1/2 teaspoon paprika
1/4 teaspoon dried rosemary
Instructions
Prep: Place an oven rack to be in the upper third part of your oven. Preheat oven to 400°F/205°C. Lightly grease or line a large, rimmed baking sheet. Set aside.
Combine: In a large mixing bowl combine all of the meatball ingredients.
Mix: Use your hands to mix the everything together until well combined.
Roll: Gently scoop out the mixture and roll into even-sized meatballs, about 1-2 inch big. You should end up with about 18-20 meatballs. Use an ice cream scoop or cookie dough scoop (if you have one) to measure out even balls. Lightly grease your hands with olive oil to keep your hands from getting too sticky.
Bake: Place the balls on the prepared sheet pan making sure to leave at least 1/2 inch of space in-between each ball so they aren't touching. Bake meatballs for about 20-25 minutes or until cooked through (internal temperature 160°F/74°C). The outsides should be lightly golden brown in color.
Store: Keep leftovers in an airtight container and keep in the fridge for up to five days.
Notes
Air Fry
Add the meatballs to the air fryer basket. Make sure to leave space in between each meatball. Lightly coat with a nonstick cooking spray or a little oil. Fry at 400°F/200°C for about 5-7 minutes. About halfway through the cook time, flip the meatballs over so they evenly cook and that's it! Depending on the size of your air fryer you will likely only be able to cook about 7-10 at a time.
Optional Yogurt Sauce
Mix the following ingredients together and serve as a dipping sauce of salad dressing to go with the meatballs:

1 cup (240 g) greek yogurt (or dairy free yoghurt if needed)
1 small cucumber, grated
1 garlic clove, minced
1 tablespoon lemon juice
1 tablespoon fresh dill, mint or parsley chopped
1 tablespoon olive oil



This website provides approximate nutrition information for convenience and as a courtesy only. Nutrition data is gathered primarily from the USDA Food Composition Database, whenever available, or otherwise other online calculators.
More Meatball Recipes You Might Enjoy