Rich, creamy and extra saucy – this Dairy Free Butter Chicken is a must make! Coconut milk replaces the heavy cream/yoghurt to make for a more allergy friendly dish that's just as delicious and satisfying as the original. | Paleo + Whole30 Friendly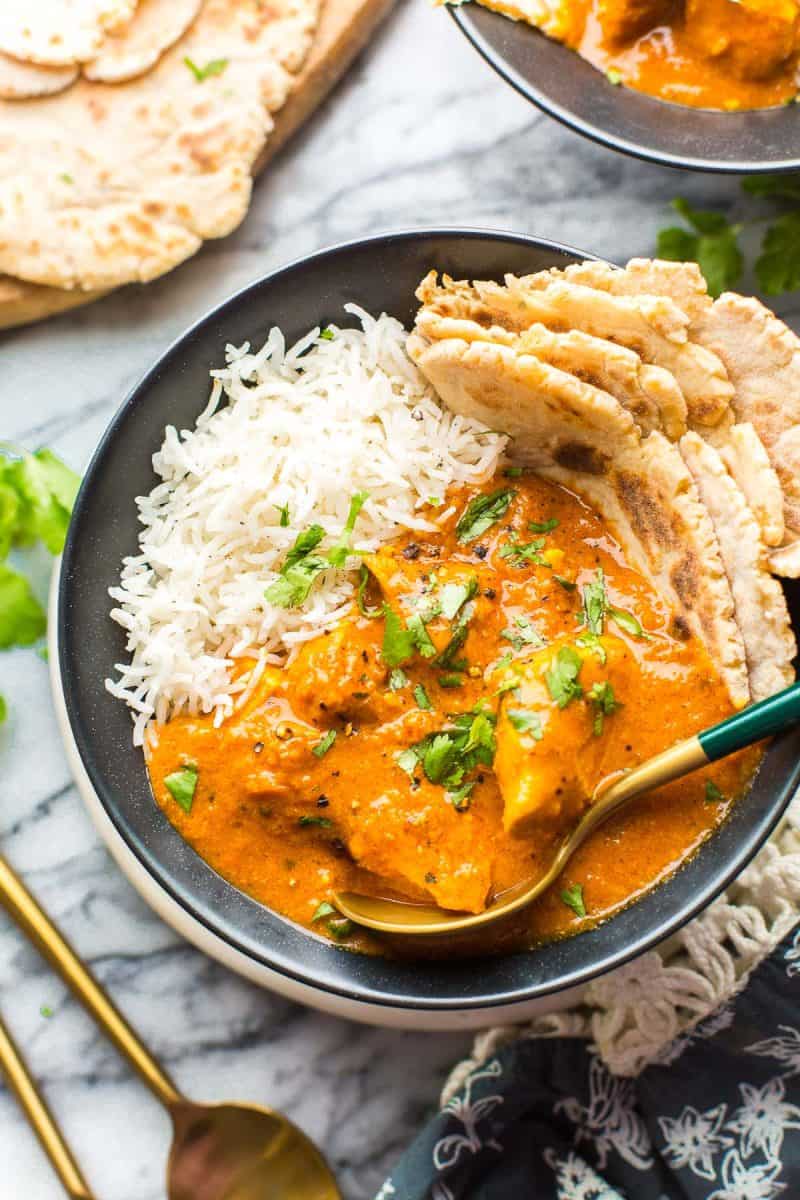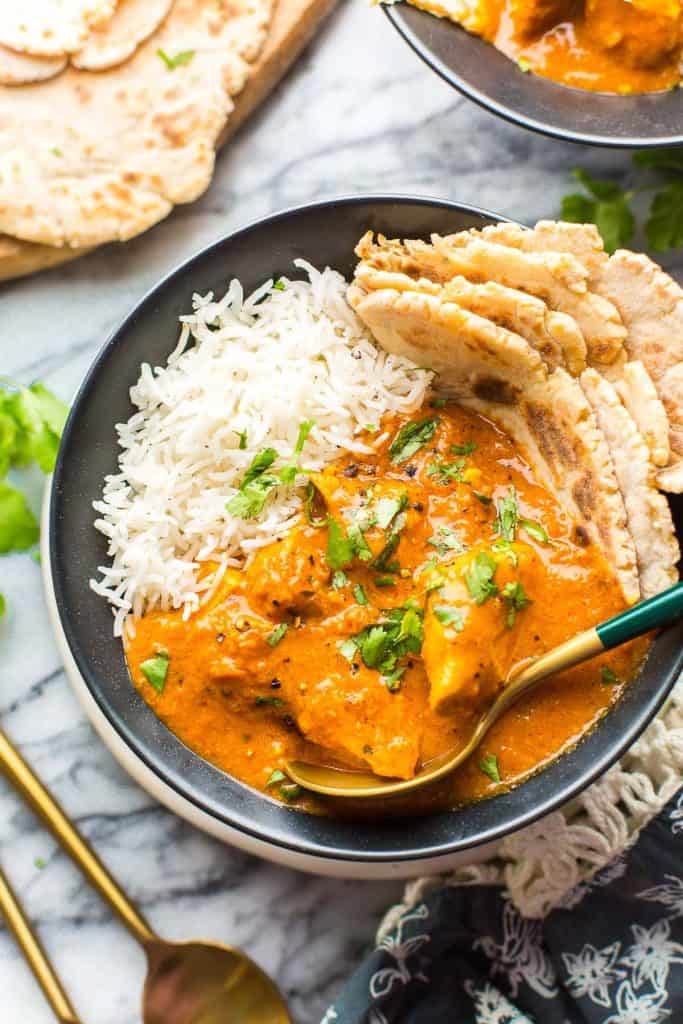 Butter Chicken without the…butter?? Or cream? Or yoghurt?
Ok, here me out! I know it sounds counterintuitive, but it's totally doable and it's still every bit as delicious with just as much flavor.
I based this recipe off of one from America's Test Kitchen. The written recipe is behind a paywall, but you can watch the video on their youtube channel: How to Make Murgh Makhani (Indian Butter Chicken). It comes highly rated and I can personally attest to making it almost weekly in a regular rotation.
A lot of the key ingredients are similar, though there are a few key changes making it suitable for anyone with a dairy allergy. I also added a few extra spices to the chicken marinade and cut out the oven grilling to save on cleanup.
What is Butter Chicken?
Butter Chicken is a dish that originated in Northern India from the 1950's. It was created when a chef working in a Delhi restaurant decided to mix leftover tandoori chicken in with a creamy, tomato sauce (known as Murgh Makhani).
Over time that recipe made it's way round the English speaking world where it became known as butter chicken.
It's essentially a rich, chicken curry cooked into a creamy sauce made with tomatoes and heavy cream. It's not too dissimilar to chicken tikka masala – another popular dish in Indian cuisine.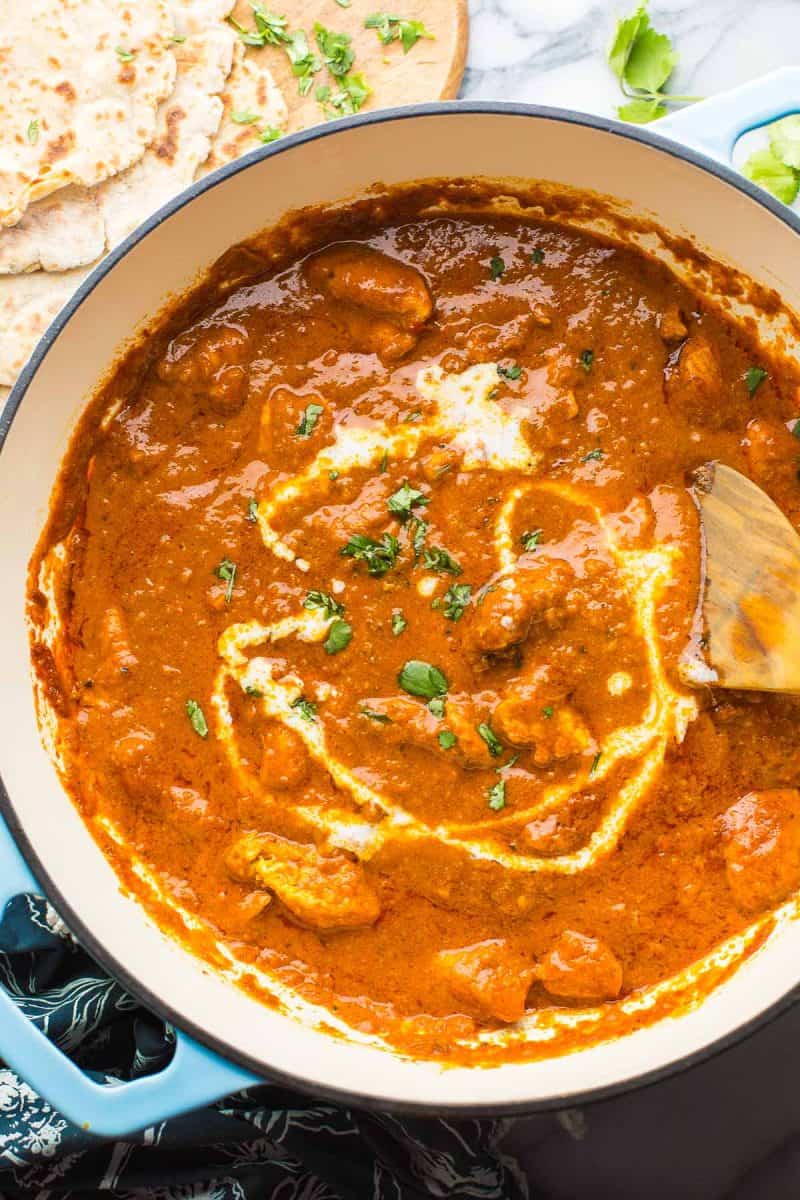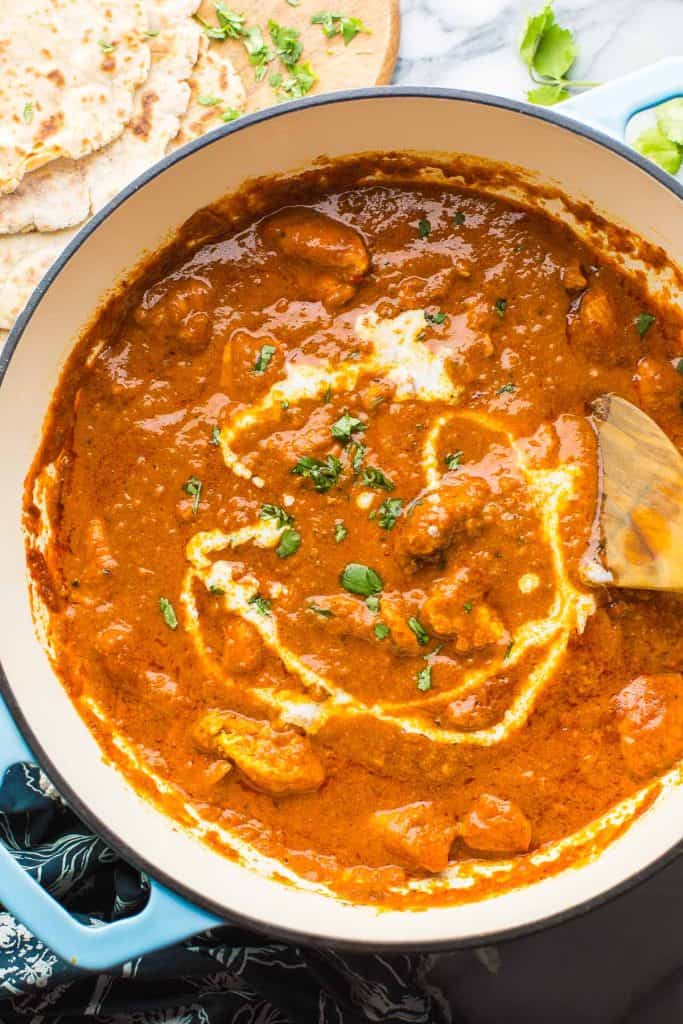 How to Make this Dairy Free Butter Chicken Recipe
In very basic terms, the cooking process can be broken into the following steps:
Marinate the chicken. (30 minute minimum)
Fry chicken in batches in a large pot or skillet. (10-15 minutes)
Make the curry sauce. (20-30 minutes)
Simmer chicken in sauce. (10 minutes)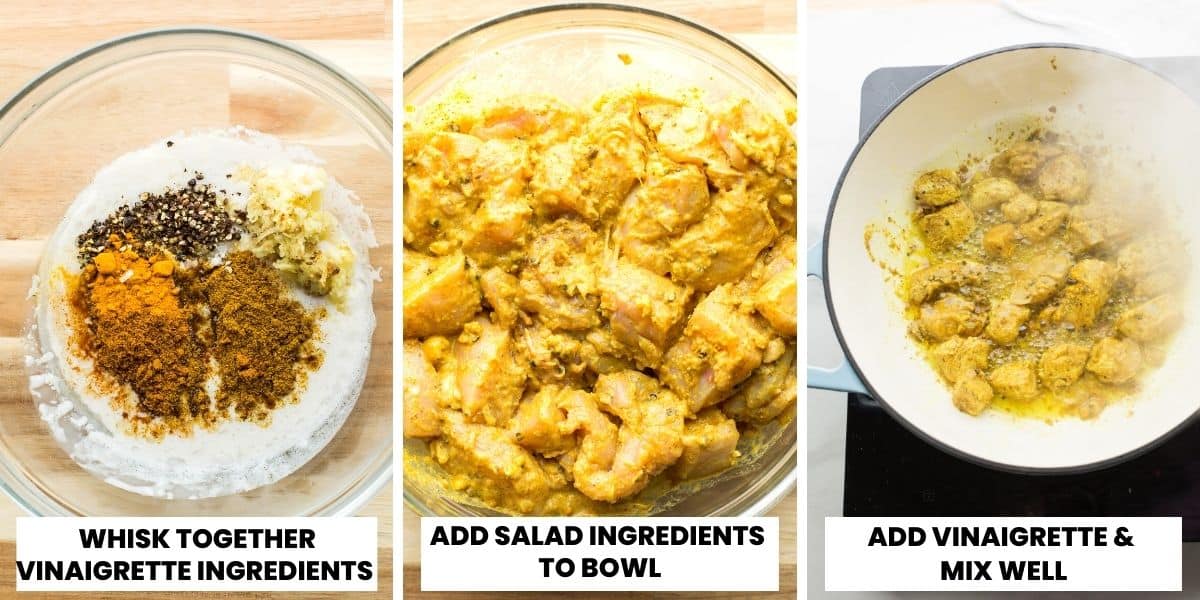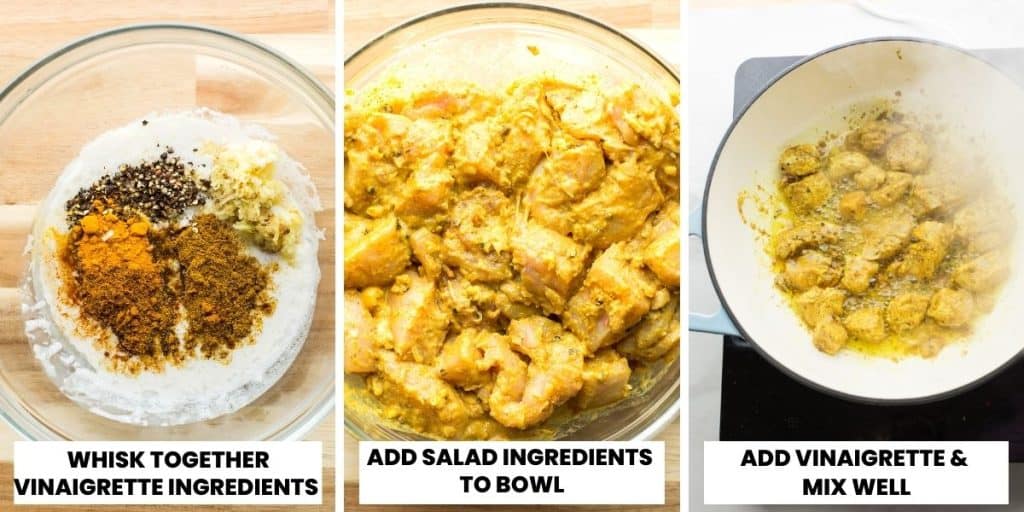 The Marinade
Traditionally this is done with yogurt and a blend of spices. This recipe calls for full-fat coconut milk (or coconut cream) and lemon juice. The lemon juice provides a touch of acid to help tenderise the chicken while the coconut milk/cream keeps the chicken moist. Dairy free coconut yogurt can also be used here.
Mix the coconut with freshly ginger and garlic along with a few spices to infuse a little extra flavor.
How long should you marinate the chicken?
If you're in a rush or just impatient (I can relate), I recommend a 30 minute marinating minimum. This will be just enough time to flavor the outside and slightly tenderise your chicken. Two hours is generally recommended as being enough time to marinate chicken in a yogurt or dairy based marinade. At most you can let your chicken marinate about 12 hours before the texture starts to degrade.
After you've let the chicken marinate, begin cooking it in a large skillet or pot over a medium-high heat, about 2-3 minutes on each side to brown. You don't need to fully cook the chicken through here because you will cook it later in the sauce. The idea is the fry the outsides a bit to brown. Remember that color = flavor in cooking.
Make sure to cook your chicken in batches so as not to overcrowd the pan. If the chicken gets too crowded it will steam up, taking longer to cook and you'll struggle to get the color on the outside.
The Sauce
In the same pot as before:
Fry the onions on a medium heat for about 5-7 minutes until the start to soften. Mix often to prevent burning.
Add the garlic, ginger and chili pepper to the onions and cook another minute, stirring the whole time.
Next add the tomato paste and spices. If your pan gets too dry at this time, feel free to add a tablespoon or two of water to pan to keep things moving. You need to cook the paste and spices about 2-3 minutes on a medium low heat. This will unlock a bit more flavor making for a deeper, richer sauce.
Stir in about 1 1/2 cup of water, along with a bit of sugar and salt. Recipes made with a lot of dried spices can sometimes end up tasting a bit bitter – both the salt and sugar will help to tone that bitterness down, making more a more balanced dish. Bring the sauce to a simmer and let cook about 10-15 minutes until it thickens up a bit.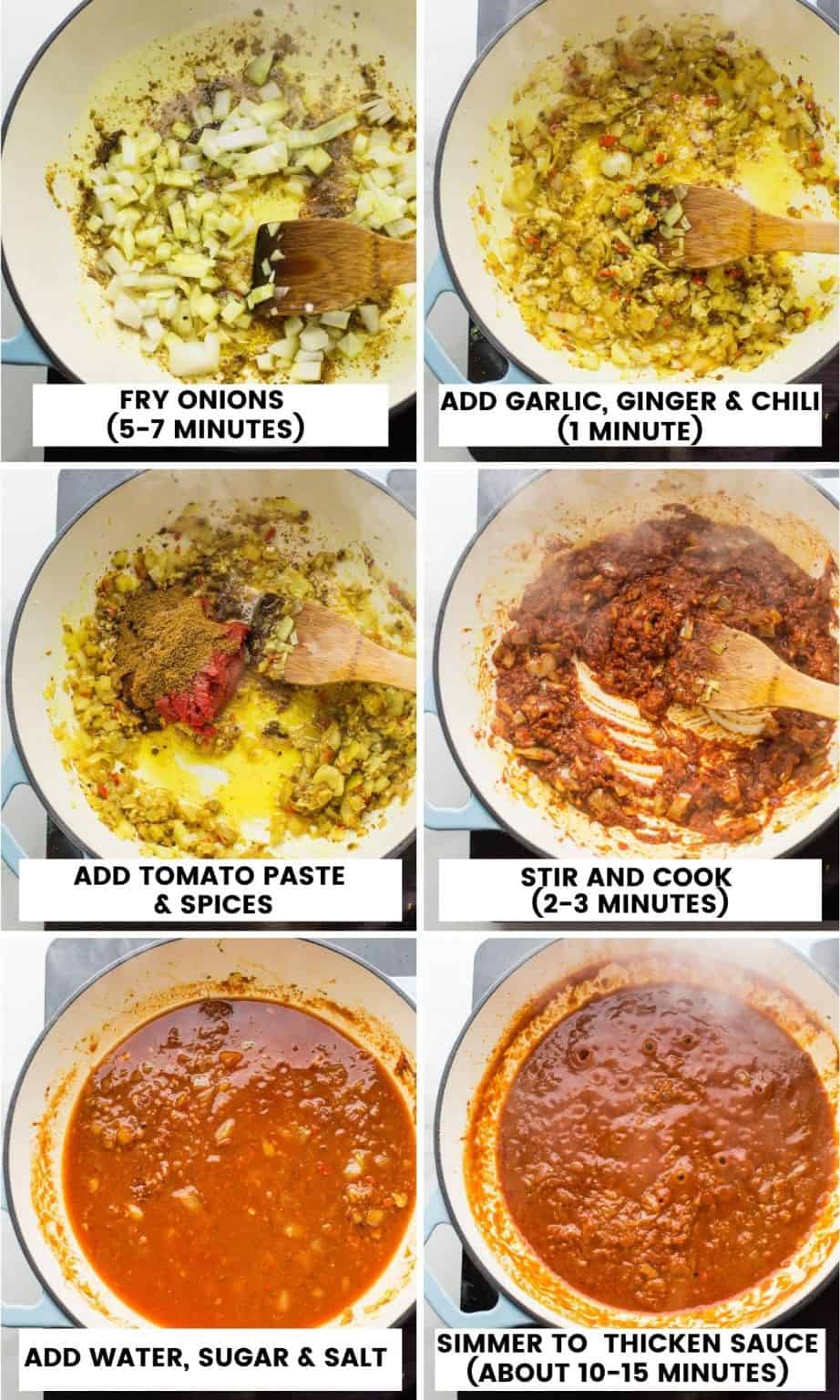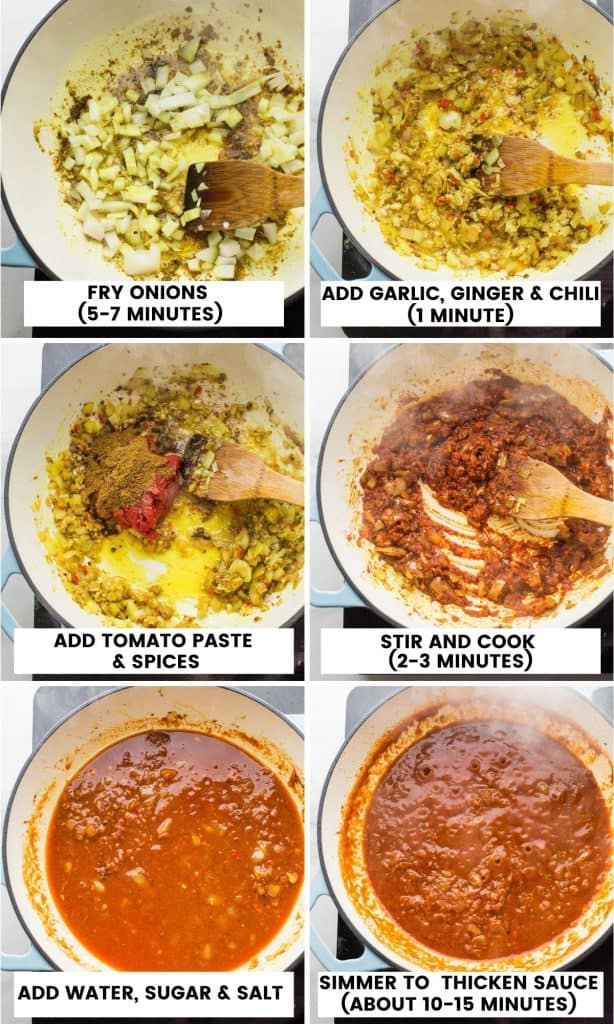 Blend the Sauce
Butter Chicken is known for it's creamy sauce and to get this you need to blend it up in some way into a smoother consistency. This can be done in a stand blander, food processor or with a hand held blender (immersion blender). Whatever you have available is totally fine!
Blending Tip!
If you use a stand blender or food processor to blend your sauce, make sure you don't fill up the blender container more than halfway. Blend in batches if you need and make to open the blender/processor away from your face to avoid the hot steam.
After you blend the sauce, return it to the pan and stir in the remaining coconut milk/cream until combined. Add the chicken from earlier and let everything simmer a final 10 minutes.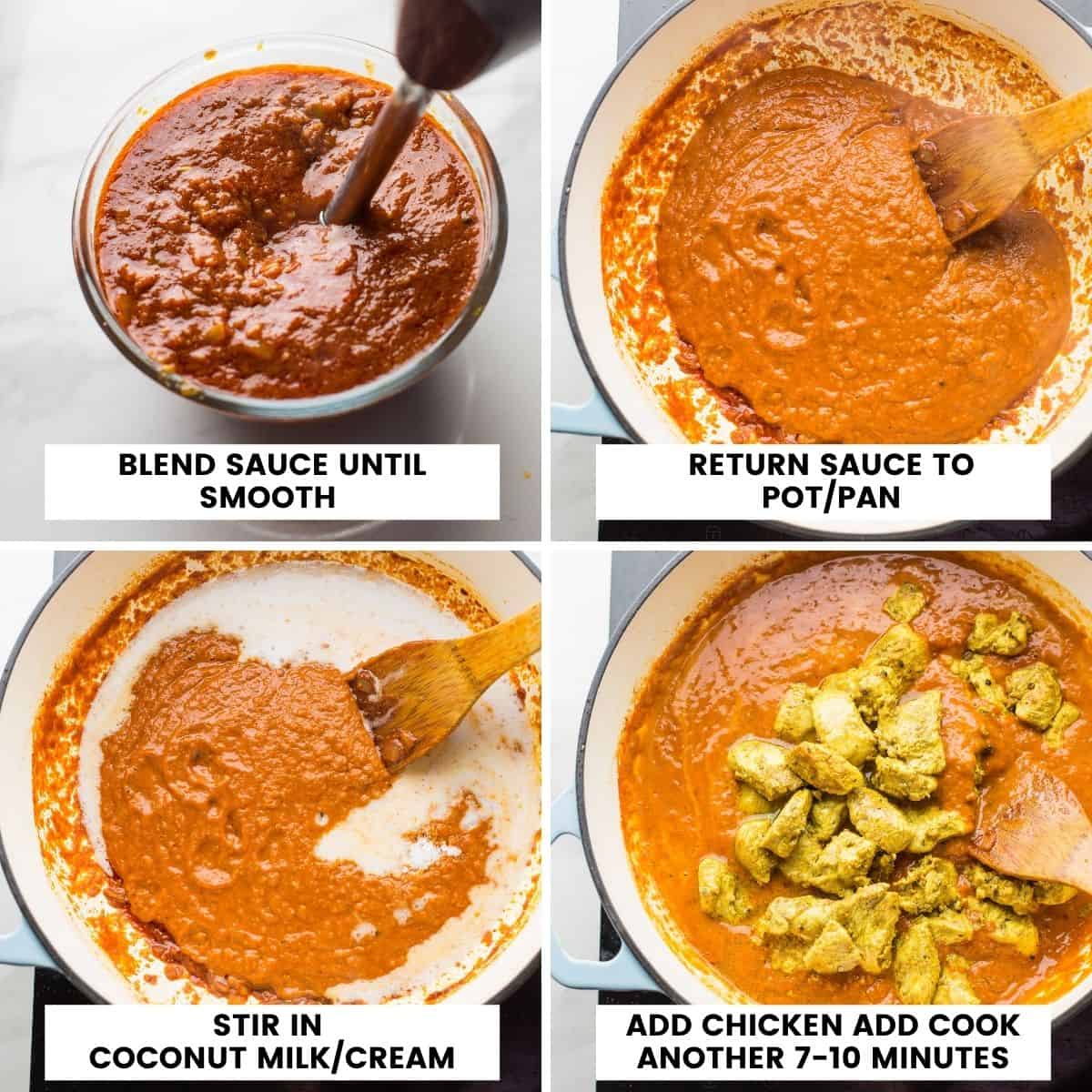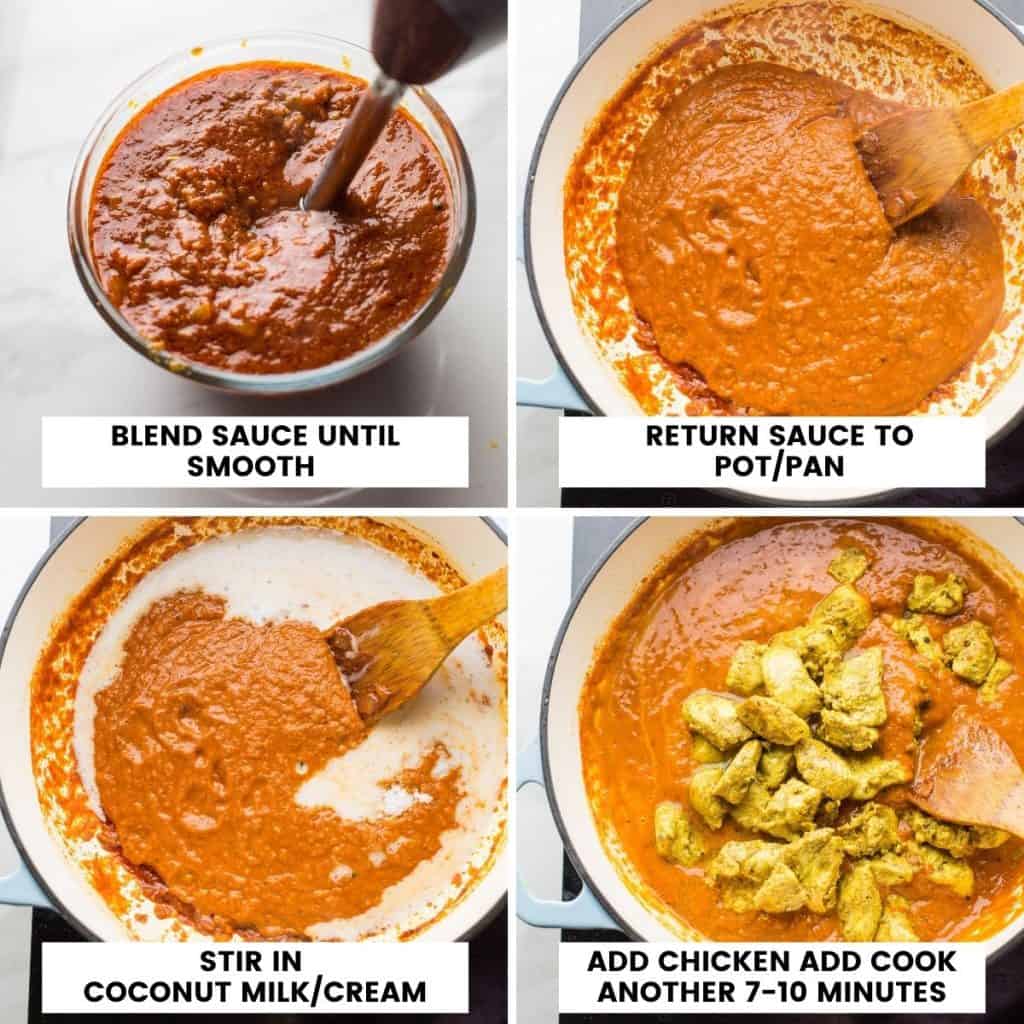 And that's it! An easy dairy-free butter chicken – just as good as the real thing!
While the combined steps may add up in time, it's a fairly simple and straight forward recipe you can enjoy with little effort.
Thanks to the creamy sauce, this recipe keeps well for about 5 days if kept in an airtight container in the fridge. I haven't tried freezing this yet (the leftovers never last long) but I will update this recipe when I do.
Serving Suggestions
Rice: white rice (basmati rice is standard) or brown rice make for great sides as they will soak up all the extra sauce.
Cauliflower Rice: for a low carb or paleo butter chicken option you can serve it with rice cauliflower. Plain cauliflower rice will take on all that delicious, sauce flavor but you might also enjoy my Cilantro Cauliflower Rice as well here.
Flatbread or Naan: I have a grain free/paleo friendly recipe for flatbread (pictured here) that uses cassava flour. Cassava flour is a brilliant gluten free It makes for a pliable, chewy and delicious breads. It's worth getting a bag and trying a few things out if you haven't already!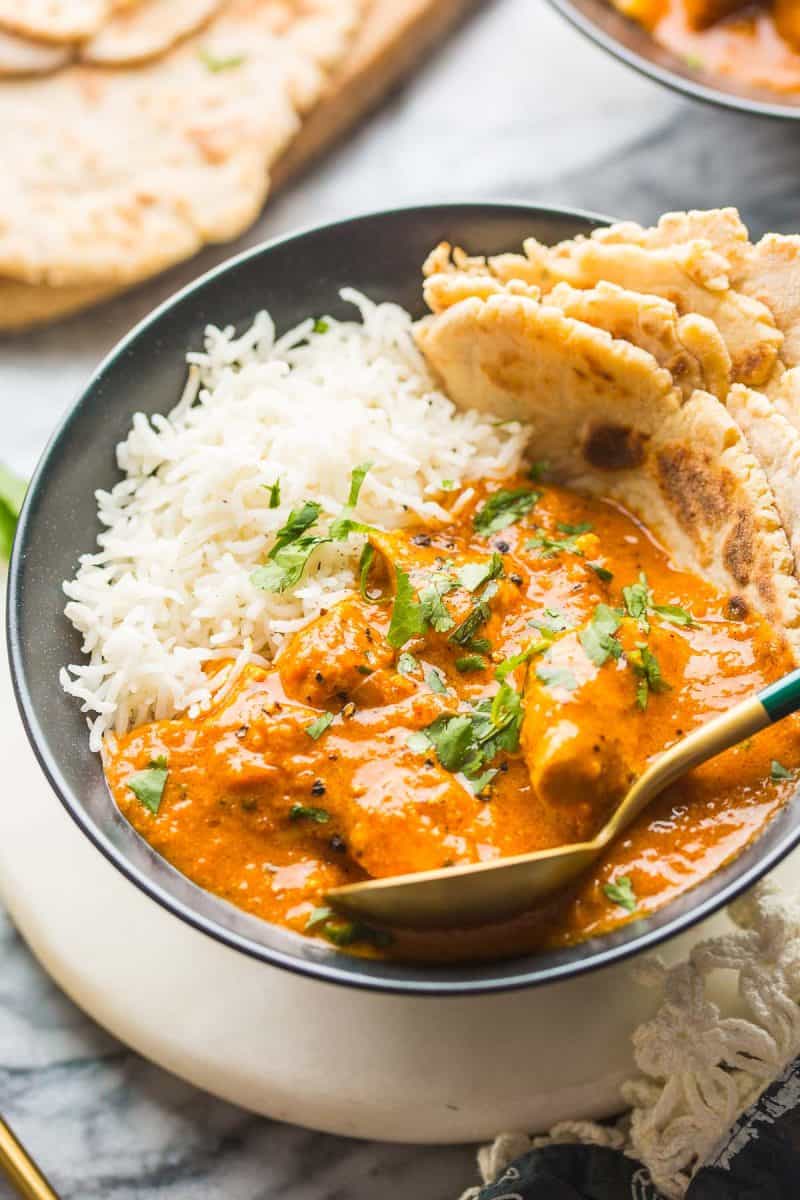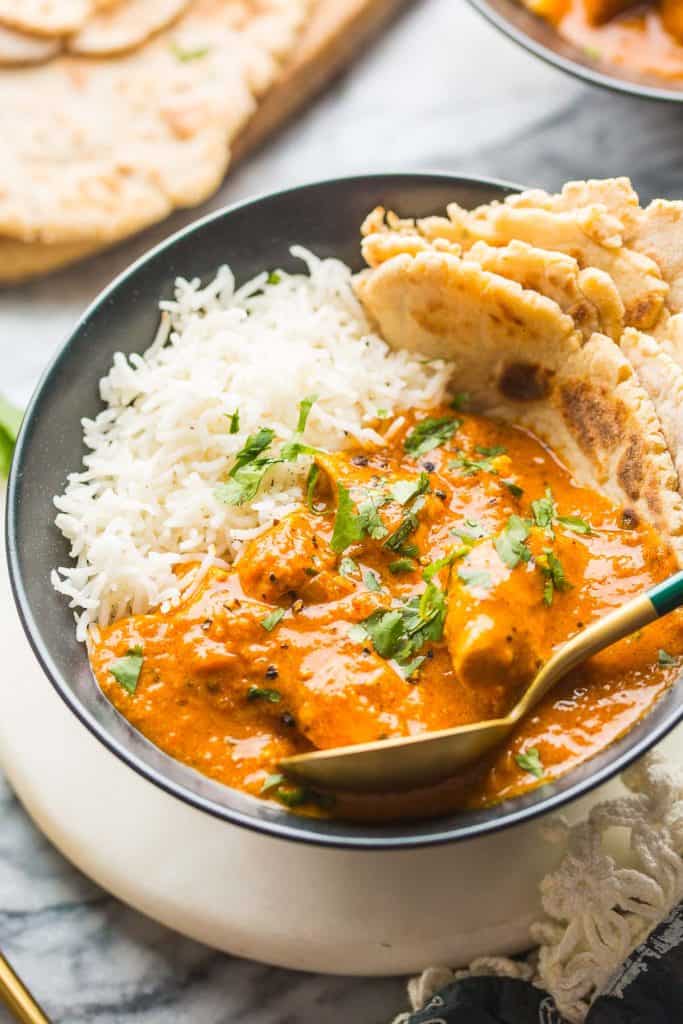 More Dairy Free Curry Recipes You Might Enjoy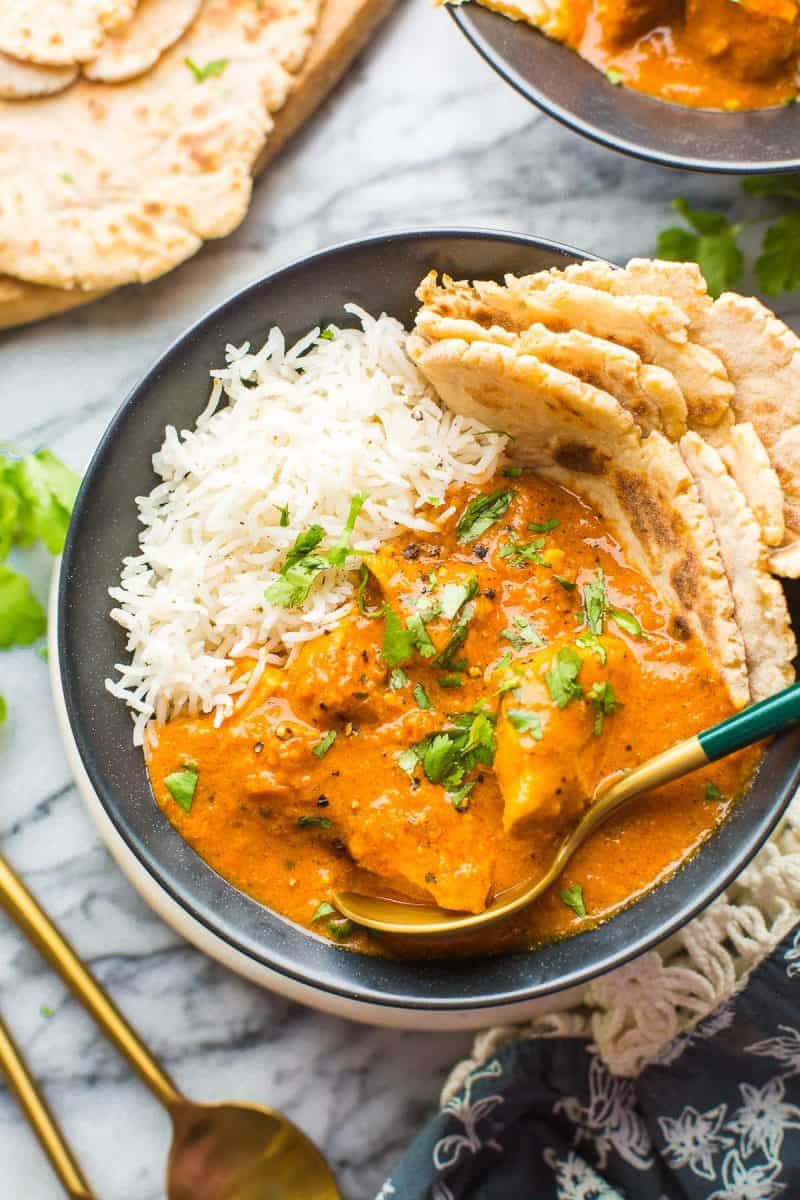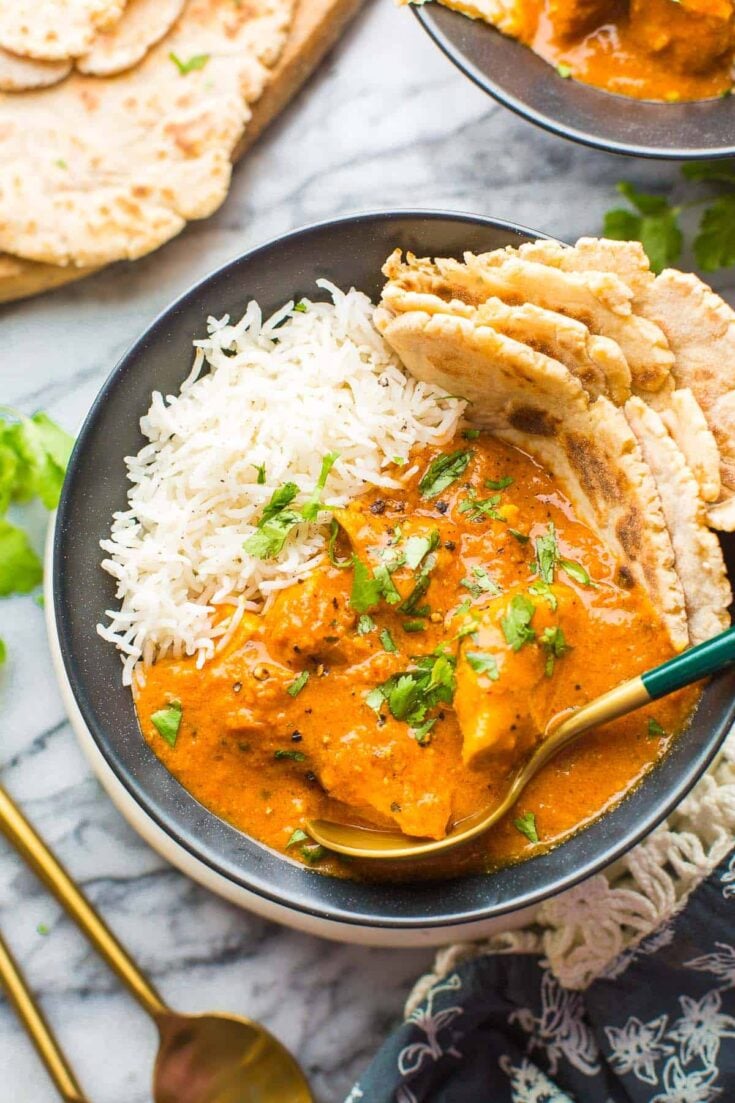 Recipe
Dairy Free Butter Chicken
Yield:
4 servings
Prep Time:
15 minutes
Cook Time:
45 minutes
Additional Time:
30 minutes
Total Time:
1 hour
30 minutes
Rich, creamy and extra saucy – this Dairy Free Butter Chicken is a must make! Coconut milk replace the heavy cream and yoghurt make for a more allergy friendly dish that's just as delicious and satisfying as the original. | Paleo + Whole30 Friendly
Ingredients
Chicken Marinade
1/2 cup (114g) full fat coconut milk, coconut cream or coconut yoghurt (see notes)
1 tablespoon (15 ml) fresh lemon juice
1 tablespoon ginger, minced
1 1/2 tablespoons minced garlic
2 teaspoons garam masala
1/2 teaspoons black pepper
1 teaspoon turmeric
1/2 teaspoon salt
2 pounds (907g) boneless, skinless chicken breasts and/or thighs cut into bite-sized pieces
Sauce
4 tablespoons (60ml) coconut oil, divided
1 onion, finely diced
5 garlic cloves, minced
4 teaspoon freshly grated ginger
1 chili, stemmed, seeded and minced (see notes for type)
1 tablespoon garam masala
1 teaspoon ground coriander
1/2 teaspoon ground cumin
1/2 teaspoon black pepper
1 1/2 cups (360ml) water
1/2 cup (64g) tomato paste
1 tablespoon sugar
1 teaspoon salt
1/2 teaspoon dried fenugreek or kasoori methi (see notes)
1 cup (228g) full fat coconut milk or coconut cream (from a can)
Instructions
Marinade
In a large mixing bowl: mix together the marinade ingredients: coconut milk, lemon juices, garlic, ginger and spices until combined.
Add the chicken pieces to the marinade and mix until fully coated in the marinade. Set aside and let marinate and least 30 minutes. This can also be done 24 hours in advance.
Butter Chicken
In a large pot or skillet, add 2 tablespoons of coconut oil and warm over a medium-high heat. When the oil is hot enough (it sizzles if you flick a few drops of water on it) begin adding the chicken pieces to the pot/skillet. Do this is 2-3 batches so you don't over crowd the pan. Cook the chicken pieces about 3 minutes on each side to brown, then remove from the pot and set aside for the time. The chicken will finish cooking in the sauce in a later step.
Add the remaining oil to the same pot along with the onions. Cook about 5-7 minutes over a medium until the onions start to turn translucent. Add the garlic, ginger and chili pepper. Cook for about 1 minutes until fragrant.
Turn the heat down to a medium-low. Add the tomato paste, garam masala, ground coriander, cumin, black pepper. Cook about 2-3 seconds, stirring the whole time. If the pan/pot looks too dry at any point, add 1-2 tablespoons of water.
Stir in the water, sugar and salt. Let simmer over a medium heat for at least 15 minutes until the sauce thickens and deepens into a reddish-brown color.
Remove the pot/pan from the heat. In a blender or food process: Transfer the sauce to a blender or food processor. Make sure not to fill up your blending container more than halfway full. Do this in batches if needed. Blend the sauce until smooth then pour it back into the pot/pan. With an immersion blender: Pour the sauce into a medium-sized heat safe bowl and blend with a handheld blender until smooth. Once smooth, pour it back into the original pan.
Stir in the remaining coconut milk/cream until combined then add the chicken pieces to the sauce. Mix and let simmer over a medium-low heat a final 10 minutes. Stir in the dried fenugreek or kasoori methi if using.
Serve topped with fresh cilantro along with a side of rice/cauliflower rice and enjoy.
Keep leftovers stored in an airtight container in the fridge up to five days.


Notes
Chili Pepper: Kashmiri chili peppers are typically used in Butter Chicken, but they can be tricky to find. I recommend you look for something like a serano or jalapeno pepper. Butter chicken isn't a very spicy dish, so choose a mild pepper.
Fenugreek: Fenugreek is a spice/herb commonly used in Indian cuisine. In curries it adds a slightly sweet, bitter, butty flavor. More authentic Butter Chicken recipe will almost always include fenugreek leaves/seed. In grocery store, it may be found in the spice aisle or in the world food section. If you don't have this spice on hand - don't worry. Butter chicken purists will insist that it's necessary for true butter chicken, but then this recipe also doesn't have butter. I have made this many times without and it's still fantastic.
Coconut Milk or Coconut Cream: I recommend using a full fat coconut milk (or cream) from a can as opposed to reduced fat or carton milk. The extra fat will yield a creamier curry. If using coconut milk, I also recommend that you mainly use the thick cream that typically forms at the top of the can as oppose the coconut water. Depending on the type coconut milk you buy there might not be the visible separation of cream/water (because of the additional binders) in which case - don't worry about it.
Make it Paleo/Whole30: For a paleo option, use maple syrup, honey or coconut sugar. You can omit the sugar altogether for an whole30 approve meal, but you may find it slightly more bitter. I recommend adding a small amount of pure apple juice (1-2 tablespoons) to add a bit more balance.
This website provides approximate nutrition information for convenience and as a courtesy only. Nutrition data is gathered primarily from the USDA Food Composition Database, whenever available, or otherwise other online calculators.