Soft and chewy gluten free breadsticks made with a blend of chickpea and tapioca flour, shredded zucchini and a few simple ingredients! Ready in about 30 minutes | Vegan + Dairy Free + Grain Free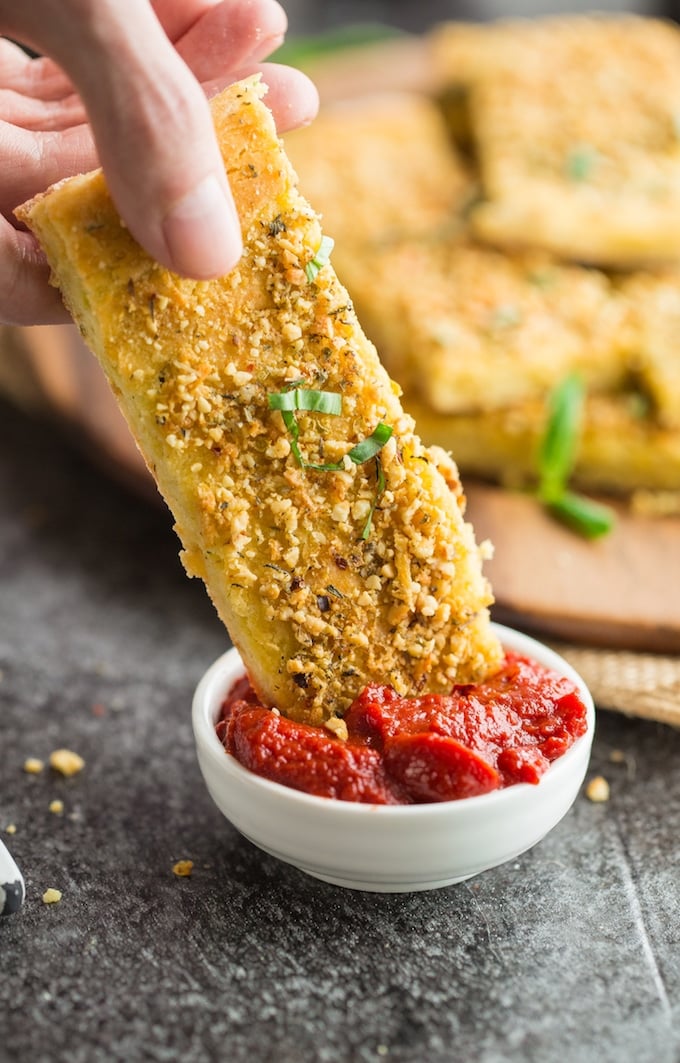 Carbs! Glorious, glorious carbs.
Smothered with garlic, parmesan (dairy free if need be) and a healthy dose of dried herbs & spices for good measure.
While I'm all about the healthy, low carb living craze – in general I do think my body does best on a lower carb diet – sometimes you just need to stuff your face with some gluten free breadsticks and call it a day.
Ya know?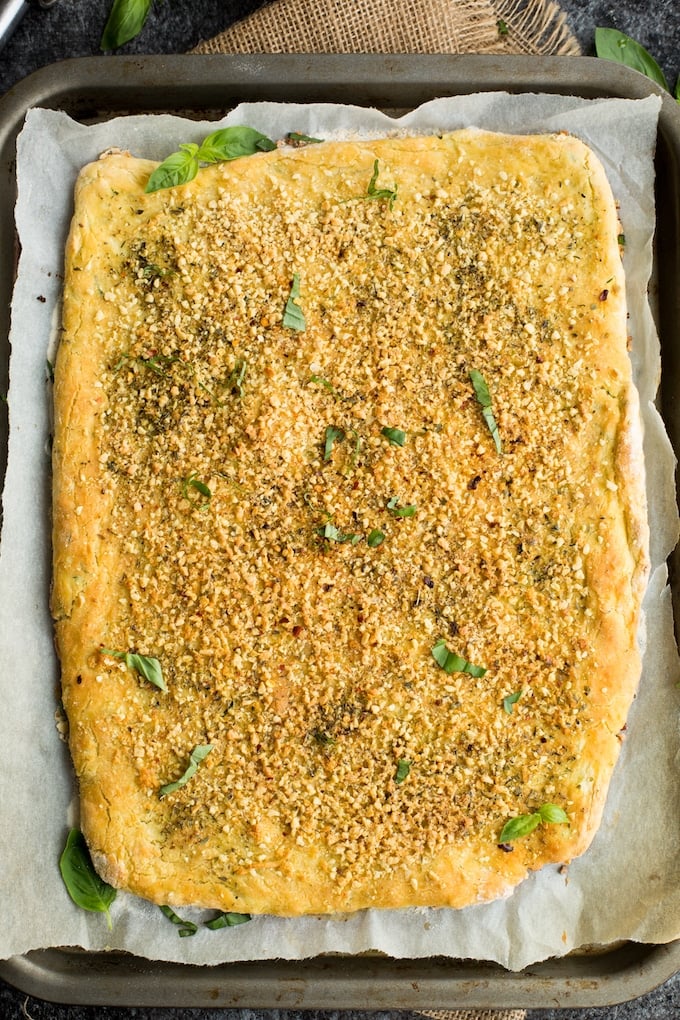 Fortunately for us these carbs can be mixed, rolled, smothered, baked and sliced into sticks in easily under an hour. No waiting for yeast to activate or dough to rise.  Just mix and bake and you are golden – just like your breadsticks by the time you're done with them.
Easy!
If you've never tried baking with chickpea flour I really do recommend giving it a try. For the longest time I shied away from it because my first experience involved using a pre made cookie mix that was mostly made up of chickpea flour. Basically I thought the cookies tasted like weird, sour beans and blamed it all on the chickpea flour. It wasn't until I started making socca regularly that I realised that I didn't actually hate the taste of chickpea flour and decided to give it another go.
Since then I have been borderline obsessed making all of the things with chickpea flour as my main go to (examples seen: here, here, and here to name a few). Chickpea flour has a lot of natural binding power which makes it a great option when you're in need of egg free baking.
Just make sure that you never try tasting the dough of anything that uses chickpea flour because it will 100% taste disgusting before it's cooked.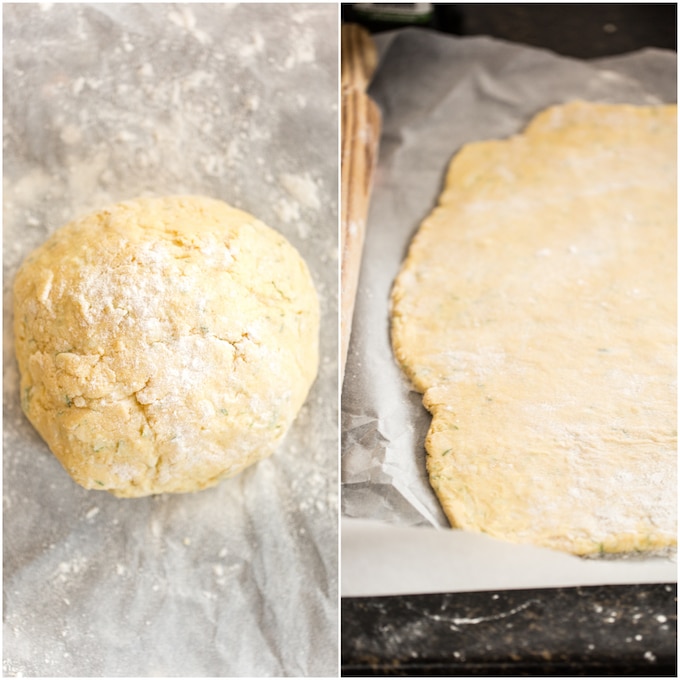 How to Make: Gluten Free Breadsticks
To make your dough you'll need:
chickpea flour + tapioca flour – all time favourite gluten free + vegan baking flour blend. (<–those are affiliate links)
baking powder – instead of yeast, gives the breadsticks a little lift
salt – everything is better with salt
olive oil – not too much, just a drizzle
water – easy
shredded zucchini  – added moisture, you won't even notice it's there
To boil down the basics here you really just need to whisk together your dry ingredients and then mix in the wet ingredients. Do your best to squeeze out as much water from your zucchini as you can before adding it so that it doesn't make for an overly soggy dough.
The toppings here are pretty simple – just a garlic + olive oil mixture topped with some dried herbs. I like oregano and chilli flakes but feel free to swap them out for others you might like better. I do recommend topping these in a little parmesan as well. If you don't have any on hand I include a quick, three ingredient vegan parmesan recipe in the notes. It takes about a minute to make and once your breadsticks have cooked even your non vegan friends will love it. And that is coming from a dairy loving, parmesan freak.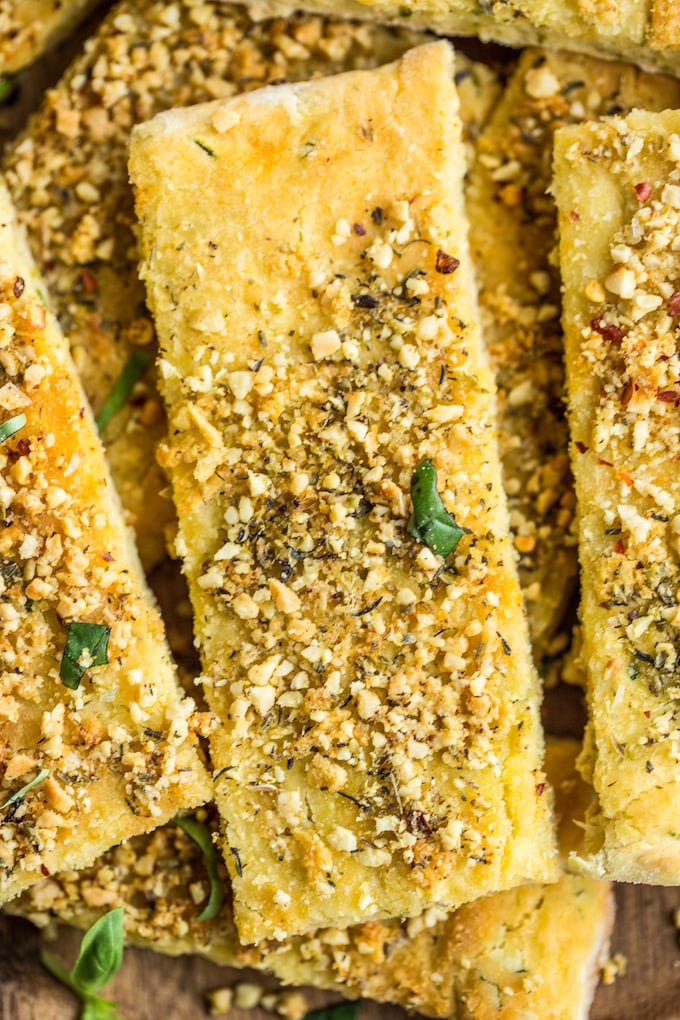 If you're also all about them carbs these gluten free breadsticks make a great addition to pizza nights. On a slightly lighter note they're also a great soup side. I've been enjoying a couple of these alongside this chicken pesto soup the past few days as we wait for this mini blizzard to pass on through. Spring cannot come sooner this year.
However you have it I hope you enjoy it as much as we do!
FACEBOOK | INSTAGRAM | PINTEREST  
Don't forget to #asaucykitchen on instagram if you try this Gluten Free Breadsticks! We love seeing what you make!  You can also post your pictures to my facebook page!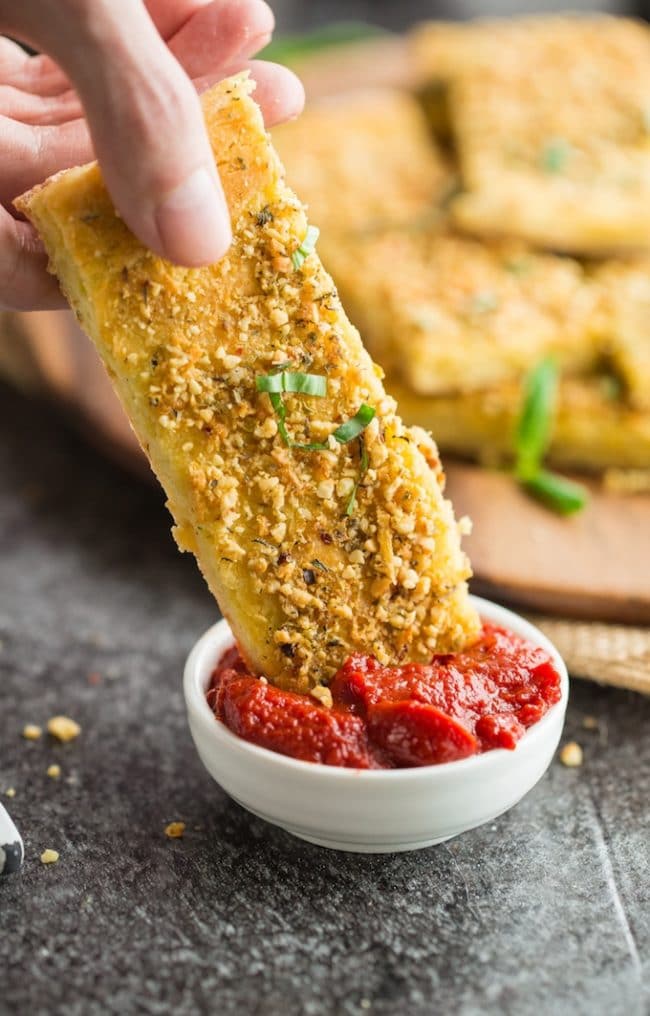 Recipe
Gluten Free Breadsticks with Zucchini
Yield:
14 sticks
Prep Time:
15 minutes
Cook Time:
20 minutes
Total Time:
35 minutes
Soft and chewy gluten free breadsticks made with a blend of chickpea and tapioca flour, shredded zucchini and a few simple ingredients! Ready in about 30 minutes | Vegan + Dairy Free + Grain Free + 
Ingredients
Dough
1 1/2 cup chickpea flour
1 cup tapioca flour
1 teaspoon baking powder
3/4 teaspoon salt
1 tablespoon olive oil
1 cup water
1 cup shredded zucchini
Toppings
2 tablespoons olive oil
2 large garlic cloves, crushed
salt to taste
1 tablespoon dried oregano
1 teaspoon chilli flakes (optional)
1/4 cup parmesan (vegan parm recipe in notes)
Instructions
Dough
Pre-heat oven to 375°f/190°c.
In a large mixing bowl, whisk the chickpea flour, tapioca flour, baking powder and salt together until combined.
Mix the water and olive oil into the dry ingredients.
Squeeze the excess moisture out of the zucchini by wrapping it up in a clean tea towel or piece of cheese cloth and wringing it out. Get rid of as much excess moisture as you can.
Stir the zucchini into the dough. Mix until the dough forms.
Place the dough onto a floured piece of parchment paper. Roll the dough to form a rectangle about 12 inches wide and 28 inches long.
In a small bowl, mix together the garlic and olive oil. Once combined, brush this mixture evenly across the top of the dough. Sprinkle the salt, oregano, chilli flakes and parmesan on top if using. Place in the oven and bake for 18-20 minutes until the top is golden.
Remove from the oven and slice into sticks. Slice through the middle lengthwise and then cut into 2 inch wide sticks horizontally - you should end up with about 14 breadsticks.
Enjoy!
Notes
Homemade Vegan Parmesan: in a blender pulse together 1/4 cup cashews, 2 tablespoons nutritional yeast, 1/2 teaspoons onion powder into a course, sandy mixture.
Chickpea Flour Notes:
You can usually find it in the gluten free section of your grocery store also under the name garbanzo flour or gram flour
Nutrition Information
Yield:

14
Serving Size:
stick
Calories:

115
Cholesterol:

1mg
Sodium:

165mg
Carbohydrates:

15g
Fiber:

1g
Sugar:

1g
Protein:

3g
This website provides approximate nutrition information for convenience and as a courtesy only. Nutrition data is gathered primarily from the USDA Food Composition Database, whenever available, or otherwise other online calculators.