Flourless Carrot Banana Pancakes – only four ingredients needed and takes about 10 minutes to make! Gluten Free + Dairy Free + Low FODMAP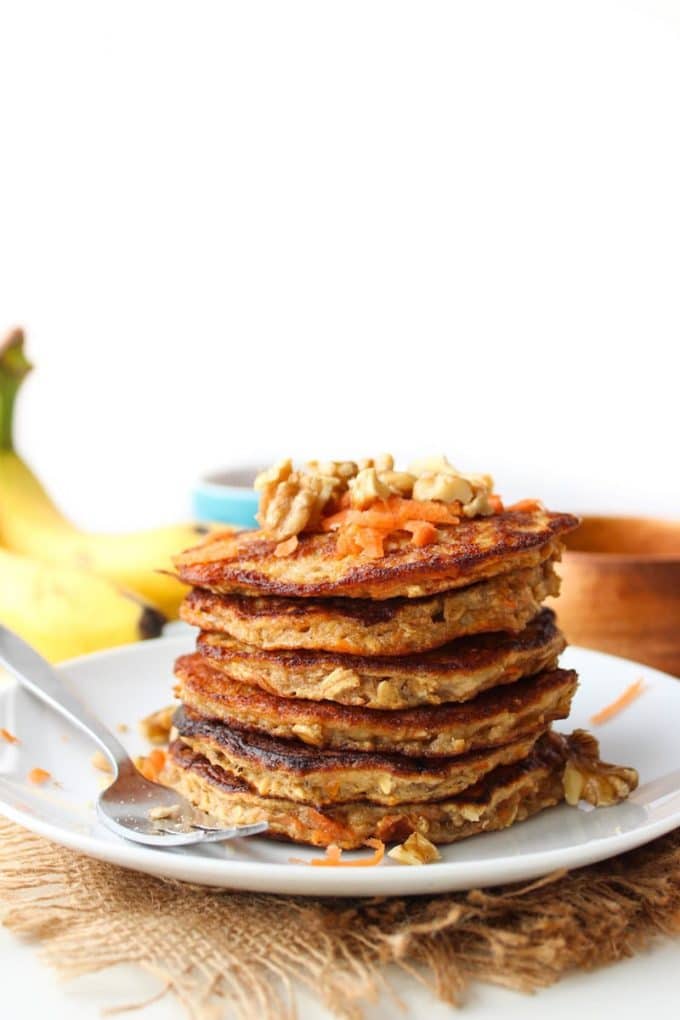 Spring! We made it!
I'm going to pretend like it didn't actually hail & snow yesterday and enjoy this new season. It was only for about 10 minutes but it was surprisingly aggressive. And then another 10 minutes later it was bright and sunny again as if ice pellets weren't just hurtling through the sky.
But never mind that – it's Spring! Time to throw back the curtains, let in the sunlight and then enjoy it all from the inside because it's still hella cold outside. This morning when I got up to go for a run I decided to throw on a pair of shorts because it was so bright and beautiful outside. My legs are so blindingly white I thought it might be a good idea to let them get some sun – I'm the whitest Latina you will ever know, but that's beside the point. As soon as I got down to the bottom of the path I immediately regretted my decision but at that point I was already committed. Note to self: the sky lies.
But enough about my paleness and the weather – We've got food to talk about.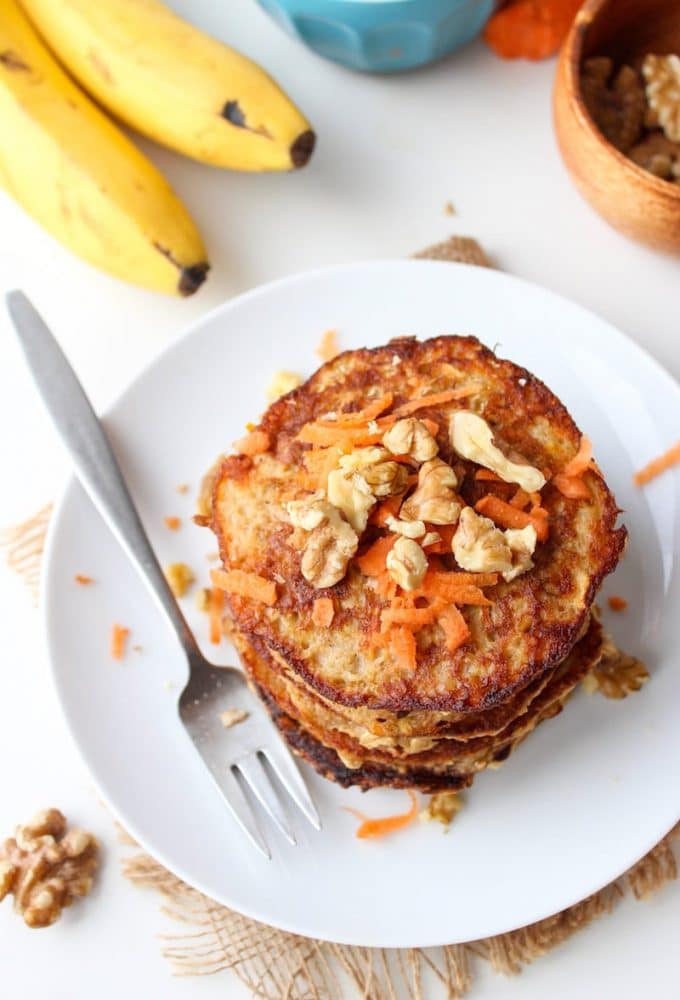 With Easter right around the corner I can't help but have carrot cake on the mind! Last week it was carrot & apple muffins. This week it's all about these flourless carrot banana pancakes! Not quite carrot cake but still delicious!
This recipe is simple – based off of the 2-ingredient pancakes that are all over Pinterest. If you're unfamiliar with those pancakes it's basically just an egg mixed with a ripe banana. While it tastes lovely, I'm not too crazy about the mushiness. I'm much too much of a texture freak to be satisfied with just banana & eggs mixed together.
The great thing about those pancakes though – they're a great starting point for making pancakes. Just add a little flour, oats, nuts and spices and you're on your way.
While these carrot banana pancakes require more than two ingredients (but not by much) they're still incredibly quick and easy to make. All you need is:
Banana
Carrot
Egg
Oats
Cinnamon
Just mix it all together and heat up a frying pan and you're all set. I personally like to sprinkle a few crushed walnuts over the top for even more crunch but that's completely optional. Toasted coconut would also be great here!
These are super simple to make and perfect for when you've got overly ripe bananas sitting neglected on the counter top. If you're anything like me than that is pretty much all the time, always.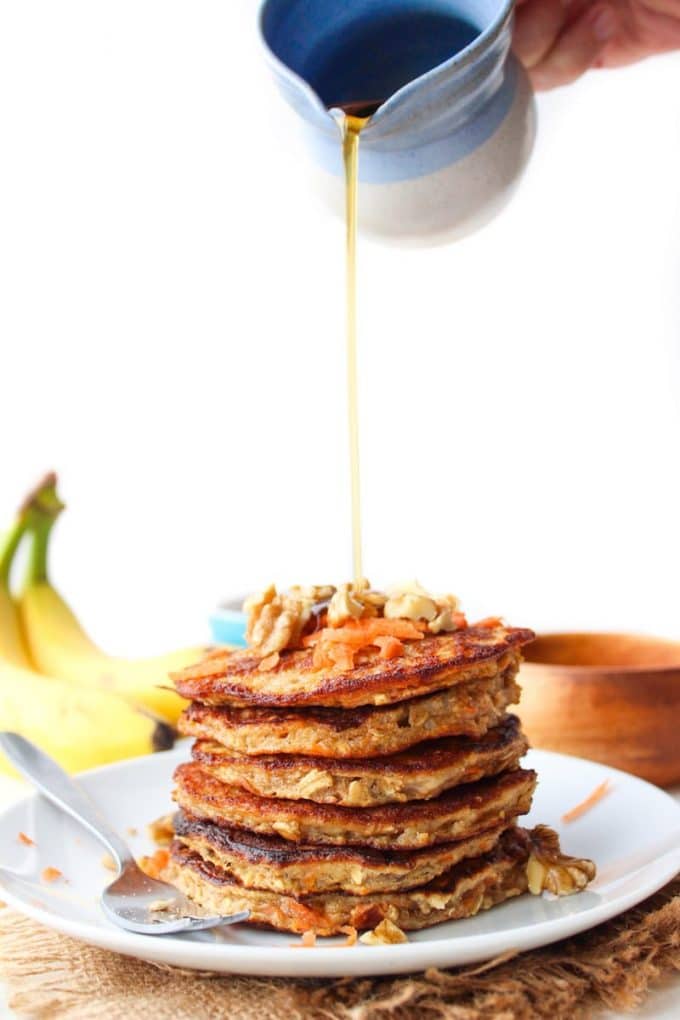 By the way – I doubled the recipe for these pictures because I had a ton of bananas that needed using. This makes about 3 pancakes which is enough for 1 person, so just keep that in mind for when you make it.
Enjoy!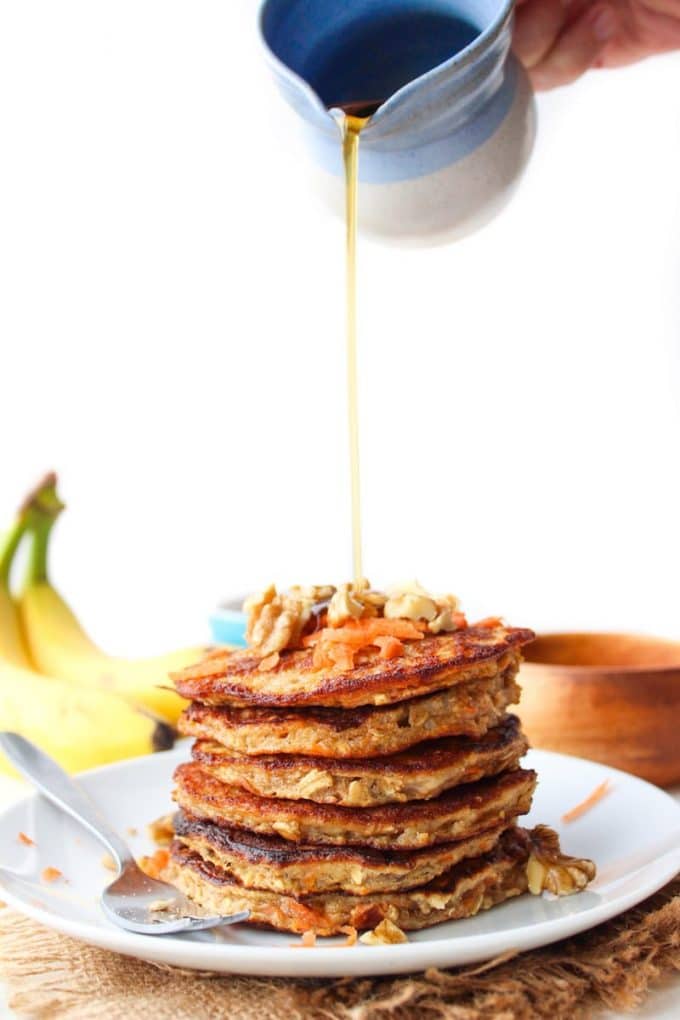 Recipe
Flourless Carrot Banana Pancakes
Yield:
1 serving
Prep Time:
5 minutes
Cook Time:
10 minutes
Total Time:
15 minutes
Flourless Carrot Banana Pancakes - only four ingredients needed and takes about 10 minutes to make! Gluten Free + Dairy Free + Low FODMAP
Ingredients
1 medium/large ripe banana, the riper it is the sweeter the pancakes will be
1/4 cup grated carrot, 30 grams
1 egg
1/4 cup oats, both quick and rolled oats work, 24 grams
1/2 teaspoon cinnamon, optional
2 tablespoons crushed walnuts (optional)
Instructions
Add the banana to a small mixing bowl mash with a fork until it's no longer lumpy.
Stir in the grated carrot, egg, oats, cinnamon and walnuts (if using) and mix until combined.
Warm a large non stick skillet on a medium high heat. Melt a little butter or oil if needed for your pan. Once the pan is hot ladle about 1/4 cup of the batter onto the pan. Use the back of a spoon to spread out the pancakes into the right shape and let cook for 2-3 minutes. Once the edges are cooked and golden and little bubbles form over the top of the uncooked side carefully flip over the pancakes. Cook for another 2-3 minutes on the other side under full cooked and then remove from the heat.
Serve immediately and enjoy!
Nutrition Information
Yield:

1
Serving Size:
g
Calories:

391
Saturated Fat:

2g
Cholesterol:

163mg
Sodium:

87mg
Carbohydrates:

47g
Fiber:

7g
Sugar:

16g
Protein:

12g
This website provides approximate nutrition information for convenience and as a courtesy only. Nutrition data is gathered primarily from the USDA Food Composition Database, whenever available, or otherwise other online calculators.
Hungry for more?
Check out some of the following recipes below for more pancake recipes, waffles, french toast and more!