These millet pancakes are simple, delicious and easy to make! Thanks to the earthy, whole-grain flavor of millet flour, these pancakes make for a truly tasty breakfast treat that's even better with a drizzle of maple syrup or honey! Check the recipe notes for dairy free + egg free options.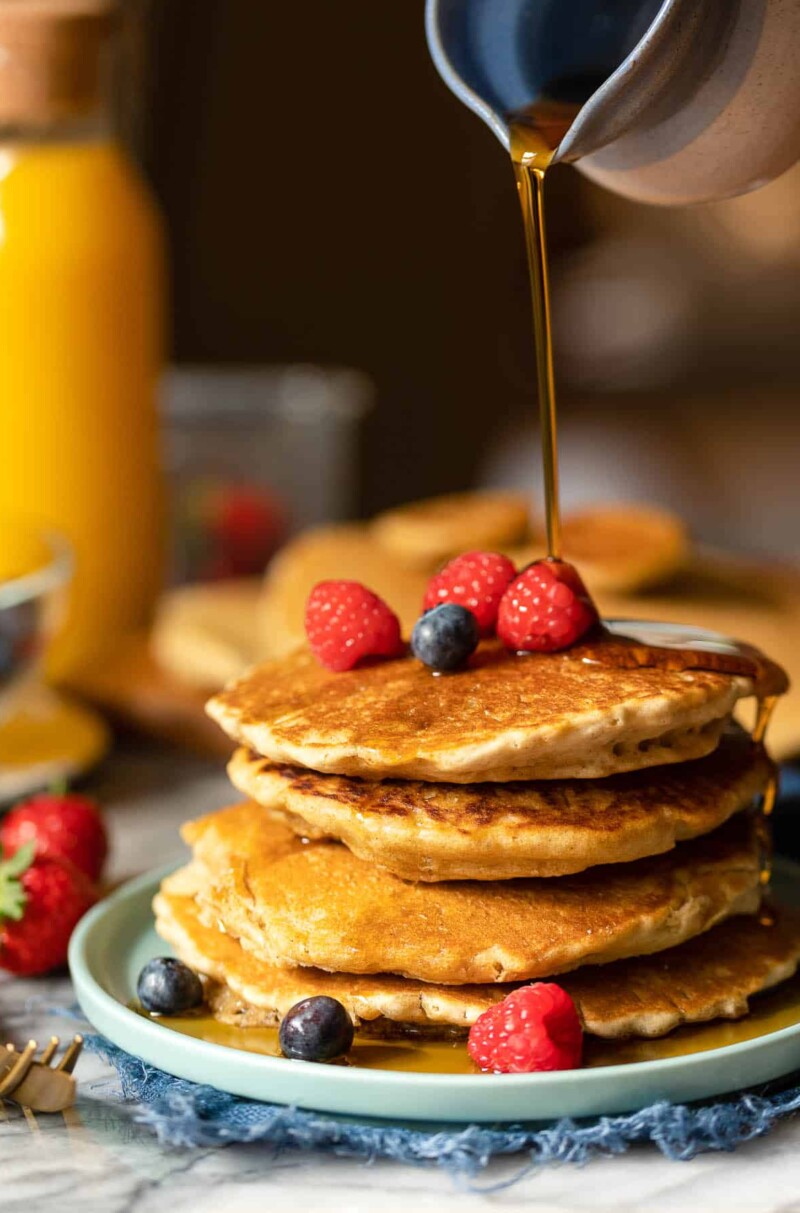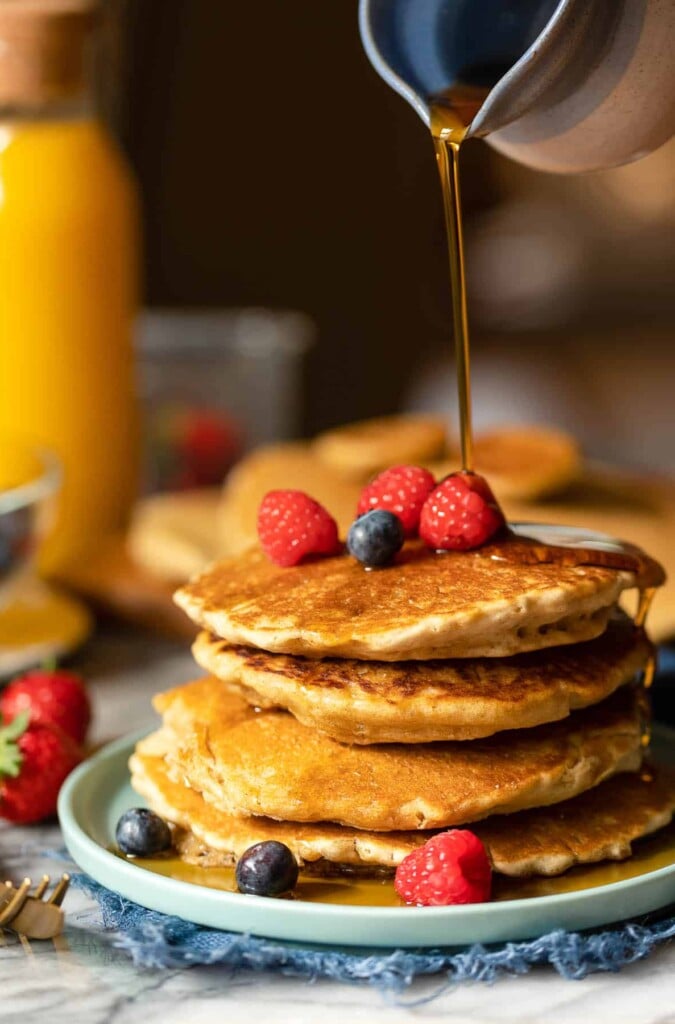 Millet Pancake Ingredients
Millet Flour & Arrowroot: Millet is a whole grain making it a decent whole wheat flour substitute thanks to its naturally earthy flavor and somewhat crumbly texture. Too much millet can make for a somewhat bitter flavor so a bit of arrowroot helps keep it balanced.
Sugar: Since millet can be a bit much in large amounts, sugar helps balance out earthy flavor of the millet flour.
Baking Powder + Baking Soda: For adding lift and lightness to the pancakes.
Dairy Free Milk + Lemon/Vinegar: This is how you make a dairy free buttermilk. Buttermilk is a fantastic ingredient in baked goods and pancakes because it helps create light and fluffy foods by encouraging carbon dioxide bubbles to form in the batter or dough: bubbles = lift. Type of milk doesn't matter. almond milk, coconut milk, soy – whatever you like.
Eggs + Butter/Oil : Egg are also helpful in adding volume to the pancakes. They also provide moisture along with the melted butter or oil.
Salt, Vanilla, Cinnamon, Butter: Our flavor enhancers.
Xanthan Gum: This is an optional ingredient. I've tested this recipe with and without xanthan. Xanthan gum helps bind and retain moisture. In this case it keeps the pancakes from spreading too much on the griddle. So if you like thick and fluffy pancakes add xanthan. If you like thinner pancakes, leave it out. The flavor won't change. It's up to you!
---
Steps
These millet pancakes are super easy to make! The method here is just like most traditional pancake recipes. No special equipment needed. Just a couple of mixing bowls, a whisk, ladle and frying pan.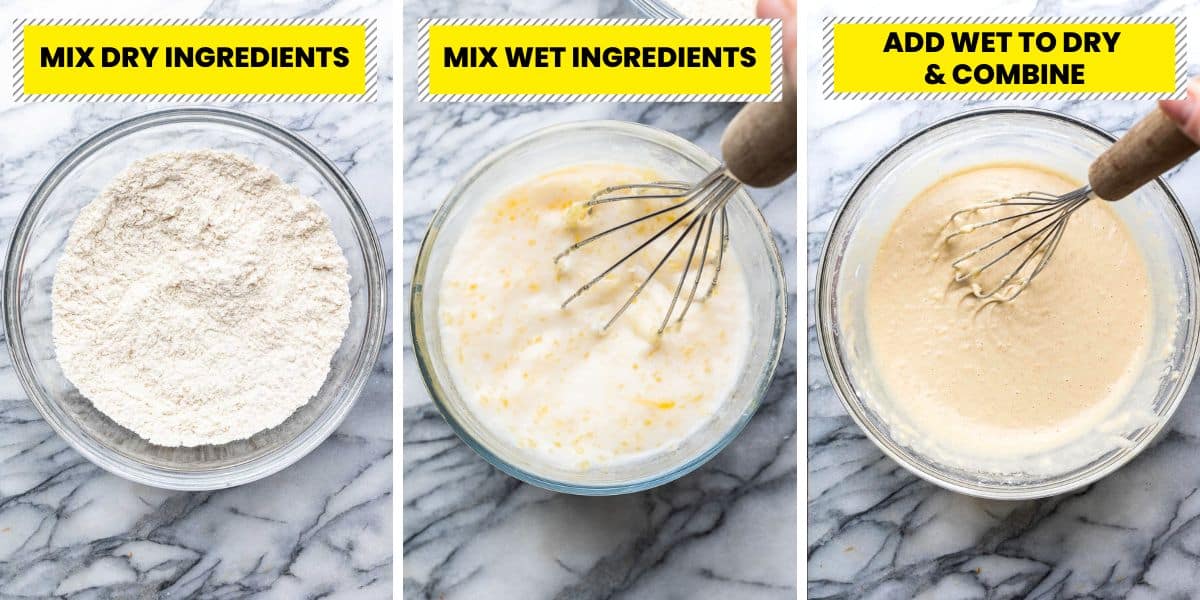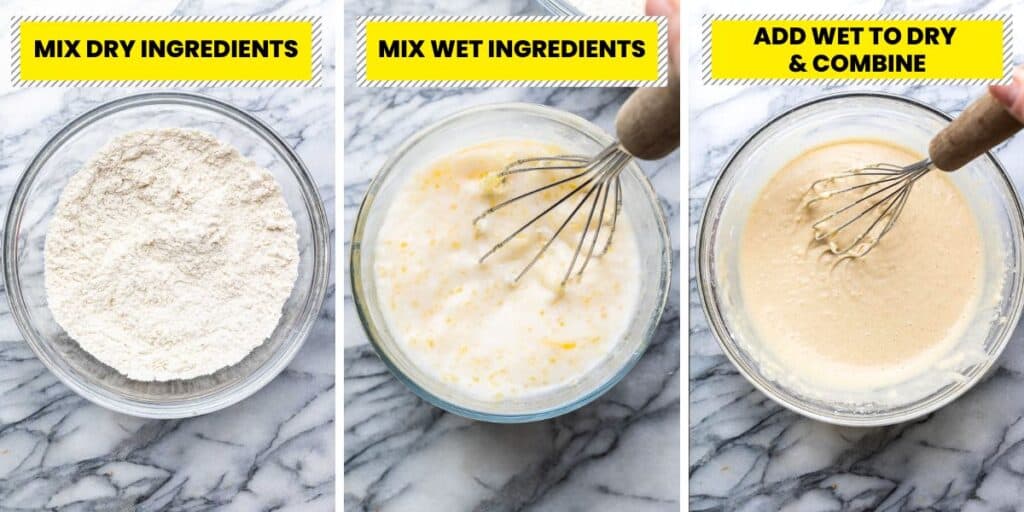 Whisk dry ingredients
Whisk wet ingredients.
Add the wet ingredients to the flour mixture and mix into a mostly smooth batter.
Rest the batter for at least 10 minutes to hydrate the flour.
Pour batter into a greased and heated pan.
Let cook about 3-4 minutes then flip and cook the other side.
Serve and enjoy!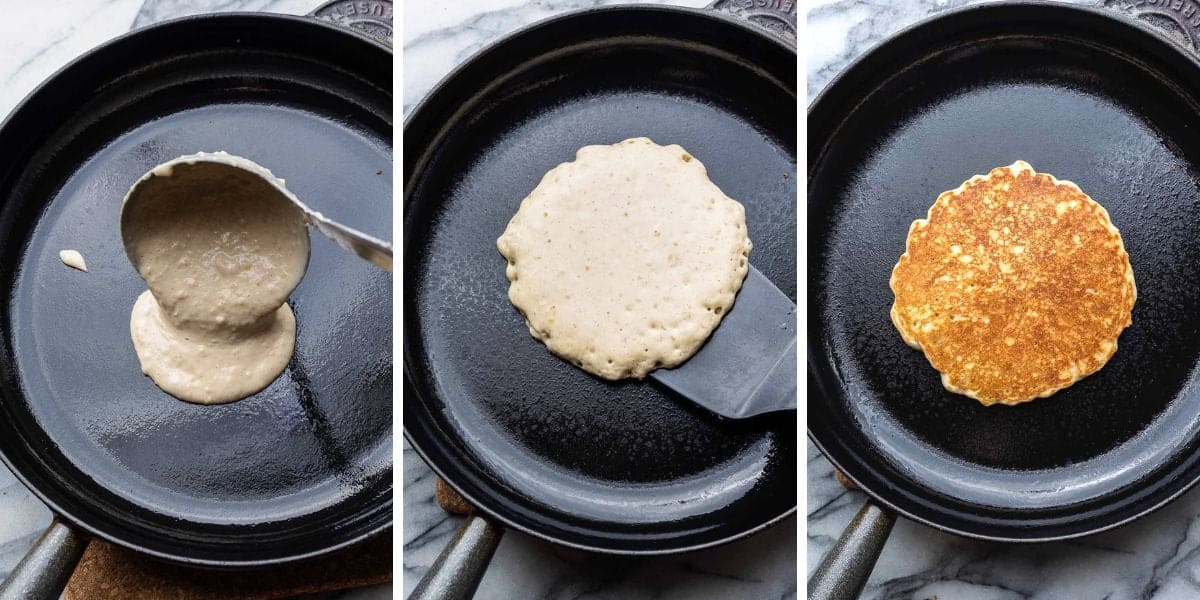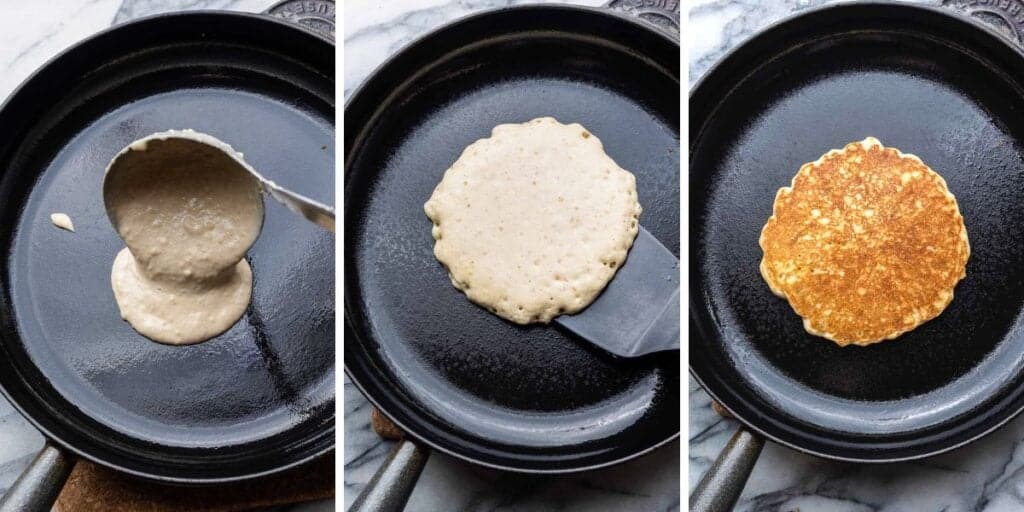 What is Millet Flour?
Millet flour is a type of gluten-free flour made by grinding millet seeds into a fine powder. While it's technically a seed, Millet is considered an ancient grain as that is how it's been cultivated and consumed for thousands of years. It's quite similar to quinoa as both a flour and a grain.
---
Can I make this recipe with a different type of flour?
Flour substitutes aren't always easy to make without major changes in taste and texture. If you'd prefer to make these pancakes with something other than millet flour, I recommend you check out some of my other tried and tested gluten free pancake recipes using different flours.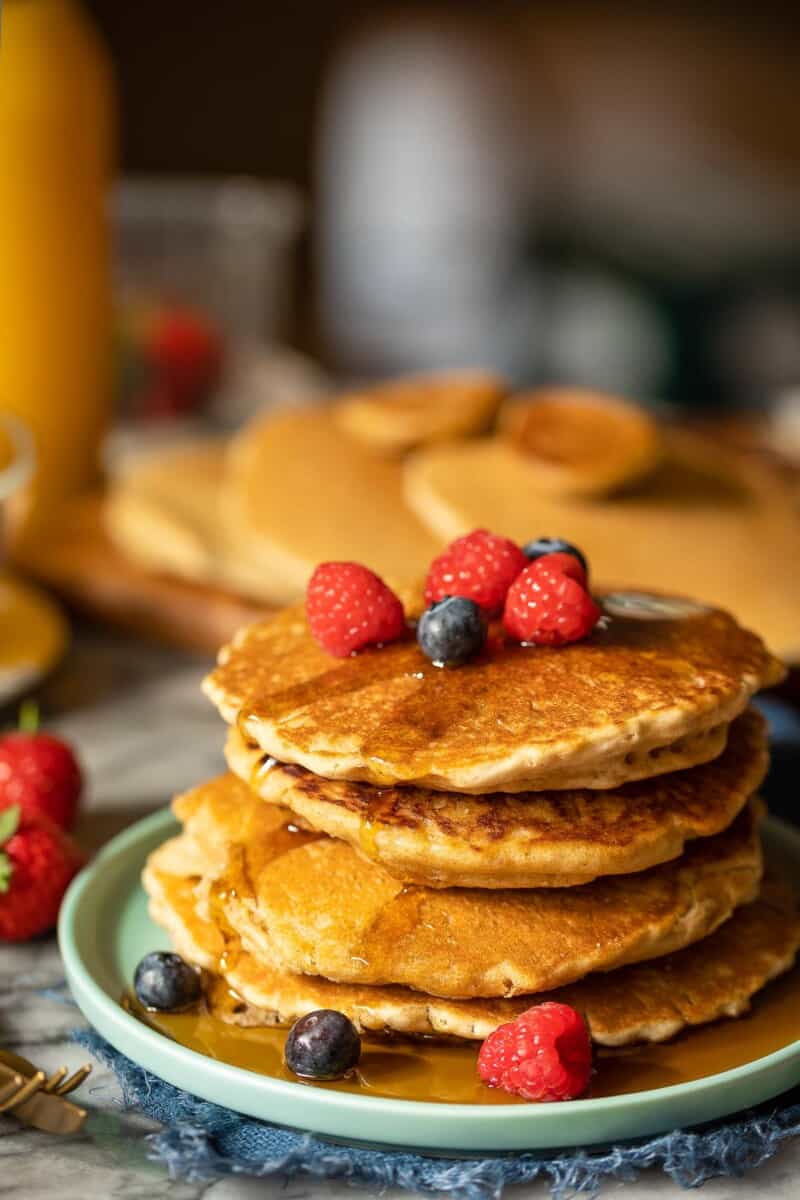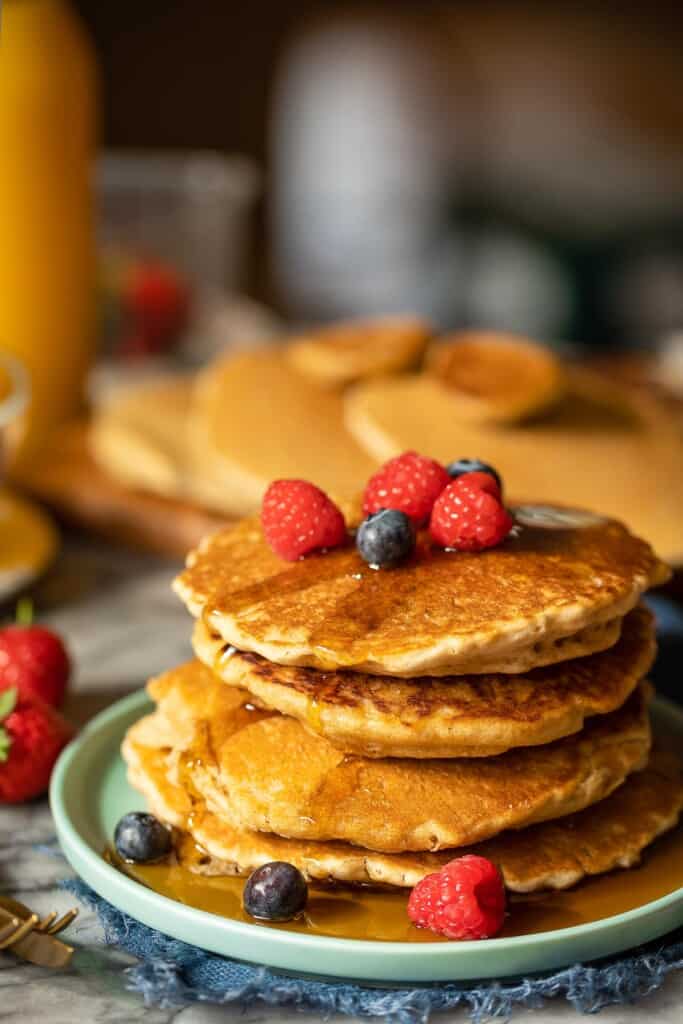 Tip: Don't Over Mix the batter
Whisk the pancake batter until mostly combined. A few lumps and pockets of flour left are totally fine! They'll cook out and go unnoticed after cooking.
---
Tip: Heat the pan properly
Give your pan, skillet, griddle – whatever you're cooking on – time to heat up before you add your batter. This will form a nice crust on the outside of your pancake and keep it from spreading too much.
---
Hungry for more?
Check out some of the following recipes below for more pancake recipes, waffles, french toast and more!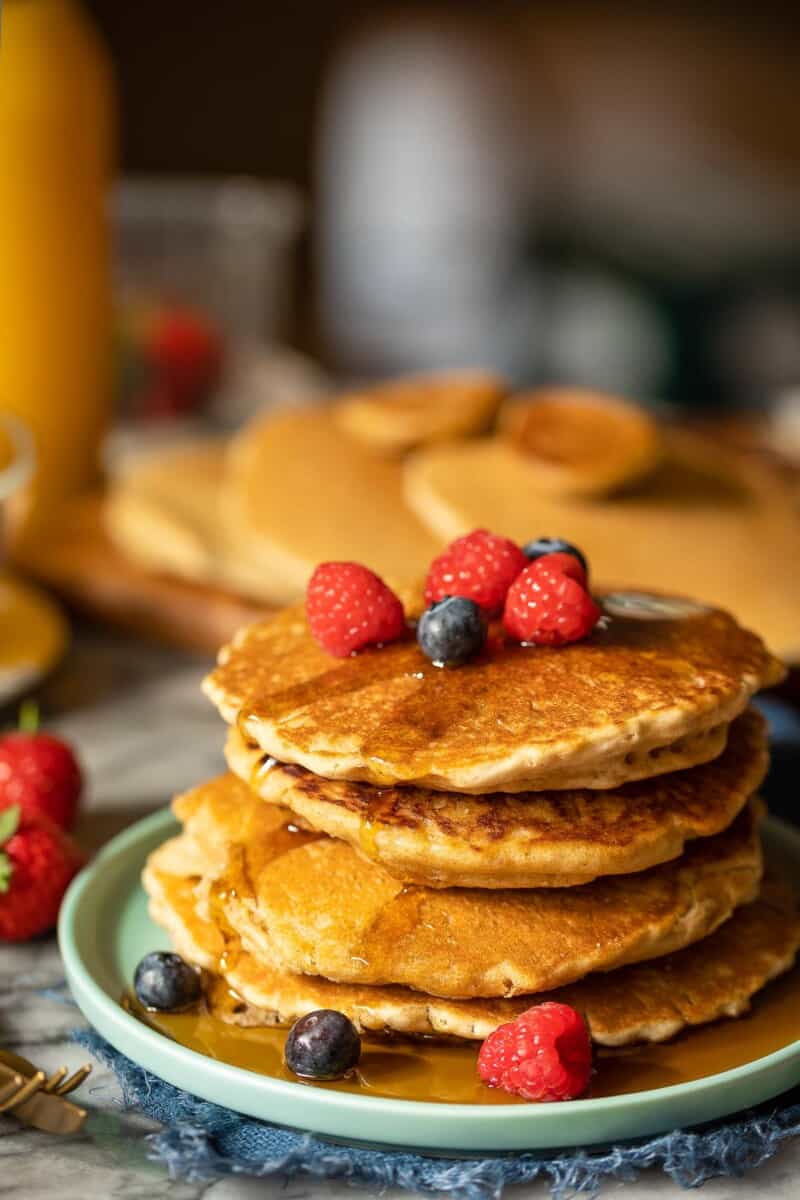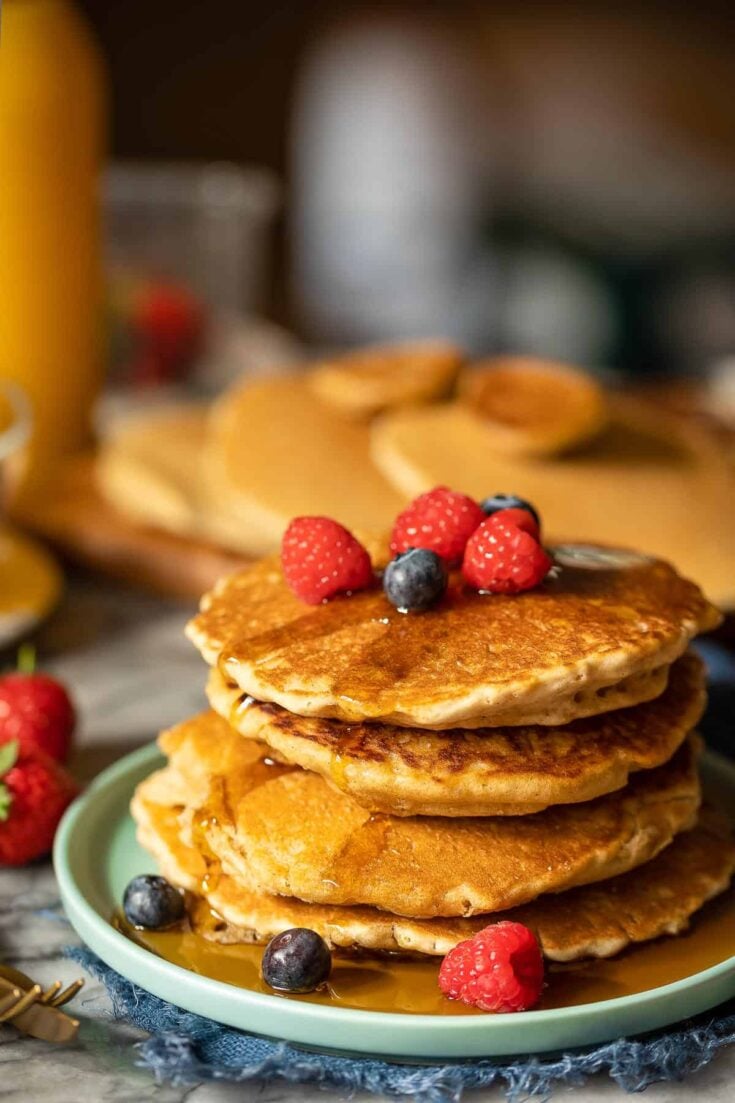 Recipe
Millet Flour Pancakes
Yield:
8 pancakes
Prep Time:
15 minutes
Cook Time:
20 minutes
Total Time:
35 minutes
Thanks to the earthy, whole-grain flavor of millet flour, these pancakes make for a truly tasty breakfast treat that's even better with a drizzle of maple syrup or honey!
Ingredients
1 cup dairy free milk (240 ml)
2 teaspoons lemon juice or vinegar (apple cider, white, rice)
2 cups millet flour (240g)
1/2 cup arrowroot flour (60g)
1/3 cup granulated white sugar (70g)
2 teaspoons baking powder
1/2 teaspoon xanthan gum, optional*
1/2 teaspoon salt
1/2 teaspoon cinnamon
2 eggs
1 teaspoon vanilla extract
3 tablespoons melted butter or coconut oil
Instructions
In a medium bowl whisk together the milk and lemon juice or vinegar. Set aside for about 5-10 minutes until the milk starts to curdle. This is your dairy free 'buttermilk'.
In a large bowl whisk together the dry ingredients until well combined: millet flour, arrowroot flour, sugar, baking powder, salt and cinnamon. Set aside.
Return to the buttermilk bowl. Add the eggs, vanilla and melted butter. Whisk until all the wet ingredients are fully combined.
Pour the wet ingredients into the bowl with the dry ingredients. Gently mix together until combined. A few lumps left in the batter is fine.
Set aside and rest the batter for at least 10 minutes to hydrate the flour. You can rest overnight if desired.
Warm a large non-stick skillet or well seasoned cast iron pan over a medium heat. Give the pan a few minutes to fully heat up. Add a small amount of oil or butter to the pan to coat the bottom. Keep in mind butter burns quicker than oil so watch the temperature.
Carefully pour a ladle of batter to the greased and heated pan. Let cook about 3-4 minutes or until you notice bubbles around the top of the pancake and edges have set. The pancake should easily lift up with a spatula when ready. Flip over and cook 2-3 minutes on the other side or until golden brown.
Transfer to a plate and repeat process with remaining batter until complete.
Serve warm with your favorite pancake toppings and enjoy.
Notes
Leftover: Store leftover pancakes in an airtight container in the fridge up to a week. Refrain from adding syrup or topping to pancakes until serving to keep the pancakes from going soggy too soon.
Make it dairy free: make sure to use dairy free milk and vegan butter or melted coconut oil.
Xanthan gum: Xanthan gum will make thicker, fluffier pancakes but you can leave it out if you prefer.
Make it egg free: Use two flax eggs in place of chicken eggs. Whisk 2 tablespoons ground flax seed with 5 tablespoons water. Set aside for about 15-20 minutes until the mixture thickens, then use in place of the eggs.
Starch: Instead of arrowroot starch you can also use tapioca starch, potato starch or cornstarch.
Sugar: Instead of granulated white sugar, use coconut sugar or light brown sugar.
Nutrition Information
Yield:

8
Serving Size:
1 pancake
Calories:

227
Total Fat:

7g
Saturated Fat:

3g
Unsaturated Fat:

4g
Carbohydrates:

36g
Fiber:

2g
Sugar:

6g
Protein:

5g
This website provides approximate nutrition information for convenience and as a courtesy only. Nutrition data is gathered primarily from the USDA Food Composition Database, whenever available, or otherwise other online calculators.