New to baking with millet flour? Learn everything you need to know about this ancient grain and how to best use in your gluten free kitchen!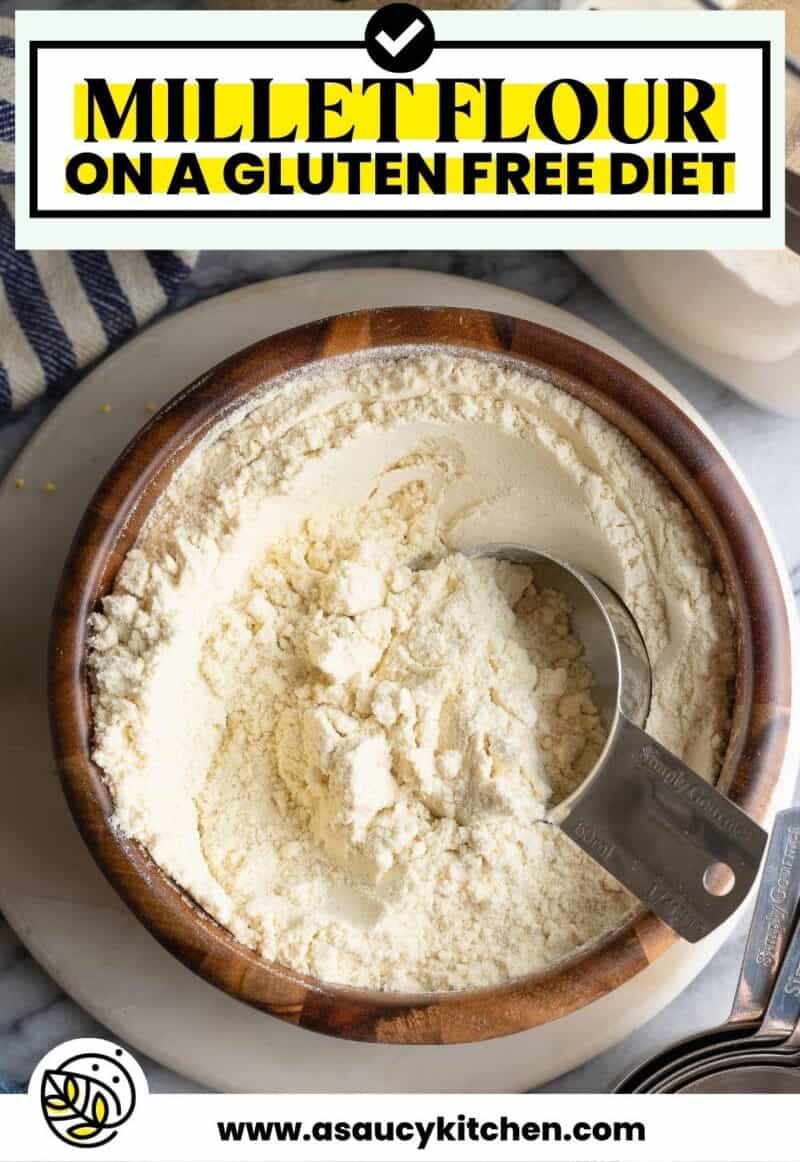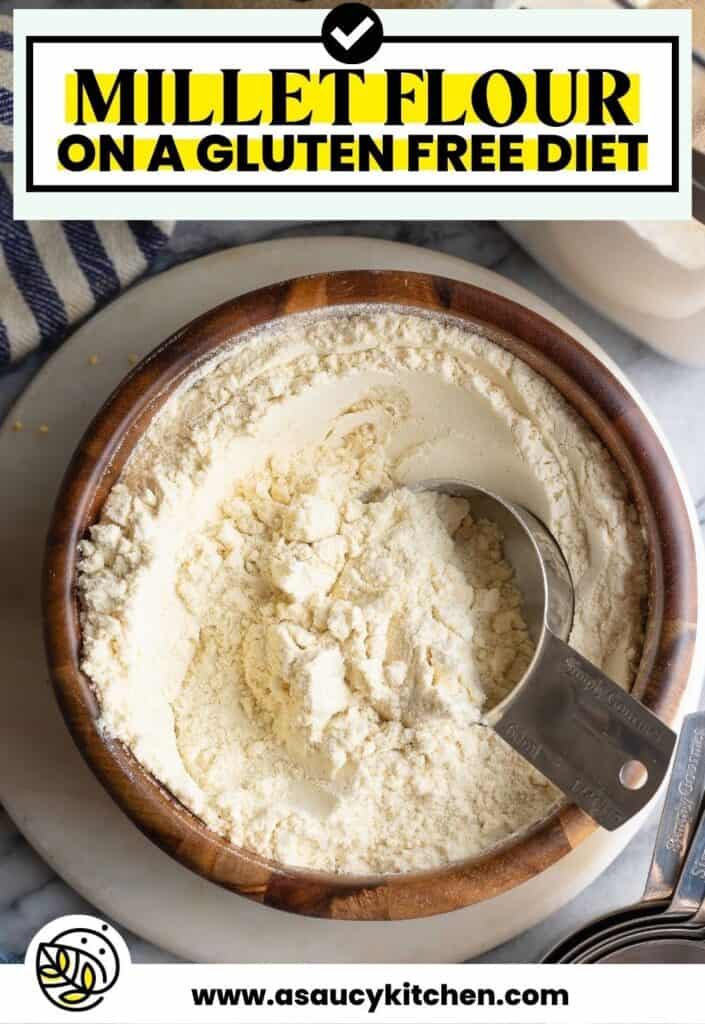 What is Millet?
Before we get to millet flour, let's get familiar with millet in its original form!
Millet is a type of cereal belonging to the Poaceae grass family. Though technically a seed, it is considered an ancient grain and is one of the earliest cultivated grains in human history.
While it's mostly known as bird food in many parts of the Western word today, millet consumption has a long and rich history.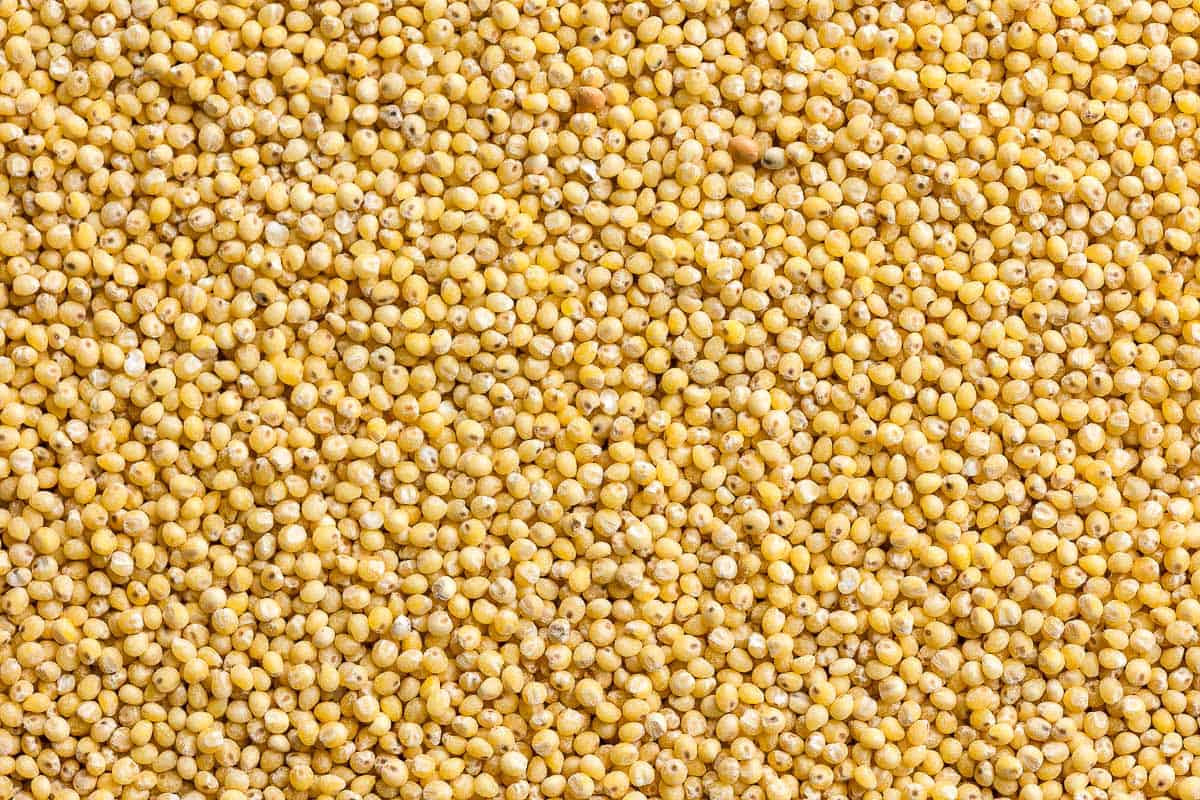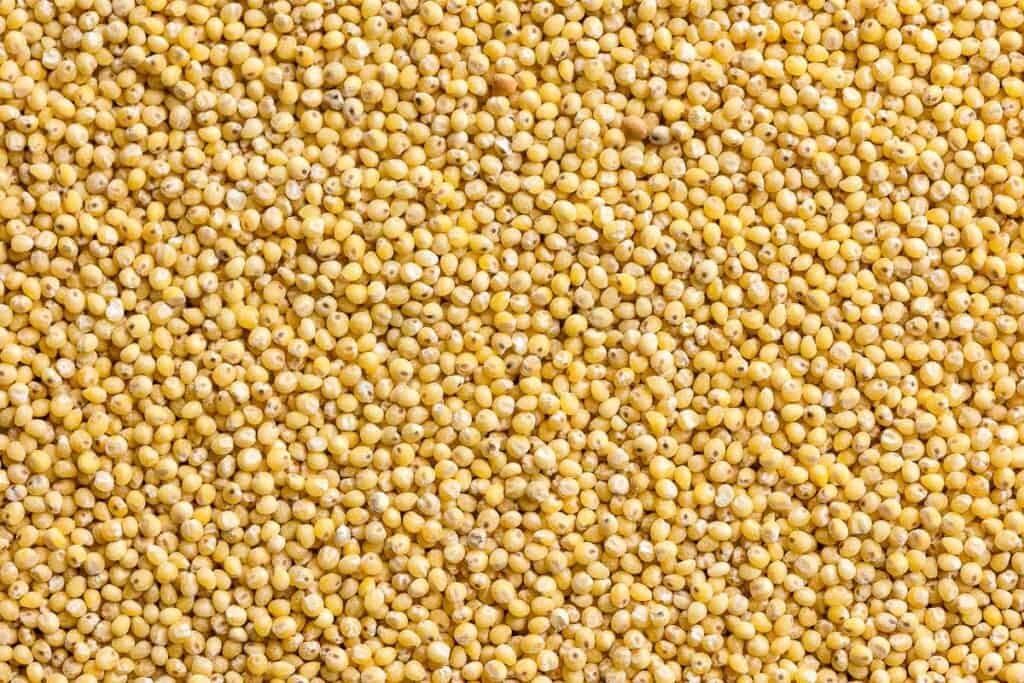 In ancient China, millet was one of the original five sacred crops believed to be a gift from the Heavens. Mentions of millet also pop up in the writings of Herodotus, the ancient Greek historian and even in the Old Testament.
Its popularity likely comes from the fact that millet is such a hardy crop! It's fast growing, tolerant of drought and extreme weather and adapts well to poor growing conditions. If that wasn't impressive enough already – millet also packs in a good amount of nutrition in such a tiny package!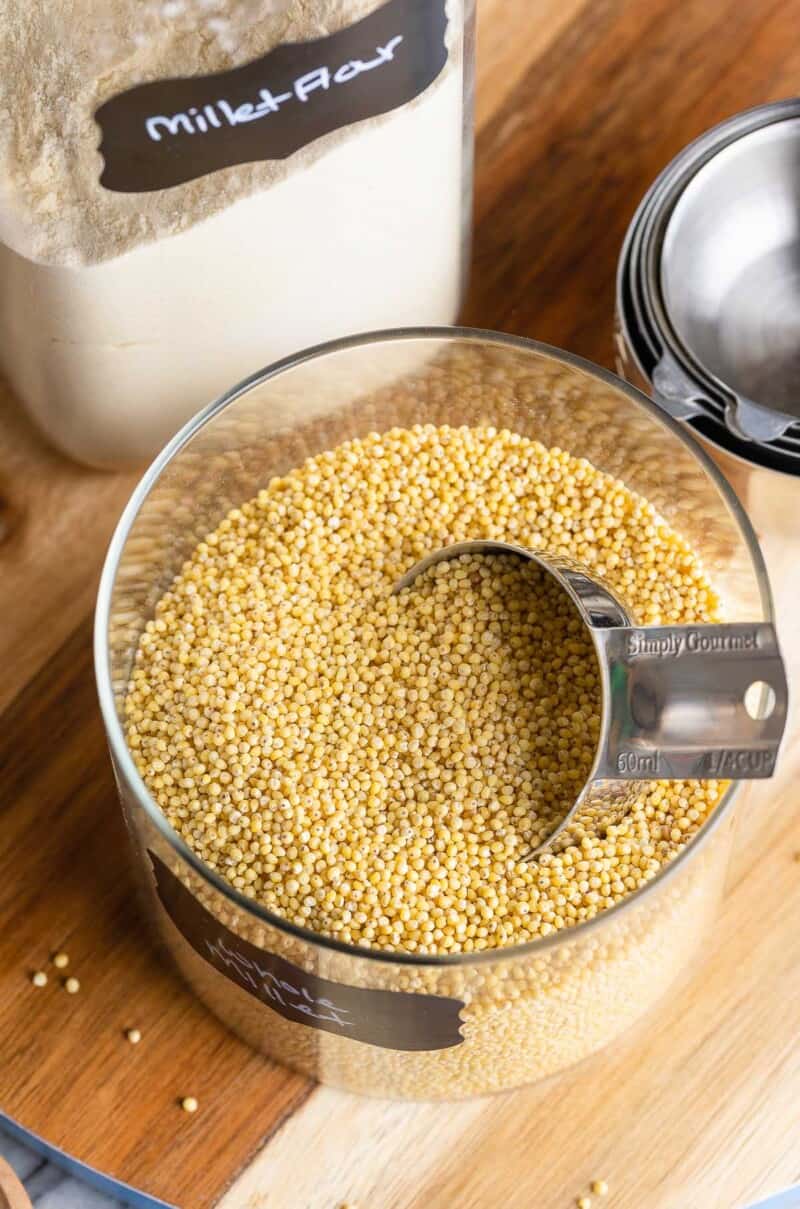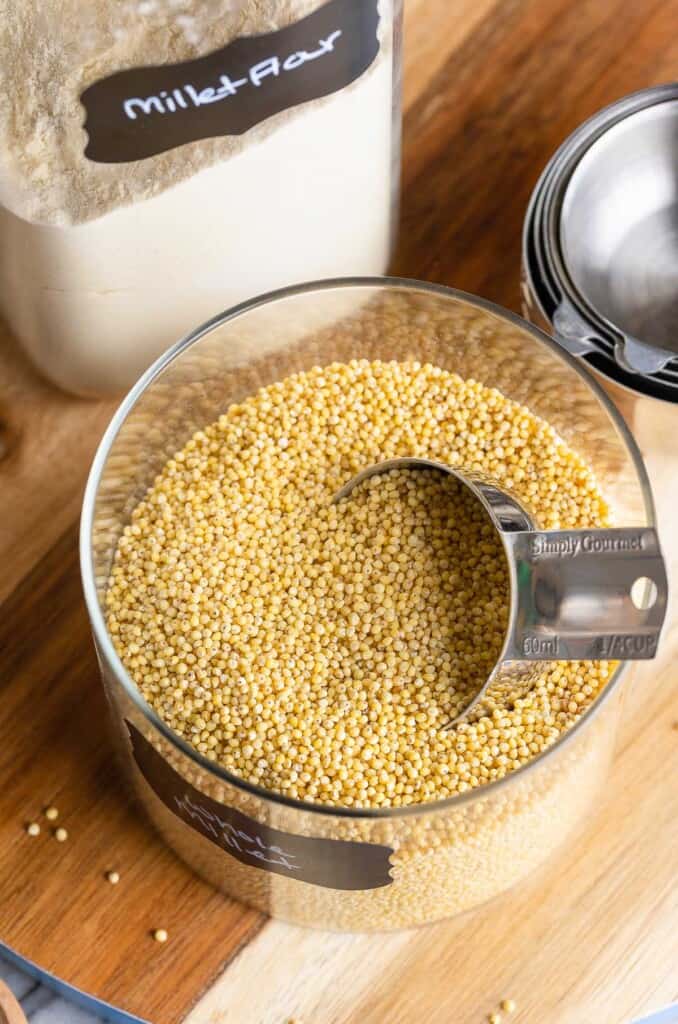 What is Millet Flour?
Millet flour is simply ground millet seed.
It's fairly similar to regular wheat flour in taste and texture making it a great alternative in gluten-free baking. It has a mild corn-like flavor that adds a crumbly, tender texture to baked goods.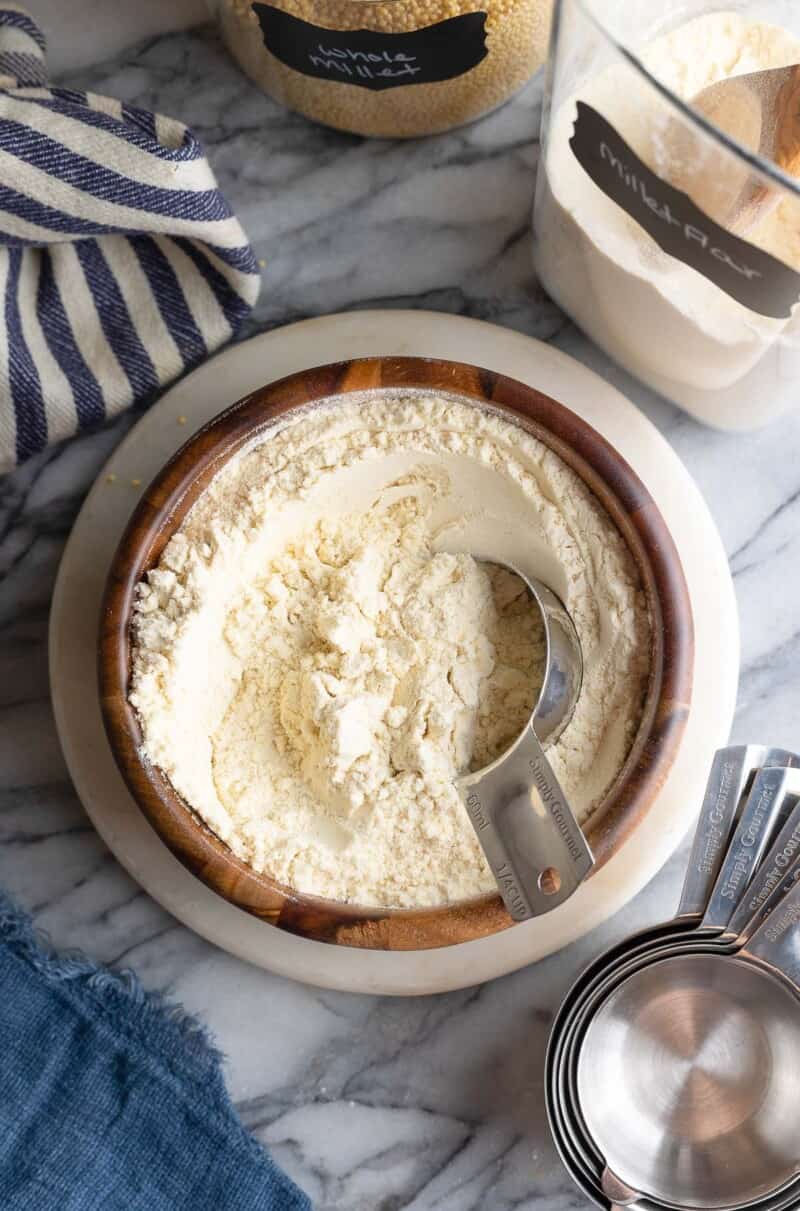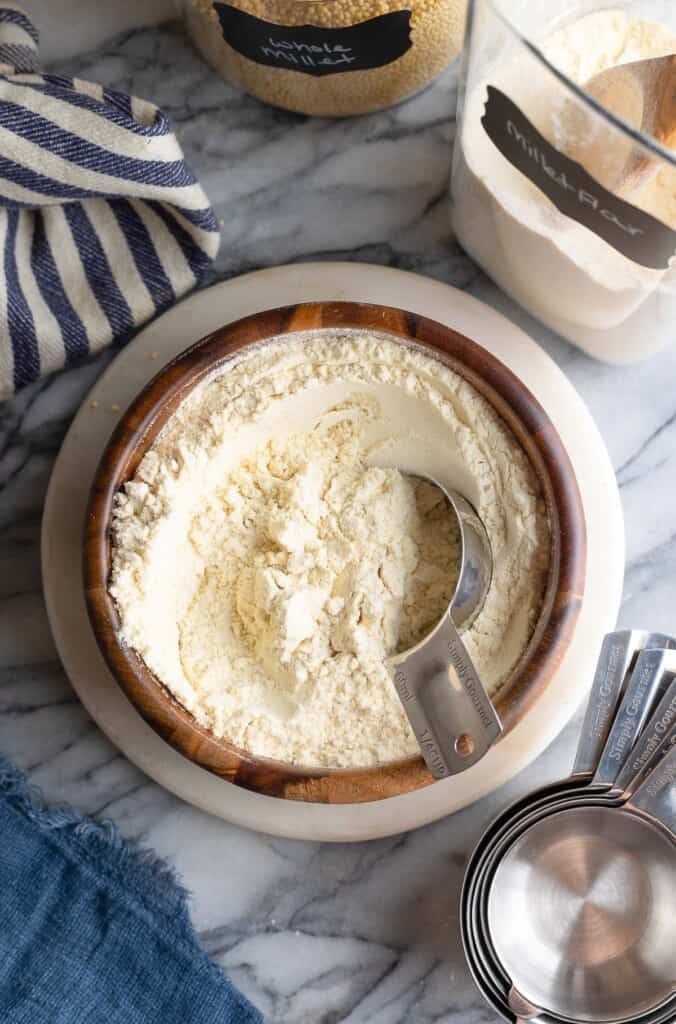 Millet Flour Varieties
There are many different varieties of millet and millet flour including: foxtail millet, finger millet, sorghum millet, buckwheat millet and pearl millet.
Pearl millet is the most commonly grown variety. Unless your millet flour states otherwise, you're more than likely going to be working with pearl millet flour.
---
Pearl Millet Vs Pearled Millet
pearl millet = a type of millet seed
pearled millet = hulled millet seeds
FYI: Pearl and pearled millet is not the same!
Pearled (hulled) millet refers to millet seeds that have had the hard, indigestible coating removed. Most millet seeds and flour you buy will already be hulled.
Labels and packaging will usually refer to pearled millet as hulled millet, but it's good to note in case you ever come across this wording.
---
Tip: Check the Label!
Though millet flour is naturally gluten free, you should always check the label on your millet to see whether it may have been exposed to cross contamination during processing. Ideally look for certified gluten free millet or labels that clearly list potential allergens.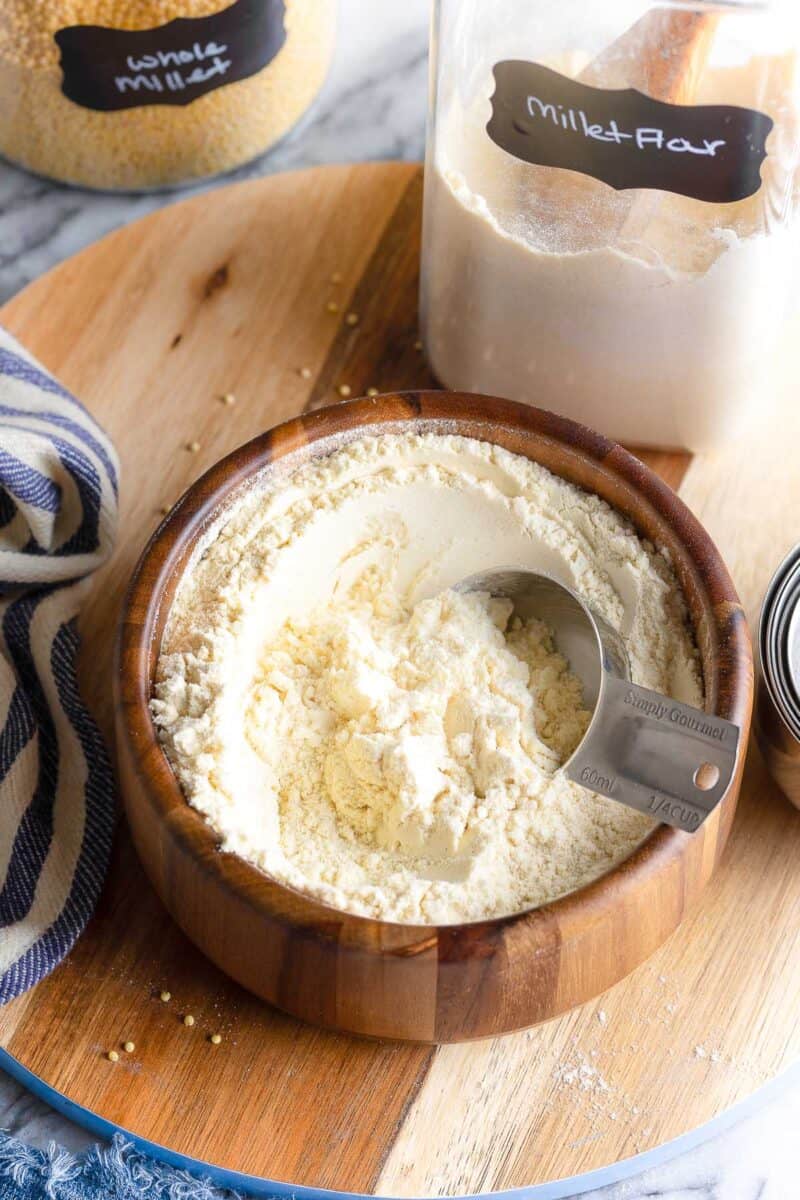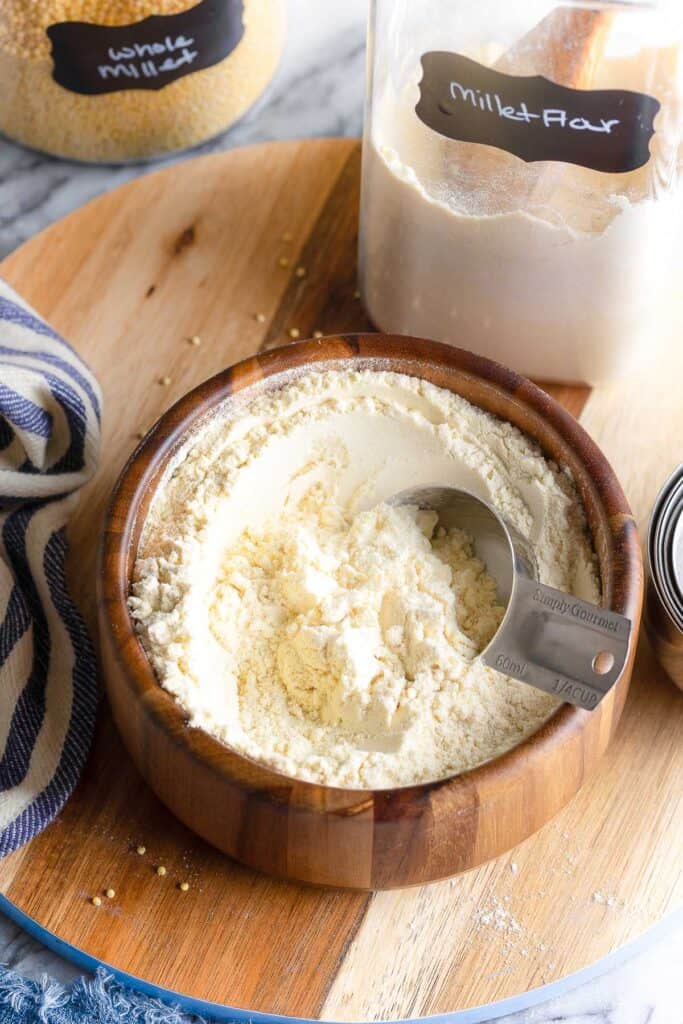 Millet Flour Taste
Millet flour has a mildly sweet and nutty flavor. It's often compared to wheat flour. Personally, I think the flavor is somewhere between yellow cornmeal and buckwheat flour.
In general it has quite a pleasant and unique flavor that works in both sweet and savory dishes.
---
Millet Flour Texture
Millet flour adds a dense and crumbly texture to baked goods. In modest amounts it can provide a delicate cake-like crumb. In large amounts, it can be a bit heavy.
Again, it's a bit like cornmeal in this way. Depending on the recipe, this can work out well. Crumbly cornbread or crunchy crackers is a good thing. Crunchy birthday cake? Not so much.
For baked goods requiring light textures (think sponge cake and muffins) you should combine millet flour with lighter flours and starches to balance things out.
---
Millet Flour Nutrition
Millet flour has a lot going for it! Its varied nutritional profile is especially great for people with Celiac Disease and anyone following a gluten-free diet.
A few key nutrition notes and potential health benefits of millet flour:
Rich in niacin (vitamin B3) which helps the body convert food into energy.
High dietary fiber. The insoluble fiber supports healthy and 'regular' digestive health while the insoluble fiber reduces excess cholesterol for improved hearth health.
A good source of protein which will help keep you fuller longer.
Full of vitamins and minerals to support overall health.
---
Nutritional Value for 1 Cup Millet Flour
1 cup (120 grams) of millet flour is approximately:
Calories: 445 calories
Fat: 5 grams
Carbohydrates: 87 grams
Fiber: 5 grams
Protein: 13 grams
Sugar: 2 grams
Calcium: 17 mg
Iron: 5 mg
Magnesium: 142 mg
Potassium: 266 mg
---
How To Use Millet Flour
Millet flour can be used in a variety of ways, including:
Bake: Millet flour is a great substitute for gluten and wheat flour in baked goods. Depending on the recipe you can use it alone or in addition to other gluten-free flours in an all purpose-like blend of flours..
Thicken: It wouldn't be my first choice to thicken a sauce, but in a pinch you can use millet flour as a thickening agent in soups, stews, and gravies.
Crust: Put its crumbly texture to use by using millet flour as a coating for fried foods, such as chicken or fish.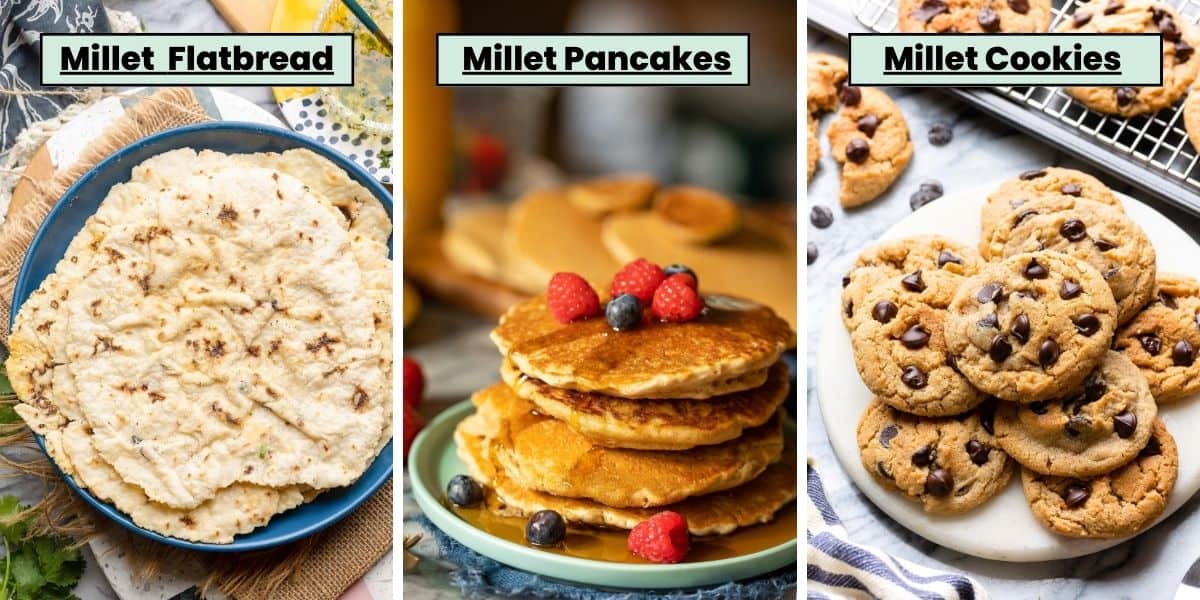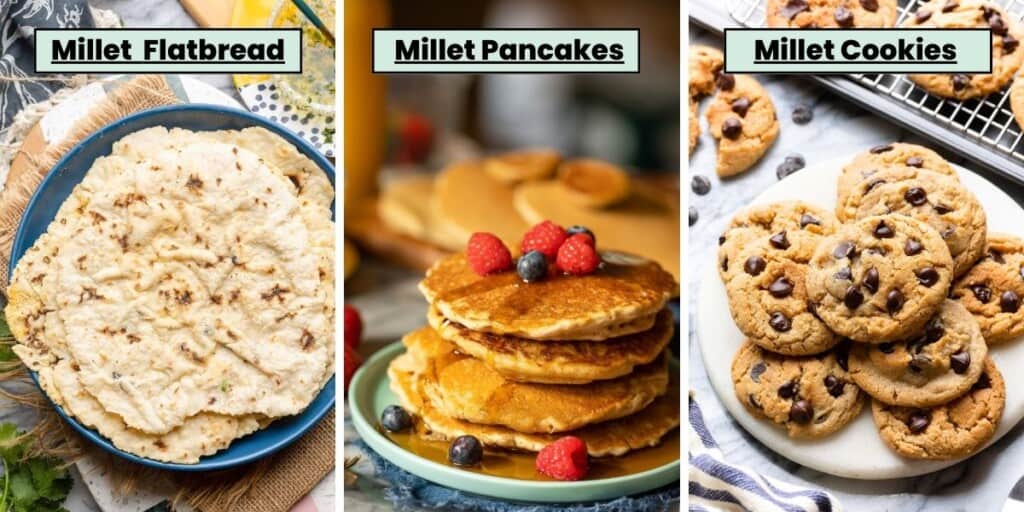 Get the recipes shown above:
Flatbread: Gluten Free Roti (Millet Flour)
Pancakes: Millet Pancakes
Cookies: Gluten Free Peanut Butter Cookies
---
Millet Flour Substitutes
Keep in mind that the substitute amounts listed below should be used as a guide and not a rule. Results will vary on each individual recipe depending on other important factors (ingredients, moisture, additional flours, learners, binders, etc).
How do other gluten free flours compare to millet flour?
| Millet Flour Substitute | Key Notes | Amount |
| --- | --- | --- |
| Sorghum Flour | Sorghum is a type of millet which makes it a good substitute in many recipes. It's has a similar flavor, but is sweeter. | 1 cup equals about 1 cup |
| Buckwheat Flour | Similar to millet flour but it has a much stronger, nuttier taste. If the recipe already has buckwheat flour, you may not want to add more. | 1 cup equals about 1 cup |
| Gluten Free All Purpose Flour | Brands and blends vary, but gluten free AP usually doesn't add much taste or smell. A decent substitute if you need one. | 1 cup equals about 1 cup |
| Cassava Flour | Cassava is a great, versatile flour made from cassava root. In general it's a useful gluten free flour substitute. | 3/4 cup equals about 1 cup |
| Amaranth Flour | Amaranth is also a nutrient rich ancient grain with a mildly sweet and nutty flavor. It's a fairly absorbent flour so it's better in recipes with a lot of moisture. | 3/4 cup equals about 1 cup |
| Quinoa Flour | Quinoa and millet are similar in general and in baking. Quinoa flour usually needs more moisture than millet flour. | 3/4 cup equals about 1 cup |
| Oat Flour | Not as earthy tasting as millet flour. Great in recipes where a little sweetness helps (pancakes, muffins, cookies, etc). Needs more moisture than millet flour. Make sure to check the label for gluten cross contamination. | 3/4 cup equals about 1 cup |
---
Does millet flour need a binding agent?
Typically, yes!
Remember: gluten = glue. Millet flour is gluten free meaning it needs something sticky or binding to hold things together.
Typical gluten-free binders include eggs, xanthan gum, guar gum, psyllium husk, chia seeds and flax eggs.
Most recipes with millet will use a binder like the ones listed above.
---
Homemade Millet Flour
Millet flour is literally just ground millet seed. With a strong enough blender you can make it at home in no time!
Steps
Measure out your desired amount of whole millet seeds.
Rinse then drain well.
Spread the out in a single layer on a baking sheet and allow them to air dry completely.
Once completely dry, add the millet to a high-powered blender and blitz on high until it turns into a fine powder.
Stop and scrape down your bowl or blender often to make sure things blend easier.
Sift the millet flour through a fine mesh sieve to remove any larger bit that didn't fully grind up.
Store in an airtight container in a cool, dry place and enjoy!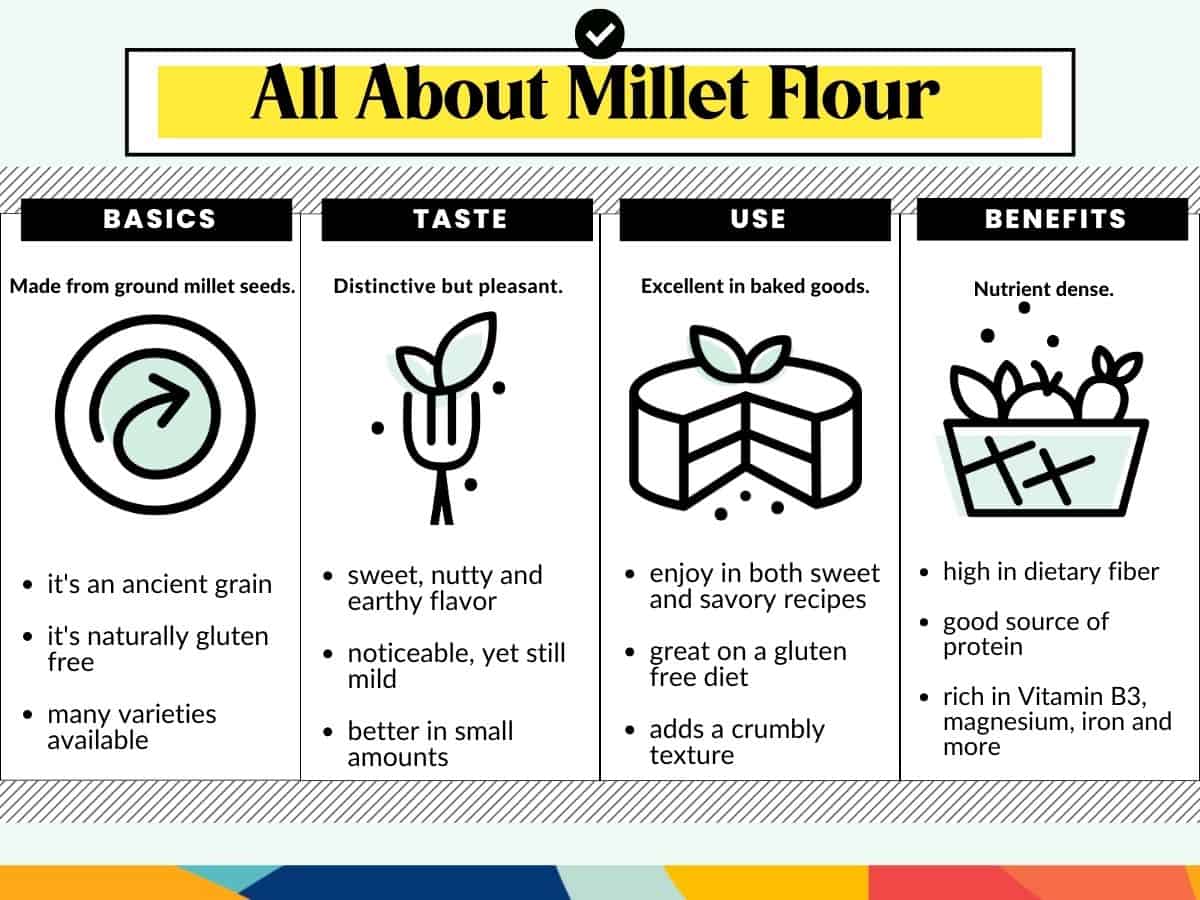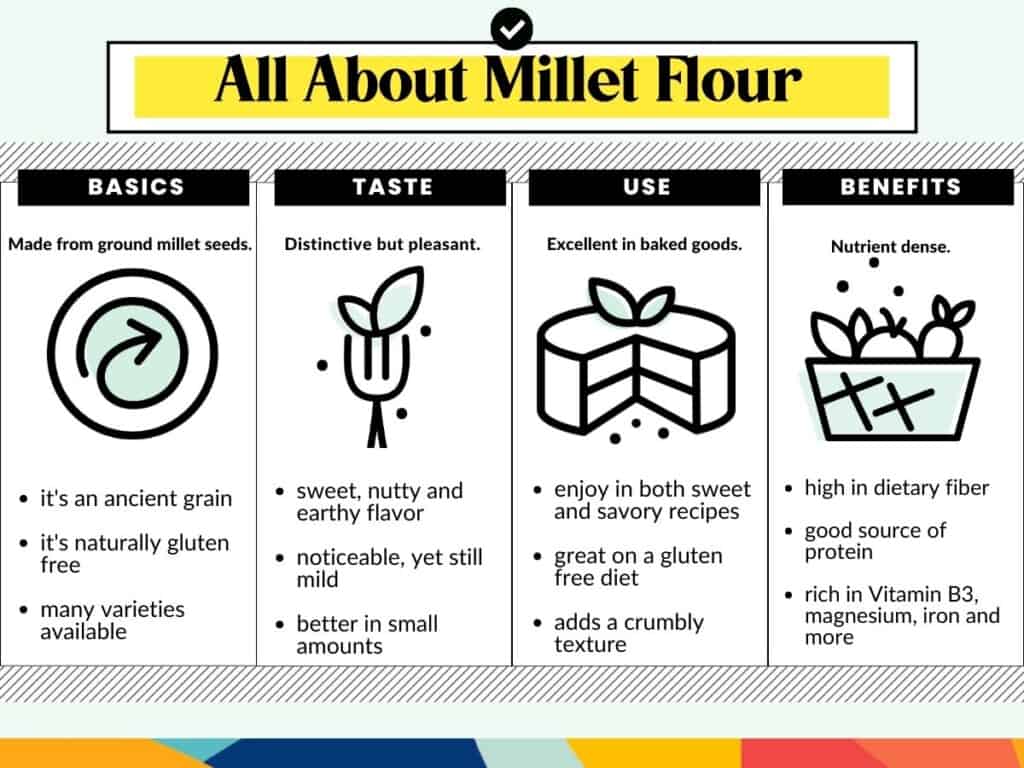 Shelf Life & Storage
Store in an airtight container to prevent exposure to moisture, air, and light.
Keep in a cool, dry place away from direct sunlight, heat, or humidity. A pantry or kitchen cabinet is a good place to store it.
Homemade millet flour can stay fresh for up to 6 months stored properly in a cool, dry place. Extend its shelf life by keeping it in the fridge or freezer.
---
How do you know if your millet flour has spoiled or gone rancid?
A few signs to look out for if you think your millet flour is off:
Smell: If your millet flour smells musty or sour, it's a sign that it may have gone bad.
Color: If you've noticed your millet flour has changed color it's a good sign its past its best. Millet flour usually starts out as a light yellow or cream color and turns dark/grey when off.
Clumps: Clumpy millet means moisture is present. A little moisture on its own isn't necessarily the end, but it's a sign you might need to sort out the storage.
Taste: Weird or sour tasting millet is a clear sign its got to go.
---
Millet Flour Pros & Cons
There is a lot to love about millet flour! That said, it's good to keep in mind some of the potential downsides.
| Pros | Cons |
| --- | --- |
| Gluten Free – It's a great alternative to wheat flour for people with celiac disease, gluten intolerance, or anyone following a gluten-free diet. | Distinctive Flavor – While many people enjoy the taste of millet it might be too noticeable for some. |
| Nutrient Dense – contains protein, fiber, iron, magnesium and more. | Not Widely Available: It's not as popular as other gluten free flours so you may need to go to specialty stores or buy it online. |
| Versatile: You can use it in both sweet and savory recipes. | Needs a Buddy – More often than not, you'll need another flour to use alongside millet flour. |
Sum It Up
Millet flour comes from millet seeds.
Though technically it's a seed, millet is considered to be an ancient grain.
It has a slightly sweet, nutty and earthy flavor that works in both sweet and savory recipes.
It's typically best to use in combination with other gluten free flours, but some recipes do work well with just millet flour.
With a good blender, you can easily make your own millet flour at home.
A Few Recipes To Get You Started
More Gluten Free Flours & Ingredient Breakdowns
If you found this post helpful you may also want to check out my in depth posts on various gluten free flours and ingredients:
Reader Interactions