Light, fluffy and gently sweetened – these Spanish inspired gluten free lemon muffins (Magdalenas) make for a simple, yet delicious treat you can whip up in no time!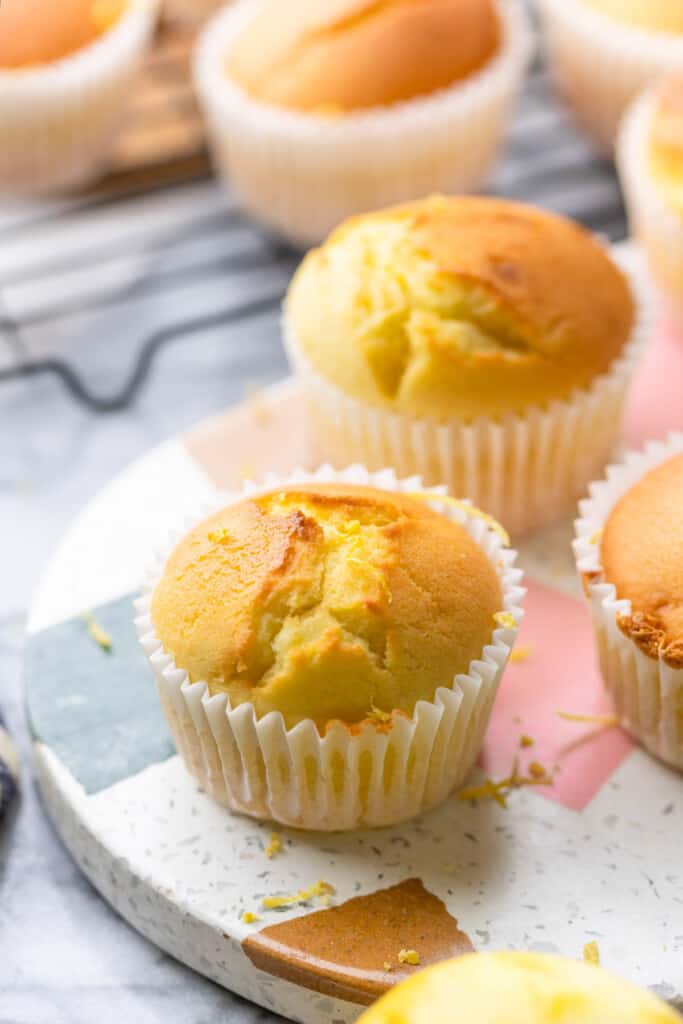 Fool Proof Gluten Free Lemon Muffins
Make these lemon muffins the next time you need to prove that gluten free baked goods can (and should!) be every bit as tasty as gluten-filled bakes!
They're rich and moist with a fresh lemon flavor just like Spanish magdalenas which this recipe is based off of.
What are Magdalenas?
Magdalenas = muffins.
More specifically, Magdalenas are Spanish lemon muffins originating from the Aragon region of Spain. They're tender muffins made with simple ingredients, should have a light and fluffy texture and a domed, muffin top.
While different flavors do exist, lemon is the most popular and widely available version.
Magdalenas used to typically be reserved for holidays, birthdays and special occasions, but over they became so popular that they're now available in nearly every coffee, shop, bakery and grocery store anytime. They're often enjoyed as a quick and easy breakfast alongside a cup of coffee or an afternoon snack.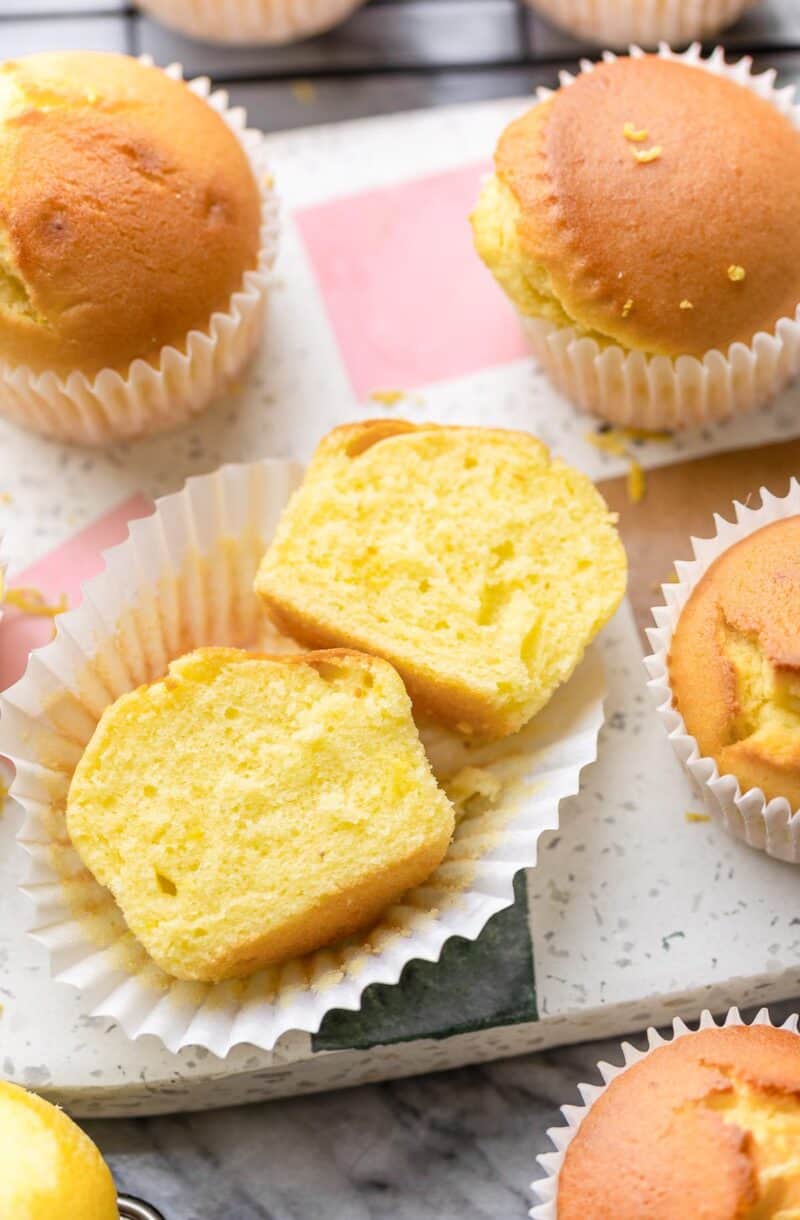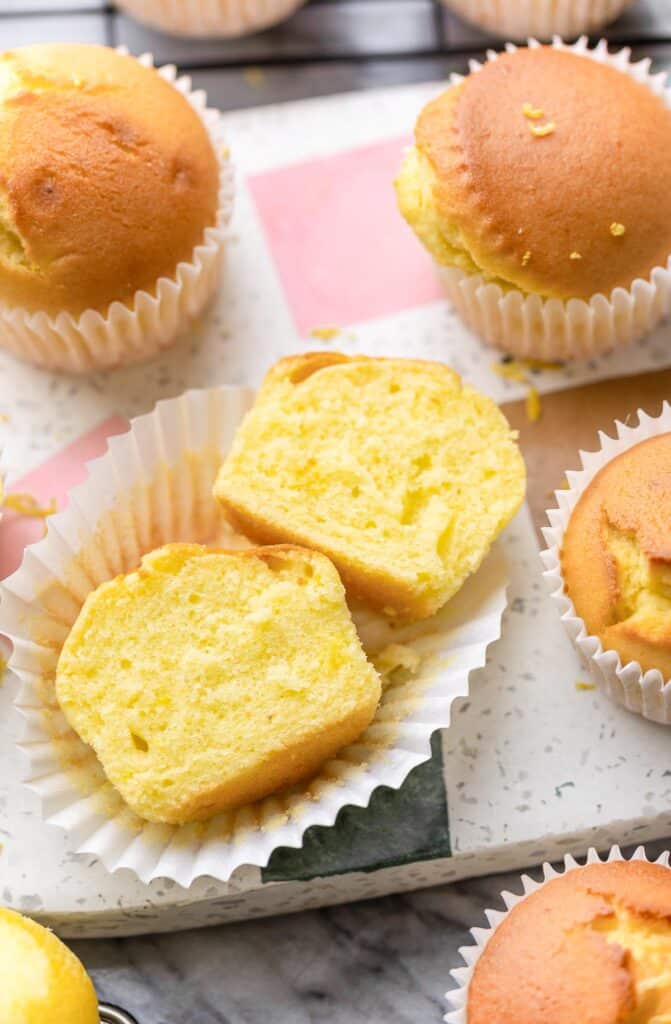 Key Ingredients
Flour + Xanthan Gum: Use a basic all purpose gluten free flour blend – store bought or homemade. If your gluten-free flour blend doesn't already contain xanthan gum, you'll need to add a little bit here. Xanthan helps with binding and moisture retention which prevents your gluten free baked goods from drying out or crumbling too easily.
Baking Powder: Baking powder releases carbon dioxide into the batter which helps to lighten the texture and increase the volume. Along with the eggs, baking powder is what causes these muffins to rise in the oven.
Milk: Milk adds moisture and protein which enhances the flavor, texture and color of these muffins. Dairy-free milk substitutes work if you need. Soy milk typically has the most amount of protein for a non-dairy milk making it a good option for best result. Coconut and almond milk will also work.
Fresh Lemon Zest: There's actually no lemon juice in these muffins – the bright lemon flavor comes purely from the zest of one lemon (about 1 tablespoon).
Olive Oil: Olive oil is key here as it imparts a rich, fruity flavor to these muffins. With that in mind, choose a quality extra-virgin olive oil here.
Eggs: Use room temperature eggs (not cold eggs from the fridge).
Sugar: All you need is about 1/2 cup sugar to sweeten these muffins. Use granulated cane sugar.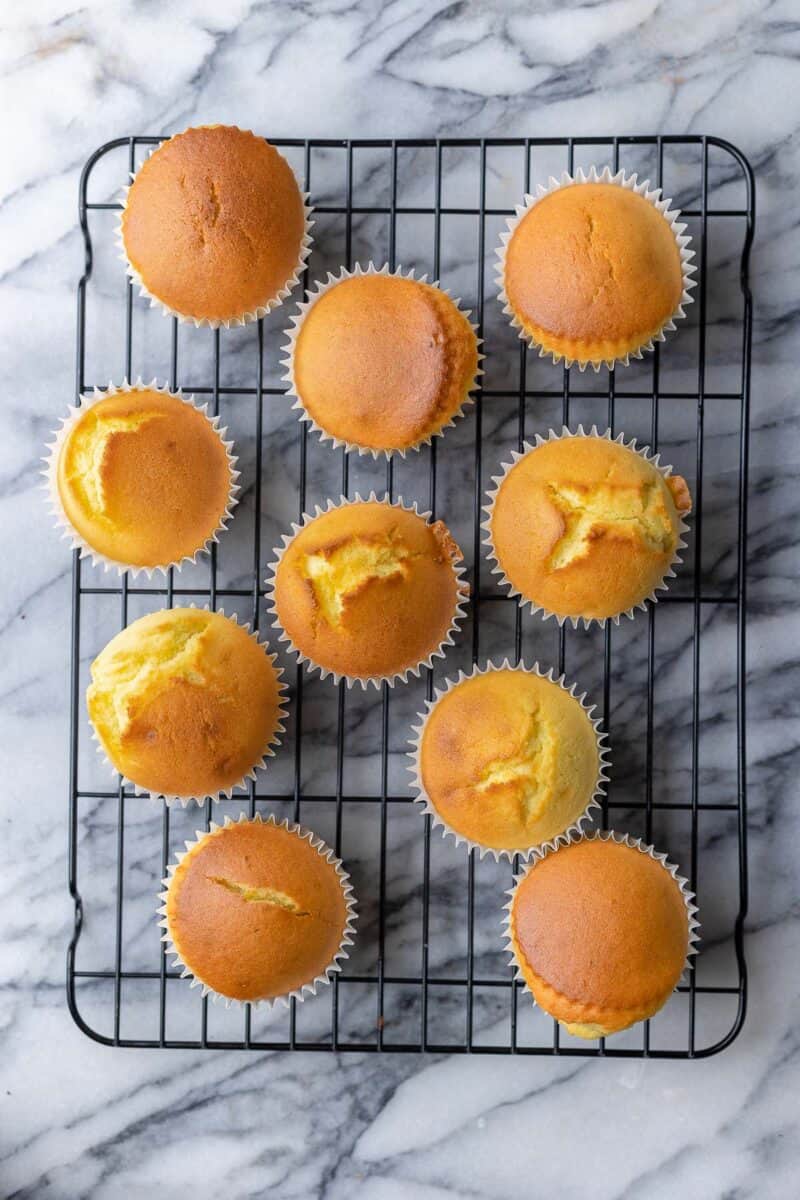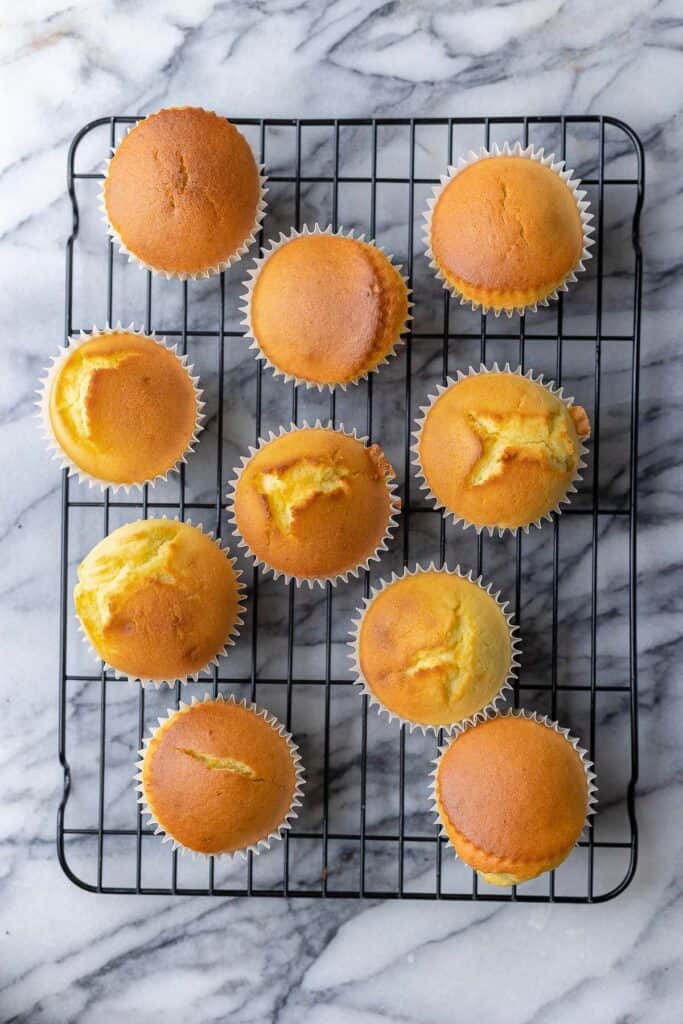 Recipe Steps & Tips
These muffins are super easy to make, but there are a few key things to keep in mind for best results.
Chill the muffin batter before baking
This does two main things:

In gluten filled recipes, resting the batter helps the gluten rest so the muffin texture stays soft and not tough. In gluten-free baked goods, resting the batter give your flour/ dry ingredients time to soak up the moisture from the wet ingredients so they stay moist after baking.
The thermal shock of adding cold batter to a hot oven will create a better rise in the oven. Basically the quick temperature change will make for a more impressive muffin top.
Preheat the oven to the highest temperature
This follows the same logic of thermal shock mentioned above. Cold batter in a hot oven creates taller muffins. Just make sure to set it to the correct temperature when you add the muffin pan to the oven.
Warm up the milk before mixing.
Room temperature ingredients are always ideal when baking, but I found it especially useful in this recipe. Warm milk helps dissolve the sugar and mixes easily into the dry ingredients which creates a smoother/ silkier batter.
Lemon zest also infuses more flavor into warm milk.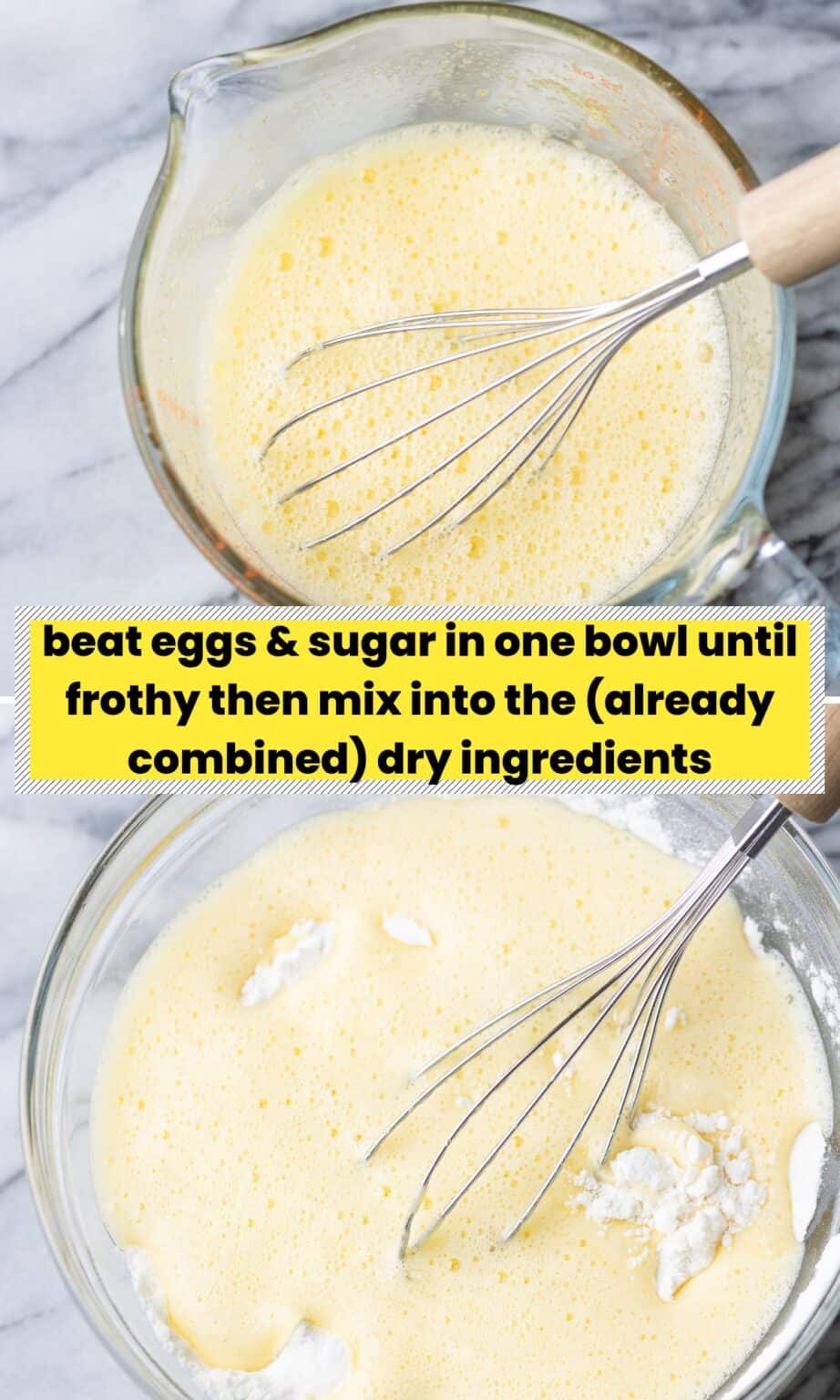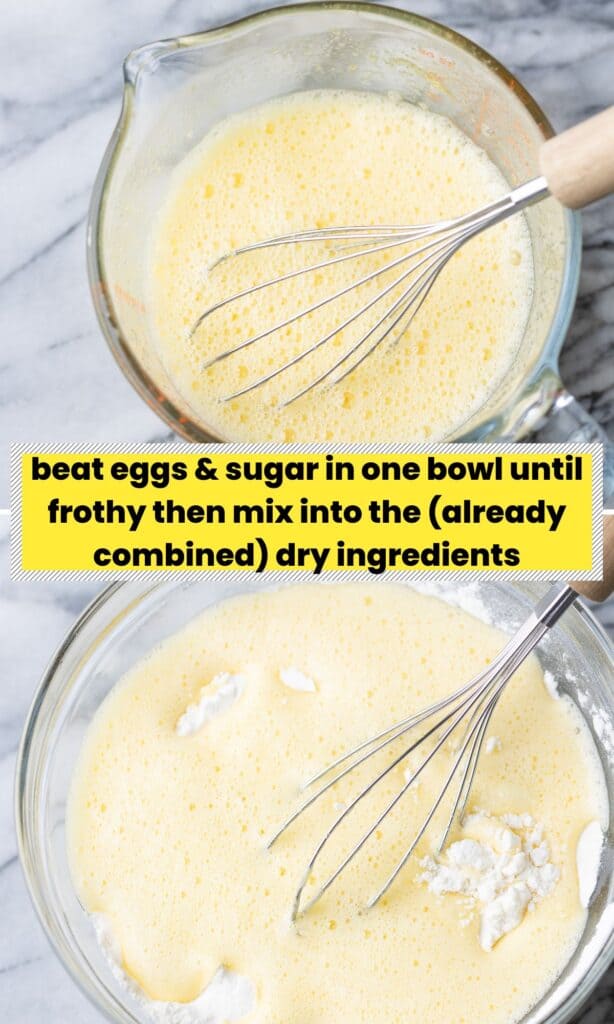 Simplified steps:
In a medium bowl whisk eggs and sugar vigorously until frothy.
In a large bowl whisk together the dry ingredients.
Add the egg mixture to the dry ingredients.
Stir in the remaining wet ingredients (oil, milk and zest) to make a thick, smooth batter.
Cover and chill at least one hour.
Fill prepared muffin tin and bake.
Cool on a wire rack. Dust with powdered sugar if desired. Enjoy!
And that's it! Store muffins in an airtight container at room temperature for 2-3 days or in the fridge 3-4 days.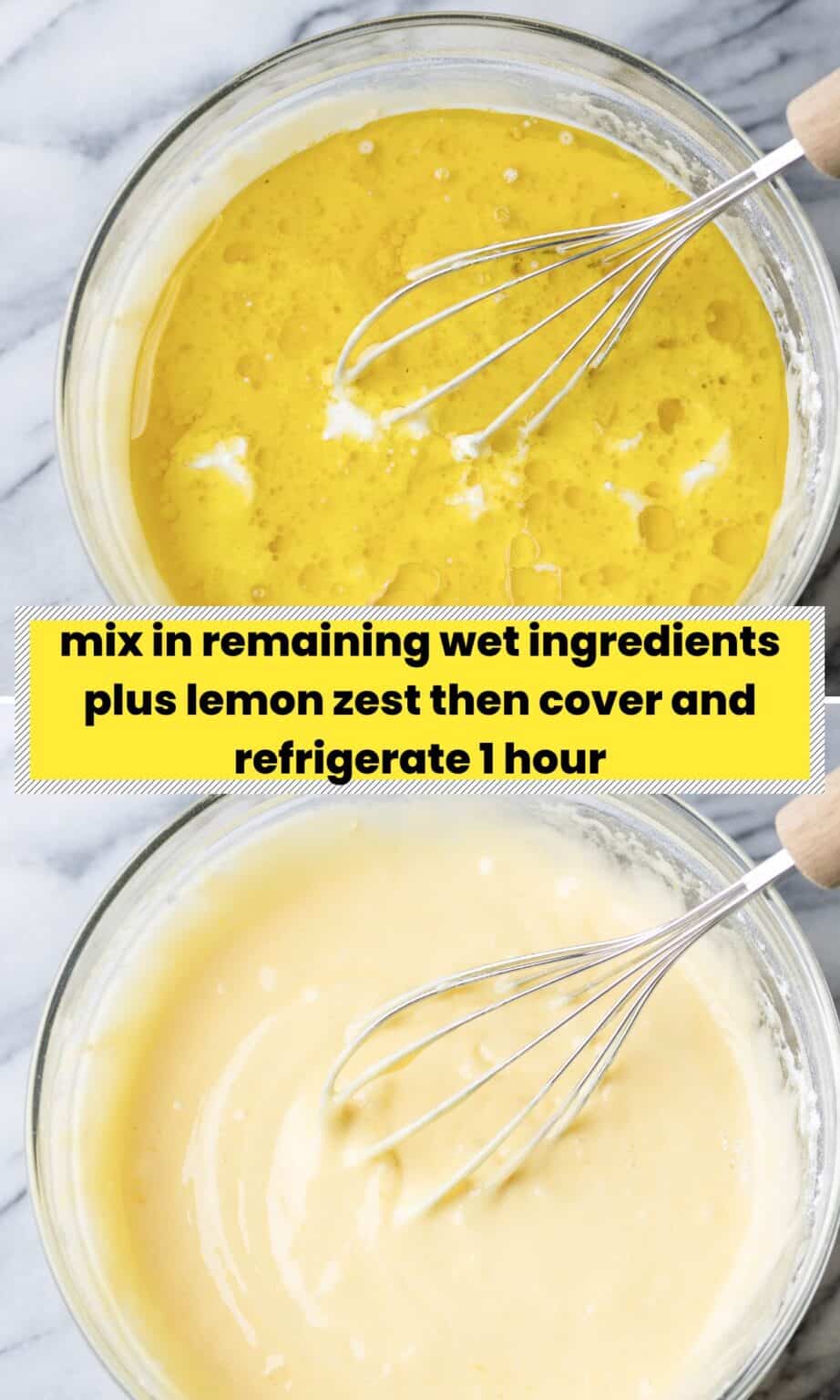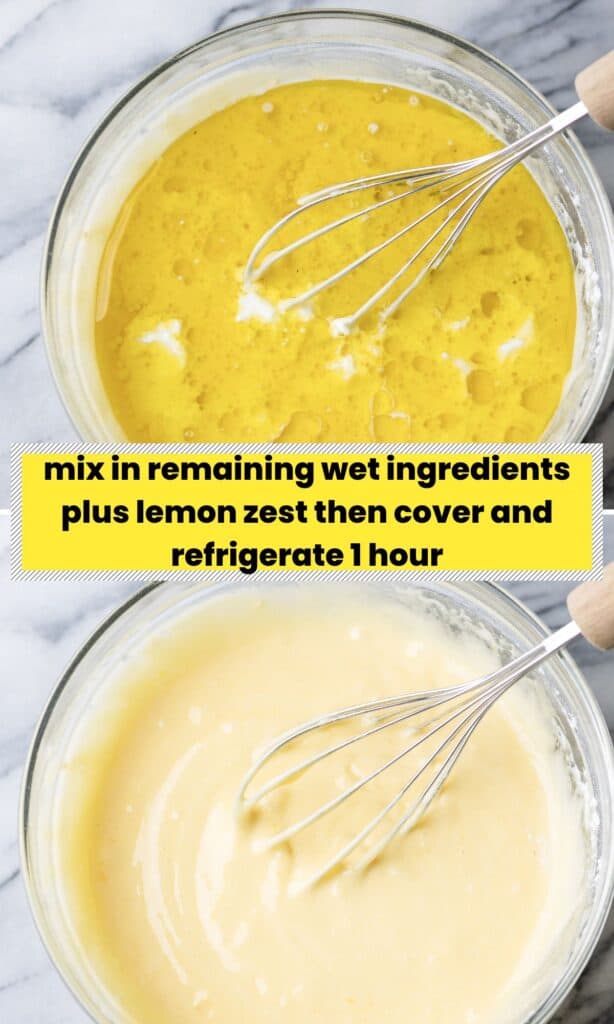 Freeze for Later
These muffins are freezer-friendly!
After fully cooling, wrap up the muffins individually in foil or plastic wrap then place in a freezer-safe storage bag. Keep frozen up to three months. Any longer and the muffins will start to dry out and diminish in taste.
For more eco-friendly/non-plastic storage options, I recommend investing in reusable silicone freezer bags. Beeswax wraps are also a great option though you should only freeze for about 3-4 weeks for freshness.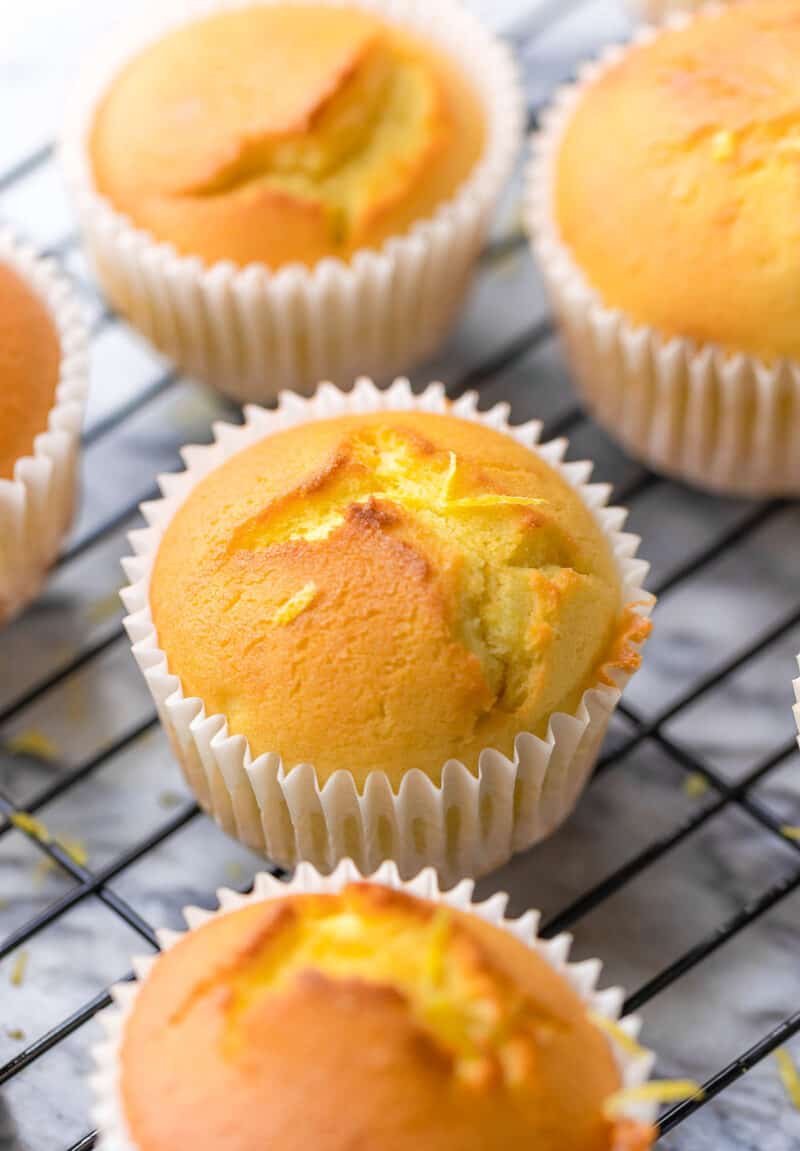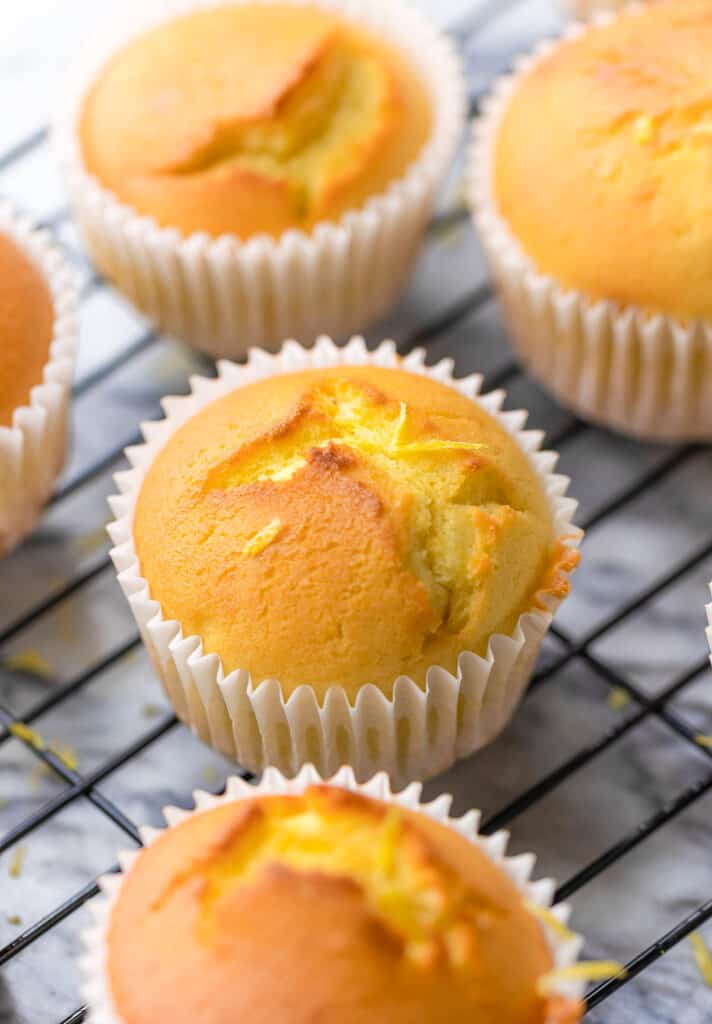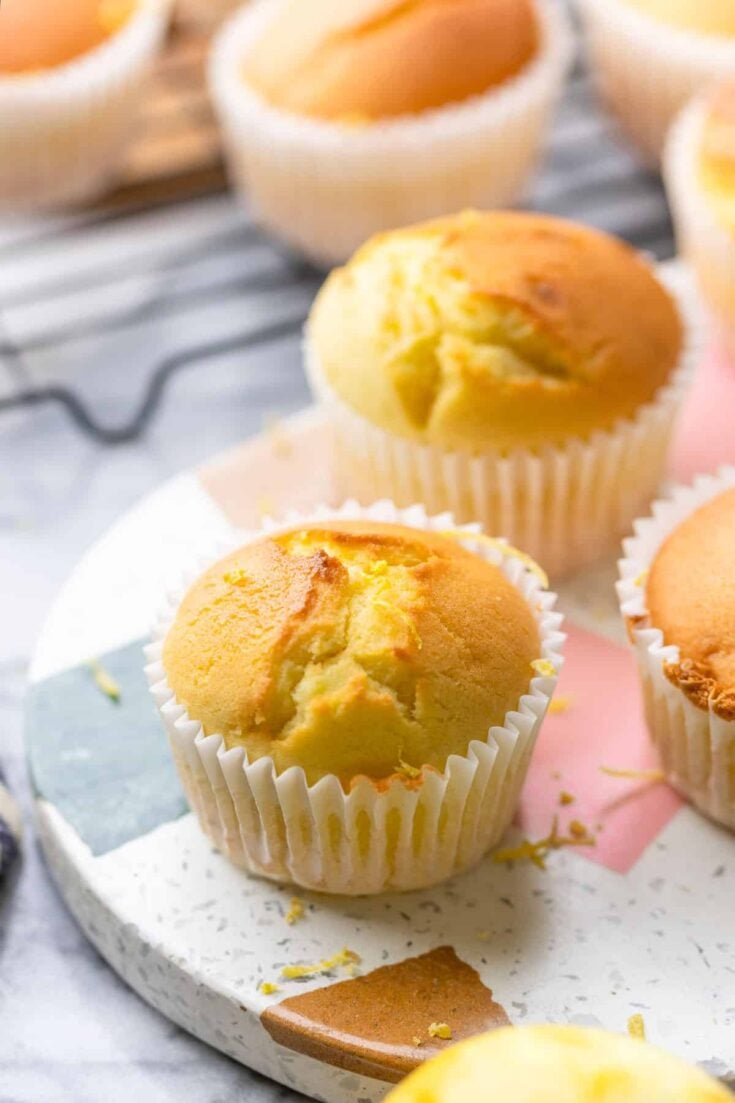 Recipe
Spanish Gluten Free Lemon Muffins (Magdalenas)
Yield:
10 muffins
Prep Time:
20 minutes
Cook Time:
15 minutes
Additional Time:
1 hour
Total Time:
1 hour
35 minutes
Light, fluffy and gently sweetened – these Spanish inspired gluten free lemon muffins (Magdalenas) make for a simple, yet delicious treat you can whip up in no time!
Ingredients
1/3 cup milk (80ml)
1 tablespoon lemon zest or zest from 1 lemon
3 eggs
1/2 cup + 2 tablespoons white sugar (125 g)
1 1/2 cup gluten free all purpose flour (210g)
1/4 teaspoon xanthan gum
2 teaspoons baking powder
1/2 teaspoon salt
1/2 cup extra virgin olive oil (120 ml)
Instructions
Warm the milk in a small sauce pan over a low heat for about 1-2 minutes. Remove from the heat, then add the lemon zest to the milk. Set aside.
Add the eggs and sugar to a medium bowl and beat. Use a fork or whisk to beat together to dissolve the sugar. Continue beating until the mixture turns to a light-pale color with little bubbles across the surface. Set aside.
In a large mixing bowl whisk together the flour, xanthan gum, baking powder and salt. Pour the egg mixture into the dry ingredients and mix until no flour lumps remain.
Add the warmed milk, zest and olive oil to the bowl. Mix into a thick, but smooth and silky looking batter. Cover the bowl with plastic wrap or kitchen towel and place in the fridge for at least 1 hour (or overnight if you wish).
When you're ready to bake, preheat the oven to its hottest setting. While the oven is heating, prepare a 12 cup muffin pan. Lightly grease and line with muffin liners. Fill the muffin cups with batter about 3/4 full.
Place the muffins in the middle of the oven, then immediately turn the oven temperature to 400°F/200°C. Bake about 15-17 minutes. After about 10-12 minutes (no sooner than 10 minutes or the muffins will sink in the middle) turn the pan in the oven to help the tops color evenly. Check for doneness by inserting a toothpick or knife into the center of a muffin - if it comes out with moist crumbs its done. If there is a bit of wet batter, it needs a couple more minutes.
Let cool for a few minutes in the pan, then transfer to a wire rack to finish cooling. Enjoy as is or dust with a sprinkling of powdered sugar to serve.
Notes
If your gluten free flour blend already contains xanthan gum, you don't need to add extra here.
Chilling the dough for at least an hour helps improve the muffin rise in the oven.
You should be able to taste the olive oil in these muffins. Choose a quality extra-virgin olive oil for a rich, fruity flavor or a light olive oil if you don't want it as obvious.
Whole, skim and sem-skim milk are all fine. Dairy free milk will work too if needed.
Nutrition Information
Yield:

10 muffins
Serving Size:
1 muffin
Calories:

240
Total Fat:

12g
Saturated Fat:

2g
Cholesterol:

56mg
Sodium:

243mg
Carbohydrates:

28g
Fiber:

1g
Sugar:

12g
Protein:

3g
This website provides approximate nutrition information for convenience and as a courtesy only. Nutrition data is gathered primarily from the USDA Food Composition Database, whenever available, or otherwise other online calculators.
More Delicious Lemon Recipes
More Tasty Gluten-Free Muffins