Rosemary and lemon may not be traditional Christmas flavours, but they should be! The finely chopped rosemary paired with grated lemon zest make for a bright and simple flavour combo reminiscent of fresh pine trees. My almond flour sugar cookie recipe provides the perfect base for the lemon-herb flavour as the almond works to enhance the gentle notes of citrus and pine – perfect for these Rosemary Lemon Christmas Tree Cookies | Grain Free + Vegan Option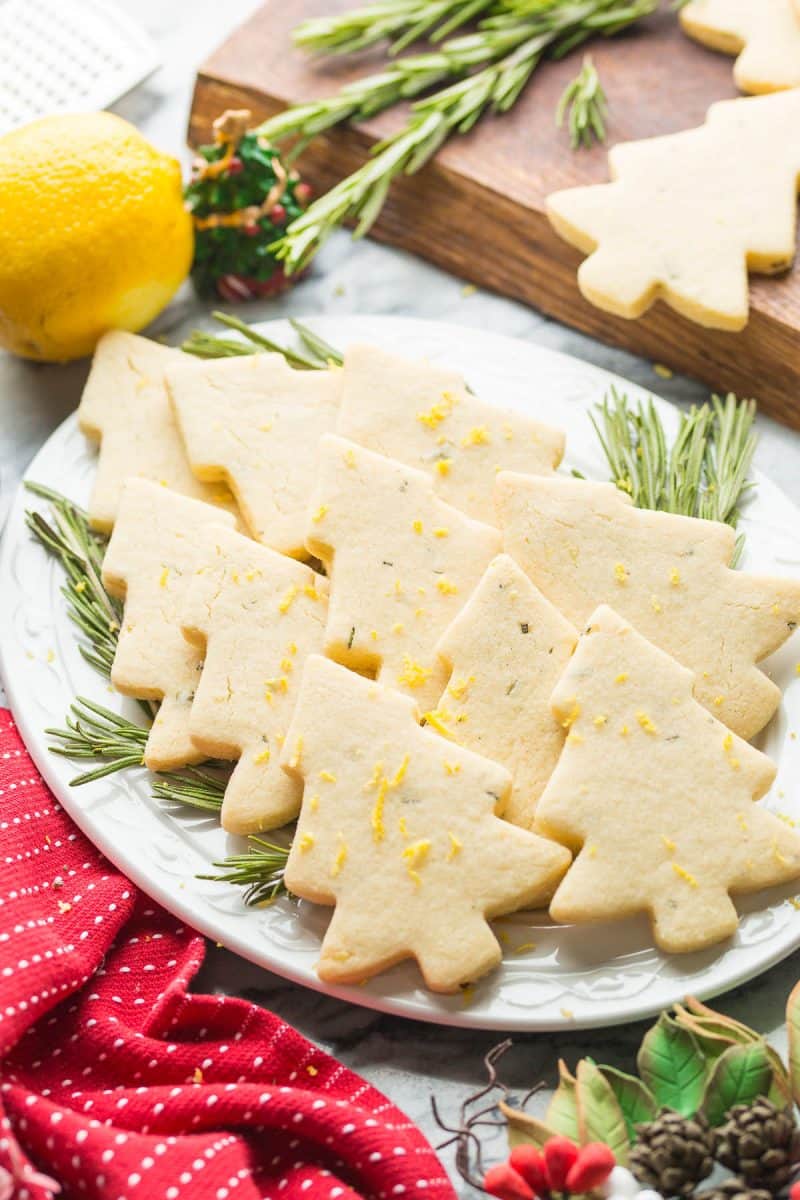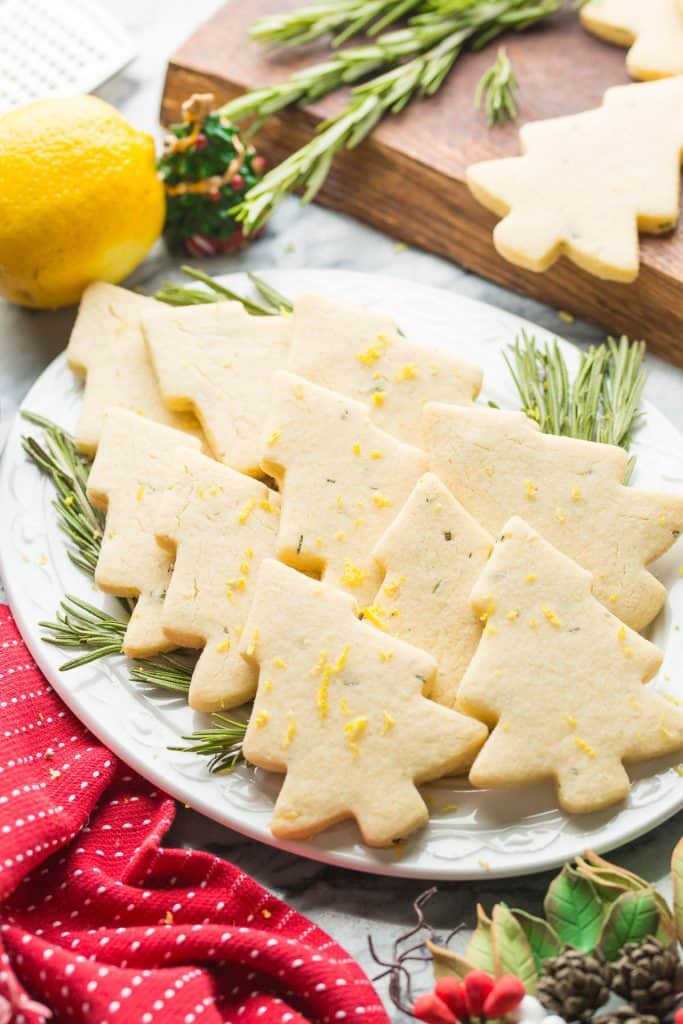 Cookie Week – Day Two
What is Cookie Week? Inspired by Cookie Palooza over on Sally's Baking Addiction, I'm sharing a new, gluten-free holiday cookie everyday for one full week.
Yesterday we kicked Cookie Week off with a traditional Gluten Free Gingerbread Cookie recipe. Today we're going a little more unconventional with these Rosemary Lemon Christmas Tree Cookies.
Let's get baking!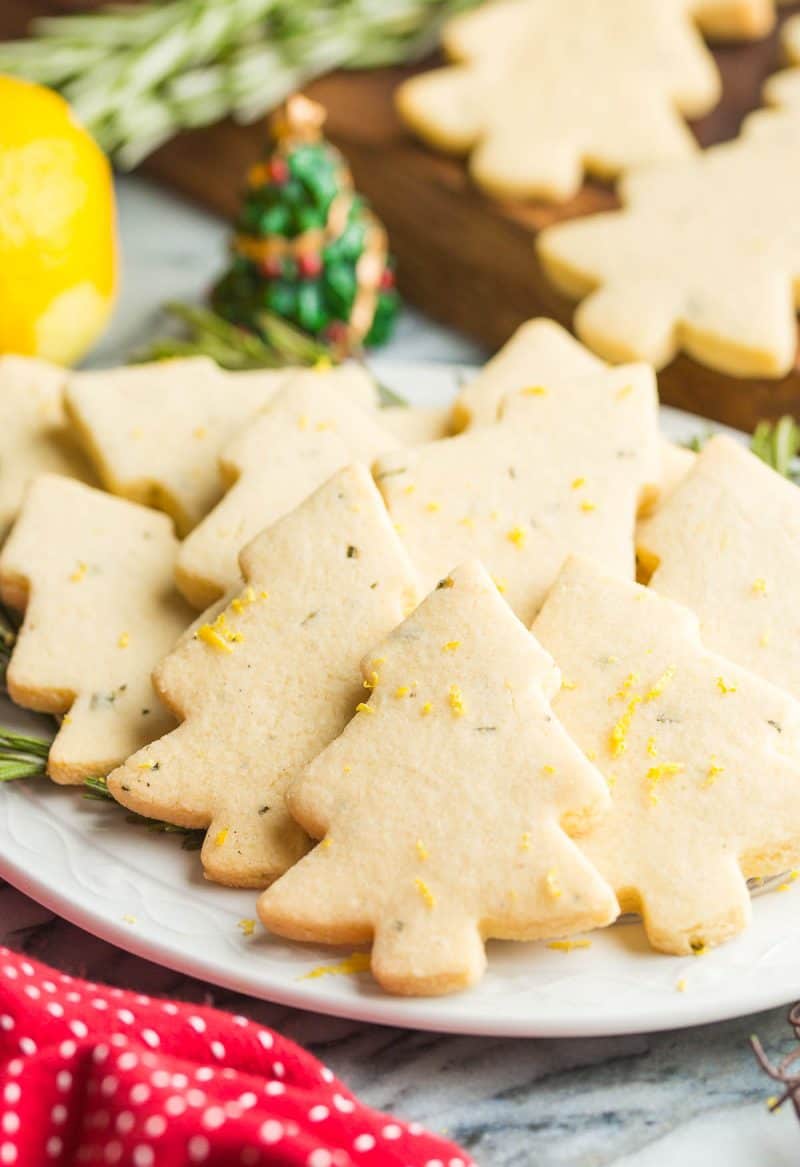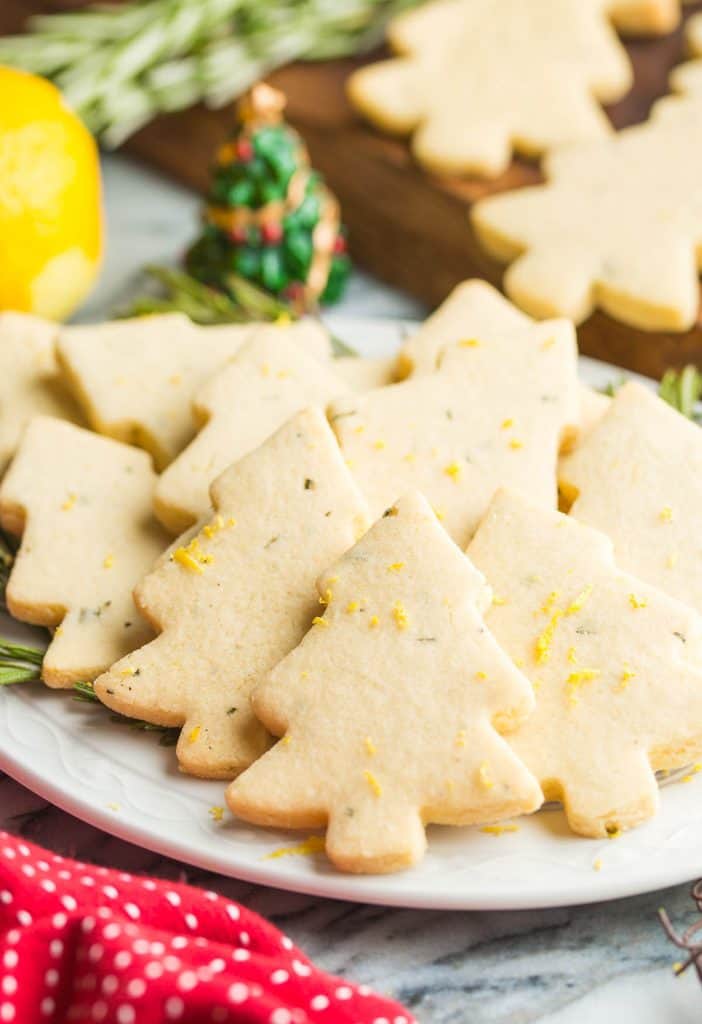 What's to Love about these cookies?
Most traditional Christmas cookie recipes feature warm spices and rich flavours. Think gingerbread spice, peppermint chocolate and all things molasses. Delicious yes, but sometimes you just want something light and bright, ya know?
The rosemary and lemon combo makes for a light, citrusy and somewhat pine-like flavour. Paired up with Christmas tree cookie cutter and we've got a new classic!
Not only that, but these cookies are:
✔️ soft and chewy on the inside
✔️ slightly crisp on the outside
✔️ 100% grain & gluten free
✔️ sweet and buttery without being too over-the-top
✔️ the perfect bake to make this holiday season
How to Make: Rosemary Lemon Christmas Tree Cookies
Key Ingredients
Fresh Rosemary & Lemon Zest – The key flavours. Choose fresh rosemary over dried – you just won't get the same intensity of flavour with dried herbs here.
Almond Flour – Inspired by my almond flour sugar cookies. Almond flour is excellent in gluten free baking as it provides a gentle sweetness and a tender texture.
Coconut Flour – You don't need much coconut flour. Three tablespoons is just enough to help these cookies keep their shape. Since almond flour is a high-fat flour, the coconut flour helps keep these cookies from going too greasy. It also makes for a softer texture. Without it, these cookies would be more crispy.
Tools Required
One large bowl to mix it all up.
An electric mixer or stand mixer to properly cream butter and sugar.
A couple of baking sheets, lined with a silicone mat or parchment paper.
Rolling pin and a Christmas tree cookie cutter.
Grater for zesting and chopping board + knife for the rosemary.
Cookie Dough Prep
Altogether the cookie dough prep is simple and straightforward. It can be broken down simply into a few steps:
Beat butter and sugar in a large mixing bowl with the finely chopped rosemary.
Add the egg and vanilla extract.
Add the dry ingredients to the bowl along with the lemon zest and mix it all up into a thick, soft dough.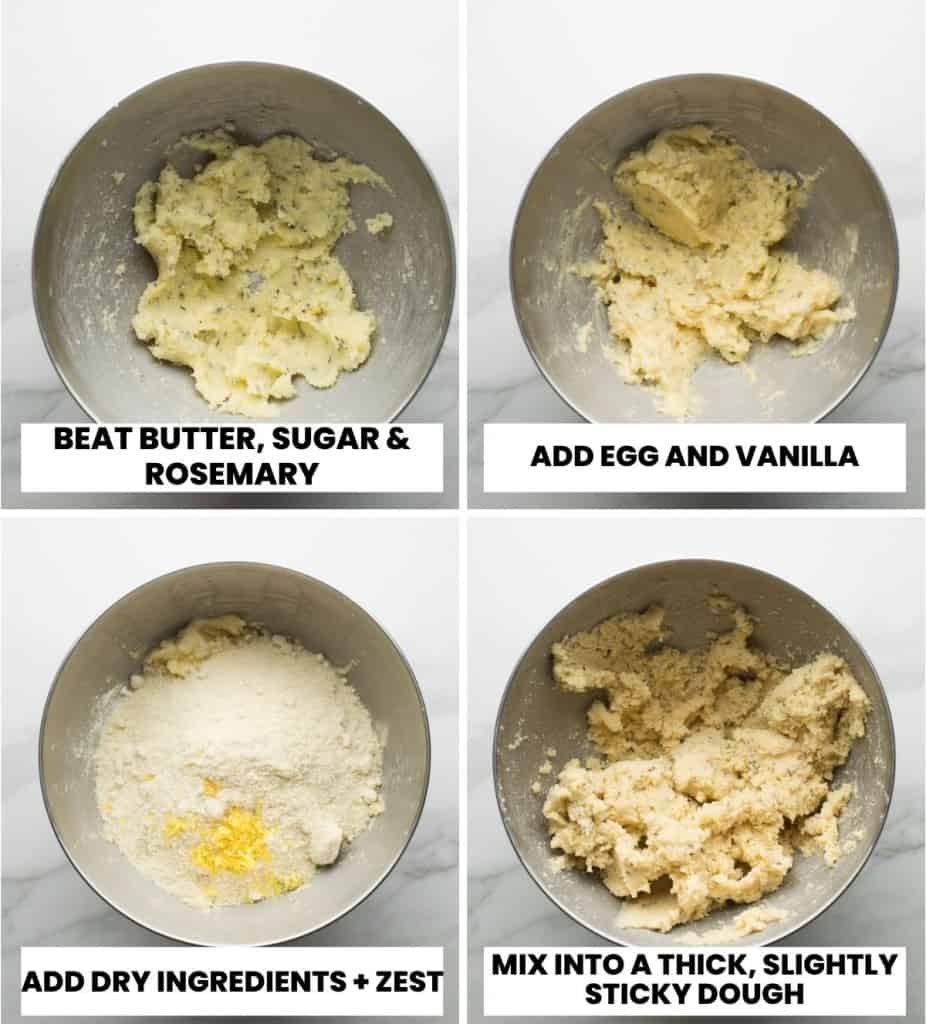 Roll, Cut and bake Christmas Tree Cookies
Rip out a large piece of parchment paper and place on a flat work surface. Sprinkle with a good amount of flour and add dough. Sprinkle the dough with additional flour and gently run all over the sides. This will help manage the stickiness.
Roll dough out to be about 1/4-inch thickness. Use cookie cutters to cut out the dough and transfer to a prepared baking sheet. Leave about a 1/4 inch of space in between each cookie. The shouldn't spread much but they will puff up slightly as they bake.
Tip!
The thinner you roll the dough the crispier your cookies will be. Roll the dough out to be about 1/8 inch thick for crispy cookies. Additionally, you can baking for an additional minute or two (10-11 minutes) for crispier edges.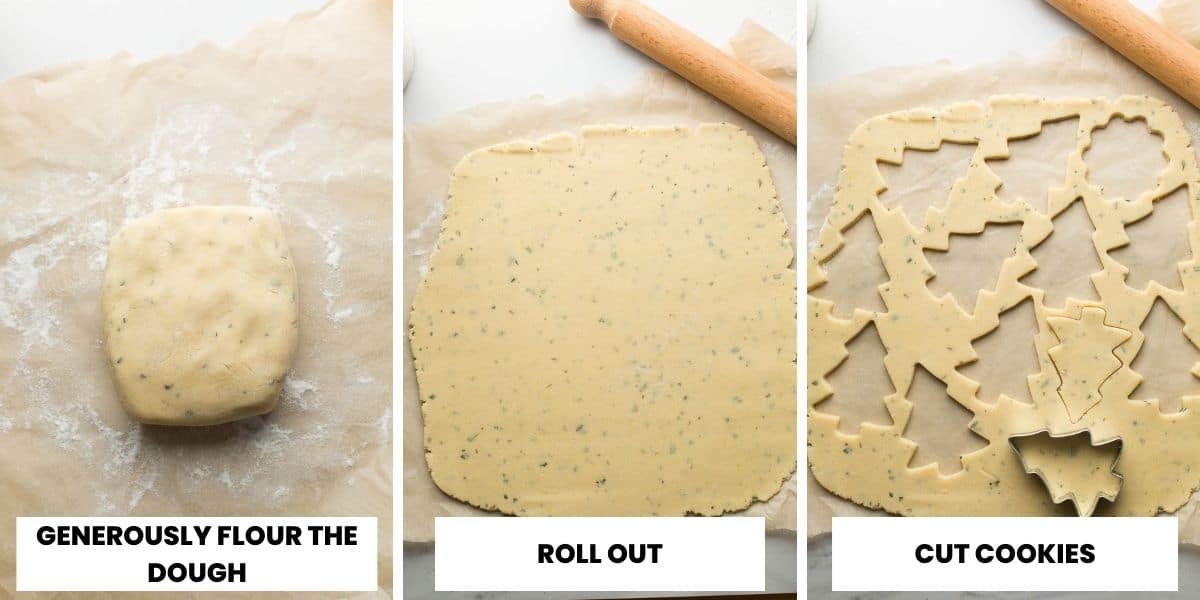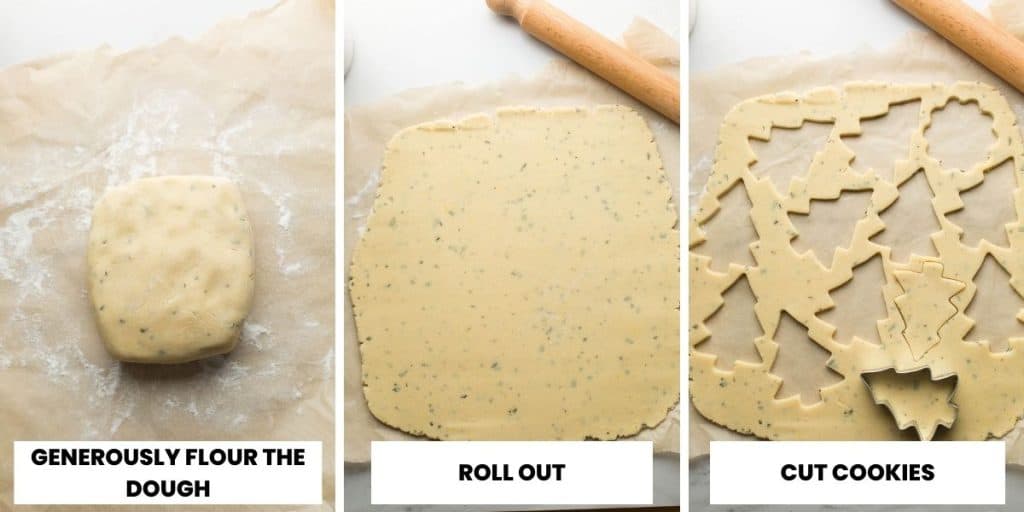 Freeze For Later
To freeze the dough: freeze it separated in two sections before rolling the dough out. Make sure to wrap up the dough tight in plastic wrap and then seal the wrapped dough in a freezer safe bag. Dough will keep well in the freezer for 3 months. To defrost, leave the dough in the fridge overnight to thaw. Once thawed, roll out the dough and proceed with the recipe normally from there.
To freeze the baked cookies: Once fully cooled place the cookies on a baking sheet you can fit in the freezer. Place in the freezer until solid and then transfer the cookies to a bag or Tupperware container – place a small sheet of baking parchment in between each cookie to prevent cookies from freezing together. Cookies will keep up to 3 months in the freezer.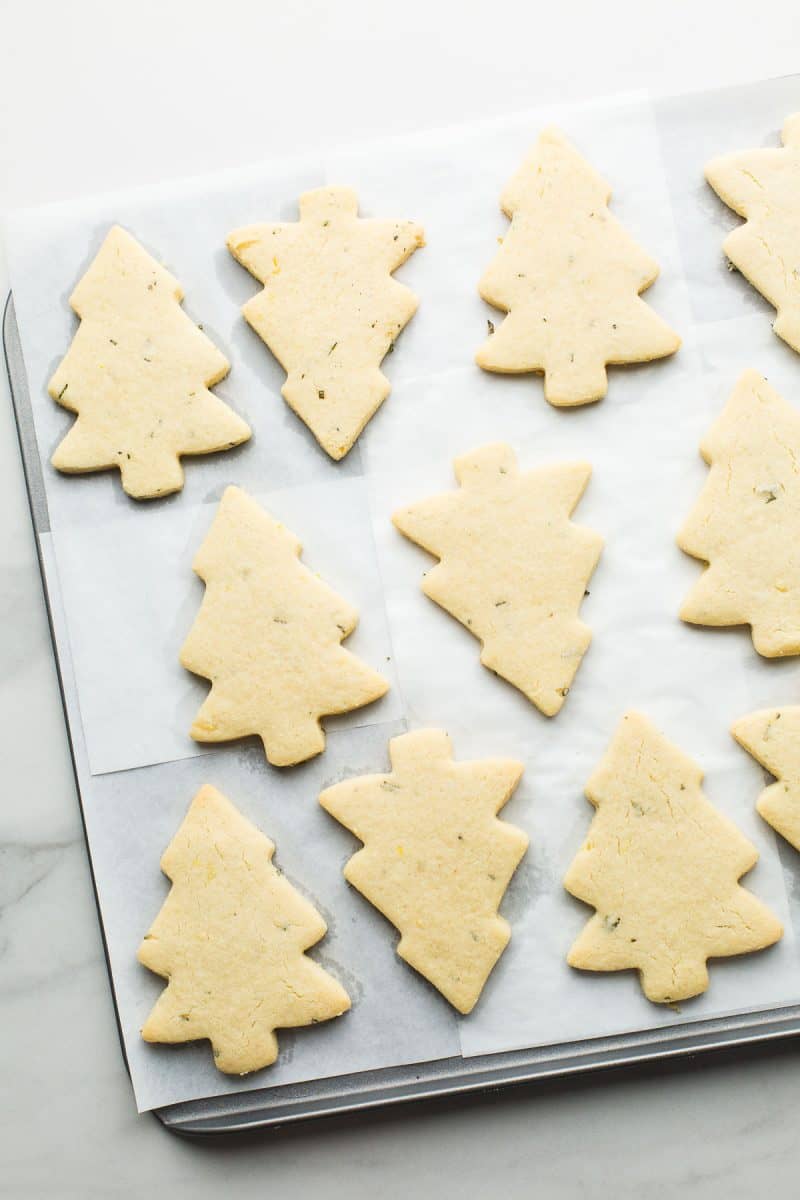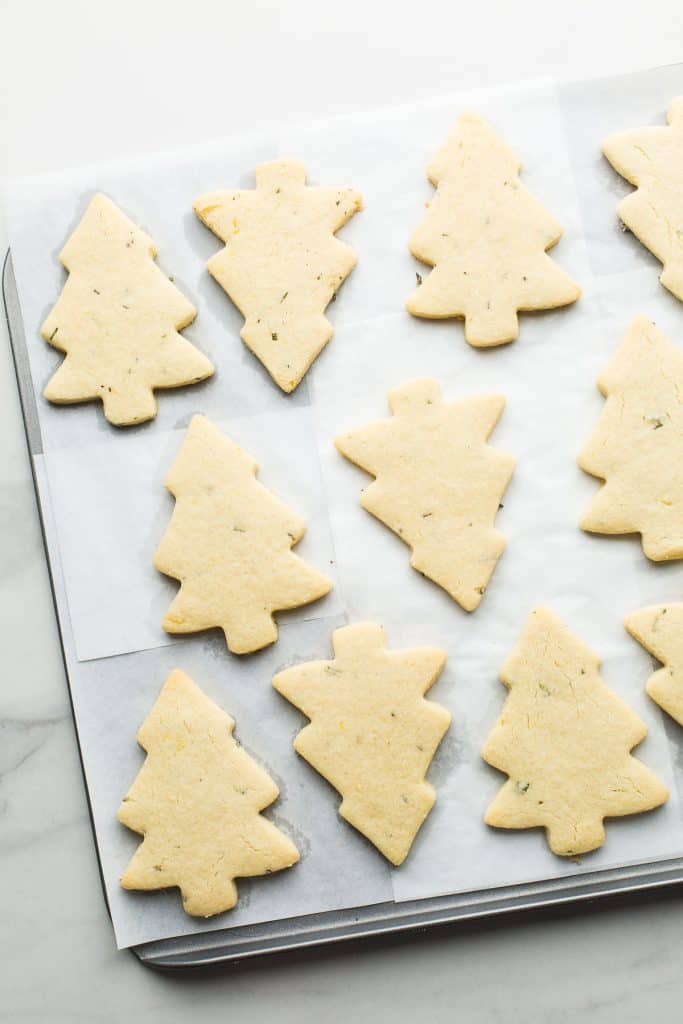 Cookie Questions
What's The Difference Between Almond Flour And Almond Meal?
Though almond flour and almond meal are made from essentially the same thing (ground almonds) there are a couple of key differenced between the two.
Almond flour is typically made with blanched (skinless) almonds into a more fine flour.
Almond meal is usually made with un blanched (skin on) almond into a more coarse flour.
Can I Use Almond Meal Instead Of Almond Flour?
Yes! You can't always get away with using almond meal in place of almond flour, but it this recipe you can. For best results I recommend that you weigh out your almond meal/flour with a kitchen scale to ensure you get the most accurate read.
Just keep in mind that almond meal cookies usually have a bit more texture to them.
Can I Use Another Type Of Flour?
No. I tested this recipe multiple times using almond flour/meal. I can't guarantee the same results if you use any other types of flours.
If you want a nut free recipe to use as a base instead of this one I recommend you check out my gluten free sugar cookies.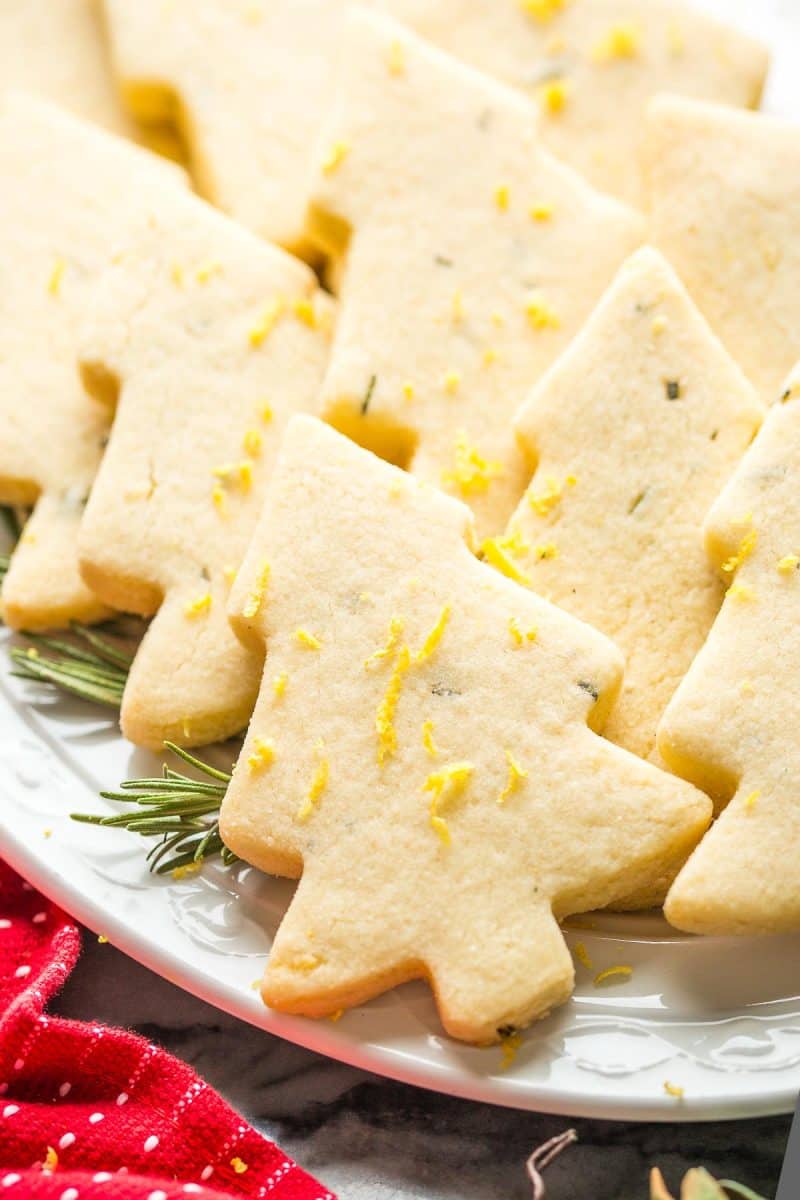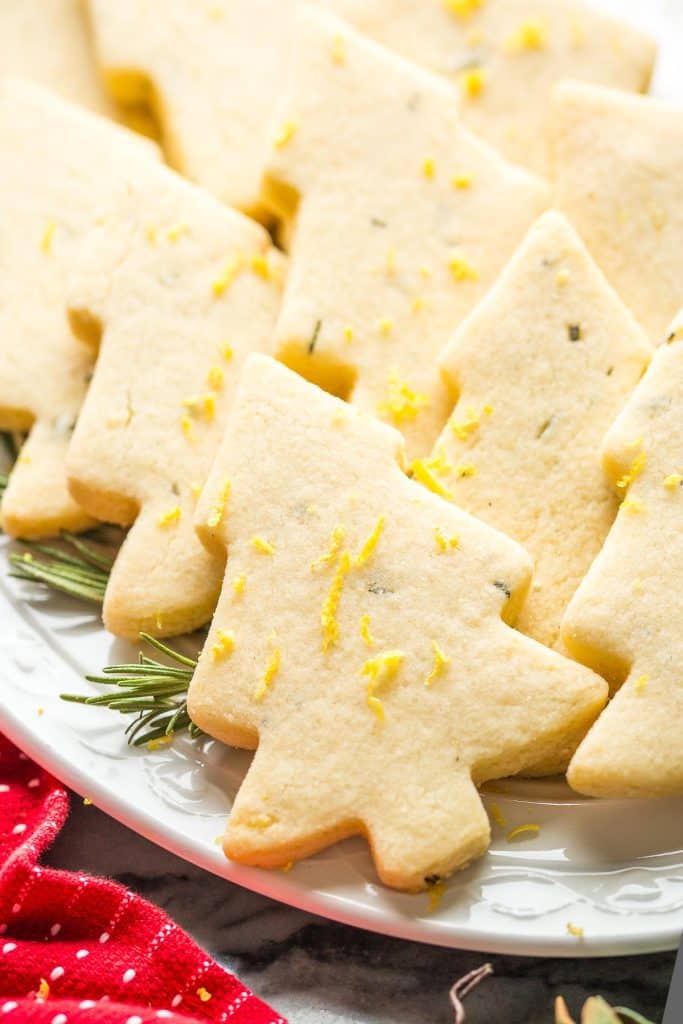 Final Tips
Use a cheap flour to dust and roll.

Almond and coconut flour can be pricey and possibly difficult to buy depending on where you live. Instead of using almond or coconut flour to dust your surfaces, use a cheaper flour like a gluten free all purpose flour or rice flour.

Watch the oven temp.

Almond flour browns quickly. These cookies can easily go from pale white to golden brown in NO time. Make sure you keep an eye on your Christmas Tree Cookies while they bake. Almond flour tends to brown quickly so it's important to keep on eye on the oven in the final minute or two. The darker the cookies the crispier they will be so keep that in mind too so you can get the right texture for you.

Use a kitchen scale.

For best results I recommend you use a kitchen scale to weigh your ingredients. Gluten free baking can be tricky – grain free baking even more so. If you have five different people each measure out a cup of almond flour using a measuring cup it is very likely that you'll end up with five different weights of flour. Some recipes are more forgiving than others, but when it comes to gluten/grain free baking it's important to get as close to accurate as possible.
No Kitchen Scale? Measure Your Flour Properly

The next best solution: measure your flour using the spoon and level method. Instead of scooping out the required flour directly into your measuring cup, you spoon the flour into the measuring cup until full and then use the back of a knife to level off the excess flour.
More Cookie-Week Recipes: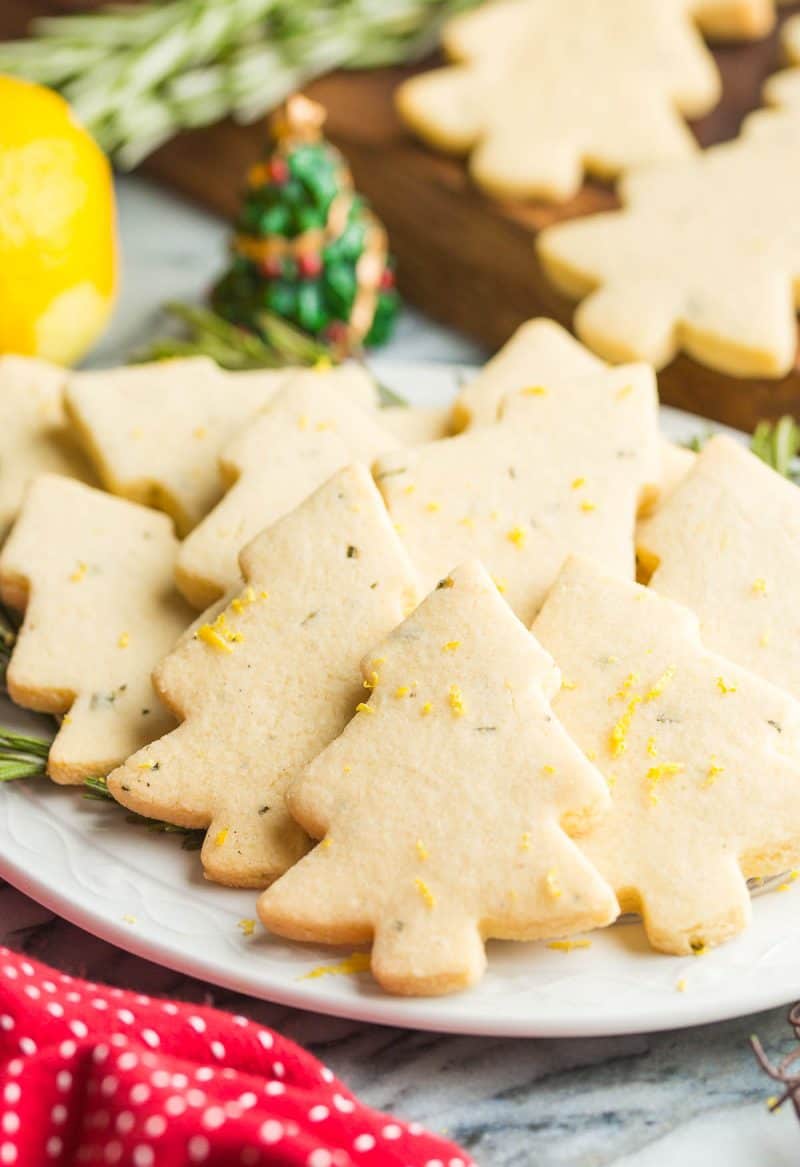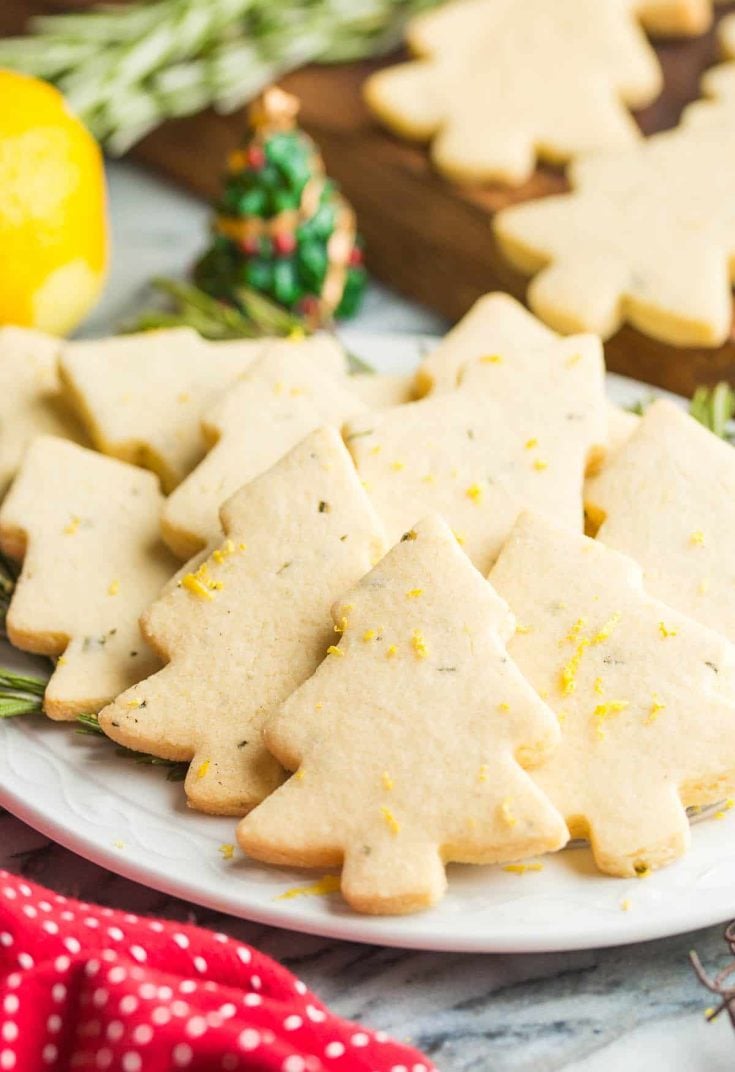 Recipe
Rosemary Lemon Christmas Tree Cookies
Yield:
about 2 dozen
Prep Time:
15 minutes
Cook Time:
10 minutes
Total Time:
25 minutes
Ingredients
1/2 cup | 113 g salted or unsalted butter, softened to room temperature
3/4 cup | 150 g white granulated sugar
2 teaspoons finely chopped rosemary, stems removed (measure after chopping)
1 teaspoon | 5 ml vanilla extract
1 egg
1 teaspoons fresh lemon zest
2 3/4 cups | 265 g almond flour
1/3 cup | 37 g coconut flour
1/2 teaspoon baking powder
1/2 teaspoon salt (add if using unsalted butter)
Instructions
Preheat oven to 350°F/175°C. Lightly grease or line a couple of baking sheets with parchment paper. Set aside.
Using a hand mixer or stand mixer with a paddle attachment, beat together the butter (1/2 cup /113 g), sugar (3/4 cup /150 g) and chopped rosemary (2 tbsps) together on a high speed about 1-2 minutes or until creamy.
Add the egg and vanilla extract (1 tsp/5 ml). Beat in to the butter-sugar mixture on a medium speed until fully combined.
Add the dry ingredients and lemon zest to the butter mixture: almond flour (2 3/4 cup / 265g), coconut flour (1/3 cup/ 37g), baking powder (1/2 tsp) and lemon zest (2 tsp). Add salt (1/2 tsp) if using unsalted butter. Mix on a low speed until a thick, slightly sticky dough forms. Stop and scrape down the sides of the bowl as needed.
Rip out a large piece of parchment paper and dust with a good amount of flour. Add the dough, sprinkle with a bit more flour to coat the outside and then roll out to be about 1/4 inch thick.
Use Christmas tree shaped cookie cutters to cut out dough. Transfer the cut out dough to the prepared baking sheets. Leave about 1/4 inch of space in between each cookie. Re roll and repeat with excess dough scrapes until all gone.
Place the cookie sheet in the middle of the oven and bake for 9-11 minutes until the edges and lightly goldened. Keep in mind that smaller cookies will bake closer to 9-10 minutes and larger cookies will bake in 10-11 minutes. Almond flour browns quickly so watch your cookies towards the end.
Let cookies cool on the baking sheet about 5 minutes, then transfer to a wire rack to cool completely.
These cookies can be kept at room temperature for up to 2 weeks. Almond flour cookies stay soft for a while and can be kept out on the counter.
Notes
For best results, use a kitchen scale to weigh out your ingredients (instead of cups).
Coconut flour will dry out the cookies and almond flour can be pricey so I recommend you use a cheaper flour (like almond flour or gluten free all purpose flour) to roll out the dough. If you want to roll out the dough with a grain free flour I recommend tapioca starch or arrowroot starch.
Make it dairy free: use a vegan block butter (not a spreadable butter from a tub). I found my cookie dough to be a bit softer when making these with vegan butter. I had to use more flour when rolling and cutting, but the end result was just the same.
This website provides approximate nutrition information for convenience and as a courtesy only. Nutrition data is gathered primarily from the USDA Food Composition Database, whenever available, or otherwise other online calculators.