These soft baked, thick and chewy Almond Flour Snickerdoodles are undetectably gluten free, irresistible and easy to make! With a melt-in-your-mouth chewy center and slightly crispy edges it will be hard to eat just one! These cookies can be whipped up in about 30 minutes with no extra chill time required. Make sure to check the recipe notes with tips and swaps on how to make these suitable for your diet! | Gluten Free + Paleo & Vegan Options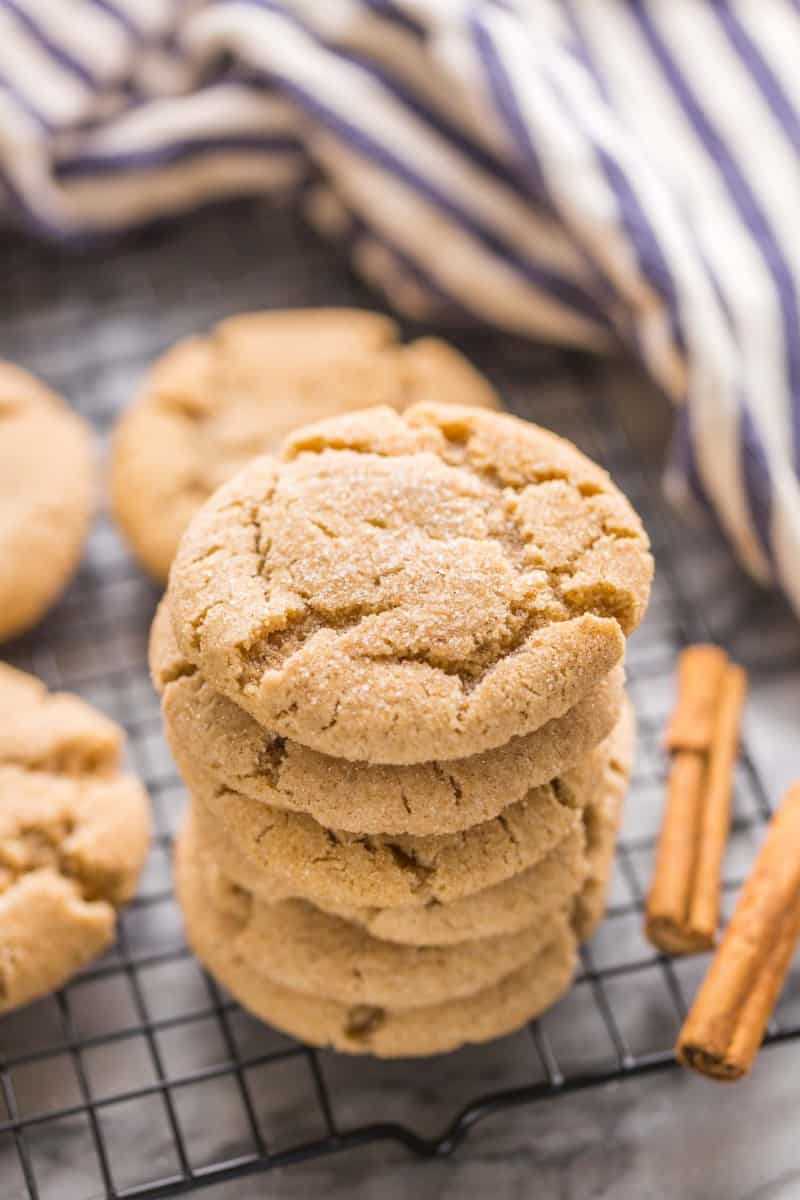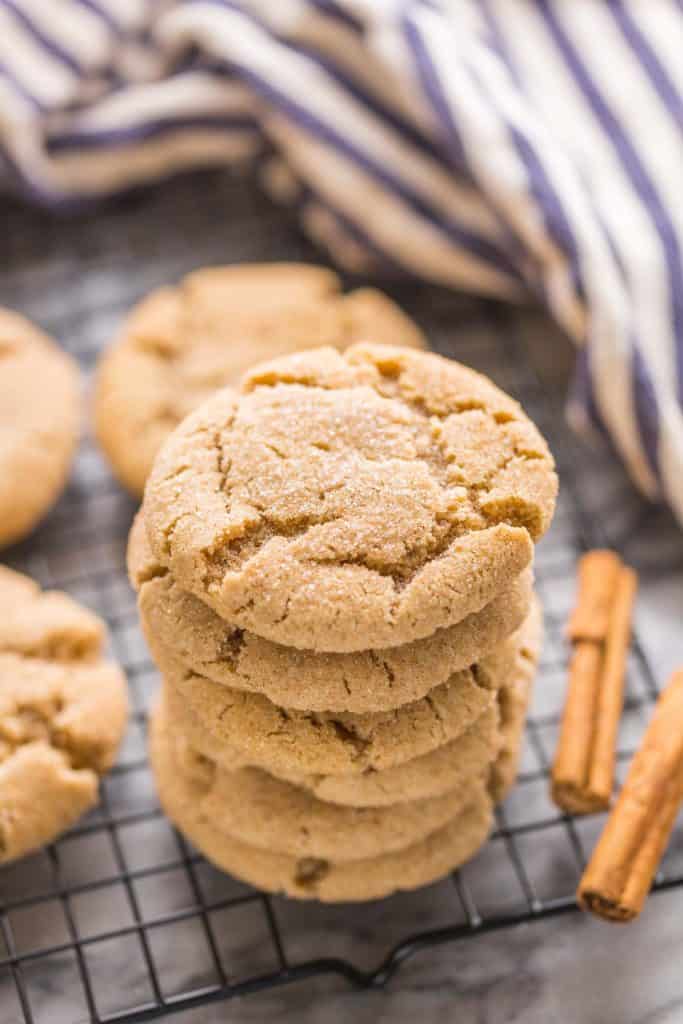 After sharing a recipe for gluten free homity pie earlier this week – a traditional British dish originating somewhere in the English country side – it feels fitting to now throw it back with an American classic in the form of these Almond Flour Snickerdoodles. Of course classic snickerdoodles are made with more generic all purpose flour or blend of gluten- free flours. These cookies are made with a blend of almond and coconut flour which produces a cookies that is just as good, if not better, than the real deal!
If you're not already familiar, a snickerdoodle is basically a soft and pillowy sugar cookie wrapped up in a cinnamon-sugar embrace. In fact, this recipe is very closely based off of my Almond Flour Sugar Cookies. Instead of rolling with a rolling pin and chilling the dough before baking you simply scoop out the dough, rolling into balls and baking straight away. Easy!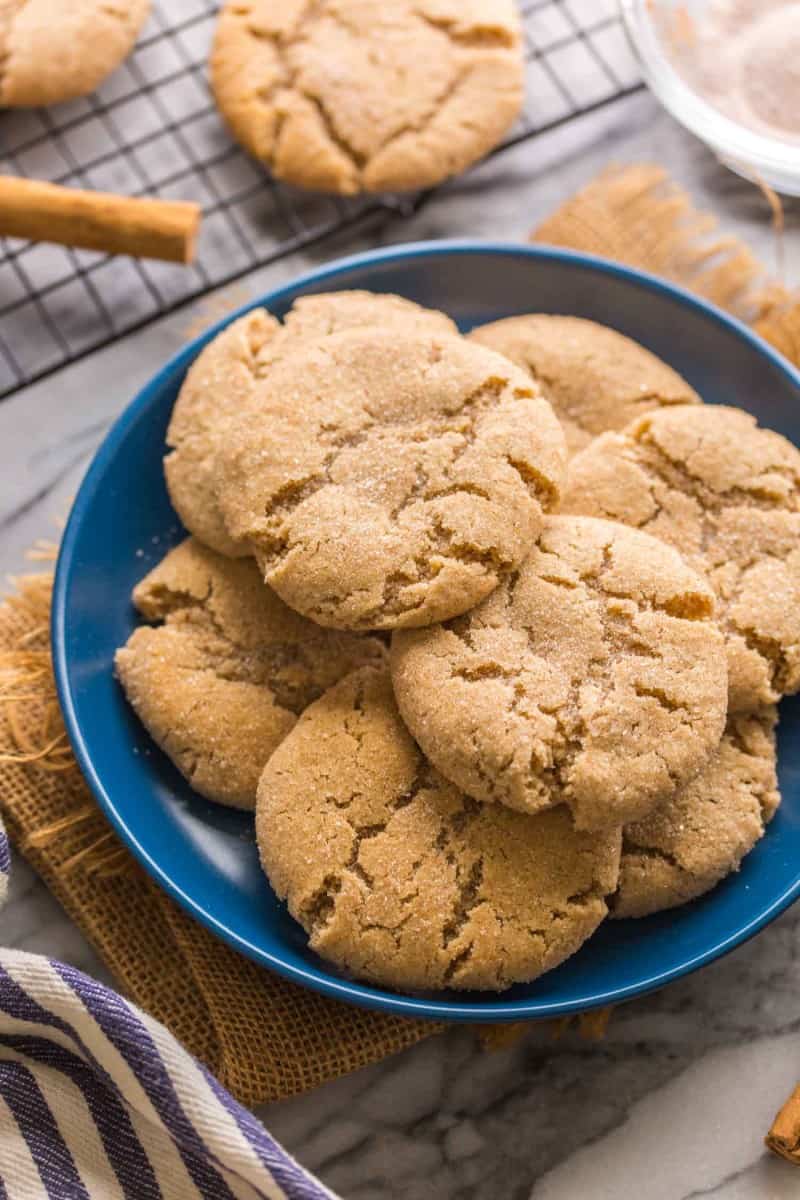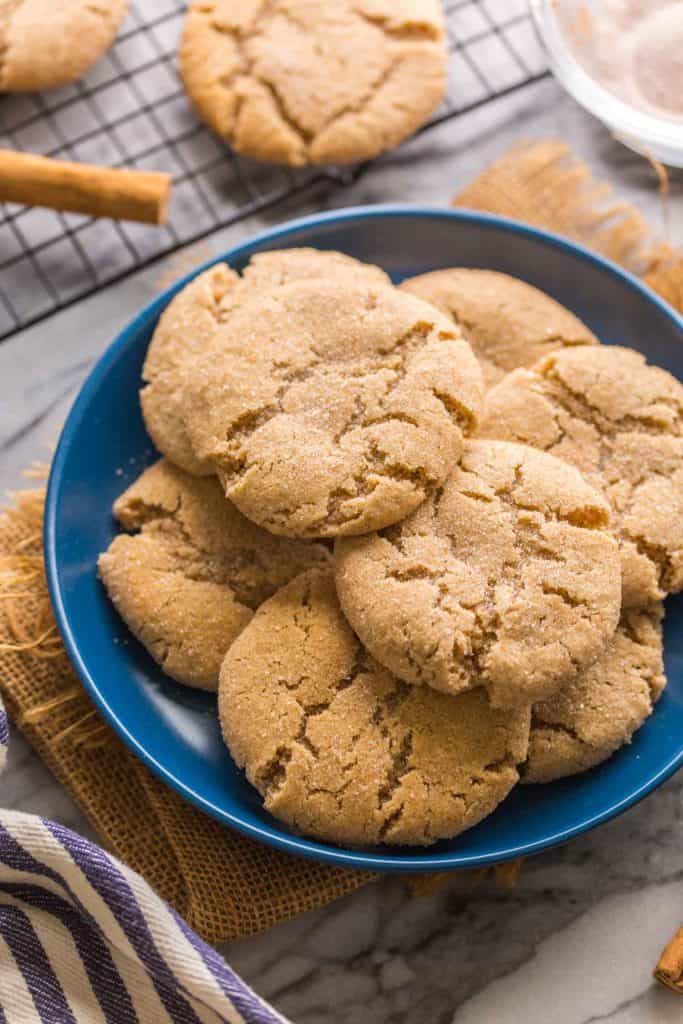 How to Make these Almond Flour Snickerdoodles – Summed Up
In a large mixing bowl cream butter or sugar. For best result use a hand held electric mixer or a stand mixer with a paddle attachment. Beat on high about 1-2 minutes until smooth & creamy.
Add the egg(s) and vanilla extract. Mix until combined.
Add in the combined dry ingredients to the wet ingredients. Mix on a low speed until the flour mixture until a thick, soft dough forms.
Scoop out the dough into balls. Roll dough in a cinnamon sugar mixture, then place on a prepared cookie sheet.
Bake & cool! Press the cookies down slightly before and after baking to assist in the spread. Let cool on the sheets for a little bit then transfer to a wire rack.
Enjoy!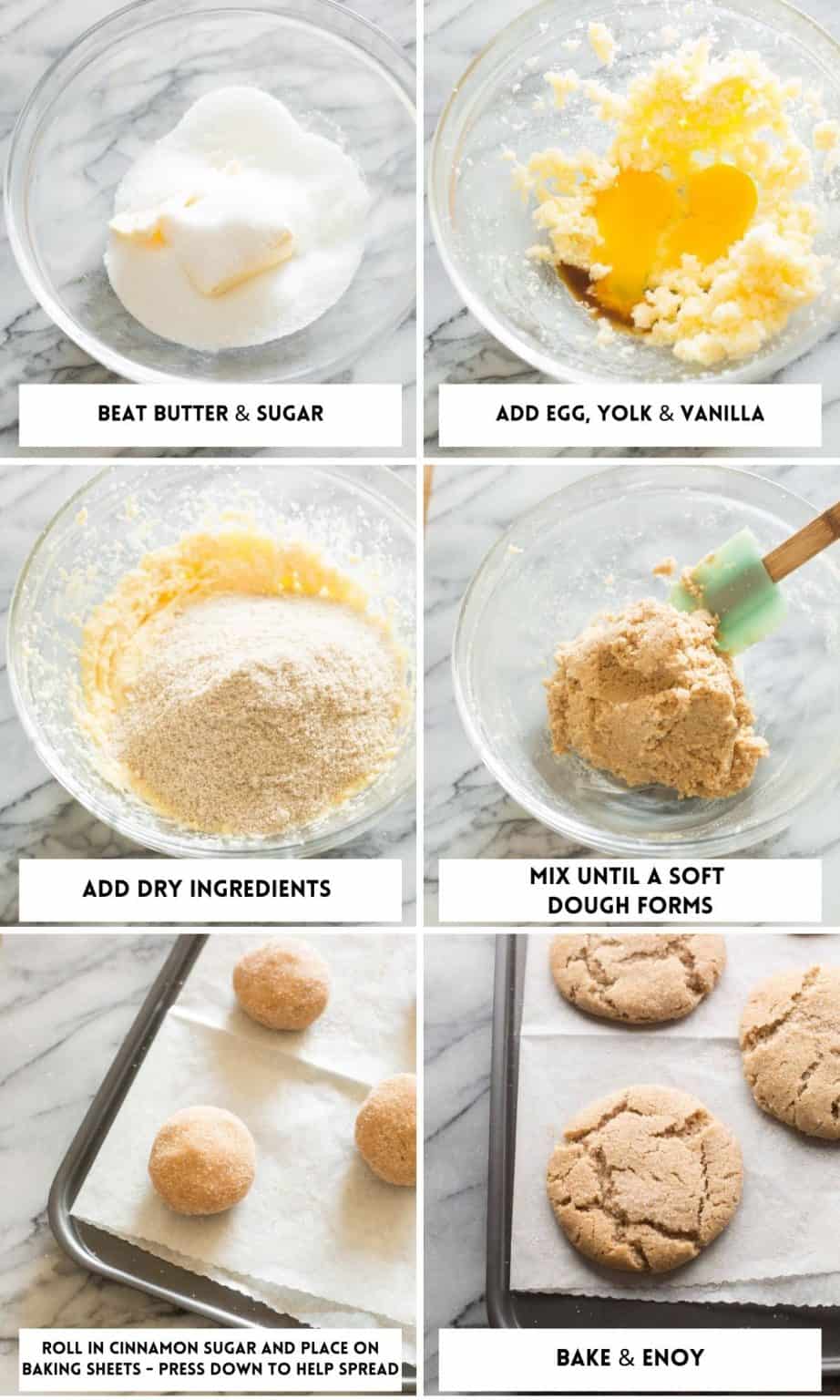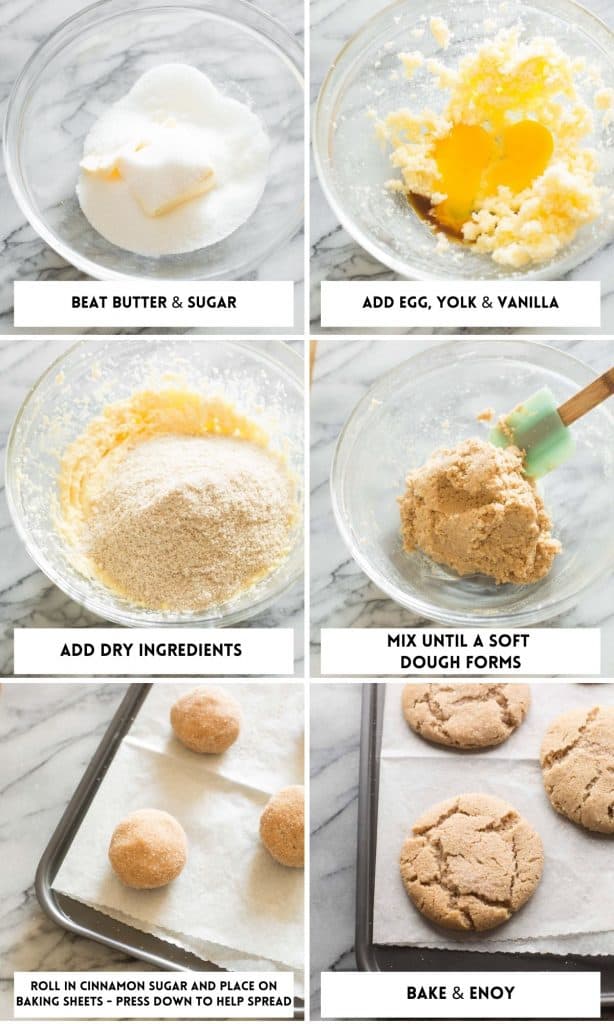 Substitutions
How to make Vegan Snickerdoodles:
Eggs >> Chia Eggs or Flax Eggs:
The original recipe calls for 1 egg + 1 egg yolk. I found two chia or flax seed eggs to be the sweet spot.
Chia and flax egg cookies need an extra minute added on to the cook time, but they are otherwise made in the exact same way.
I always find that chia/flax egg cookies and baked goods in general need a bit more time to cool down and rest. They're fairly delicate straight out of the oven and can crumble easily if moved too soon. Just give them an extra five or so minutes to rest on the baking sheet before transferring to a cooking rack and you're good to go.
Butter >> Vegan Butter or Coconut Oil (Palm Shortening will likely also work)
Use softened vegan butter or solid coconut oil. When it comes to the coconut oil you're looking for a solid, but still soft texture. If it's too hard it will be difficult to fully mix into the dough.
Coconut oil cookies won't be as soft and tender as cookies made with butter/vegan butter. To soften them up you can always pop them in the microwave for 10-15 seconds before eating.
How to Make Paleo Snickerdoodles
White Granulated Sugar >> Coconut Sugar
Use coconut sugar in a 1:1 swap for white sugar. In the end your cookies will have a deeper, fruity-caramel like taste from the coconut sugar. Not necessarily true in taste to a traditional snickerdoodle but still delicious and worth making.
Quick note: I forgot to roll the paleo snickerdoodle in coconut sugar mixture. Just keep in mind that if you make these cookies using coconut sugar all the way through the sugar topping will look a bit darker.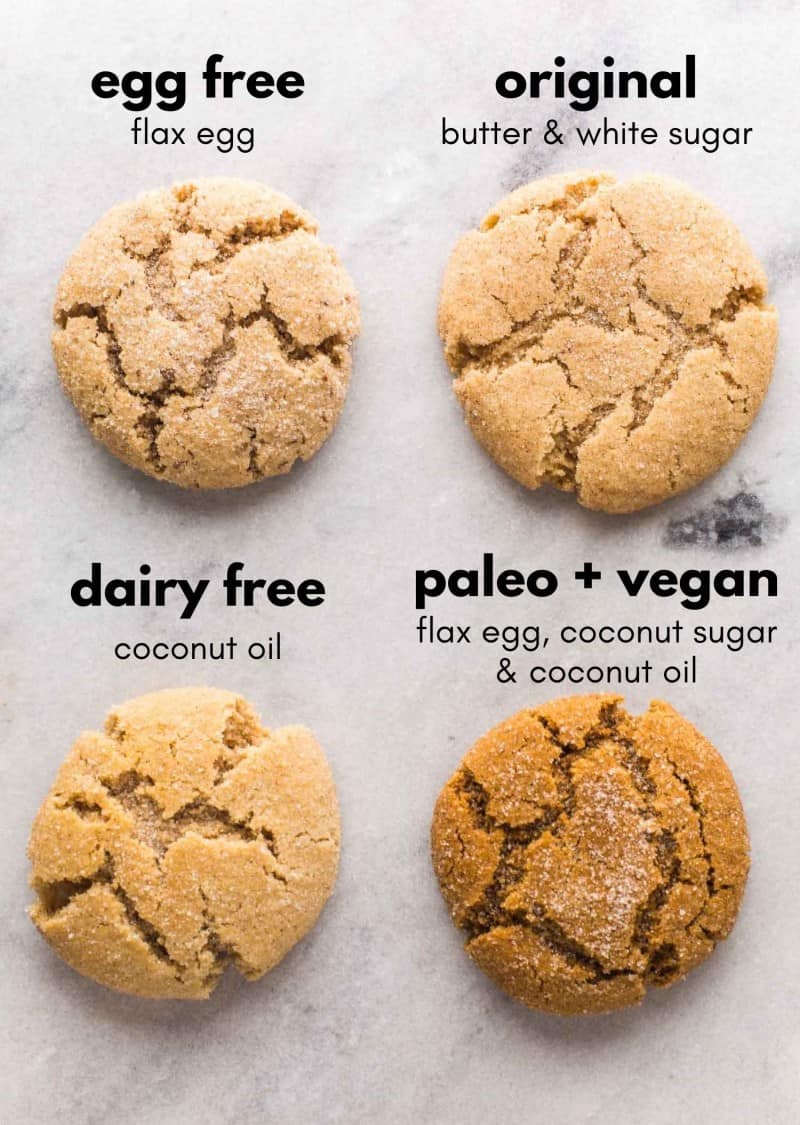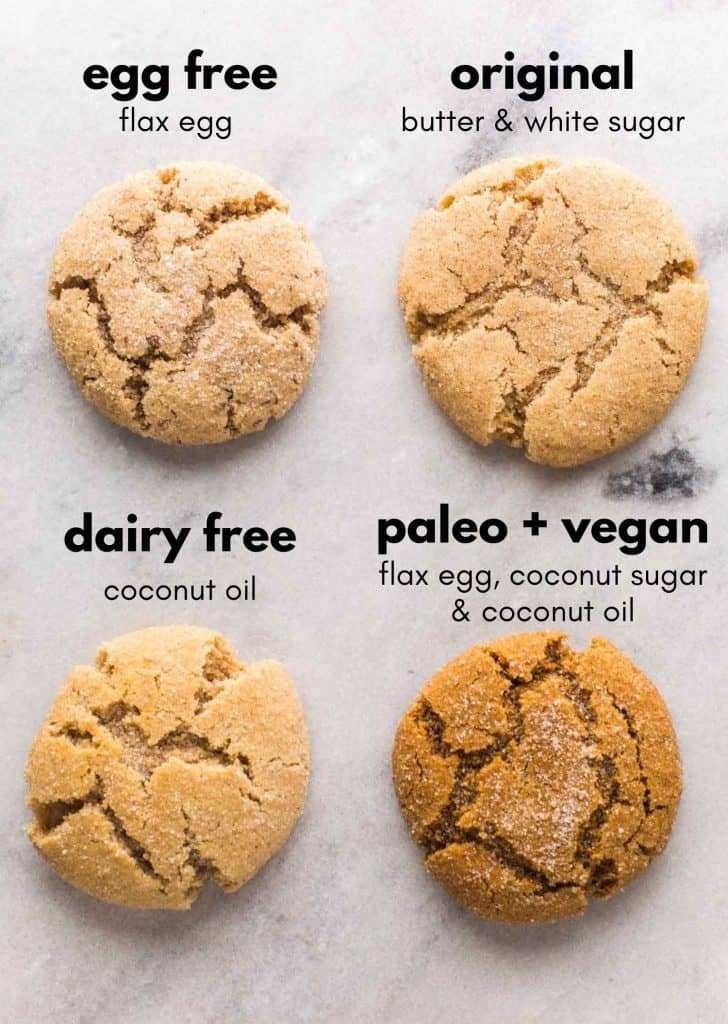 Make Ahead of Time:
While these cookies are super easy to make in a moments notice, you can absolutely prep them ahead of time to pull out whenever you're ready. To do so you have a few options:
Refrigerate the dough: Make the cookie dough and pop in the fridge for up to three days before baking.

I recommend refrigerating the dough before rolling into balls. You'll need to let the dough come to room temperature before rolling and baking.

Freeze the dough: Roll the dough into balls and place in the refrigerator for an hour or so. Once the balls have chilled and hardened, place in a ziplock bag and store in the freezer for up to 3 months. When you're ready for cookies simply bake from frozen – just add an extra 1-2 minutes to the overall bake time.

Most of the cinnamon-sugar mixture will naturally fall off with all the moving around so I recommend rolling the cookie dough balls just before baking.
Freeze the baked cookies: Once fully cooled place the cookies on a baking sheet you can fit in the freezer. Place in the freezer until solid and then transfer the cookies to a bag or Tupperware container – place a small sheet of baking parchment in between each cookie to prevent cookies from freezing together. Cookies will keep up to 3 months in the freezer. Allow cookies to thaw in the fridge overnight before eating.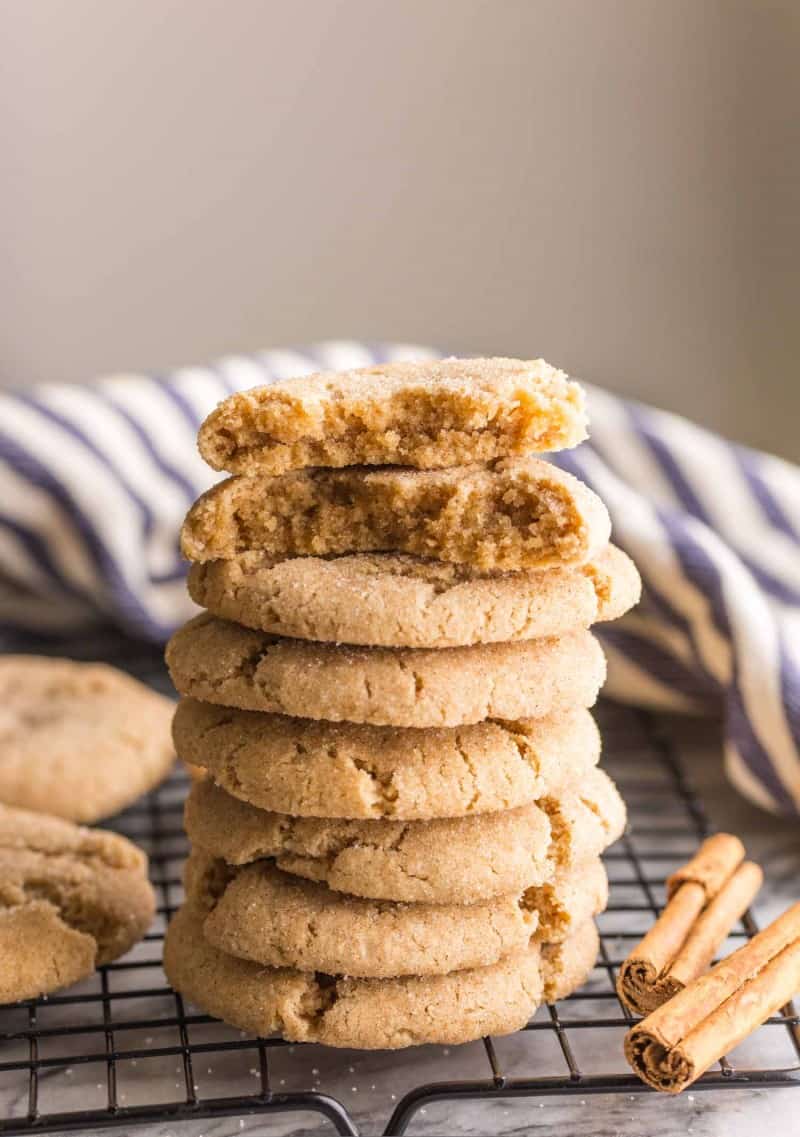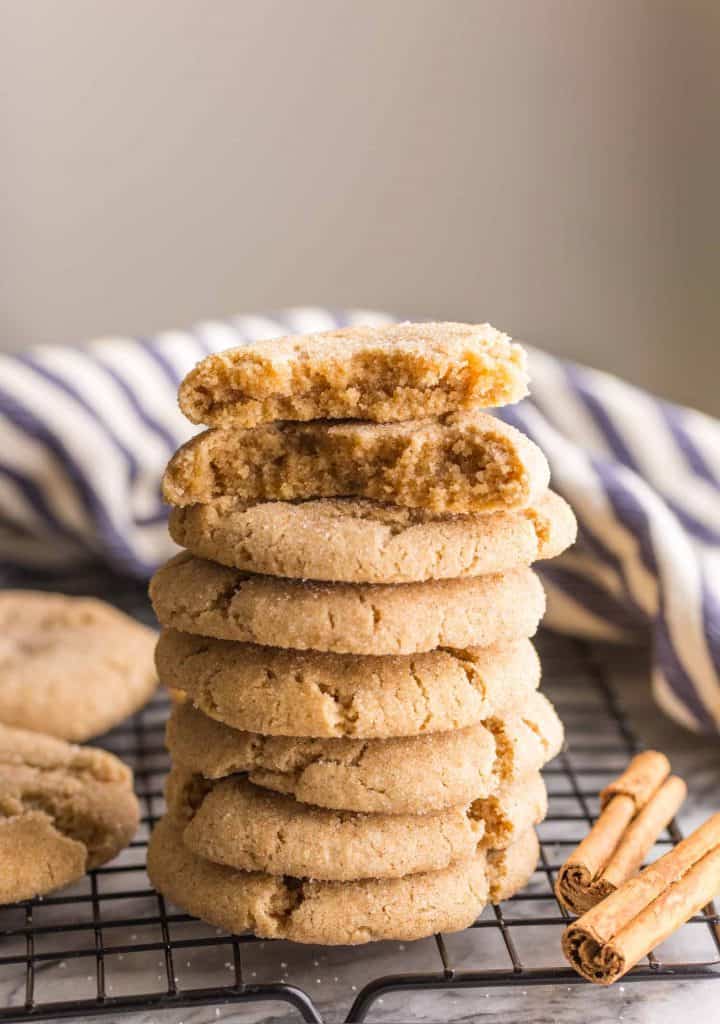 Enjoy!
FACEBOOK | INSTAGRAM | PINTEREST
Don't forget to #asaucykitchen on instagram if you try these Almond Flour Snickerdoodles! We love seeing what you make! You can also post your pictures to my facebook page!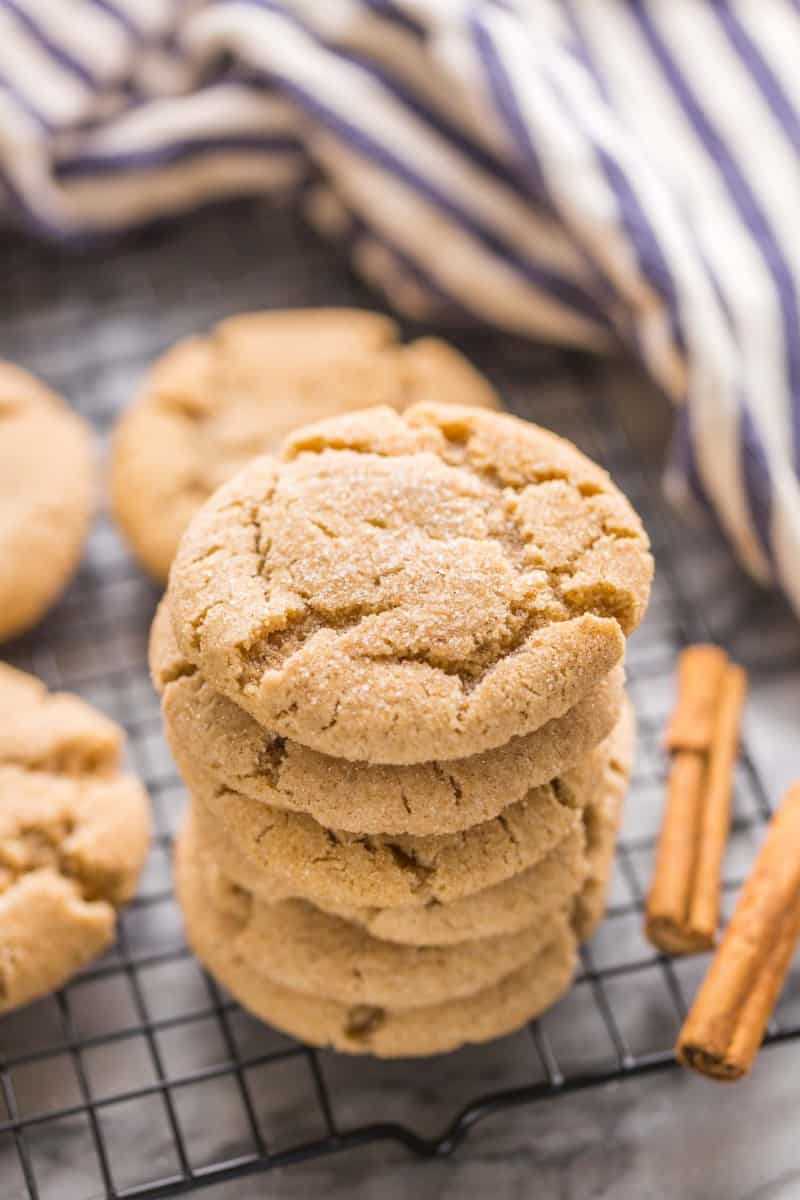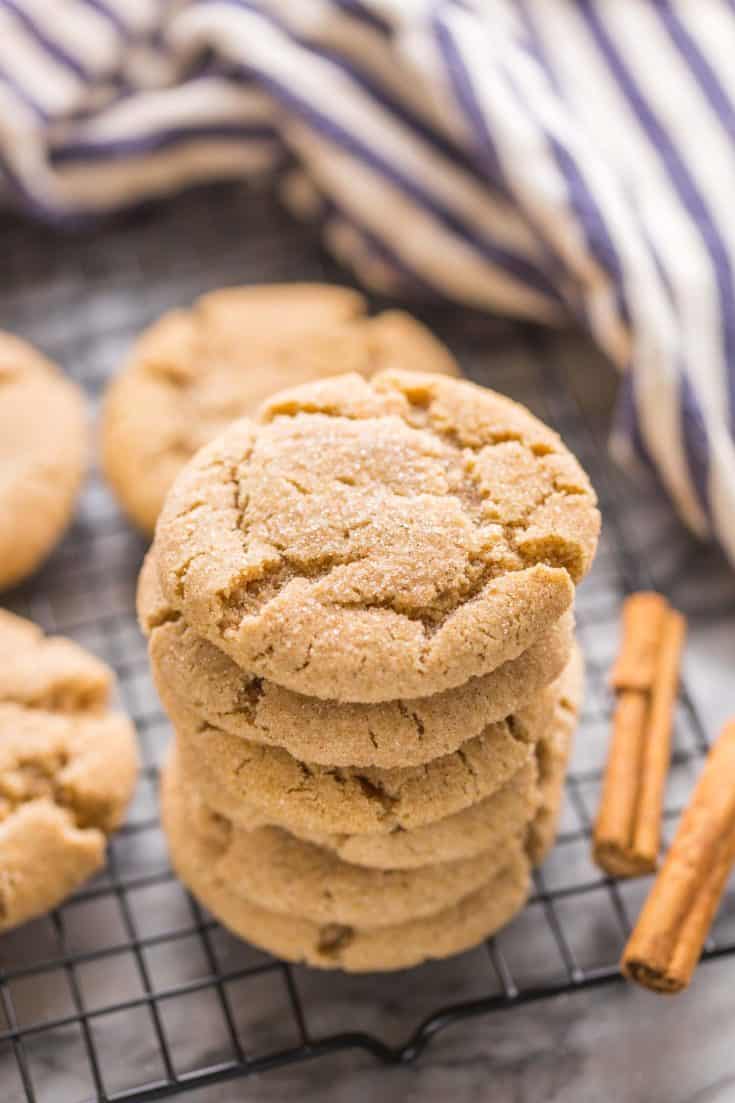 Recipe
Almond Flour Snickerdoodles
Yield:
12 cookies
Prep Time:
15 minutes
Cook Time:
10 minutes
Total Time:
25 minutes
These soft baked, thick and chewy Almond Flour Snickerdoodles are undetectably gluten free, irresistible and easy to make! These cookies can be whipped up in about 30 minutes with no extra chill time required.
Ingredients
Cinnamon-Sugar Coating
1/4 cup (50 g) granulated sugar
1 teaspoon ground cinnamon
Cookies
2 3/4 cups | 265 g almond flour
2 tablespoons | 14 g coconut flour
1 1/2 teaspoon ground cinnamon
1 teaspoon cream of tartar
1 teaspoon baking soda
1/2 teaspoon salt
1/2 cup | 113 g butter, salted or unsalted, softened to room temperature
3/4 cup | 150 g granulated sugar
2 teaspoons | 10 ml vanilla extract
1 egg + 1 egg yolk
Instructions
Preheat oven to 375°F/190°C. Line a couple of large baking sheets with baking paper or silicone baking mats. Set aside.
In a small bowl, whisk together the cinnamon-sugar mixture until combined. Set aside.
In a medium sized mixing bowl whisk together the dry ingredients: almond flour, coconut flour, cinnamon, baking tartar, baking soda and salt.
In another large mixing bowl combine the butter and sugar. Mix together using a hand-held electric or stand mixer. Beat on high 1-2 minutes until smooth and creamy.
Add the egg, egg yolk and vanilla extract. Mix on a medium seed until combined. Make sure to scrape down the sides of the bowl as needed.
Begin adding the dry ingredients to the bowl with the mixer running on low. Add a little bit at a time until fully combined. You should end up with a thick, soft dough.
Scoop out the dough and roll into balls, about 1.5 -2 tablespoons worth at a time. Roll the balls in the cinnamon-sugar mixture then place on your lined baking sheet. Leave about 3 inches of space between each cookie to leave room for spreading. Gently press down on the cookies to encourage them to spread out.
Place in the middle of the oven and bake for 9-11 minutes. Less time in the oven will make for softer cookies, more time will make for crispier edges. Fresh out of the oven the cookies will still look slightly puffy. Gently press down to flatten them out fully. Sprinkle a little more of the cinnamon-sugar mixture over the top to cover the newly exposed cracks in the cookie.
Allow the cookies to cool about 10 minutes on the baking sheet before transferring them to a wire-rack to fully cool.
Store in an airtight container for at least 7 days and enjoy!
Notes
For Best Results
Use a kitchen scale to measure out your ingredients. Almond flour and coconut flour amounts can vary widely based on how you measure them.
Make it Vegan:
Use 2 flax or chia seed eggs in place of the regular eggs.
To Make: Combine 2 tablespoons of ground chia seeds or flax seeds with 4 tablespoons of water. Mix and set aside for 5-10 minutes until the mixture thickens and gels-up. Add an extra minute on the cook time.
Use vegan butter or softened coconut oil (104 g) in place of dairy butter.
Make it Paleo:
Use coconut sugar (135 g) in place of the white sugar.
Use coconut oil (104 g) or palm shortening in place of the butter.





Nutrition Information
Yield:

12 cookies
Serving Size:
1 cookie
Calories:

264
Total Fat:

20g
Saturated Fat:

6g
Cholesterol:

49mg
Sodium:

189mg
Carbohydrates:

15g
Fiber:

2g
Sugar:

14g
Protein:

6g
I did not include the cinnamon sugar coating when calculating the nutritional info because you will have quite a bit left over. Keep this in mind if you're watching your calories.
This website provides approximate nutrition information for convenience and as a courtesy only. Nutrition data is gathered primarily from the USDA Food Composition Database, whenever available, or otherwise other online calculators.
More Almond Flour Cookies