These chocolate sugar cookies are based off of my tried and true almond flour sugar cookie recipe with added cocoa to create a rich and irresistible chocolate flavor!! They're made with a combination of almond flour and coconut flour making for a delicious cookies with a soft, chewy center and crisp edges. Regardless of whether or not you need to follow a gluten-free diet – these make for the BEST chocolate sugar cookies full stop! | Grain Free + Vegan Option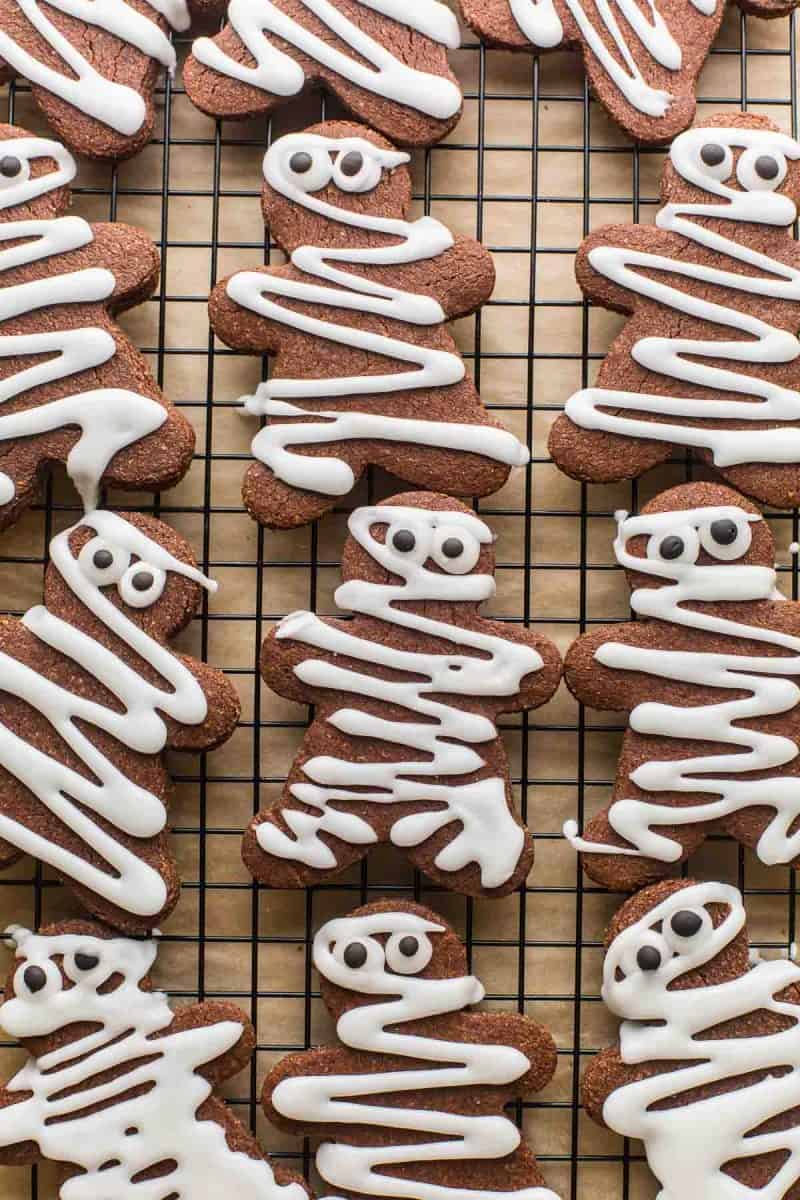 You're in for a treat with these almond flour chocolate sugar cookies! Unlike most traditional sugar cookie recipes, these cookies are sweet but not overly so. Cocoa powder mellows out the concentrated sugary flavour by adding a deeper, rich flavour that is simply irresistible!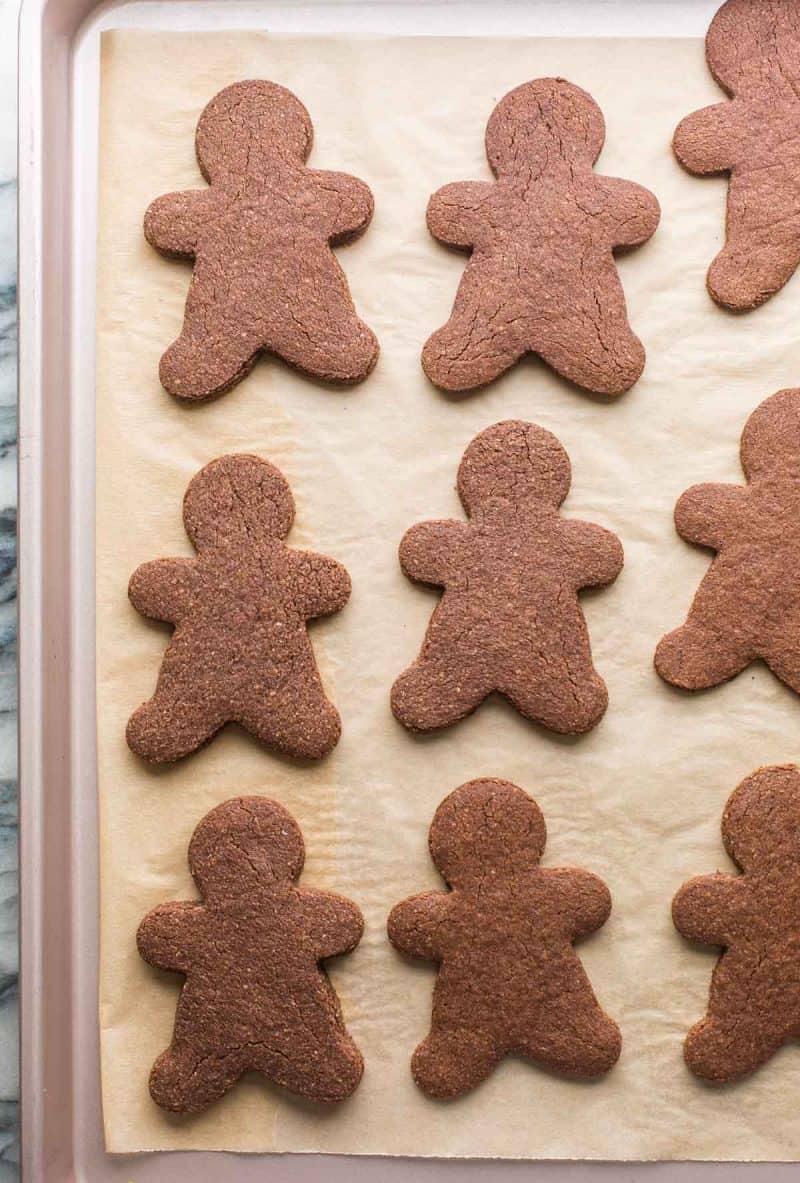 What else is there to love about these cookies?
Almond flour and coconut flour add a gentle sweetness to the dough making these cookies truly unique.
They're grain free making them a great recipe for those with gluten allergies.
You can make these cookies vegan friendly with a couple of simple tweaks.
They're a great choice for almost any special occasion and holiday baking. Use your favorite cookie cutters for Halloween, Christmas, Valentine's Day – whatever!
How to Make this Chocolate Sugar Cookie Recipe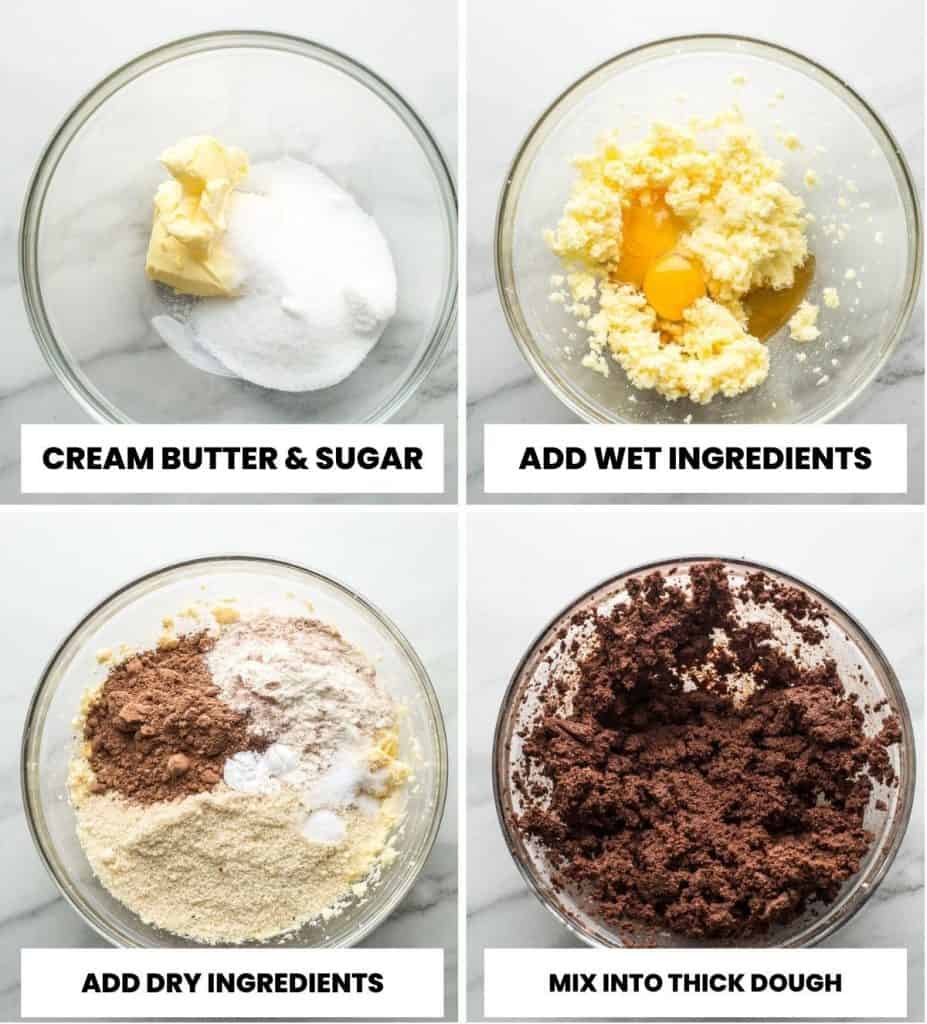 Altogether this is a fairly easy cookie recipe that can be broken down into three main steps:
Make the dough:

In a large bowl using a hand-held mixer or bowl of a stand mixer fitted with a paddle attachment, beat together the butter and granulated sugar until light in and fluffy.
Next add the egg, egg yolk and vanilla extract to the butter mixture on a high speed until combined.
Finally, add the remaining dry ingredients: almond flour, coconut flour, cocoa powder, baking powder and salt. Mix until a thick, soft dough forms and the flour mixture is well combined.

Why cream butter and sugar? Creaming together the butter and sugar ensures that you fully mix the sugar into the butter. Beating the butter on high also creates tiny little air pockets. The air pockets will then puff up in the oven which will ultimately make for lighter, softer cookies.

Roll, chill and bake:

Divide cookie dough into two equal sized dough balls.
Roll each section of dough out on a large piece of parchment paper into a 1/4-inch thickness.
Gently stack each rolled out piece of dough on top of each other (separated by baking paper so they don't stick). Place dough onto a large baking sheet, then place in the fridge to chill.

Why roll then chill? Just like in my vanilla almond flour cut-out cookie recipe I have found that cookies that are rolled then chilled keep their shape in the oven much better. It's also much easier to roll out room temperature dough than chilled dough.

Cut & bake:

After chilling your dough, cut into shapes and then bake in the oven. Make sure you leave at least an inch of space in between each cookie. They won't spread too much, but leave a little room to be safe.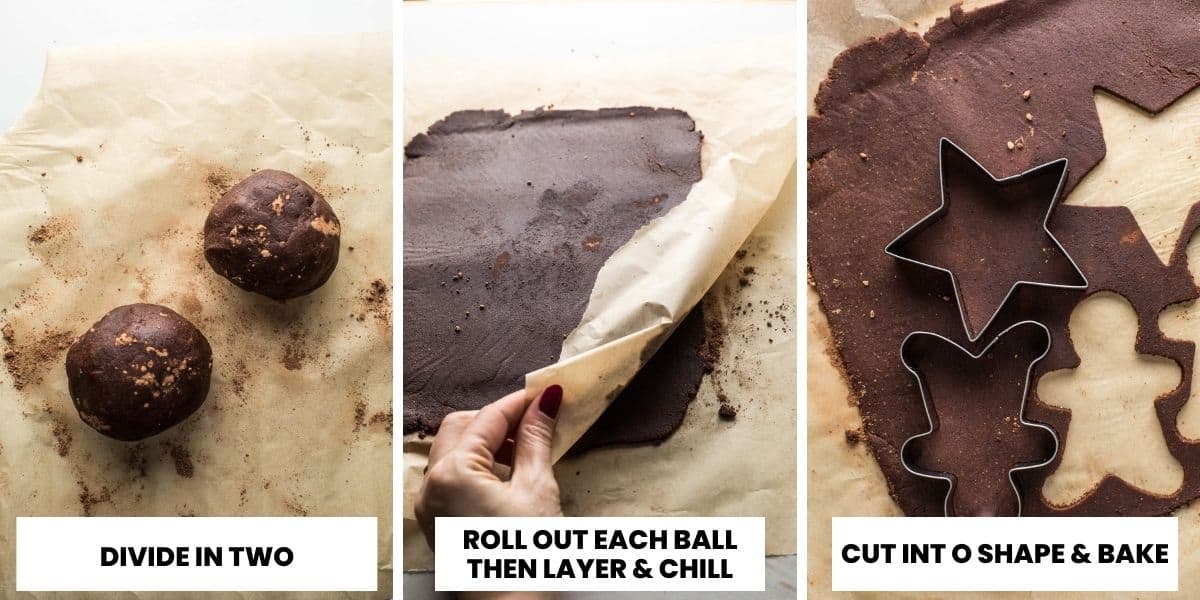 Chocolate Sugar Cookie FAQ's
Can I skip the coconut flour or replace it with something else?
I don't recommend swapping or skipping the coconut flour here. The coconut flour is important for achieving the slightly soft texture and the easy to roll out dough. Without any coconut flour to balance out the almond your cookies will be much harder and crisper. While they may still taste great, they're not what you're usually looking for when it comes to sugar cookies.
Can I makes these chocolate sugar cookies vegan?
Yes! You'll need to make a couple of changes to make these cookies both dairy free and vegan friendly:

Use vegan butter or coconut oil.
Replace the egg + egg yolk with 1/4 cup (60 ml) non dairy milk of your choice.

Egg and dairy free cookies will be slightly more delicate right out of the oven. Make sure to let the cookies cool completely on the baking pan before moving them. As the cool they will become easier to handle.
What type of cocoa powder should I use?
Dutch-process cocoa is typically best in recipes that rely on baking powder as a leavener. Dutch cocoa is cocoa powder that has been processed in an alkalised solution making it also more alkaline in nature. Natural cocoa or cacao powder are more acidic which need something like baking soda to react (create lift in baked goods). That all being said, you can use whatever cocoa powder you have here since this recipe uses baking powder and not baking soda.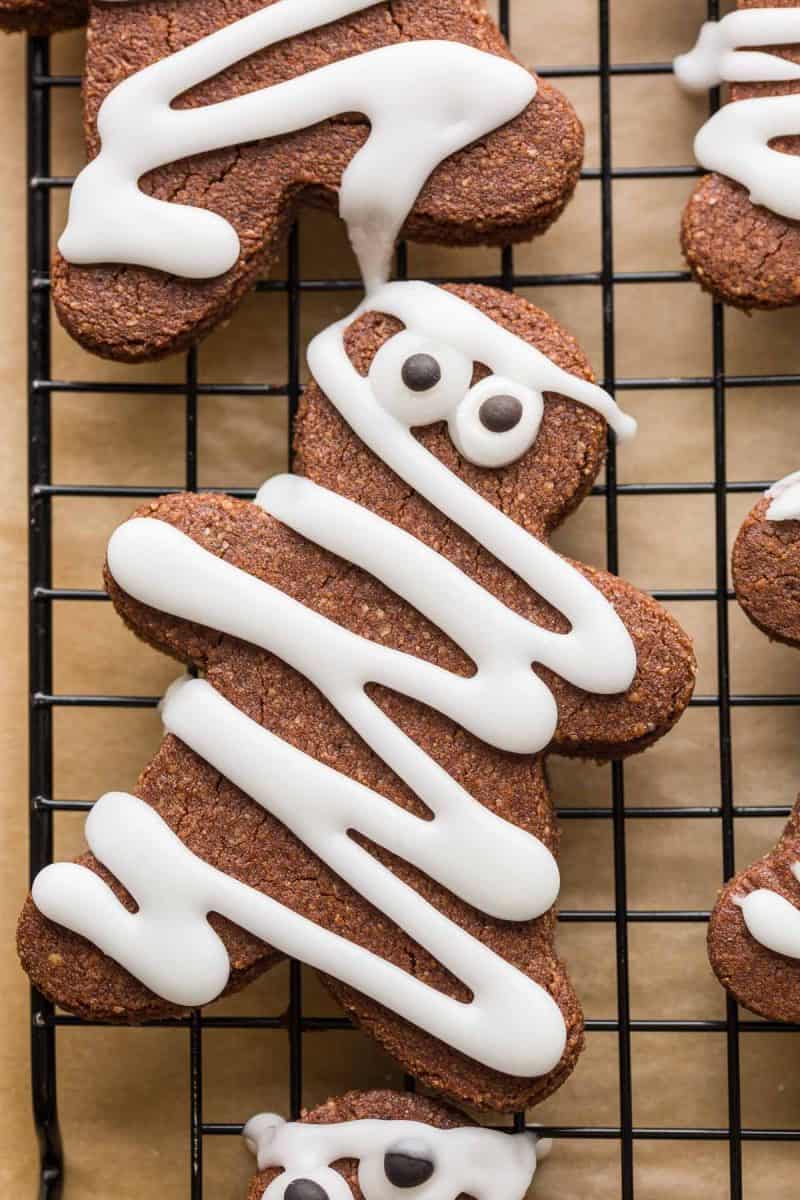 Freeze for Later
Yes! You can freeze both the baked cookies and unbaked cookies.
To freeze the dough: freeze it separated in two sections before rolling them dough out. Make sure to wrap up the dough tight in plastic wrap and then seal the wrapped dough in a freezer safe bag. Dough will keep well in the freezer for 3 months. To defrost, leave the dough in the fridge overnight to thaw. Once thawed, roll out the dough and proceed with the recipe normally from there.
To freeze the baked cookies: I recommend freezing the cookies unfrosted. Once fully cooled place the cookies on a baking sheet you can fit in the freezer. Place in the freezer until solid and then transfer the cookies to a bag or Tupperware container – place a small sheet of baking parchment in between each cookie to prevent cookies from freezing together. Cookies will keep up to 3 months in the freezer.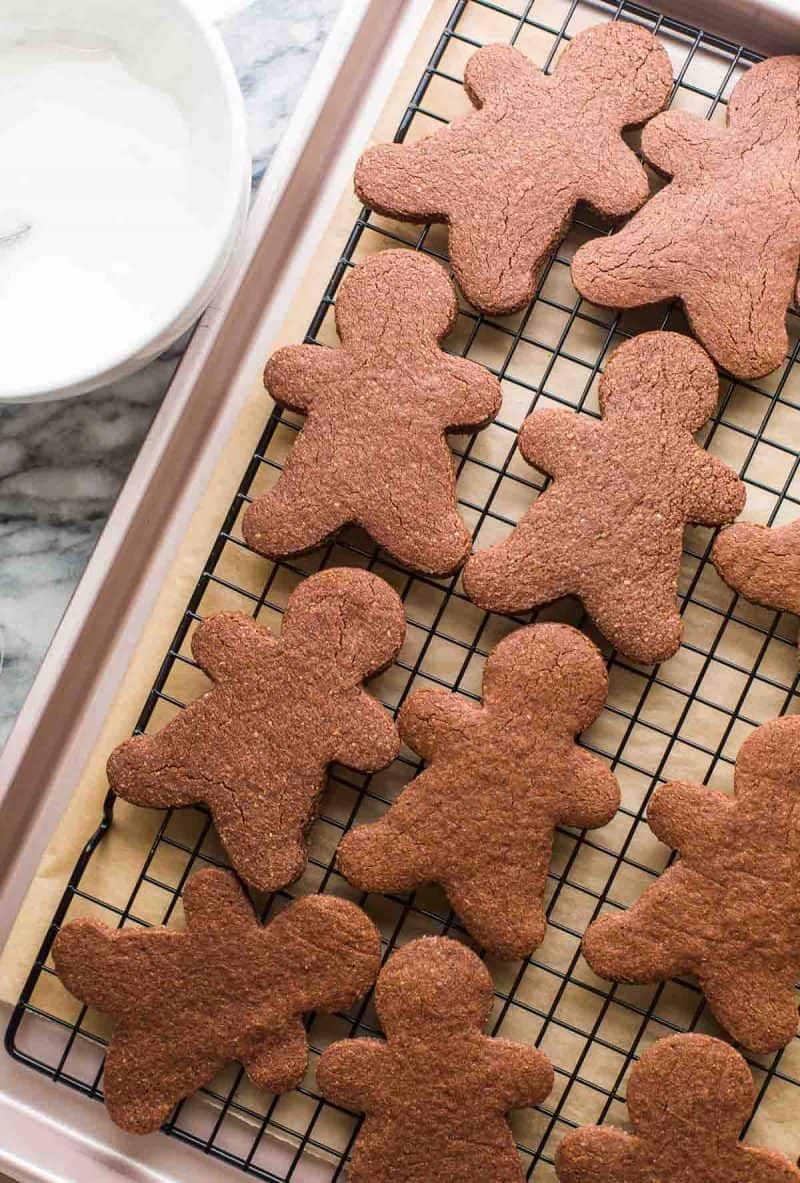 Once set – decorate these cookies as you please! With Halloween around the corner I made a simple almond flavour icing and these edible googly eyes to decorate these as chocolate mummy cookies.
f you're interested in more ways to decorate these cookies – make sure to check out my (egg free) vegan royal icing recipe!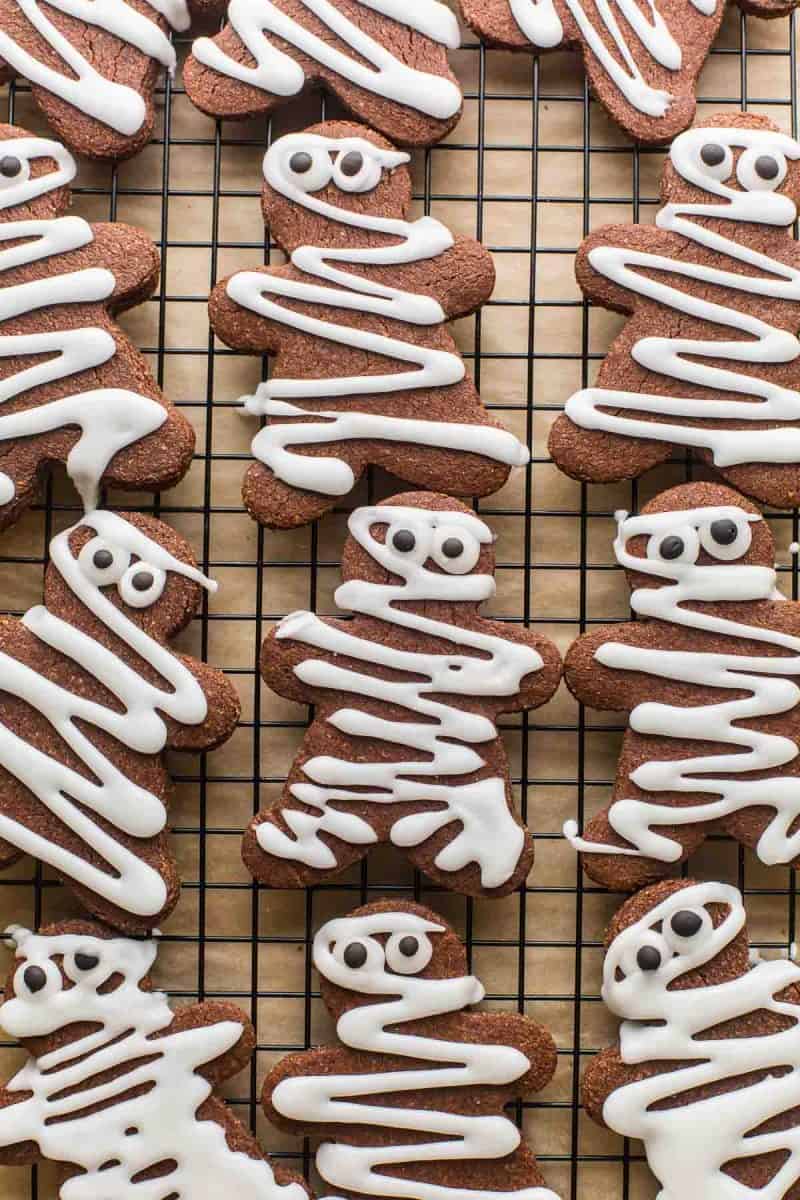 Recipe
Chocolate Sugar Cookies with Almond Flour
Yield:
15-20 cookies
Prep Time:
15 minutes
Cook Time:
10 minutes
Additional Time:
45 minutes
Total Time:
1 hour
10 minutes
Almond flour and coconut flour make for the BEST gluten free sugar cookies with slightly crispy edges and soft, chewy centres.
Ingredients
1/2 cup | 113 g butter, salted or unsalted, softened to room temperature
1 cup | 200 g white caster sugar
2 teaspoons | 10 ml vanilla extract
1 egg + 1 egg yolk
2 cups | 265 g almond flour
1/3 cup | 37 g coconut flour
1/2 cup | 59 g cocoa powder
1 teaspoon baking powder
1/2 teaspoon salt
Instructions
In a large mixing bowl, with an electric or stand mixer, beat together the butter and sugar on high until smooth and creamy - about 2 minutes.
Add the egg, egg yolk and vanilla extract and beat another 1 minute.
Add the dry ingredients: almond flour, cocoa powder, coconut flour, baking powder and salt and mix until a soft, slightly sticky dough forms.
Divide the dough into two equal parts. Place each section of dough on a lightly floured (see note) piece of baking paper and roll out into 1/4 inch thickness. Transfer one of the roll out sections of rolled out cookie dough to a large baking sheet. Lightly dust the top of the dough with flour, then carefully place the second section of rolled out dough on top and cover with plastic wrap or foil. Place the dough in the fridge and leave to chill for at least 45 minutes and up to two days.
Once fully chilled, preheat the oven to 350°F/180°C. Line or lightly grease a couple of large baking sheets. Remove the top section of dough from the bottom and place each section on a flat surface. Begin cutting your dough into shapes with your cookie cutters and carefully transfer to your prepared baking sheets. Leave about an inch of space in between each cookie. Re-roll and continue cutting the cookies from the leftover scrapes until all your dough is used up.
Place each tray in the oven and bake for 9-11 minutes until the edges and lightly goldened. Keep in mind that smaller cookies will bake closer to 9-10 minutes and larger cookies will bake in 10-11 minutes. Almond flour browns quickly so watch your cookies towards the end.
Let cool on the baking pan about 5 minutes, then transfer to a wire rack to cool completely.
Enjoy your cookies as is or frost with your choice of icing or frosting. Baked cookies will keep 1-2 weeks.
Notes
The number of cookies you end up with will depend on the size and shape of your cookie cutters.
I used this edible googly eyes recipe to decorate these cookies.

Make these dairy and egg free:
Use vegan butter or coconut oil.
Replace the egg + egg yolk with 1/4 cup (60 ml) non dairy milk of your choice.
Egg and dairy free cookies will be slightly more delicate right out of the oven. Make sure to let the cookies cool completely on the baking pan before moving them. As the cool they will become easier to handle.
Optional Icing
1 1/2 cup (188g) powdered/ icing sugar
1/2 teaspoon vanilla or almond extract
2 tablespoons water
Whisk icing ingredients together until no lumps remain. If the icing is too thin and runny, add more sugar. If it's too thick, add a drop of water until it reaches the right consistency. Once the cookies have cooled, ice as desired and enjoy.

This website provides approximate nutrition information for convenience and as a courtesy only. Nutrition data is gathered primarily from the USDA Food Composition Database, whenever available, or otherwise other online calculators.
More Almond Flour Cookie Recipes You Might Enjoy: