Not your average chocolate cookies – these Gluten Free Red Velvet Cookies are a delicious fusion of a classic chocolate chip cookie and a mouthwatering chocolate cake! The pop of red adds a fun and festive twist perfect for the holidays! Make sure to check out the recipe notes for tips on how to make these cookies dairy free and/or egg free.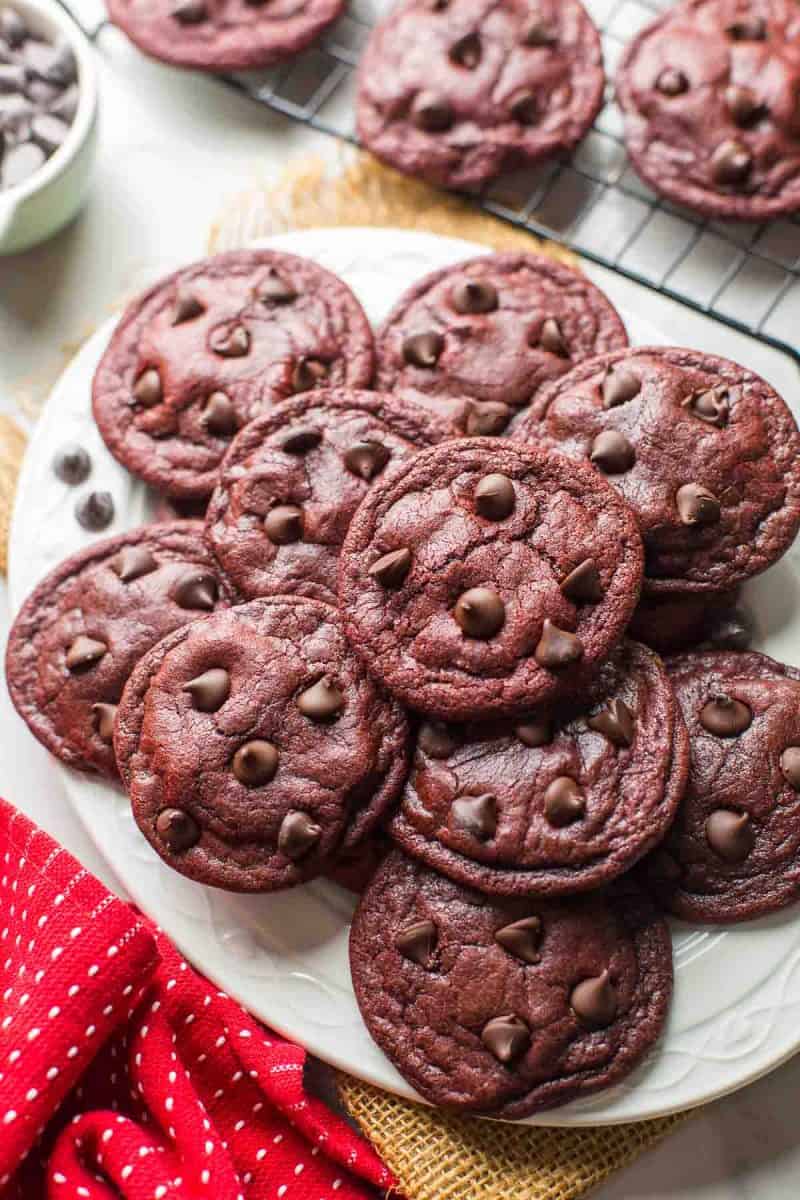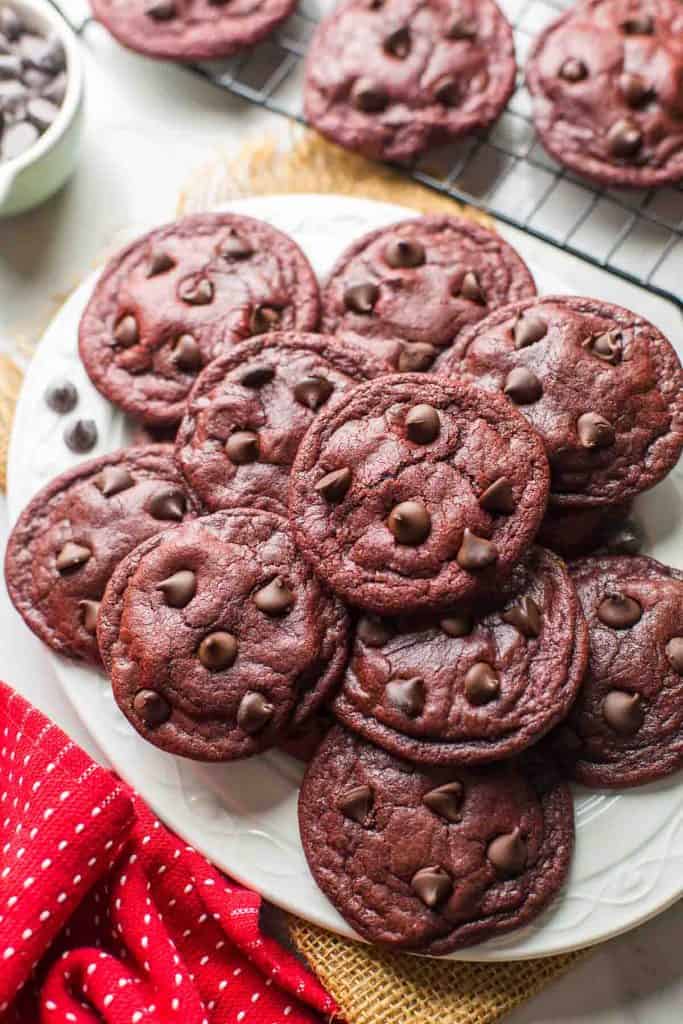 Cookie Week – Day Three
What is Cookie Week? Inspired by Cookie Palooza over on Sally's Baking Addiction, I'm sharing a new, gluten-free holiday cookie everyday for one full week.
Today's cookie is actually a 2-for-1 special as I am sharing these cookies and a paleo red velvet cookie recipe as well!
What even is red velvet?
Red velvet cake is a type of chocolatey cake known for its iconic reddish brown color and its velvet-soft texture. Due to its popularity there is now a whole category of red velvet desserts ranging from cakes, muffins and of course – cookies!
Traditionally, the red color came from a compound that used to be found in cocoa powder. This compound (anthocyanin) would react to vinegar and buttermilk to produce a deep red color. Most cocoa powder today is processed differently without this compound which is why food coloring is often added to red velvet desserts.
Not a fan of red food coloring?
Red food coloring can be a tricky ingredient for a load of reasons. Fortunately, natural alternatives are becoming increasingly easier to find. Look for natural red dyes made from things like beet juice and pomegranate. Natural food dyes are less pigmented than standard dyes but will still impart a gorgeous reddish hue.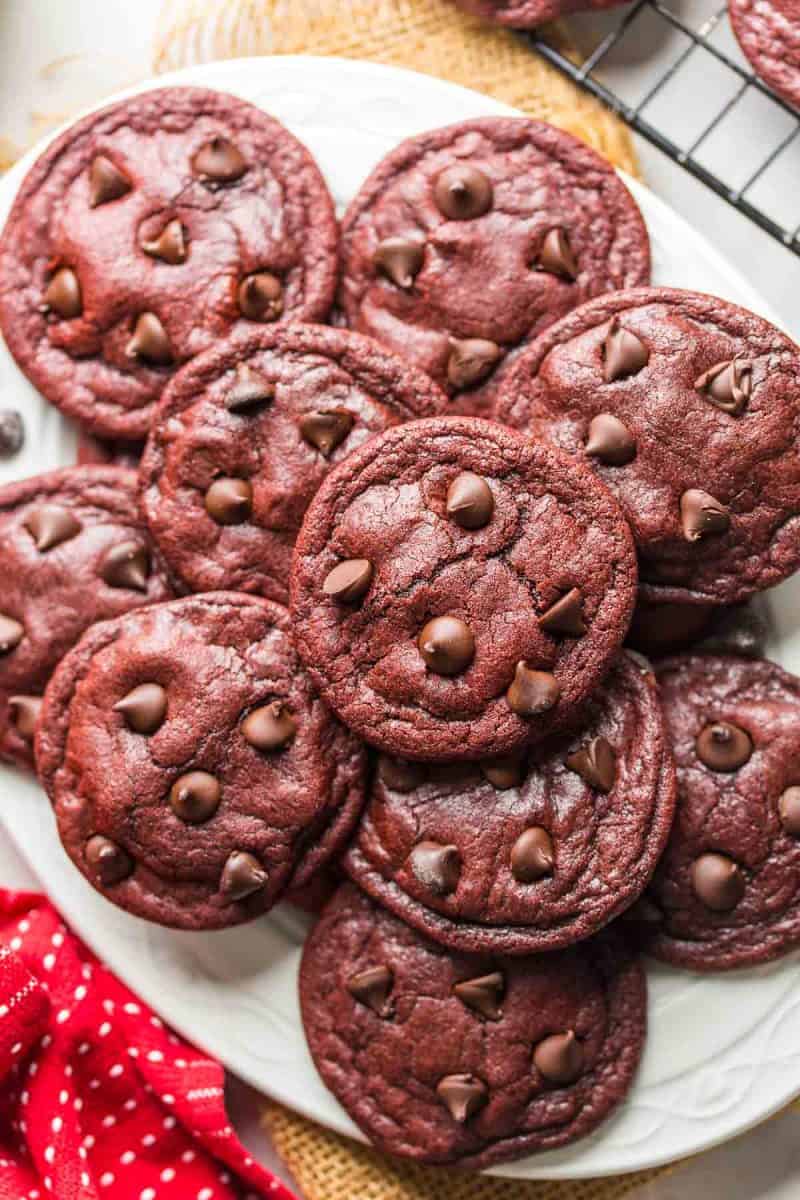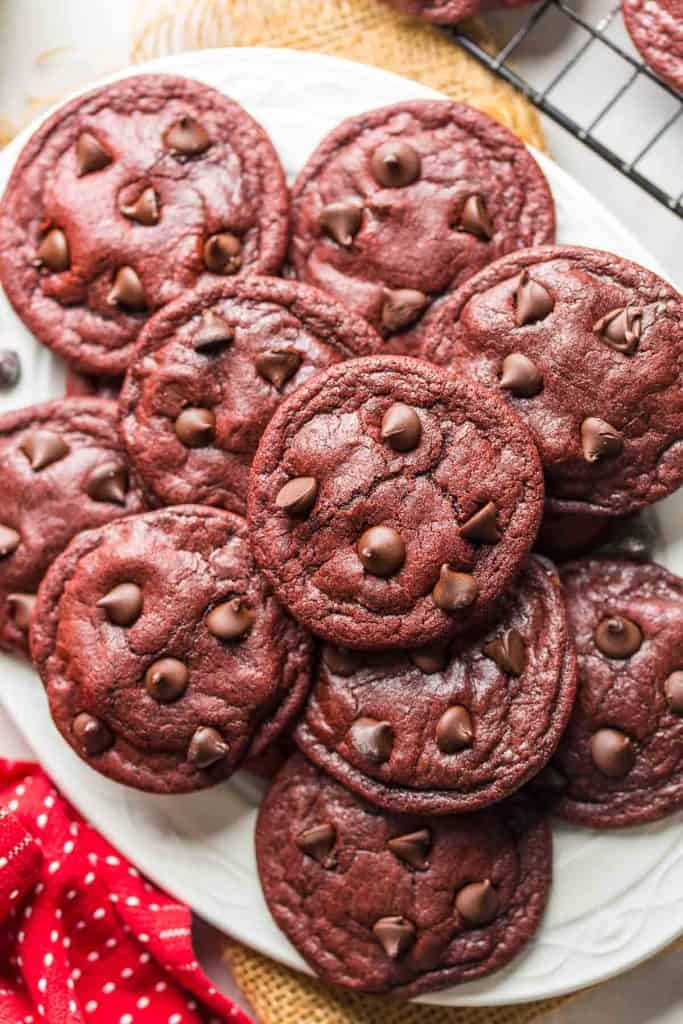 How to Make Gluten Free Red Velvet Cookies
Altogether this is a quick and easy recipe without too much faff. There's no need to chill the dough before baking which means you'll be finished, easily within the hour.
The full process can easily be broken down into a few main stages:
Mix the wet ingredients in a large mixing bowl. In a stand mixer or with a hand held mixer, cream butter and brown sugar, then add the vanilla extract and egg. Finally, mix in the food color.
Whisk the dry ingredients in a separate bowl. Add the dry ingredients to large bowl and combine on a low speed.
Stir in the chocolate chips. I used dark chocolate chips, but white chocolate chips are always a good addition to red velvet cookies.
Roll dough. Scoop out the dough about the size of a heaped tablespoon, place on a prepared baking sheet and bake for about 10 minutes.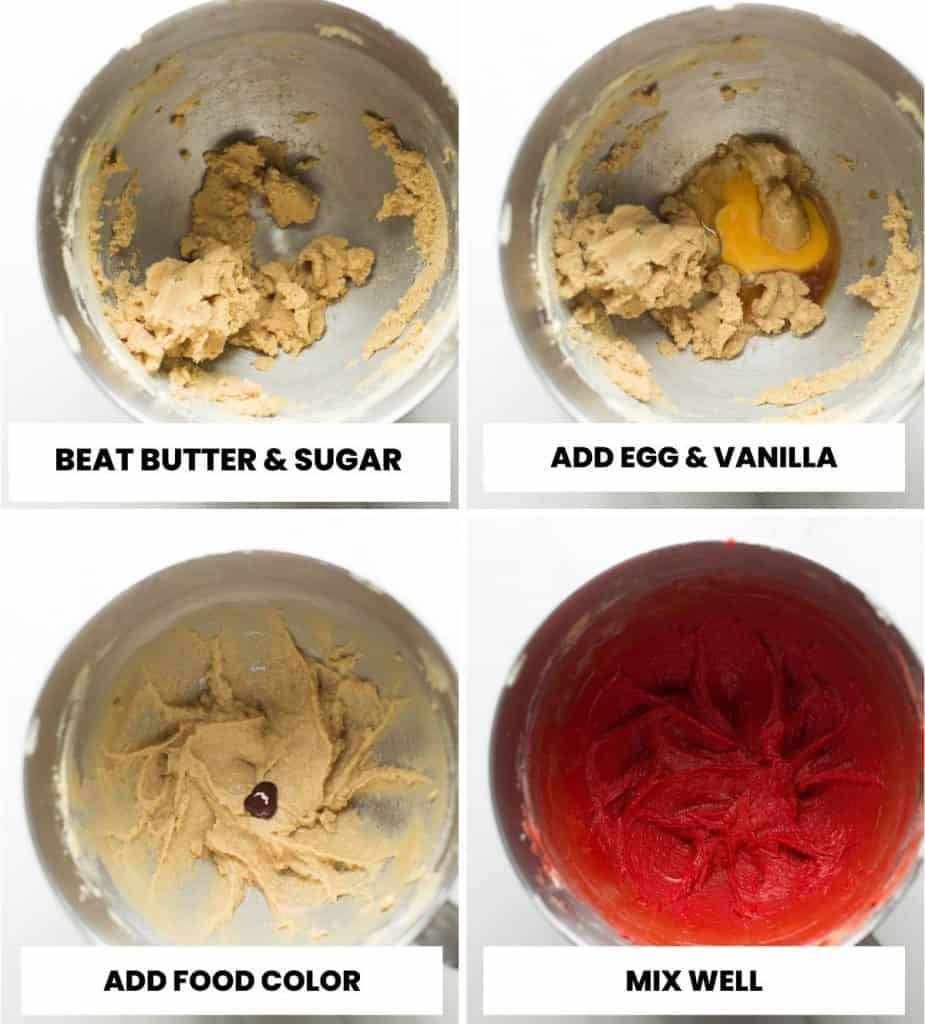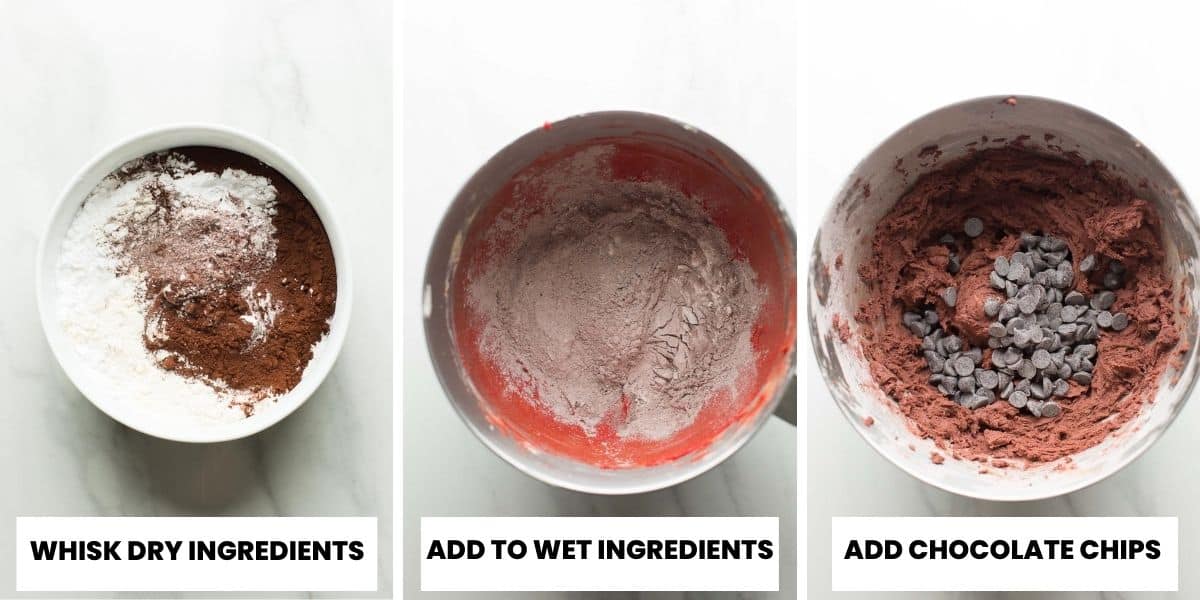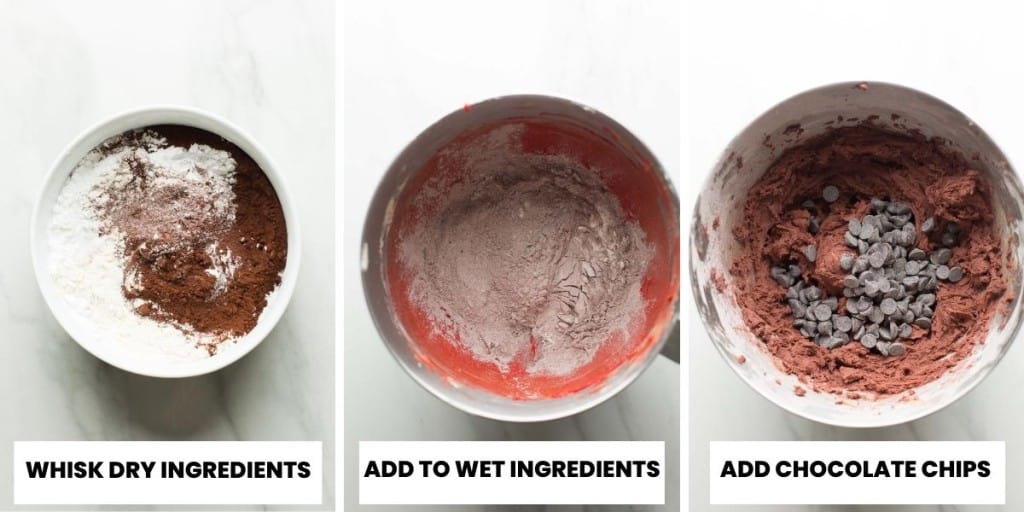 Tip!
Give these cookies a bakehouse look: Just after baking I like to press a few additional chips in the dough balls as seen in the bottom picture just below. This is completely optional but it does give your finished cookies a little more of a bakehouse kind of look to them.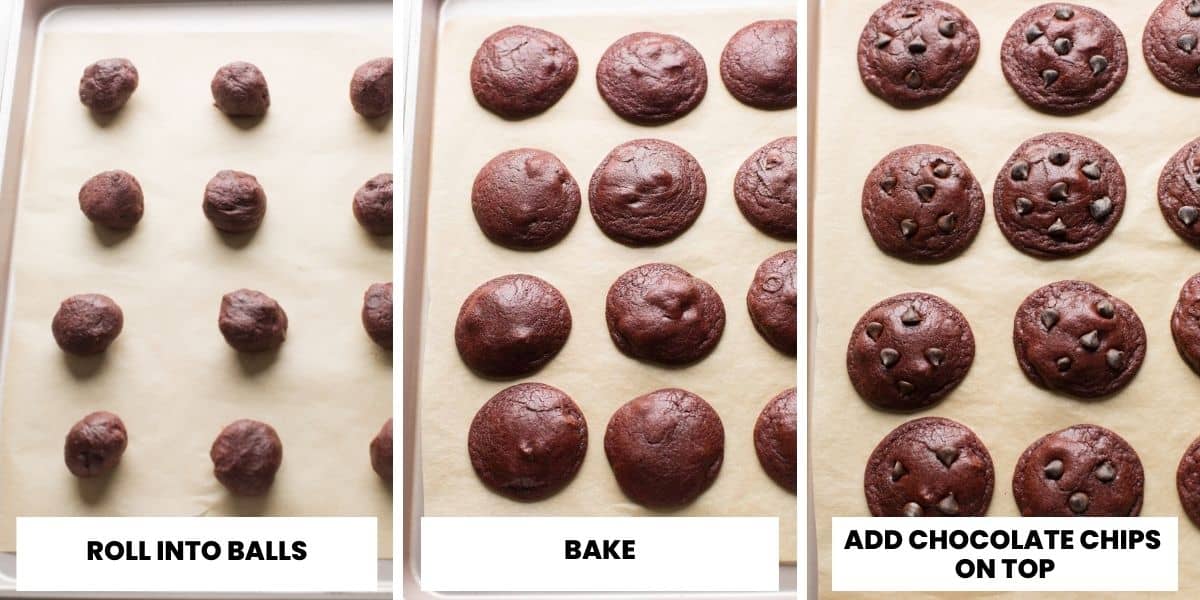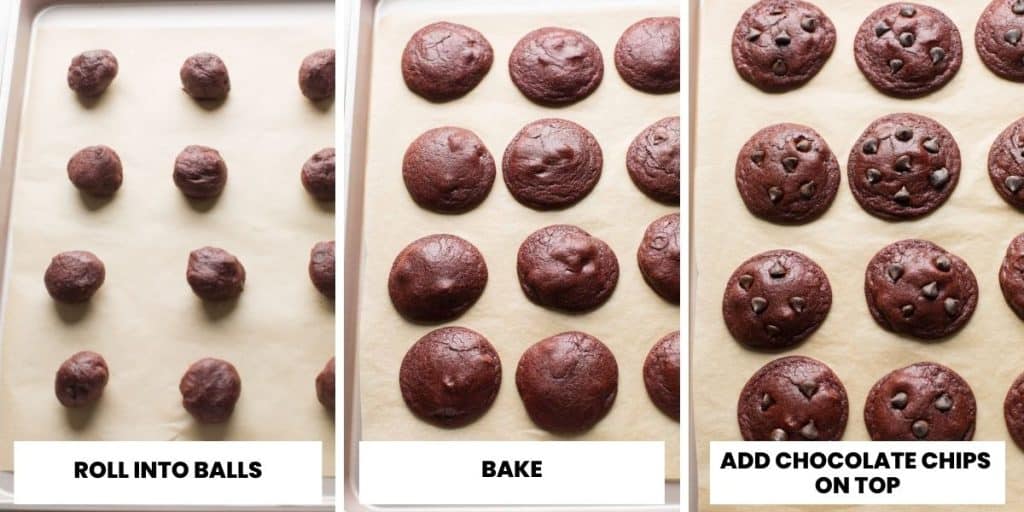 Gluten Free Cookie FAQ's
What Type Of Flour Should I Use?
This recipe was created and tested to be one that uses any generic all purpose gluten-free flour blend.
If you'd like a grain free version of these cookies – check out these paleo red velvet cookies! This recipe is made with tapioca starch and coconut flour.
Do I have to add xanthan gum?
Yes/No – It really just depends on how you like your cookies!
First it's important to understand the role of xanthan gum in this recipe. Generally, xanthan gum is useful in gluten free baking because of its ability to bind ingredients together (a job that would usually be done by gluten). It helps keep things like cakes and muffins from falling apart easily.
In this particular recipe, xanthan gum basically sticks to the flour and holds on to the fat and moisture from the butter/egg. The end result is a thick cookie with a chewy texture.
You can best see the difference that xanthan gum makes in the pictures below. Each cookie weighed exactly 35 grams before baking, but came out quite different in the end.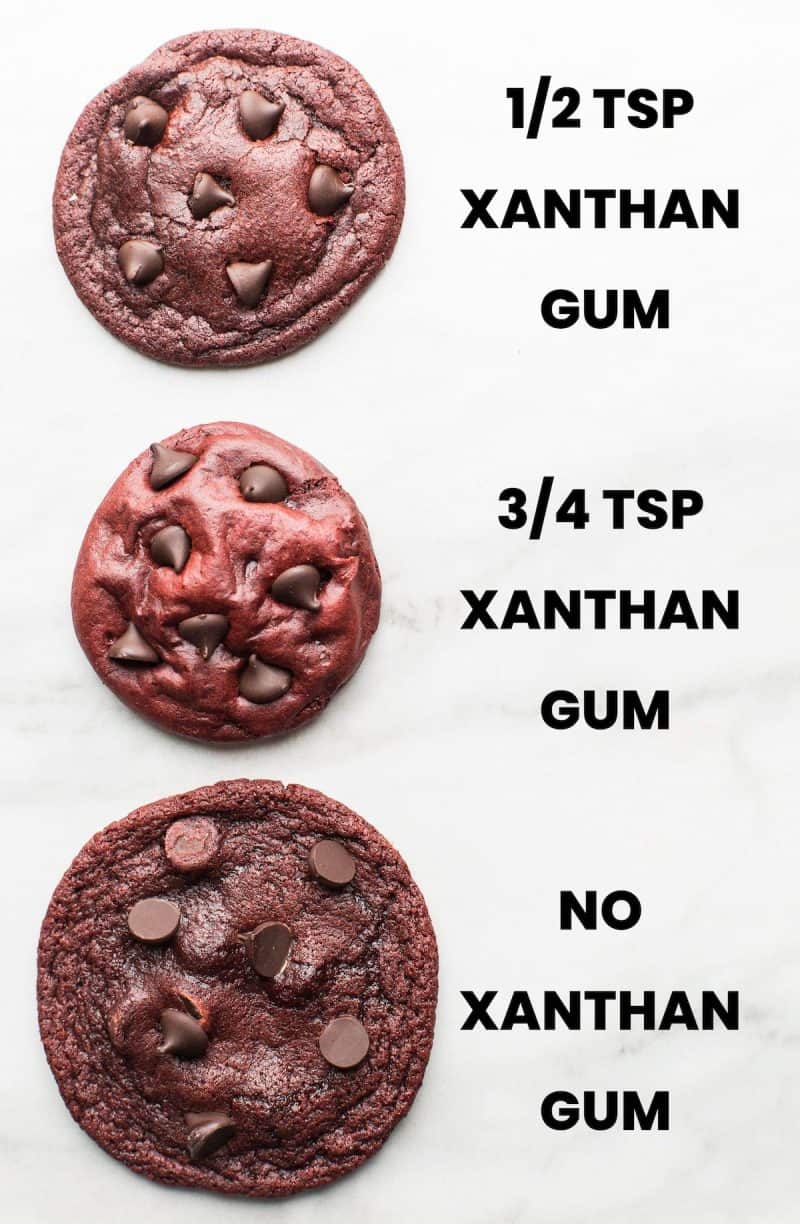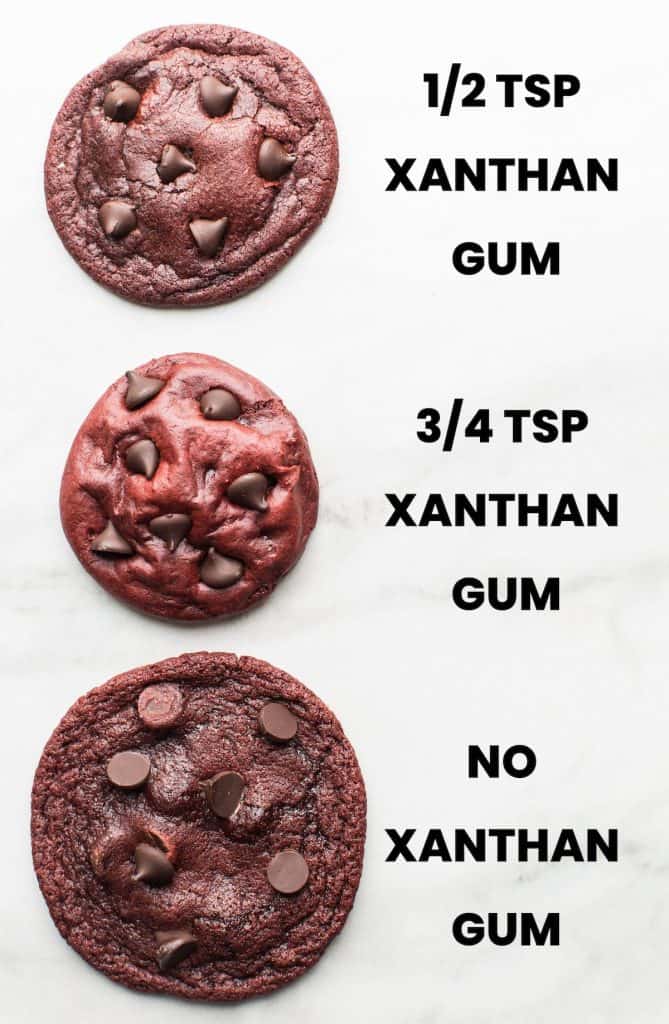 Cookie #1 contains 1/2 teaspoon – These cookies were chewy, fudgy and the dough was easy to roll.
Cookie #2 contains 3/4 teaspoon – More xanthan meant that these cookies were the thickest and fudgiest of the lot. The downside of the extra xanthan is that the dough was very sticky, elastic which made them difficult to roll. The finished cookies also had a shinier look to them. The shine didn't effect taste, but it seems like something to note.
Cookie #3 contains no xanthan – No xanthan meant that the cookies spread quite a bit in the oven. Even when I chilled the dough before baking, the cookies still spread out to be about 3-4 inches wide. That being said, they were still quite nice. If you like thin, chewy cookies then you might actually really enjoy these!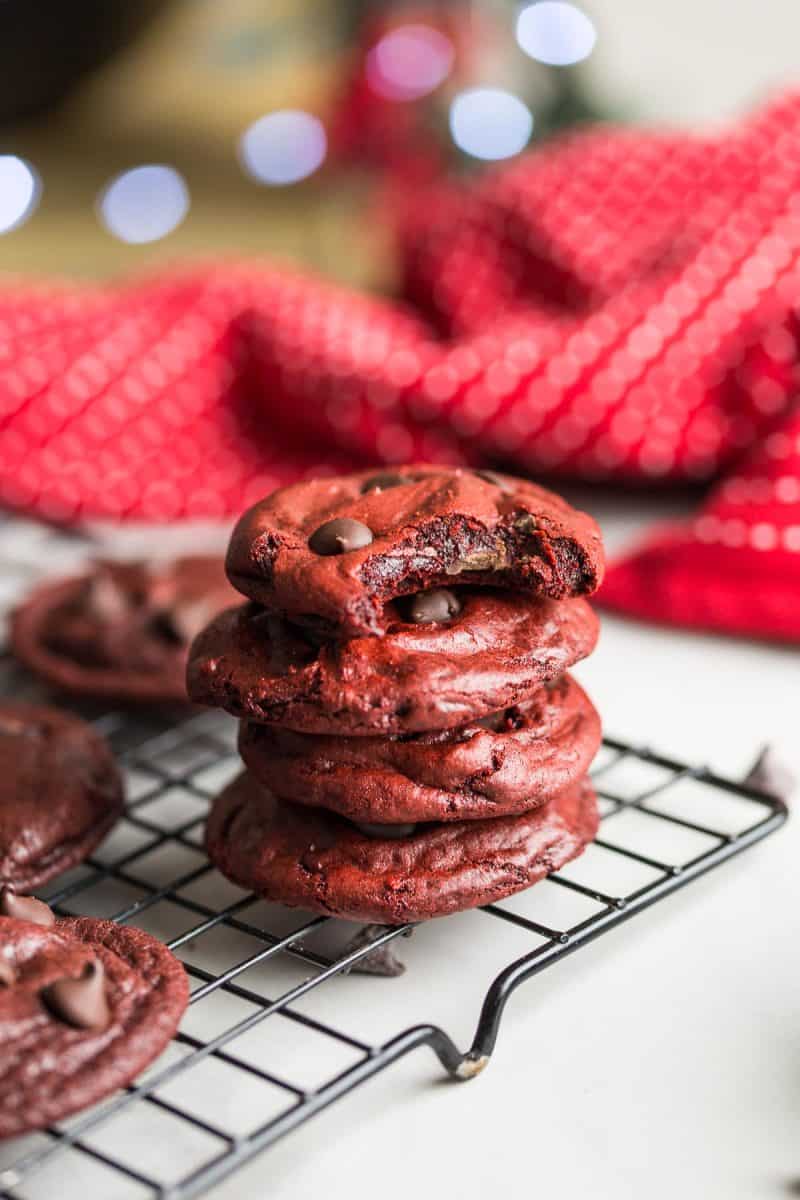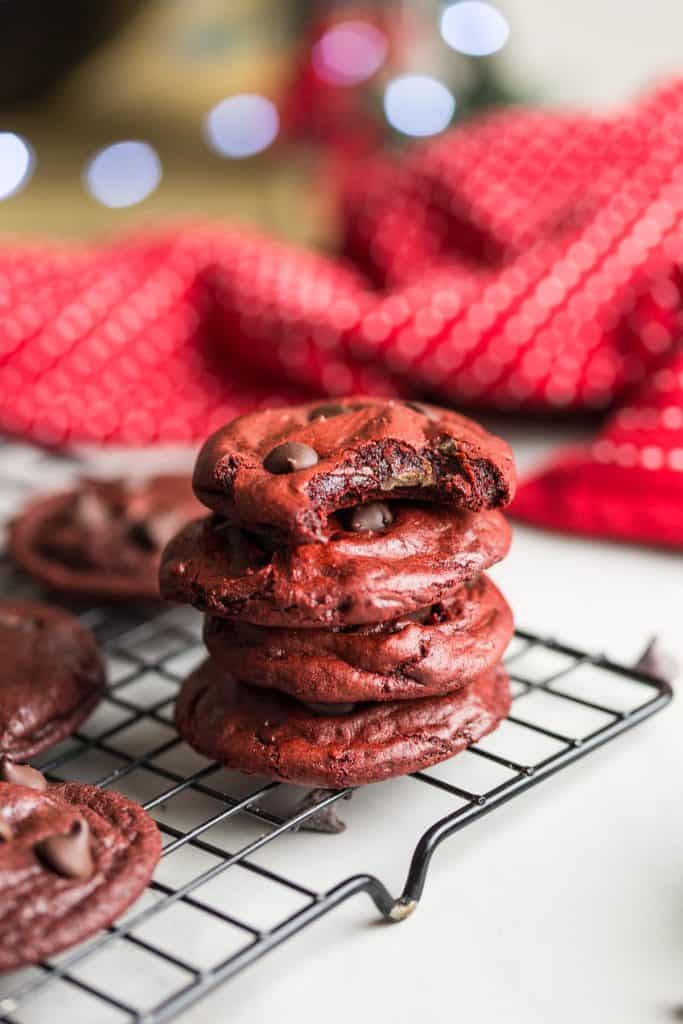 Make it Egg Free with Aquafaba Egg
These gluten free red velvet cookies can easily be made egg free with one simple swap: aquafaba!
What is aquafaba?
Aquafaba, which literally means 'bean water', is exactly that – chickpea water! It's the somewhat goopy water/liquid found in cans of chickpeas (also called garbanzo beans) and white beans.
As it turns out, this weird bean-water makes for pretty fantastic egg substitute for vegan and allergy friendly bakes. It's not 100% fool-proof, but you can usually get away with using aquafaba instead of eggs when the recipe only calls for 2-3 eggs at most. Since these cookies only need one egg, this recipe is the perfect candidate for using aquafaba as an egg substitute!
More Recipes that Use Aquafaba as an Egg Replacer
How to Use Aquafaba as an Egg Substitute?
Easy! Whisk together 3 tablespoons aquafaba and 1/2 teaspoon cream of tartar until a bit frothy. The cream of tartar lightly whipped along with the aquafaba helps to stabilise the aquafaba. From here, simply add to the cookie dough and that's it!
More Cookie-Week Recipes: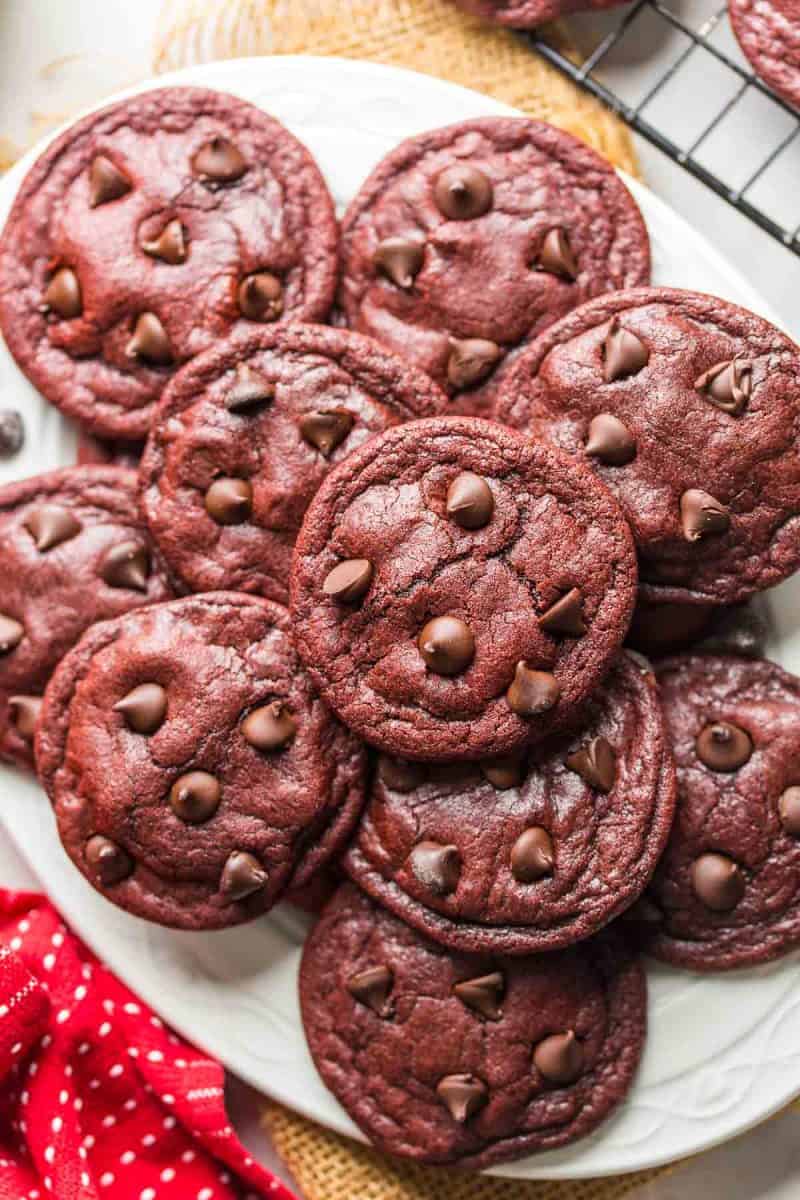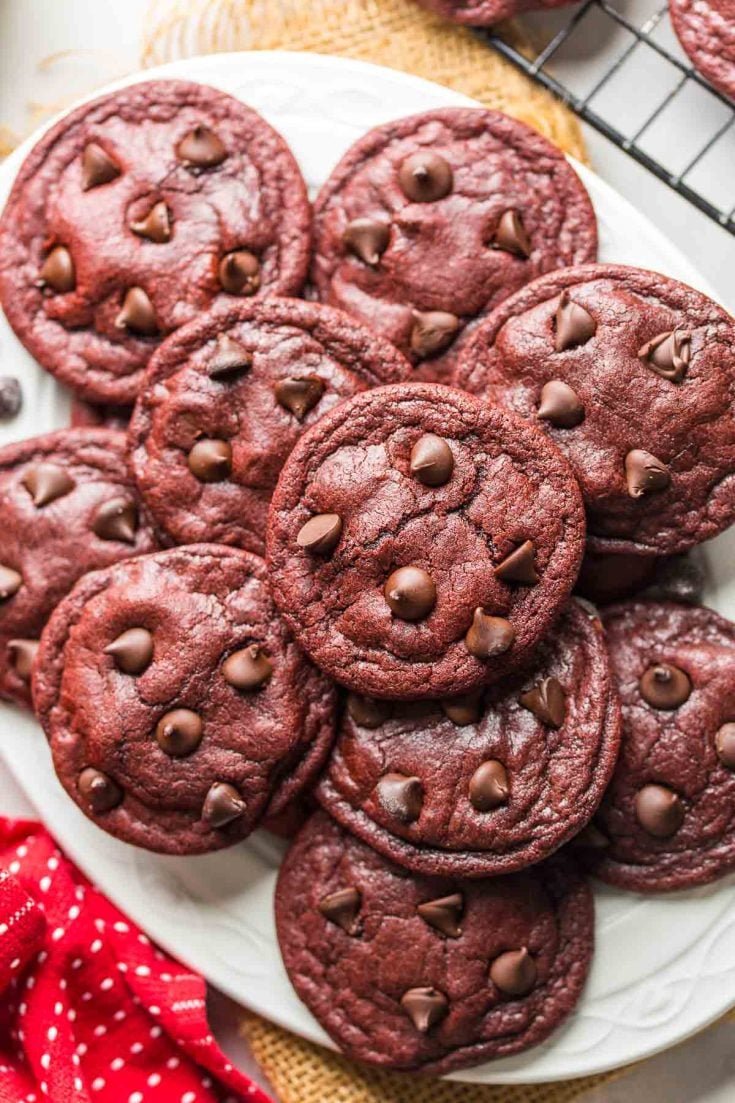 Recipe
Gluten Free Red Velvet Cookies
Yield:
18 cookies
Prep Time:
15 minutes
Cook Time:
10 minutes
Total Time:
25 minutes
Not your average chocolate cookies - these Gluten Free Red Velvet Cookies are a delicious fusion of a classic chocolate chip cookie and a mouthwatering chocolate cake!
Ingredients
1/2 cup (113 g) softened butter, (or vegan block butter)
3/4 cup (165 g) light brown sugar
1 egg
2 teaspoons vanilla extract
1/2 teaspoon red gel food colouring (see notes for alternatives and ensure vegan if needed)
1 1/3 cup (187 g) gluten free all purpose flour blend
1/4 cup (30 g) unsweetened natural cocoa powder
3/4 teaspoon salt
1/2 teaspoon xanthan gum, omit if your flour blend already contains xanthan (see notes)
1/2 teaspoon baking soda
1/2 cup chocolate chips (85 g)
Instructions
Preheat oven to 325°F/165°C. Lightly grease or line a couple of baking sheets with parchment paper. Set aside.
Using a handheld mixer or stand mixer with a paddle attachment, beat together the butter (1/2 cup|113 g) and light brown sugar (3/4 cup | 165 g) together on a high speed about 1-2 minutes or until creamy.
Add the egg and vanilla extract (2 tsp|10 ml). Beat in to the butter-sugar mixture on a medium-speed until fully combined. Add the red food colouring (1/2 tsp). Beat everything together until mixed though. Make sure to stop the mixer and scrape down the sides of the bowl with a spatula as needed.
In another medium mixing bowl whisk together the dry ingredients: gluten free all purpose flour (1 1/3 cup | 187g), cocoa powder (1/4 cup | 30 g), salt (3/4 tsp), baking soda (1/2 tsp) and xanthan gum (1/4 tsp).
Stop the mixer. Add the whisked dry ingredients into the wet ingredients. Turn on the mixer and mix on a low speed until a thick dough forms. Add more food color at this point if you want a brighter, more red looking cookie.
Add the chocolate chips (1/2 cup | 85 g)and beat once more on a low speed. The dough should be thick and slightly sticky at this point. Stir in the chocolate chips.
Scoop out about the dough (about 1 1/2 tablespoons worth or 35 grams) and roll into little balls. Place the cookie dough balls 3 inches apart on the prepared baking sheets.
Bake 9-10 minutes until the edges have set. The cookies will be slightly puffed up coming out of the oven and will slightly deflate after a few minutes out of the oven.
Optional: Gently press a few extra chocolate chips into the tops of the cookies right after they come out of the oven to give your cookies a more appealing, bakehouse look.
Let cool on the cookie sheets about 5 minutes, then carefully transfer to a wire rack to finish cooling.
Store cookies in an airtight container at room temperature or in the fridge for up to one week.
Notes
Make it Egg Free with Flax Seed: Mix together 2 tablespoons ground flax seed with 2 1/2 tablespoons water. Set aside for about 10 minutes until the mixture gels up. You can then use this as your egg.
Make it Egg Free with Aquafaba: Drain a can of unsalted chickpeas over a bowl to catch the liquid in the can. Measure out 3 tablespoons of that liquid and add to a small bowl. Add 1/2 teaspoon cream of tartar and whisk together until slightly frothy. Use this as your egg replacement.
Make it Dairy Free: use vegan block butter (not spreadable butter from a tub) in place of the butter. Ensure that the chocolate chips are dairy free.
A note about xanthan gum: If you like thin, chewy cookies you can skip the xanthan gum. Your cookies will spread about about 3 inches so make sure to leave plenty on the baking sheet. Check out the picture in the post and in depth explanation comparing the cookies with no xanthan gum, 1/2 tsp and 3/4 tsp.
A note on the food coloring: Gel food colors produce the most vibrant pigments, but you can use natural food color instead. These are often made with crushed beets, cranberries, pomegranate or other natural red foods. If using natural food colors, use 1-2 teaspoons.



This website provides approximate nutrition information for convenience and as a courtesy only. Nutrition data is gathered primarily from the USDA Food Composition Database, whenever available, or otherwise other online calculators.