Take your typical snowball cookies to the next level with these Gluten Free Buttered Pecan Meltaways! The almond flour dough comes together quickly and easily with just five ingredients. The simple, candied pecans provide an extra boost of toasty, nutty flavor with just a kiss of maple! | Gluten Free + Grain Free + Vegan Option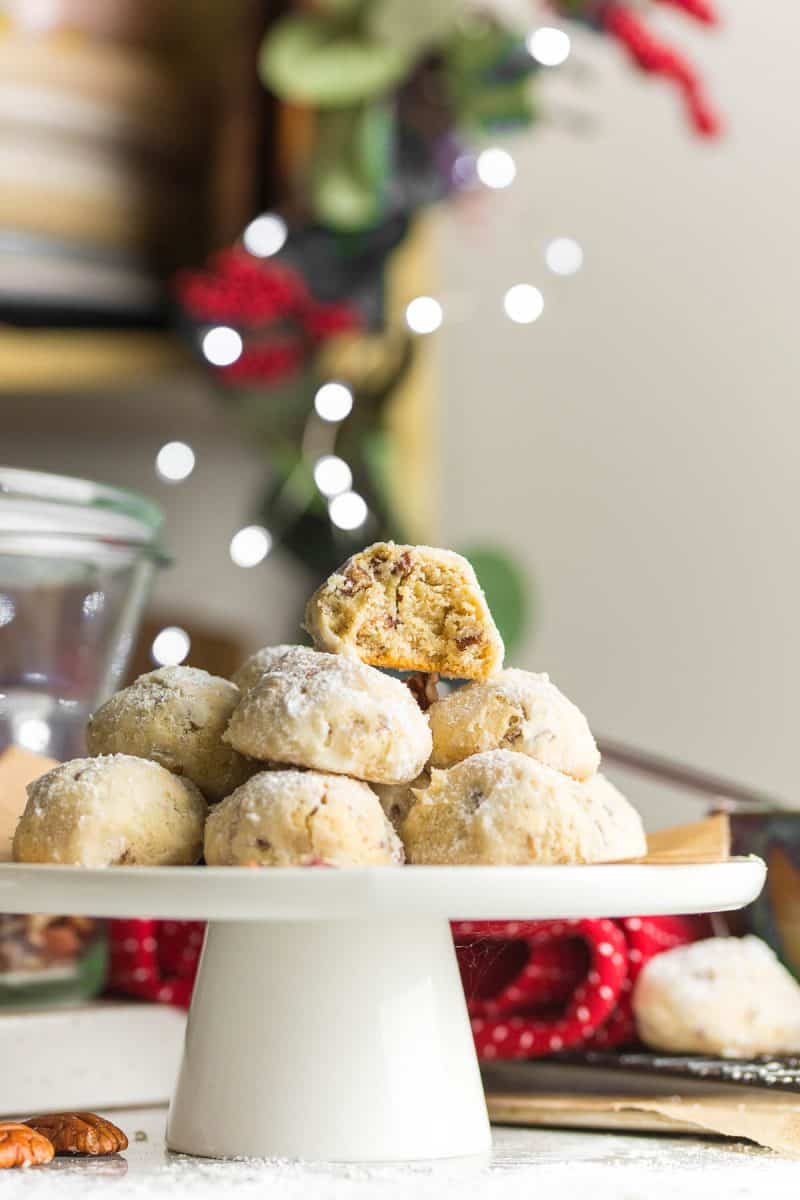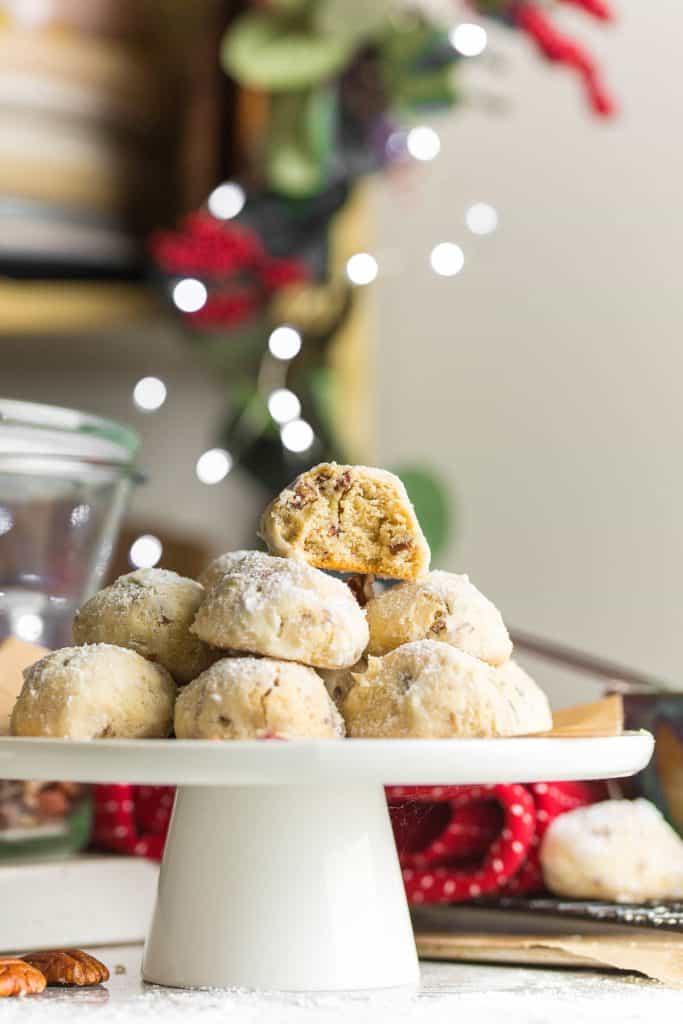 Cookie Week – Day Six
What is Cookie Week? Inspired by Cookie Palooza over on Sally's Baking Addiction, I'm sharing a new, gluten-free holiday cookie everyday for one full week.
Today's cookie? You might know them under a few different names: Snowball Cookies, Mexican Wedding Cookies, Russian Tea Cakes and of course – Pecan Meltaways.
Whatever you want to call them – after one bite you'll be sure to also call them, delicious!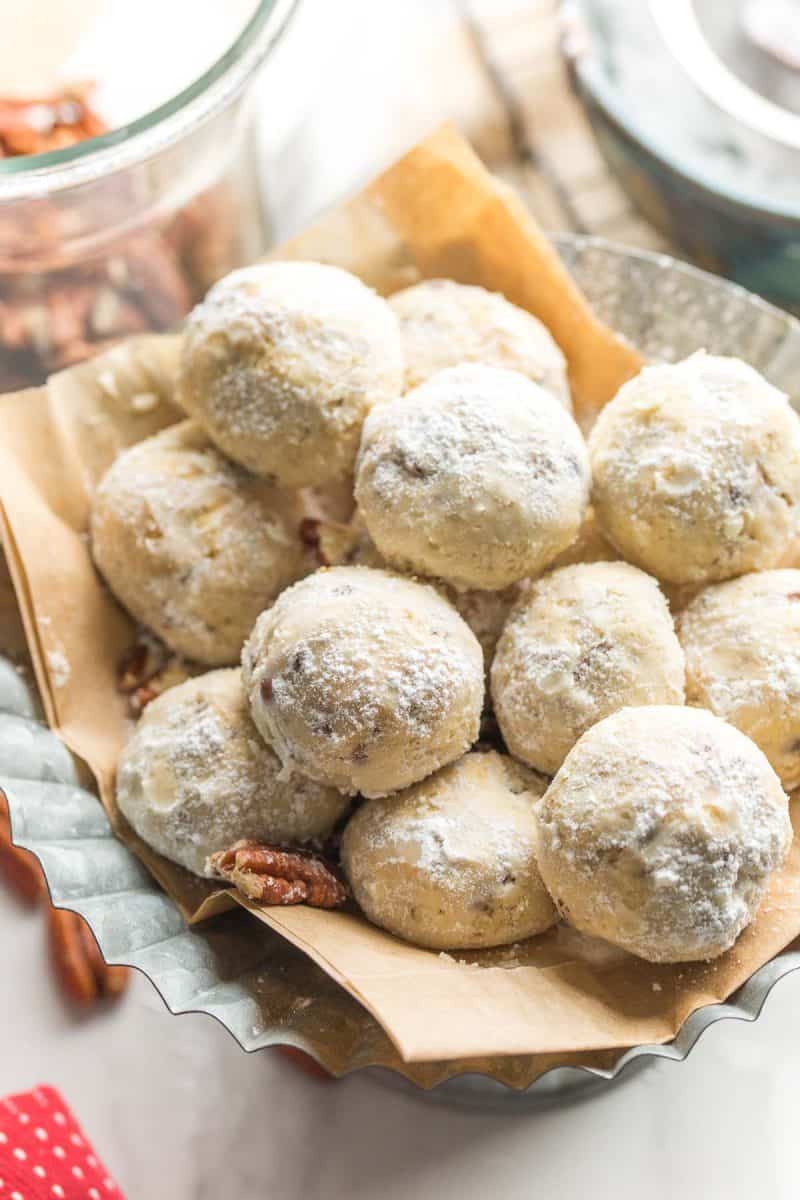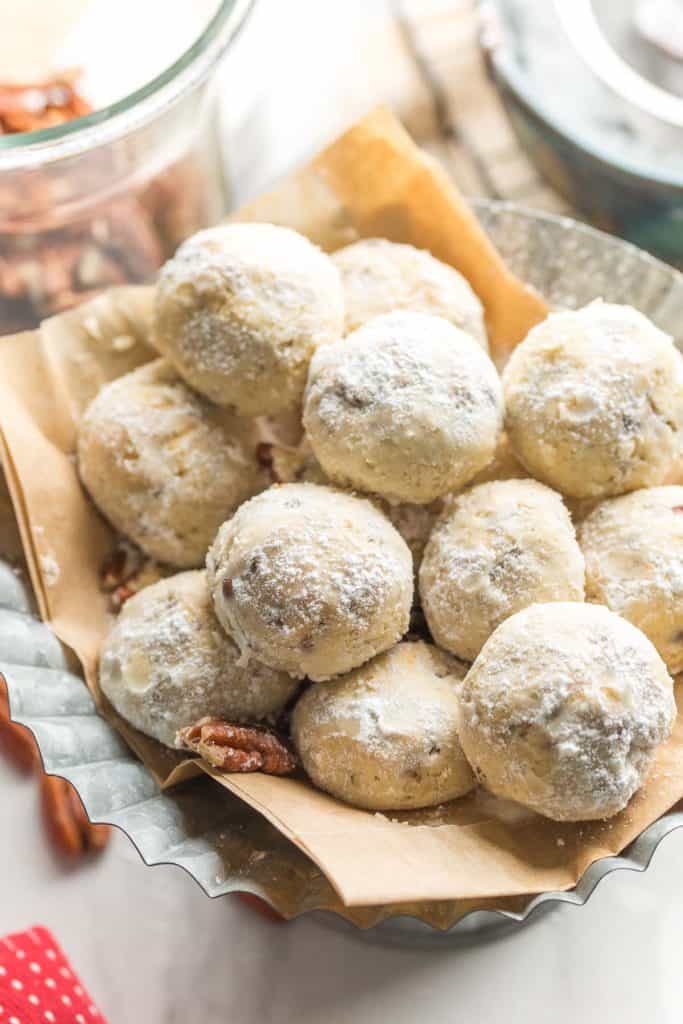 What's Special About these Snowball Cookies
✔️They're made with healthier, wholesome ingredients.
Most snowball cookies are loaded up with loads of butter and sugar. This recipe contains far less of both butter and sugar, largely thanks to the inclusion of almond flour. Since almond flour is a naturally rich with fat and proteins, it means the cookie dough needs less added to keep these soft and chewy.
✔️ They're easy to make with only six ingredients.
The dough comes together quickly and easily in one bowl and barely more than a handful of ingredients.
✔️ You can make them vegan friendly.
Simply swap out the dairy butter for a vegan block butter and that's it! These cookies are already egg free so you don't need to do anything else.
✔️Candied Pecans.
Most pecan meltaways cookies I found were made with regular toasted or un toasted pecans. These cookies really kick it up a notch with the maple-buttered pecan addition. It might sound fancy, but it's actually quite easy to do on the stove top and really makes a difference here.
Snowball Cookie Steps
I based this recipe off of my Toasted Pecan Almond Flour Shortbread Cookies. That recipe has a similar make up but is made with light brown sugar instead of confectioner's sugar and has a bit of maple in the dough.
First things first: prep the pecans. Altogether this should take about 10 minutes at most.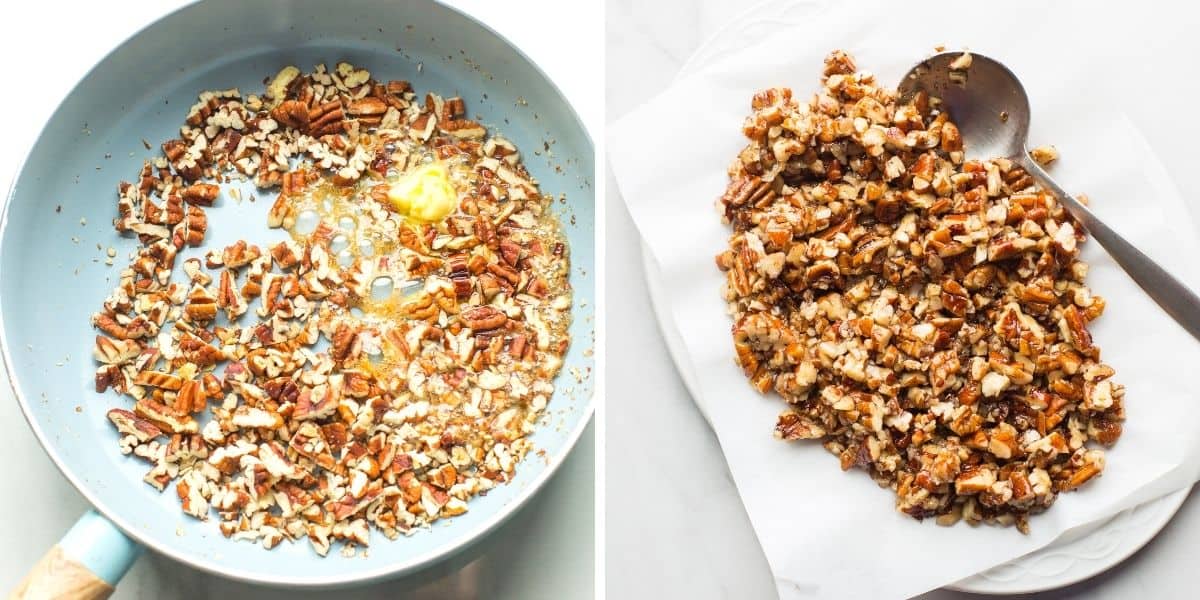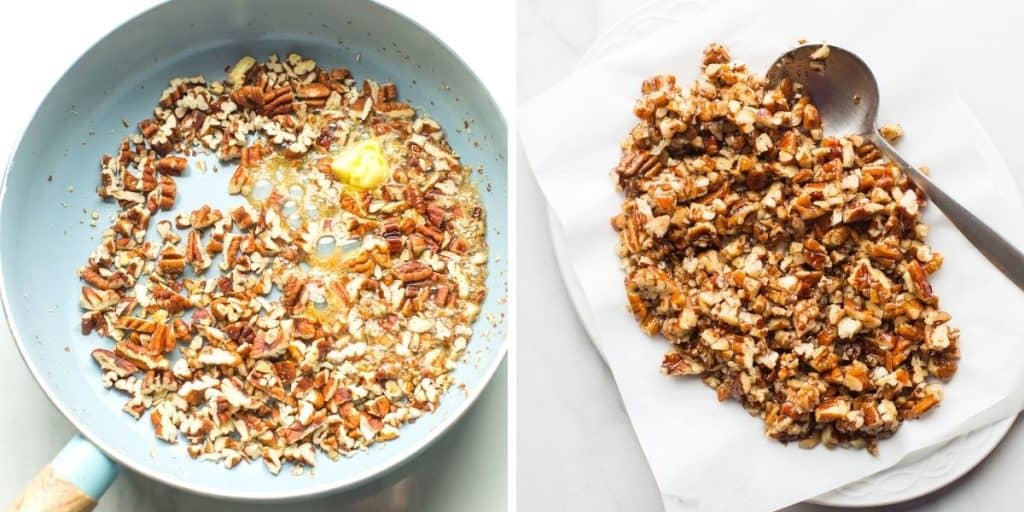 Toast Nuts (about 4-5 minutes). Roughly chop your pecans then add them to a clean, dry skillet or pan. Warm over a medium heat to toast the nuts. Every so often, shake or stir the pan to keep the pecans from burning. After about 4 minutes you should notice a slightly nutty smell.
Add butter & maple (about 2-3 minutes). Once you notice the nutty pecan small, add 1 teaspoon of butter and two teaspoons of maple. You don't need or want much butter or sugar here – just enough to flavor the pecans. As soon as the butter & maple hit the pan they should start to sizzle and simmer. Stir quickly and often with a wooden spoon. Keep things moving to coat the nuts and keep everything from burning.
Transfer & cool. After about 2-3 minutes maple mixture will thicken up in to a light glaze, coating the pecans. At this point you're done. Turn off the heat and tip the candied pecans on to a parchment paper line plate. Spread the nuts out and set aside as they cool.
Tip!
You can place the pecans in the fridge to cool more quickly. They should be fully cooled down before adding them to the dough so that the hot nuts don't melt the butter.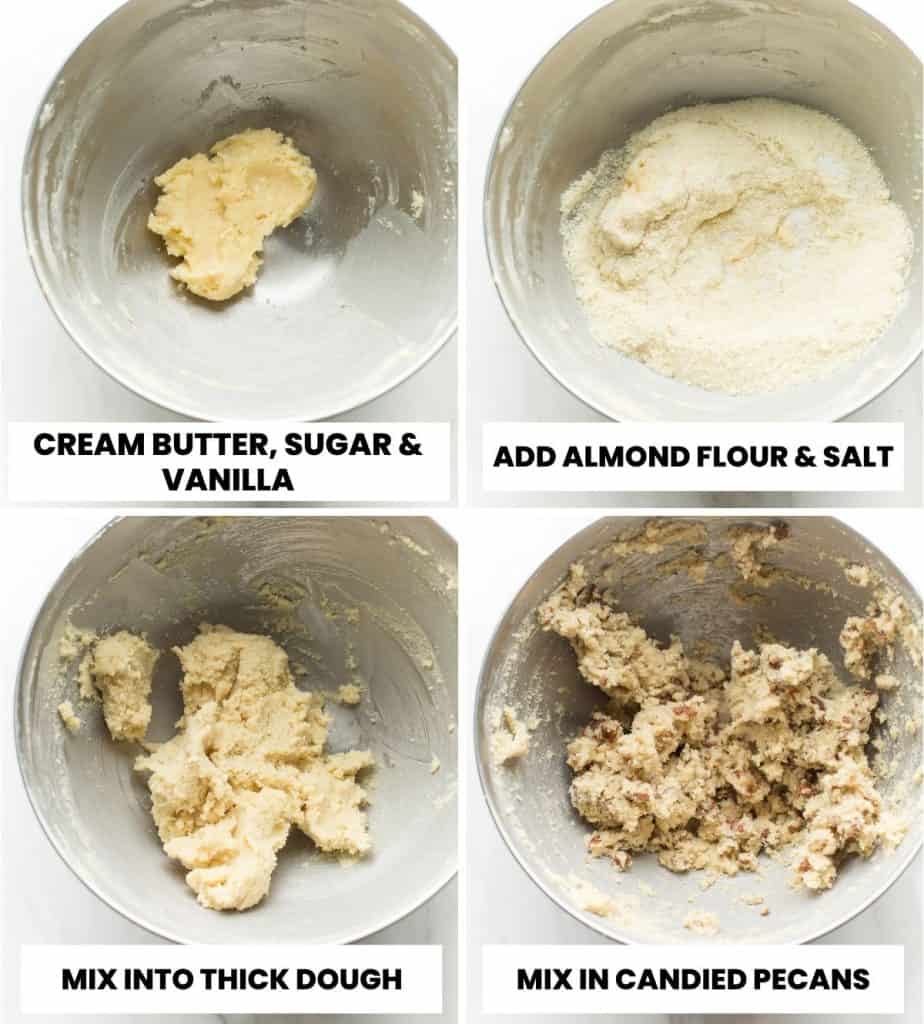 Dough Ingredients
Butter (Dairy or Non Dairy): I have tested these cookies using dairy butter, vegan butter and coconut oil. Both the butter and vegan butter came out practically identical to each. The coconut oil on the other hand was more hit and miss with the results which is why I don't recommend it.
Powdered Sugar: Traditional snowball cookie recipes/Mexican wedding cookies use powdered sugar. The fine texture makes for a softer cookie in the end.

I also tested these cookies using powdered coconut sugar for a refined sugar free version. I made it by blending up regular coconut sugar on high in my blender for about 30 seconds. They came out just as well, but the made darker, more caramel-looking cookies. Coconut sugar snowball cookies also had a much smokier, toasted caramel flavor. While you can certainly make the dough with coconut sugar, I do not recommend rolling the cookies in it. Uncooked, coconut sugar in excess can have a slightly bitter taste. It will also make your snow white cookies brown.

Vanilla Extract: Just a teaspoon is enough to give these cookies a sweeter, vanilla flavor.
Almond Flour: Grain free, protein rich and low carb – ground up almonds makes for an excellent cookie flour! For best results I always recommend that you use a kitchen scale when measuring out almond flour.
Salt: A pinch of salt goes a long way in balancing out the sweet maple-buttered pecans.
Rolling in Powdered Sugar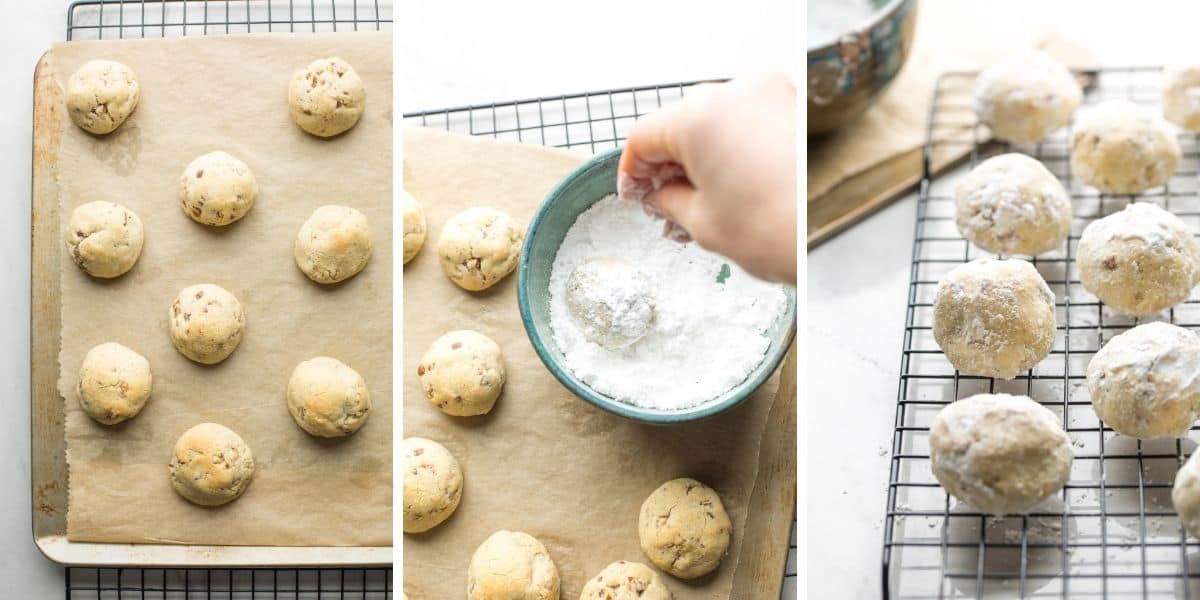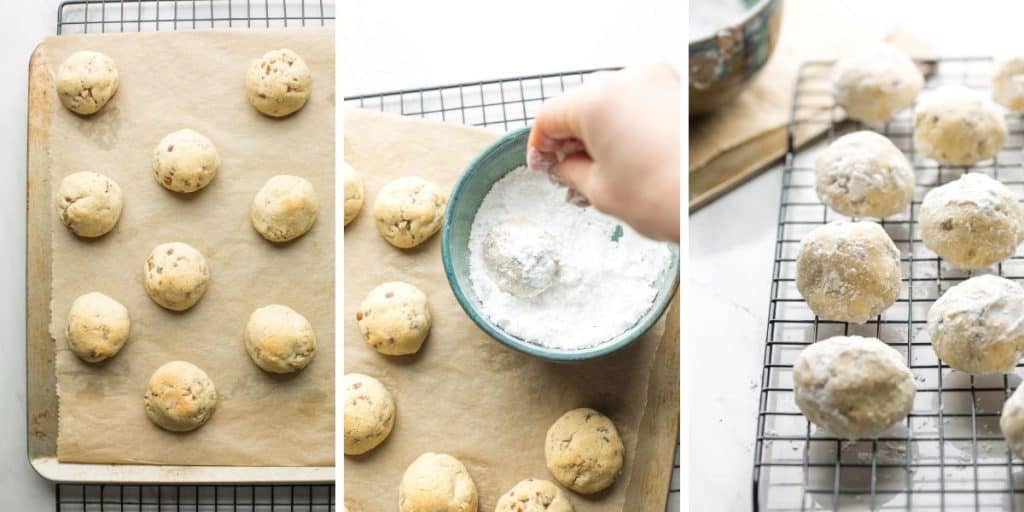 To complete any snowball cookie you must finish off by rolling the fresh cookies in powdered sugar. This provides the 'snowball' look and powdery finish. Roll while the cookies are still slightly warn and the sugar will stick the cookie. This puts the 'meltaway' in Pecan Meltaways.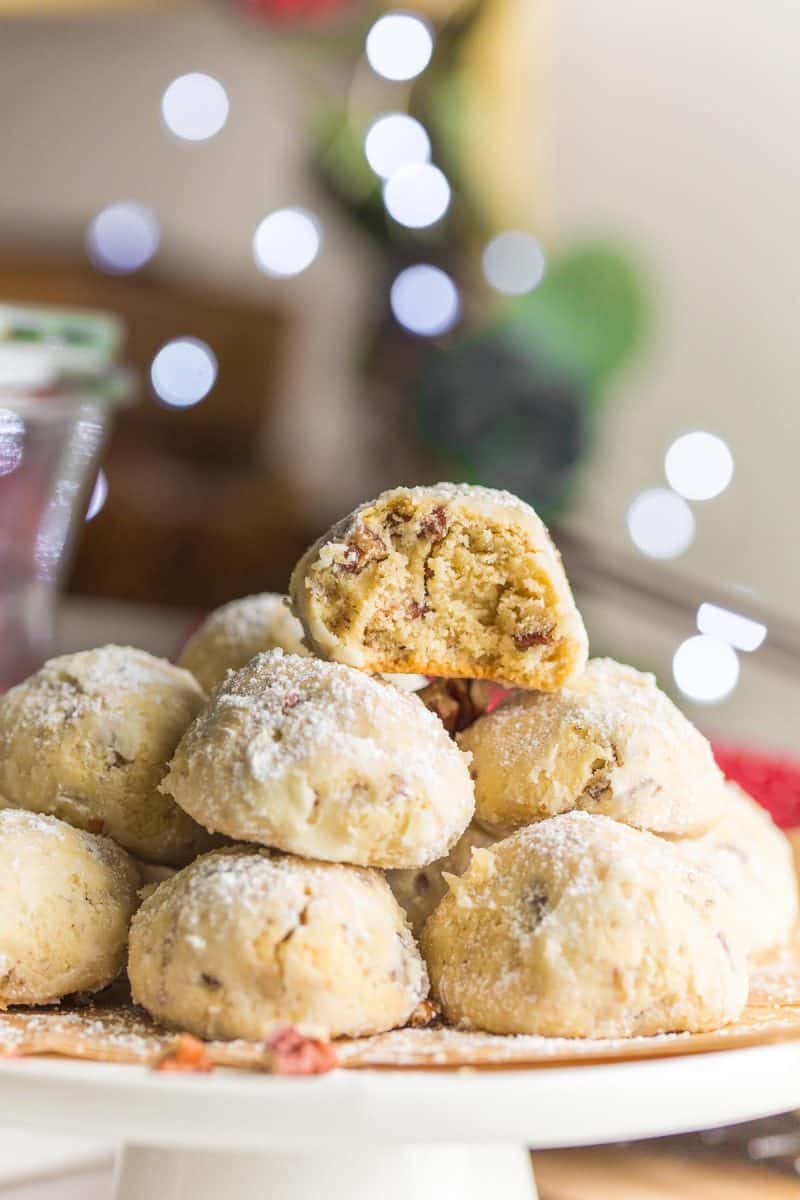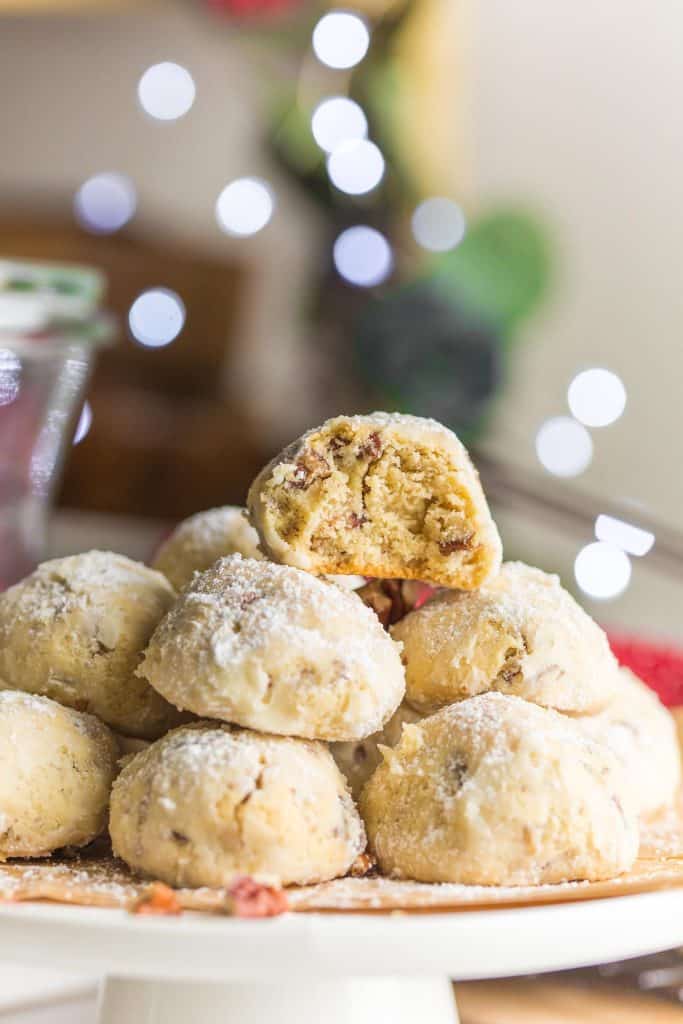 Final Tips
Use a kitchen scale.
For best results I recommend you use a kitchen scale to weigh your ingredients. Gluten free baking can be tricky – grain free baking even more so.
If you have five different people each measure out a cup of almond flour using a measuring cup it is very likely that you'll end up with five different weights of flour. Some recipes are more forgiving than others, but when it comes to gluten/grain free baking it's important to get as close to accurate as possible.
No Kitchen Scale? Measure Your Flour Properly!
The next best solution: measure your flour using the spoon and level method. Instead of scooping out the required flour directly into your measuring cup, you spoon the flour into the measuring cup until full and then use the back of a knife to level off the excess flour.
Watch the Oven
Almond flour browns quickly. These cookies can easily go from pale white to golden brown in NO time. If your cookies bake too long they will star to form cracks in the top making them prone to breaking. Check the oven about 5 minutes before baking and just keep on eye on things. The cookies should be quite pale in color still but the bottom edges set.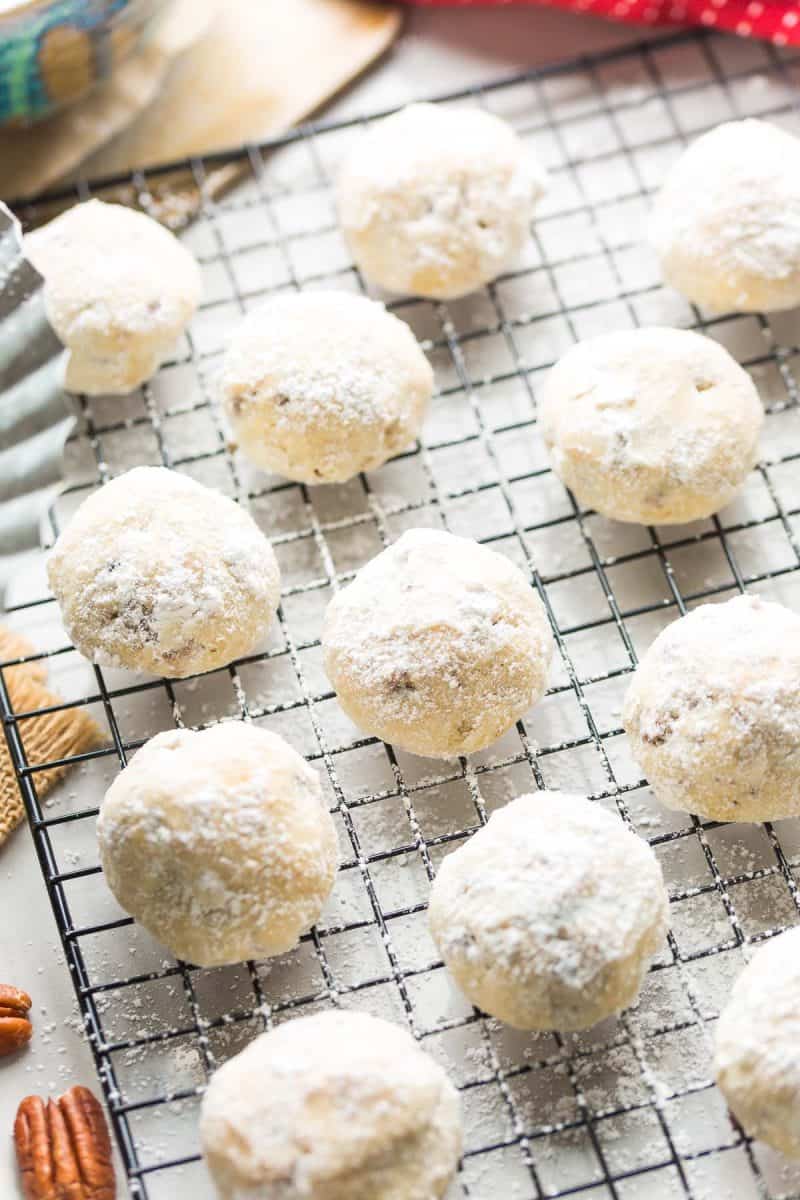 More Cookie-Week recipes: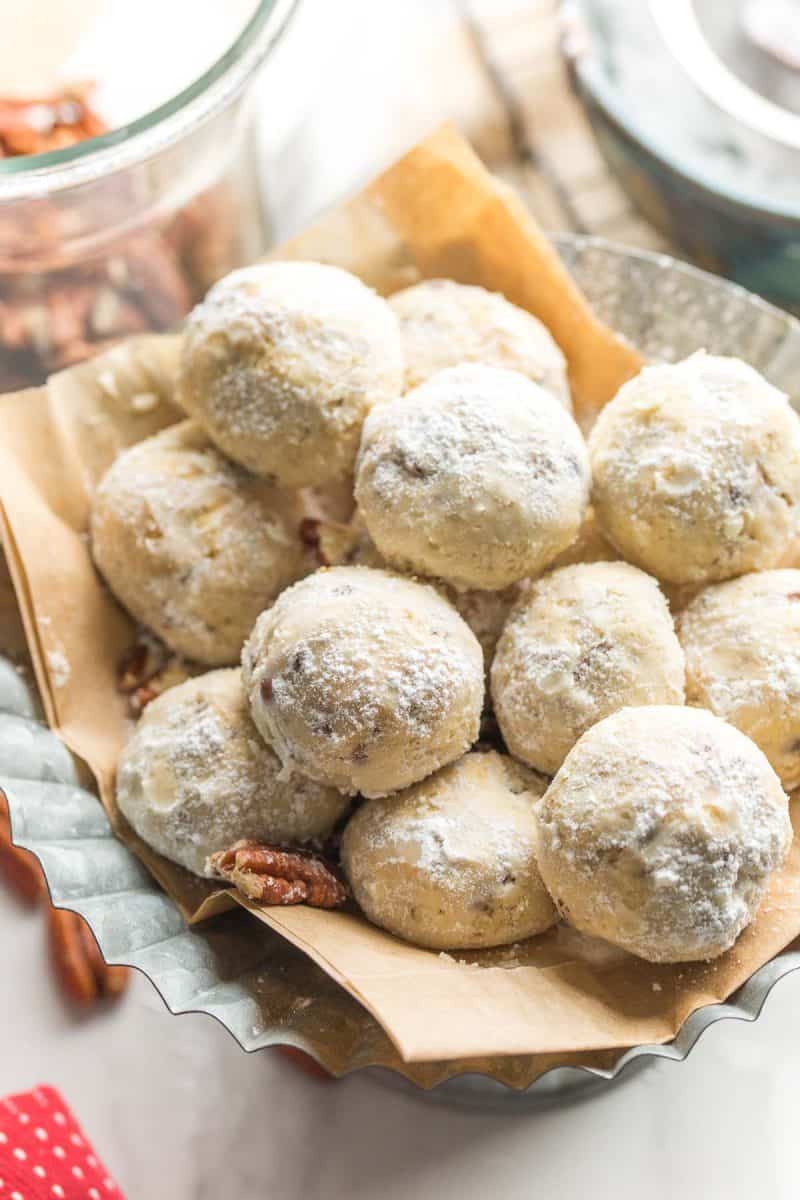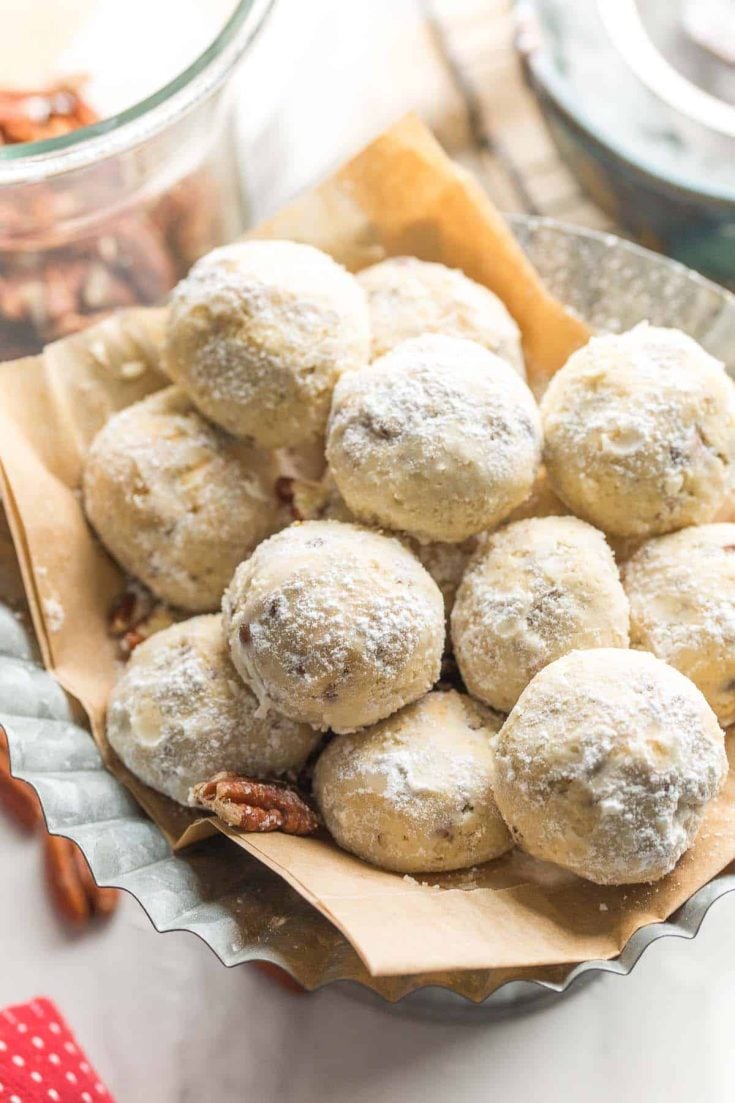 Recipe
Gluten Free Buttered Pecan Meltaways
Yield:
14 cookies
Prep Time:
15 minutes
Cook Time:
18 minutes
Additional Time:
30 minutes
Total Time:
1 hour
3 minutes
Take your typical snowball cookie to the next level with toasted maple-buttered pecans!
Ingredients
Buttered Maple Pecans
3/4 cup (84 g) pecans, chopped
2 teaspoons maple syrup
1 teaspoon butter (salted or unsalted)
pinch of salt (only add if using unsalted butter)
Cookies
2/3 cup (84g) powdered sugar, divided
6 tablespoons (84g) butter, softened
1 teaspoon (5ml) vanilla extract
2 cups (192g) almond flour
1/4 teaspoon salt
Instructions
Buttered-Maple Pecans
Set aside a plate line with a piece of parchment paper.
Add the chopped pecans (3/4 cup | 84 g) to a large skillet. Toast on a medium heat for about 4-5 minutes until fragrant. Stir often with a wooden spoon.
Add the maple (2 tsp) and butter (1 tsp) to the pecans. Stir and cook another 2-3 minutes. The maple should start be very gently bubbling up as it cooks into a thick glaze.
Turn off the heat and transfer the pecans to the parchment paper lined plate. Spread the pecans across the plate and let cool.
Cookies
With a hand mixer (or stand mixer), beat together the softened butter (6 tbsp| 84g), half of the powdered sugar (1/3 cup | 42g) and vanilla extract (1tsp|5ml) until creamy.
Add the almond flour (2 cups|192g) and salt (1/4 tsp) to the bowl and mix into a thick dough. Stir in the candied pecans.
Roll dough into 1 inch balls (about 30g each). Place the balls back into the mixing bowl, cover and refrigerate at least 30 minutes to chill the dough.
Preheat oven to 325°F/160°. Line a couple of baking sheets with parchment paper or a silicon baking mat. Place the dough balls in the baking sheet. Leave about 2 inches of space in between each ball.
Bake for about 16-18 minutes until the edges have set. The cookies will still be quite pale. Take the pan out of the oven and let the cookies cool without moving them for about 5-10 minutes.
Add the remaining powdered sugar to a small bowl. When the cookies have cooled but are still slightly warm, gently roll in the powdered sugar. Coat all sides then transfer the a cooling rack or plate to cool completely. Repeat with the remaining cookies and that's it.
Notes
Keep leftover cookies stored in an airtight container for up to one week or frozen up to one month.
Make it Vegan: Use softened vegan block butter (not a spreadable butter from a tub) instead of dairy butter.
Instead of pecans you can use other nuts like almonds or walnuts.
For best results I recommend you use a kitchen scale to measure your ingredients.
Chill time is necessary before baking or the cookies will spread in the oven.
This website provides approximate nutrition information for convenience and as a courtesy only. Nutrition data is gathered primarily from the USDA Food Composition Database, whenever available, or otherwise other online calculators.