Start your day off right with these hearty, protein packed Turkey Chorizo Breakfast Burritos! Lean turkey chorizo, scrambled eggs, sautéed potatoes and peppers sprinkled with grated cheese all wrapped up snug in a gluten free flour tortilla – what's not to love?!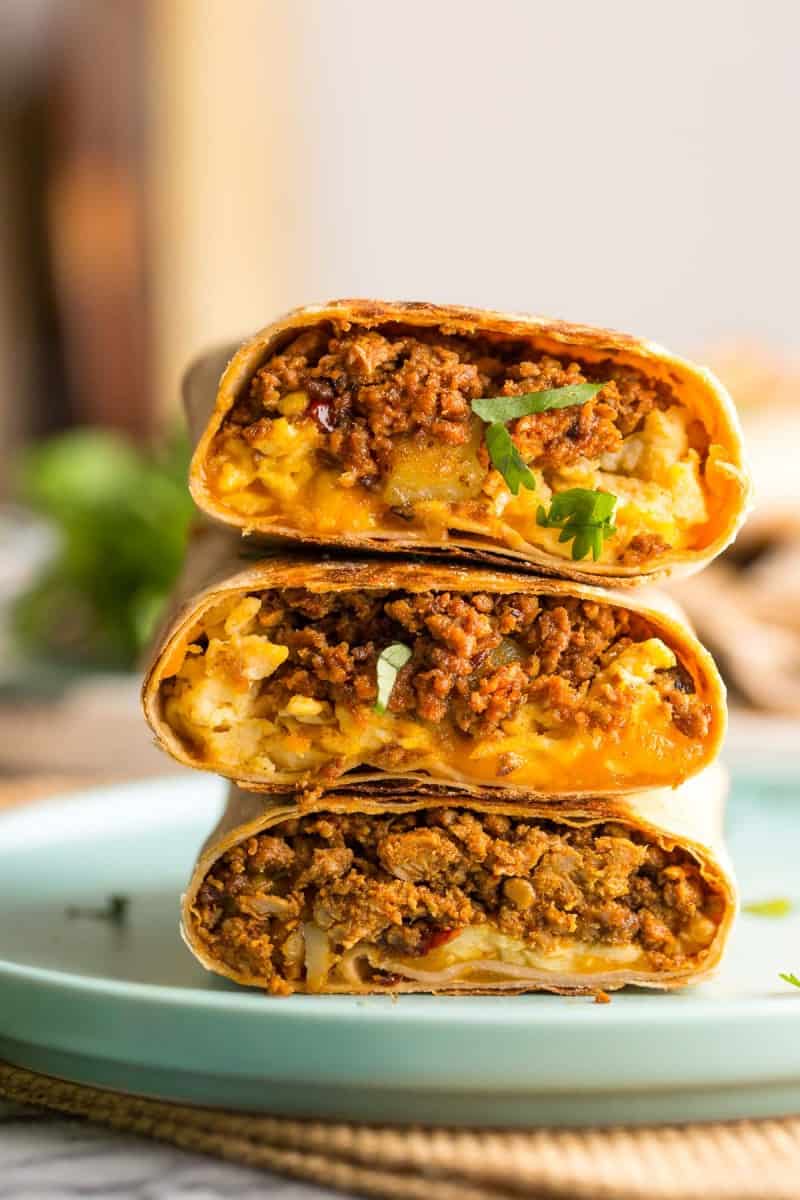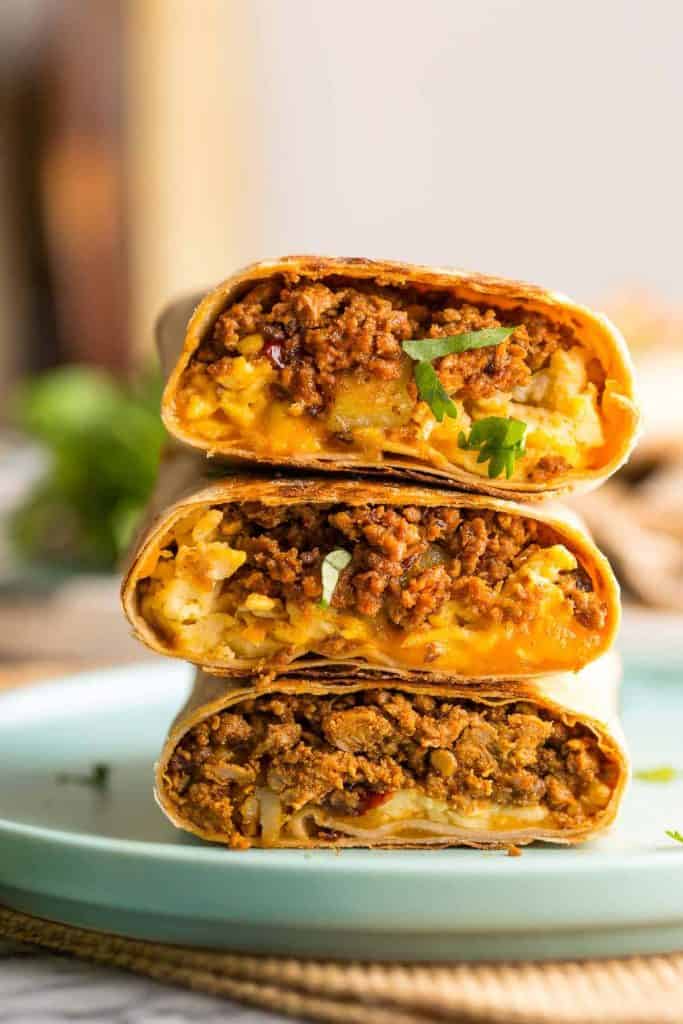 Meal prepping has never really been my thing. It's just something my ADHD brain simply cannot rally behind no matter how much it might actually make my life easier. There's just too much planning involved that loses me. That being said – these Turkey Chorizo Breakfast Burritos are the exception!
This recipe makes a batch large enough to enjoy right away with plenty of leftovers to save for later – it doesn't even really feel like meal prep. Despite the recipe taking a bit of time with all of the different filling preparations, it's a really easy and straightforward process.
So let's get to it!
Turkey Chorizo Breakfast Burritos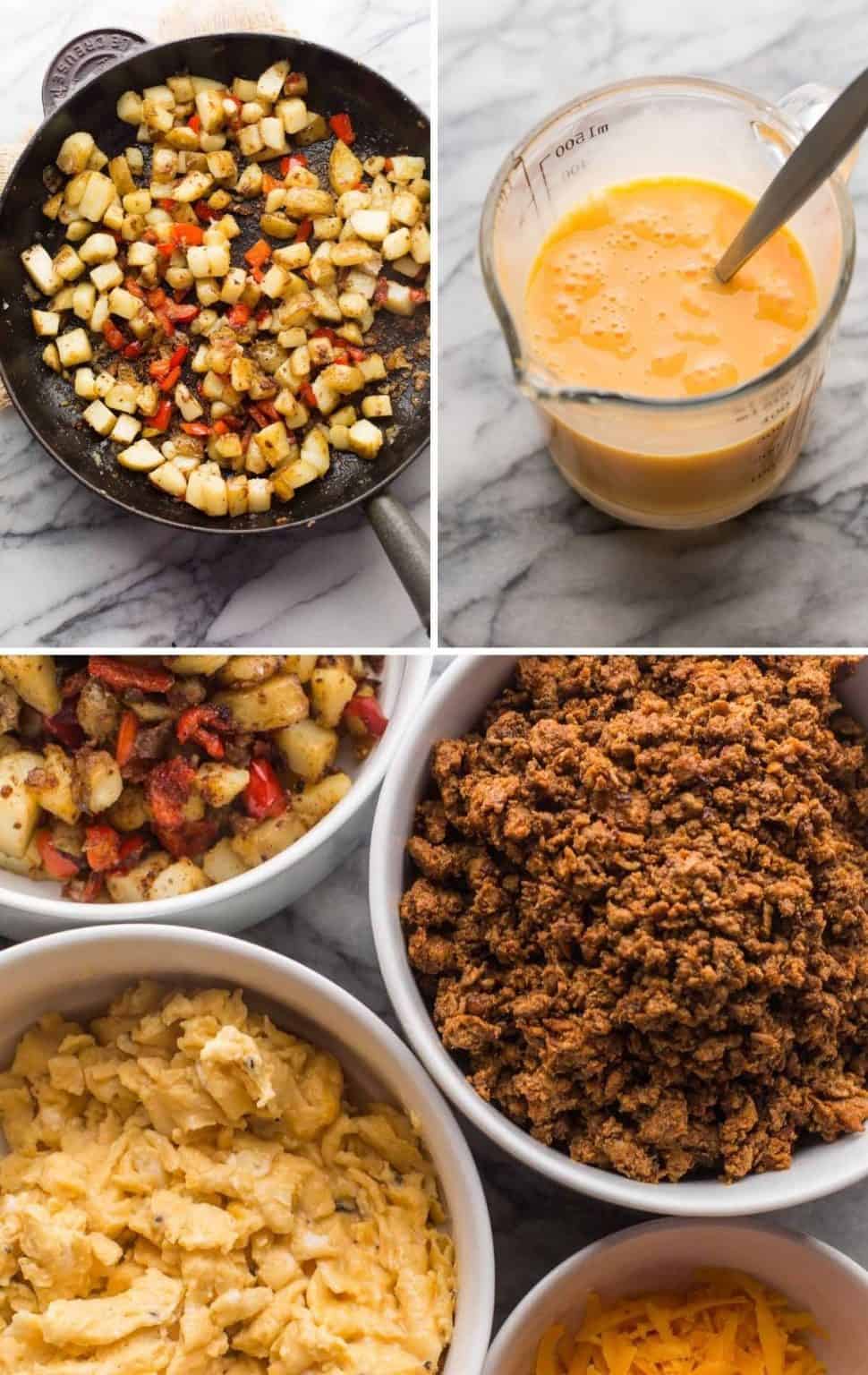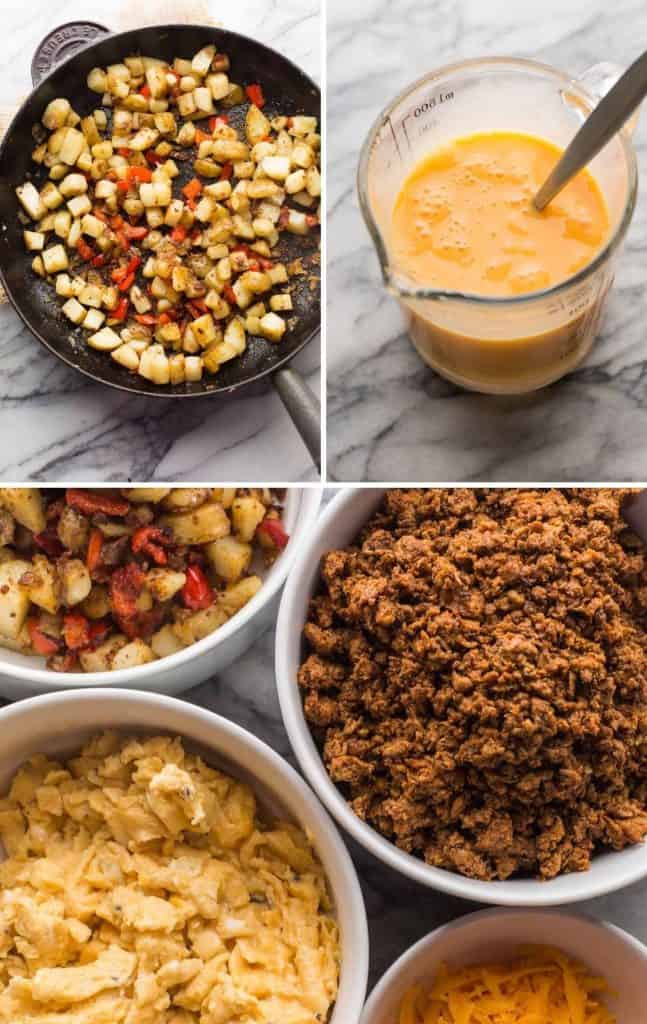 What's inside?
Turkey Chorizo: This recipe uses my homemade turkey chorizo. It's simply a combination of ground turkey meat plus a ton a spices. Turkey chorizo has less calories and fat than regular Mexican chorizo making it a good option if you're trying to watch what you eat. You can also use store bought chorizo – turkey or otherwise.
Potatoes and Bell Pepper: Gently fry the potatoes and pepper in a large skillet for about 12-15 minutes until soft and tender. If your pan is getting too dry while cooking, add a couple of tablespoons of water the potatoes. This will help steam to potatoes faster without having to add too much extra oil.
Scrambled Eggs: Whisk up your eggs with a little salt and pepper in a nonstick skillet until fully cooked.
Cheese: I used grated Red Leicester but cheddar, pepper jack or cojita cheese are all good options.
Optional Aromatics: You can leave the burritos as is or throw in some fresh cilantro, chives, spring onions or diced onion for an extra pop of flavour.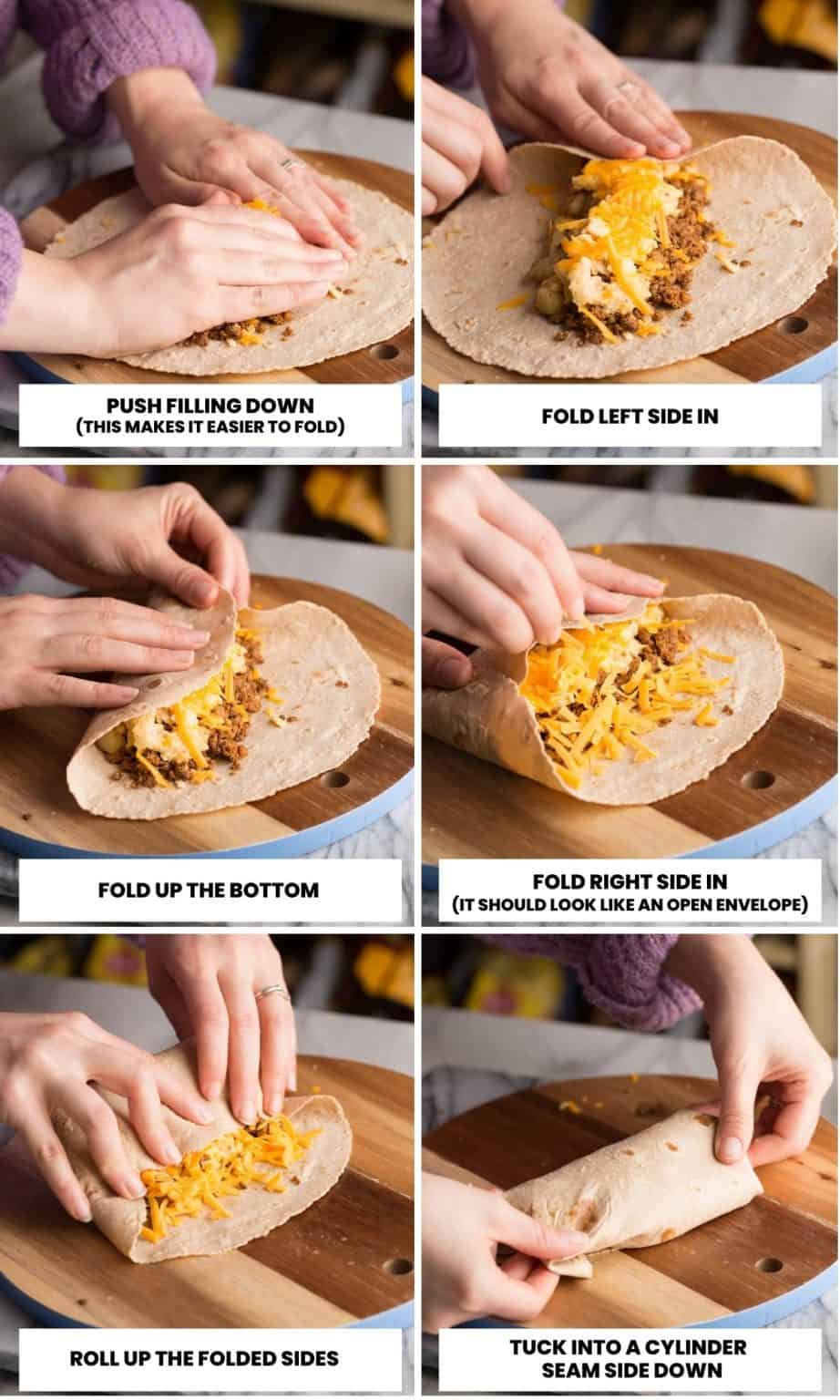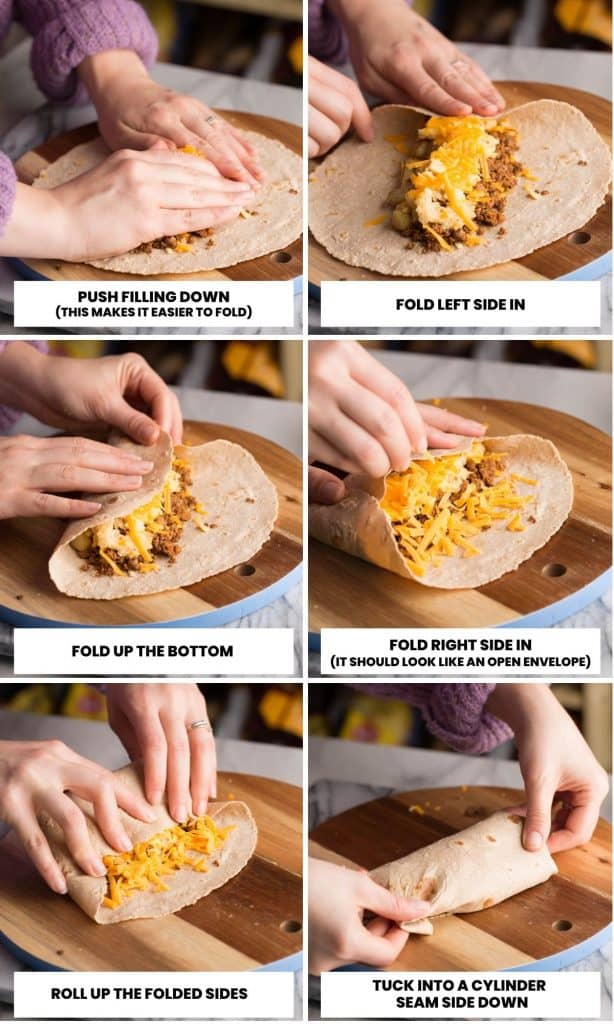 Tips & Questions
What size tortilla is best?
Ideally you want to use a large tortilla. The larger your tortilla, the easier it will be to fill and roll without breakage. Large, gluten-free flour tortillas can be tricky to find. If you can find 10-12 inch tortillas then use those. Otherwise, 8 inch tortillas can also be used. Just keep in mind that you'll need to pack and roll your burrito more carefully.
Can I use corn tortillas?
No. Look for flour tortillas or use make breakfast tacos instead. Corn tortillas are usually too small, more prone to breaking and are not suitable for freezing.
How do I prevent soggy burritos?
If you plan on making these breakfast burritos with the goal of storing and freezing for later then I recommend waiting until all of the filling ingredients are room temperature so that the combined moisture doesn't seep into the wrap. Don't worry about this if you plan on enjoying these right away.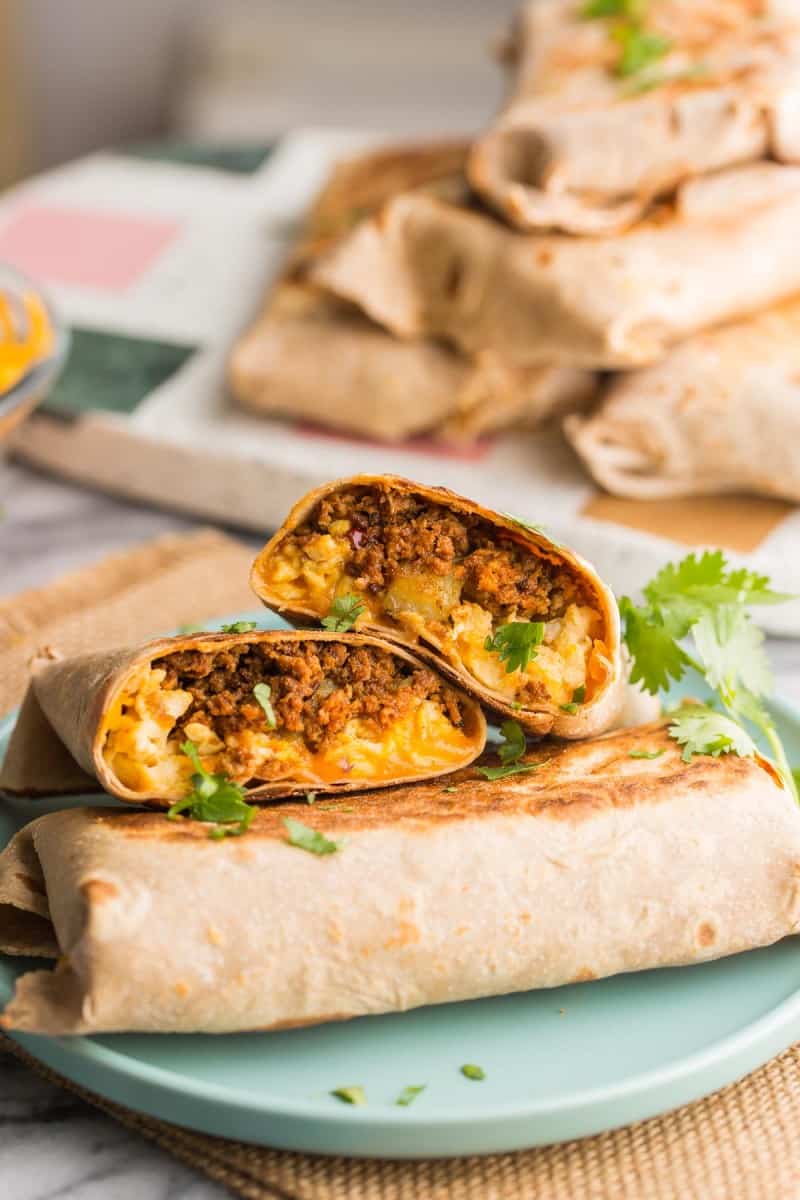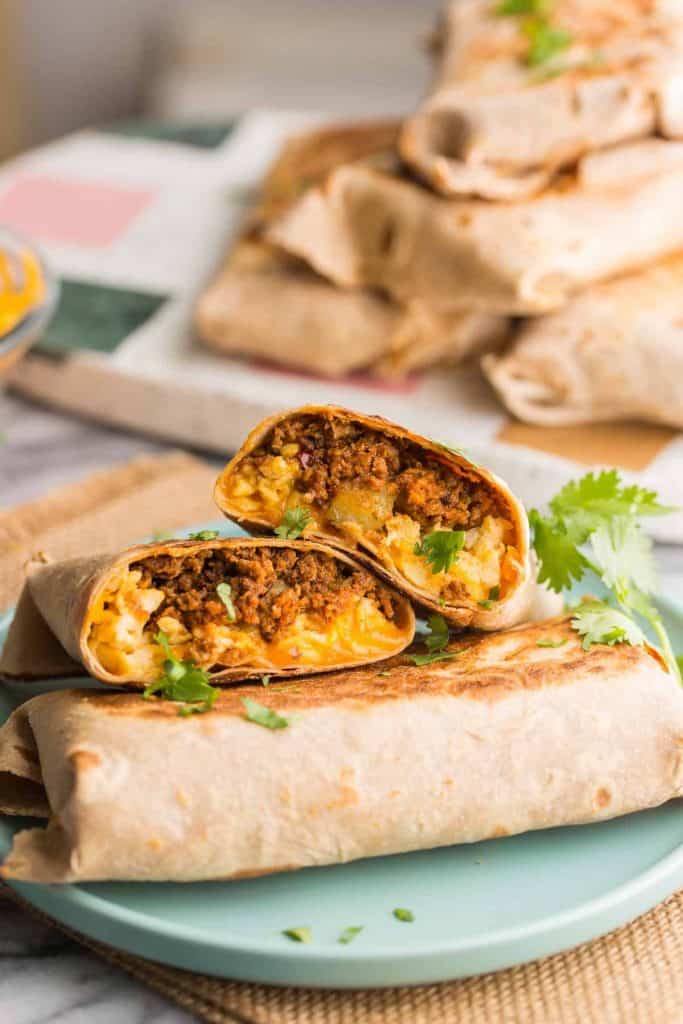 Freeze for Later
Wrap up room temperature burritos securely in plastic wrap or foil (or both). Make sure no part of the burrito is exposed.
Transfer the wrapped burritos to a large baking sheet or plate in a single layer. Freeze for 2-3 hours until solid. Freezing in a single layer helps prevent the burritos from getting smooshed of freezing in weird shapes.
Transfer the solid burritos to a large container or freezer safe bag and store for up to 3 months.
Defrost: When you're ready to enjoy, remove all the plastic and foil wrapping. Wrap up the burrito in a damp paper towel and microwave on high 2-3 minutes until fully warmed through or in the oven at 350°F for 12-15 minutes.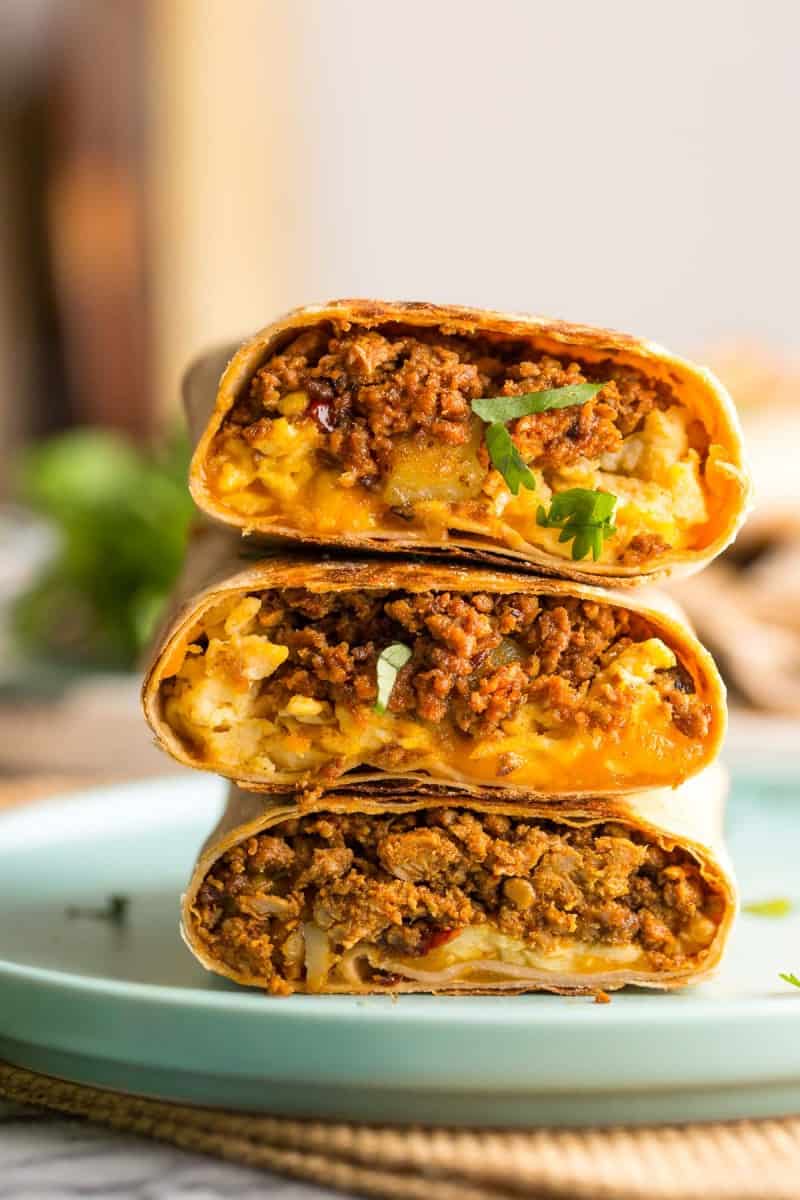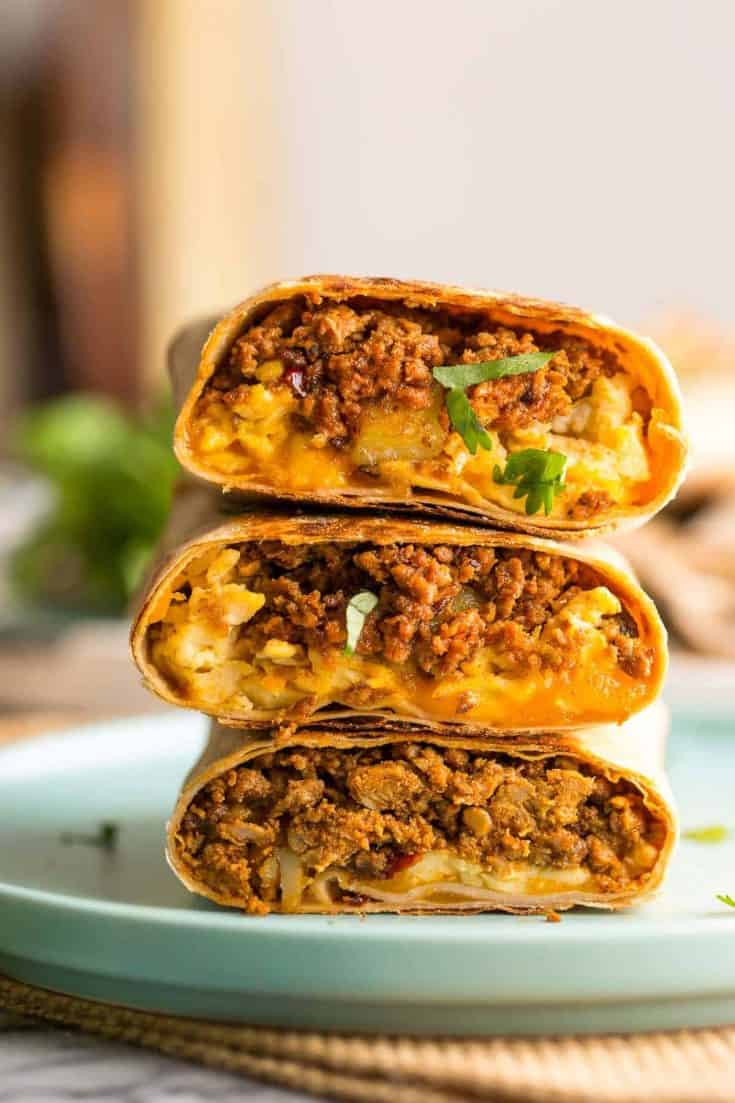 Recipe
Turkey Chorizo Breakfast Burritos
Yield:
8 burritos
Prep Time:
10 minutes
Cook Time:
30 minutes
Total Time:
40 minutes
Lean turkey chorizo, scrambled eggs, sautéed potatoes and peppers sprinkled with grated cheese all wrapped up snug in a gluten free flour tortilla.
Ingredients
2 tablespoons | 30 ml olive oil, divided (or neutral flavoured cooking oil)
1 pound white potatoes, diced into 1/2 inch cubes
1 red bell pepper, deseeded and diced
1/2 teaspoon salt, plus more to taste
1/2 teaspoon ground black pepper
6 eggs
1 cup | 113 g grated cheddar cheese
Fresh cilantro, chopped
8 large gluten free flour tortillas (8-10 inches)
Instructions
Chorzio: Add 1 tablespoon of oil to a large skillet and warm over a medium-heat. Add the chorizo and cook about 7-10 minutes until browned, cooked through and crumbly. Transfer the chorizo to a plate or bowl.
Potatoes & Pepper: Add another tablespoon of oil to the same pan (wipe down the pan first if there are any stuck on burnt-bits). Add the potatoes, bell pepper, salt and pepper. Cook over a medium-heat, stirring every so often for about 10-15 minutes until the potatoes are fork tender. Cover with a lid to steam the potatoes when not stirring. Taste and season with more salt and pepper as you see fit. Transfer to a bowl or plate when done.
Eggs: Add the eggs to a jug or bowl and beat together until well combined. Using the same skillet (wiped down first if needed) or another nonstick pan, cook the eggs. Cook on a medium-low heat, stirring and scrambling for about 3-5 minutes until no longer runny. Once cooked, remove from the heat.
Assemble: Lay a tortilla out on a flat, clean surface. Add a couple of tablespoons of the chorizo, potato mixture, eggs an cheese to the centre of the tortilla. Top with a little bit of cilantro. Fold up the burrito - I recommend adding a bit of cheese to the inside of the bottom seam. When you toast your burrito, it will melt the cheese which will help seal the burrito shut. Repeat and fold the remaining burritos.
Toast: You can enjoy the burritos as is, or toast over a medium-low heat on each side for 2-3 minutes to melt the cheese.
Notes
Freeze for Later:
Cool the burritos to room temperature then wrap in plastic wrap or foil. Freeze in a single layer in the freezer for 2-3 hours until solid. Once solid, pack the burritos in a freezer safe bag and keep for up to 3 months.
Reheat from frozen:
Remove the plastic wrap/foil. Wrap in a damp paper towel and microwave on high for 2-3 minutes or warm in the oven at 350°F for 12-15 minutes until heated through.



This website provides approximate nutrition information for convenience and as a courtesy only. Nutrition data is gathered primarily from the USDA Food Composition Database, whenever available, or otherwise other online calculators.
More Protein Packed Breakfasts