This simple turkey hash makes for an incredibly hearty and delicious breakfast skillet you can enjoy anytime of day! It's made with crispy, pan fried potatoes, sautéed leeks and seasoned turkey mince. Simple ingredients, big flavors! | Gluten Free + Dairy Free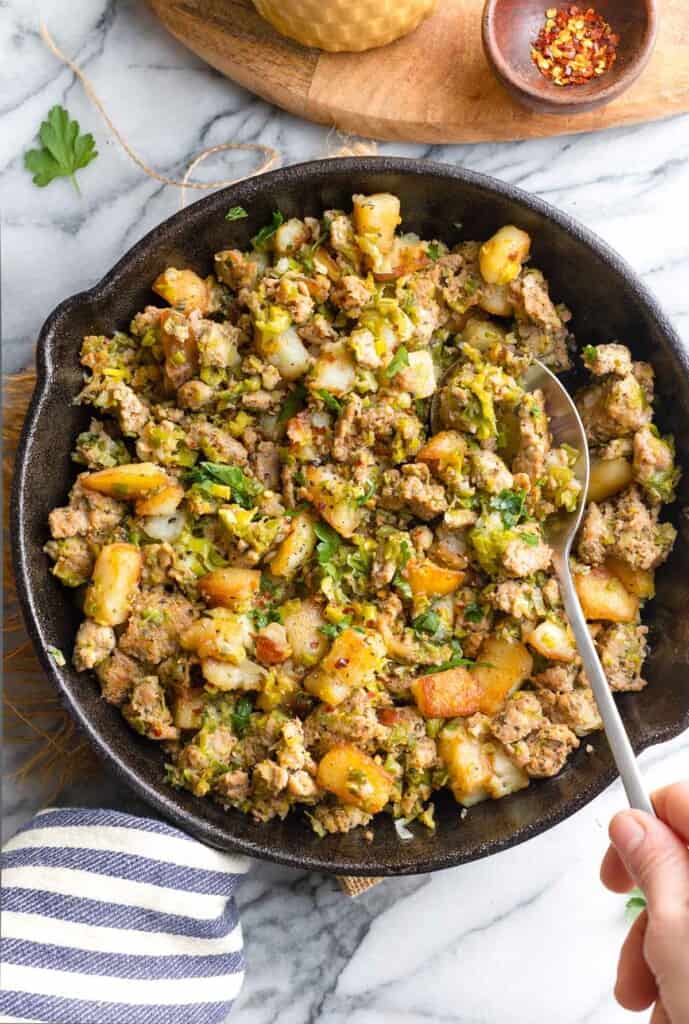 Turkey is not just for Thanksgiving dinner! It's an excellent source of protein, vitamins and minerals and when ground up – it's easy to cook.
This potato and leek turkey hash recipe is easy to make with simple ingredients. With the exception of the par boiled potatoes (more on that below), this mostly comes together in one big pan.
What's to love about this Potato & Leek Turkey Hash
Nutrient packed: Turkey is an excellent source of protein which is a crucial macronutrient to include in a healthy diet. In addition to protein, turkey is also a rich source of important vitamins and minerals.
Simple ingredients: The main components here are: turkey, leeks and potatoes. Everything else is a dried spice or herb! At first glance, the ingredient list might look a little long, but it's actually quite modest as most of the spices are ones you already have in your kitchen already.
Versatile: Since the ingredients are fairly basic here, this recipe lends itself well to additions and substitutions. You can switch up the protein for ground chicken, pork or beef. You can also slim down on the spices and use sausage with the casings removed. Add and swap the veggies depending on what's in and what you're in the mood for.
Meal Prep Friendly: Make this one day and enjoy the leftovers reheated throughout the week.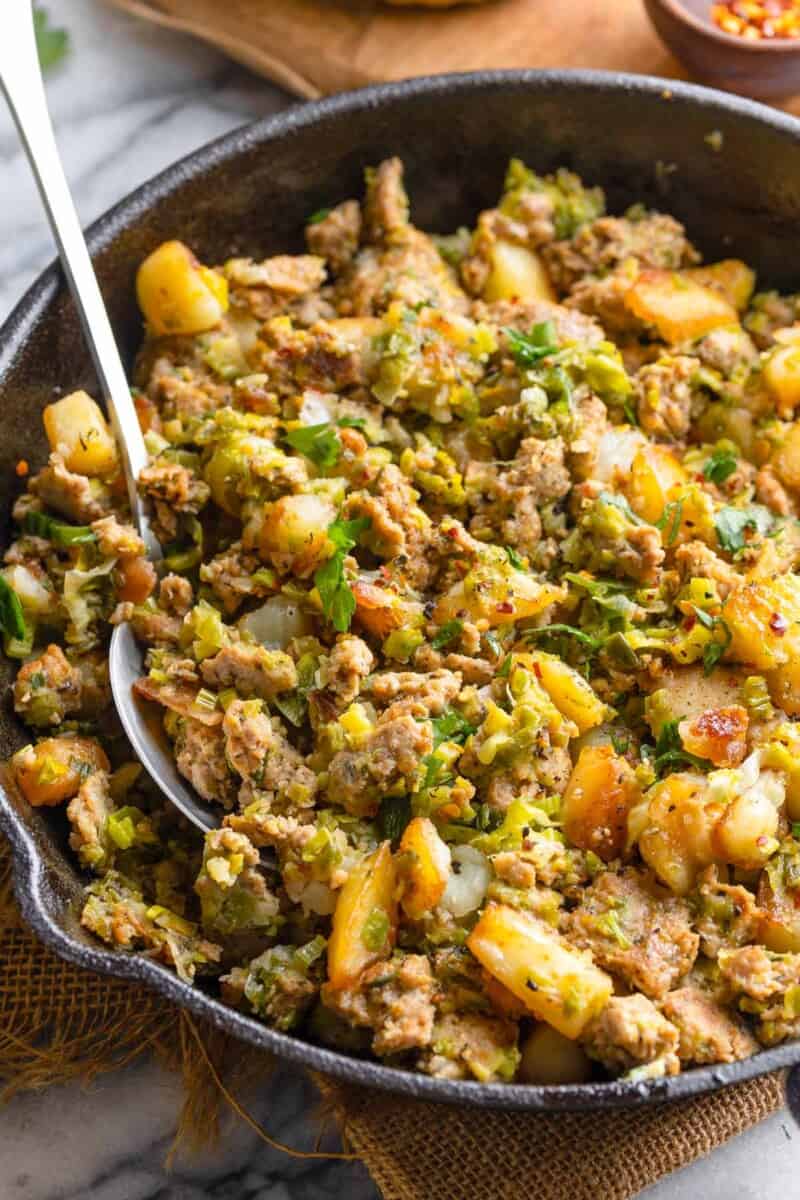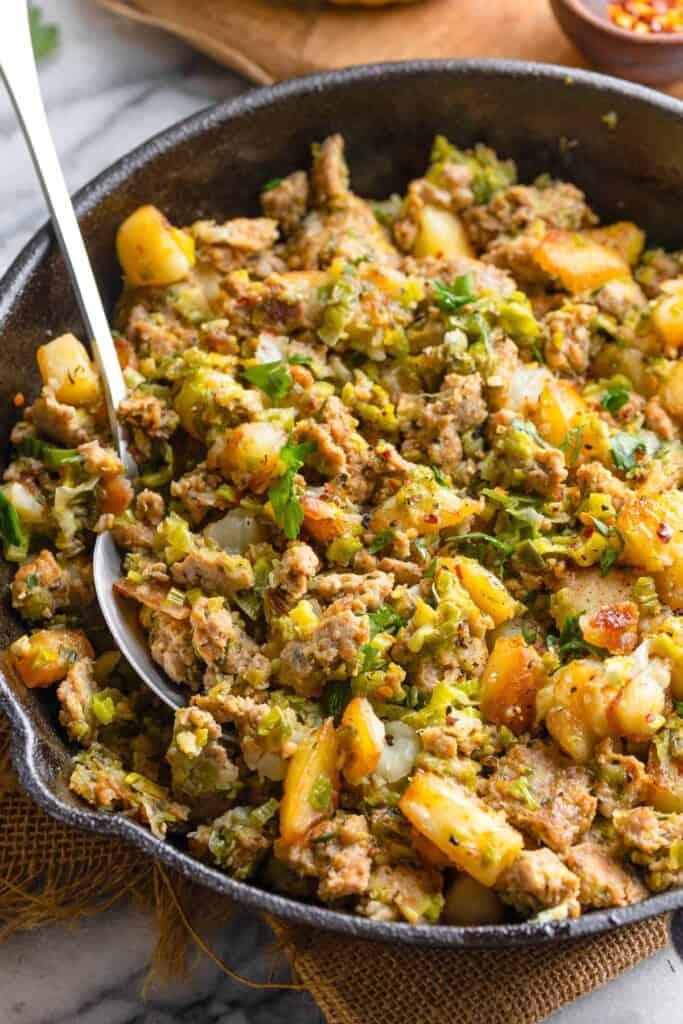 How to Make This Crispy Potato & Leek Turkey Hash
The process for making this turkey breakfast skillet breaks down into a few simple steps:
Turkey: Mix the ground turkey with the dried herbs and spices.
Potatoes: Par boil the potatoes, fry until golden brown and crispy then remove from pan and set aside.
Leeks: Sauté leeks then cover with a fitted lid to steam until soft.
Brown meat: Add the seasoned turkey to the pan and cook until no pink remains.
Add potatoes: Add the crispy potatoes back to the pan and mix everything together another minute or two and that's it.
Turkey Prep
What you need: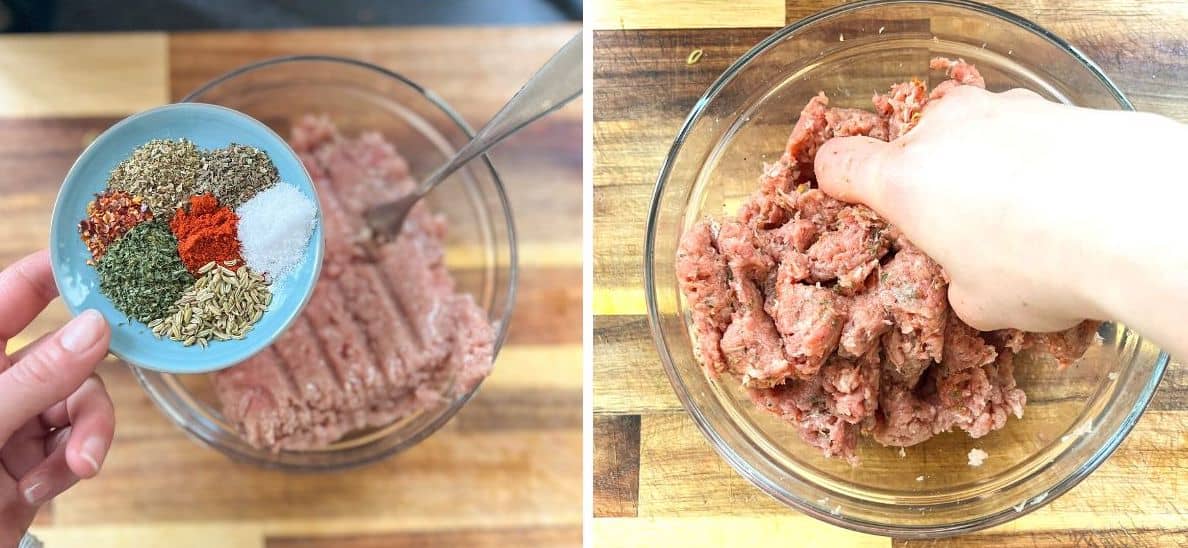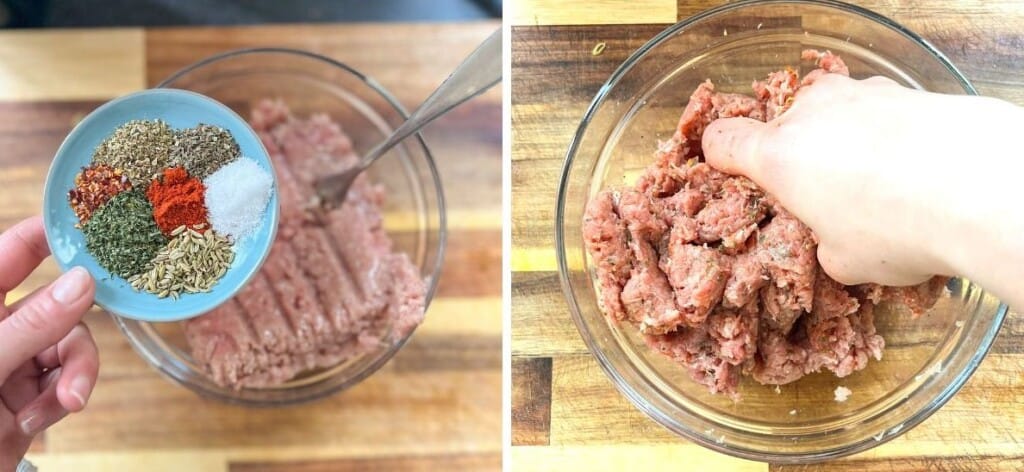 Ground Turkey: I recommend somewhere between between 5-10% fat, but the ratio is up to you.
Herbs and spices: Parsley, oregano, basil, fennel, paprika, salt and pepper. I was going for an Italian-like blend of spices. With that in mind you can use a tablespoon of Italian herb seasoning or herbs de Provence instead.
Simple add the herbs and spices to the meat and mix until well and thoroughly combined. Then, just set it aside until later.
Tip: Prep In Advance!
If you plan on making this turkey hash in the morning, prep the turkey mince ahead of time! Simply mix in the spices then cover and refrigerate over night until you're ready.
Potato Prep
The fool-proof trick to making sure you end up with crispy, golden potatoes without needing to use a non-stick pan? Par-boil them!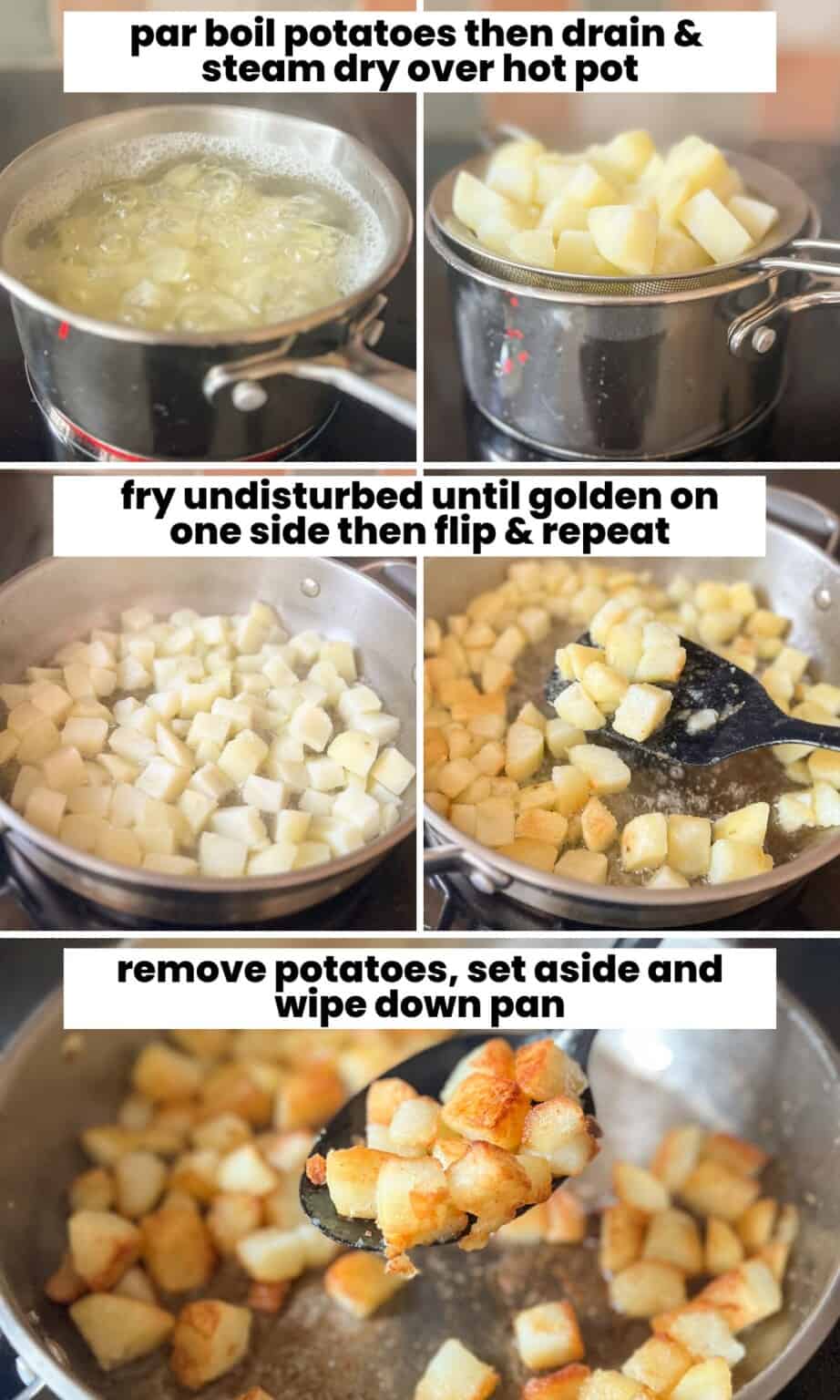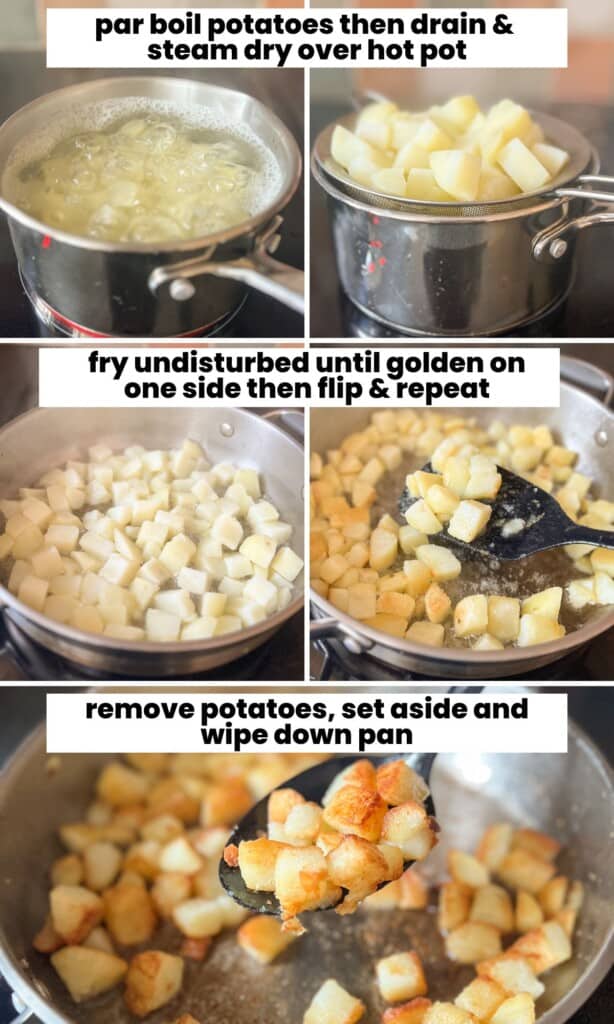 If you've ever set out to pan fry your potatoes only to end up with them mostly stuck to the bottom of your pan then you need to try par boiling (partial boil) them first. Why?
It helps remove some of the excess starch (starch = sticky) which is partially why they end up sticking to the pan so often. Since they're already somewhat cooked, you'll need less time frying which means they're less likely to burn or scorch.
It makes for potatoes that are crispy on the outside and fluffy on the inside.
Tip: Rinse Your Potatoes!
For fluffy insides and crispy outsides, I recommend you rinse your potatoes before and after boiling to remove excess starch! Rinsing off the starch also helps keep your potatoes from sticking to the pan while they crisp up.
Though you do need to tack on an extra pot and some time, it's 100% worth the effort!
Leek Prep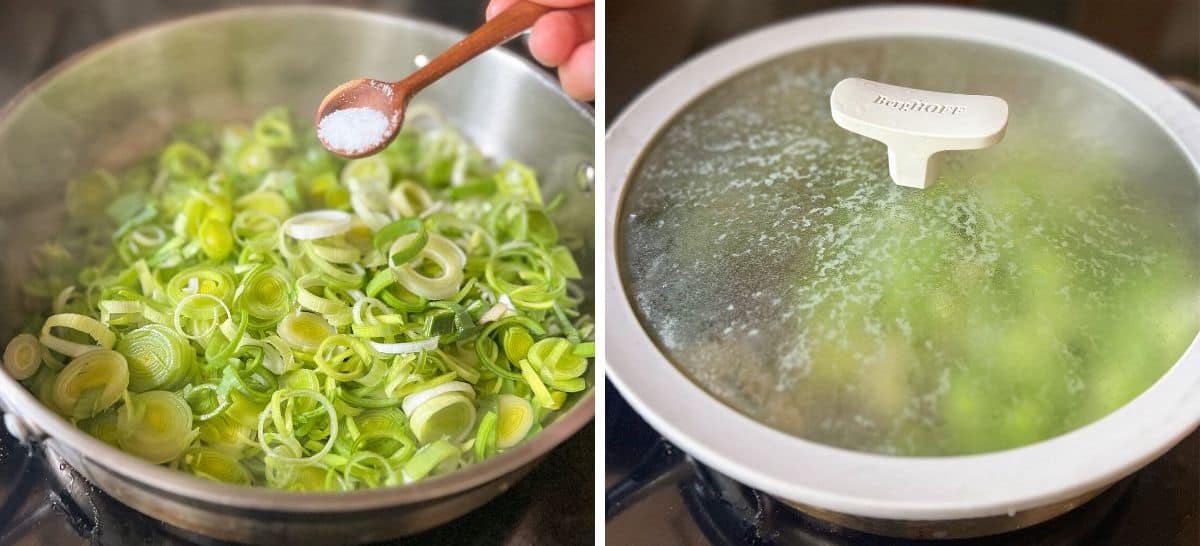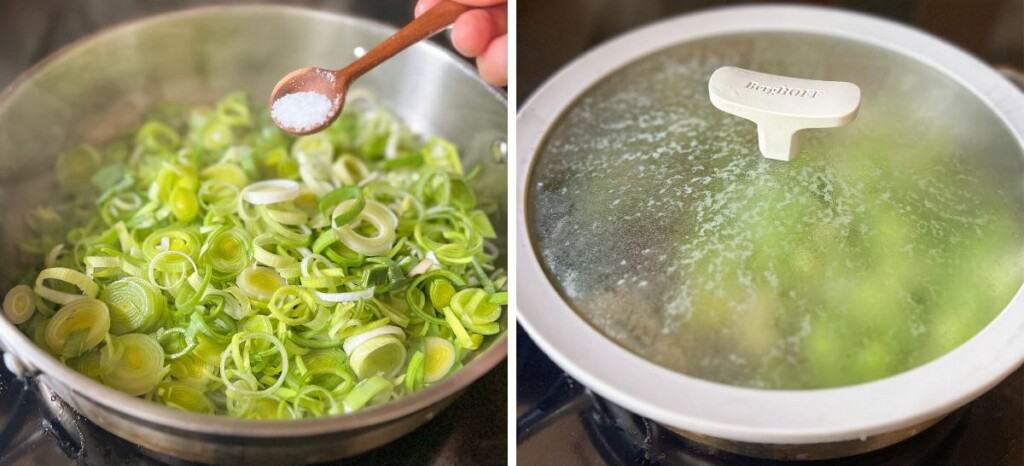 Use the whole leek – both the firm, white stem and the dark leafy green top. Just make sure to slice the leeks fine so they dark green leaves soften up enough.
Leeks are known to hide quite a bit of dirt in between its leaves so make sure to wash well before cooking. I recommend you slice up the leaves first then rinse in a colander.
Bringing it All Together


After the leeks have sautéed and steamed, add the seasoned turkey mince to the pan. Break the meat about with spatula or wooden spoon and cook until no pink remains.
Finally, stir in the crispy potatoes and mix everything together a final minute or two and that's everything!
Final Tips
Par boil potatoes to make them softer on the inside and crispier on the outside (and less likely to stick to the pan!
Rinse the potatoes before and after par boiling to remove excess starch so they don't stick to the pan.
Properly heat the pan before adding the potatoes. Flick a few drops of water into the pan – if it sizzles it's ready. This will ensure potatoes form a crisp crust around the edges and keep them from sticking to the pan.
Slice leeks then wash to remove all the dirt hidden between the leaves.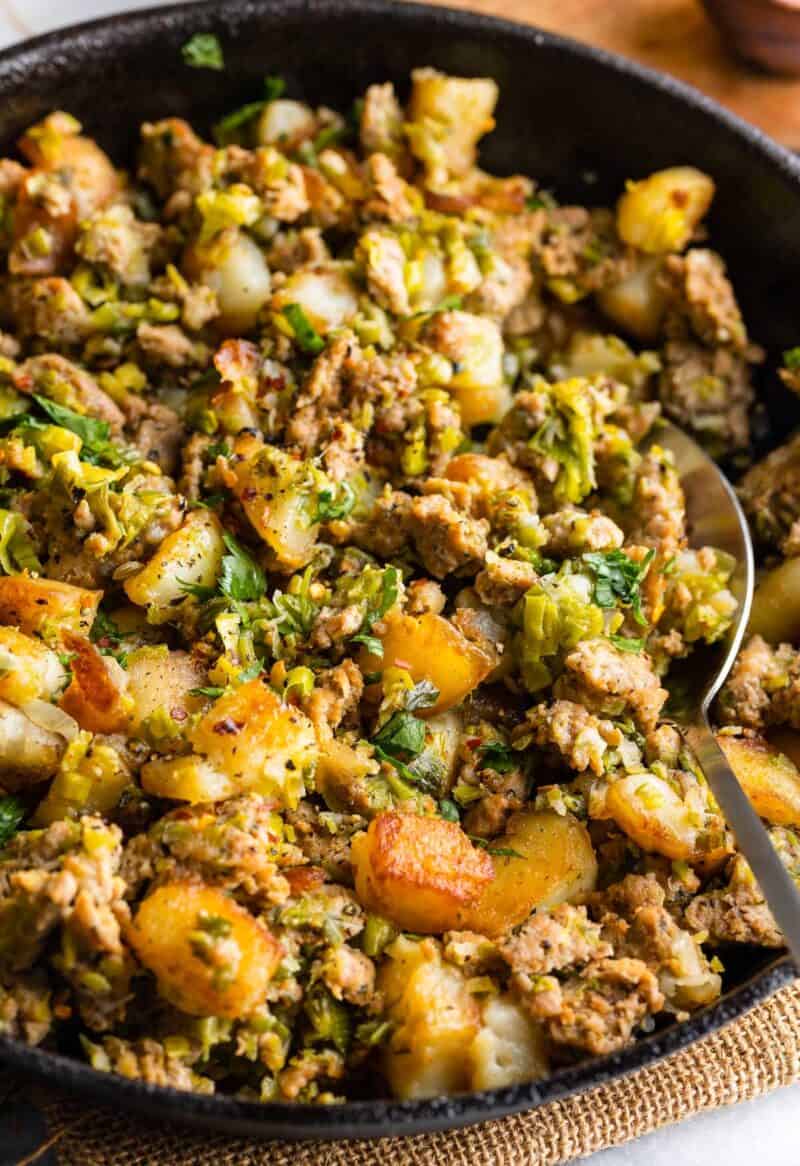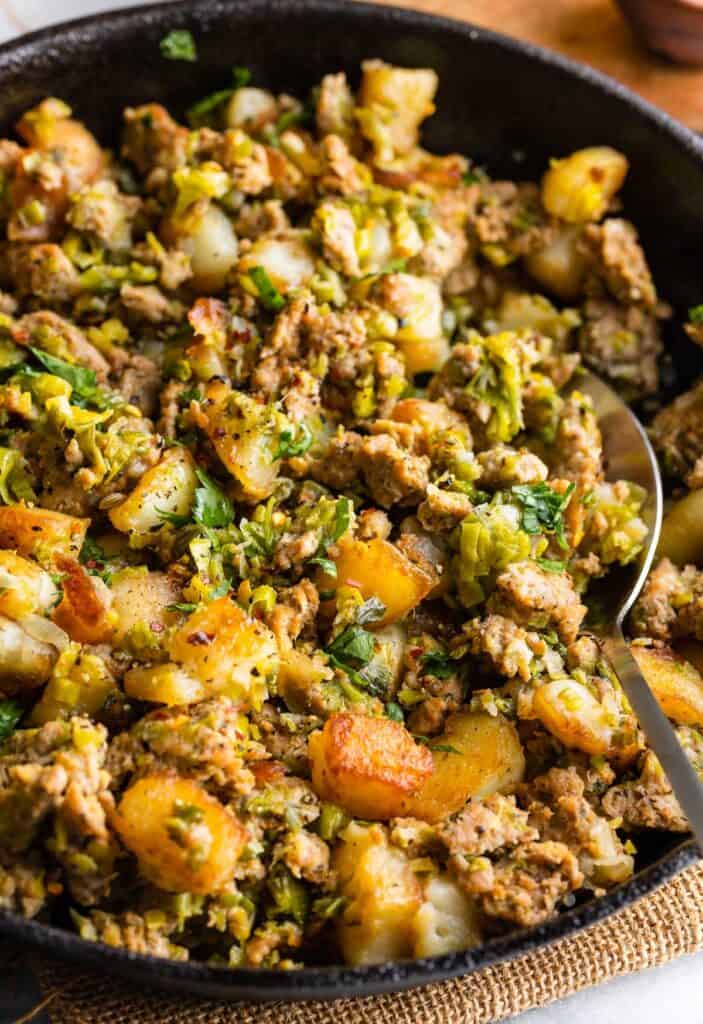 If you end up trying this Crispy Potato & Leek Turkey Hash, don't forget to rate the recipe and leave a comment below! I always appreciate the feedback – especially when you share what changes you may have made. It also helps future readers who are thinking of making the recipe!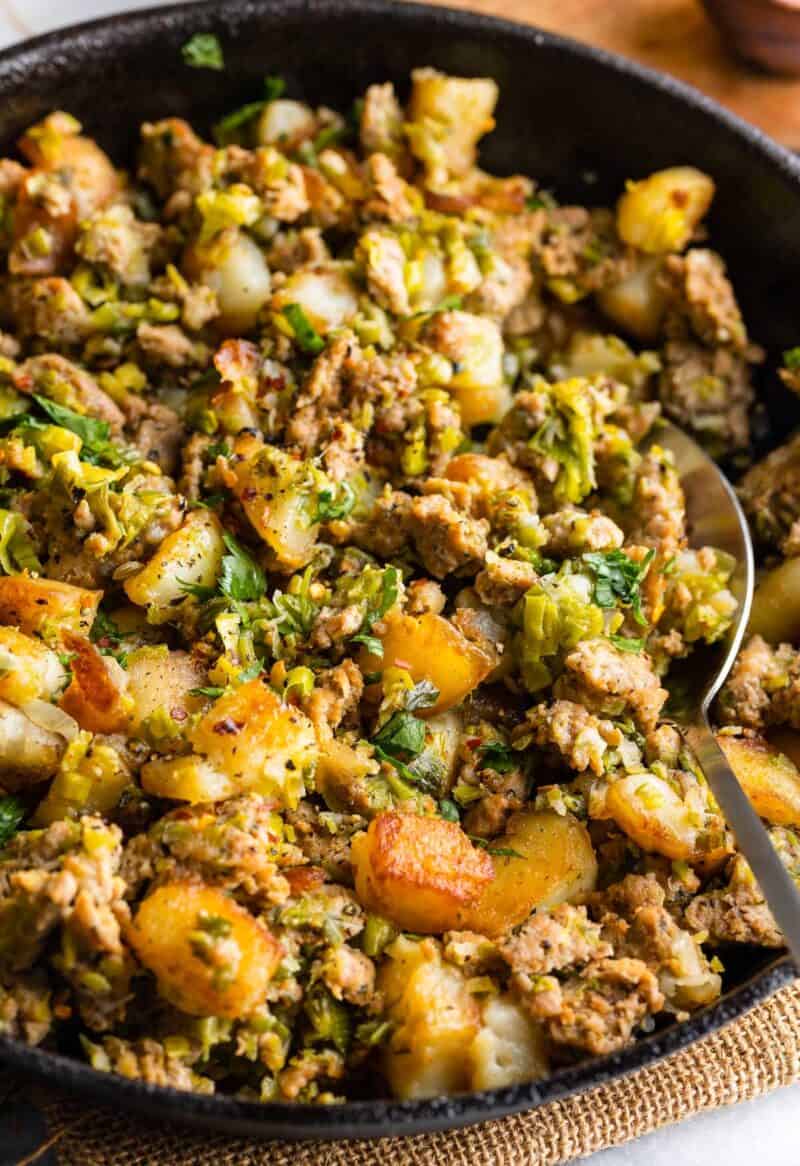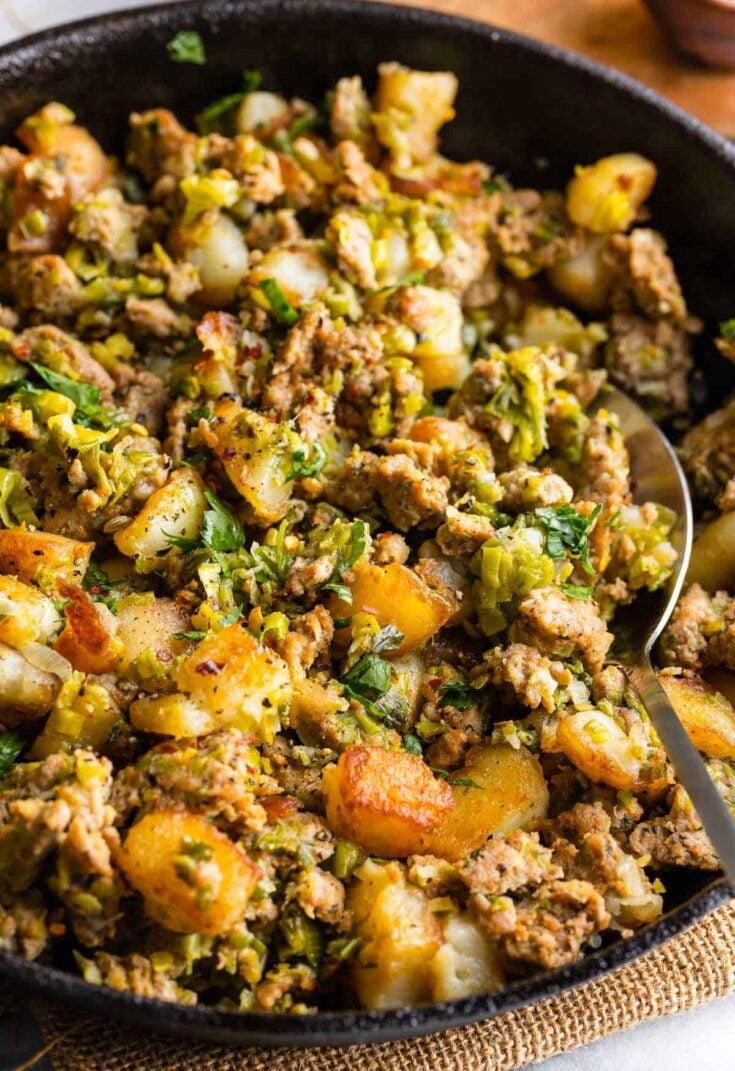 Recipe
Crispy Potato & Leek Turkey Hash
Yield:
4
Prep Time:
15 minutes
Cook Time:
45 minutes
Total Time:
1 hour
It's made with crispy, pan fried potatoes, sautéed leeks and seasoned turkey mince. Simple ingredients, big flavors! | Gluten Free + Dairy Free
Ingredients
Seasoned Turkey Mince
1 lb | 500 g ground turkey (aim for about 5-10% fat)
1 teaspoon dried parsley
1/2 teaspoon dried oregano
1/2 teaspoon dried basil
1/2 teaspoon paprika
1/2 teaspoon fennel seeds
1/2 teaspoon ground black pepper
1/2 teaspoon salt
1/4 teaspoon red pepper flakes
Hash
3-4 tablespoons | 45-60 ml cooking oil
1 lb | 500g starchy potatoes, cut into 1/2 inch pieces and rinsed
1 teaspoon salt
3 medium leeks, thinly sliced then rinsed
Fresh parsley, optional for garnishing
Instructions
Seasoned Turkey
In a medium sized mixing bowl add the ground turkey along with the dried herbs and spices. Use your hands to mix the spices into the turkey until fully combined. Set aside while you prep the remaining ingredients.
Hash
Add the potatoes to a small pot of water. Add enough water to fully cover the potatoes. Add 1 teaspoon salt. Cover with a fitted lid then bring to a boil. Reduce heat to simmer and cook about 5-8 minutes. The potatoes should be mostly cooked, but still not fully tender.
Pour the potatoes into a colander to drain the water then rinse under cold water to remove the excess starch. Place the now empty pot back on the stove top (the burner should still be hot but is switched off). Place the colander with the potatoes still inside over and set aside for a few minutes to let heat dry the potatoes.
Add 2-3 tablespoons oil to large pan or skillet and warm over a medium-high heat. Swirl the oil in the pan making sure to coat the sides in oil. When the oil is hot, add the par boiled potatoes and spread out in an even layer. Leave the potatoes to cook about 5-7 minutes without moving. When the potatoes sides in contact with the hot pan are golden brown, use a spatula to flip over to cook the other side. Repeat this on the remaining sides then use a slotted spoon to remove the potatoes from the pan and set aside on a bowl or plate.
Wipe down the pan (removing any burnt on bits if needed) then return to the burner over a medium heat. Add another tablespoon oil to the pan along with the sliced leeks. Sauté a few minutes, then cover with a fitted lid. Leave to steam and cook about 8-10 minutes.
Add the turkey to the pan. Break down the turkey mixture and mix into the leeks. Cook about 7-10 minutes until no pink remains and the turkey is cooked through.
Add the potatoes back to the skillet. Cook another couple of minutes then taste and season with more salt and pepper as you see fit.
Store cooled leftovers in an airtight container in the fridge up to 4 days.
Notes
Substitutions & Additions
Protein: Instead of turkey you can use ground chicken, pork, beef or even sausage with the casing removed.
Veggies: Instead of leeks you can use 1 large onion or 1 cup thinly sliced shallots. To increase the veggies you can add sliced mushrooms, bell peppers, green onion and/or kale when sautéing the leeks. Spinach or other leafy greens should be mixed in at the very end.
Cheese: Feel free to add grated cheddar cheese, parmesan or mozzarella.
Spice: Finish off with a sprinkling of chili flakes or hot sauce for a punch of heat.
What type of oil?
Ideally you want to use a neutral-tasting oil with a high smoking point like rapeseed, vegetable or avocado oil. Olive oil can work if you keep an eye on the temperature. Coconut oil has a low smoke point so it's not great here.
Nutrition Information
Yield:

4
Calories:

413
Total Fat:

20g
Saturated Fat:

8g
Trans Fat:

0g
Unsaturated Fat:

12g
Carbohydrates:

25g
Fiber:

3g
Sugar:

1g
Protein:

36g
This website provides approximate nutrition information for convenience and as a courtesy only. Nutrition data is gathered primarily from the USDA Food Composition Database, whenever available, or otherwise other online calculators.
More Breakfast Hash & Skillet Recipes