Rich and decedent Vegan Banoffee Pie – a simple, almond flour crust topped with silky caramel, banana, coconut whipped cream and a drizzle of chocolate | Gluten Free + Paleo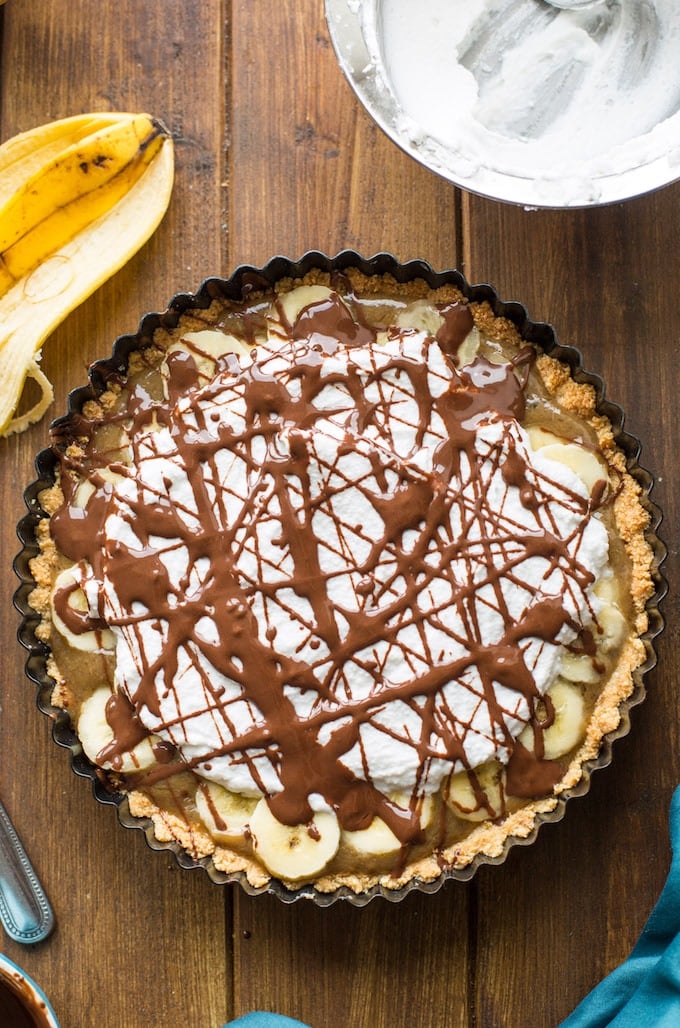 10 ingredients + three layers + one dark chocolate drizzle for good measure.
Let's do it!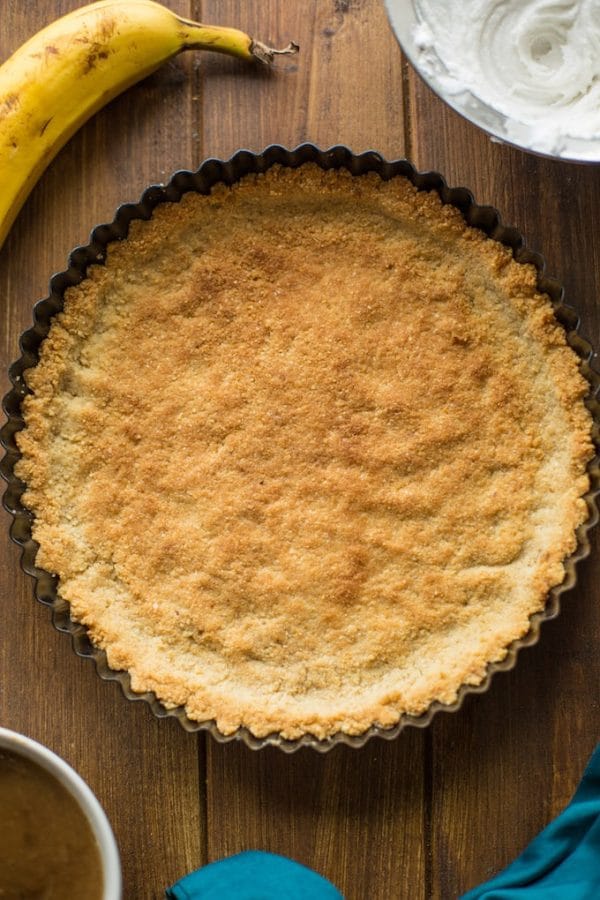 First things first: our silky, toffee filling. More accurately in this case it's a banana-coconut caramel. One ripened banana blended together with a can of coconut milk and then reduced down with a little coconut sugar until it transforms in a thick, rich, sweetened banana caramel.
Adding the banana straight to the caramel not only infuses a little extra banana flavour into the finished product but it also means that we don't need to add as much coconut sugar to the actual caramel since bananas are so naturally sweet. They're like natures candy.
The caramel takes the longest to make – it needs to simmer/gently boil for at least 30 minutes on the stove top. I recommend starting that first and then working on your crust as that reduces down. You can also make the caramel up to two weeks to break up the work and help the pie making process speed along even more.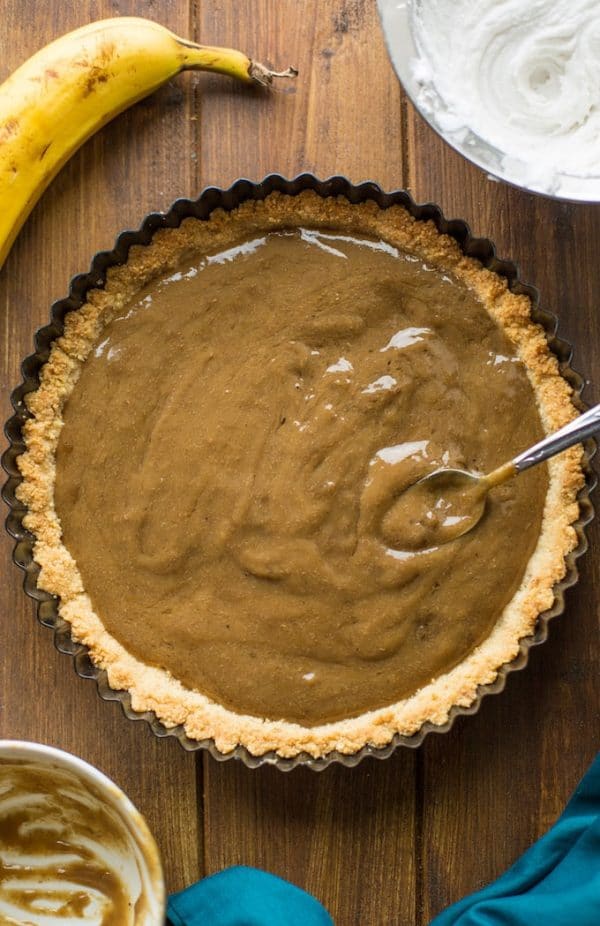 Once your banana caramel is on it's way you can begin working on the almond flour crust.
In a blender or food processor blitz together your almond flour, cinnamon and shredded coconut until the coconut breaks down and a sand-like texture forms. Add in the melted coconut oil and maple and continue pulsing until it all comes together to form a sticky dough. From that point it's just a matter of pressing the dough into a tart pan and baking until the crust is lightly golden.
After removing it from the oven let the crust cool on a wire rack before you're ready to assemble.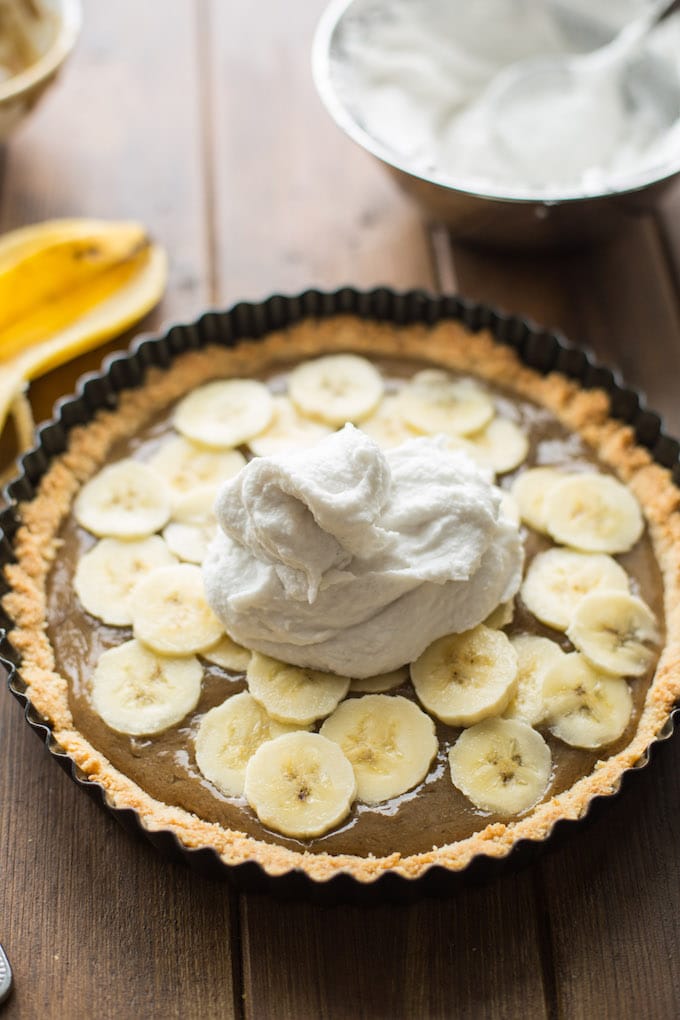 Make sure you pop a can of coconut milk in the fridge the night before attempting the coconut whipped cream. You want to make sure the can is nice and cold so that you can easily scoop the coconut cream out of the top before whipping. I don't recommend using lite or low fat coconut milk for this because they never quite whip the same way.
If you like things a little more on the sweet side feel free to add a tablespoon or two of maple syrup (or honey if you don't need this to be vegan) to coconut cream. Personally we liked it without because the bananas and caramel provide a lot of added sweetness, but that is totally up to you!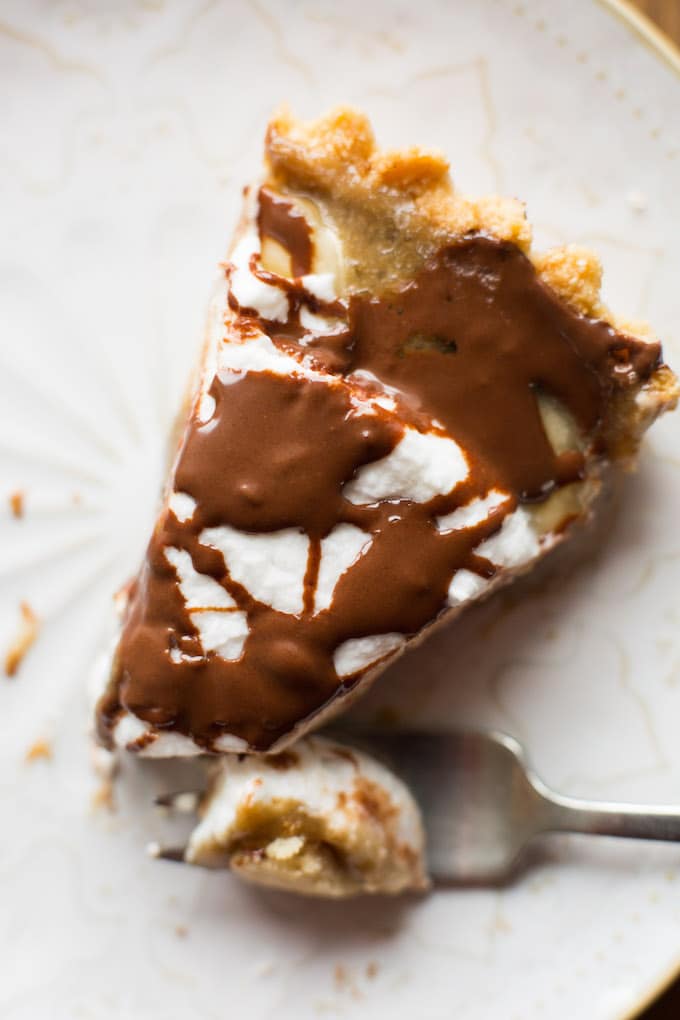 And voilà!
A stick, creamy, decedent  vegan banoffee pie with a healthy twist made with only 10 ingredients!
FACEBOOK | INSTAGRAM | PINTEREST  
Don't forget to #asaucykitchen on instagram if you try this Paleo + Vegan Banoffee Pie!  I'd love to see what you make with it!  You can also post your pictures to my facebook page!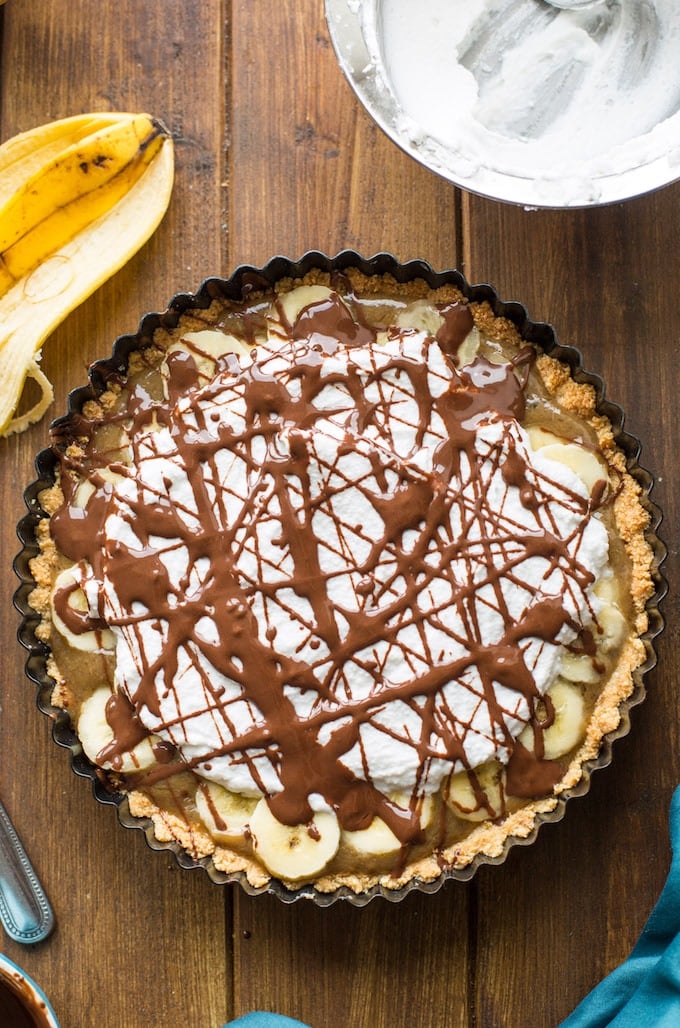 Recipe
Paleo Vegan Banoffee Pie
Yield:
10 slices
Prep Time:
20 minutes
Cook Time:
35 minutes
Total Time:
55 minutes
Rich and decedent Vegan Banoffee Pie - a simple, almond flour crust topped with silky caramel, banana, coconut whipped cream and a drizzle of chocolate | Gluten Free + Paleo  
Ingredients
Paleo Crust
1 1/2 cups | 145 grams almond flour
1/2 cup | 50 grams unsweetened shredded/desiccated coconut
1/2 teaspoon ground cinnamon
3 tablespoons | 45 ml maple syrup
3 tablespoons |45 ml coconut oil, melted
Banana Caramel
1 ripe banana
1 14 oz can full fat coconut milk
1/4 cup | 50 grams coconut sugar
2 teaspoons | 10 ml vanilla extract
1/2 teaspoon sea salt
Topping
1 ripe banana, sliced thinly
2 14 oz can full fat coconut milk from a can chilled overnight in the fridge
1/4 cup | 30 grams dairy free dark chocolate chips/chunks, melted
Instructions
Banana Caramel
Add the banana and coconut milk to a blender and process until completely smooth. Pour the banana-milk mixture into a small sauce pot. Add the coconut sugar, vanilla and sea salt and whisk to combine.
Bring the mixture to a boil on medium heat and then reduce down to low to let it gently continue boiling. Make sure to stir often to prevent burning on the bottom and sides of the pan.
Let the caramel gently boil for 30-40 minutes. It will thicken as it cooks but will thicken more once it cools down. Once done remove the caramel from the heat and set aside to cool completely.
Paleo Crust
Preheat the oven to 350°F/180°C. Lightly grease an 8-10 inch tart pan with a loose bottom with coconut oil.
In a food processor or blender, pulse together almond flour, shredded coconut and cinnamon until finely ground. Add in the melted coconut oil and maple syrup. Pulse until coarse crumbs form and dough clumps together when squeezed.
Add the pie mixture to the tart pan and press the dough into the bottom and sides of the pan as evenly as you can. Poke a few holes into the bottom of the crust and then bake in the oven for about 12 minutes or until lightly golden. Place the tart pan on a wire rack and set aside to cool completely.
Coconut Cream
Make sure it's one that has been kept in the fridge overnight. This allows the cream to harden so that it separates from the water and you can easily scoop it out.
Carefully scoop out the solid cream and place in a metal or glass mixing bowl (something cold) and try your best not to get any of the water.
Beat the coconut cream on a medium to high speed for a couple of minutes until it becomes whipped and airy. Keep stored in the fridge until ready to assemble.
Assembly
When your crust and caramel is cooled and ready to go gently spread the banana caramel over the top of the crust.
Slice the banana into thin slices and scatter over the top of the caramel.
Spread the coconut cream over the top of the banana slices and then drizzle with melted chocolate.
You can eat immediately but it might be a little messy at first. I recommend storing this in the fridge for a couple hours before serving so that the pie has time to firm up.
Notes
You can make the caramel up to two weeks in advance. Just store it covered in the fridge until you need it. It will thicken in the fridge so give it a quick stir before using so it's easier to spread. 
---
Feel free to use pre made coconut cream like So Delicious
---
Coconut cream tip from one of my readers: shake the can to make sure the cream isn't already separated. The refrigerate the can upside down. Gently turn it right side up before opening and all the liquid will be on top and can just be poured out, leaving only the cream in the can.
Nutrition Information
Yield:

10
Serving Size:
g
Calories:

515
Saturated Fat:

33g
Sodium:

149mg
Carbohydrates:

27g
Fiber:

6g
Sugar:

15g
Protein:

7g
This website provides approximate nutrition information for convenience and as a courtesy only. Nutrition data is gathered primarily from the USDA Food Composition Database, whenever available, or otherwise other online calculators.