Rich, smooth and perfectly sweet – make sure to save room for this Paleo Pumpkin Pie on your holiday table this year! Maple syrup adds a luscious, caramel-like flavour that marries well with the classic autumnal spices of cinnamon, ginger and nutmeg which is then enhanced further by the simple addition of salt and pepper. Thick and airy coconut cream is used here in place of traditional heavy creams and evaporated milks making for a lighter, healthier, dairy free option that everyone can enjoy. All of this sits inside of a simple, easy to make almond flour crust!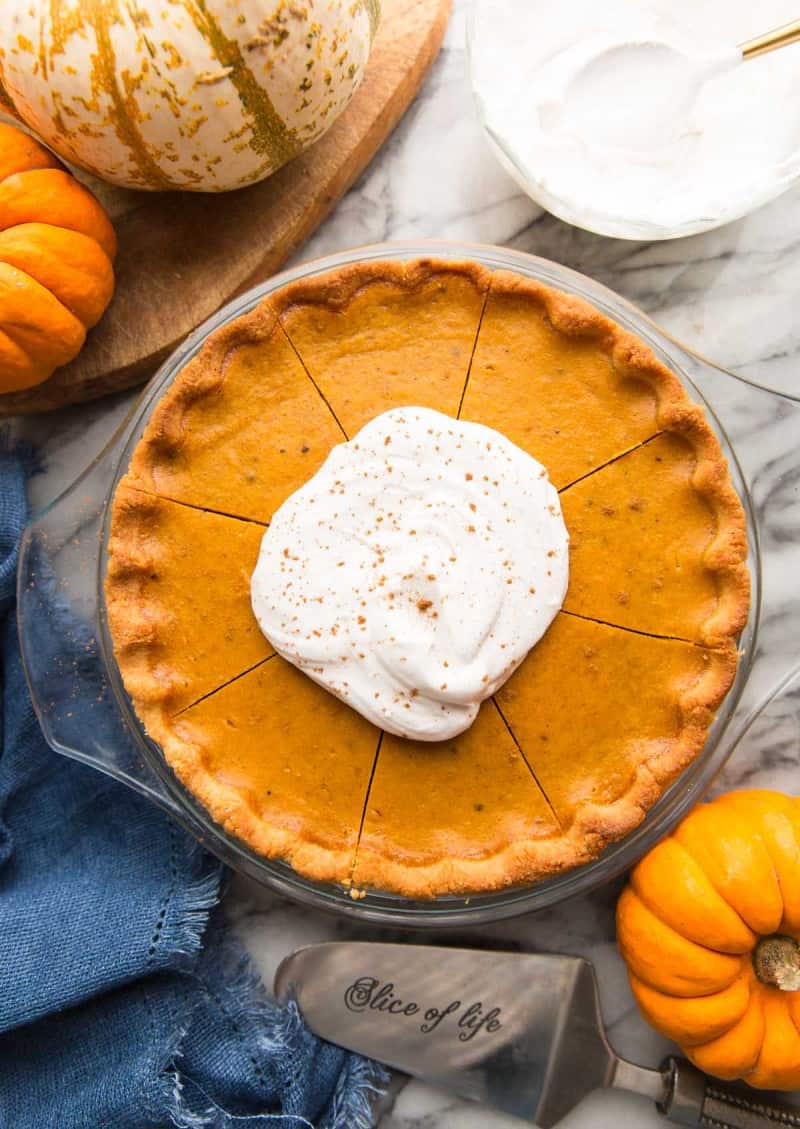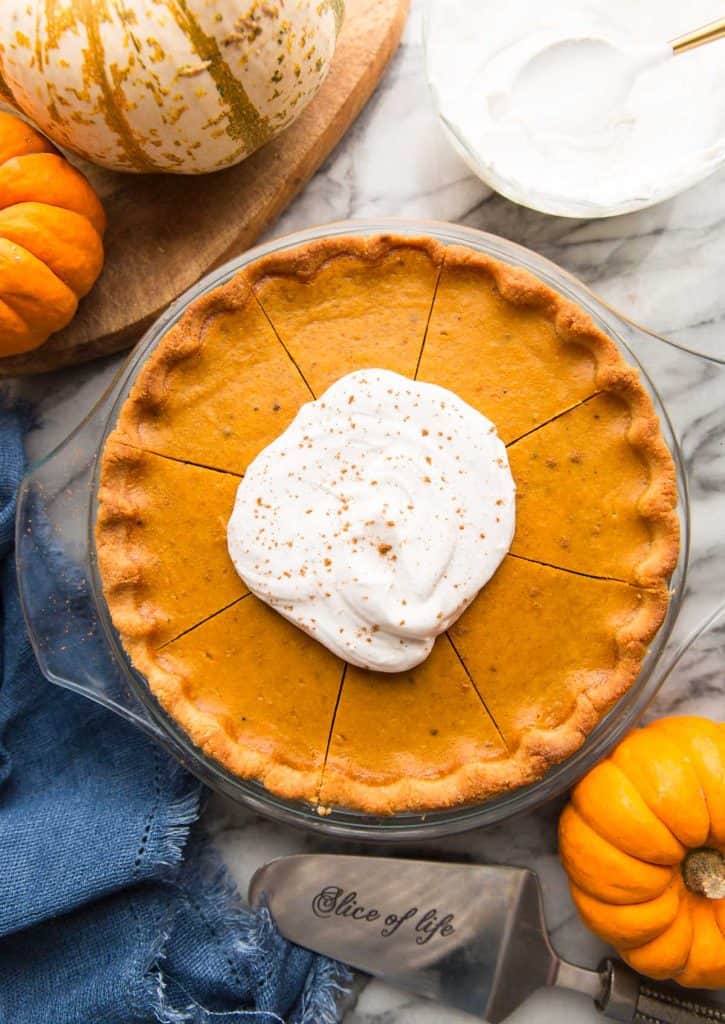 Ahhh, pumpkin pie: Thick, creamy, custardy, nostalgia flavoured goodness. What's a Thanksgiving table without a slice of pumpkin pie to finish off with (unless of course, you're more of a pecan pie kind of person!)?
Unlike more traditional pies, this paleo pumpkin pie is dairy free and refined sugar. It's free of heavy milks, creams and refined sugars without compromising on flavour or texture.
Whether you're looking for a healthier dessert, a dairy free option or just something new to bring to the table this year – make sure to check out this paleo pumpkin pie!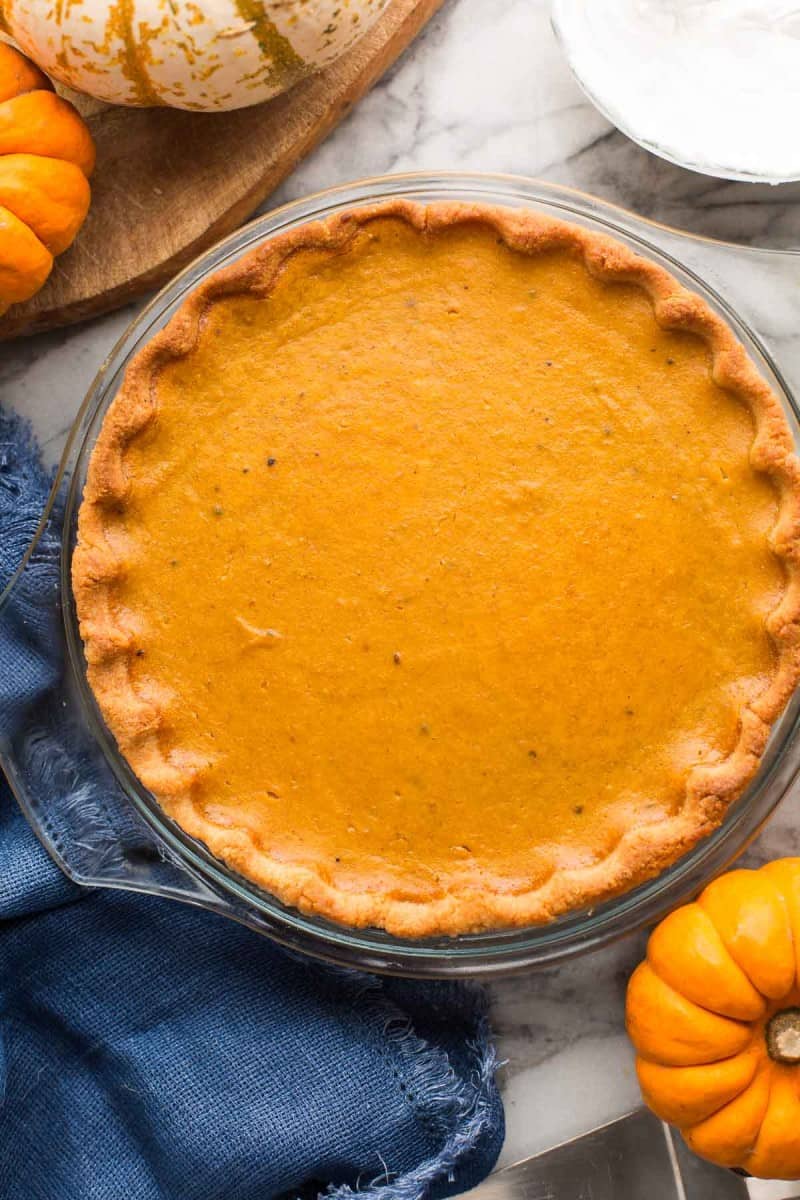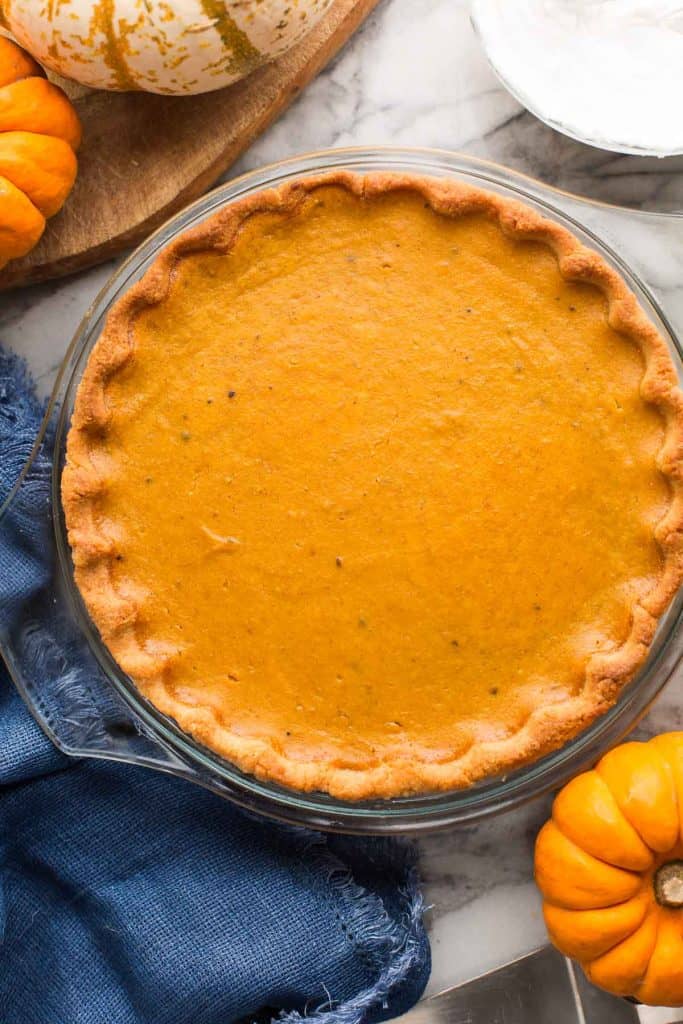 How to Make this Paleo Pumpkin Pie
The Crust
First things first: prepare the crust. This crust is based off of my almond flour pie crust. It's very simple to make. Simple mix together the almond flour and salt, stir in the maple syrup and fat. You can use either softened or melted coconut oil or butter and then add your egg.
Side note: My original almond flour pie crust does offer an egg free option. I chose not to include that option in this recipe though since the filling also contains eggs.
Once formed, instead of rolling of the dough I recommend pressing it into a grease pie pan. Prick a few holes across the bottom to allow excess steam to escape as it cooks, then place in the oven to par bake for about 15 minutes.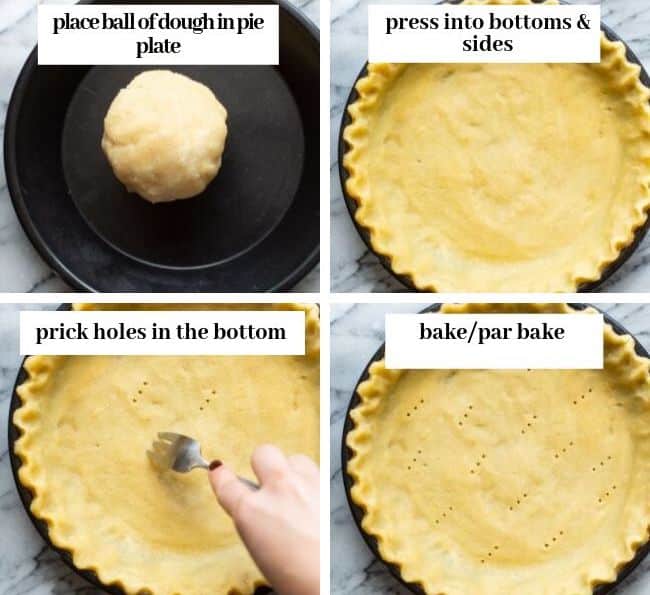 Why par bake this crust?
Almond flour is a high fat flour full of oil (just like almonds). Excess oil = excess moisture. When you're baking a pie as moist as pumpkin pie, par baking the crust dries out a little bit of the extra moisture and ensures that the bottom crust will be fully cooked in time with the pumpkin filling.
Why cover the crust as it bakes with the filling?
Almond flour browns much quicker in baked goods than more traditional flours. After 15 minutes of par baking the edges will start to golden quite a bit. If left uncovered, another 50 minutes in the oven the exposed crust will likely darken and possibly burn.
To prevent the crust from burning you will need to cover the exposed edges. You can do this with a traditional pie guard or do this by covering the edges in foil with this method Taste of Home demonstrates.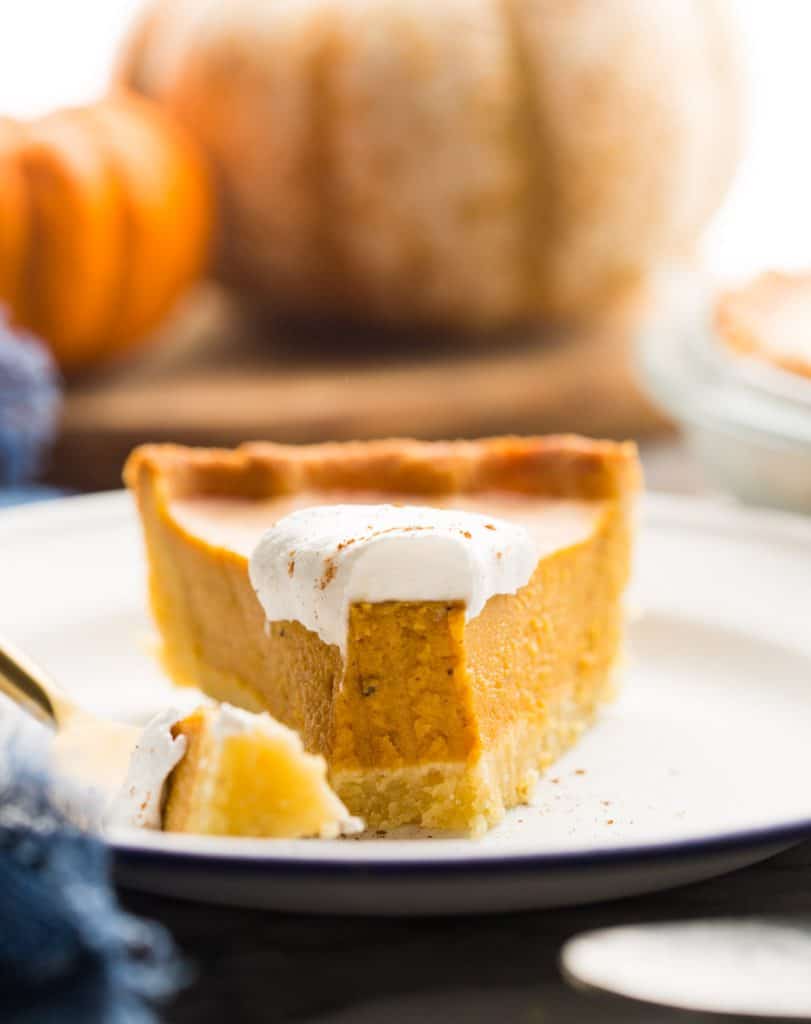 The Filling
Ingredients
Pumpkin Puree – Best is used from a can. Canned pumpkin makes for sturdier fillings. However, you can make this using fresh pumpkin and homemade pumpkin puree if you wish. Just make sure to blot the pumpkin before adding it to your filling.
Coconut cream/milk – Opt for a full fat coconut milk. Make sure to blend or mix your coconut before adding to get a blend of both the thick coconut cream found at the top of coconut milk cans along with the coconut water. You can also use all coconut cream if you prefer.
Maple syrup – Maple syrup adds a caramel-like flavour that's perfect for pumpkin pie. Honey can be used instead.
Spices – Cinnamon, ginger and nutmeg are the foundation of quality fall baking in my opinion. Adding a pinch of both salt and black pepper really makes this spices pop even more. Just make sure to use a finely ground black pepper in this filling so it's more evenly distributed.
Eggs – These are important for providing the rich, custard-like texture.
Arrowroot Starch – Starch helps pies like this set in a firmer, sturdier, smoother texture. In place of arrowroot starch you can also use tapioca starch or 1 tablespoon cornstarch.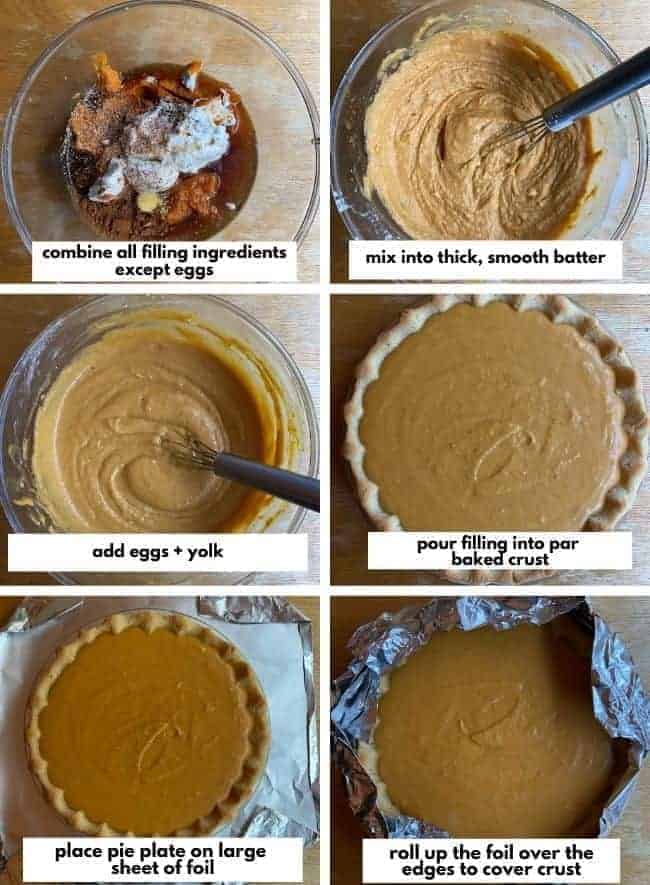 More Pumpkin Pie FAQ's
How do I know when my pie is done?
After 50 minutes your pie should look slightly puffed up in the middle, the edges a little more golden and the centre should jiggle just slightly when nudged. You're looking for a slight jiggle that quickly stops as opposed to a wobble that continues on for a few seconds.
If a visual check isn't enough, you can use a meat thermometer to check the internal temp which should be about 175°F/80°C.
Can I use pumpkin pie spice blend in place of the individual spices?
Instead of adding ginger and nutmeg, you can add 1 teaspoon of pumpkin pie spice in addition to the 1 teaspoon ground cinnamon.
Can I freeze the leftovers?
Yes! Leftovers should be cooled completely, then wrapped up well in plastic wrap and foil before being stored in the fridge. As a rule of thumb, pies like this should keep well in the freezer for up to three months.
To thaw: Let the frozen pie defrost in the fridge (this will take about 10-12 hours). You want the pie to thaw slowly to prevent the crust from going soggy so don't leave it out at room temperature to thaw.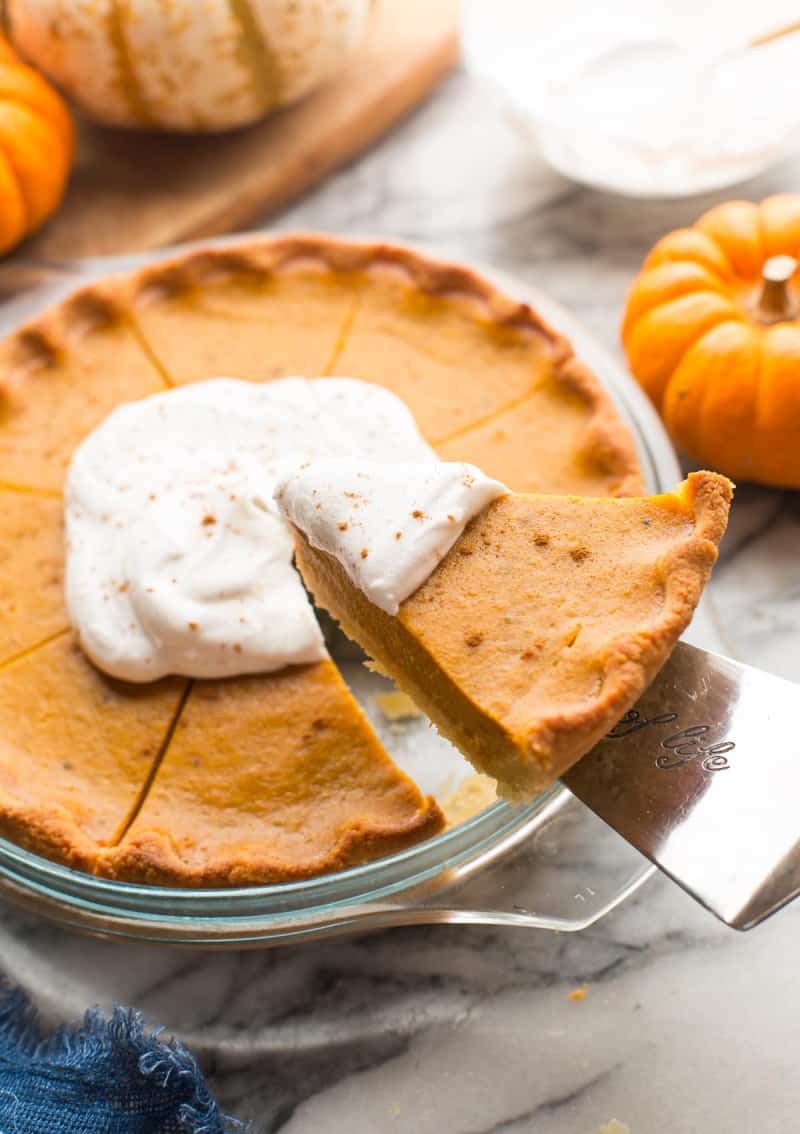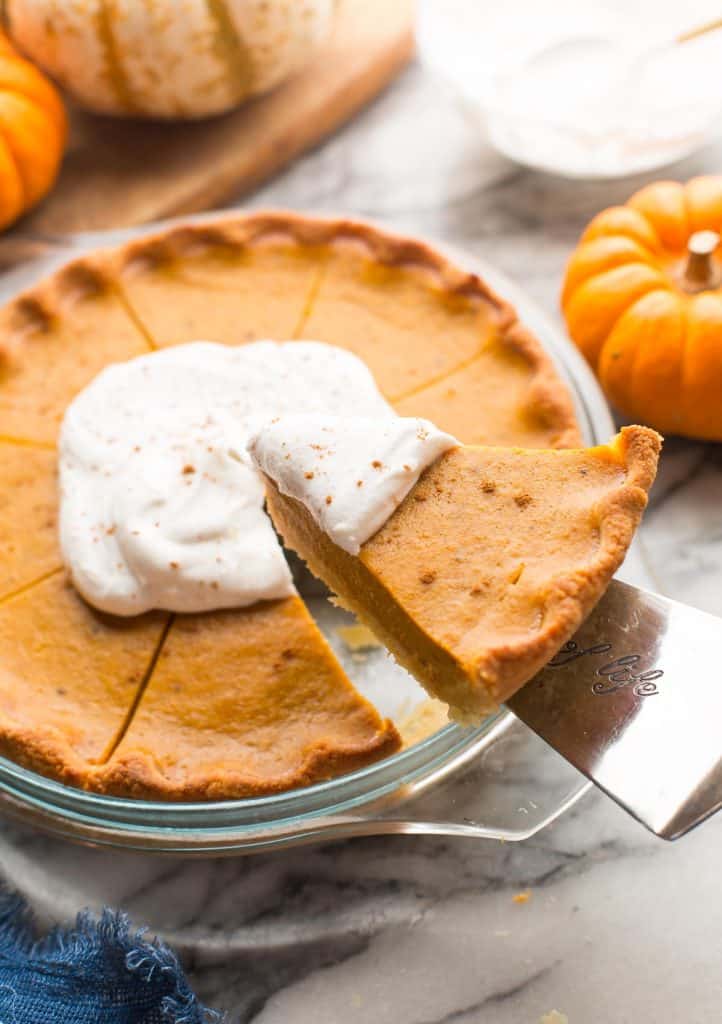 All in all, this pie is fairly easy to make, but it does take a little time to let things set and cool as needed. I suppose the most difficult part will be waiting for everything set before cutting into the pie for a slice.
When you're all set to go make sure to complete your pie with a generous dollop of coconut whipped cream and enjoy!
FACEBOOK | INSTAGRAM | PINTEREST
Don't forget to #asaucykitchen on instagram if you make these paleo pumpkin pie! I love seeing what you make! You can also post your pictures to our facebook page!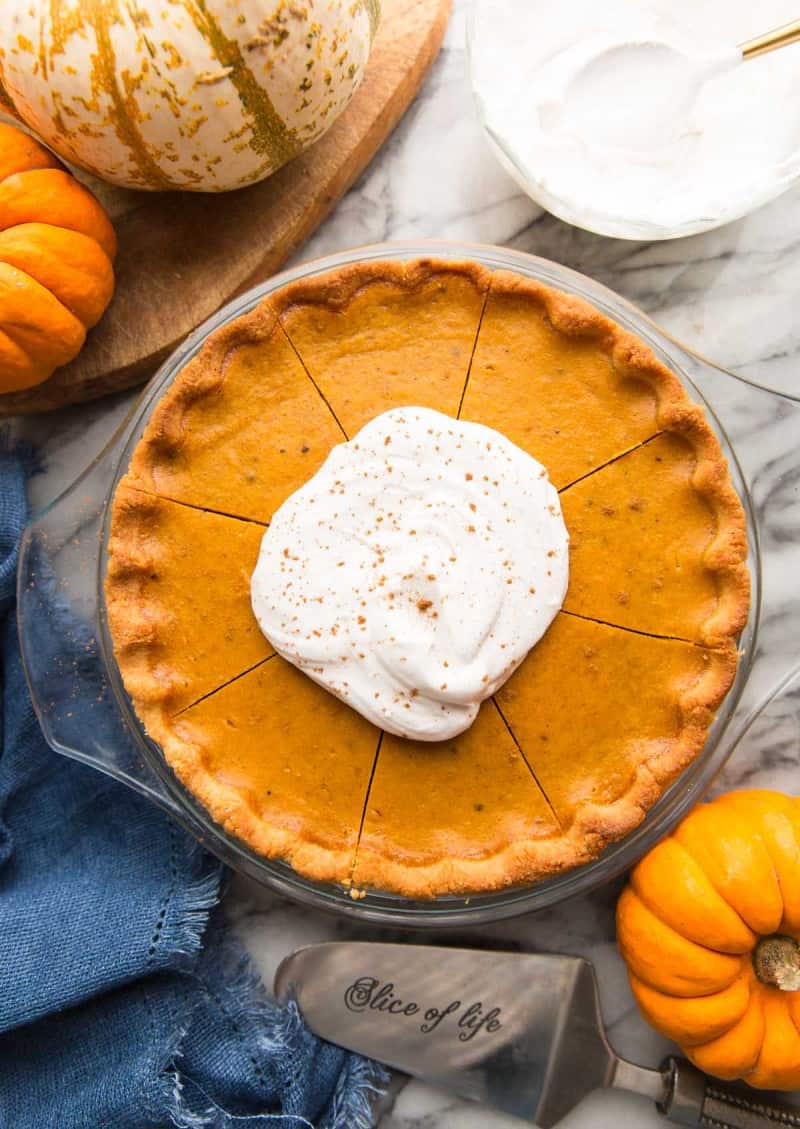 Yield:
8 slices
Prep Time:
20 minutes
Cook Time:
55 minutes
Additional Time:
4 hours
Total Time:
5 hours
15 minutes
Maple syrup adds a luscious, caramel-like flavour that marries well with the classic autumnal spices of cinnamon, ginger and nutmeg and enhanced further by the simple addition of salt and pepper.
Ingredients
Crust
2 1/2 cups almond flour (240 g)
2 tablespoons arrowroot starch (16 g)
1/2 teaspoon salt
2 tablespoons maple syrup (40 g)
2 tablespoons melted or softened coconut oil (27 g) or 3 tablespoons melted or softened butter (42 g)
1 egg
Pumpkin Pie Filling
15 oz can pumpkin purée
1/2 cup + 2 tablespoons full fat coconut milk/cream from a can, shaken (190g)
1/2 cup maple syrup (158 g)
1 tablespoon vanilla extract
1 teaspoon cinnamon
1/2 teaspoon ground ginger
1/4 teaspoon ground or grated nutmeg
1/4 teaspoon salt
1/4 teaspoon freshly ground black pepper
2 tablespoons arrowroot starch (16 g)
2 eggs + 1 egg yolk
Instructions
Crust
Preheat oven to 350°F/177°C. Lightly grease a 9 inch pie plate. Make sure to grease extra well if using coconut oil.
Add the almond flour and salt to a large mixing bowl and whisk to combine.
Stir in the maple syrup and coconut oil or butter. Mix until you get a soft, sandy-like texture. I find it easy just using my hands here.
Add the egg and mix until a soft dough comes together.
Transfer the dough to your pie tin. Use your hands to press the dough into the pie dish to form your crust. The dough may feel a little oily at this point. After pressing the dough into the pie plate, blot the dough with a paper towel.
Pick across the bottom of the crust so that steam can escape as the crust par bakes. Place the crust in the preheated oven and bake 15 minutes.
Remove the crust from the oven and let cool 10-15 minutes.
Pumpkin Pie Filling
In a large mixing bowl combine all of the filling ingredients except for the eggs: pumpkin puree, coconut milk/cream, maple syrup, vanilla extract, cinnamon, ginger, nutmeg, salt, pepper and arrowroot starch. Whisk until a thick, smooth mixture forms.
Whisk in the eggs until well incorporated into the filling.
Pour the filling into the pie crust. Smooth into an even layer.
Place a pie shield or cover the edges of the crust with foil to keep it from overcooking. (See pictures above if you need a visual).
Place the pie in the middle of the oven and bake for 50 minutes. The filling may look slightly puffed up and the filling will jiggle just slightly when moved (it should be a gentle jiggle and not a wavy wiggle).
Remove the pie from the oven and set aside in a safe place to cool for at least 4 hours to that the filling has enough time to set.

Notes
Leftover pie should be kept in the refrigerator for up to 4 days or cooled completely and wrapped up tight in the freezer for up to 3 months. Defrost in the fridge over night.
If using coconut oil in the crust, make sure grease your pie pan.
Tapioca starch can be used in place of arrowroot starch. You can also use half the amount of cornstarch (if you don't need a strict, paleo pie). Instead of 2 tablespoons arrowroot starch in the crust and filling (4 total) you would need 1 tablespoon instead in the crust and filling (2 total).
This website provides approximate nutrition information for convenience and as a courtesy only. Nutrition data is gathered primarily from the USDA Food Composition Database, whenever available, or otherwise other online calculators.
More Gluten Free Thanksgiving Desserts You Might Enjoy