Another reason to love breakfast: banana bread French toast! Gluten, grain, and dairy free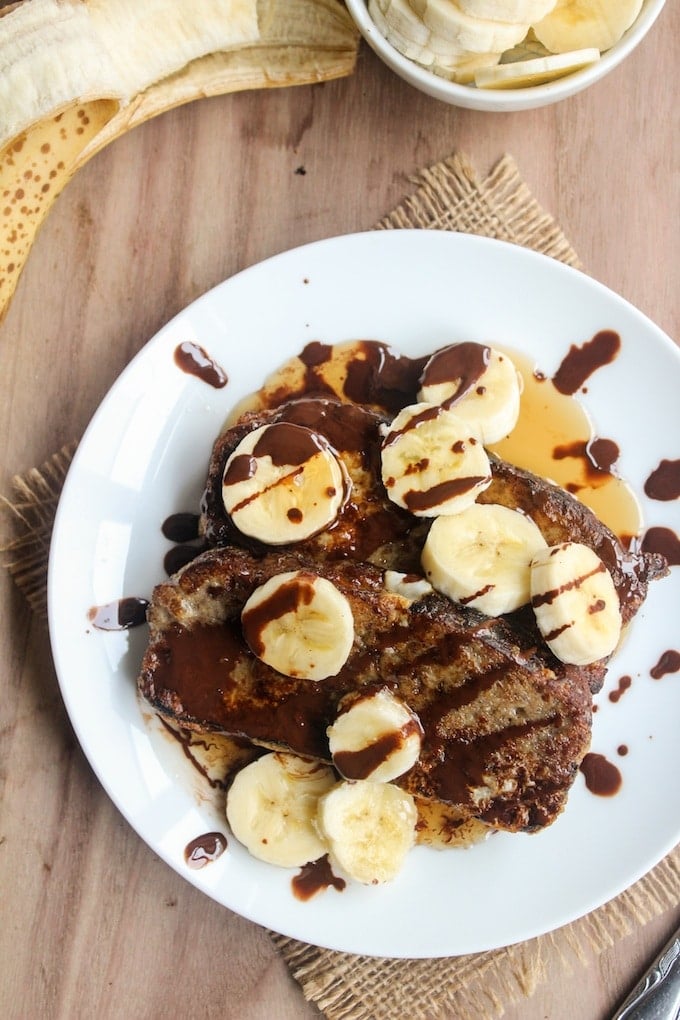 This is my absolute favorite time of year. Food, family, friends, also more food – in no particular order of course.
Now that the turkey has been carved and the dishes are done it is now officially the Christmas season. The tree is going up and the Christmas songs are going on #SorryNotSorry. I'm glad to know that my past years of retail work have not completely ruined Christmas music for me. Just don't insist on playing Santa Baby and we won't have a problem. Cool?
Aside from the food and the holiday fun, it's been so lovely to spend the holiday visiting friends and seeing family. I only wish that Mike was able to make the journey with me, but unfortunately his health isn't allowing for any long plane journey's this time around.
It's this time of year that I am extra grateful for the Internet and the type of technology that makes connecting with people all over the world easy peasy. After all, if it weren't for things like Skype or Facetime I wouldn't have been able to meet the man of my dreams or keep up with my family here in Arizona through our weekly video chats. Don't ever let anyone try to tell you that online friendships are any less valid that the relationships that you form in your day to day life. I will fight anyone who tries to tell you otherwise. Just kidding – I just won't share any of my banana bread with said offenders.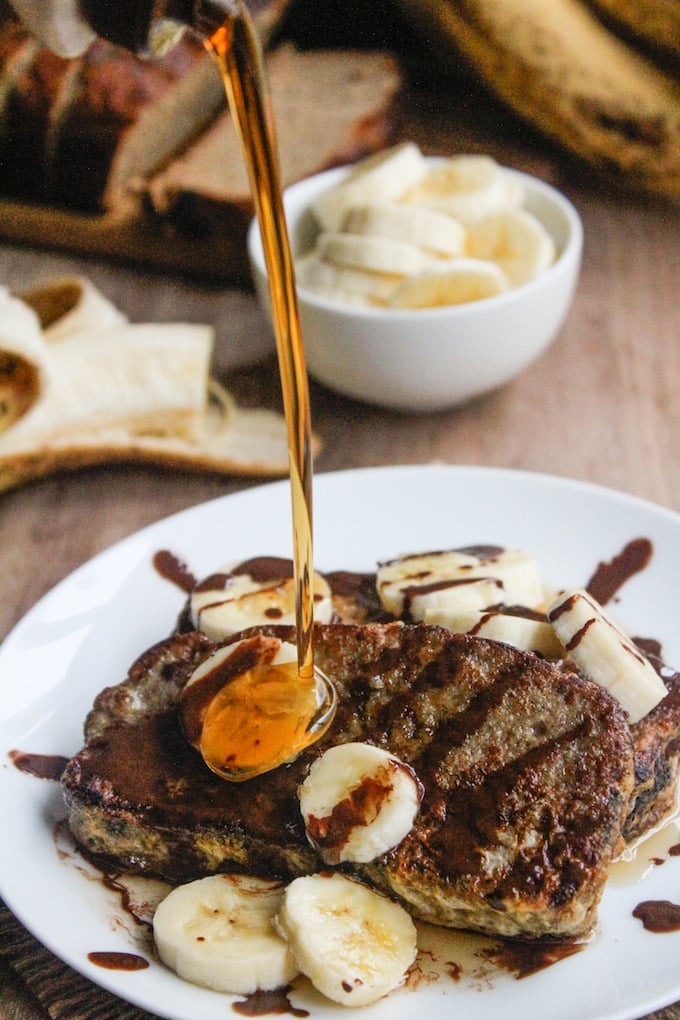 Now onto the food!
I've had banana bread french toast on my mind since birth (probably). Or maybe it just feels like that. Seriously though it's been on my culinary to do list for quite some time. I just haven't been able to carry out my banana filled plans because banana bread isn't something that lasts longer than a few hours in my house. Have I already told you that my mother in law buys bananas on a weekly basis in the hopes of getting banana bread? The thing with England though, is that it's kind of cold there, and food takes aaaages to ripen because our kitchen is basically one giant refrigerator. Great for avocados, not so great for ripening bananas.
But now.
It's finally happened. I used my chocolate cinnamon banana bread (minus the chocolate part) for this recipe. I recommend making the banana bread in the evening so that you wake up with a fresh loaf that's ready for it's egg and cinnamon bath. And hey – if you still have guests over for Thanksgiving, this makes for an A+ breakfast perfect for pre shopping fuel.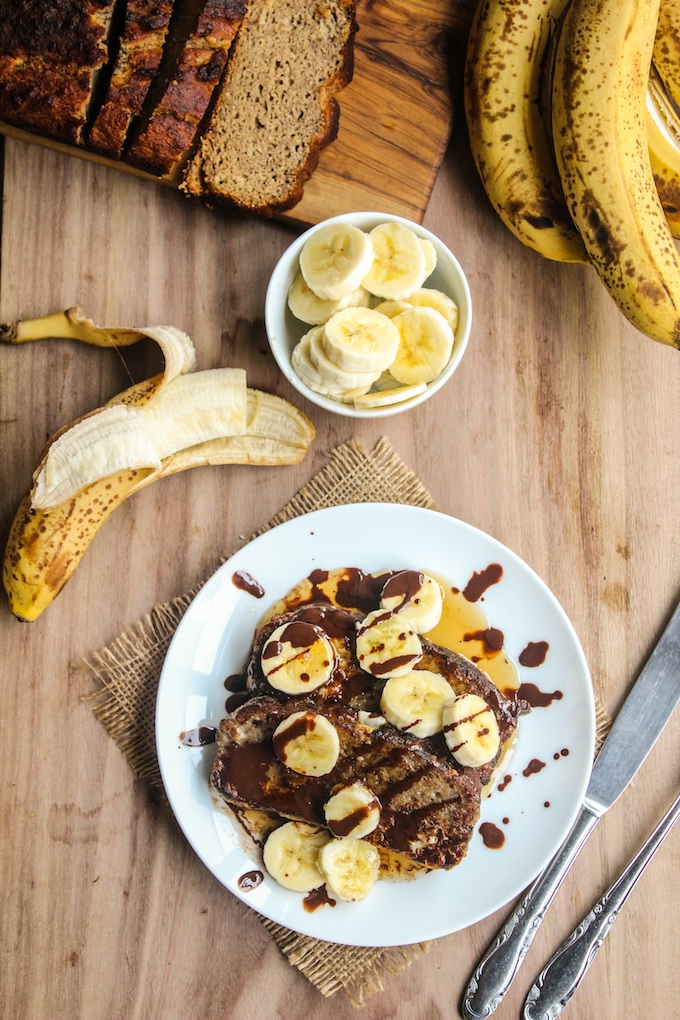 I hope my American friends all had a fantastic Thanksgiving (or just a really great Thursday if you don't celebrate it). Remember to be extra nice to retail workers and have a happy holiday season!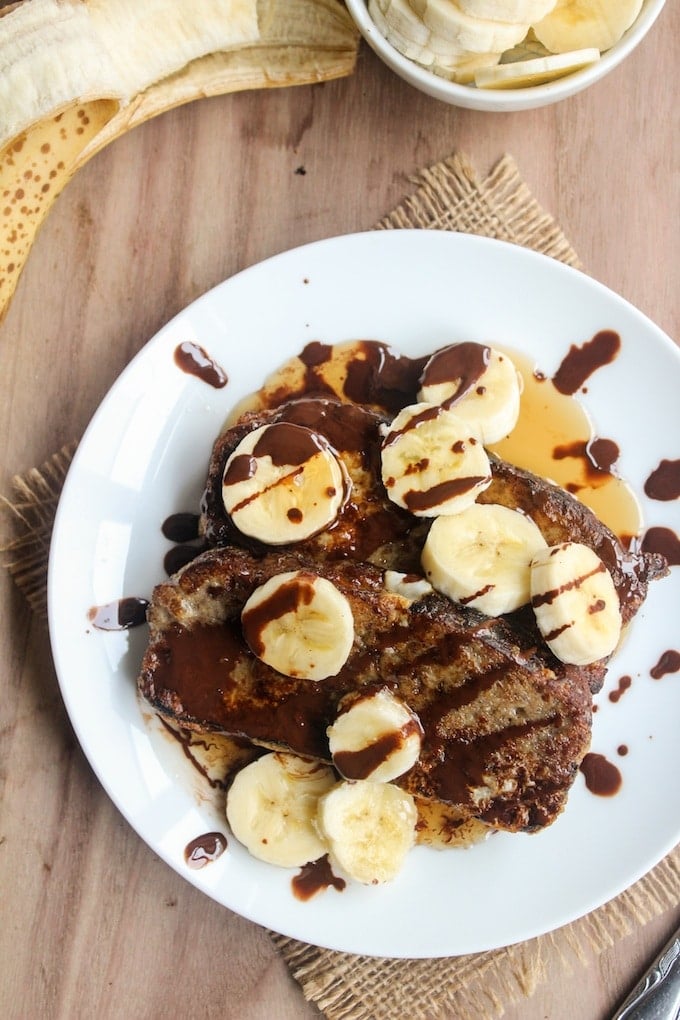 Recipe
Banana Bread French Toast
Yield:
8 slices
Prep Time:
10 minutes
Cook Time:
1 hour
10 minutes
Total Time:
1 hour
20 minutes
Another reason to love breakfast: banana bread French toast! Gluten, grain, and dairy free
Ingredients
For the bread:
4 eggs
1 teaspoon vanilla extract
1/4 cup maple syrup or honey, 80 grams, maple for low FODMAP
2 mashed ripe bananas - the darker/spottier, the better
1/2 cup melted coconut oil, 105 grams, or butter/ ghee
[1/2 cup almond flour, 48 grams
[1/2 cup coconut flour, 56 grams
1 teaspoon baking soda
1 teaspoon cinnamon
1/4 teaspoon sea salt
French Toast
2 eggs
1/4 cup almond milk, 60 ml, or dairy free milk of your choice
1 teaspoon vanilla extract
1/2 teaspoon cinnamon
coconut oil for frying
Instructions
For the Bread
Preheat your oven to 350°F/180°C
Beat the eggs in a medium sized bowl. Add the vanilla, the maple syrup, and the butter or oil to the eggs, mixing thoroughly. Combine the mashed bananas to the rest of the wet ingredients.
Mix the dry ingredients together in a small bowl, sifting to remove any clumps. Pour the dry ingredients to the wet and mix until smooth. You can do this by hand, but I preferred using an electric mixer to achieve a smoother batter.
Grease your loaf pan, or line with parchment and scoop your batter into the pan. Set aside.
Place in the oven and bake for 45-50 minutes, or until a knife going into the center comes out clean.
Allow the banana bread to cool completely before using as French toast. Preferably leave it alone over night.
For the French Toast
Cut your banana bread into 1 inch thick slices. Heat a gribble pan or skillet on medium heat and grease with oil.
In a shallow bowl, whisk the eggs, milk, vanilla, and cinnamon until combined. Dunk your banana bread one slice at a time into the egg mixture. Coat each side of the bread and then place in the skillet until one side is cooked and slightly crispy and then flip to cook the other side. It should take 2-3 minutes per side. Repeat until finished and top with extra banana slices, drizzle some chocolate if you really want to be decadent, and top with optional whipped cream.
Nutrition Information
Yield:

8
Serving Size:
slice
Calories:

238
Saturated Fat:

14g
Cholesterol:

122mg
Sodium:

267mg
Carbohydrates:

14g
Sugar:

9g
Protein:

4g
This website provides approximate nutrition information for convenience and as a courtesy only. Nutrition data is gathered primarily from the USDA Food Composition Database, whenever available, or otherwise other online calculators.